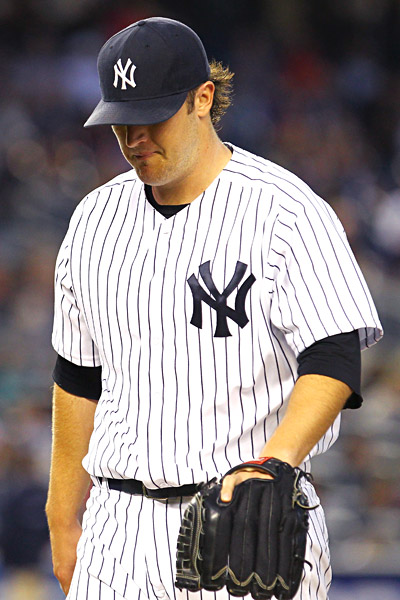 There was an early episode of
The West Wing
where White House Press Secretary C.J. Cregg, played by Allison Janney returns from a dental appointment and can't do the afternoon press briefing because she has a mouth full of novocaine. Deputy Chief of Staff Josh Lyman, played by Bradley Whitford, volunteers to do it. C.J. tries to stop him, to no avail. The briefing is a disaster, and he walks away knowing it. C.J. yells at him, "You completely imploded!" Except it came out, "You compwetewy impwoded!"
A season later, we found out that Josh, a native of Westport, Connecticut, is a Met fan. Served him right.
Last night, at Yankee Stadium, in the middle game of a 3-game series against the Seattle Mariners, whom the Yankees had beaten the night before, Phil Hughes compwetewy impwoded.
He'd been doing so well lately, but he didn't even get out of the 1st inning. Ironically, he got the first batter of the game out, a fly to left by Michael Saunders. But then...
* Dusty Ackley drew a walk.
* Kyle Seager singled to center.
* Kendrys Morales singled to left. 1-0 Seattle.
* Michael Morse singled to right. 2-0 Seattle.
* Justin Smoak drew a walk. Bases loaded.
* Our old friend Raul Ibanez, now with the Mariners, hit one out to right-center field, a grand slam. 6-0 Seattle.
* Our old friend Jesus Montero singled to center.
* Brendan Ryan grounded into a force play. At last, the 2nd out of the inning.
* Michael Saunders ripped a double to right. 7-0 Seattle.
Joe Girardi consulted his binder, which said, "In this rare situation, declare that you've had enough, and pull the poor guy before he's scarred for life." He brought in rookie Preston Claiborne, who struck Ackley out to end it.
Somebody went on Twitter yesterday and said it was the 4th-worst start in Yankee history. I don't know if that meant all the way back to the beginning of the team, 1903, 110 years; or if he meant modern history, whenever he defines that as having begun (1923 opening of the original Stadium, 1976 reopening after the renovation, 1996 start of the Jeter-Rivera Era, etc.).
And then, in the bottom of the 1st, Vernon Wells got the Yankees on the board with his 10th home run of the season. (And we're only 1/4 of the way through.) 7-1. Is this the beginning of a big comeback?
No. Claiborne pitched all right in the 2nd and 3rd, but, making his major league debut, Brett Marshall wasn't much better than Hughes. He pitched 5 2/3 innings, allowing 5 runs on 9 hits and 5 walks. After 1 major league game, his career ERA is 7.94.
It got so bad, Girardi did something that couldn't possibly have been in his binder: He brought in Alberto Gonzalez -- not the torture-loving idiot who was George W. Bush's 2nd Attorney General -- from shortstop to pitch. Hey, it's not like losing the DH and the pitcher having to bat was going to be an issue. Gonzalez got Robert Andino to fly to right.
Mariners 12, Yankees 2. WP: Hisashi Iwakuma (5-1). No save. (As
NCIS
' Leroy Jethro Gibbs, played by Mark Harmon, would say, "Ya
think
, DiNozzo?") LP: Hughes (2-3).
The series concludes tonight, weather permitting. (It's raining in Central Jersey as I type this.) Andy Pettitte takes the hill against Aaron Harang.
Cheer up, Phil Hughes: You're still a Yankee, and you've still got a World Series ring. How many active Mets can say that? Exactly none. (They just picked up Rick Ankiel, who was in the St. Louis Cardinals' organization in 2006, but was injured and didn't make an appearance that year, not even in the minors.) How many active Red Sox can say it? Six: David Ortiz, Dustin Pedroia, Jacoby Ellsbury, Jon Lester and Clay Buchholz remain from their 2007 team (and only the big fat lying cheating Ortiz remains from 2004), while new acquisition Shane Victorino got one with the 2008 Phillies.
Still, he compwetewy impwoded. And, unlike White House Communications Director Toby Ziegler, a Brooklyn native and a Yankee Fan (also true of his portrayer, Richard Schiff), who leaked classified national-security information in the last season of
The West Wing
, there's no chance of a Presidential pardon.