Tower Center, flanking the Brunswick Hilton,
off Exit 9 of the New Jersey Turnpike
This Friday night, at 7:00 PM, my alma mater, East Brunswick High School, opens its 56th season of varsity football, away to Sayreville War Memorial High School.
It will be another 2 weeks, until Friday, September 23, before Da Bears play a home game, against Monroe Township High School.
Here's my how-to guide for the school for whom I was once the most famous (or infamous) fan.
Before You Go.
The school is only 38 miles from Midtown Manhattan, so the weather will be just about the same. Of course, so is the time zone. And you won't have to change your money or bring a passport. But you will need cash for the New Jersey Turnpike toll if you're driving -- and at the Lincoln Tunnel on the way back.
Tickets.
The stadium seats about 4,300, and, unlike when I was there in the mid-1980s, it rarely sells out. You will have a place to sit. I won't say you'll have a "seat," since they're aluminum benches. Adult tickets are $5.00.
Getting There.
Getting from New York City to New Brunswick by public transportation is easy: Take the New Jersey Transit Northeast Corridor to New Brunswick station. Getting from The City to East Brunswick is harder.
New Jersey Transit runs the Number 138 bus from Port Authority Bus Terminal down the New Jersey Turnpike to New Jersey Route 18, but you'll have a 15-minute walk from the nearest bus stop, at Arthur Street, to the stadium. And that's a rush hour bus only, so you wouldn't be able to get back.
If you take the train to New Brunswick station and transfer to NJT's Bus 818, you could get to Arthur Street and make the walk, and you could walk back and get a Bus 818 back to New Brunswick at about 9:05 PM. If you miss that one, the next and last one is 9:55 PM.
Coach USA (formerly Suburban Transit) runs buses from Port Authority to Neilson Plaza, part of the Tower Center complex just off the Turnpike's Exit 9, every hour and half-hour, and going back at :25 and :55 after the hour, plus rush-hour service. But you'd still have to get from Tower Center to the school, and you'd have to transfer to the 818.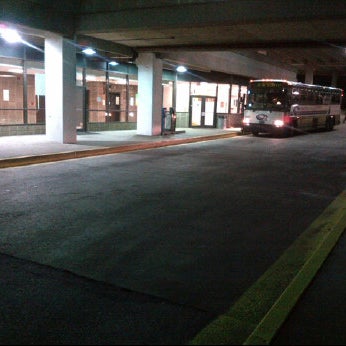 The bus station at Neilson Plaza
So driving is the best way. Take the Turnpike to Exit 9, and take Route 18 South. It will be about 3 miles before you see a sign saying, "Cranbury Rd., Cranbury." If you see the Colonial Diner on your left, you've gone too far. And taking the jughandle onto Arthur Street won't help, as Arthur leads to Summerhill Road, where there's a back way onto the campus (which you would take if you were walking from Arthur Street), but it has a gate that's usually closed (though it will be opened after the game).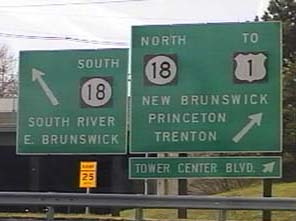 When you get onto Cranbury Road, the school will be about a mile ahead on the left. The street address is 380 Cranbury Road. Turn left, then go up the twisty hill. The gymnasium will be on the right, but you'll have to go nearly all the way around the school to get to the stadium, which will be on your left -- as will the baseball field. "Special Police" will guide you to a parking space, which will be free.
Once In the City.
East Brunswick is named for the adjoining City of New Brunswick, the seat of Middlesex County. New Brunswick is named for an English town, whose name was taken from the German city of Braunschweig in Lower Saxony, taken from "Bruno's wik." A wik was a marketplace and a rest stop for travelers in medieval Germany. Bruno, Brun, or Braun -- the English name Brown and the German name von Braun come from him -- was Duke of Saxony, and is a Catholic saint. He is said to have founded Braunschweig in AD 861.
What is now East Brunswick was first settled by Europeans in 1677, near what is now the northern end of town, the Lawrence Brook area. By the middle of the 19th Century, people were settling the southeastern part of town, what became known as the Old Bridge section.
In 1860, parts of the Townships of North Brunswick and Monroe were separated, to form the Township of East Brunswick. An eastern section was separated as the Borough of South River in 1870, a southwestern portion as the Borough of Helmetta in 1888, a western portion as the Borough of Milltown in 1896, and a southern portion as the Borough of Spotswood in 1908.
A body of water known at various points as Farrington Lake, Lawrence Brook and Westons Mill Pond forms the northwestern border between East Brunswick and North Brunswick, bisects Milltown, and then forms a border between East Brunswick and New Brunswick, before flowing into the Raritan River, separating East Brunswick from the Township of Edison.
The Borough of Sayreville borders E.B. in 2 separate places, with South River wedged in between. The Township of Madison was on the southeastern border, and, in 1975, took the name of the adjoining Old Bridge section of E.B., in order to avoid confusion with the Borough of Madison in Morris County. Spotswood, Helmetta and Monroe are on the southern border, and the Township of South Brunswick is on the southwestern border.
Although County Route 535, the Bordentown-Amboy Turnpike, is named Main Street in E.B., Spotswood and Helmetta, it is not E.B.'s main street. That would be New Jersey Route 18, which cuts down the eastern side of town from New Brunswick to Old Bridge.
Known as State Highway S-28 from 1927 to 1953, it was relabeled Route 18, and expanded in 1961 as the post-World War II building boom increased E.B.'s population from 5,000 in 1950 to 10,000 in 1960 to 34,000 in 1970. Route 18's directions were labeled East and West until 1982, then changed to North and South. (West, now North, heading toward New Brunswick; East, now South, heading toward the Jersey Shore.) The population was 47,512 in the 2010 Census, and estimated last year to be 48,976.
Address numbers on Route 18 increase going southbound, but there's no set street numbers in the town. While major intersections do look like a "century block" system -- 100 at Naricon Place, 200 at Eggers Street, 300 at Tices Lane -- this system does not hold south of that. Nor is there a "zero" point for east-west streets. To make matters more confusing, one of the main north-south roads, Ryders Lane, County Route 617, becomes a major east-west road at the municipal complex, the Jean Walling Civic Center (named for the town's 1st female Mayor, who died in office in 1975, not long after authorizing the complex).
That Civic Center, which includes one of the State's best public libraries, is over 2 miles west of Route 18, which is where pretty much everything else of interest in town is, including:
* Neilson Plaza, including the Tower Center complex with its "minor-league twin towers," which opened in 1986, at 18 & Naricon Place. (See the photo at the top of the page.)
* The East Brunswick Transportation Center, also sending commuter buses to New York.
* Mid-State Mall, a strip mall which opened in the late 1950s, which features a Shop-Rite, a Best Buy, a Boston Market and a Starbucks, at 18 & Tices Lane.
* And the Brunswick Square Mall, an enclosed mall which opened in 1972, including a Macy's (formerly a Bamberger's), a JCPenney, a Barnes & Noble, a Red Robin (soon to open, replacing the longstanding Ruby Tuesday), a Panera, a Tilted Kilt, and a large movie theater, at 18 & Rues Lane.
As I said, that Ruby Tuesday is about to become a Red Robin.
Two New Jersey Transit commuter bus lines go through the town. The 68 provides service to the Jersey City waterfront, and the 138 to Port Authority. NJT's local service sends 2 buses from the New Brunswick train station down Route 18 to Ferris Street. The 818 continues south on 18 to the Brunswick Square Mall, and then on to Old Bridge. The 815 turns onto Ferris Street, then down the Old Bridge Turnpike (County Route 527), then onto County Route 535 into South River, Sayreville and South Amboy, and then crossing the Raritan into Perth Amboy and Woodbridge before terminating at the Woodbridge Center Mall. Fares: 1 zone, $1.60; 2 zones, $2.55; 3 zones, $3.15.
The main newspaper serving E.B. is the
Home News Tribune
, created in 1995 as a result of a merger between the New Brunswick-based
Home News
and the Woodbridge-based
News-Tribune
. Sales tax in the State of New Jersey is 7 percent, and it does not rise in the County of Middlesex.
East Brunswick is traditionally liberal. Aside from 1988, it's elected only Democratic Mayors since 1972 -- in 10 elections out of the last 11. (UPDATE: In November, they made it 11 out of 12.) It hasn't voted for a Republican nominee for President since Ronald Reagan in 1984. And even when the rest of the 12th District voted for a Republican Congressman, E.B. voted for the Democratic nominee. The current Representative is Bonnie Watson Coleman.
The ZIP Code is 08816. The Area Code is 732, with 848 overlaid.
Once On Campus.
East Brunswick High School is located on a hill, bounded by Cranbury Road (County Route 535) on the north and west, Summerhill Road (County Route 613) on the east, and houses on the south. The school's Alma Mater even begins with the words, "Standing high upon a hilltop." (It's not that high.)
An overhead shot. Cranbury Road is to the left.
Prior to 1958, 9th to 12th grade students living in East Brunswick went to South River High School. EBHS opened on September 8, 1958, with grades 6 through 9. Those classes kept going until June 1962, when the 1st class graduated. The original building was designed for 1,300 students. By 1967, it had 1,700, so the 9th graders were sent to the town's junior high schools. It wasn't enough. By 1973, despite 2 additional wings being built, increasing recommended capacity to 1,700, EBHS had 2,600.
By the time I got there in 1984, enrollment had dropped to a little over 2,000, but it was still too crowded. Enrollment dropped to 1,700 by 1997. Then major construction projects began to transform the campus, making much of the outer building unrecognizable to those of us who graduated before. The old wings, or "buildings," were relabeled from numbers to letters: Building 1, the gym area, became Building A; Building 2 became B, 3 became C, and so on, because having a "Building 10" didn't work.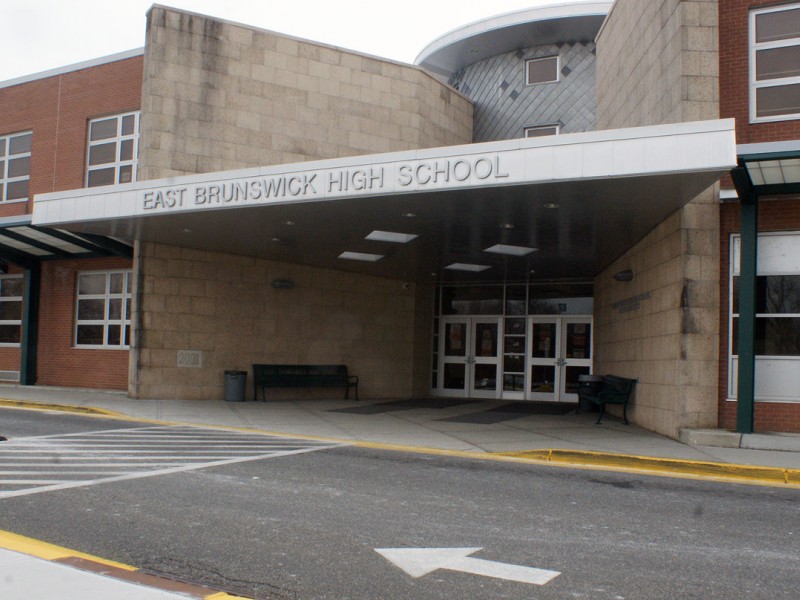 The entrance to the auditorium, after the expansion completed in 2001
The E.B. Board of Education has always insisted upon "Excellence in Academics, Athletics and the Arts." For Academics and the Arts, it usually works out that way; for Athletics, well, the Bears are usually good in several sports, but in the marquee sports -- football in the Fall, basketball in the Winter, and baseball in the Spring -- there are, occasionally, struggles. The football team, in particular, has not been good for most of the 2010s.
Enrollment is now about 2,200. The name of the school newspaper is
The Clarion
, and of the yearbook,
The Emerald
. Notable non-sports alumni include TV writer Jim Vallely (Class of 1972), disc jockey Matt Pinfield (1984), journalist Cenk Uygur (1988), and actors Aaron Yoo (1997), Jesse Eisenberg (2001), and his sister Hallie Eisenberg (2010).
Going In.
EBHS played its 1st 4 seasons of varsity football on a field now occupied by the girls' varsity softball field. In 1965, the current stadium went up. It appears not to have had a formal name, and was probably just called "Bears Field." Late in 1972, James F. "Jay" Doyle, the school's 1st football coach (1961-62), wrestling coach (1960-72) and athletic director (1958-72) died of a heart attack, only 41 years old. Before the 1973 football season began, the stadium was renamed Jay Doyle Field in his memory.
Parking is free, and while not many people hold tailgate parties, they are allowed. Fans enter the facility through the north end. As I said, admission is $5.00 for adults, and you can sit anywhere there's space.
Be advised, though: The east stand (to your left as you walk in) is for visiting fans, the west stand is for home fans, the southern end of the west stand is for the Marching Band, and the northern end of the west stand is occupied by the Bear Den, a supporters' group made up of EBHS students.
There are 21 rows of seats on the west stand, and the press box is in the middle, so if you don't want to hear a TV (local cable access) or radio (occasionally on WCTC, 1450 AM) broadcast, or assistant coaches signaling their bosses, you might want to sit further down.
The field is aligned north-to-south. Lights were added in 1986, as most high school football facilities in Middlesex County put them up in 1985 or 1986. (Previously, only New Brunswick and the school now known as Old Bridge had lights, necessary at the time due to groundsharing by schools that have since closed. A few, such as neighboring schools South River and Spotswood, still don't have lights.)
The scoreboard was located at the north end until 2005, when a renovation for a new artificial turf field and a new track also put a new scoreboard at the south end. Personally, I preferred the old board, even though it didn't have a message board at the bottom. The new one does.
The surrounding trees make it look like the field is surrounded by a green stadium, a horseshoe open at the north end. Alas, it's just aluminum bleachers on each sideline, hardly historic-looking, and seating capacity is about 4,300 -- not that we've filled it very often in the last 25 years.
The Bear head is viewed right-side-up from the home stands.
Although it is not the main EBHS facility for these sports, Doyle Field has also hosted soccer and field hockey. It used to hold an annual marching band festival. Graduation used to be held there, but the threat of rain -- my ceremony in 1987 was delayed a day, and then nearly canceled, by rain -- has led us to rent indoor facilities, such as the Garden State Arts Center, the Rutgers Athletic Center, or the Trenton arena.
Food.
There's a concession stand behind the north end zone. Don't expect anything fancy. It's pretty much the standard high school football stadium fare: Hot dogs, burgers, popcorn, candy, soda. Sometimes, there's pizza. But you're better off eating before the game.
Team History Displays.
The East Brunswick football team began varsity play in 1961, and has won 12 titles in its leagues/divisions: 1965, 1966, 1967, 1968, 1969, 1970, 1972, 1984, 1986, 1987, 1990 and 1994. You'll notice they won in only their 5th varsity season, but haven't won it in a generation.
They won Central Jersey Group IV Championships in 1966, 1972, 2004 and 2009. The 32-year gap between 1972 and 2004 was loaded with near-misses, including some bizarre circumstances. It was almost a Red Sox, Cubs, Cleveland Indians, Philadelphia Eagles, Buffalo Bills kind of situation. It was, "We know we're not going to win it, the only question is, Are we going to blow it, or are we going to get screwed?"
The 1966 and 1972 titles were virtual co-championships, as we were tied for the best record in the section. The 2004 title, the one that liberated us from our "choker" and "can't win the big one" labels, was over Jackson Memorial at Rutgers Stadium in Piscataway. It was the only game Jackson Memorial lost in a 3-year stretch, as they went undefeated in 2003 and 2005. The 2009 title was won at The College of New Jersey (formerly Trenton State), against Brick Memorial in a snowstorm, the only time snow has fallen during an EBHS football game. (We have, however, had plenty of games that should have been postponed by rain, but weren't.)
There is no mention of these titles anywhere in the fan-viewable area. If you can get inside the gym area (and you almost certainly won't, unless you wait for the Winter sports season and go to a basketball game or a wrestling meet), you'll see several trophy cases, including the football trophies.
The scoreboard shows 2 retired numbers of athletes who played on that field. The only EBHS football player to make the NFL is Josh Miller, a placekicker and punter who spent most of his career with the Pittsburgh Steelers, and now hosts a radio talk show in Pittsburgh. He won a ring with the New England Patriots in Super Bowl XXXIX in 2005.
Josh Miller, EBHS Class of 1988, kicking off on
the former grass surface at Doyle Field.
A representation of his Number 6 is on the board. So is a representation of the Number 9 of the only EBHS athlete to win an Olympic Gold Medal, soccer player Heather O'Reilly, who was also on the U.S. team that won the 2015 Women's World Cup.
Heather O'Reilly, EBHS Class of 2003
Not shown on that board, although he did play on that field as a quarterback, is the Number 12 of Dave Wohl, retired due to his basketball playing. Our 1st great basketball player, he quarterbacked us to the 1966 State Championship, then was an All-Ivy League basketball player at the University of Pennsylvania, then played for the Philadelphia 76ers, the Nets when they moved from Long Island to New Jersey, and 3 other NBA teams.
He won a ring as an assistant to Pat Riley on the Los Angeles Lakers, coached the Nets for 3 seasons, arranged a doubleheader at the Meadowlands for EB and Perth Amboy (we won) followed by Nets vs. Lakers (the Lakers won), and is now the general manager of the Los Angeles Clippers.
Dave Wohl, EBHS Class of 1967.
I couldn't find a photo of him in EB colors.
In addition, at the entrance to the field, there is a small brick monument with a plaque in Jay Doyle's memory on the front. The players touch it before going onto the field.
Stuff.
Souvenirs in the Green & White colors are available at the concession stand, and from members of the Booster Club at the entrance, including game programs, costing $5.00. They are also available to students during school hours, in a room off the cafeteria, the school store, named The Bear Necessities. There are no books or team videos available.
During the Game.
Safety will not be an issue. There is enough security, including East Brunswick police officers, on hand to prevent fights. In 32 years of going to EBHS football games, I have only seen 1 situation that got out of control. There was a fight, and I tried to get close enough to see it, and I was hit in the head -- by a thrown egg. It didn't hurt, but have you ever had raw egg drip into your ear? I have. I don't recommend it: It's disgusting.
Friday night kickoffs are always at 7:00 PM. On the rare occasion when, as in the early days of 1961 to 1985, games were played on Saturday afternoons, kickoff would be at 1:00 PM. The games were moved to Friday night so that people could either use Fall Saturdays go to the Rutgers games or watch their favorite college team on television, whereas, on a Friday night, there would be no distraction, and crowds would be larger.
I thought that this was an incredibly stupid move, and it totally backfired: By 7:00 on a Friday night, lots of people hadn't yet gotten home from work, or had but didn't have time to get ready for a football game, or were too tired from a long work week to go to a mere high school football game. The result is that East Brunswick football games, which used to have close to a full house, over 4,000, every time, have been lucky to get half that. It is no coincidence that the school's fortunes dwindled in the 1990s and in the 21st Century: We no longer have much of a home-field advantage.
Besides, didn't EBHS Administration know about portable radios, with which they could listen to the Rutgers (or Penn State, or Notre Dame, or some other school's) game? To say nothing of, in the last few years, checking the score of the college game on your mobile phone's Internet connection?
Before the game, the visiting school's marching band performs, then EB's. Sometimes, the EB band will play the National Anthem. Other times, students will go up to the press box and sing the Anthem over the public-address system.
The original version of the Bear mascot, with light brown fur and a teddy bear-like face, was retired in the 2000s, replaced with a fiercer-looking one with darker fur, an open mouth, and fangs. He now has an official name as well: Bruiser the Bear. He rides to away games on the same bus as the cheerleaders, who can be every bit as athletic as the football players. Sometimes, more so. (That was less a compliment to the cheerleaders than it is a sad observation on the players.)
Lots of schools' cheerleaders spell out the team's name, as ours do: "Gimme a B! Gimme an E! Gimme an A! Gimme an R! Gimme an S! What's that spell? BEARS!" One I haven't heard at very many other schools is, "We're dynamite, we're dynamite, we're tick, tick, tick, tick, BOOM, dynamite!" Shouting the school colors sometimes works, provided they can be easily rhymed, as ours can: "Go, green, green! Go, white, white! Go, green! White! All together, let's fight!"
Our public address announcer swiped from Rutgers, "And that is another East Brunswick... first down!" When we score, the fight song "E.B. Forever" is played. Regrettably, after 32 years of going to their games, I still don't know the words. After the game, win or lose, "E.B. Forever" is played again, and then the
Alma Mate
r:
Standing high upon a hilltop
is our Alma Mater bright:
East Brunswick High, we proudly honor
with the colors green and white.
Sing her glories and her praises
let them ring forever true.
Our own beloved Alma Mater:
East Brunswick High, all hail to you!
After the Game.
Getting out of the stadium should be no problem, in terms of either time or safety. Getting out of the parking lot may take some time.
For a postgame meal, the closest places that I can recommend that are likely to still be open when the game ends at around 9:00 PM will be Smashburger, at 591 Route 18, closing at 10; Carrabba's Italian Grill, at 335 Route 18, also closing at 10; and the Colonial Diner, at 560 Route 18, open until 11, and owned by my EBHS Class of 1987 classmate, former track star Constantine Katsifis.
Magnifico's Ice Cream, at 500 Route 18, is open until 10, and is often voted the Best Ice Cream in Central Jersey, but I don't know if it will be open all season long. It may close for the Winter before the football season ends. The Crestwood Bar, a 5-minute drive from the school at 260 Old Bridge Turnpike, has long been a supporter of both EBHS and South River High School sports, however it is on the South River side of the road.
Sidelights.
One of the great things about being in East Brunswick is that you're less than an hour from New York and less than 2 hours from Philadelphia, making each city's attractions easy to reach. This includes the sports teams, who play their home games the following number of miles from EBHS:
8 miles to Rutgers Stadium, also 8 miles to the Rutgers Athletic Center
19 miles to Princeton's Powers Field and Jadwin Gym
29 miles to the Prudential Center, home of the New Jersey Devils
31 miles to Red Bull Arena, home of the New York Red Bulls
35 miles to MetLife Stadium, home of the New York Giants and Jets
39 miles to Madison Square Garden, home of the New York Knicks, Rangers and Liberty
40 miles to the Barclays Center, home of the Brooklyn Nets and New York Islanders
47 miles to Yankee Stadium, home of the New York Yankees and New York City FC
57 miles to Citi Field, home of the New York Mets
69 miles to the Philadelphia Sports Complex
85 miles to Talen Energy Stadium, home of the Philadelphia Union
There is an East Brunswick Museum, set in the Old Bridge Historic District, in a former church at 16 Maple Street. Movies and TV shows don't come to E.B. to film. A scene from
The Adventures of Buckaroo Banzai Across the 8th Dimension
was supposedly set here, but was filmed in Southern California.
*
Going to an East Brunswick High School football game brings me back to a time that was by no means simpler or more innocent, but it does allow me to remember a time when my concerns were considerably smaller. And it allows me to watch boys playing football solely for the love of the game, not because it will mean money for them.
We are E.B.! Go Big Green! Bob Molarz' Green-White Army! (We hate Old Bridge!)