On Saturday, October 1, Rutgers University will play The... Ohio State University in football, in Columbus.
Refresh my memory: Who thought that RU joining the Big Ten Conference was going to be a good idea?
Before You Go.
Columbus can get really hot in the summer, but this game will be played in early October.
The Columbus Dispatch website
is predicting low 60s for Saturday afternoon, and low 40s for the evening. It should be dry. You should definitely bring a jacket. If you're not going just for the game, but plan to spend Saturday night into Sunday morning in Columbus, bring a winter jacket, and drop it off in your hotel, and switch to it if you're going out on Saturday night.
Columbus is in the Eastern Time Zone, so you won't have to set your clocks back.
Tickets.
The legendary ABC Sports college football announcer Keith Jackson called Ohio Stadium "The Big Horseshoe on the Olentangy." It is
so
big! (How big is it?) The official seating capacity is currently listed as 104,944, making it the 4th-largest non-racing stadium in the world. And yet, that's only 2nd in the Big Ten, behind Michigan Stadium -- but "The Big House" is no architectural marvel. Ohio Stadium is.
What are your chances of getting one of those 104,944 seats? Not good: OSU's average attendance in 2015 was 107,244 -- about 102 percent of capacity. (For comparison's sake: In the same season, their 1st season in the Big Ten, Rutgers averaged 47,723 at their 52,454-seat High Point Solutions Stadium.)
If tickets were available from the school, they'd run between $50 and $105. Most likely, you'll have to order from StubHub or some other
ripoff outfit
ticket broker. Visiting fan groups (ordering block tickets through their own school) are placed in the upper right corner of the south end zone -- the southwest corner of the stadium, at the open end of the horseshoe.
Getting There.
It's 536 miles from Times Square in New York to Capitol Square in Columbus, and 515 miles (and a whole lot of football talent) from Rutgers Stadium to Ohio Stadium.
Flying may seem like a good option, although with a destination city as close as Columbus, you shouldn't have to change planes. If you fly United Airlines, you can go nonstop for as little as $320 round-trip, although you will probably have to pay more like twice that if you don't want to fly out to Port Columbus International Airport or back first thing in the morning.
Amtrak does not go to Columbus. Its main train station was demolished in 1979 to make way for the Columbus Convention Center (which is too bad, because it was just 2 blocks from the Arena), and it is now the largest metropolitan area in America that doesn't have Amtrak access.
Greyhound's run between New York and Columbus is about 14 hours with no change of buses necessary, costing $140, and dropping to as little as $94 with advanced-purchase. The station is at 111 E. Town Street, at 3rd Street, downtown, 2 blocks south of the State House.
If you decide to drive, it's far enough that it will help to get someone to go with you and split the duties, and to trade off driving and sleeping. You'll need to get on the New Jersey Turnpike. Take it to Exit 14, to Interstate 78. Follow I-78 west all the way through New Jersey, to Phillipsburg, and across the Delaware River into Easton, Pennsylvania. Continue west on I-78 until reaching Harrisburg. There, you will merge onto I-81. Take Exit 52 to U.S. Route 11, which will soon take you onto I-76. This is the Pennsylvania Turnpike, the nation's first superhighway, opening in 1940.
The Turnpike will eventually be a joint run between I-76 and Interstate 70. Once that happens, you'll stay on I-70, all the way past Pittsburgh, across the little northern pandhandle of West Virginia, and into Ohio all the way to Columbus.
If you do it right, you should spend about an hour and 15 minutes in New Jersey, 5 hours and 30 minutes in Pennsylvania, 15 minutes in West Virginia, and about 2 hours and 15 minutes in Ohio. That's about 9 hours and 15 minutes. Counting rest stops, preferably halfway through Pennsylvania and just after you enter Ohio, and accounting for traffic in both New York and Columbus, it should be no more than 11 hours, which would save you time on Greyhound, if not flying.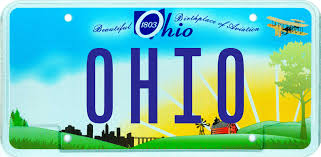 Once In the City.
Founded in 1816, Columbus, named for Christopher Columbus, celebrates its 200th Anniversary this year. It is easily the largest city in Ohio by population, with about 823,000 people, to a mere 397,000 for Cleveland and 298,000 for Cincinnati. But its metropolitan area has just 2.4 million people, still larger than Cincy's 2.2 million but considerably smaller than Cleveland's 3.5 million, because Cleveland has a much larger suburban area.
High Street, the main drag for Ohio State students, is the street address divider between East and West, and Broad Street serving as the divider between North and South. The southeaster corner of High & Broad includes Capitol Square, with the State House. The sales tax in the State of Ohio is 5.75 percent, rising to 7.5 percent in Franklin County, including the City of Columbus.
The Ohio State House. No, I don't know why they stopped buildng it
before finishing the dome.
ZIP Codes in Columbus begin with the digits 432, and the Area Code is 614, with 380 overlaid. The Central Ohio Transit Authority (COTA) runs buses, but no rapid transit rail system: No subway, no elevated, no light rail, no commuter rail. The fare is $2.00.
Going In.
The most famous building in the State of Ohio is Ohio Stadium, or, as ABC Sports' legendary college football announcer Keith Jackson called it, The Big Horseshoe On the Olentangy -- home field of the school usually referred to as "THE... Ohio State University." It opened in 1922, and its address is 411 Woody Hayes Drive (formerly Woodruff Avenue). It is 3 1/2 miles north of downtown, and can be reached by the Number 18 bus. If you're driving in, parking is $20.
Do you know of any other college football stadium with stained-glass windows in its main entrance? Ohio Stadium has them inside its northern entrance. It has the arched entrances so common to college football stadiums built in the 1920s, particularly in the Midwest.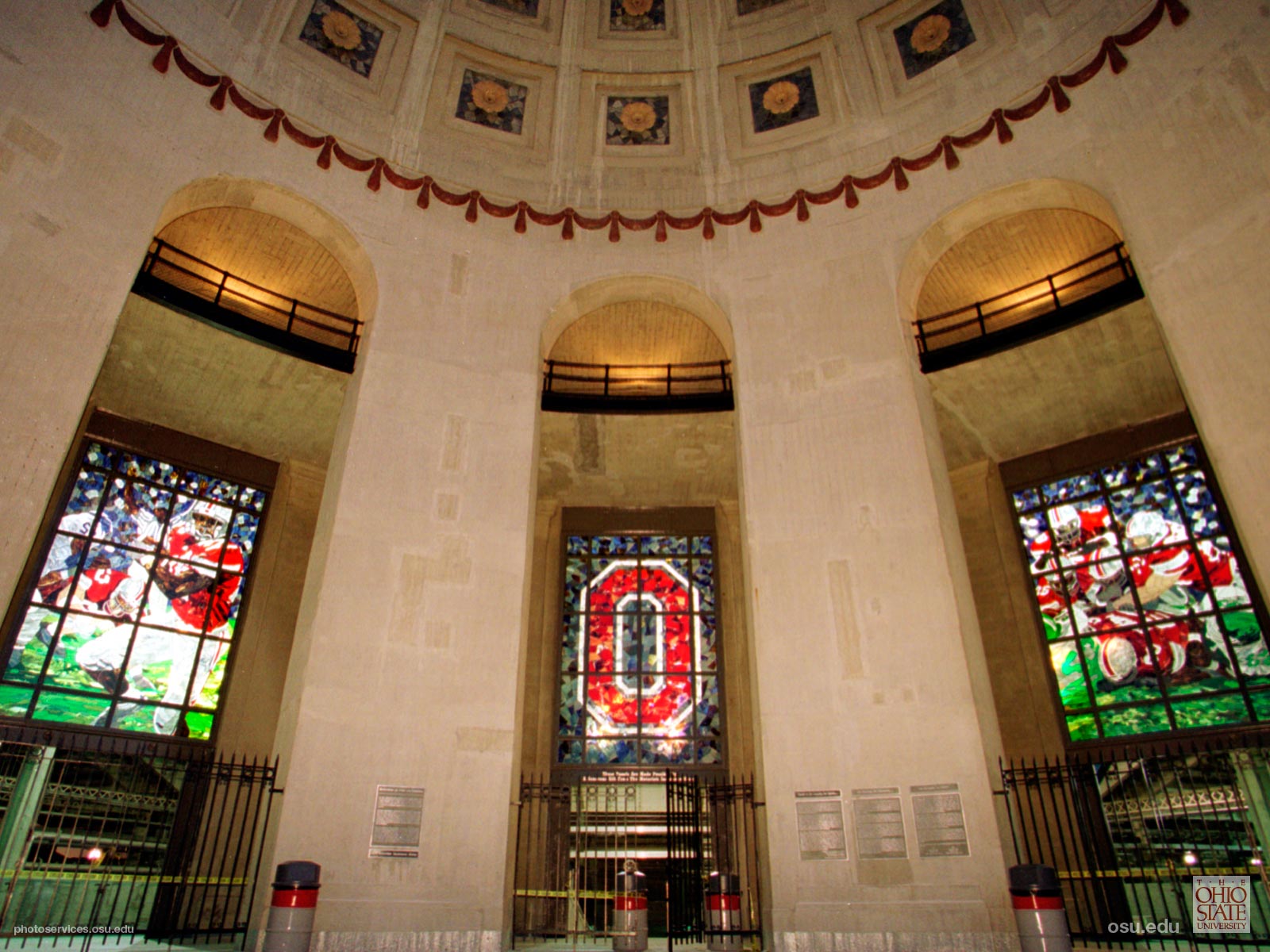 Officially, capacity is set at 104,944 seats. So far, they've topped out at 108,975 fans, for last season's game against Michigan State, which they lost 17-14. (Ohio State came in ranked Number 3 in the nation, Michigan State Number 9, so it wasn't a big upset.)
The stadium is, as previously stated, in a horseshoe shape, with the south end being the open end. The field is aligned north-to-south, and is made of FieldTurf.
The stadium also hosted the Ohio Glory of the World League of American Football in 1992, and the Columbus Crew of Major League Soccer from 1996 to 1998. The enormous size of the stadium led the Crew to close off the upper deck and the south stand, so soccer capacity was usually 25,243, although they topped out at 31,550 for a game against our MetroStars (now the New York Red Bulls) in 1996.
Pink Floyd hosted the 1st concert at the stadium in 1988, and the record attendance for a single-act concert is 75,250 for their return visit in 1994. Last year, they sold over 90,000 tickets to the Buckeye Country Superfest, including Blake Shelton, Rascal Flatts, Kenny Chesney and Keith Urban. Two months later, One Direction got a mere 31,626 -- although that would have filled the Blue Jackets' arena and then some.
Food.
Being in Big Ten Country, where tailgate parties are practically a sacrament, you would expect Ohio Stadium to have lots of good options. Unfortunately, the school's website is rather vague about it, saying only the following:
Levy Restaurants is excited to offer fans this season a variety of game day options -- from gluten-free (located at 19A) to in-house smoked BBQ (located at 15A), to fan favorites, such as hot dogs, bratwurst, popcorn, pretzels and nachos (offered at stands throughout the stadium), there is something for everyone!
Alcohol is served inside this college stadium, however sales are cut off with 10 minutes left in the 3rd quarter. (Presumably, to handle overflow from people hitting concession stands at halftime.)
Team History Displays.
Ohio State has won the league now known as the Big Ten Conference 35 times, the 1st time in 1906, the most recent time in 2014. They claim 8 National Championships: 1942 under head coach Paul Brown, later the 1st coach of the Cleveland Browns and the founding owner of the Cincinnati Bengals; 1954, 1957, 1961, 1968 and 1970 under Woody Hayes (although the 1970 one, awarded to them by the National Football Foundation, is dubious, since they lost the Rose Bowl); 2002 under Jim Tressel; and 2014 under current coach Urban Meyer.
There is no display for the Conference Championships in the field area, but stanchions for the National Championships are shown in the northwest corner.
Apparently, to get your uniform number retired at Ohio State, you need to have won the Heisman Trophy, and have graduated more than 10 years ago: Number 22, running back Les Horvath, 1944; Number 31, running back Vic Janowicz, 1950; Number 40, running back Howard "Hopalong" Cassady, 1955; Number 45, running back Archie Griffin, 1974 and 1975, the only 2-time Heisman winner; and Number 27, Eddie George, 1995. Quarterback Troy Smith won it in 2006, but his Number 10 remains in circulation. The retired numbers are on display in the northeast corner.
Since 1934, every OSU First Team All-American has been

recognized by the planting of a buckeye tree and installation of a plaque in Buckeye Grove, now located near the southwestern corner of Ohio Stadium, next to Morrill Tower. Trees are planted in ceremonies held prior to the Spring Game. All 126 Buckeye All-Americans dating back to 1914 have been so honored.
Stuff.
According to the school website, "

Authentic Buckeye merchandise may be purchased throughout the Stadium. The Official Team Shops are located at Section 11A, 12A, 23A, 24A, 16C, in the south stands and in the Huntington Club. A customized jersey stand is located near Section 16A. For additional merchandise, please visit

www.ohiostatebuckeyes.com

."
There are lots of good books about Ohio State football, including the about-to-be-published Ohio State Football: The Forgotten Dawn, about the program's early days, by Robert J. Roman, a New Yorker but also an OSU graduate.
David Hyde's 1968: The Year that Saved Ohio State Football and Michael Rosenberg's
War As They Knew It: Woody Hayes, Bo Schembechler, and America in a Time of Unrest
both tell of the 1968 season as the one that turned Hayes from a relic who may have needed to be pushed aside into both relic and icon at the same time.
The latter book tells of "The Ten-Year War," in which Wayne Woodrow Hayes and Glenn Edward Schembechler Jr. -- who played for him at Miami University of Ohio, coached under him at Ohio State, and then became head coach at Michigan -- had what looked like the ultimate college football rivalry from 1969 (when Bo's Wolverines ended Woody's long winning streak and ended talk of "the greatest college football team of all time) until 1978 (when Woody ended his career by punching a Clemson player in the Gator Bowl).
Hayes -- born on February 14, 1913, the same day as Yankee broadcaster Mel Allen and labor leader Jimmy Hoffa, and died on March 12, 1987 -- was a fascinating figure, conservative in personal style, football style and politics (he and Richard Nixon were friends both before each man reached his greatest height and after each man fell from grace), yet not an anti-intellectual: He told his players the best thing they could do after playing for him was not to play in the NFL, or even to enlist in the armed forces in the Vietnam War era, but to go to graduate school, particularly law school, as his only son did. He was a full professor of physical education, even after he was fired as head coach, and taught mandatory English and vocabulary classes to his players, and often offered free-lance lectures on history, including military history. Sometimes his players would secretly call him "The Old Man," but they also spoke of him as "Professor Hayes."
In addition to Schembechler, men who played or coached under him who went on to coach elsewhere include Notre Dame's Ara Parseghian and Lou Holtz, Indiana's Bill Mallory, North Carolina's Dick Crum (who coached Lawrence Taylor at Chapel Hill), Bill Arnsparger (who built the Miami Dolphins' "No-Name Defense" before serving as head coach of the Giants and Louisiana State), and the man who eventually succeeded him at O-State, Earle Bruce. And one of his students, though not a football player, and eventually adopting habits of his both good and bad, was basketball coaching legend Bob Knight.
There are many good books about him, including Buckeye: A Study of Coach Woody Hayes and the Ohio State Football Machine, written by Robert Vare in 1975 when Woody was still coaching; Woody Hayes: A Reflection by Paul Hornung, a longtime columnist for the Columbus Dispatch (and no relation to the Notre Dame and Green Bay Packer legend of the same name); A Fire to Win: The Life and Times of Woody Hayes by John Lombardo; and Hayes' own 1973 psychology treatise You Win With People!
Bill Rabinowitz of the Dispatch and Kirk Herbstreit, the former OSU quarterback now on ESPN, collaborated on The Chase: How Ohio State Captured the First College Football Playoff (to win the National Championship for the 2014 season). And Ken Magee and Jon M. Stevens recently chronicled the matchup between O-State and, as Woody put it, because he didn't even like to say the name, "That School Up North" (or "TSUN"), in The Game: The Michigan-Ohio State Football Rivalry.
Commemorative DVDs of the 1969 Rose Bowl, the 2003 Fiesta Bowl and the 2015 National Championship Game, in which Ohio State won the 1968, 2002 and 2014 National Championships, are available. So are the DVDs
Ohio State: The History of Buckeye Football
(2005) and
Michigan vs. Ohio State: The Rivalry
(2013).
During the Game.
Since Rutgers is new to the Big Ten, there is no rivalry between them and Ohio State. Ohio State's big rival is Michigan, with lesser but still intense rivalries with Penn State (we can relate), Notre Dame and Illinois. Although Indiana borders Ohio, Ohio State vs. Indiana isn't all that big a rivalry in football. In basketball, that's another story. Anyway, you shouldn't have any trouble wearing RU gear on campus, even in the stadium -- especially since their main color is also Scarlet.
Gates open 2 hours before kickoff. However, 4 hours before kickoff, fans can enter St. John Arena across the street, and watch The Ohio State University Marching Band play, in what's known as their "Skull Session."
The Band -- a.k.a. The Best Damn Band In The Land, or TBDBITL (pronounced "Thuh-BIT-el") for short -- is always the performer for the National Anthem. But they are best known for their formation "Script Ohio," which they play to the tune of "Le Régiment de Sambre et Meuse," a French marching song written in the wake of the Franco-Prussian War of 1870 -- coincidentally, the year the Ohio State University was founded.
The first Script, October 24, 1936. Note the rounder capital O.
They began using the formation in 1936, designed by their director at the time, Eugene Weigel, who took the shape from the marquee of the Loew's Ohio Theatre in downtown Columbus, although the capital O now resembles the block O used in Ohio State's logo.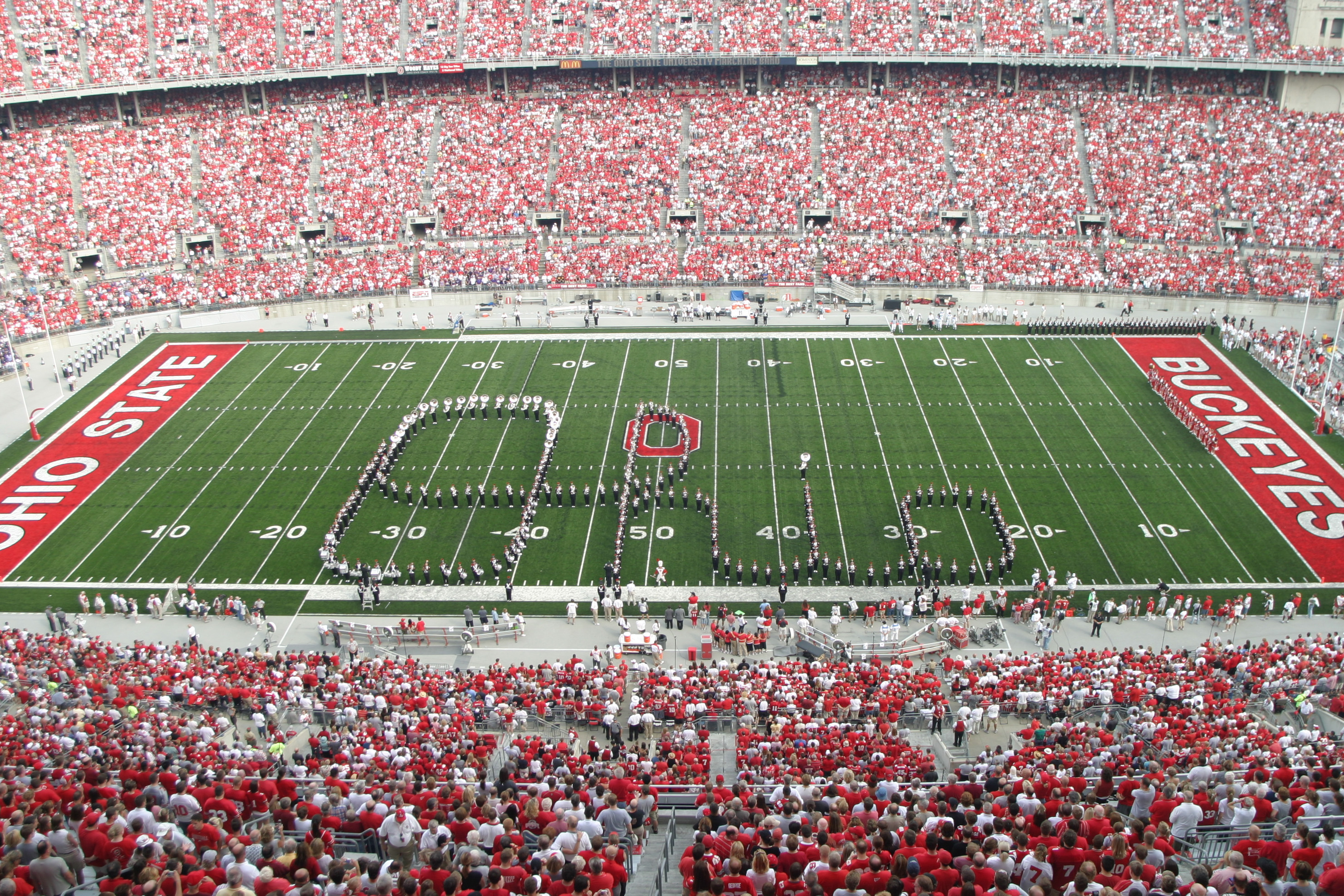 Usually, the Band does a single Script, taking up a majority of the field. They have been known to do a Double Script (one along each sideline, with 2 i-dotters) and even a Quadruple Script (adding one at each end of the field, with 4 i-dotters).
A rare Quadruple Script
At the conclusion of the formation, the drum major will high-step toward the spot where the dot in the "i" in "Ohio" would be, then slap his baton down to that spot. A sousaphone player -- always a senior, and to do it before the Michigan game is a massive honor -- will, in a feat requriing considerable strength and coordination, rear his instrument back and high-step to that spot. He will then remove his hat and bow, then turn around and bow to the other side of the field.
The first i-dotter was actually a cornet player, John Brungart. A year later, in 1937, Weingart decided to switch the cornetist with a sousaphone player. Later that year, the drum major mistimed his step, and got to the spot a little early. The sousaphone player, Glen Johnson, decided to use up the time with the hat salute and the bow, and it's been part of the tradition ever since.
Women were first admitted to the Band in 1973. In 1979, Jan Duga became the 1st female i-dotter. I can't find a record of who was the 1st black i-dotter, or when, but they have had them. Honorary i-dotters have included retiring band directors, retiring longtime university employees, Cleveland native Bob Hope in 1978, Woody Hayes in 1983 (he called it the greatest honor of his life), Columbus native and then-Heavyweight Champion of the World James "Buster" Douglas in 1990, Columbus area native and golf legend Jack Nicklaus in 2006, and Ohio native and astronaut John Glenn and his wife Annie Glenn in 2009.
For those of you who are Yankee Fans: Joan Zieg, a.k.a. Mrs. George Steinbrenner, is an Ohio State alumna, and their wedding was in Columbus. As an Ohio native with a love of all things military, including marching music, George made a huge donation to the Band, and their training center is now named for the Steinbrenners. The University even gave George a National Championship ring in 2003, and at Spring Training, he showed that to Derek Jeter, a graduate of arch-rival Michigan, which had won the title 5 years earlier. Normally very deferential to The Boss, Jeter sneered, "They're
giving
those away now?"
Ohio State has 2 fight songs, and they usually bracket Script Ohio. The Band usually precedes it with "
Across the Field
," and follows it with "
Buckeye Battle Cry
." Author and Ohio State grad James Thurber, in his play
The Male Animal
, popularized their song "We Don't Give a Damn for the Whole State of Michigan." In 1965, when "Hang On Sloopy," by the McCoys, a band from Indiana but their members the Derringer Brothers were from Ohio, hit Number 1,
they began playing it
, and it is now the Official State Rock and Roll Song of Ohio. The Band also plays "Fire" by the Ohio Players, with its trademark "O-H-I-O" chant.
Ohio is the Buckeye State, and Ohio State's teams are called the Buckeyes. What's a "Buckeye"? It's the fruit of the Aesculus tree. A Michigan fan designed T-shirts, caps, mugs, etc. with the slogan "Happiness is crushed Buckeye nuts."
In 1967, Woody Hayes began rewarding his players for good performances with stickers with Buckeye leaves on them, the size of a silver dollar, on what had been plain gray helmets. In 1979, after Woody was fired and Earle Bruce became the new head coach, they were reduced to the size of a quarter, which they remain -- probably so that more can fit on the helmets.
The mascot is Brutus Buckeye, a guy in a Scarlet & Gray striped shirt with a buckeye nut for a head and an Ohio State cap on top.
Women go nuts over Brutus Buckeye.
Since 1938, Section 39A in the north end zone, the middle of the closed end of the horseshoe, has been home to the registered student organization Block O.
Woody Hayes was a run, run, run kind of guy. His style was known as "Three yards and a cloud of dust." He did not like the passing game. He used to say, "There are three things that can happen when you throw the football, and two of them are bad," meaning an incompletion and an interception. And his opposite number at Michigan, Bo Schembechler, had the same idea. The days when they led the "Big Two, Little Eight" and only the occasional exception threw the ball in that league (Purdue has been known for a long line of good quarterbacks, including Len Dawson and Drew Brees) are long gone. Ohio State will run the ball when they think they can get a 1st down that way, and they will throw the ball whenever they please. Woody might not like it, but he'd be fine with the results: In 4 seasons and the start of a 5th, Urban Meyer is 53-4, including 31-1 in Big Ten play.
Since 1954, after every win, home and away, the fraternity Alpha Phi Omega rings the Victory Bell for 15 minutes -- 30 if it's against Michigan. Supposedly, the Bell, in the southeast tower of the Stadium, can be heard 5 miles away. Since Ohio State is currently the Number 3 team in the country, and Rutgers is, well, Rutgers, I guess we'll find out.
Since 2001, at the instigation of then-head coach Jim Tressel, at the end of every home game, the coaches, players and cheerleaders have gathered in the south end zone, the open end of the horseshoe, to since the school's alma mater, "Carmen Ohio," to the massive student section.
Since 1925, Ohio State and Illinois have played for a trophy, a wooden turtle named Illibuck. More importantly, since 1934, when Ohio State beats Michigan, their players receive a gold miniature charm depicting a pair of football pants. When Francis Schmidt was hired as head coach of then-beleaguered OSU in 1934, he said he wasn't afraid of then-mighty Michigan, saying, "They put their pants on one leg at a time, the same as we do!" Despite Ohio State having won 11 of the last 13 games, Michigan still leads the all-time series, 58-47-6. (UPDATE: Now 58-48-6.)
After the Game. The University is well-policed, and both the campus and downtown should be safe. Columbus doesn't have nearly the reputation for crime that Cleveland and Cincinnati do.
The most famous bar, perhaps in the entire State of Ohio, is the Varsity Club, across from the OSU Ice Arena and 3 blocks north of Ohio Stadium. 278 W. Lane Avenue, at Tuttle Park Place. High Street, the eastern boundary of the OSU campus, has been described as "a zoo" on home football Saturdays, so think of it as Easton Avenue and then some, and use discretion.
Unfortunately, the most storied Ohio State fan bar of all, Papa Joe's, home of the Saturday morning Kegs and Eggs breakfast, burned down in 1996. The current pizza chain of the same name has no connection, aside from being an Ohio tradition. Retail space, including the current Ohio State bookstore (a Barnes & Noble, of course), is on the site. 1556 N. High Street at 11th Avenue. Max & Erma's, at 55 E. Nationwide Blvd., is said to have the best burger in town.
I can find no references to places where New Yorkers gather in or around Columbus: The sites that usually list bars for football fans in exile don't seem to have references to where Yankees, Mets, Giants or Jets fans go when they live nearby.
If you visit Columbus during the European soccer season, the Fado Irish Pub chain has an outlet here, at 4022 Townsfair Way, about 9 miles northeast of downtown. Number 16 bus.
Sidelights.
Columbus may have only the 1 major league team, but it's a decent sports town, and here's some of the highlights:
* Ohio Field site. Ohio Stadium's predecessor was at the southwest corner of High Street and Woodruff Avenue (Woody Hayes Drive). Its 14,000 seats weren't nearly enough, so Ohio Stadium was built with 66,000 seats. Many people scoffed that the Buckeyes could fill it. But the dedication game drew over 71,000, and nobody's laughed at Ohio State's attendance since.
* Value City Arena at the Schottenstein Center. Ohio State's new basketball arena opened in 1998, at 555 Borror Drive, across the Olentangy River from the Stadium. It hosted the NCAA's hockey version of the Final Four, the Frozen Four, in 2005. The Bill Davis Stadium (baseball) and the Jesse Owens Memorial Stadium (track & field) are part of this complex as well.
* St. John Arena. Ohio State played basketball here from 1956 to 1998, across from the Stadium at 410 Woody Hayes Drive. It was at this arena that the Buckeyes played the 1959-60 season in which they won the National Championship. Coach Fred Taylor is in the Basketball Hall of Fame, along with 3 players on this team, although 1 is in as a coach: Jerry Lucas, John Havlicek, and "sixth man" Bob Knight.
It was also at St. John that Elvis Presley sang on June 25, 1974. Early in his carer, Elvis played 2 shows at the Franklin County Veterans Memorial Auditorium on May 26, 1956. Built in 1955, it was demolished in 2015, and an Ohio Veterans Museum is being built on the site. 300 W. Broad Street, on the Scioto River, just across from downtown. (The Beatles played in Cleveland and Cincinnati, but not in Columbus.)
* Nationwide Arena. The home of Ohio's only NHL team, the Columbus Blue Jackets, is about a mile northwest of the State House, in the Arena District, near the confluence of the Scioto and Olentangy Rivers, in an area that includes their minor-league ballpark and their Convention Center.
ESPN The Magazine declared it "the No. 2 stadium experience in professional sports," behind Target Field in Minneapolis. The Ultimate Sports Road Trip rated it the best arena in the NHL.
Several bus lines get you there. The official address is 200 W. Nationwide Blvd.
Why did Columbus get an NHL team? Why not Cleveland or Cincinnati, the more proven major league cities? Probably because somebody (probably Commissioner Gary Bettman) though that neither Cleveland nor Cincinnati could support a team by itself, but a team in Columbus, in Central Ohio, would be supported by the entire State. (Or maybe that theory makes no sense, since he let the Minnesota North Stars move to Dallas, when he could have suggested Austin as a way to get fans from Dallas
and
Houston.)
* Huntington Park. Just 2 blocks west of Nationwide Arena, at 330 Huntington Park Lane, this 10,100-seat stadium has been home to the International League's Columbus Clippers since 2009. Since moving in, they've won Pennants in 2010, 2011 and 2015, giving them a total of 10 Pennants.
* Cooper Stadium. Opened in 1932 as Red Bird Stadium, and renamed for Harold Cooper, the Franklin County Commissioner and team owner who kept professional baseball in the city in the 1950s, this stadium was one of the most successful ballparks in the minor leagues. It was also one of the largest, seating 17,500 people at its peak, and 15,000 in its last years.
Initially, it was home to the Columbus Red Birds, a farm team of the St. Louis Cardinals (also nicknamed the Redbirds), and to a Negro League team, the Columbus Blue Birds. The Red Birds won Pennants in 1933, 1934, 1937, 1941, 1942, 1943 and 1950.
The Cardinals moved them to Omaha in 1955, and a new team was brought in, the Columbus Jets, a farm club first of the Kansas City Athletics, then of the Pittsburgh Pirates. This led to the stadium being renamed Jets Stadium. They won the Pennant in 1961 and 1965, before being moved to Charleston, West Virginia after the 1970 season. The Pirates restored Columbus as their Triple-A team in 1977, the Yankees took over in 1979, the Washington Nationals in 2007, and the Cleveland Indians in 2009.
The Clippers were a Yankee farm team from 1979 to 2006, infamous as the bad end of "The Columbus Shuttle," George Steinbrenner's pipeline from Triple-A ball to the Yankees and back. As a Yankee farm team, they won IL Pennants in 1979, 1980, 1981, 1987, 1991, 1992 and 1996. All told, Columbus baseball teams have won 19 Pennants.
Cooper Stadium was closed after the 2008 season, but instead of being demolished, it has been converted into an auto racing facility. 1155 W. Mound Street, 3 miles west of downtown. Number 6 bus.
An April 24, 2014 article in The New York Times, showing baseball fandom by ZIP Code
, shows that, despite being considerably closer to Cincinnati (107 miles) than to Cleveland (143 miles), the Indians still have a slight edge on baseball fandom in Columbus, on the average having 28 percent to the Reds' 22 percent.
The September 2014 issue of The Atlantic Monthly had a similar map
, showing that the Browns are more popular in Columbus than the Bengals.
Cincinnati is the nearest MLB and NFL city, 110 miles away, while Cleveland is the nearest NBA city, 145 miles. If it had teams in those sports, Columbus would rank 29th in population in MLB, 26th in the NFL, and 25th in the NBA. So don't hold your breath.
Columbus has never hosted an NCAA Final Four. Nor has any other Ohio city. The 13,435-seat University of Dayton Arena, built in 1969, 74 miles west of Columbus, has hosted more NCAA Tournament games than any other facility: 107.
* Indianola Park. Home ground of the Columbus Pandhandles, one of the 1st professional football teams, from 1901 to 1926, before the glut of early pro football doomed them. Along with the Canton Bulldogs, in the 1910s they dominated the Ohio League, one of the NFL's predecessors.
They are best remembered for the 7 Nesser brothers (sons of German immigrants, there were 8, but Pete, 1877-1954, the largest of them, didn't like football and didn't play; there were also 4 sisters): John (1875-1931), Phil (1880-1959), Ted (1883-1941), Fred (1887-1967), Frank (1889-1953), Al (1893-1967) and Ray (1898-1969). Knute Rockne, who did play a little pro football before going back to Notre Dame to coach, said, "Getting hit by a Nesser is like falling off a moving train." In 1921, Ted's son Charlie (1903-1970) played with the Panhandles, marking the only time a father and son have played in the NFL at the same time, let alone for the same team.
The Indianola Shopping Center is now on the site, 3 miles north of downtown. 1900 N. 4th Street at 19th Avenue. Number 4 bus.
* Mapfre Stadium. Opening in 1999, and known until last year as Columbus Crew Stadium before naming rights were sold to a Spain-based insurance company, the Crew moved into this 22,555-seat stadium after playing their 1st 3 seasons (1996-98) before 90,000 empty seats at Ohio Stadium. They won the MLS Cup in 2008, and reached the Final again last year, losing to the Portland Timbers despite playing at home.
The Stadium also hosted the MLS Cup Final in 2001 (San Jose beating Los Angeles), 10 games of the U.S. National Team (including 4 games against Mexico, all 2-0 or "Dos A Cero" wins), and 6 games of the 2003 Women's World Cup (including a 3-0 U.S. win over North Korea).
One Black and Gold Blvd., at 20th Avenue, about 3 1/2 miles north of downtown, near the Indianola Shopping Center. Number 4 bus.
Currently without an NBA team,
a May 12, 2014 article in The New York Times
shows basketball allegiances in the Columbus area are mixed between the Cleveland Cavaliers and the Miami Heat. But once you get into the suburbs, it becomes more Cavs territory. My guess: Ohio State students from elsewhere, some of whom end up staying in Columbus, stick with their old home teams; while some stick with LeBron James (who's played for both the Cavs and the Heat), and some adopted the Cavs regardless of LeBron.
The aforementioned Ohio Veterans Museum will probably be completed in early 2017.
The aforementioned Ohio Theatre, the former Loew's movie palace that opened in 1928 and inspired Script Ohio in 1936, is still open, at 39 East State Street downtown.
Ohio Village is a recreated 19th Century community, sort of an updated, Midwestern version of Colonial Williamsburg. 800 E. 17th Avenue, at Velma Avenue. Number 4 bus. The Columbus Museum of Art is at 480 E. Broad Street, at Washington Avenue. Number 10 bus. The Center of Science & Industry (COSI) is across from the Veterans Memorial Auditorium site, at 333 W. Broad Street, at Washington Blvd. Number 10 bus. The James Thurber House, home to the legendary author and humorist, is at 77 Jefferson Avenue,at N. 11th Street. Number 6 bus.
Farther afield -- with no public transportation available -- the Armstrong Air & Space Museum is in the hometown of Neil Armstrong, the late 1st man to walk on the Moon. 500 Apollo Drive in Wapakoneta, just off Interstate 75, 87 miles northwest of downtown Columbus.
No Presidents have come from Columbus, but Rutherford B. Hayes and William McKinley lived there while they were Governor of Ohio. Alas, there was no Governor's Mansion during their times in the office. The Ohio Governor's Residence and Heritage Garden has only been the Governor's Mansion since 1957, and current Governor John Kasich, who is running for President this year, already lived nearby (he'd been a Congressman for the area), and so he only uses it for official functions. 358 N. Parkview, in Bexley, about 4 miles northeast of downtown. Number 10 bus.
McKinley's historical sites are all in or near his hometown of Canton, and I'll discuss them in my Cleveland trip guides. Hayes' home, Spiegel Grove, and his grave and Presidential Library are in Fremont, 106 miles north of Columbus. Warren G. Harding's hometown of Marion is 51 miles north. Dying in office in 1923, he remains the last President to have lived in Ohio. As with both locations, there is no public transportation to there from any of Ohio's major cities.
Marion was also the official hometown of the Oorang Indians, a pro football team made up entirely of Native Americans, led by Hall-of-Famers Jim Thorpe and Joe Guyon. The problem wasn't that some of the players used their Native names, which included animal names like Ted Buffalo, Gray Horse, Big Bear, Eagle Feather and War Eagle. The problem is that they were party animals, not getting the rest they needed. As quarterback Leon Boutwell noted:
White people had this misconception about Indians. They thought they were all wild men, even though almost all of us had been to college and were generally more civilized than they were. Well, it was a dandy excuse to raise hell and get away with it when the mood struck us. Since we were Indians we could get away with things the whites couldn't. Don't think we didn't take advantage of it.
As a result of their wild ways, they went 3-6 in 1922, and 2-10 in 1923, and folded. I say Marion was their official hometown because they were a "traveling team," playing just 1 of their 21 games in Marion.
The Armstrong Air & Space Museum was built to honor Neil Armstrong, the 1st man to walk on the Moon, in his hometown of Wapakoneta, Ohio. The building is, naturally, shaped like a crescent moon. 500 Apollo Drive, 185 miles southwest of Cleveland, 93 miles southwest of Toledo, and 88 miles northwest of Columbus.
The tallest building in Columbus is the Rhodes State Office Tower, named for the longtime Governor who ordered the Ohio National Guard to fire on the protestors at Kent State University on May 4, 1970. Completed in 1974, it is 629 feet high, and every bit as ugly as the Administration it memorializes. 30 E. Broad Street, downtown, across from the State House.
While lots of movies have been shot and/or set in Ohio, Columbus hasn't been a popular location for them. There have been 2 TV shows set in Columbus:
Family Ties
, the 1982-89 NBC sitcom that introduced us to Michael J. Fox; and
Man Up!
, an ABC sitcom set in nearby Gahanna that tanked and was canceled after 13 episodes in 2011.
*
Columbus may be Ohio's largest city, but aside from being the State capital, it's known for 2 things: Ohio State football, and Ohio State anything else. The Blue Jackets are almost an afterthought.
Rutgers at Ohio State? It's close enough for a fairly easy Rutgers roadtrip. It could even could be fun... if you don't mind being far on the wrong side of the score.