I close my Trip Guides for the 20 current Major League Soccer franchises with the Houston Dynamo. The New York Red Bulls do not visit them this season (although a Playoff matchup is possible), but New York City FC do, on Friday night, September 30.
Before You Go.
The
Houston Chronicle
is predicting low 90s on Friday afternoon, but a considerably more tolerable mid-70s for gametime. The heat could be a problem, since, unlike Houston's baseball, football and basketball teams, the soccer team plays open to the elements.
When I last did this guide for the Astros this past July 23, I bemoaned the fact that Houston could have built an overhead walkway system like Minneapolis, or an "Underground City" like Montreal, in their cases to protect pedestrians from their cities' notoriously cold Winter. I have since been informed that there is a "Houston Tunnel System," begun in the 1930s, and inspired by New York itself, by the system under Rockefeller Center. Regardless of how much this may help, remember to stay hydrated. At least it looks like you won't have to worry about rain on Friday.
Houston is in the Central Time Zone, so you'll be an hour behind New York time. Although Texas was a Confederate State, you won't need to bring your passport or change your money.
Tickets.
The Dynamo are averaging 18,835 fans per game this season, down about 1,800 from last season. However, this being soccer, it wouldn't matter if they averaged a sellout (22,039), because MLS teams always set aside tickets for visiting fans.
The Dynamo put visiting fans in Section 240, in the southwest corner. This section, and the entire West Stand, is pretty much the only part of the stadium that doesn't give you a good view of the impressive skyscrapers of downtown Houston. Tickets are $27.
Getting There.
It's 1,629 miles from Times Square in New York to downtown Houston, and 1,619 miles from Red Bull Arena to BBVA Compass Stadium. You're probably thinking that you should be flying.
Flying from Newark to Houston George Bush Intercontinental Airport (That's named for the father, not the son) can be done for as little as $413, nonstop on United Airlines. Bus 102 will get you to downtown Houston in about an hour and 20 minutes.
There are 2 ways to get there by train. One is to change trains in Chicago, and then change to a bus in Longview, Texas. The other is to take Amtrak's
Crescent
out of Penn Station in New York at 2:15 PM Eastern Time 2 days before you want to arrive, arrive at Union Station in New Orleans at 7:32 PM Central Time the day before you want to arrive, stay in New Orleans overnight, and then transfer to the
Sunset Limited
at 9:00 AM, and arrive in Houston at 6:18 PM. (In other words, about 40 minutes before kickoff.) No, I'm not making any of that up. You don't want that, even though it would cost you a relatively cheap $348 round-trip. So let's just forget Amtrak, and move on.
Greyhound allows you to leave Port Authority Bus Terminal at 8:15 PM tonight, and arrive at Houston at 1:25 on Tuesday, a trip of 42 hours and 10 minutes. But that would require changing buses in Richmond (an hour and 5-minute layover), Atlanta (also 1:05) and New Orleans (45 minutes). It also includes layovers of 25 minutes in Raleigh, 1:10 in Charlotte, and then there's Alabama, with half an hour in Montgomery and an hour and 10 minutes in Mobile. Then 20 minutes in Baton Rouge. And you'd have to leave tonight, Sunday, in order to make it by the Tuesday night game. It's $198 round-trip. You're better off spending a little extra and flying. The Houston Greyhound station is at 2121 Main Street, a mile and a half from the ballpark.
If you actually think it's worth it to drive, get someone to go with you so you'll have someone to talk to and one of you can drive while the other sleeps. You'll be taking Interstate 78 across New Jersey and into Pennsylvania to Harrisburg, where you'll pick up Interstate 81 and take that through the narrow panhandles of Maryland and West Virginia, down the Appalachian spine of Virginia and into Tennessee, where you'll pick up Interstate 40, stay on that briefly until you reach Interstate 75, and take that until you reach Interstate 59, which will take you into Georgia briefly and then across Alabama and Mississippi, and into Louisiana, where you take Interstate 12 west outside New Orleans. Take that until you reach Interstate 10. Once in Texas, Exit 770 will get you to downtown Houston.
If you do it right, you should spend about an hour and a half in New Jersey, 3 hours in Pennsylvania, 15 minutes in Maryland, half an hour in West Virginia, 5 and a half hours in Virginia, 3 hours and 45 minutes in Tennessee, half an hour in Georgia, 4 hours in Alabama, 2 hours and 45 minutes in Mississippi, 4 hours and 30 minutes in Louisiana and 2 hours in Texas. Including rest stops, and accounting for traffic, we're talking about a 40-hour trip.
Even if you're only going for one game, no matter how you got there, get a hotel and spend a night. You'll be exhausted otherwise. Trust me, I know: Trains and buses are not good ways to get sleep.
Once In the City.
Houston was founded in 1836 as Allen's Landing, and was renamed for Sam Houston, "the Father of Texas." There are 2.2 million people in the city proper, making it the 4th-largest in America, and 6.2 million in the metropolitan area, making it 5th.
The sales tax in the State of Texas is 6.25 percent, but in the City of Houston it goes up to 8.25 percent. The city doesn't appear to have a "centerpoint," where the address numbers start at 1, but there is a Main Street, running northeast/southwest.
There is a light rail system, called METRORail, but you probably won't need it to get from a downtown hotel to the ballpark. One zone is $1.25, and the price rises to $4.50 for 4 zones, so a daypass is a better bargain at $3.00.
Going In.
BBVA Compass Stadium, its naming rights bought by a Spain-based banking corporation, is in the East of Downtown neighborhood, or EaDo, separated from Downtown Houston by Interstate 69, the Southwest Freeway. The mailing address is 2200 Texas Avenue. Parking is $20. It is served by the EaDo/Stadium station.
Opening in 2012, it is also home to the Houston Dash of the National Women's Soccer League, and the football team of Texas Southern University. The University of Houston played football there in 2013, while their new stadium was built on the site of their old one.
Despite the "pub culture" of soccer, this is Texas, this is the South, and the Dynamo organization is one of the few in MLS that actively encourages tailgate parties. They set aside Lot B and Lot C for fans who want to tailgate. (The Red Bulls allow it, but there's a difference between allowing and encouraging. It's part of the culture there.)
The field is real grass, and is aligned north-to-south -- well, northeast-to-southwest, anyway. It's hosted 8 men's international matches, including a U.S. draw with Canada on January 13, 2013; and 1 women's international match, a U.S. win over China on December 12, 2012.
Food.
Being a "Wild West" city, you might expect Houston to have Western-themed stands with "real American food" at its stadiums. Being a Southern State, you might also expect to have barbecue. Being in South Texas, you might expect Mexican food. And you would be right on all counts.
They have Texas Fare at Sections 105, 110, 117 and 136; Pizza on the Pitch at 107 and 138; Taqueria Los Anaranjados (Spanish for "the Orange Ones") at 115 and 135; Extreme Dogs & Nachos at 122; Bayou City BBQ at 125 and 133; and Far Post & East End Grill at 127 and 139;
Team History Displays.
The 1996 MLS charter club version of the San Jose Earthquakes (replaced in 2008) moved to Houston for the 2006 season, and, in shocking fashion -- shocking not just for the bright orange jerseys -- won the next 2 MLS Cups. They also won Conference Championships in 2011 and 2012, although they lost the MLS Cup Finals on those occasions. They also contest the Texas Derby with FC Dallas, and have won it 6 of the 11 times it's been played, including this season.
The Dynamo hang banners for their titles under the roof at the south end. They do not have any retired numbers, or a team hall of fame. Nor did they announce a 10th Anniversary Team this season.
Stuff.
The Soccer Shop is located opposite Section 114 on Texas Avenue, toward the northwest corner of the Stadium, and is open for up to one hour before gates open. Fans must have a valid ticket to enter on matchdays.
While there are commemorative DVDs for their 2006 and 2007 MLS Cup seasons, and this year marks their 10th Anniversary in town, as yet, there appear to be no books about the Dynamo.
During the Game.
If you were wearing Dallas Cowboy gear to a Houston Texans game, or Texas Longhorns gear to a Texas A&M Aggies game (or vice versa), or FC Dallas gear to this stadium, you might be in trouble. But Dynamo fans aren't especially hostile to New Yorkers, so safety shouldn't be an issue.
Knock, knock. "Who's there?" Orange. "Orange who?" Orange you glad whoever designed the Dynamo's uniforms didn't design your team's uniforms? They're so orange, they make the Dutch national team look like men in gray flannel suits! They even have "Forever Orange" as one of their slogans. So if you don't antagonize anyone, and you keep hydrated so you don't overheat, the greatest danger will be to your retinas!
Upon the move from San Jose, the club was originally named Houston 1836, in a nod to German sports clubs naming themselves after their year of founding. Obviously, this soccer team wasn't founded in 1836, but the City of Houston was. But the new team's original fan base, with perhaps a plurality of Mexican-Americans was infuriated: For them, 1836 was the year that Mexico lost Texas.
So the name was changed. But while "Dynamo" is a name that suggests power, it was also the names of teams founded by Communist countries for the "company teams" of their secret police units, including in Moscow, East Berlin, Kiev, Tblisi, etc. How did that go over in right-wing Texas? For once, the State's penchant for ignorance helped: Nobody seemed to notice the similarity.
The club accepts applications for National Anthem singers, rather than having a regular do it. Unlike most MLS clubs, they have cheerleaders (this is Texas, after all), known as the Dynamo Girls. Their mascot is a fox named Dynamo Diesel, who looks suspiciously like the Car Fox character from the Carfax commercials.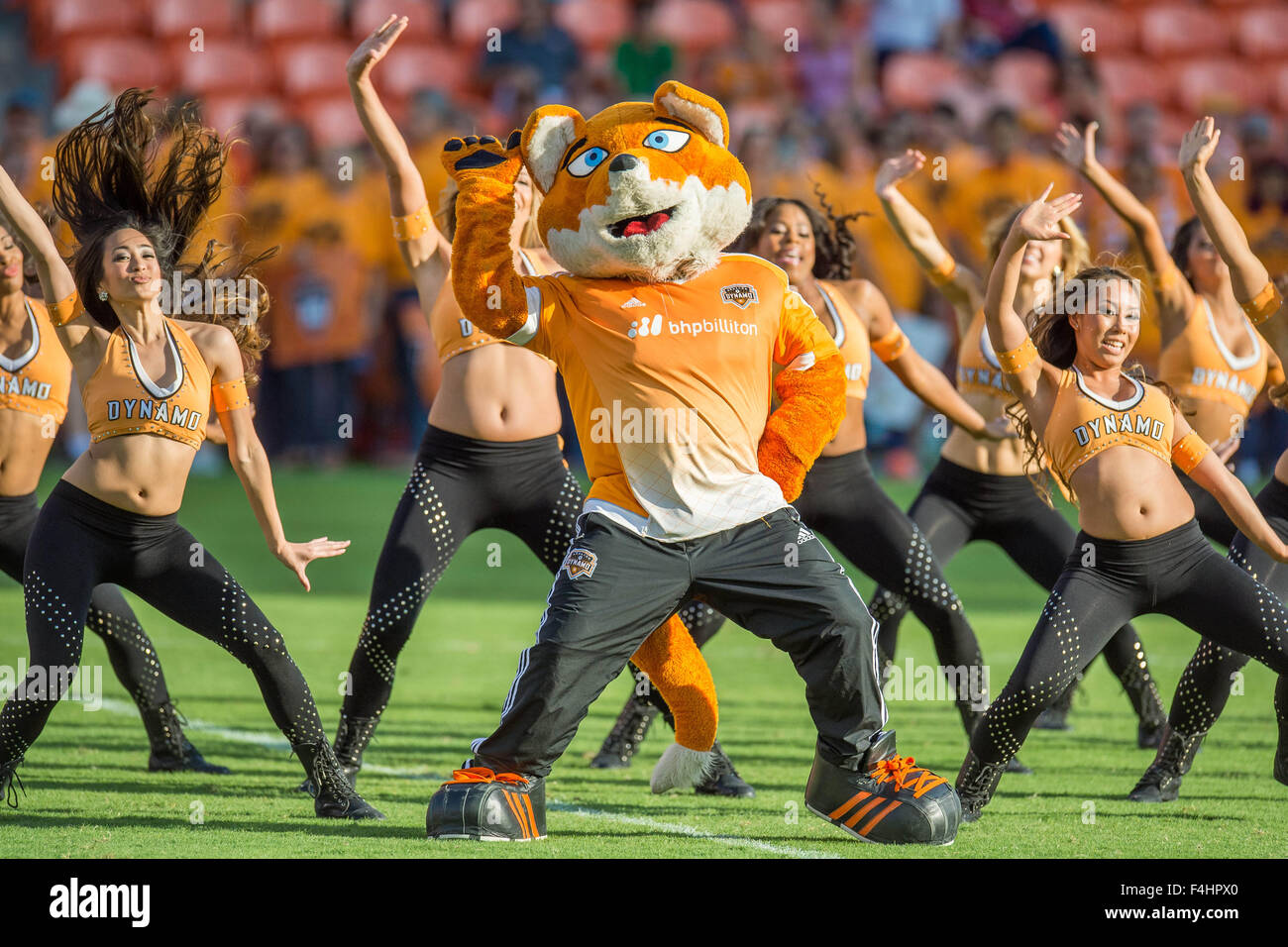 Dynamo Diesel and the Dynamo Girls
The main Dynamo supporters groups all sit in the North End, or La Zona Naranja (The Orange Zone), Sections 215, 216 and 217. They include the Texian Army, named for the army that won Texas' independence from Mexico in 1836; La Bateria

(The Battery); the Brickwall Firm; and

El Batallón

(The Batallion).
"Forever Orange"
Many of their songs are in Spanish, including the standby used by the Red Bulls and many others:
"

¡Vamos

, vamos Houston, esta noche, tenemos que ganar!"
(Let's go, let's go Houston! This night, we have to win!"
One unpleasant side of Dynamo support was
homophobic remarks made on one of the groups' Twitter feeds in the Spring of 2013.
They have since accepted the backlash and cut that stuff out.
After the Game.
Houston is a comparatively low-crime city, and not a city known for having particularly nutty fans. As long as you behave yourself, they'll probably behave themselves, win or lose.
Lucky's Pub appears to be the go-to bar for New Yorkers living in the Houston area. It is at 801 St. Emanuel Street at Rusk Street, a block west of the stadium. Stadia Sports Grill, supposedly a haven for Jets fans is at 11200 Broadway Street in Pearland, but that's 15 miles south of the ballpark.
If your visit to Houston is during the European soccer season (as this match is), and you want to watch your favorite club play, you can do so at the following locations:
* Arsenal, Manchester City and Barcelona: The Richmond Arms, 5920 Richmond Drive. Bus 20 to Sage Road & San Felipe Road, then transfer to Bus 32 to Fountainview Drive at Richmond Drive.
* Liverpool: The Gorgeous Gael, 5555 Morningside Drive. Bus 20 to Shepherd Drive at Memorial Drive, then transfer to Bus 27 to Greenbriar Drive at University Blvd.
* Chelsea, Everton and Celtic: The Phoenix Brewpub, 1915 Westheimer Road at McDuffie Street. Bus 82 to Westheimer at Hazard.
* Manchester United: The King's Court Bar and Kitchen, 903 Hutchins Street at Walker Street, across from the South End of BBVA Compass Stadium.
* Real Madrid: Taps House of Beer, 5120 Washington Avenue. Bus 85 to Fannin Street at Texas Avenue.
* Tottenham Hotspur and Bayern Munich: BarMunich, 2616 Louisiana Street at Dennis Street. Light Rail to McGowen. If you can't find your favorite club listed here, this place is probably the best choice, because of its early opening.
Sidelights.
The Dynamo's 1st home, from 2006 to 2011, was Robertson Stadium. They had their 2006 and 2007 championship seasons there, although they didn't play the MLS Cup Finals there. In 2006, they beat the New England Revolution at Pizza Hut Park, now Toyota Stadium, home of their arch-rivals, FC Dallas. In 2007, they beat the Revs again, at Robert F. Kennedy Stadium in Washington.
Built in 1942 as Public School Stadium, and known as Jeppesen Stadium from 1958 to 1980, Corbin J. Robertson Stadium (named for a member of the University of Houston's board of regents) seated 36,000 people at its peak, and was also home to the University of Houston football team from 1946 to 1950, and again from 1998 to 2012; and was the 1st home of the Houston Oilers, from 1960 to 1964.
The Oilers won the 1960 American Football League Championship Game there, over the Los Angeles Chargers (who moved to San Diego the next year), but lost the 1962 AFL Championship Game there to the Dallas Texans (who became the Kansas City Chiefs the next year). They won the 1961 AFL Championship Game on the road.
TDECU Stadium, the new home of University of Houston football, has been built at the site. 3874 Holman Street at Cullen Blvd. Number 52 bus.
The Oilers played the 1965, '66 and '67 seasons at Rice Stadium, home of Rice University. Although built in 1950 and probably already obsolete, it seated a lot more people than did the Astrodome, and so Super Bowl VIII was played there instead of the Astrodome in January 1974, and the Miami Dolphins won it -- and haven't won a Super Bowl since.
It has been significantly renovated, and Rice still uses it. University Blvd. at Greenbriar Street, although the mailing address is 6100 S. Main Street. Number 700 bus.
Before there were the Astros, or even the Colt .45's, there were the Houston Buffaloes. The Buffs played at Buffalo Stadium, a.k.a. Buff Stadium, for most of their history, from 1928 to 1961, when the Colt .45's made them obsolete.
The Buffs won 8 Texas League Pennants: 1928, 1931, 1940, 1947, 1951, 1954, 1956 and 1957. The stadium was at the southwest corner of Leeland Street & Cullen Blvd., about 2 1/2 miles southeast of downtown. A furniture store is on the site now. Number 20 bus.
In 1965, the Astrodome opened, and was nicknamed "The Eighth Wonder of the World." It sure didn't seem like an exaggeration: The 1st roofed sports stadium in the world. (Supposedly, the Romans built stadia with canvas roofs, but that's hardly the same thing.) The Astros played there until 1999, and then moved into Enron Field/Minute Maid Park for the 2000 season. The Oilers played at the Astrodome from 1968 to 1996, when they moved to Tennessee to become the Titans.
In 2002, the new NFL team, the Houston Texans, began play next-door to the Astrodome, at NRG Stadium (formerly Reliant Stadium), which, like Minute Maid Park, has a retractable roof. Suddenly, the mostly-vacant Astrodome seemed, as one writer put it, like a relic of a future that never came to be. (This same writer said the same thing of Shea Stadium and, across Roosevelt Avenue, the surviving structures of the 1964 World's Fair.)
Once, the Astrodome was flashy enough to be the site of movies like
The Bad News Bears in Breaking Training
and
Murder at the World Series
. (Both in 1977. In the latter, the Astros, who had never yet gotten close to a Pennant, played the Series against the Oakland Athletics, who had just gotten fire-sold by owner Charlie Finley.)
The Astrodome also hosted the legendary 1968 college basketball game between Number 1 UCLA (with Kareem Abdul-Jabbar, then still Lew Alcindor) and Number 2 University of Houston (whose Elvin Hayes led them to victory, before falling to UCLA in that year's Final Four), the 1971 Final Four (UCLA beating Villanova in the Final), and the cheese-tastic 1973 tennis match between Billie Jean King and Bobby Riggs, the "Battle of the Sexes."
Elvis Presley sang there on February 27, 28 and March 1, 1970 and on March 3, 1974. It hosted Selena's last big concert before her murder in 1995, and when Jennifer Lopez starred in the film version, it was used for the re-creation. In 2004, the same year NRG Stadium hosted the Super Bowl (which was won by... Janet Jackson, I think), the Astrodome was used to film a high school football playoff for the film version of
Friday Night Lights
; the old Astros division title banners can be clearly seen.
Today, though, the Astrodome seems, like the Republican Party that held a ridiculously bigoted Convention there in 1992, stuck in the past, and not just because they renominated failed President George H.W. Bush. The former Eighth Wonder of the World is now nicknamed the Lonely Landmark, and while it served as a shelter for people displaced from New Orleans by Hurricane Katrina in 2005, since 2008, when it was hit with numerous code violations, only maintenance workers and security guards have been allowed to enter. The stadium's future is not clear: Some officials are worried that demolishing it would damage the new stadium and other nearby structures.
NRG Stadium hosted the Final Four in 2011 (Connecticut beating Butler in the Final), and earlier this year (Villanova beating North Carolina). It will host Super Bowl LI this coming February.
It was built roughly on the site of Colt Stadium, which was the baseball team's home in their 1st 3 seasons, 1962, '63 and '64, when they were known as the Houston Colt .45's (spelled with the apostrophe), before moving into the dome and changing the name of the team. The climate-controlled stadium was necessary because of not just the heat and the humidity, but because of the mosquitoes.
Sandy Koufax of the Los Angeles Dodgers said, "Some of those mosquitoes are twin-engine jobs."
Later, seeing the artificial turf that was laid in the Astrodome for 1966 after the grass died in the first season, due to the skylights in the dome having to be painted due to the players losing the ball in the sun, Koufax said, "I was one of those guys who pitched without a cup. I wouldn't do it on this stuff. And Dick Allen of the Philadelphia Phillies, looking at the first artificial field in baseball history, said, "If a horse can't eat it, I don't want to play on it."
The Astrodome hosted a 1988 match between the national soccer teams of the U.S. and Ecuador, which Ecuador won. NRG Stadium has hosted 2 such matches, a 2008 draw with Mexico and a 2011 win over Panama. The Mexico team has made it a home-away-from-home, playing several matches there.
The NRG complex, including the Astrodome, is at 8400 Kirby Drive at Reliant Parkway. Number 700 bus.
For the 2000 season, the Astros moved to Minute Maid Park, at 501 Crawford Street at Texas Avenue, 4 blocks west of BBVA Compass Stadium.
The NBA's Houston Rockets played at the Summit, later known as the Compaq Center, from 1975 to 2003. Elvis sang at The Summit on August 28, 1976. It's been converted into the Lakewood Church Central Campus, a megachurch presided over by Dr. Joel Osteen. 3700 Southwest Freeway at Timmons Lane. Number 53 bus.
The Rockets now play in the Toyota Center, at 1510 Polk Street at Crawford Street. It's 9 blocks south of Minute Maid Park, and a little bit southwest of BBVA Compass Stadium.
The Houston Aeros, with Gordie Howe and his sons Mark and Marty, won the World Hockey Association championships of 1974 and 1975, while playing at the Sam Houston Coliseum, before moving into the Summit in 1975 and folding in 1978. The ABA's Houston Mavericks played there from 1967 to 1969. Elvis sang there on October 13, 1956, and the Beatles played there on August 19, 1965. Before the opening of The Summit, the Rockets played at the Coliseum, and at the Astrodome.
The Sam Houston Coliseum was built in 1937 and demolished in 1998. It replaced Sam Houston Hall, where the 1928 Democratic Convention nominated Governor Alfred E. Smith of New York, who thus became the 1st Catholic nominated for President by a major party.
The Hobby Center for the Performing Arts is now on the site. 801 Bagby Street, at Rusk Street, downtown.
The nearest NHL team to Houston is the Dallas Stars, 242 miles away. If Houston had an NHL team, its metropolitan area would rank 10th in population in the NHL.
In addition to the preceding, Elvis sang at Hofheinz Pavilion on November 12, 1971; and June 4 and 5, 1975. He also sang at the City Auditorium on October 8, 1955 and April 21, 1956. It's better known as the venue where R&B singer Johnny Ace mistakenly shot himself before a show on Christmas Day, December 25, 1955. The Jones Hall for the Performing Arts replaced it in 1966. 615 Louisiana Street at Capitol Street, downtown.
Also, early in his career, Elvis sang in Houston at the Paladium Club (8100 S. Main Street, near the Astrocomplex) on November 26, 27 and 28, 1954; Cook's Hoedown (603 Capitol Street, around the corner from Jones Hall) on November 27 and December 28, 1954, and April 24 and August 7, 1955; Magnolia Gardens (12044 Riverside Street, no public transit) on April 24, May 22, June 19 and August 7, 1955; and Eagles Hall at 2204 Louisiana Street on January 1 and March 19, 1955 (2204 Louisiana Street, downtown). All of these have since been demolished.
Elvis sang near the University of Texas campus in Austin, 160 miles to the northwest, at Dessau Hall on March 17, 1955, the Sportscenter on August 25, 1955, the Skyline Club on January 18, 1956, and the Municipal Auditorium on March 28, 1977. And he sang near the Texas A&M campus, 100 miles to the northwest, at the Rodeo Grounds in Bryan on August 23, 1955 and the G. Rolle White Coliseum in College Station on October 3, 1955;
Elvis also sang in South Texas at the City Auditorium in Beaumont, 85 miles to the northeast, on June 20 and 21, 1955 and January 17, 1956; at the football stadium at Conroe High School, 40 miles to the north, on August 24, 1955; in Corpus Christi, 200 miles to the southwest, at the Hoedown Club on July 3, 1955 and the Memorial Coliseum on April 16, 1956; in Galveston, 50 miles to the southeast, at the City Auditorium on January 16, 1956; at the baseball field in Gonzales, 130 miles to the west, on August 26, 1955; at Woodrow Wilson High School in Port Arthur, 90 miles to the east on November 25, 1955; and at Southwest Texas State University (LBJ's alma mater, now "Texas State"), 165 miles to the west, on October 6, 1955.
There are other places that might be considered "South Texas" where he sang, but I'll include them with "West Texas" when I do this for the San Antonio Spurs.
The tallest building in Houston, and in all of Texas, is the JPMorgan Chase Tower, formerly the Texas Commerce Tower. It was built in 1982 at 600 Travis Street at Texas Avenue, downtown, and stands 1,002 feet tall, rising 75 stories above the concrete over the bayou.
Houston's version of New York's American Museum of Natural History is the Houston Museum of Natural Science, in Hermann Park, at Main Street and Hermann Park Drive. The Houston Museum of Fine Arts is at 1001 Bissonnet Street, just 5 blocks away. Both can be reached by the Number 700 bus.
Of course, the name "Houston" is most connected with two things: Its namesake, the legendary Senator, Governor and war hero Sam Houston, and the Johnson Space Center, the NASA control center named after President Lyndon B. Johnson, who, as Senate Majority Leader, wrote the bill creating NASA and the Space Center, because he thought it would bring a lot of jobs and money to Houston (and he was right). Most historic sites relating to Sam, however, are not in the city that bears his name. As for reaching the Johnson Space Center, it's at 1601 NASA Parkway and Saturn Lane. The Number 249 bus goes there, so if you don't have a car, Houston, you won't have a problem.
Although Houston is the post-Presidential home for George H.W. and Barbara Bush, his Presidential Library is at Texas A&M University, 100 miles away in College Station.
The Alley Theatre, downtown at 615 Texas Avenue, opened in 1968, and in 1976 hosted the Vice Presidential debate between Senators Walter Mondale and Bob Dole. This is where Dole named World War I, World War II, and the Korean and Vietnam Wars as "all Democrat wars" -- forgetting that the Republicans wanted America to get into all but World War II, and didn't want that one because they liked the Nazis' anti-union status; and that it was actually the Republicans who got us into Vietnam.

There have been a few TV shows set in Houston, but the only one that lasted was Reba, starring country singer Reba McIntire. But it was filmed in Los Angeles, so if you're a fan, you won't find the house in Houston.

Films set in Houston, in addition to the sports-themed ones, include Brewster McCloud (which also used the Astrodome, and not to be confused with Dennis Weaver's show McCloud), Logan's Run (which used the Houston Hyatt Regency for some scenes), Telefon (set there but filmed in California), Terms of Endearment, Reality Bites, and, perhaps most iconically, Urban Cowboy.
*
Houston can be hot, but it's a good sports town, and, best of all, it's not Dallas. So there can be a good old time in the hot town tonight.