With all the fuss over the Royals' 1st World Championship in 30 years last October, it's easy to forget that Kansas City is, first and foremost, a football city. And on Sunday, September 25, the Jets will visit to play the Chiefs.
The Jets and the Chiefs have a special relationship: They are the flagship and founding franchises, respectively, of the American Football League -- and the only AFL franchises to beat an NFL Champion in a Super Bowl.
Indeed, it has been argued (and I would agree) that the Kansas City Chiefs' defeat of the Minnesota Vikings in Super Bowl IV was more important than the New York Jets' win over the Baltimore Colts in Super Bowl III, because it proved that the shocking win of the AFL Champs the year before was not a fluke.
You see, the reason the Colts were favored so heavily over the Jets is that people presumed the NFL was so far ahead of the AFL, based in part on the NFL's lopsided wins in Super Bowls I and II. But that glosses over a very important fact: Those Super Bowls were won by Vince Lombardi's Green Bay Packers, over first the Chiefs and then the Oakland Raiders. Those Packers are on the short list for the title of Greatest Team in NFL History.
Had the Dallas Cowboys, the team the Packers beat in the 1966 and 1967 NFL Championship Games, won instead, Cowboys vs. Chiefs and Cowboys vs. Raiders would have been much more competitive games. Then, while the Colts might still have been favored over the Jets and the Vikings over the Chiefs, the spreads wouldn't have been huge. Let's not forget, also, that, despite the Jets' win, the Vikings were favored to beat the Chiefs, even though nearly everyone on that Chief roster was in Super Bowl I, and many had been in the 1962 AFL Championship Game, the franchise's last contest as the Dallas Texans. The Chiefs had the edge in experience.
Indeed, as Bob Costas said in the pregame show of Super Bowl XX, those 1960s Chiefs were "the team that time forgot," obscured by the memories of the team that beat them in Super Bowl I, and the team that preceded them in bringing World Championship glory and defeat over the NFL to the AFL.
The Chiefs may not have won a title since then -- 47 seasons -- but, along with the Packers, the Chicago Bears and the New York Giants, they are, arguably, due to their status as the AFL's founding franchise (through owner Lamar Hunt), one of the 4 most important professional football teams.
*
Going to Kansas City.
Kansas City, here I come.
They got some crazy little women there
and I'm a-gonna get me one.
Jerry Lieber and Mike Stoller wrote that tune back in the 1950s, and it's been recorded by a lot of people. It hit Number 1 for Wilbert Harrison in 1959.
It doesn't say anything about football, though. Yet, in spite of a very spotty history -- the Chiefs have made the Playoffs a few times, but only once under the NFL banner have they reached the AFC Championship Game -- Kansas City has quite a fascinating history, and should still be regarded as a good football town.
Before You Go.
K.C. can get really hot in the summer, and really cold in the winter, with the wind blowing across the Plains. Check the
Kansas City Star
website for the weather forecast before you go. (The rival
Kansas City Times
stopped publishing in 1990.)
For the moment, they are predicting nice weather, saying that Sunday afternoon will be in the low 70s, and Sunday night in the low 50s. They're not forecasting rain, but it could rain on Monday, so if you don't fly, ride or drive out on Sunday night, you should be prepared.
Kansas City is in the Central Time Zone. Adjust your timepieces accordingly.
Tickets.
Unlike the Royals, who have had attendance issues for years, the Chiefs averaged 75,539 fans per home game last season, and 75,384 so far this season, which works out to about 98 percent of Arrowhead Stadium's capacity. Getting tickets from the team website, via Ticketmaster, could be hard. You may have to go to the NFL ticket exchange.
In the lower level, seats are $191 between the end zones and $98 behind them. In the upper level, they're $80 and $75.
Getting There.
Kansas City's Crown Center is 1,194 road miles from New York's Times Square, and it's 1,182 miles from MetLife Stadium to Arrowhead Stadium. Knowing this, your first reaction is going to be to fly out there. Round-trip from Newark Liberty to Mid-Continent International Airport, while changing planes in Chicago, can be just over $600 round-trip. If you want non-stop, it'll cost more than twice that, even if you order early. When you do get there, the 129 bus takes you from Kansas City International Airport to downtown in under an hour, so that's convenient.
Bus? Not a good idea. Greyhound runs 6 buses a day between Port Authority and Kansas City, and only 2 of them are without changes in Pennsylvania (possibly in Philadelphia, possibly in Harrisburg). The total time is about 29 hours, and costs $198 round-trip. The Greyhound terminal is at 1101 Troost Avenue, at E. 11th Street. Number 25 bus to downtown.
Train? Amtrak will make you change trains in Chicago, from their Union Station to K.C. on the
Southwest Chief
– the modern version of the Santa Fe Railroad's Chicago-to-Los Angeles "Super Chief," the train that, along with his Cherokee heritage, gave 1950s Yankee pitcher Allie Reynolds his nickname.
Problem is, the
Southwest Chief
arrives in K.C. at 10:11 PM, meaning you would need to leave New York on Friday to get there on Saturday. At least the fare is cheap by Amtrak standards: $329 round-trip. But if you want to try it, Union Station is at Pershing Road and Main Street. Take the MAX bus to get downtown.
Union Station in Kansas City. This city has a fountain fetish.
If you decide to drive, it's far enough that it will help to get someone to go with you and split the duties, and to trade off driving and sleeping. You'll need to get on the New Jersey Turnpike, and take Interstate 78 West across New Jersey, and at Harrisburg get on the Pennsylvania Turnpike, which at this point will be both I-70 and I-76. When the two Interstates split outside Pittsburgh, stay on I-70 west.
You'll cross the northern tip of West Virginia, and go all the way accross Ohio (through Columbus), Indiana (through Indianapolis), Illinois and very nearly Missouri (through the northern suburbs of St. Louis). You'll begin the Missouri section in St. Louis, on the Stan Musial Memorial Bridge; and end it in Kansas City, on the George Brett Super Highway. (The St. Louis portion of I-70 had been the Mark McGwire Highway, but after the steroid revelations, it was renamed the Mark Twain Highway.) In Missouri, Exit 9 will be for the Sports Complex. But you'd be crazy to come all this way and not get a hotel so you'll get a decent night's sleep, so take I-70 right into downtown.
Exit 2C is for downtown, but it might be cheaper for you to get a hotel on the Kansas side. Continue West on I-70. Exit 411B will be for the stadium, onto Interstate 435. The 1st exit you see will be Exit 13B, and that's the exit for the stadium.
If you do it right, you should spend about an hour and 15 minutes in New Jersey, 5 hours in Pennsylvania, 15 minutes in West Virginia, 3 hours and 45 minutes in Ohio, 2 hours and 30 minutes in Indiana, 2 hours and 30 minutes in Illinois, and 4 hours and 15 minutes in Missouri before you reach the exit for your hotel. That's going to be about 19 and a half hours. Counting rest stops, preferably 7 of them, and accounting for traffic in both New York and Kansas City, it should be about 28 hours.
Once In the City.
Kansas City, founded in 1838 and named for the Kanza tribe of Native Americans who lived there, is one of the smallest cities in the major leagues, with just 460,000 people, and one of the smallest metropolitan areas, with 2.3 million -- indeed, if you rank the 24 MLB markets (remembering to divide New York, Los Angeles, Chicago and San Francisco in half, although the fandom doesn't really break that way), K.C. ranks 24th.
Kansas City is set on the confluence of the Missouri and Kansas rivers, and on the Missouri/Kansas State Line. Kansas City, Kansas is a separate city with about 140,000 people, and is known locally as KCK, while the more familiar city is KCMO. As for KCMO, Main Street runs north-south and divides Kansas City addresses between East and West, while the north-south addresses start at 1 at the Missouri River.
The base fare for buses and light rail is $1.50, though to go to the Missouri suburbs or KCK it's doubled to $3.00. A 3-day pass is $10. The sales tax in Missouri is 4.225 percent, but it more than doubles to 8.475 within Kansas City. If you go into Kansas, their sales tax is 6.5 percent.
The State Capitol is in Jefferson City, 147 miles east of downtown Kansas City, 126 miles west of downtown St. Louis, and 30 miles south of the University of Missouri campus in Columbia.
The Missouri State House,
on the Missouri River in Jefferson City
ZIP Codes for the Missouri side of the Kansas City area start with the digits 640 and 641; and for the Kansas side, 660 and 661. The Area Codes are 816 in Missouri, 913 in Kansas. The metro area does not have a "beltway."
Going In.
The Harry S Truman Sports Complex, including Kauffman Stadium (known as Royals Stadium from 1973 until the 1993 death of founder-owner-pharmaceutical titan Ewing M. Kauffman) and Arrowhead Stadium, home of the NFL's Kansas City Chiefs since 1972 and site of a 2001 U.S. soccer team win over Costa Rica, is 8 miles southeast of downtown Kansas City, at the intersection of Interstates 70 and 435, still in the city but on the suburban edge of it.
The official address of Arrowhead Stadium is 1 Arrowhead Way. You don't have to worry about the ballpark being in a bad neighborhood: It's not in
any
neighborhood. Parking costs $11.
Public transportation is not much of an option. In fact, aside from Arlington, Texas, this is one of the least friendly stadiums in the NFL for those without a car. The Number 28 bus will drop you off at 35th Street South and Blue Ridge Cutoff, and then it's a one-mile walk down the Cutoff, over I-70, to the ballpark. The Number 47 bus will drop you off a little closer, on the Cutoff at 40th Terrace, about half a mile away.
The big thing everyone remembers about Arrowhead is the smell -- a good smell. Kansas City prides itself on barbecue, and few football stadiums -- college or pro -- have a better reputation for tailgating. If you like to tailgate, this may be your kind of place. Especially if you're willing to swap and share. Chiefs fans are usually friendly -- usually. (More on that in "During the Game.") Indeed, going in, you might see the smoke from the tailgaters' grills before you see the stadium.
Most fans will enter by the spiral walkways at each corner, a holdover from the 1960s sports stadium architecture that also befell Giants Stadium, among others. The field is natural grass, and is aligned northwest-to-southeast, but the NFL considers this to be north-south. The end zones are crowned by oval -- some might say football-shaped -- scoreboards.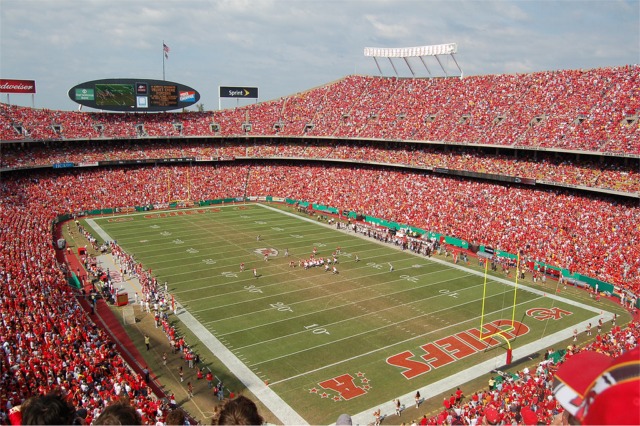 Arrowhead has hosted the Big 12 Conference football championship game 5 times, most recently in 2008. The "Border Showdown" between the universities of Kansas and Missouri, the oldest college football rivalry west of the Mississippi River, was played at Arrowhead from 2006 to 2011, when Missouri left the Big 12 for the Southeastern Conference. They are not scheduled to play each other in football this year or next year, and as far as I know, there are no plans to revive the rivalry in 2018 or later. But such rivalries never stay dormant for long, and if the Big 12 continues to fall apart (they're now at 10 teams, as they've lost Missouri and Texas A&M to the SEC, Nebraska to the Big 10 and Colorado to the Pac-10/12, but have also gained West Virginia from the Big East and Texas Christian from the Western Athletic Conference), it wouldn't be outrageous to see Kansas in the SEC in the foreseeable future.
As Chiefs founder-owner Lamar Hunt was one of the main movers and shakers of American soccer -- the American equivalent of England's FA Cup is officially named the Lamar Hunt U.S. Open Cup -- he helped to found MLS, and the Kansas City Wizards began play at Arrowhead in 1996. They won the MLS Cup in 2000. But the Hunt family sold that team in 2007, and, under the name Sporting Kansas City, it now plays across the State Line in Kansas City, Kansas. Still using the Wizards name in 2010, they played a preseason friendly against Manchester United at Arrowhead, and won 2-1.
Although the stadium is the 5th-oldest currently in use in the NFL (behind only the Los Angeles Coliseum, Lambeau Field in Green Bay, the Oakland Coliseum, and Jack Murphy Stadium in San Diego), it was recently renovated (as was neighboring Kauffman Stadium), and the Chiefs signed a lease that will keep them in Arrowhead through at least 2031. Granted, NFL teams have wiggled their way out of leases before, but it looks like that weird shape, with the points at the corners (I'm guessing sight lines aren't too good from there), will remain a part of the NFL landscape for a long time to come.
A game at Arrowhead is about as close to a college football atmosphere as you'll find in the NFL, without having to risk hypothermia at Lambeau. And much like with college games, you don't really even need to go inside the stadium to know that's true. Tailgating here starts early, as once the sun rises the lots around the stadium are a sea of smoke and red jerseys. Fans are knowledgeable and dedicated, an impressive feat of SEC-like dedication for a team that has won just one Super Bowl, and that in 1970.
Food.
Kansas City has a reputation for great barbecue, and Arrowhead has that, and many other good food items. Specifically, stands named "Kansas City Style Barbecue" are at Sections 215 and 238, featuring "Chiefs brisket stack and pulled pork sandwiches, smoke house loaded baked potatoes, KC brisket dogs, jumbo hot dogs, bratwursts, Big Red KC cheesesteak, nachos, vegetables, hummus." (Hummus? Must be for them dirty whinin' lib'rals at the University of Kansas.)
Fiorella's Jack Stack features "BBQ sandwiches, beef burnt ends, ribs, fries, beer and soft drinks" at 112, 130, 326 and 339. Blanc features "Specialty burgers, corned beef and chicken sandwiches, specialty fries, beer and soft drinks" at 122. Foolish Dog features "Specialty hotdogs, extreme fries, loaded nachos, beer and soft drinks" at 107, 131 and 322. Blaze has "Beef hamburgers, chicken tenders, bratwurst, fries, beer and soft drinks" at 102, 108, 111, 116, 126, 136, 310, 316, 321, 327, 333 and 345.
Gridiron Grill has "Specialty burgers, hand-breaded chicken tenders, hand-cut fries, beer and soft drinks" at 109, 127 and 303. Slice has "Specialty flatbread pizzas, pizza slices, Panini sandwich, frozen desserts, candy, beer and soft drinks" at 107, 125, 315, 323 and 343. And Chiefs Bar has a "Full selection of cocktails featuring margaritas, domestic and imported beers, wine" at 102, 104, 109, 111, 117, 121, 129, 134, 301, 308, 317, 326, 331, 332 and 340, and outside at the Ford Fan Zone.
Team History Displays.
In 56 seasons of play (including their 1st 3, 1960-62, as the Dallas Texans), the Chiefs have reached the Playoffs 18 times (including last season), won 8 AFL or AFC Western Division Championships (most recently in 2010), have reached 4 AFL or AFC Championship Games (most recently in 1993), and won Super Bowl IV. That win made them the World Champions of professional football for 1969 -- winning said Super Bowl (the last game before the completion of the AFL-NFL merger, and the last one with the Roman numeral not officially attached, except retroactively) just 24 days after I was born.
And yet, there appears to be no notation of these achievements viewable from Arrowhead Stadium's seating areas. Nor does there appear to be any notation of their retired numbers.
The Chiefs have 10 retired numbers, and 1 other that, while not officially retired, has not been issued since the players wearing them died while still active. This is an extraordinary number for a team that's been playing for less than 60 years. However, 3 of the 10 also died while still active. In fact, the Chiefs' history has been a bit tragic.
The Chiefs have a team Hall of Fame with 45 members, one elected every year since 1970, except for 1983. (Their 2016 inductee has not yet been announced.) This is the most of any NFL team except for Green Bay. Unlike their titles and retired numbers, these are visible in the seating area, around the mezzanine. There's also a Chiefs Hall of Honor inside the stadium, with each figure represented by a bust, as are the honorees in the Pro Football Hall of Fame in Canton, Ohio. The members are:
* From the 1960s, but before their Super Bowl win: Running backs Abner Haynes (Number 28 retired) and Mack Lee Hill (died while active, Number 36 retired) and receiver Chris Burford (who did, at least, make it to their Super Bowl I team). Running back Stone Johnson (that was his real name: "Stone Edward Johnson") was killed in a 1963 exhibition game, getting his neck broken in a tackle, and never played a regular-season down. While he's not in the team Hall of Fame, the Chiefs did retire the Number 33 that he wore exactly once.
* From their 1969 World Champions, winners of Super Bowl IV: Founder-owner Lamar Hunt (who also has a statue outside Arrowhead, and the AFC Championship trophy is named for him), coach Hank Stram, team administrator Jack Steadman, quarterback Len Dawson (Number 16 retired), running backs Mike Garrett, Curtis McClinton and Ed Podoloak, receiver Otis Taylor, tight end Fred Arbanas, center Jack Rudnay, guard Ed Budde, offensive tackles Jim Tyrer and Dave Hill, defensive tackles Buck Buchanan (Number 86 retired), Curley Culp and Jerry Mays, linebackers Bobby Bell (Number 78 retired), Willie Lanier (Number 63 retired), E.J. Holub, Sherrill Headrick and Jim Lynch, cornerback Emmitt Thomas (Number 18 retired), safety Johnny Robinson, kicker Jan Stenerud (Number 3 retired) and punter Jerrel Wilson.
* From the early 1980s: Running back Joe Delaney (died while still active, Number 37 kept out of circulation), cornerback Gary Green and safety Gary Barbaro.
* From their 1986 AFC Wild Card Playoff team: offensive tackle John Alt, defensive end Art Still, linebacker Gary Spani, cornerbacks Albert Lewis and Kevin Ross, safeties Deron Cherry (a Rutgers graduate) and Lloyd Burruss and kicker Nick Lowery.
* From their 1993 team that won the AFC West and reached the AFC Championship Game: Coach Marty Schottenheimer, Lewis, Ross, Lowery, running back Christian Okoye, guard Will Shields, linebacker Derrick Thomas (died while still active, Number 58 retired), and defensive end Neil Smith. The quarterback on this team was Joe Montana, who led the Chiefs into the Playoffs in his last 2 seasons in the NFL, but, having played only 2 seasons with the team, he is not in their Hall of Fame. Oddly, while he starred for this team, and is in the Pro Football Hall of Fame, Marcus Allen has not been inducted. Ross went to other teams, then returned for their 1997 AFC West Champions.
* From their 2003 AFC West Champions: Shields (also on their 1995 and 1997 AFC West Champions) and running back Priest Holmes. No member of their 2010 AFC West Champions has yet been inducted. Tight end Tony Gonzalez will surely be the 1st player elected.
Lanier and Stenerud were named to the NFL's 75th Anniversary Team in 1994. Lanier, Bell, Buchanan and Allen were named to
The Sporting News
' 100 Greatest Football Players in 1999. Lanier, Bell, Allen and Tony Gonzalez were named to the NFL Network's 100 Greatest Players in 2010. Bell, Buchanan, Haynes, Dawson, Arbanas, Budde, Tyrer, Mays, Robinson, Wilson and cornerback Dave Grayson were named to the AFL's All-Time Team.
Stuff.
The Arrowhead Pro Shop is located in the middle of the lower level on the east sideline of the stadium. The usual items that can be found at a team gift shop (jerseys, helmets, caps, jackets, balls, etc.) can be purchased there. I presume that this includes, due to Kansas City's Western heritage, cowboy hats with the team logo. However, while they haven't had the same kind of backlash as the Washington Redskins, I wonder if this team, named for a leader of an Indian tribe, sells Native American-themed paraphernalia.
Books about the Chiefs are not exactly well-known outside the K.C. area. Jeffrey Flanagan and Doug Weaver of the paper in question wrote
A Sea of Red: 50 Years with the Chiefs and the Kansas City Star
. There is also a biography of their founder, Michael MacCambridge's
Lamar Hunt: A Life In Sports
.
While I couldn't find any books specifically about the 1969-70 Chiefs that won Super Bowl IV, the NFL did release the DVD
NFL America's Game: 1969 Chiefs
. They also have
NFL History of the Kansas City Chiefs
, released in 2007. There does not, as yet, appear to be a Greatest Games DVD package for the Chiefs.
During the Game.
A recent
Thrillist
article on "The Most Obnoxious Fans In the NFL" ranked Chiefs fans 14th, about right in the middle. That sounds about right. Because of their Great Plains/Heartland image, Chiefs fans like a "family atmosphere." Therefore, while they hate the Oakland Raiders and, to a lesser extent, the Dallas Cowboys, any ill feelings they might have for the Jets dissipated with the 1970 merger. (And any cross-Missouri rivalry they had with the St. Louis Rams vanished when they moved back to Los Angeles.) So they will not directly antagonize you. At least, they won't initiate it. But don't call them rednecks, hicks or sheep-shaggers.
They will, however, much like baseball Cardinal fans across the State, come dressed in bright red. While not official like the University of Nebraska's Memorial Stadium, Chiefs fans at Arrowhead could be called the Red Sea.
They are also loud: Now that the Redskins have left the tight confines of RFK Stadium in the District for the expansive stadium in the Maryland suburbs, the Chiefs have the loudest outdoor stadium in the NFL. On September 29, 2014, against the Patriots on
Monday Night Football
, they set an NFL record of 142.2 decibels.
UPDATE:
From September 1 to 7, 2017, during the NFL National Anthem protest controversy,
FiveThirtyEight.com
polled fans of the 32 NFL teams, to see where they leaned politically. In spite of the natural conservatism of both Missouri and Kansas, Chief fans were found to be 0.8 percent more liberal than conservative, although that still put them in the top 1/3rd of most conservative fan bases.
In 1984, the 25th season for the 8 original AFL teams -- the Jets, the Texans/Chiefs, the Buffalo Bills, the Boston/New England Patriots, the Oakland Raiders (then in their L.A. sojourn), the Denver Broncos, the Houston Oilers (now the Tennessee Titans) and the Los Angeles/San Diego Chargers -- wore a shoulder patch commemorating this anniversary. In 2009, they wore another for their 50th seasons. The Chiefs, the AFL's founding franchise, are the only team that still wears a patch commemorating the AFL.
Their original mascot was Warpaint, a spotted horse that would be ridden around the field before every game and after every Chief touchdown, by Bob Johnson, who wore full Indian regalia, including a headdress.
Judging by the natural grass field, this is almost certainly Warpaint I.
There was a game in 1975 when the Chiefs beat the Raiders 42-10, forcing Johnson to ride the 2nd edition of Warpaint around the field 7 times (once before the game, and once for each of the 6 touchdowns). John Madden, then the Raiders' coach, said, "We couldn't beat the Chiefs, but we damn near killed their horse."
In 1989, having survived Madden's Raiders (and Tom Flores' Raiders, and Don Shula's Miami Dolphins, and Chuck Noll's Pittsburgh Steelers, and Don Coryell's San Diego Chargers, and Dan Reeves' Denver Broncos), the Chiefs dropped Warpaint II -- not because they were trying to get more sensitive about the Native American stuff, but because the horse was 19 years old and having trouble running on the artificial turf, which has since been replaced with real grass. He made one more appearance at Arrowhead, in 1997, and got a standing ovation, and lived to be 37, which is very old for a horse.
K.C. Wolf
Upon retiring Warpaint II, the Chiefs adopted a new mascot, K.C. Wolf. He was named for a group of noisy fans at the old Municipal Stadium, who called themselves the Wolfpack. But in 2009, as part of the team's 50th Anniversary celebrations, a Warpaint III was introduced, this time ridden by a Chiefs cheerleader, not wearing Native American regalia.
Warpaint
is also the name of the team's weekly game program.
Susie Derouchey aboard Warpaint III
The Chiefs hold auditions for National Anthem singers. For several years, the Chiefs borrowed the hideous "Tomahawk Chop" song from Florida State University and the Atlanta Braves. But their traditional fight song is "Give a Cheer for Kansas City":
Give a cheer for Kansas City,
Loud and clear for the red and gold,
As the Chiefs march on to vict'ry
Like our mighty teams of old.
Beat the drum, here they come
Warriors, brave and strong.
In the stands, loyal fans
Cheer their team along.
After the Game.
Since the sports complex is not in any neighborhood, let alone a bad one, you should be safe after a game, day or night. As I said, leave the home fans alone, and they'll probably leave you alone.
Chappell's Restaurant & Sports Museum, not really a museum but with a huge memorabilia collection, has been called the best sports bar in town.

323 Armour Rd., at Erie St, 11 miles northeast of the sports complex, and 5 miles north of downtown.
If you want to be around other New Yorkers, Johnny's Tavern, 1310 Grand Blvd., downtown, across from the Sprint Center (the new arena), is known as a Giants fan's bar. Be advised that it is also known as a Sporting KC bar -- and a USMNT bar, and a University of Kansas bar. Drivers Sports Cafe is also cited as a Giants fan bar. 8220 Metcalf Avenue in Overland Park, Kansas, 12 miles south of downtown KCMO, and 18 miles southeast of Children's Mercy Park. Reachable by public transit, but not easily.
If you visit Kansas City during the European soccer season, which is now underway, you can probably find your favorite club on TV at No Other Pub, 1370 Grand Blvd., across from the Sprint Center.
Sidelights.
Kansas City's sports history is a bit uneven. When the Royals and Chiefs have been good, they've been exceptional. But they've also had long stretches of mediocrity.
UPDATE:
On February 3, 2017, Thrillist made a list ranking the 30 NFL cities
(New York and Los Angeles each having 2 teams), and
Kansas City came in 22nd, in the bottom 1/3rd, saying, "Just focusing solely on BBQ is selling the city a bit short."
S
till, there are some local sites worth checking out:
* Site of Municipal Stadium. This single-decked, 17,000-seat ballpark was built as Muehlebach Field in 1923, by George Muehlebach, who also owned the beer and the hotel that bore his name, and the American Association's Kansas City Blues. It hosted the Blues' Pennants in 1929, 1938, 1952 and 1953 – the last 3 as a farm club of the Yankees. (They'd previously won Pennants in 1888, 1890, 1898 and 1901, for a total of 8 Pennants -- or 5 more than the A's and Royals combined in nearly 60 years thus far.) Future Yankee legends Phil Rizzuto (
Sporting News
Minor League Player of the Year in 1940) and Mickey Mantle (1951) played for this club at this ballpark.
The Kansas City Monarchs of the Negro Leagues also played at Muehlebach, renamed Ruppert Stadium for the Yankees' owner in 1937 and Blues Stadium in 1943. They won 13 Pennants there from 1923 to 1955, including 3 straight, 1923-25, and 4 straight, 1939-42.
Hall-of-Famers Satchel Paige, Willard Brown and Hilton Smith were their biggest stars, although it should be noted that, while he played with them in the 1945 season, Jackie Robinson was, at the time, not considered as much of a baseball prospect some of the other players who were thought of as potential "first black players," like Paige, Monte Irvin and Larry Doby; it was his balance of competitiveness and temperament, as much as his talent, that got Brooklyn Dodgers president Branch Rickey interested in him. And in a travesty, Monarchs legend Buck O'Neil has never been elected to the Hall of Fame. The Monarchs had to leave after the 1955 season, because of the arrival of the A's.
Muehlebach Field, as it was then known was also the home to Kansas City's 1st pro football team, the team known as the Blues in 1924 and the Cowboys in 1925 and '26.
In 1954, the Philadelphia Athletics were sold to trucking company owner Arnold Johnson, and he moved the club to Kansas City, where his pal Del Webb, co-owner of the Yankees, had his construction company put an upper deck on what was renamed Kansas City Municipal Stadium, raising the capacity to 35,020.
In 1960, Charlie Finley bought the A's, and he wanted a new ballpark, and Kansas City wouldn't give it to him. He moved the team to Oakland after the 1967 season, and Major League Baseball gave Kansas City the Royals to start play in 1969. For the new team, with Ewing Kauffman rather than Finley as owner, the city built a new park. The Royals moved out after the 1972 season. Neither the Royals nor the A's ever came close to October while playing there.
The Chiefs began playing at Municipal Stadium in 1963, with a bleacher section from the left field pole to center field increasing the seating capacity to 47,000. Playing there, they won AFL Championships in 1966 and 1969 (in addition to their 1962 title as the Dallas Texans), won Super Bowl IV, and played their last game there on Christmas Day 1971, a double-overtime loss to the Miami Dolphins that is still the longest game in NFL history.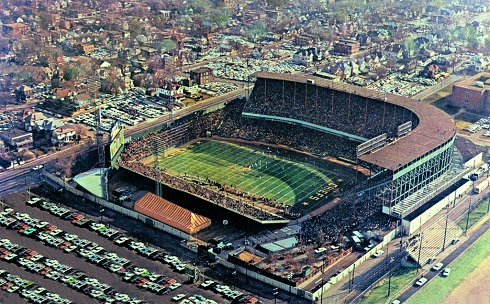 Kansas City Municipal Stadium in its football configuration
The U.S. soccer team played Bermuda at Municipal Stadium on November 2, 1968, and won. The attendance was 2,265. That gives you an idea of how far U.S. soccer has come.
When the merger happened, the NFL required its teams to have stadiums seating at least 50,000 people. Combined with one of Major League Baseball's requirements for a new K.C. team being a new ballpark, this doomed Municipal Stadium. It was torn down in 1976, and a housing development is going up on the site.
22nd Street and Brooklyn Avenue, near the 18th and Vine district that was the home of Kansas City jazz, making it a favorite of the Monarchs players. The legendary Arthur Bryant's barbecue restaurant is 4 blocks away at 1727 Brooklyn Avenue. Number 123 bus.
* Negro Leagues Baseball Museum and American Jazz Museum. Founded by Buck O'Neil and some friends, this museum "tells the other side of the story." As Buck himself said, the pre-1947 all-white major leagues called themselves "Organized Baseball," but, "We
were
organized." The museum's lobby features statues of several Negro League legends, including Paige, Josh Gibson, Buck Leonard and Oscar Charleston – having played for the Monarchs was by no means a requirement for that.
The Negro Leagues were a sometimes dignified, sometimes willingly silly, and very successful response to the color bar. But the raiding of their rosters, with no regard to contracts and thus no money changing hands, by the white majors from 1947 onward, was the beginning of the end. But Buck O'Neil had the right perspective, as he said in Ken Burns' Baseball miniseries: ""appy. Happy... Of course, it meant the death of our baseball, but who cared?" The owners of the Negro League teams cared. Other than that...
1616 E. 18th Street. The same building is home to the American Jazz Museum, which includes a working jazz club, the Blue Room. Number 108 bus. The Museum is 5 blocks west of Arthur Bryant's, and a short walk from the site of Municipal Stadium – and neither of these facts is a coincidence.
* Municipal Auditorium. Built in 1935 in the Art Deco style then common to public buildings (especially in New York), it replaced the Convention Hall that was across the street, which hosted the 1900 Democratic Convention which nominated William Jennings Bryan for President (and at which a 16-year-old Harry S Truman served as a page) and the 1928 Republican Convention that nominated Herbert Hoover.
The replacement arena has a Presidential connection as well, as the 2nd and last debate of 1984 was held at the Music Hall within. This was the one that President Ronald Reagan began by brushing away fears that, at 73 years old, he was too old for the job, by citing former Vice President Walter Mondale's "youth and inexperience" (ignoring that Mondale was very experienced at age 56, while Reagan never even ran for office until he was 55), and ended it by giving a rambling closing statement that restored the fears of some. (He won in a landslide, but he was, clearly, already dealing with Alzheimer's disease.)
The arena seats 7,316 people, but for special events can be expanded to 10,721. The NCAA hosted what would later be called the Final Four here in 1940, '41, '42, '53, '55, '57, '61 and '64 – featuring such legends as Bill Russell (1955, University of San Francisco), Wilt Chamberlain (1957, his Kansas team losing to North Carolina in triple overtime), Jerry Lucas and John Havlicek (1961, their defending champion Ohio State getting shocked by cross-State rival Cincinnati) and John Wooden (1964, completing an undefeated season with Walt Hazzard and Gail Goodrich and starting his UCLA dynasty).
The NBA's Kansas City Kings played their 1972-73 and 1973-74 home games here after moving from Cincinnati – having to change their name because Kansas City already had a team called the Royals. An accident at the Kemper Arena forced the Kings to move back to the Auditorium for a few games in the 1979-80 season. The basketball team at the University of Missouri at Kansas City (UMKC) played their home games here from its opening until they opened an on-campus arena in 2010.
Elvis Presley sang there as a new national star on May 24, 1956, and as an entertainment legend on November 15, 1971 and June 29, 1974. The 2nd Presidential Debate of 1984 was held there. This is where Ronald Reagan joked about his age and experience compared to Walter Mondale's, then gave a closing statement that made him look like the Alzheimer's he was later diagnosed with was already in effect.
301 W. 13th Street. Pretty much any downtown bus will get you close.
* Kemper Arena. Built in 1974, it immediately began hosting 2 major league sports teams – neither of which lasted very long. The NBA's Kansas City Kings played here until 1985, when they moved to Sacramento. The NHL's Kansas City Scouts were the
ne plus ultra
– or should that be
ne minus ultra
? – of expansion teams, lasting only 2 seasons before moving in 1976 to become the Colorado Rockies – and then again in 1982 to become the New Jersey Devils. A few minor league hockey teams have played here since, but its only current tenant is the American Royal show.
In the Kings' final season, they hosted the Knicks in a game that resulted in one of the most frustrating injuries in NBA history, Knick star Bernard King jumping for a rebound and tearing up his knee. I'll never forget watching on TV and hearing him yell, "Oh, damn! Oh, damn!" and then crumpling to the floor, repeatedly slapping it with his hand. Bernard did play again, and well, but a great career turned into a what-might-have-been. But that wasn't the worst injury here, and I don't mean the 1979 roof damage, either: This was where professional wrestler Owen Hart was killed on May 23, 1999.
Kemper was also the last building seating under 20,000 people to host a Final Four, hosting the 50th Anniversary edition in 1988, in which the University of Kansas, led by Danny Manning, upset heavily favored Oklahoma. In fact, KU made the 40-mile trip from Lawrence many times, creating an atmosphere that got the place nicknamed Allen Fieldhouse East, a name they have now transplanted to the Sprint Center. They went 80-24 at Kemper, including the 1988 title game.
The 1976 Republican Convention was held there, nominating Gerald Ford. Elvis sang there on April 21, 1976 and, in one of his last concerts, June 18, 1977. 1800 Genesee Street, at American Royal Drive, a block from the Missouri-Kansas State Line. Number 12 bus.
In addition to the preceding, Elvis sang in Western Missouri at the Shrine Mosque in Springfield on May 17, 1956; and the Hammons Student Center at Southwest State University (now Missouri State) in Springfield on June 17, 1977.
* Sprint Center. This arena opened in 2007, with the idea of bringing the NBA or NHL back to Kansas City. (The arena builders appear not to care which one they get, but with K.C. being a "small market," they'll be lucky to get one, and will not get both.) It almost got the Pittsburgh Penguins, before a deal to build the Consol Energy Center was finalized. It was also being considered for the New York Islanders, before they cut a deal to move to the Barclays Center in Brooklyn.
For basketball, it seats 18,555; for hockey, 17,752. For the moment, no teams, major- or minor-league, play here regularly, although has hosted college basketball: KU games, the Big 12 Tournament, NCAA Tournament games. 1407 Grand Boulevard, at West 14th Street. Number 57 or MAX bus from downtown.
On May 12, 2014,
The New York Times
printed a story that shows
NBA fandom by ZIP Code
, according to Facebook likes. You would think that, being between Chicago and Oklahoma City, with no team in St. Louis, the Kansas City area would be divided between Bulls and Thunder fans. Instead, the distance is so great (508 miles from Sprint Center to United Center, 349 miles to whatever OKC's arena is called now), that they divide up their fandom among the "cool" teams: The Bulls, the Los Angeles Lakers and the Miami Heat. (As yet, there is no hockey version. The closest NHL team is the St. Louis Blues, 247 miles away, but the KC-St. Louis rivalry may get in the way.)
It's unlikely that, even with a new arena, Kansas City will get a new team anytime soon. The metro area would rank 24th in population in the NBA, and 23rd in the NHL. Face it: With his desire to take teams out of Canada and cold-weather cities and put them in Sun Belt cities, if Commissioner Gary Bettman wanted Kansas City to have a team, it would have one by now.
* Colleges.
Downtown Kansas City is 126 miles from the University of Missouri in Columbia, 44 miles from the University of Kansas in Lawrence, and 124 miles from Kansas State University in Manhattan, Kansas.
And yet, despite KU (never written as "UK" even though that would be correct) being 3 times as close as UM, the State Line is the absolute delineator: If you live in Kansas City, Missouri, you are much more likely to be surrounded by Missouri Tiger fans than you are Kansas Jayhawk fans. Kansas having won the 1988 National Championship at Kemper Arena and a few KU-UM games being played at Arrowhead have done nothing to change that.
* Children's Mercy Park. The new home of Major League Soccer's Sporting Kansas City, formerly the Kansas City Wizards, has also hosted 5 games, by the U.S. soccer team, 4 wins and a draw, most recently a 4-0 win over Bolivia in the Copa America on May 28, 2016. It is across the State Line in Kansas City, Kansas.
SKC won the MLS Cup in 2000, and again in 2013, with the Final on home soil. They share their stadium with FC Kansas City, Champions of the National Women's Soccer League in 2014 and 2015.
UPDATE: FC Kansas City moved to Salt Lake City after the 2017 season.
Seating 18,467, it is at State Aveune & France Family Drive, with the ballpark for the independent baseball team the Kansas City T-Bones, the Kansas Speedway racetrack, and the Legends Shopping Mall all adjacent. Number 57 bus, transferring to Number 101 bus.
* Museums. Kansas City has 2 prominent art museums. The Nelson-Atkins Museum of Art is K.C.'s "Metropolitan Museum of Art," 3 miles north of downtown, at 4525 Oak Street, in Southmoreland Park. And their "Museum of Modern Art" is the Kemper Museum of Contemporary Art, 2 blocks away, at 4420 Warwick Boulevard at 45th Street. Both can be reached by the Number 57 bus.
Kansas City is still, in a way, Harry Truman's town. The 33rd President, serving from April 12, 1945 to January 20, 1953, was born in nearby Lamar, and grew up in nearby Independence. He opened his Presidential Library and Museum in 1957, and frequently hosted events there until a household accident in 1964 pretty much ended his public life.
Upon his death in 1972, he was buried in the Library's courtyard; his wife Bess, born Elizabeth Wallace, followed him in 1982, at age 97, to date the oldest former First Lady; and their only child, Margaret Truman Daniel, was laid to rest there in 2008. Currently, the Library is run by his only grandchild, Clifton Truman Daniel.
500 West U.S. Highway 24, Independence. Number 24X bus to Osage & White Oak Streets, and then 4 blocks north on Osage and 3 blocks west on Route 24. The Truman Home – actually the Wallace House, as Bess' family always owned it – is nearby at 219 N. Delaware Street. Same bus.
Just west of the Crown Center is the Liberty Memorial, including the National World War I Museum, honoring the 1914-18 conflict that was then frequently called "The Great War" (accurate) and "The War to End All Wars" (not accurate, as it turned out). 100 West 26th Street.
There aren't a whole lot of tall buildings: One Kansas City Place, at 1200 Main Street, is the tallest in the State, at 624 feet, but only one other building is over 500 feet. The Kansas City Power & Light Building, at 1330 Baltimore Street, and the twin-towered 909 Walnut were built in the early 1930s and are the city's tallest classic buildings.
If you want to copy the song "Kansas City," and be "standing on the corner, 12th Street and Vine," you're out of luck: Due to urban renewal, it no longer exists. There is, however, a park with a plaque roughly where it was.
There haven't been many TV shows set in Kansas City. By far the most notable was
Malcolm & Eddie
, the 1996-2000 UPN sitcom that starred Malcolm-Jamal Warner and Eddie Griffin (a KCMO native). ABC Family's
Switched at Birth
is also set there. But both shows were taped in Los Angeles and did no location shots, so if you're a fan of that show, there's nothing in Kansas City to show you.
There have been a few movies set in Kansas City and the surrounding areas. The 1962 horror film
Carnival of Souls
was filmed in Lawrence, Kansas. The 1983 nuclear-war TV-movie
The Day After
was filmed in KCMO and Lawrence. Raquel Welch's roller-derby movie
Kansas City Bomber
was filmed in KCMO, as were
Mr. & Mrs. Bridge
and
Article 99
.
Most movies filmed or set in Kansas itself tend to be Westerns, such as
The Plainsman, Dodge City, Santa Fe Trail, Red River, Winchester '73, Dances with Wolves
and
Sarah, Plain and Tall
. The TV Western
Gunsmoke
was set in Dodge City, although filmed in Hollywood. Kansas' desolate plains lend themselves well to Depression-era films like
Splendor in the Grass, Paper Moon
and
The Great Waldo Pepper
.
The 1978 version of
Superman
established the hero's hometown of Smallville, previously considered a typical American small town, as being in Kansas, and every version of Superman since has accepted this.
Plains, Trains and Automobiles
had a big chunk set in Kansas, but actually filmed in Illinois.
And, of course, Kansas was the setting for the "real" parts of L. Frank Baum's novel
The Wonderful Wizard of Oz
, and all its film adaptations since. (Judy Garland's line as Dorothy in the most familiar version, 1939, is one of those movie/TV lines everybody gets wrong: It's actually, "Toto, I've a feeling we're not in Kansas anymore!")
*
Kansas City is a great American city, almost literally in the center of this great country. And its citizens, and the people who come from hundreds of miles around to see the Royals and Chiefs, love their sports. It's well worth saving up to check it out.