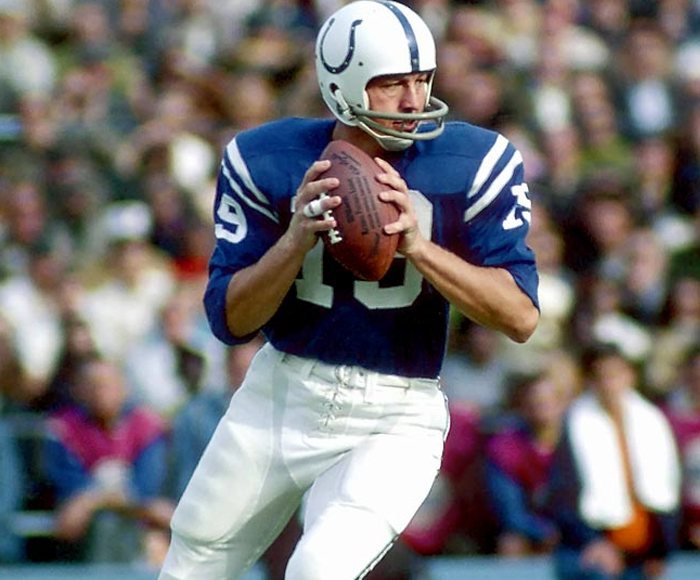 The Super Bowl is coming up. What is the purpose of a quarterback? To lead his team to victory -- ultimately, in the Super Bowl.
That's how great quarterbacks are measured. Dan Marino: Great passer, but never won a Super Bowl. Earl Morrall, Doug Williams, Jeff Hostetler, Mark Rypien, Trent Dilfer, Brad Johnson? Not sensational quarterbacks, but all won a Super Bowl, and so all are ahead of Marino.
Period.
Top 10 Quarterbacks of All Time
You'll notice that Russell Wilson of the Super Bowl-bound Seattle Seahawks is not on this list. Check back in 10 years. Same for Ben Roethlisberger, Drew Brees, Aaron Rodgers and Joe Flacco.
You'll notice that Tom Brady of the Super Bowl-bound New England Patriots is not on this list. You know why.
And you'll notice that neither of the Manning brothers is on this list. Eli's not here because, although
I once called him the greatest quarterback in New York history
in a previous post on this blog, and still think so, I don't think he's ahead of any of these guys.
Peyton's not here because, for all his talent, and for all his records, he is the most disappointing quarterback of all time. Yes, he's won a title. So has Alex Rodriguez. Now, I'm not saying Peyton cheats -- although I think shilling for Papa John is a greater slap in the face of the people watching him than A-Rod using steroids -- but I am saying that I get the feeling that, if Brady and the Patriots hadn't cheated, Peyton still might have only the 1 ring.
10. Bob Griese.
No, he wasn't a great passer. But think of it this way: 15 quarterbacks have led their team to back-to-back NFL Championships. One of those led his team to an undefeated season, from kickoff of Week 1 to the final gun of the title game. And that was Bob Griese of the 1972-73 Miami Dolphins.
True, you can have a lucky year. But he led his team to 2 straight titles, 3 straight Super Bowl appearances, and they dominated the AFC East in the 1970s. Someone directed that offense. That someone was Bob Griese.
If you don't like his son Brian, for whatever reason, don't hold it against him.
9. Roger Staubach.
I hate the Dallas Cowboys, as does everyone with taste. But he was "Captain Comeback." I take him ahead of Troy Aikman because Aikman had better weapons. Aikman had Emmitt Smith his whole career, while Staubach only had a great running back, Tony Dorsett, towrd the end. Aikman had Michael Irvin and Jay Novacek to pass to his entire career, while Staubach's options were Drew Pearson and... Golden Richards?
8. Sid Luckman.
The 1st quarterback to master the T formation in the NFL, he led the Chicago Bears to 4 titles in the 1940s -- and it might have been more if he didn't miss 2 seasons in World War II.
7. Sammy Baugh. Along with Luckman, the 1st modern quarterback. Also the only quarterback to lead his team to an NFL championship, under any name, as a rookie.
6. Otto Graham.
The only quarterback to get his team into his league's championship game 10 straight seasons. That's all 4 that were played in the All-America Football Conference, leading the Cleveland Browns to win all 4: 1946, 1947, 1948 and 1949. Then 6 in the NFL, winning in 1950, 1954 and 1955, losing in 1951, 1952 and 1953.
5. Bart Starr.
The only quarterback to win 5 NFL Championships, taking the Green Bay Packers all the way in 1961, 1962, 1965 1966 and 1967, including the 1st 2 Super Bowls, in which he was the MVP. Brett Favre may hold a lot of records, but he wasn't better than Starr. He might make the Top 20, but not the Top 10.
4. Terry Bradshaw.
Maybe I'm a little biased, because, along with Staubach, he was the defining quarterback of my childhood. You could add Fran Tarkenton to that, but he went 0-3 in Super Bowls. You could also add Joe Namath, but after fulfilling his guarantee in Super Bowl III, he never won another Playoff game -- and only appeared in 1 more.
TB won 4 Super Bowls, and was the MVP in 2 of them. He told his teammates, "You might not win with me, but you can't win without me." Like Broadway Joe, Luziana Terry backed it up. In Super Bowl XIII, Cowboy linebacker Thomas "Hollywood" Henderson said the Cowboys would win 31-0 and that, "Terry Bradshaw is so dumb, he couldn't spell 'cat' if you spotted him on the C and the A." Well, he got the Cowboy score right: The Steelers won 35-31. Bradshaw said, "Ask Hollywood how dumb I am now." He proved that, while his brain might not work as well as yours and mine does outside of a football milieu, within it, he was pretty goldurn smart.
3. John Elway.
Before Favre, he won more games than any quarterback. And while it took him 4 tries, he did eventually win a Super Bowl. And then another, going out as on top as any athlete ever has, winning the World Championship and the MVP in the title game that turned out to be his last game.
2. Johnny Unitas.
Replaced Baugh (or maybe Graham) as the defining figure among quarterbacks, and may still be. When I was a kid, the answer to, "Who is the greatest quarterback who ever lived?" was, inevitably, "Johnny U." He made the Baltimore Colts "America's Team" before the Dallas Cowboys ever played a down, made the NFL must-see-TV, and made the quarterback the greatest glamour position in American sports. And he was always grounded about it: He knew he was great, but he never went out of his way to tell people he was.
I never saw Unitas play during his career -- he played his 1st NFL game in Dwight D. Eisenhower's 1st term as President and his last in Richard Nixon's 2nd term -- but I've seen plenty of film of him. There is no doubt in my mind that he would excel just as much in today's game, especially with the liberalization of rules concerning passing and receiving, and with the bigger linemen of today to protect him from the bigger and faster defenders of today. And, despite those iconic black high-top shoes, he could even run a little.
1. Joe Montana.
This was a tough call. Maybe I picked Montana simply because, unlike Unitas, who was already in the Hall of Fame before I ever heard of him, I got to see Montana all the way through.
Despite winning 4 Super Bowls with the San Francisco 49ers, and being awarded the MVP in 3 of them, I think the difference between Johnny U and Joe Cool is just a hair. And I mean one of Johnny's little short crew-cut hairs, not one of Joe's long blond hairs.