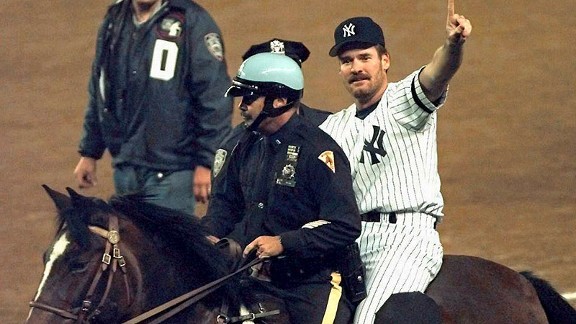 When you consider that North and Central Florida is such a baseball-rich area, even though it didn't have a major league team until 1998, and that the team has now been a Playoff contender for 6 straight seasons, you'd think the locals would support that team better.
But they don't. They don't even support a winning team.
I wonder if they'd support this one. It has a very good infield, a solid outfield, a decent catcher, and a very interesting (to say the least) pitching staff.
And if any Rays fans are reading this, and don't like that I've posted a picture of a Yankee, tough cookies. And if any Red Sox fans are reading this, and don't like that I've posted a picture of this particular Yankee, tough shit.
27. Tampa Bay's All-Time Baseball Team
To be eligible for this team, you need to be from the Tampa Bay Rays' region, which includes every Florida County except the following: Broward, Collier, Dade, Lee, Martin, Monroe, Palm Beach and St. Lucie. Anyone from one of those will be assigned to the Miami Marlins' region.
I don't name general managers for these teams. Even if I did, I would not make Billy Beane the GM for this team. A weak-hitting outfielder from Orlando, he's been GM in Oakland since 1998, but anybody who's a big-league GM for as long as he's been, and has never built a Pennant-winner, is no genius. Maybe if the A's still had "genius" manager Tony LaRussa (who I'll get to later), LaRussa and Beane would have won one together. Maybe not.
1B Fred McGriff of Tampa.
The Yankees had him at Class A ball when, on December 9, 1982, they traded him, didn't-work-out speedster Dave Collins, and pitcher Mike Morgan to the Toronto Blue Jays for an injured Dale Murray and a never-made-it Tom Dodd. How bad a trade was this? Aside from the Red Sox selling Babe Ruth to the Yankees with 665 homers to go, McGriff's 493 post-Yankee homers may be the most round-trippers ever traded away.
But the Yanks already had Mattingly, and McGriff still didn't reach the majors until 1986, by which point Mattingly was the best player in baseball, and they had plenty of DHs, so, really, what could the Yanks have done? However, McGriff and Morgan were still productive players 19 years later -- and don't forget, the Arizona Diamondbacks would not have won the 2001 World Series against the Yanks without Morgan.
McGriff, known as Crime Dog after the public-service announcements starring animated canine detective McGruff the Crime Dog, made 5 All-Star teams, led each League in homers once, helped make the Jays respectable and the Atlanta Braves a quasi-dynasty, including 2 homers in the 1995 World Series. He became the first Tampa Bay-area native to play for the Devil Rays when they started in 1998, along with Wade Boggs. It's a shame he couldn't get the 7 more homers to reach 500, but he was done. He should be in the Hall of Fame.
Honorable Mention to Tino Martinez of Tampa. Four years behind McGriff at Tampa's Jefferson High School, the Bamtino was a big part of the Seattle Mariner team that saved big-league baseball in the Northwest with that 1995 American League Western Division title, and he sure didn't let up in the Division Series against the Yankees. So out went Donnie Regular Season Baseball, and in came Tino, who had worn Number 23 in Seattle, and didn't need enough reminders of who he was replacing. So he switched to 24, and with a lefty swing tailor-made for Yankee Stadium's short right-field porch, and a glove not that far behind Mattingly's, Tino helped the Yankees win the World Series in 1996 (immediately placing him ahead of Mattingly in my mind), 1998, 1999 and 2000, and almost in 2001.
In 1997, a year when the Yankees didn't win the Pennant, he got the hit that clinched the first-ever regular-season series against the Mets, which makes him a huge hero in my eyes. That same year, he hit 44 homers (most by a Yankee between 1961 and 2005) with 144 RBIs (most by a Yankee between 1985 and 2007). His grand slam in Game 1 of the 1998 World Series and his down-to-the-last-out, game-tying homer in Game 4 in 2001 still rank among the most thrilling homers in Yankee history.
The Yankees made a mistake in letting him go after 2001, especially since Jason Giambi never lived up to the hype. Tino went to St. Louis and helped the Cardinals reach the 2002 postseason, and did he ever get a nice hand in 2003 when the Cards game to The Bronx for an Interleague series. Tino played for his hometown Devil Rays in 2004 before one last, reasonably productive season with the Yanks. With 339 homers (192 as a Yankee), he'll never make the Hall of Fame, but so what. He deserves a Plaque in Monument Park at the new Stadium.
Honorable Mention to Prince Fielder of Melbourne. He doesn't turn 30 until May 9, but in 8 full seasons, he's already batted .286, put up a 141 OPS+, and hit 285 home runs. The 25 he hit last year was his lowest full-season total; he led the National League 50 in 2007 with the Milwaukee Brewers. He's had 6 100+ RBI seasons.
He helped the Brewers win the NL Wild Card in 2008 and the NL Central Division in 2011 -- and that's as many Playoff berths in 4 seasons as the Brewers have otherwise reached without him. He has since added 2 more, including the 2012 AL Pennant, with his father Cecil's former team, the Detroit Tigers. Cecil qualifies for the Dodgers' region -- and for comparison's sake, due to a late start, he finished with just 319 homers, meaning Prince could pass him this season. Cecil was named to 3 All-Star teams, Prince has already been named to 5.
Honorable Mention to Glenn Davis of Jacksonville. A 2-time All-Star, in 1986 he led the Houston Astros to the NL West title and finished 2nd to Mike Schmidt in the Most Valuable Player voting. He was, for a time, the Astros' all-time home run leader, hitting 166 despite playing his home games in the pitcher-friendly Astrodome. A good fielder, too.
But a back injury in 1990 curtailed his career. Before the 1991 season, the Astros traded him to the Baltimore Orioles for Steve Finley, Pete Harnisch and Curt Schilling. It looked like a good trade for both teams, but it turned into a bad one for both: Finley didn't get good until after he left the Astros, Harnisch had personal issues that wrecked his career, and Schilling didn't blossom until the Astros traded him to Philadelphia. As for Davis, the injury meant he wouldn't be able to take advantage of the close RF wall at Camden Yards. His career OPS+ was 123, but because of the injury he was finished at 32, with "only" 192 homers.
Honorable Mention... sort of... to Steve Garvey of Tampa. Like Kirk Gibson, he played both baseball and football at Michigan State University. Ten times an All-Star, 5 times a Gold Glove, 5 times a 100-RBI man, once an MVP in the NL (1974) and twice in the All-Star Game. He was the Los Angeles Dodgers' Mr. Clean, their Captain America, their... let's face it, their Ken Doll. He was the red-white-and-blue good guy of the 1970s, in contrast to the green-and-gold gangbangers in Oakland; the funky, Afro-wearing (including a couple of the white guys) street hustlers in Philly; the garish, black-and-gold disco pimps in Pittsburgh; and the wiseass goombas in The Bronx. Or so the believers in the O'Malley/Lasorda/Garvey Dodger Blue myth tried to tell us.
Garvey played every day (his 1,207 consecutive games played is still an NL record and 4th all-time), and he played well, winning 5 Pennants (4 with L.A. and 1, as Chicago Cub fans don't like to be reminded, with the San Diego Padres) and the 1981 World Series. That year, at a point in his career when it looked like he would one day rank among the game's all-time greats, Lawrence Ritter and Donald Honig included him in their book
The 100 Greatest Baseball Players of All Time
.
So why isn't this guy in the Hall of Fame? On
Baseball-Reference.com
, their Hall of Fame Monitor, which has a Likely HOFer at 100, has Garvey at 130; but their Hall of Fame Standards, which has the Average HOFer at 50, has him at only 32. So what gives? Well, it's not that he didn't just plain stop hitting or get his career curtailed by injury: His last productive season was at age 37. But, while from age 25 to 31, he was one of the top 10 players in baseball, after that, he was only a pretty good one, not putting together the kinds of seasons true greats still do in their early 30s. Only once did he hit more than 28 home runs (granted, Dodger Stadium is a pitcher's park), finishing with 272, not a HOF total. He collected 2,599 hits, a very good total but not, by itself, HOF material. His career OPS+ was 116, very good but, again, not HOF level. And, with Reggie Smith and usually at least 2 really good pitchers, a case can be made that Garvey was never even the best player on his own team.
It has nothing to do with the fact that Garvey's Mr. Clean image was shattered, leading to the infamous bumper sticker (probably most popular with Giants and Angels fans), "STEVE GARVEY IS NOT MY PADRE." At least the Padres retired his Number 6; the Dodgers still haven't.
Very Honorable Mention to John "Buck" O'Neil of Carrabelle, in the Florida Panhandle. The longtime star and manager of the Kansas City Monarchs became a household name thanks to Ken Burns' miniseries
Baseball
, and afterward founded the Negro Leagues Museum, just a few blocks from the site of the Monarchs' (and minor-league K.C. Blues', and Athletics', and original Royals') ballpark, Municipal Stadium. That he is not in the Hall of Fame is, as the French say, worse than a crime, it is a blunder.
2B Rickie Weeks of Altamonte Springs.
I considered putting former Met manager Davey Johnson here, since he was born in Orlando. But he went to high school in San Antonio, which would put him in the Astros' region. But until Weeks blossomed, I would have had to cheat and put Davey there.
Weeks has spent his entire career with the Brewers, and was Fielder's teammate on their Playoff teams of 2008 and '11. He's only a .247 lifetime hitter, but his OPS+ is a slightly better-than-average 103. He's got some power, peaking at 29 home runs and 83 RBIs in 2010. He was an All-Star the next year. He's also an expert in getting hit by pitches, twice leading the NL. But he also strikes out a lot, having seasons of 184 and 169 K's. (Oddly, Prince has never topped 138, which is still a lot.)
SS David Eckstein of Sanford.
I had the good fortune to watch him a few times for the Trenton Thunder in their 1999 Division Title-winning season (though they didn't win a Pennant until 2007). But, with former Thunder player Nomar Garciaparra having a hammerlock on the position at the big-league level, the Boston Red Sox let him go, and he made his debut with the Anaheim Angels (as the team was then officially known).
In 2002, he batted .293 with 63 RBIs, and led the AL in both sacrifice hits and hit-by-pitch, and became the first Thunder alumnus to play on a World Champion, hitting .310 with 3 RBIs in the Series. The Angels traded him to the Cardinals in 2005, and he helped them win a Series in 2006, being named the Series' MVP. Now retired, the Thunder have retired his Number 22, along with Nomar's Number 5 and Tony Clark's Number 33 (and, of course, Jackie Robinson's Number 42). He now works as an agent -- not for athletes, but for his wife, actress Ashley Eckstein.
Honorable Mention to Jay Bell of Pensacola, who split time between short and second, and had 195 homers, but I couldn't bring myself to put him at either position on this team.
3B Wade Boggs of Tampa.
I almost missed him, because he was born in Omaha, Nebraska. He won 5 batting titles, including a peak of .368 in 1985. Career batting average of .328, career OPS+ of 130. The first man to hit a home run for his 3,000th career hit. Only 118 homers, but a whopping 578 doubles. An All-Star 12 times... in a row. Six straight times led the AL in intentional walks, despite being in a powerful Boston lineup. Won 2 Gold Gloves. Hall of Fame. When
The Sporting News
announced its 100 Greatest Baseball Players in 1999, he came in at Number 95.
After the heartbreak of the 1986 World Series with the Red Sox, he finally won one with the Yankees in 1996, and who will ever forget him riding behind the police officer on the horse around the warning track at Yankee Stadium.
The Red Sox have not yet retired his Number 26, although they have elected him to their team Hall of Fame. Nor have the Yankees retired his Number 12 or given him a Monument Park Plaque. But when he closed his career with his hometown Devil Rays, they retired Number 12 for him. Yeah, he had his issues, and maybe trying to avoid them makes me... chicken. So what.
Honorable Mention... sort of... to Larry Wayne Jones Jr. of Deland. Yeah, Chipper. A .303 batting average, a 141 OPS+, 468 home runs, 549 doubles, 2,726 hits, the 1999 NL MVP, 8 All-Star Games, and 12 postseason appearances for the Atlanta Braves... but only 1 ring. As far as I know, he's clean, and will be eligible for the Hall of Fame in 2018.
Honorable Mention to Howard Johnson of Clearwater. By a weird occurrence, the Mets have won 2 World Series, and each time, the starting 3rd baseman was from the Tampa Bay region. In 1969, they platooned a pair of Tampa Bay guys, Ed Charles of St. Petersburg and Wayne Garrett of Sarasota (who also started on their 1973 Pennant-winners). After helping the Detroit Tigers win the 1984 World Series, the Mets got HoJo for pitcher Walt Terrell, and he platooned with Ray Knight for a couple of years, including 1986. (Knight breaks the pattern, but not by much: He's from Albany, Georgia, but the Rays aren't that much further to the south than the Braves are to the north.)
In 1987, '89 and '91, HoJo was the 2nd Met, after Darryl Strawberry, to hit 30 homers and steal 30 bases in the same season; I often joked that he was actually a 30-30-30 man, having also made 30 errors, but the most he ever made was 24, not good but hardly an atrocious total for a third baseman. With a .249 lifetime batting average and 228 homers, he'll never make the Hall of Fame, but he's still the best hot-corner man the Mets have ever had -- and will be until David Wright wins a World Series (don't hold your breath). He's now the Mariners' hitting instructor.
Honorable Mention to Larry Parrish of Winter Haven. An All-Star once with the Montreal Expos and once with the Texas Rangers, statistically he had a better career than HoJo (256 homers despite not playing in a hitters' park), but his only trip to the postseason was in 1981 with the Expos, so HoJo made a bigger impact. Not to be confused with Lance Parrish, nor any relation.
Honorable Mention to Dean Palmer of Tallahassee. Also a 3rd baseman for the Rangers, and later for the Tigers. Hit 275 home runs and had 4 100-RBI seasons.
LF Tim Raines of Sanford.
This seems like a tough one at first, because I could have gone with a very similar player, Vince Coleman of Jacksonville, who stole 752 bases in his career, including at least 107 in each of his first 3 seasons, but really tailed off before he was 30 years old. By contrast, "Rock" Raines batted .304 as a 21-year-old rookie with the 1981 Expos, and .290 as a 38-year-old veteran with the 1998 Yankees, making the postseason each time. He had to get to the Yankees to win a ring in 1996 and another in '98, but it was well worth it. Led the NL with a .336 batting average in 1986, but fell victim to collusion, and in his first 2 games back with the Expos in '87, on May 1 and 2, torched the Mets -- I was at the May 2 game at Shea, and the Met fans gave him a nice hand because they knew he was a good guy who got screwed.
Actually, he wasn't always a good guy, as he had to overcome a cocaine addiction, but overcome it he did. Lifetime batting average .294, OPS+ 123, 2,605 hits and 808 stolen bases. He has been eligible for the Hall of Fame since 2008, Baseball-Reference.com's HOF Monitor has him at 90 of a "necessary" 100, their HOF Standards has him at 47 out of 50. He belongs, but, as Coleman did to him, he may be suffering in comparison to Rickey Henderson. His son, center fielder Tim Raines Jr., played briefly with the Orioles, including the 2002 season with his father, joining the Ken Griffeys as the only father-son combo to play for the same team at the same time. Tim Sr. is now the manager of the Atlantic League's Newark Bears, and Tim Jr. plays for them.
I could have given an Honorable Mention to Luis Gonzalez of Tampa, a Jefferson H.S. teammate of Tino. Not to do so would suugest that I'm still upset over his World Series-winning hit against the Yankees in 2001. (Well, I am.) But he's just too suspicious. He debuted in 1990, and from then until 1997, his peak homer year was 18. Then, in 1998, at age 30, he suddenly starts jacking them out: Seasons of 23, 26 and 31, and then, in the Arizona Diamondbacks' World Championship year of 2001, 57. And, just like that, he drops again, to 28, 26, 17, 24, 15, 15, and 8 when he retired. He finished with 354 homers. Something's not right there. The D-backs retired his Number 20, making him the first player they so honored.
CF Johnny Damon of Orlando.
I missed him at first because he was born at Fort Riley, Kansas, where his father was stationed at the time (and where Jackie Robinson was stationed in World War II). But he grew up in Orlando, putting him in the Rays' territory.
He did not play in 2013, but hopes to play this year at age 40. He has a .284 lifetime batting average, 2,769 hits, and 235 home runs and 408 stolen bases. He led the AL in hits and stolen bases in 2000 (with the Kansas City Royals), led it in triples in 2002 (with the Red Sox), and, along with Ramiro Mendoza and Eric Hinske, is one of only 3 men in the last 95 years to have won World Series with both the Red Sox and the Yankees. But Baseball-Reference has him at 90 on its Hall of Fame Monitor and 45 on its HOF Standards, meaning he doesn't quite make it. If he doesn't play again, he'll be eligible for the Hall in 2018, just like Chipper.
RF Lou Piniella of Tampa.
Now best known as a chunky manager, who led the Cincinnati Reds to the 1990 World Championship, the Mariners to every postseason berth they've ever had, and the Cubs to a couple of NL Central titles, he was one heck of a hitter. Won the 1969 AL Rookie of the Year award with the Royals, before being traded to the Yankees after the 1973 season, a great trade for the Yanks as all they gave up was aging reliever Lindy McDaniel.
He had 6 .300 seasons, and although he always seemed to be platooning between left, right and the DH spot with Reggie Jackson and Roy White, he was productive when it counted. It seemed like he saved his best games for the arch-rival Red Sox (including 2 tremendously important defensive plays in the 1978 AL East Playoff), the ALCS against the Royals (revenge for getting rid of him, maybe?) and the World Series against the Dodgers (his 10th-inning single drove home White with the winning run in Game 4 in 1978).
Known as "Sweet Lou" for his swing, not for his personality: While his teammates loved him, he had a temper that Everett would have envied. I'll never forget him getting nailed at the plate in the '78 ALCS -- looking at the replay years later, it's clear that he was out -- and then going into a tirade that led one sportswriter to call him "the Wild Man of Borneo."
As manager in The Bronx, Cincy, Seattle, Tampa and North Side Chicago, everyone waited for bad calls by the umpires to see "the Eruption of Mount Lou." (He's been compared to Italian volcanoes Mt. Vesuvius and Mt. Etna, but is, in fact, descended from immigrants from Spain.) From the time I first became aware of baseball, he's been one of my favorite personalities in the game. If you don't like Lou Piniella, you're a sad case. Or a Red Sox, Royals or Dodgers fan.
Honorable Mention to Derek Bell of Tampa, one of the "Killer B's" with Jeff Bagwell and Craig Biggio on the Astros' 1997-98-99 NL Central Champions. He also helped the Mets win the 2000 NL Pennant, but got hurt and was out of baseball after just one more year. Had he played longer, he might have the starting nod here.
Dishonorable Mention to Gary Sheffield of Tampa. Dwight Gooden's nephew seems to have Hall of Fame credentials, including the 1992 NL batting title, a career OPS+ of 140, 2,689 hits, 509 home runs, 467 doubles and, surprisingly, 253 stolen bases. And, let's face it, we all had to applaud when he faced that guy who was trying to extort his wife, who posed for some racy photos before becoming a gospel singer. Sheff called first his bluff and then the cops. Great.
But... Eight different teams wanted to get him, but all 8 teams ended up wanting to get rid of him. He reached the postseason with 3, but only won 1 Pennant, winning the 1997 World Series with the Marlins. When the Yankees got him in 2004, I was against it, using the cliche "clubhouse cancer." Well, he didn't look like it through that regular season, but he disappeared at the plate during those last 4 ALCS games against the Red Sox. He put up another great regular season in 2005, but again didn't get the job done in October. In 2006, he got hurt, and didn't get the job done in any month, including the embarrassing ALDS loss to the Tigers, and my prophecy was, sadly, fulfilled. He played with the Mets in 2009, and gave them some big hits at age 40, but got hurt again, and was released.
And then, of course... Seriously, Gary, you didn't know "the cream" had a steroid in it? He may be many things, but he's not stupid. But he didn't respect the baseball establishment, or baseball fans, enough to give us the truth, or even enough to give us a plausible lie. He does not make this team, and, while he stands to become eligible for the Hall of Fame next year, I hope he doesn't get in.
DH Hal McRae of Sebring.
One of the first players to make his name as a designated hitter, he helped the Kansas City Royals to 10 postseason appearances -- every one they've ever made, including the 1980 Pennant and the 1985 World Championship. A career OPS+ of 122, he led the AL in doubles in 1977 and in doubles and RBIs in 1982. He was less successful as a manager, and although his son Brian McRae also played in the majors, he wasn't nearly as successful as his father.
UT Desmond DeChone "Chone" Figgins of Brandon
-- originally missed by me because he was born in Leary, Georgia. He's played every position except 1st base, catcher and pitcher, and not just once or twice: Each position he's played, he's played at least 27 times, with 3rd base his most frequent position.
A rookie with the Anaheim Angels' World Champions of 2002, he drove the Yankees crazy in the 2002, '05 and '09 postseasons, and was a big reason why the Angels reached the postseason 6 times in 8 years. He has a .277 lifetime batting average and 337 stolen bases, leading the AL with 62 in 2005. After sitting out last season, he has been signed to a contract by the Dodgers. He's 36 and versatile, and he may be just the kind of player the "nearly men" Dodgers need to get over the hump.
C Al Lopez of Tampa.
A very good defensive catcher for the Brooklyn Dodgers and Pittsburgh Pirates, and in fact once held the record for most games played at the position. Not a great hitter, but did bat .301 in 1933. And the next-best catchers for the Rays' region are Mike Heath of Tampa, Thurman Munson's backup on the 1978 World Champions, who later became a starter in Oakland and Detroit; and Zack Taylor, Gabby Hartnett's backup on the 1929 NL Champion Cubs, who is better known as the St. Louis Browns manager who Bill Veeck usurped for "Grandstand Managers Night" in 1951. I originally had him as the manager on this team, but subsequent achievements by another led me to change my mind.
Honorable Mention to Anthony John "A.J." Pierzynski of Orlando. Went to Dr. Phillips H.S. with Damon. A 2-time All-Star, he reached the postseason with the 2003 Minnesota Twins, before becoming a key figure in the Chicago White Sox' 2005 World Series run, with that controversial missed 3rd strike in the ALCS. A lot of people who aren't White Sox fans hate him. I think he's a gamer, and if the Yankees ever got him, I'd be fine with it.
SP Jack Billingham of Orlando.
Helped the Cincinnati Reds win 3 Pennants and 2 World Series in the 1970s, on his way to 145 career wins.
SP Don Sutton of Pensacola
-- originally missed by me because he was born in Clio, Alabama, which also happens to be the birthplace of another somewhat disreputable character, George Wallace. True, Sutton was caught cheating (sandpaper taped to his glove hand, good way to hide it until, of course, he couldn't), but he apparently didn't do it for his entire career. He only won 20 once, in 1976, but won 324 games in his career, and struck out 3,574 batters. Of pitchers with more wins – Nolan Ryan has exactly as many – only Roger Clemens and Steve Carlton have more strikeouts. His career WHIP is 1.142.
Hall of Fame, Number 20 retired by the Los Angeles Dodgers, whom he got to the postseason in 1974, '77, '78 and (through a one-game Playoff for the NL West title) '80. He also reached the postseason with the Houston Astros in '81, the Milwaukee Brewers in '82, and the California Angels in '86. He never won a World Series, though: He was re-signed by the Dodgers in 1988, but was released in August, just before they won the Series (as they had in '81, when he was in Houston).
SP Dwight Gooden of Tampa.
At age 19 and 20, Doctor K was one of the best pitchers we'll ever see. From 21 to 26, he was
one
of the best pitchers in baseball. From 27 to 35, he was just another pitcher as he battled his demons -- which, don't forget, included injuries as well as drugs. And at 35, much too soon, he was done.
He should have been 194-112 at the two-thirds mark of his career, but that was his final record. But he did pitch a no-hitter (as a Yankee, not a Met), and he did win 3 World Series (1986 as a Met, 1996 and 2000 as a Yankee).
SP Mike Hampton of Crystal River.
A 2-time All-Star, he helped the Astros to 3 straight postseason appearances, going 22-4 in the last of those seasons, 1999. So the Mets made him a rent-a-star in 2000, and he led them to a Pennant, pitching the NLCS clincher in Game 5 at Shea. But the Mets chose not to sign him to a new contract, and he chose to sign with the Colorado Rockies. So, Hamp, how good are the schools in the Denver area? Injuries dogged him thereafter, and he retired after the 2010 season, having appeared in only 44 games after 2005. His career record was 148-115.
SP Tim Wakefield of Melbourne.
From 1991 to 2012, the Boston Red Sox reached the postseason 8 times in 21 seasons, and he was there for all of them: 1995, '98, '99, 2003, '04, '05, '07 and '08. Before that, he was on the Pirates' 1992 NL East Champions, their last postseason bid for 21 years.
He knuckleballed his way to an even 200 wins, and that doesn't count beating the Yankees in Games 1 and 4 of the 2003 ALCS, before giving up Aaron Boone's homer in Game 7. Still, he has been as much a part of the Sox' success, throughout their history, as anyone.
Honorable Mention to Zack Greinke of Orlando. He won the 2009 AL Cy Young Award, going 16-8 with an ERA of 2.16, an ERA+ of 205, and a WHIP of 1.073, all leading the League. A far cry from the 5-17 he had with the Kansas City Royals in 2005. Last year, with the Dodgers, he went 15-4 and led the NL with a .789 winning percentage. That awful '05 season has left his career record at a relatively pedestrian 106-82, but his career ERA+ is 116, and at only 30, pitching in pitcher-friendly Dodger Stadium, with their run support, he should be very effective for some time to come. I'm not sure whether he would surpass Billingham, Hampton or Wakefield when he makes the rotation, though.
Dishonorable Mention to Kenny Rogers of Plant City (initially missed by me because he was born in Savannah, Georgia). True, he went 219-156 for a .528 winning percentage, and his career ERA of 108 isn't bad, but his career WHIP is 1.403, and he's a known cheater and a massive jackass.
Plus, how many players can say they screwed over both New York baseball teams? The Yankees came back from 6-0 down in Game 4 of the 1996 World Series, but the reason they were in that hole is because Rogers, 12-8 that regular season but with a 14.14 ERA in the postseason, put them there. And he threw the biggest base on balls in baseball history in Game 6 of the 1999 NLCS, walking Andruw Jones with the bases loaded to give the Atlanta Braves the Pennant against the Mets. His name may have been Kenny Rogers, but it was a manager bringing him in who was "The Gambler."
RP Tom Gordon of Avon Park.
A pretty good starter for the Royals, finishing 2nd in the AL Rookie of the Year voting in 1989, he became a great reliever for the Red Sox. In 1998, he saved 46 for the Sox, and Sox fan Stephen King wrote a fantasy novel titled
The Girl Who Loved Tom Gordon
. This is how strong the Curse of the Bambino -- if it actually existed -- was: Gordon got hurt the next season, which may have prevented the Sox from beating the Yanks in the '99 ALCS. He was with the Yankees in 2004, and... lost in the ALCS to the Red Sox! He finally got a ring with the 2008 Phillies. A 3-time All-Star, he finished with 138 wins and 158 saves. But a good career.
Honorable Mention to Bobby Thigpen of Tallahassee. For a few years, he was a great closer with the Chicago White Sox. In 1990, he saved 57 games, a record that stood until 2008. But injury cut his career short at age 30, with 201 saves. He did make it into a World Series, with the Phillies in 1993.
Dishonorable Mention to Jonathan Papelbon of Jacksonville. Yes, he has 286 career saves going into the 2014 season. Yes, he's a 5-time All-Star. And, yes, he helped the Red Sox win the World Series in 2007, and was on the mound for the final out, a strikeout. But he got rocked in the 2009 AL Division Series against the Angels, was a big factor in the Sox' 2011 choke, and wasn't especially effective for the Phillies the last 2 seasons after the Sox decided his antics were no longer worth it. At his best, Papelbum hasn't been better than the best of either Gordon or Thigpen -- and, at 33, we may have seen the last of his best.
MGR Tony LaRussa of Tampa.
He made his big-league debut with the Kansas City Athletics in 1963, only 18, while still at Jefferson High, the same alma mater as McGriff, Tino and Gonzalez. But only once did he have more than 53 major league at-bats in a season, and he played his last game in 1973, only 28, with a lifetime batting average of .199. (Bob Uecker jokes about his playing and his lifetime batting average of exactly .200. But that was better than LaRussa's.)
But this weak-hitting middle infielder did what a lot of guys who had brains and a love of the game, but not the talent to match, did: He went into coaching and managing. He managed his first big-league game in 1979, when Jimmy Carter was President, desktop computers were new, portable phones were a foot long. and fans of the team he was hired to manage, the Chicago White Sox, were telling us that disco, the dominant form of popular music of the time, sucked (and they were right). He managed his last big-league game in 2011, when Barack Obama was President, computers could fit in your pocket, they essentially had a telephone among their apps, and Justin Bieber was making teenage girls scream with lust and everyone else scream with indignation.
He managed the White Sox to the 1983 AL West title, their only 1st-place finish between 1959 and 1993. He managed the Oakland Athletics in their steroid-ridden "Bash Brothers" years, in a span of 5 seasons winning 4 AL West titles, 3 AL Pennants and the 1989 World Series. He moved on to the St. Louis Cardinals, and made 9 postseason appearances, including winning 3 Pennants (and just missing 1 other) and the 2006 and 2011 World Series. That last big-league game I mentioned that he managed? Game 7 of the 2011 World Series, following a thrilling Game 6, and he won it.
After Sparky Anderson, he was just the 2nd manager to win World Series in both Leagues. (The only other managers to win Pennants in both Leagues: Joe McCarthy, Yogi Berra, Alvin Dark, Dick Williams and Jim Leyland.) He won 2,728 games as a manager. He was just elected to the Baseball Hall of Fame and the Cards' team Hall of Fame, and they also retired his Number 10 -- which the A's haven't done.