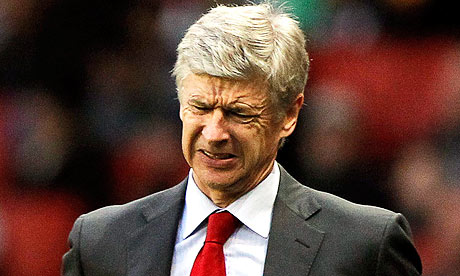 Arsenal pretty much played their way out of the Premier League race today, laying an absolute egg vs. Chelsea at Stamford Bridge, 6-0.
Nobody played well, and only about half the players even looked like they gave a damn.
Not a good way to play in Arsene Wenger's 1,000th match in charge of the club.
*
Let's get the bizarre moment in the 16th minute out of the way, and then move on:
Yes, Alex Oxlade-Chamberlain was guilty of a handball in the box. Yes, awarding a penalty was the right call.
But issuing a straight red card was a bit harsh. A yellow would have been better. Nevertheless, referee Andre Marriner -- already with a record of making bad calls against Arsenal -- issued the straight red. It was wrong, but it was understandable.
What was not understandable is that he showed the card to Kieran Gibbs. Gibbs didn't do it. The Ox protested. I'm not usually good at reading lips, but he clearly said, "Ref, it was me!" Marriner didn't listen.
Oxlade-Chamberlain is a young light-skinned black Englishman with very short hair. So is Gibbs. Are they easily confusable? Judge for yourself. Here is the Ox, in a photo taken earlier this season:
And here is Gibbs, reacting to being sent off today:
Considering that Chelsea is the team captained by John Terry, the most notorious racist in the modern history of English football (yes, ahead of Luis Suarez), it might be a bit incendiary to say this, but it sure seems that Marriner is suggesting that "they all look alike to me."
I can't say for sure whether Marriner is racist, but if he can't tell one player from another, then he shouldn't be a Premier League referee. There is no excuse for it. (In case you're wondering about the most obvious excuse: No, there are no identical twins on any PL side at the moment: While Rafael and Fabio Pereira da Silva did previously play together for Manchester United, Fabio now plays for Cardiff City. Even so, they didn't wear similar uniform numbers at the time, as twins sometimes tend to do when on the same sports team.)
By the way, do you know how many 18 current Premier League referees are black? Exactly none.
Do you know how many of the 20 current Premier League managers are black? Exactly one: Chris Hughton of Norwich (a former Tottenham player, but that hasn't stopped me from respecting him), and at the rate Norwich are going, he won't be in the League for long: Either they will get relegated (mainly for reasons beyond his control), or he'll get fired at the end of the season, or possibly both. He might find another management job shortly thereafter.
(Manuel Pellegrini of Manchester City, Mauricio Pochettino of Southampton, and Gus Poyet of Sunderland -- another former Tottenham player, although years after Hughton was -- are all from South America, therefore Hispanic. But each of them is white.)
Already, the following joke has made the rounds on social media:
Marriner: You're off, Gibbs!
Oxlade-Chamberlain: Ref, it wasn't me!
Marriner: Shut up, Walcott!
(Theo Walcott, also a young light-skinned black Englishman with very short hair, is injured, and wasn't even in the game.)
*
Regardless, it was already 2-0 Chelsea when that happened, a start nearly as bad as the one away to Liverpool that ended 5-1 to the negative. The penalty didn't really change anything: Had it remained 11 vs. 11, Arsenal might have made it 4-1, or 4-2, but wouldn't have won.
This was an all-around bad effort by the whole team.
Naturally, it wouldn't be an Arsenal defeat without recriminations from alleged supporters of the club.
Let me address four in particular that I heard today, having seen the first half at the Blind Pig on New York's 14th Street, between 2nd and 3rd Avenue; and the second half at O'Hanlon's, a block away on 14th between 1st and 2nd Avenue.
* It was said by a fan that backup goalkeeper Lukasz Fabianski should start the rest of the way, because usual starter Wojciech Szczesny isn't good enough.
Szcz didn't handle the penalty well. But none of the 5 goals that Chelsea scored from open play was his fault. Indeed, he made at least 3 saves that could have made things even worse.
* It was said by more than one fan that forward Olivier Giroud is "slow" and "shit." That fan is slow from the neck up, and his opinion is shit.
Giroud has scored 18 goals this season, despite the fact that Arsenal's 4 best playmaking midfielders -- Mesut Ozil, Aaron Ramsey, Theo Walcott and Jack Wilshere -- are all currently injured. Granted, Santi Cazorla (who's also missed a few games due to injury) was terrible today, and has definitely taken a step back this season. And Mikel Arteta has gotten old in a hurry, and isn't doing anyone on the team any favors with his performance this season. But give Giroud the midfielders we should have, and he'll score like he did early on.
In the summer and January transfer windows this season, some Arsenal fans wanted Luis Suarez of Liverpool. This is monumentally stupid. Yes, Suarez leads the League with 28 goals (and that's just in PL play, not counting cup ties). And, yes, as a result, Liverpool are one of the 4 teams that went into today with a legitimate shot of winning the League.
The other 3 teams that did so were Arsenal, Chelsea and Manchester City. Do you know how many goals Suarez has this season against those 3 teams? Exactly none. And that includes an FA Cup tie against Arsenal. Three games against Arsenal this season, no goals. In fact, in 5 of the last 6 times Suarez has opposed Arsenal, he has not scored. And that includes the 5-1 loss at Anfield, when it seemed like every time we looked up, Liverpool were scoring. Suarez did get forward, and did shoot, but he couldn't have hit the ground if he fell off a ladder. Good defenses shut Suarez down; and even when our defense was the worst it has been all season, Suarez could not score against us.
Some Arsenal fans wanted Wayne Rooney of Manchester United. Rooney has 16 goals this season. In case you're as dumb as the average Tottenham fan, and can't do basic arithmetic, that's
fewer
goals than Giroud. And, as was made painfully obvious in the 2006 and 2010 World Cups and Euro 2012 -- England didn't even qualify for Euro 2008 -- when Rooney plays for England, and doesn't have Man U-friendly officials to ignore his dives, allow the goals he scores when offside, and card him when he spouts off to them, he is incredibly average. Sure, in qualifiers against small countries like Liechtenstein and Andorra and Moldova, he's a beast. But against the footballing powers of Europe, like Germany and Italy? He's next to useless.
Also, it needs to be said: Rooney and Suarez are two of the most notorious divers in the game on this planet. We all know that English officials hate Arsenal. If either Rooney or Suarez played for Arsenal, they'd get sent off for diving -- even if they were innocent. And with Suarez also having a history of biting opponents (it's happened not just once, but twice), and having been caught racially abusing an opponent (Manchester United's Nani is a petty little bastard, and also a diver, but even bastards don't deserve to be called the South American equivalent of the N-word), Suarez in a red Arsenal shirt, to an English referee, would be like a red cape to a bull.
Rooney or Suarez, especially Suarez, playing for Arsenal, would get sent off, reducing us to 10 men, and then suspended, and thus unavailable to us, most likely at an inopportune time. And so, the large amount of money that would be spent on either one would be a massive waste.
Some Arsenal fans wanted Gonzalo Higuain, whom Arsenal let get away to Napoli. He has scored 14 goals in Italy's Serie A so far. Giroud has scored 12 of his 18 in PL play. Which do you think is more difficult: Scoring 12 in England, or 14 in Italy? Keep in mind, this is not the Italy of 20 and 30 years ago, when
catenaccio
was the hallmark of great defense. This isn't the era when legends like Paolo Maldini, Franco Baresi and Cafu (AC Milan), Giuseppe Bergomi, the young Javier Zanetti and Baresi's brother Giuseppe (Inter Milan), Gaetano Scirea and Moreno Torricelli (Juventus), Luigi Apolloni (Parma), and Ciro Ferrara (Napoli and Juventus) roamed Italy's portion of the Earth. Does 14 goals in Serie A make Higuain "a world-class striker"?
Some Arsenal fans wanted Karim Benzema. Benzema has scored 15 goals in La Liga this season. La Liga has 2 good teams this season, aside from Benzema's own, Real Madrid: Barcelona and Atletico Madrid. Between Barca (currently 3rd) and Athletic Bilbao (4th), there's a gap of 14 points. Is scoring 15 goals against that better than 12 against England's PL? No, it isn't.
Some Arsenal fans wanted Julian Draxler of German club Schalke. Three problems with this. The first, which not only overrides the second and third, but removes all other considerations, is that Schalke were unwilling to sell him. It doesn't matter what player you want: If his team doesn't want to sell, you're not going to get him. (Unless your team is Barcelona and the player is at Arsenal.)
The second problem for people who want Arsenal to sign "a world-class striker" is that Draxler isn't world-class -- not yet, anyway, not at age 20. He's played 19 games in the Bundesliga, admittedly a very good league with plenty of good defenses, and has scored exactly one goal. He's only assisted on 7 others. Is that "world-class"?
And the third problem for people who want Arsenal to sign "a world-class striker" is that Draxler isn't a striker! He's a winger. These people who want Wenger to "Spend some fucking money!" seem to be convinced that Wenger can turn a young European winger into a world-class striker. Why? Because he did it once before, with a French kid named Thierry Henry.
Two problems with that. One is that there's only one Thierry Henry. You're not going to see another player like him. The other is that these fans who think that Wenger can work a particular piece of magic again are the same fans who think that he can't win trophies anymore. Well, if you think his trophy-winning capacity is now zero, why do you think his turning-young-wingers-into-world-class-strikers capacity is going to be any good? The inconsistency is staggering. Really, in the words of the immortal George Carlin, "Some people are just plain fuckin' stupid."
Rooney. Suarez. Higuain. Benzema. Draxler. Not one of these players represents a substantial, or even a noticeable, upgrade on Giroud. And if a player isn't a noticeable upgrade on Giroud, who cost Arsenal £9.6 million, why would you spent £9.6 million, let alone the £40 million that Liverpool demanded for Suarez? Or £34 million, which is both the sum that Napoli paid for Higuain and the one that Schalke demanded for Draxler? No way is either Higuain or Draxler worth nearly 4 times what Giroud was bought for, and no way is Suarez worth more than 4 times that.
* And then, there are those who simply think "spending some fucking money" is the answer.
Chelsea and Man City have both spend insane amounts of money to be the favorites to win the title this season. And since only one team can win the title in a given season, it is absolutely certain that one of them will not win the title. And since Liverpool could still win it, it is entirely possible that neither Chelsea nor Man City will win it. (It almost makes it worth it to hope that the Scousers take it. Almost.)
And look at Tottenham. Spurs spent, depending on whose figures you believe, anywhere from £100 million to £110 million on new players in the summer transfer window. Where are they? In 6th place, barely qualifying for next year's Europa League; 9 points behind Arsenal for not just bragging rights in North London but for the final Champions League place; and 16 points out of first.
Clearly, merely spending a lot of money isn't the answer. Oh yeah: Their big striker, Roberto Soldado? He's converted a few penalties, but do you know how many goals he's scored from open play in Premier League games this season? Exactly 2. Or 10 less than the "shit" Giroud.
The real reason I walked down the block from the Pig to O'Hanlon's isn't because it's a better bar (it isn't), or because the atmosphere is better there (although, today, it sure was), but because a particularly ignorant "fan" told me Arsenal need to spend £60 million on a new striker next season.
Had I been thinking clearly, I would have asked him what good a "world-class striker" would have done in a game Arsenal were then losing 4-0. The real reason Arsenal lost this game is because the defense blew it: Gibbs was incorrectly sent off, Per Mertesacker had a rare bad game, Mikel Arteta was once again horrendous, and the other midfielders weren't much of a help. This includes Mathieu Flamini, brought on as a "defensive midfielder" -- the soccer equivalent of the baseball tactic of replacing a slugger with a good fielder for defensive purposes in the 9th inning, ignoring the possibility of bad relief pitching giving the other team the lead or at least a tie, and leading to that good fielder, usually not a good hitter, having to bat in place of the slugger when you're desperate for a run.
But I wasn't thinking clearly, partly due to the bad first half, and partly due to not having had much sleep last night. (Drinking was not a factor: I was still on my first beer at the time.) And after hearing several fans call Giroud "shit" (as if a hat trick by him would have made a damn bit of difference at that point), this guy said we need to spend £60 million on a new striker. And, rather than offer a reasoned, reasonable analysis, I practically bit his head off. I screamed at him that money doesn't solve anything, using the Tottenham example. And two bartenders warned me to calm down.
They were right, of course, and at the half, I got the attention of one of them, and told them I wanted to settle my tab, because I didn't want to lose my temper again.
And I headed over to O'Hanlon's, but ended up getting into another discussion about "world-class strikers." This was with three black fans. I mentioned that Giroud was outscoring Rooney. One was shocked, saying I should "forget about the numbers. Do you really think Giroud is better than Rooney?" I said yes. He said, "You are smoking crack!" I said, "
I'm
smoking crack? Have you
seen
Rooney play for England?" Meaning, do you know what happens when he doesn't have the protection of Man U-friendly refs, as he wouldn't if he played for Arsenal? And so on, and so on, and so on... And I realized that I was headed for another freak-out, and just gave up. Sometimes, winning an argument isn't worth it.
* And finally, there were those who were blaming Arsene Wenger for the defeat, and saying he should go.
Was it Wenger's fault that his 4 best midfielders were injured -- including the player on whom he'd spent more "fucking money" than anyone in the history of the club? Was it Wenger's fault that a player committed the foul of handball in the penalty area, resulting in an easy goal? Was it Wenger's fault that the referee sent a player right off, instead of merely awarding a yellow card to go with the penalty? Was it Wenger's fault that the referee sent off the wrong player, a defender no less, at a time when we needed as good a defense as possible?
They blame Wenger for blowing the League title. Is it Wenger's fault he doesn't have unlimited resources? Is it Wenger's fault the players these idiots want are simply not available? Is it Wenger's fault so many players have gotten hurt at just the wrong time (again)? Is it Wenger's fault the referees allow Dirty Northern Bastard clubs to get away with card-worthy tackles for 90 minutes straight?
If these morons really think that the best manager the club have ever had -- and that is Wenger, not George Graham, not Herbert Chapman -- can be replaced by someone better, all they need to do is look at what's happened with Manchester United, having gone from Alex Ferguson to David Moyes. Not so easy, is it?
*
The League title is, almost certainly, no longer available to us.
But qualification for next season's Champions League is. And so is the FA Cup, an actual major trophy.
I include myself in what I'm about to say, because I nearly caused a big incident today, and even what did happen is something that shouldn't have, and I regret it.
We need to keep our heads. We can still win a trophy, and we can still put together the kind of season that most of the League -- including those big-talking dipsticks at Tottenham, and, for once, Man United -- would love to have had.
This season won't be what we had hoped. But it can be a success.
Give Arsene Wenger the chance to do that. If you don't, there is a solution.
It's called "Chelsea." When they go through a season without winning a trophy, their solution is to fire the manager, bring in a high-profile new manager, and spend a boatload of money on players who, by themselves, aren't really worth it, but seem to work well with all the other overpaid players.
You want trophies above all else? Above class, above character, above attractive football?
Fuck off to Stamford Bridge.
The rest of us will support the club, and will support the manager.
In Arsene We Trust.