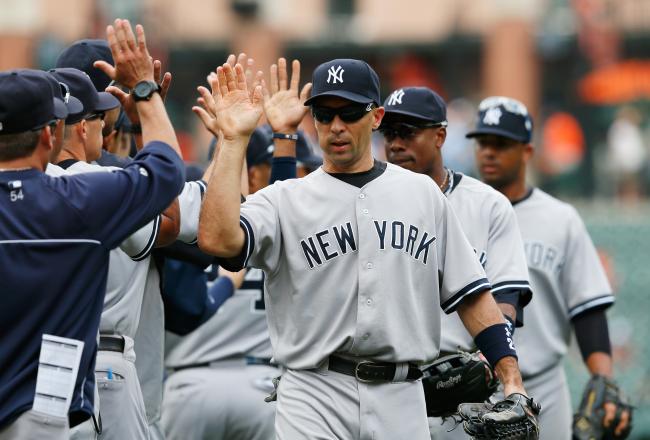 I've looked it up. Due to the Strike of '94, and its spillover into the start of 1995, 1996 was the 1st season that had both the three-divisions-plus-wild-card setup and a full 162-game season.
From 1996 to 2011, the average number of games won by the 2nd-place team in the American League East is 92. In other words, in an average season under the current setup, 1 more than that, or 93 wins, has been enough to win the Division. Observe:
1996 Yankees 92, Baltimore Orioles 88
1997 Orioles 98, Yankees 96
1998 Yankees 114, Red Sox 92
1999 Yankees Yankees 98, Red Sox 94
2000 Yankees 87, Red Sox 85
2001 Yankees 95, Red Sox 82
2002 Yankees 103, Red Sox 93
2003 Yankees 101, Red Sox 95
2004 Yankees 101, Red Sox 98 (but Sox won Wild Card and Pennant)
2005 Yankees 95, Red Sox 95 (Yanks won Division on head-to-head advantage)
2006 Yankees 97, Toronto Blue Jays 87 (Jays' best finish since 1993)
2007 Red Sox 96, Yankees 94
2008 Tampa Bay Rays 97, Red Sox 89 (Yankees 89, worst finish since 1992)
2009 Yankees 103, Red Sox 95
2010 Rays 96, Yankees 95
2011 Yankees 97, Rays 91 (Red Sox 90 after leading the Division for much of the season)
Remember: The key number is not how many games the 1st-place team won, it's how many games the 2nd-place team won. That's the number that you have to exceed. And since 1996, that average number has been 93.
You want to go back further, to the start of Divisional Play? Okay...
1969 Orioles 109, Detroit Tigers 90 (Tigers now in AL Central)
1970 Orioles 108, Yankees 93 (Yanks' best total in 1965-75 dark age)
1971 Orioles 101, Tigers 91
1972 Strike year, so I won't count it.
1973 Orioles 97, Red Sox 89
1974 Orioles 91, Yankees 89 (Yanks & Sox battled but Sox choked & O's surged)
1975 Red Sox 95, Orioles 90
1976 Yankees 97, Orioles 88
1977 Yankees 100, Red Sox & Orioles both 97
1978 Yankees 100, Red Sox 99 (Yanks beat Sox in one-game Playoff, the Bucky Dent Game)
1979 Orioles 102, Milwaukee Brewers 95 (Brewers now in NL Central)
1980 Yankees 103, Orioles 100 (the last great Yanks-O's race before this season)
1981 Strike year, a split-season one, too, so I won't count it.
1982 Brewers 95, Orioles 94 (Brewers almost blew it, but beat O's on last day of season)
1983 Orioles 98, Tigers 92
1984 Tigers 104, Blue Jays 89 (Tigers started season 35-5)
1985 Blue Jays 99, Yankees 97 (that one hurt, Yanks lost 1 of last 3 vs. Jays in year's final series to lose it)
1986 Red Sox 95, Yankees 90
1987 Tigers 98, Blue Jays 96 (Jays lost last 7, including 4 vs. Tigers, to blow it)
1988 Red Sox 89, Tigers 88 (Brewers & Jays 87, Yanks 85 -- a 5-team race)
1989 Blue Jays 89, Orioles 87 (a great race, after O's lost 107 the year before)
1990 Red Sox 88, Blue Jays 86
1991 Blue Jays 91, Red Sox 84
1992 Blue Jays 96, Brewers 92
1993 Blue Jays 95, Yankees 88 (tied on September 8, but Yanks tailed off)
1994 Strike year, so I won't count it.
1995 Strike year, so I won't count it.
The average of those is 91 1/2. Include 1996-2011 with the full seasons in 1969-93, and the average number of games won by the 2nd-place team in the American League East is still 92 games. So 93 wins is still, more often than not, enough to win the Division.
Thus far in the 2012 season, the Yankees have won 79 games. There are 22 games to go. To reach 93 wins, they will have to go 14-8 the rest of the way.
Of those 22 games, 6 are against teams that are at least challenging for the Playoffs – 16 are against teams that are not – including 6 against the now-pathetic Red Sox. If the Yankees go .500 against the Playoff teams, that will be 3-3. That's 82. They'd then have to win 11 out of 16 against the non-Playoff teams. This is well within reach, especially since the injured players have begun to come back.
Throw in the fact that the Orioles will have to win 15 of their last 22 to reach 93, and the fact that the Rays will have to win 16 of their last 22, and it becomes more likely that the Yankees may not even have to reach 93 wins to get there.
Throw in the fact that the Orioles and Rays are about to play 3 games against each other in Baltimore, and close the season with 3 more against each other in St. Petersburg. True, the Yankees still have to face the Rays, but that also means the Rays have to face the Yankees, and it's in The Bronx. Throw in the fact that the O's, like the Yankees, still have to play the AL West-and-Wild-Card-challenging Oakland Athletics (and unlike the Yankees, they have to go out to California to do it), and that the Rays still have to play the AL Central-leading White Sox in Chicago, and it becomes less and less likely that either of the teams chasing the Yankees can get to 93 wins.
It's all right to be concerned, but there's no reason to panic.
*
The Mets got swept by the Atlanta Braves. A story frequently told. But look at the bright side, Met fans: You will never have to face Chipper Jones again.
The Washington Nationals have shut down Stephen Strasburg. They lead the National League East by 5 1/2 games over the Braves. They have won 86 games, the most by a Washington team since 1945. They will reach the postseason, something no Washington team has done since 1933. That's 79 years. But they will go into the postseason without their best pitcher.
That's like James Bond going into a fight without his Walther PPK. Or Bruce Springsteen taking the stage without Clarence Clemons. Although the Nats had a choice. Bruce didn't. Nevertheless, Eddie "Kingfish" Manion, from Southside Johnny's Asbury Jukes, who has recorded and played with Bruce before, has been "promoted" and has played admirably. Bruce was able to "call someone up from Triple-A ball" and is still "winning ballgames." Do the Nats have enough depth in their starting rotation to win a Pennant?
Les Moss has died. You probably won't remember him. A native of Tulsa, Oklahoma, John Lester Moss was a catcher for the St. Louis Browns starting in 1946, at the age of 21, became what we would now call a rent-a-player with the Red Sox in 1951, went back to the Browns, moved with them to become the Orioles in 1954, was traded to the Chicago White Sox in 1955, and remained with them through the 1958 season and never returned to the majors.
He caught a no-hitter for the Browns in 1953, in which Bobo Holloman became the 2nd pitcher ever to toss one in his first major league start (still the last, and the only one to do so with the 60-feet-6-inches pitching distance). Holloman was a fluke, not having much control, and was out of the majors 3 months later, never to return.
Moss, always a platooner, never a regular starter, batted over .290 a couple of times, and had 3 seasons of at least 10 home runs -- not bad for a catcher who never reached 400 plate appearances.
He appears to have remained in the White Sox organization, because he became their manager for 2 games in 1968, was restored to the job on an interim basis again at the end of the season, and was also the manager of the Detroit Tigers for 53 games at the start of 1979, between 2 legendary names, Ralph Houk and Sparky Anderson. His career managerial record was 39-50. Don't hold that against him: In neither Bridgeport nor Corktown did he have the horses.
His brief skippering of the Tigers when I was a boy is the only reason I recognized his name when I saw it pop up in
Baseball-Reference.com
's In Memoriam section. He was 87.
About the Jets: An optimist would say they won. An optimist would also say they scored 48 points, and that they are tied in the AFC East with the New England Patriots (who beat the Tennessee Titans), and ahead of the Buffalo Bills (their opponents yesterday) and the Miami Dolphins (who lost to the Houston Texans). And that they've got a better record than the Giants (who lost to the Dallas Cowboys in the season's lid-lifter on Wednesday night).
A pessimist would say it's only one game, we've seen this before, and allowing a team like the Bills to score 4 touchdowns, on your home field no less, is troubling.
You know what you call an optimistic Jet fan?
Lonely.