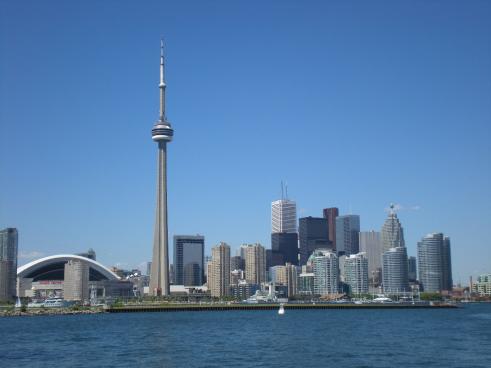 Having swept those pesky Blue Jays at home, the Yankees will have to go to Toronto for 4 more against them. Being in a foreign country has its particular challenges -- and, yes, for all its similarities to America, Canada is still a foreign country. But Toronto is a bigger city than any other in North America except for New York -- unless you count Mexico City, which tops New York and all others, as "North America."
Before You Go.

Make sure you call your bank and tell them you're going. After all, Canada may be an English-speaking country, and a democracy (if a parliamentary one), and a country with a Major League Baseball team, but it is still a foreign country. If your bank gets a record of your ATM card making a withdrawal from any country other than the U.S., it may freeze the card, and any other accounts you may have with them. So be sure to let them know that you will, in fact, be in Canada for a little while.
And, since June 1, 2009, you need a passport to cross the border in either direction. Even if you have a valid driver's license (or other State-issued ID) and your birth certificate, they ain't lettin' you across into the True North Strong and Free. Not even if you're a Blue Jays season-ticket holder living in Buffalo or if you sing hosannas of praise to Wayne Gretzky. You don't have a passport? Get one. You do have one? Make sure it's valid and up to date. This is not something you want to mess with. Canadian Customs officials do not fuck around: They care about their national security, too.
Do yourself another big favor: Change your money before you go. There are plenty of currency exchanges in New York City, including one on 42nd Street between 7th and 8th Avenue.
Leave yourself $50 in U.S. cash, especially if you're going other than by plane, so you'll have cash on your side of the border. At last check, on the morning of September 21, 2012, US$1.00 = C 97 cents – or, C$1.00 = US$1.02. And, since the currency exchanges need to make a profit, the current rate favors Canada, though this is usually not the case. (I was actually in Canada on the day when it most favored the U.S.: January 18, 2002, 1.60 to 1.00 in our favor.)
The multi-colored bill were confusing on my first visit, although we have those now, too. The $5 is blue, and features Wilfrid Laurier (Prime Minister 1896-1911). The $10 is purple, and features John A. Macdonald (the 1st Prime Minister, 1867-1873 and again 1878-1891, essentially he's their George Washington without having fought a war for independence). The $20 is green, and features the nation's head of state, Britain's Queen Elizabeth II. The $50 is red, and features William Lyon Mackenzie King (the longest-serving Prime Minister, 1921-1926, 1926-1930, 1935-1948, including World War II). And the $100 is yellow, and features Robert Borden (Prime Minister 1911-1920, including World War I).
The tricky part is going to be the coins – and you'll thank me for telling you this, but keep your U.S. coins and your Canadian coins separate, for the simple reason that their penny, nickel, dime and quarter are all the same colors and just about the same size as our respective coins. (To make matters more confusing, as we recently did with our States, they had a Provincial quarter series.)
All coins have Queen Elizabeth's portrait on the front, but she's been Queen since 1952, and depending on how old the coin is, you might get a young woman, or her current 86-year-old self, or anything in between. You might even get a penny or a nickel old enough to feature her father, King George VI. Such a coin is still legal tender, however.
They have a $1 coin, copper-colored, bigger than a quarter, and 11-sided, with a bird on the back. This bird is a loon – not to be confused with the people lunatic enough to buy Maple Leafs season tickets. The coin is thus called the "loonie," although they don't say "ten loonies." They use "buck" for "dollar" the way we would, and in fact the term is connected to Canada, since their first English settlers were the Hudson's Bay Company, and they set the value of a dollar to the price of the pelt of a male beaver, the male of the species being called, as are those of a deer and a rabbit, a buck. (And the female, a doe.) The nation's French-speakers (Francophones) use the French word for loon, and call it a "huard," but since the Montreal Expos are gone, you probably won't hear that term unless you're a hockey fan and go to see the Rangers, Devils or Islanders in Montreal – or maybe Ottawa, which is on the Ontario-Quebec border and has a lot of French-first-speakers.
Then there's the $2 coin, or "toonie." It's not just two dollars, it's two-toned, and even two-piece. It's got a copper center, with the Queen on the front and a polar bear on the back, and a nickel ring around it. This coin is about the size of the Eisenhower silver dollars we used to have. This is the coin that drives me bonkers when I'm up there.
My suggestion is that, when you first get your money changed before you begin your trip, ask for $1 coins but no $2 coins. It's just simpler. I like Canada a lot, but their money, yikes, eh?
This is Canada, the Great White North, so if you're going in April, it may still feel like winter, especially if the wind is blasting off Lake Ontario. In which case the Rogers Centre roof will be likely to be closed. So you should pack a winter jacket. If you're going from May onward, even in late September, it will probably be warm enough to not bring any jacket, but bring a light one just in case.
This series is in late September, but the weather forecast for those days has not yet been posted on the

Toronto Star

website.
Getting There.

The best way is by plane. Air Canada runs flights out of Newark Liberty, John F. Kennedy and LaGuardia International Airport, and the flight takes about an hour and a half. Book on Air Canada today, and you can get a round-trip flight for around US $400. On an American carrier (including, but not necessarily, American Airlines), it will be closer to $1,200.
Greyhound runs 9 buses a day from Port Authority Bus Terminal to the Toronto Coach Terminal, at 610 Bay Street. (Countries in the British Commonwealth, including Canada, call a local bus a bus and an inter-city bus a "coach.") The ride averages about 11 hours, and is $224 round-trip -- although an advance purchase can drop it to almost half that, $138. The TCT is big and clean, although a little confusing, as it seems to be two separate buildings. You shouldn't have any difficulties with it. It's one block down Bay to Dundas Street, and turn left to get to the Dundas subway station.
Amtrak, however, runs just one train, the Maple Leaf, in each direction each day between New York and Toronto, in cooperation with Canada's equivalent, VIA Rail. This train leaves Pennsylvania Station at 7:15 AM and arrives at Union Station at 7:42 PM, a trip of 12 hours and 22 minutes – 9:22 of it in America, 0:20 of it at Customs (4:37 to 4:57 PM) and 2:45 of it in Canada. The return trip leaves Toronto at 8:20 AM, reaches the border at 10:22, and gets back to Penn Station at 9:45 PM. So if, for example (one that does not fit this upcoming series), you leave New York on a Friday morning for a weekend Yanks-Jays series, you'll only get in the Saturday game.
So, while Toronto's Union Station, at 65 Front Street West, is one of the world's great rail terminals, and is the heart of the city, taking Amtrak/VIA to Toronto is not particularly convenient. Especially since the Maple Leaf is one of Amtrak's most popular routes, and it could sell out. If you still want to try it, it's US$114 in each direction ($228 total), and you can add Business Class accommodations for just US$1 extra (each way).
If you're driving, it's 500 miles – well, 492 miles from Times Square to downtown Toronto. Get into New Jersey to Interstate 80, and take it all the way across the State. Shortly after crossing the Delaware River and entering Pennsylvania, take I-380, following the signs for Scranton, until reaching I-81. (If you've driven to a game of the Yankees' Triple-A farm team, the Scranton/Wilkes-Barre Yankees, you already know this part.) Take I-81 north into New York State. (If you've driven to a game of the Mets' Double-A farm team, the Binghamton Mets, you already know this part.) Continue on I-81 past Binghamton and to Syracuse, where you'll get on the New York State Thruway, which, at this point, is I-90. Continue on the Thruway west, past Rochester, to Buffalo.
What happens next depends on where you cross the border. But first, let's discuss what you should do when you're actually at the border. Because you need to take this seriously. Because Canadian Customs will.
You'll be asked your citizenship, and you'll have to show your passport and your photo ID. You'll be asked why you're visiting Canada. Seeing a Yankees vs. Blue Jays game probably won't (but might) get you a smart-aleck remark about how the Jays are going to win, but they won't keep you out of their country based on that alone.
If you're bringing a computer with you (counting a laptop, but probably not counting a smartphone), you don't have to mention it, but you probably should. Chances are, you won't be carrying a large amount of food or plants; if you were, depending on how much, you might have to declare them.
Chances are, you won't be bringing alcohol into the country, but you can bring in ONE of the following items duty-free, and anything above or in addition to this must have duty paid on it: 1.5 litres (53 ounces) of wine, or 8.5 litres (300 ounces or 9.375 quarts) of beer or ale, or 1.14 litres (40 ounces) of hard liquor. If you have the slightest suspicion that I'm getting any of these numbers wrong, check the Canada Customs website. Better yet, don't bring booze in. Or out.
As for tobacco, well, you shouldn't use it. But, either way over the border, you can bring up to 200 cigarettes, 50 cigars, and 200 grams (7 ounces) of manufactured tobacco. What you cannot bring from Canada back into the U.S. is Cuban-made cigars. They are still illegal to even possess in the U.S. So you need to note that President Obama hasn't had that law changed, or dropped the embargo against Cuba; if he is a Communist or a Socialist, that's yet another reason why he's not very good at it.
If you've got anything in your car (or, if going by bus or train) that could be considered a weapon, even if it's a disposable razor or nail clippers, tell them. And while Canada does have laws that allow you to bring in firearms if you're a licensed hunter (you'd have to apply for a license to the Province where you plan to hunt), the country has the proper attitude concerning guns: They hate them. They go absolutely batshit insane if you try to bring a firearm into their country. Which, if you're sane, is actually the sane way to treat the issue.
You think I'm being ridiculous? How about this: Seven of the 44 U.S. Presidents -- 9 counting the Roosevelts, Theodore after he was President and Franklin right before -- have faced assassins with guns, 6 got hit and 4 died; but none of the 22 people (including 1 woman) to serve as Prime Minister of Canada has ever faced an assassination attempt. John Lennon recorded "Give Peace a Chance" in Montreal and gave his first "solo concert" in Toronto, but he got shot and killed in New York. In fact, the next time I visit, I half-expect to see a bumper sticker that says, "GUNS DON'T KILL PEOPLE, AMERICANS WITH GUNS KILL PEOPLE."
(Another note about weapons: I'm a fan of the TV show

NCIS

, which airs in Canada on Global Network TV. If you are also a fan of this show, and you usually observe Gibbs Rule Number 9, "Never go anywhere without a knife," leave it at home. If you really think you're going to need it -- as a tool -- mention the knife to the border guard, and show it to him, and tell him you have it to use as a tool in case of emergency, and that you do not plan to use it as a weapon. Do not mention the words "Rule Number 9" or quote said rule, or else he'll observe his Rule Number 1: Do not let this jackass into your country, eh? And another thing: Border guards, and the Royal Canadian Mounted Police, most likely will observe a variation on Gibbs Rule Number 23: "Never mess with a Mountie's Tim Hortons coffee if you want to live.")
And if you can speak French, don't try to impress the Customs officials with it. Or the locals, for that matter. You're going into Ontario, not Quebec. (And even if you were going into Quebec, they're not going to be impressed by your ability to speak their first language.) A, People of French descent are a minority west of Quebec (although singers Alanis Morrissette and Avril Lavigne are both Franco-Ontarians); and, B, They can probably speak English, let alone French, and possibly another language or two, better than you can. If you try to speak French in Toronto, you won't sound like you're from Montreal, and you certainly won't sound like you're from Paris. You'll sound like a smartass. That's if you speak French well. If you don't, you'll sound like a damn fool.
When crossing back into the U.S., in addition to what you would have to declare on the way in (if you still have any of it), you would have to declare items you purchased and are carrying with you upon return, items you bought in duty-free shops or (if you flew) on the plane, and items you intend to sell or use in your business, including business merchandise that you took out of the United States on your trip. There are other things, but, since you're just going for baseball, they probably won't apply to you. Just in case, check the Canadian Customs website I linked to above.
Precisely where will you be crossing the border? It could be at the Peace Bridge, built to commemorate the U.S. and Canada having "the world's longest undefended border," from Buffalo into the Ontario city of Fort Erie.
After going through Customs, this would take you right onto the Queen Elizabeth Way (the QEW). After the Pennsylvania Turnpike, this was North America's second superhighway, and was named not for the current Queen but for her mother, the wife of King George VI, the woman most people now under the age of 65 called the Queen Mother or the Queen Mum. (You know: Helena Bonham-Carter in The King's Speech.) This road will hug Lake Ontario and go through the Ontario cities of Niagara Falls, St. Catharines and Hamilton before turning north and then east toward Toronto. Toronto's CN Tower is so tall that you may actually see it, across the lake, before you get to Hamilton.
The most common route from Buffalo to Toronto, however, is to go north on I-190, the Thruway's Niagara Extension, to Niagara Falls. After you go through Customs, the road will become Ontario Provincial Highway 405, which eventually flows into the Queen Elizabeth Way.
At the edge of the "megacity" of Toronto (Montreal is also now a "megacity"), the QEW becomes the Frederick G. Gardiner Expressway. ("Big Daddy" Gardiner was a major Toronto politician, and was responsible for getting it built.) The Gardiner does not have numbers on its exits. If you're going for only one game, and are leaving Toronto right afterward (I don't recommend this this: Spend a day in the city), you'll take the Spadina Avenue exit to get to Rogers Centre.
If you make 3 rest stops – I would recommend at or near Scranton and Syracuse, and count Customs, where they will have a restroom and vending machines – and if you don't do anything stupid at Customs, such as fail to produce your passport, or flash a weapon, or say you watch

South Park

(a show with a vendetta against Canada for some reason), or call Sidney Crosby a cheating, diving pansy (even though he is one) – the trip should take about 11 hours. Though that could become 12, because Toronto traffic is every bit as bad as traffic in New York, Boston and Washington. I am serious, and don't call me Shirley: Toronto traffic is awful.
Once In the City.

Since Canada is in the British Commonwealth, there are certain subtle differences. Every measurement will be in the metric system. Dates are written not as Month/Day/Year, as we do it, but as Day/Month/Year as in Britain and in Europe. So the series begins for us on "September 27, 2012," but for them on "27 September 2012." They also follow British custom in writing time: A game starting at 7:05 PM would be listed as 1905. (Those of you who have served in the military, you will recognize this as, in the words of the immortal Henry Blake, "all that hundred-hours stuff.") And every word we would end with -or, they will end wit -our; and some (but not all) words that we would end with -er, they end with -re, as in "Rogers Centre."
When you arrive, I would recommend buying the

Toronto Star

and

The Globe and Mail

. The former newspaper is local, the latter is national, and both are liberal enough to suit my sensibilities (or, should I say, sensible enough to suit my liberalism). And

The Star

has a very good sports section, and should do a good job covering the Jays, although, being a hockey city in a hockey Province in a hockey country, you'll see a lot of stuff about the Maple Leafs and nearby minor-league, collegiate and "junior" hockey teams no matter what time of year it is. (The current NHL lockout may even be on the front page of the entire paper.)
I would advise against buying the

Toronto Sun

, because it's a right-wing, sensationalist tabloid and every bit the journalistically sloppy rag that the

New York Post

is. (It also has conservative "sister papers" called the

Sun

in Ottawa, Winnipeg, Edmonton and Calgary, although the

Vancouver Sun

is not connected.)

The National Post

, while also politically conservative (and thus a national competitor for

The Globe and Mail

), is a broadsheet and thus conservative in the sense that it is calmer and more sensible with its journalism.
If you can get to Union Station after leaving your hotel, you may also be able to get out-of-town papers, including the New York ones, as well as Canadian papers such as the

Montreal Gazette

and the

Ottawa Citizen

.
Toronto does have a subway, Canada's oldest, opened in 1954 and known as "the Rocket." (I'll bet Montrealers hated that, since it was the nickname of their beloved hockey star Maurice Richard, well before baseball's Roger Clemens was even born.) Along with Philadelphia, it's one of the last 2 subway systems in North America that still uses tokens rather than a farecard system such as New York's MetroCard. The fare is C$3.00, about US$3.07, so it's more expensive that most U.S. systems. But it's fast, frequent, and clean. A Daypass is C$10.50, or US$10.75.
Getting to Rogers Centre, formerly known as SkyDome (under both names, they hate it when you use the definite article "the" in its name), is not going to be fun. The subway doesn't go to the dome. The closest stop is the one for Union Station. And the city's famed streetcars are no help, either. It's a great city for public transportation, unless you're going to Rogers Centre or the CN Tower, which are only the 2 biggest tourist attractions in the city, and right next-door to each other. (When SkyDome opened in 1989, somebody called them a sperm-and-egg pairing.) I'd say they're the 2 biggest tourist attractions in the Province of Ontario, or even the entire country, but, as I said, you'll have to pass Niagara Falls.
The stadium is, theoretically, just 3 blocks away from Union Station, down Front Street West: York, Simcoe, John. But it's going to seem like a long walk. (Trust me, I've done it.) And Front Street West is perhaps the most touristy street in the entire country, much as Broadway in Midtown Manhattan is.
Tickets.

It used to be that getting tickets to any Blue Jays home game, not just Yankee games, was hard, because they were selling the SkyDome out, 50,000 per night. It peaked in their 2nd straight World Championship season of 1993, 50,098. (Officially, seating capacity is currently 49,260 for baseball, and 52,230 for the CFL's Toronto Argonauts.)
But the strike of 1994, and the decline of the team (the World Championship roster had already begun to be broken up to save money), was the beginning of the end. They fell to 20,209 in 2002, had an uptick back to 29,626 in 2008, but in 2010 they averaged 20,068, 5th-worst in baseball, 3rd in the AL and dead last in the AL East – and that counts games against the well-traveling, not-that-far-away Yankees and Red Sox, not to mention their closest opponents, the Cleveland Indians and Detroit Tigers.
The move of the Montreal Expos to Washington, making them Canada's only major league team, doesn't seem to have affected attendance much: The increases in home attendance in 2005, '06, '07 and '08 were mainly due to the Jays getting a little better (in 2006 they finished 2nd to the Yankees, the closest they've come to postseason play since '93), and they lost 6,500 fans per game in 2009 and lost another 3,000 in 2010. A strong start brought them an average of 22,446 in 2011, and in 2012 they're back up to 26,178.
Even with that increase, you should have no trouble getting tickets, and going to one of the many scalpers on and around the stadium grounds will be totally unnecessary – this is the Jays, not the Leafs, who haven't played to an unsold seat since World War II. (Note that all prices I'm mentioning here are in Canadian dollars, which means they're slightly more in U.S. dollars.)
Games against the Yankees are classified as "Premium Games," so they are a bit more expensive than usual. You can get Field Level Bases and 200 Level Bases for $52, 100 Level Outfield for $36, 200 Level Outfield for $30, and the entire upper deck, the 500 Level, is just $14. The 500 Level is really high up, but no worse than the upper decks at the old Yankee Stadium and Shea, and the first few rows shouldn't be all that bad.
Going In.

Originally known as the SkyDome, for its retractable roof, and opening in June 1989, the building was renamed the Rogers Centre in 2005, for the new corporate owner of the Jays, Rogers Communications, founded by the late Ted Rogers and featuring several cable-TV networks, most notably Rogers Sportsnet (although TSN, The Sports Network, ESPN's Canada version, is the more popular).
Most likely, you'll be walking from Union Station along Front Street or the Skywalk that connects the station to the CN Tower. Unfortunately, despite the physical size of the structure, there are only two points of entry: Gate 7 at its southeast corner and Gate 9 at its southwest corner.
There are, as yet, no statues outside the stadium dedicated to Blue Jays or Argonauts greats. But they do have some exterior sculptures depicting fans, which is nice.
The hallways are carpeted. This makes the stadium feel more like a movie theater (or "theatre") than a sports stadium, especially if the roof is closed. But the carpet that serves as the field is awful, about as bad as the one at Tropicana Field in Tampa Bay.
Food.

You know the economy is bad when a McDonald's closes. And there was a McDonald's in the SkyDome, the first in any stadium in the world, but it's closed. The Hard Rock Café, the first in any stadium in the world, is also gone. They've both been replaced by Sightlines Restaurant, with windows facing the field.
The stadium has standard baseball food, and although none of it is great, most of it upsets Canadian stomachs far less than do the Jays' relief pitchers. There are several "HogTown Grill" stands -- Hogtown being an old nickname for Toronto, the rusticity of it belying its image as Canada's biggest city. Before the Indian (or, as they would say in Canada, instead of "Native American," "First Nations") name of Toronto was given to the city, the English called it "York" (not to be confused with New York), and "Muddy York Market" (presumably a fresh fruit stand) is behind 106, 110 and 514.
12 Bar, presumably named in honor of Roberto Alomar, is behind Section 215. Touch 'Em All Joe Bar, obviously named for Joe Carter and his 1993 walkoff, is at 232.
Although Toronto is not as known for Jewish culture and food as much as Montreal is, a Kosher stand called Olde Spadina Avenue is at 132, and Shopsy's Deli is at 124.
In spite of Canada being in the opposite direction, Rogers Centre nods toward Mexico and the Caribbean with the Big Smoke Jerk Chicken Nacho: C

risp corn tortilla chips topped with cheddar cheese sauce, smoked jerk chicken, pico de gallo, scallions, country slaw and jerk infused sour cream. (Jerk-infused? Another tribute to Alomar, a.k.a. Ol' Spithead?) This item is also available as a sandwich.
There is an ice cream shop at 137. And what would a Canadian gathering place be without a Tim Hortons, or two? Rogers Centre has 'em at 114 and 128.
The "Great Canadian" -- not to be confused with Wayne "The Great One" Gretzky, whose restaurant is across the street from Rogers Centre -- is a hot dog topped with maple baked beans, crumbled Canadian back bacon, caramelized sweet red onions and Canadian cheddar cheese. I would advise against trying it. If you do, you'll be glad Canada has socialized medicine.
They also serve poutine, the French fries, gravy and curd concocation that almost single-handedly undoes all the good that Quebec culture has done for the world. Their take on it includes chicken wings on the bottom, loaded not just with everything else that comes with poutine, but pretty much anything you've ever seen put on a baked potato. Apparently, the Blue Jays' motto is, "If you can't beat 'em, kill 'em by clogging their arteries."
There is also something called "Bread Bottoms" behind 109. I have no idea what this refers to; on my 2005 and '06 visits, I did not notice it, so it may have been added since. Hopefully, it's nothing worse than a bakery stand.
Team History Displays.

The Jays have championship banners in straightaway center field. (Or "centre field," as they would spell it.) They have separate banners for the World Series wins, Pennants and American League Eastern Division Championships of 1992 and 1993. This might seem laughable, except lots of sports teams (not the Yankees, or the Mets for that matter) do it, including the New Jersey Devils, my 2nd-favorite pro team behind the Yankees. The Jays also have banners for their AL East titles of 1985, 1989 and 1991, and for the 1991 All-Star Game which the SkyDome hosted.
The Jays did retire a uniform number until 2011, when they had their first player elected to the Baseball Hall of Fame: Roberto Alomar -- Number 12, 2nd base, 1991-95. Their main display of player honors is a "Level of Excellence" on the Rogers Centre's 400 Level (club seats).
In addition to Alomar, it honors the following: Paul Beeston, executive, 1976-present and chief operating officer 1989-present; Pat Gillick, general manager, 1977-95; Tom Cheek, broadcaster, 1977-2005, his "number" being the number of consecutive games he broadcast until illness ended his streak at 4,306, soon ending his life as well; Dave Stieb, Number 37, pitcher, 1979-92 with a brief comeback in 1998; George Bell, Number 11, left field, 1981-90); Tony Fernandez, Number 1, shortstop, 1983-90, 1993, 1998-99 and 2001); Cito Gaston, Number 43, manager, 1989-97 and 2008-10; and Joe Carter, Number 29, first base-right field, 1991-97. And, of course, Jackie Robinson, whose Number 42 is retired for all of baseball, including the Jays, so no Toronto ballplayer will ever wear it again.
The Level of Excellence also features the All-Time Team of the Canadian Football League's most successful franchise, the 15-time Grey Cup winners, the Toronto Argonuats, including their 4 retired numbers: Joe Krol (Number 55, quarterback, 1945-52 and '55), Dick Shatto (Number 22, running back, 1954-65), Danny Nykoluk (Number 60, offensive tackle, 1955-71), and Michael "Pinball" Clemons (Number 31, running back 1989-2000, since 2001 a team administrator, and, by a weird twist, comes from Dunedin, Florida, the only spring-training home the Blue Jays have ever had).
There is no mention at Rogers Centre of the 10 Pennants won by the Jays' minor-league predecessor, the Toronto Maple Leafs, for whom the legendary hockey team was named: 1887 (in the original Eastern League, the rest in the International League), 1902, 1912, 1917, 1918, 1926, 1934, 1960, 1965 and 1966. Those last 3 came as a farm club of the Boston Red Sox, with the 1960 Pennant featuring Carl Yastrzemski, and the last 2 being managed by Dick Williams, who was promoted to the big club and took some of his Leafs with him and, with Yaz and Jim Lonborg and a few others, those ex-Leafs forged the "Impossible Dream" Pennant of 1967. However, 1967 was also the last year of the franchise, as they were moved by the Sox. It would be 1991 before Toronto got full revenge on the Red Sox for taking their old team away, edging them for the AL East title in the first race where both of them went down to the wire.
Stuff.

The usual memorabilia is sold, including jerseys with the names of current Jays players on them. For those ofmer Jays stars, such as those on the Level of Excellence, sorry, but you'll have to go to Mitchell & Ness in Philadelphia (or their website) to get them.
There aren't many good books about the Jays. Nate LeBoutillier (ironically, a French-Canadian) wrote the recently-published, but unimaginatively-titled, The Story of the Toronto Blue Jays.
The Jays are also weak on video. The official World Series highlight films of 1992 and 1993 are available on DVD, but if you're looking for The Essential Games of the Toronto Blue Jays, or The Essential Games of Rogers Centre, you're out of luck.
At least you won't have to look at those blue Js. When the Jays were heading into the 1992 postseason, somebody remembered the previous season's World Series, when the Minnesota Twins brought back the Homer Hankies of 1987, and the Atlanta Braves made the foam tomahawks to do the Tomahawk Chop. So someone made up about a million big bright blue foam objects in the shape of the letter J. A "blue J." Get it, eh? (Not to be outdone, when the Jays played the Chicago White Sox in the 1993 ALCS, white socks were given to Chicago fans to wave around. As far as I know, the Red Sox have never given people red socks to wave around.) The blue Js were still better than the foam headgear I once saw, resembling the bird on the team's then-logo. That looked really ridiculous.
During the Game.

You do not need to fear wearing your Yankee gear to Rogers Centre. Although quite a few U.S.-based crime dramas (and other shows, and films, particularly those that supposedly take place in Chicago) have been filmed in and around Toronto, it's not a particularly crime-ridden city. You might get some verbal from the Jays fans, especially after a Jays win over the Yanks, but this will mainly consist of them yelling, "Yankees suck!" And you've heard that before, and you know how to respond: "Five rings since '93, what have you done since then?"
If it's a day game and it's warm, no threat of rain, and there's no wind, most likely the roof will be open. If it's a night game, or a day game but rainy and/or windy, or not especially warm, the roof will probably be closed.
The ball travels farther with the roof closed (this is usually the case with domed stadiums, though the first, Houston's Astrodome, was a pitcher's park), but with a large amount of foul territory, the Rogers Centre is generally regarded as a pitchers' park.
Since you're in Canada, there will be two National Anthems sung. "The Star-Spangled Banner" will probably be sung by about half of the few thousand Yankee Fans who show up, but "O Canada" will be sung by the home fans with considerable gusto. When I'm at a sporting event where the opposing team is Canadian, I like to sing "O Canada" in French. Montreal Canadiens fans like this when I do it at the Prudential Center. Fans of the other Canadian NHL teams just think it's weird. When I did it in the 2 games I've been to at Rogers Centre, the Jays fans, as I warned they would, simply thought I was a twat. But then, they root for the Jays, and I root for the Yanks, so I'd rather have their opinion of me than my opinion of them.
The Jays' mascot is a blue jay named Ace. From 1979 to 1999, they had a blue jay mascot named B.J. Birdie. B.J. resembled the logo the Jays had at the time, while Ace resembles the one they've had since the 2004 season. From 2000 to 2003, Ace had a girlfriend, named Diamond – baseball or otherwise, "diamonds are a girl's best friend," get it? But they must have broken up, because Ace has been alone since 2004.
At the 7th inning stretch, after they sing "Take Me Out to the Ballgame," they go into "OK Blue Jays." It was written by Jack Lenz and Tony Kosinec, and the recorded version is by Keith Hampshire & the Bat Boys. They've used this song since 1983, and it is certified as a gold record in Canada. (That's 50,000 copies, as opposed to the 500,000 you need to sell to get a gold record in the U.S.) It's a very stupid song, but then, so are most baseball-themed songs. It's not like "Here Come the Yankees" is appreciably better.
On occasion, the Jays will wear throwback uniforms at home – but these will be their original road uniforms of the Exhibition Stadium era, 1977 to 1989. And they will be powder blue. There's a reason why teams stopped wearing that color: It is not particularly athletic-looking! Except maybe at the University of North Carolina.
If the roof is closed, fireworks will shoot out from it following a Jays homer or a Jays win. That's right, indoor fireworks. But the peak of the roof is high enough that you should not be in danger.
After the Game.

As I said, Blue Jays fans may try to take a few liberties, especially if their team has beaten the Yankees. Toronto is an international city, every bit as much as New York is, and some of these people may have cut their teeth as sports fans in European soccer. But we're not talking about hooligans here. And, of course, you can just bring up the 27 rings, or the 5 the Yankees have won since Joe Carter touched 'em all 19 years ago. Wow, that means a recent college graduate living in Toronto probably has no memory of it. Beats being close to 50 and having no memory of the Leafs winning the Cup, though.
The official address for the Rogers Centre is 1 Blue Jays Way. At 99 Blue Jays Way is Wayne Gretzky's Restaurant. But since he betrayed his former fellow players and sided with his current fellow owners in the 2004-05 NHL lockout, I consider him a traitor to the game of hockey, and I will not set foot in his establishment, and I would advise you to avoid it as well.
I would also advise avoiding Jack Astor's, a smart-alecky-named chain of Canadian restaurants that includes one at 144 Front Street West, about halfway between Union Station and the Rogers Centre. I ate there the last time I was in Toronto, and the food and service would be mediocre at half the price. They have only one location in the U.S. -- not surprisingly, in nearby Buffalo, at the Walden Galleria east of downtown.
There's the Canadian Bar & Grill, at the Hyatt Regency at 370 King Street West, 4 blocks from Rogers Centre. It features what it calls "traditional Canadian cuisine." This includes wild game, as well as regional items like poutine and Newfoundland clam chowder. (Apparently, the word "chowder" came from the Newfies, and theirs is closer to New England's than to the tomato-based abomination known as Manhattan clam chowder. Clam chowder is one of the few things New England does better, a lot better, than New York.)
If rabbit stew isn't your cup of tea, try the Loose Moose Tap & Grill, at 146 Front Street West, 2 blocks from the stadium. There, as they say, you'll "eat like a king then party like a rock star!" You'll be dining like a typical Torontonian, rather than with guys likely to jump into the Monty Python "Lumberjack Song." (If you've never seen it, let me put it this way: Don't ask, and I won't tell.) And the Lone Star Texas Grill, a block away at 200 Front Street West, is jointly owned by several former CFL players, and is a fair takeoff on the U.S. chain Lone Star Steakhouse.
Actually, your best bet may be, as Vancouver native Cobie Smulders of the TV series

How I Met Your Mother

would put it, "the most Canadian place there is": Tim Hortons. (Note that there is no apostrophe: It's "Hortons," not "Horton's," because Quebec's ridiculous protect-the-French-language law prohibits apostrophes and the company wanted to keep the same national identity.) They have a 62 percent share of the Canadian coffee market (Starbucks has just 7 percent) and 76 percent of the Canadian baked goods market. They also sell sandwiches, soup, chili, and even (some of you will perk up faster than if you'd drunk their coffee) New York-style cheesecake. It's fast food, but good food. I rate them behind Dunkin Donuts, but ahead of Starbucks.
Tim Horton, a defenceman (that's how they spell it up there) for the Maple Leafs, and businessman Ron Joyce started the doughnut/coffee shop chain in 1964, while in the middle of the Maple Leafs' 1960s dynasty. He played a couple of years for the Rangers, then went to the Buffalo Sabres and opened a few outlets in the Buffalo area. He was still playing at age 44, and the only thing that stopped him was death. Specifically, a 100-MPH, not-wearing-a-seat-belt crash on the Queen Elizabeth Way over Twelve Mile Creek in St. Catharines, Ontario. (In other words, if you're driving or taking the bus from New York to Toronto, you'll pass the location.)
Joyce, whose son Ron Jr. married Horton's daughter Jeri-Lyn, joined with Dave Thomas of Wendy's and merged the two companies in 1995, becoming its largest shareholder, with even more shares than Thomas. Although the companies have since split again, it was mutually beneficial, as Wendy's gained in Canada and Timmy's poked their heads in the U.S. door. There are now over 3,000 Tim Hortons locations in Canada (including one at Toronto's Union Station and several on Canadian Forces Bases around the world) and over 500 in the U.S. – and they're heavily expanding in New York including 3 in the Penn Station complex alone (despite Horton himself only briefly having played for the Rangers upstairs at the "new" Madison Square Garden). They are also partnered with Cold Stone Creamery, with an outlet on 42nd Street, a 2-minute walk from Port Authority. These Hosers know what they're doing.
I can find no reference to a bar or restaurant in Toronto where New Yorkers are known to gather.
Sidelights.

Being the 2nd-largest city in North America after New York – if, that is, you count Mexico and thus Mexico City as "Central America" – Toronto is loaded with tourist traps. This has been spoofed in "The Toronto Song," a bit by the Edmonton-based comedy duo the Arrogant Worms. (It's not obvious that they're from Edmonton until the end of the song, by which point they've said everything in Ontario sucks, as do all the other Provinces, except "Alberta doesn't suck – but Calgary does.")
They're not far off. Toronto is much cleaner than most American cities: U.S. film crews, trying to save money by filming there, have had to throw garbage onto the streets so it would look more like New York, Boston, Chicago or Los Angeles, and then they have to do it again between takes, because the street-sweepers clean it up that quickly. But the city does have slums, a serious homeless problem, ridiculous rents, never-ending lakefront high-rise construction (mirroring Mayor Mike Bloomberg's similar projects in New York), and their share of metalheads, punks, Goths and chavs.
I wouldn't call recently departed Mayor David Miller a dork, as the Arrogant Worms did, although his predecessor, Mel Lastman, was often a Canadian version of Rudy Giuliani. With better hair. The current Mayor is Rob Ford.
Torontonians can't quite decide whether they want to be Canada's New York (national media, culture and finance capital, home of the CBC and CTV, and Bay Street is their "Wall Street"), Canada's Chicago (a gritty blue-collar "drinking town with a sports problem"), or Canada's L.A. (movie-filming center.) Actually, Montreal is Canada's New York, Hamilton its Chicago, and Vancouver its L.A.
Toronto is... Toronto is something else. Scientists have yet to figure out what. But check out these locations:
* Hockey Hall of Fame, 30 Yonge Street, blocked by Yonge, Front, Bay and Wellington. If you go to Toronto and you don't go to the Hockey Hall of Fame, they should deport you from Canada and never let you back in. This place is great, and the actual Stanley Cup is there. Well, 2 of them are, the original bowl that was so damaged that they replaced it in 1970, plus some of the bands with old-time winners on it, and a display copy. The one that gets awarded every year is also stored there in preparation for its annual awarding, then gets to go wherever the winning team's players want to take it for almost a year.
You'll also see why Canadians call hockey jerseys "sweaters": They used to be sweaters, as you'll see in the display cases. You'll also see why they're not sweaters anymore: Holes where they were eaten by moths. Hockey eventually got that right.
They also got the location for their Hall of Fame right: While it's not clear where hockey was invented, and the NHL was founded in Montreal, they put it in an easily accessible city, unlike baseball (hard-to-reach Cooperstown, New York is NOT where baseball was invented), basketball (Springfield, Massachusetts is where it was invented but it's a depressing place), and pro football (Canton, Ohio is where the NFL was founded but it's so drab and bleak it makes Springfield look like Disney World… Sorry, Thurman.) Union Station stop on the TTC subway.
* Exhibition Place. The Canadian National Exhibition is kind of a nationwide "State Fair." It was on the grounds, off Princes Boulevard, that Exhibition Stadium, or the Big X, stood from 1948 to 1999. It was home to the Blue Jays from 1977 to 1989 and the CFL's Argonauts from 1959 to 1988. It hosted only one MLB postseason series, the 1985 ALCS, which the Jays lost to the Kansas City Royals. It hosted 12 Grey Cups (Canadian Super Bowls), although only one featured the Argos, and that was the 1982 game, won by the Edmonton Eskimos in a freezing rain, with fans chanting, "We want a dome!" The SkyDome/Rogers Centre project soon began, and Exhibition Stadium never hosted another Grey Cup. Rogers Centre has hosted 3, but the Argos haven't played in any of them. It will host a 4th in November, which will be the 100th Grey Cup game.
BMO Field (pronounced "BEE-moh"), home of Canada's Sports Hall of Fame and Major League Soccer's rather unimaginatively-named Toronto FC, was built on the site of Exhibition Stadium. Exhibition stop on the Lakeshore West line of GO, Toronto's commuter-rail service out of Union Station.
* Varsity Stadium, 299 Bloor Street West and Devonshire Place. The home of the athletic complex of the University of Toronto, this is the 3rd stadium on the site, replacing one that stood from 1911 to 2002 and the one before that from 1898 to 1911. It only seats 5,000, but its predecessor could hold 21,739, and hosted more Grey Cups than any other facility, 29, from 1911 to 1957. Unlike Exhibition Stadium and (so far) the Rogers Centre, the Argos won 9 of their 15 Grey Cups at home at Varsity Stadium: 1914, 1921, 1937, 1938, 1945, 1946, 1947, 1950 and 1952. (They also won at Sarnia in 1933, Vancouver in 1983, Winnipeg in 1991, Hamilton in 1996, Edmonton in 1997 and Ottawa in 2004.)
Varsity Stadium was home to the various Toronto teams in the North American Soccer League, and hosted the 1969 Rock 'n Roll Revival Concert, as shown in the film

Sweet Toronto

, featuring John Lennon and his Plastic Ono Band (of course, also with Yoko Ono, but also with Eric Clapton), the Doors, Alice Cooper, and founding fathers of rock Chuck Berry, Bo Diddley, Little Richard, Jerry Lee Lewis and Gene Vincent. This was the concert where a live chicken was thrown at Alice Cooper from the seats, and he threw it back, thinking it could fly, but it died. Museum stop on the Yonge-University Line, or St. George stop on the Yonge-University of Bloor-Danforth Lines.
* Rosedale Park, Scholfield and Highland Avenues. This is where the first Grey Cup game was held, on December 4, 1909. The University of Toronto defeated the Toronto Parkdale Canoe Club, 26-6. There's now a soccer field on the site of the original stadium. Unfortunately, the closest subway stop is Summerhill, on the Yonge-University Line, and you'll have to walk a roundabout path to get there. If you really want to see it, you may want to take a cab.
* Maple Leaf Gardens, 60 Carlton Street, at Church Street. Home of the NHL's Toronto Maple Leafs from 1931 to 1999, this was arguably the most famous building in Canada. The Leafs won 11 Stanley Cups while playing here: 1932, 1942, 1945, 1947, 1948, 1949, 1951, 1962, 1963, 1964 and 1967 – and they haven't been back to the Finals since. The Gardens (always plural, never "The Garden" like in New York and Boston) also hosted the first NHL All-Star Game, a benefit for injured Leafs star Ace Bailey in 1934, one of the Canada-Soviet "Summit Series" games in 1972, and the first Canada Cup in 1976, where Leafs star Darryl Sittler stole the show.
On November 1, 1946, the first NBA game was held at the Gardens, with the New York Knicks beating the Toronto Huskies, who folded after that first season of 1946-47. It hosted the Beatles on all 3 of their North American tours (1964, '65 and '66), and Elvis Presley in 1957 – oddly, in his early period, not in his Vegas-spectacle era.
But somebody who doesn't give a damn about history, only money, decided the Gardens was obsolete, and the Leafs moved into the Air Canada Centre in 1999. A plan to turn the arena into a shopping mall and movie multiplex, as was done with the Montreal Forum, has been dropped because of the way the building was built: Unlike the Forum, if the Gardens' upper deck of seats is removed, the walls will collapse.
Fortunately, it has been renovated, and is now part of the athletic complex of Ryerson University, including its hockey team. So, while the old Boston Garden, Chicago Stadium, and the Olympia are gone, and the Montreal Forum has been converted into a mall, one of the "Original Six" arenas is still standing and being used for hockey. College stop, on the Yonge-University Line.
* Mutual Street Arena, bounded by Mutual, Shuter, Dundas and Dalhousie Streets. This arena stood at this location from 1912 until 1989, when condos were built there, and was the home of the Toronto Blueshirts, National Hockey Association Champions and Stanley Cup winners 1914, and the Maple Leafs from 1917 to 1931. They were known as the Toronto Arenas when they won the first NHL Championship and their first Stanley Cup in 1918, and the Toronto St. Patricks when the won the Cup in 1922. Conn Smythe renamed them the Maple Leafs, after the city's minor-league baseball team, when he bought them in 1927. Queen or Dundas stops on the Yonge-University Line.
* Air Canada Centre, 40 Bay Street. The Hangar, the home of the Maple Leafs and the NBA's Toronto Raptors since 1999 (the Raptors played at the SkyDome 1995 to 1999, with a few games at Maple Leaf Gardens), it is a modern, 18,800-seat facility with all the amenities, built between Union Station and the Gardiner Expressway. Union Station stops on the Yonge-University Line and the GO and VIA Rail systems.
* Hanlan's Point. This was the home of Toronto baseball teams from 1897 to 1925, and was the site of Babe Ruth's first professional game, on September 5, 1914, for the Providence Grays, then affiliated with the Red Sox, much as their modern counterparts the Pawtucket Red Sox are. The Grays played the baseball version of the Maple Leafs, and the Babe pitched a one-hitter and homered in a 9-0 Providence win. Unfortunately, Hanlan's Point is on one of the Toronto Islands, in Lake Ontario off downtown. The stadium is long gone, and the location is only reachable by Ferry.
* Maple Leaf Stadium, at Stadium Road (formerly an extension of Bathurst Street) and Queens Quay West (that's pronounced "Queen's Key"). Home to the baseball Maple Leafs from 1926 to 1967, it was demolished a year later, with apartments built on the site. The Leafs won 5 International League Pennants here, and it was the first sports team owned by Jack Kent Cooke, who would later own the NBA's Los Angeles Lakers, the NHL's Los Angeles Kings, and the NFL's Washington Redskins. There's no good way to get there by public transportation, but it's a short walk from the Rogers Centre, down Spadina Avenue toward the lake, then west on Queens Quay to Stadium Road.
* Fort York, Bathurst Street and Front Street West. You should see at least one place that doesn't have anything to do with sports, and with the 200th Anniversary of the War of 1812 in progress, this place has become more interesting. In that war, the 2nd and last time the U.S. seriously tried to take Canada away from the British Empire, the U.S. Army, led by Zebulon Pike (for whom the Colorado Peak was named), burned the fort and what was then the city of York, now Toronto, on April 27, 1813. However, Pike was killed in the battle. In revenge, the British burned Washington, D.C. Essentially, Fort York is Canada's Alamo. (But not their Gettysburg: That would be Lundy's Lane, in Niagara Falls, and I recommend that you make time for that as well.)
* Royal Ontario Museum, 100 Queens Park at Bloor Street West. "The ROM" is at the northern edge of Queen's Park, which includes the Ontario provincial Parliament complex and the University of Toronto, and is, essentially, next-door to Varsity Stadium. It is Canada's answer to New York's Museum of Natural History.
* CN Tower, 301 Front Street West at John Street. At 1,815 feet high, but with only its central elevator shaft and its 1,122-foot-high observation deck habitable, it was never a candidate for "the world's tallest building," but from 1975 until 2007, it was "the world's tallest freestanding structure." The CN stood for Canadian National railways, but with their bankruptcy and takeover by VIA Rail, the CN now stands for Canada's National Tower. It's next-door to the Rogers Centre and accesible via a skywalk from Union Station.
*
For some reason, the Jays list their start times as 1:07 and 7:07, instead of the usual 1:05/7:05 or the old-time 1:00/7:00 – or, as was the case with the Yankees while I was growing up, 2:00/8:00. This reflects what the starting time would be if it was, officially, 7 or 7:05.
Have fun, and remember, you're a guest in their country. Try not to go overboard with Yankeeness.