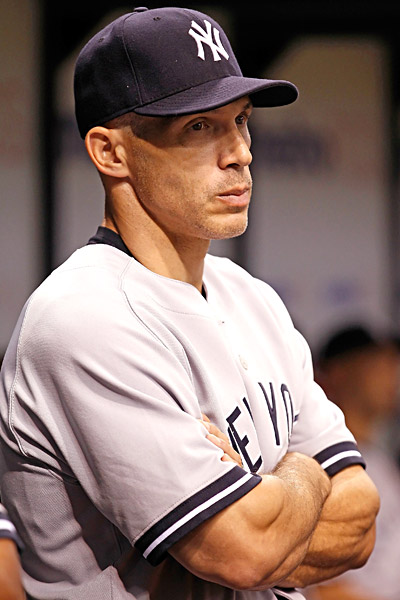 Last night, the Yankees went into Baltimore to begin a 4-game series against the Orioles, who were one game behind them in the American League East.
Last night's game could have defined the season for the Yankees.
Let's hope it does
not
end up defining the season. Because this was not high definition. This was low definition.
The night began with the Orioles dedicated a statue to Cal Ripken outside Camden Yards. Which was redundant, since Cal was pretty much a statue the last 3 years he played
inside
Camden Yards.
David Phelps started for the Yankees, and he had nothing. He allowed 4 runs in the 1st inning, including a home run by Matt Wieters. The Yankees got a run back in the top of the 4th, only for the O's to wipe that out in the bottom of the inning, and to add another in the 6th.
That 6th inning was pitched by Joba Chamberlain. What a shame: Joba had so much promise, and Yankee management has completely messed him up. He's a decent enough guy, but still needs to grow up: He was the classic "million-dollar arm with a five-cent head." When he arrived in 2007, his ERA was 0.38 and his WHIP was 0.750. Between injuries and Yankee management playing with his head further, his ERA for this season has ballooned to 8.71 and his WHIP to 2.226. That Joe Girardi included Joba in the bullpen parade and got away with only allowing 1 run is lucky indeed.
So the Yankees went into the top of the 8th trailing 6-1 against the team they needed to beat.
I didn't see what happened next. I needed a lift. Joe Biden and then Barack Obama gave it to me.
I'll say this for the City of Baltimore and the State of Maryland: For the most part, the people there are good Democrats.
The 8th inning, last night, was the season thus far in a nutshell. Only the Yankees have become a shell of what they were from April through August, and it's driving me nuts.
Derek Jeter led off by grounding out. But Nick Swisher worked Randy Wolf for a walk. Robinson Cano flew out. It looked bleak. But Alex Rodriguez is back, baby: He smacked a double that scored Swish. Wolf then walked Eric Chavez.
Oriole manager and former Yankee manager William Nathaniel Showalter III (Buck) pulled Wolf, and brought in Pedro Strop. But it was the Yankees who got stroppy.
Curtis Granderson singled home A-Rod. Russell Martin walked to load the bases. Chris Dickerson drew another walk to force home Chavez. And Ichiro Suzuki singled home Grandy and Martin.
Six-one, and they fucked it up. The game was tied.
Unfortunately, there were 3 outs in the inning, and Jeter made 2 of them: Captain Clutch was not clutch at all in this inning, and popped up with Dickerson (the go-ahead run) on 3rd and Ichiro (an insurance run) on 1st.
That one run that Joba allowed was now looking huge. But it soon became all but irrelevant.
Girardi brought in David Robertson. Nothing is as indicative of Girardi's incompetence this season as what he's done to Robertson. -Rob was brilliant in the 8th inning last season, and when Mariano Rivera got hurt early this season, Girardi made D-Rob the closer and Rafael Soriano the 8th-inning man. Then D-Rob got hurt, and Soriano had to be the closer. For the most part, Soriano did a good job. But when D-Rob came off the Disabled List, Girardi kept Sori as the closer and made D-Rob the 8th-inning man.
This was a monumentally stupid decision: While Soriano has still been pretty good, Robertson has been awful as the warmup act.
Last night, Robertson faced 3 batters: Adam Jones hit a home run, Wieters singled, and Mark Reynolds -- the same guy who clobbered the Yankees in The Bronx last weekend -- homered.
Girardi took D-Rob out, and brought in Boone Logan. Oy vey...
Logan faced 1 batter: Chris Davis, who hit the inning's 3rd home run. That's 4 batters, 3 runs, no outs.
Girardi brought in Derek Lowe. For fuck's sake... But Lowe got the next 3 batters to end the carnage.
Robinson Cano singled in the 9th, but that was it. Orioles 10, Yankees 6. WP: Darren O'Day (7-1). No save. LP: Robertson (1-6).
If the Yankees had won this game after being down 6-1 in the 8th, it would have been perhaps the most remarkable game since winning the 2009 World Series.
Instead, Girardi's fool pitching moves -- both starting and relieving -- turned what should have been a great shot at a win into a disaster.
If George Steinbrenner were still alive and in his pomp, his trigger-finger wouldn't just be itchy, it would be unbearably so.
The next 3 games, against Baltimore, in Baltimore, could well decide whether the Yankees win the AL East, and thus put themselves in good position for the postseason; or win only one of the Wild Card spots, and put themselves at a tremendous disadvantage even if they do win the play-in game; or, if the Tampa Bay Rays (now only 2 games behind the Yanks and O's) beat them out, the Yankees miss the Playoffs altogether.
Joe Girardi needs to manage the last 25 games of the regular season -- not just these next 3 -- as if his job is on the line.
His reputation is secure: He led the Yankees to a World Championship, as did Miller Huggins (3), Joe McCarthy (7), Bucky Harris, Casey Stengel (7), Ralph Houk (2), Billy Martin, Bob Lemon and Joe Torre (4).
His job should not be secure. I'm not ready to commit this blog to the official position of, as they would say in English soccer, "GIRARDI OUT" -- but I'm getting there.
Yes, the Yankees are still tied for 1st. They only need to be +1 game better than the Orioles, and +3 better than the Rays (they're currently +2 better), the rest of the way. They're getting healthier: A-Rod, Robbie and Grandy are back; Mark Teixeira, Andy Pettitte and Ivan Nova could all be back within a week or so.
And after this series, only 6 of the remaining 22 games will be against teams threatening to make the Playoffs, and they're all at home: 3 against Tampa Bay, 3 against the surprising Oakland Athletics (whose cost-cutting was supposed to render them a Triple-A-quality club -- but don't call Billy Beane a genius, we've been over this, he's not one). Of the Rays' last 25 games, starting from tonight, 12 are against teams that will, or could, make the Playoffs; for the Orioles, it's the exact same ratio.
The Yankees are still in the best position to win the AL East.
CoolStandings.com
has the Yankees at a 50.1 percent chance to win the Division, the Rays 25.4, the O's 24.5.
I'd still rather be where were are than where the O's or Rays are.
But my preference would be to go into these last 25 games with somebody other than Joe Girardi making our pitching decisions.