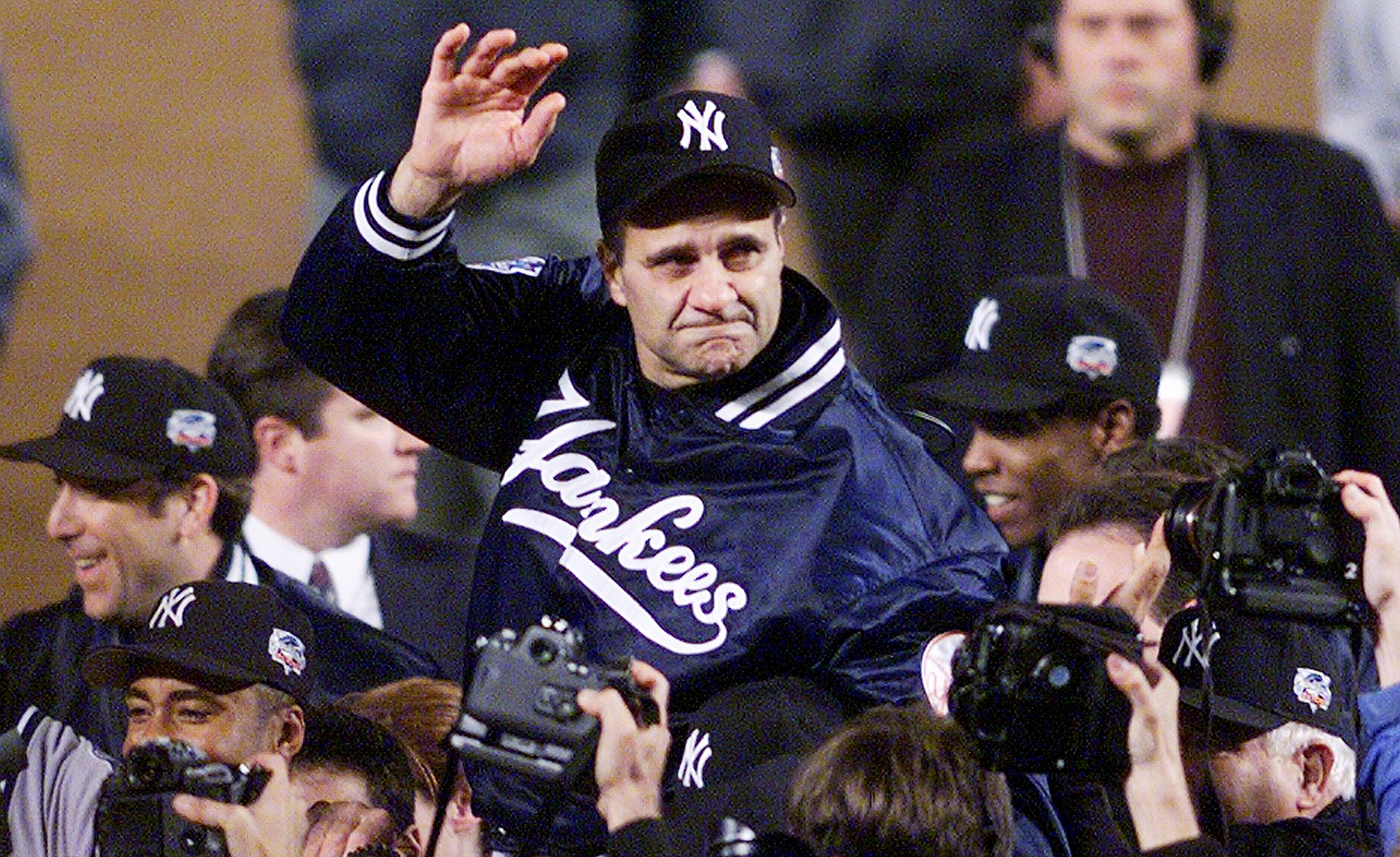 What have the New York Football Giants proved this season? So far -- and the fact that we can still say "so far" about them proves something -- they have proven that actions speak louder than words.
What did the New York Jets prove this season? That talk is not always cheap.
*
On Saturday, I asked the question, "Do Mediocre Players Make the Best Coaches?" I suggested that they do.
Let's look at the managers who led teams to the Major League Baseball postseason in 2011.
New York Yankees: Joe Giardi. Decent defensive catcher, not much of a hitter.
Tampa Bay Rays: Joe Maddon. Never got above Class A ball as a player.
Detroit Tigers: Jim Leyland. Never got about Double-A as a player.
Texas Rangers: Ron Washington. Reserve infielder in the 1980s, once batted .294 for the Minnesota Twins, but was never considered good enough to get 500 plate appearances in a season.
Philadelphia Phillies: Charlie Manuel. Reserve outfielder, better known as Chuck Manuel when he played, which wasn't much. Did help the Twins win the 1969 and '70 AL West titles, though.
Milwaukee Brewers: Ron Roenicke. Reserve outfielder in the 1980s, not nearly as good as his brother Gary. Good manager, though.
St. Louis Cardinals: Tony LaRussa. Reserve infielder for the 1960s A's, only once had more than 53 plate appearances in a season.
Arizona Diamondbacks: Kirk Gibson. Easily the best player of these 8, although injuries kept him from approaching Hall of Fame status. One of the few players to win World Championships in both Leagues, and even fewer to homer in World Series games in both Leagues: 1984 Detroit Tigers and 1988 Los Angeles Dodgers.
So, for the moment, yes, 7 of the 8 were mediocre at best.
*
Historically? I'm going to start my count from 1936. Why? Because the 3 previous World Series winners each had player-managers: Bill Terry (1933 New York Giants), Frankie Frisch (1934 St. Louis Cardinals), Mickey Cochrane (1935 Detroit Tigers).
1936 New York Yankees: Joe McCarthy. Hall of Fame, Monument Park, one of only 2 managers to win 7 (or even 6) World Series. But never played in the majors, only getting to what we would know call Triple-A.
1937 Yankees: McCarthy.
1938 Yankees: McCarthy.
1939 Yankees: McCarthy.
1940 Cincinnati Reds: Bill McKechnie. Reserve infielder for a few teams in the 1910s, totally unremarkable, but in the Hall as a manager.
1941 Yankees: McCarthy.
1942 St. Louis Cardinals: Billy Southworth. Outfielder, led the NL in triples with the 1914 Pirates, played on Pennant winners with the 1924 Giants and the 1926 Cards. Lifetime batting average .297. Good player. But in the Hall as a manager.
1943 Yankees: McCarthy.
1944 Cardinals: Southworth.
1945 Detroit Tigers: Steve O'Neill. Good catcher, 3 times hit over .300, including with the 1920 World Champion Indians.
1946 Cardinals: Eddie Dyer. Journeyman pitcher, played on the Cards' 1926 title team but did not appear in the Series.
1947 Yankees: Stanley "Bucky" Harris. "Boy Manager" was 27 when, with himself as All-Star quality (no All-Star Game then) 2nd baseman, led 1924 Senators to Washington's only World Series win. In fact, only 3 Washington teams have ever won Pennants, and all with not just player-managers but "Boy Managers": Harris in '24 and '25, Joe Cronin in '33. Harris was a good player, but is in the Hall as a manager.
1948 Cleveland Indians: Lou Boudreau. The youngest permanent manager in MLB history (Roger Peckinpaugh was 23 when he managed the last 20 games for the 1914 Yanks), he was 24 when he took over in Cleveland, having replaced Cronin as the best shortstop in the AL (and preceding Phil Rizzuto as such). A genuine HOF player, was AL MVP in '48, but the stress of playing and managing allowed him only 1 more good year in either role.
1949 Yankees: Charles "Casey" Stengel. Outfielder for several teams before becoming the other manager besides McCarthy to win a 6th, and a 7th, World Series. Lifetime .284 hitter, not bad power for his era with 182 doubles and 89 triples. Had 3 .300+ seasons. Led NL in on-base percentage in 1914 with .404 (although he may not have been aware of it, as it wasn't a familiar stat then). Helped Dodgers win 1916 Pennant and Giants to Pennants in 1921, '22 and '23. Casey may have been the best manager ever, and while he wasn't a great player, he was no "mediocre player." The Ol' Perfesser could play. As the man himself would say, "And you can look it up."
1950 Yankees: Stengel.
1951 Yankees: Stengel.
1952 Yankees: Stengel.
1953 Yankees: Stengel.
1954 New York Giants: Leo Durocher. Shortstop for '34 Cardinals "Gashouse Gang," 3 times an All-Star for his fielding, not much of a hitter -- he was known as "the All-American Out" before the managerial career that got him the nickname "Leo the Lip" (or just "Lippy"). HOF, but as a manager.
1955 Brooklyn Dodgers: Walter Alston. HOF as a manager, but as a player had one at-bat, with the '36 Cardinals, and struck out.
1956 Yankees: Stengel.
1957 Milwaukee Braves: Fred Haney. Middle infielder batted .309 with 1924 Tigers, twice had seasons of at least 50 RBIs, but that was about it.
1958 Yankees: Stengel.
1959 Dodgers: Alston.
1960 Pittsburgh Pirates: Danny Murtaugh. Another middle infielder, led NL in stolen bases as a rookie with the 1941 Phillies. Had 2 .290+ seasons with postwar Pirates, but that was it. Can't call him mediocre, but was hardly great.
1961 Yankees: Ralph Houk. Yogi Berra's backup on a few Yankee Pennant winners.
1962 Yankees: Houk.
1963 Dodgers: Alston.
1964 Cardinals: Johnny Keane. Never played in the majors.
1965 Dodgers: Alston.
1966 Baltimore Orioles: Hank Bauer. All-Star right fielder with Stengel's Yankees.
1967 Cardinals: Albert "Red" Schoendienst. In the Hall as a manager, but a pretty good 2nd baseman, making 10 All-Star teams and twice finishing in top 4 of NL MVP balloting. Led NL in stolen bases in '45 (with 26, but never stole even half as many again), at-bats in '47, at-bats, doubles and sacrifice hits in '50, and hits with 200 in '57. Five times (nearly 6) batted over .300, topping at .342 in '53. Won Series with the '46 Cards and '57 Braves. I could call him a "great player" who won a World Series as a manager.
1968 Tigers: Mayo Smith. Outfielder played just 1 season in the majors, as a wartime placeholder with the '45 A's.
1969 New York Mets: Gil Hodges. Should be in the Hall as a player alone; if they could include his managing, he'd be in. Unfortunately, it doesn't work that way. Hit 370 homers and was considered the best-fielding 1st baseman of his era. Helped Dodgers win 6 Pennants (5 in Brooklyn, 1 in L.A.) and 2 World Series (1 in each city, '55 and '59).
1970 Orioles: Earl Weaver. Never played in the majors.
1971 Pirates: Murtaugh.
1972 Oakland Athletics: Dick Williams. Utility player in '50s and '60s, had some good seasons.
1973 A's: Williams.
1974 A's: Alvin Dark. An All-Star with the Giants for his fielding, it wasn't his fault he was the 3rd-best shortstop in New York behind Phil Rizzuto and Pee Wee Reese (or vice versa).
1975 Cincinnati Reds: George "Sparky" Anderson. One season in the majors, as a weak shortstop with the '59 Phillies.
1976 Reds: Anderson.
1977 Yankees: Billy Martin. Scrappy 2nd baseman with '50s Yanks, good but not great... except in October where he seemed charmed.
1978 Yankees: Bob Lemon. Hall of Fame pitcher with '40s & '50s Indians.
1979 Pirates: Chuck Tanner. Decent left fielder in late '50s and early '60s, nothing
special.
1980 Philadelphia Phillies: Dallas Green. Relief pitcher for early '60s Phillies, nothing special, though the Phils' 1964 collapse was hardly his fault.
1981 Dodgers: Tommy Lasorda. Lefty pitcher in '50s for Dodgers & A's, lifetime record 0-4.
1982 Cardinals: Dorrel "Whitey" Herzog. Reserve outfielder, batted .291 in 112 games for '61 Orioles, but that was about it.
1983 Orioles: Joe Altobelli. Reached the majors, which is more than you can say for Weaver, but not much more can be said for this reserve outfielder.
1984 Tigers: Anderson.
1985 Kansas City Royals: Dick Howser. Was nearly named AL Rookie of the Year as a shortstop with the '61 A's, but it was for his fielding. Led AL in sacrifice hits with the '64 Indians, but by the time he joined the Yankees in '67 it was clear that, if he had a future in baseball, it was in coaching.
1986 Mets: Davey Johnson. A 2nd baseman (usually known as Dave Johnson while he played) who helped the Orioles win 4 Pennants and 2 World Series -- and connected the Mets' only 2 World Series wins thus far, making the final out in '69 and managing them in '86. With '73 Braves hit 43 homers with 99 RBIs, but while that was a freak year with the bat, he could hit a little, and won 3 Gold Gloves.
1987 Minnesota Twins: Tom Kelly. Outfielder who played 49 games for the '75 Twins.
1988 Dodgers: Lasorda.
1989 A's: LaRussa.
1990 Reds: Lou Piniella. Sweet Lou was a .291 career hitter, mostly with the Yankees I grew up watching. Another Yank who turned it up big-time in postseason play.
1991 Twins: Kelly.
1992 Toronto Blue Jays: Clarence "Cito" Gaston. An outfielder who iit .318 with the '70 Padres and .291 with the '76 Braves, but those were exceptions. Good, but hardly great.
1993 Jays: Gaston.
1994 No Series. You suck, Bud Selig.
1995 Atlanta Braves: Bobby Cox. Backup 3rd baseman with the '68 and '69 Yankeees.
1996 Yankees: Joe Torre. Maybe one step below Cooperstown as a player. A 9-time
All-Star, a Gold Glove catcher and the 1971 NL MVP, winning the batting title, leading the League with a .363 average, 230 hits and 137 RBIs.
1997 Florida Marlins: Leyland.
1998 Yankees: Torre.
1999 Yankees: Torre.
2000 Yankees: Torre.
2001 Arizona Diamondbacks: Bob Brenly. A good catcher with the Giants, an All-Star in 1984.
2002 Anaheim Angels: Mike Scioscia. A solid catcher for the Dodgers, twice an All-Star and twice a World Champion.
2003 Marlins: Jack McKeon. Never played in the majors.
2004 Boston Red Sox: Terry Francona. Utility player in the '80s, not bad but hardly noteworthy.
2005 Chicago White Sox: Ozzie Guillen. Very good shortstop with the '80s and early '90s White Sox.
2006 Cardinals: LaRussa.
2007 Red Sox: Francona.
2008 Phillies: Manuel.
2009 Yankees: Girardi.
2010 Giants: Bruce Bochy. Backup catcher, but did help both the '80 Astros and the '84 Padres reach the postseason.
2011 Cardinals: LaRussa.
*
Now, keeping in mind that never making it to the majors automatically qualifies them as "mediocre players" -- even if they might have made it but an injury cut short their career...
Great players: 9
Good players: 25
Mediocre players: 40
Aside from Torre, the last "great player" to manage a World Champion was Bob Lemon in 1978. The last non-Yankee manager to do so? Gil Hodges, 42 seasons ago.