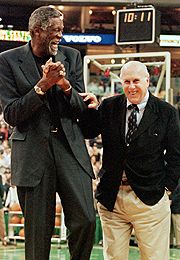 Part III of the series. I'll start with the beginning of the National Basketball Association, the 1946-47 season.
Remember: A player who never played in the pros, or for whatever reason did not pan out in the pros, is counted here as "mediocre" even if he was sensational in college.
1947 Philadelphia Warriors: Eddie Gottlieb. Never played, but organized the basketball team at the South Philadelphia Hebrew Association. The team was known by its initials, the SPHAs. The Warriors, a charter franchise of the NBA, grew out of this club, one of the leading pro teams of the 1930s. Gottlieb lived most of his life in Philadelphia, yet moved the Warriors to San Francisco in 1962.
1948 Baltimore Bullets: Harry "Buddy" Jeannette. A player-coach, and a Hall of Fame player.
1949 Minneapolis Lakers: John Kundla. A good college player, but never played in the pros.
1950 Lakers: Kundla.
1951 Rochester Royals: Les Harrison. Played semi-pro ball, never in the NBA or in a
pre-NBA league.
1952 Lakers: Kundla.
1953 Lakers: Kundla.
1954 Lakers: Kundla.
1955 Syracuse Nationals: Al Cervi. A pretty good player by the standards of the 1940s and early '50s.
1956 Warriors: George Senesky. A star by the standards of the time, he played on the Warriors' '47 title team.
1957 Boston Celtics: Arnold "Red" Auerbach. A good college player at George Washington University, but only played briefly in a pre-NBA league.
1958 St. Louis Hawks: Alex Hannum. A terrific player, he became player-coach and got the Hawks to the '57 Finals, then retired to stick to coaching and got them all the way the next season.
1959 Celtics: Auerbach.
1960 Celtics: Auerbach.
1961 Celtics: Auerbach.
1962 Celtics: Auerbach.
1963 Celtics: Auerbach.
1964 Celtics: Auerbach.
1965 Celtics: Auerbach.
1966 Celtics: Auerbach.
1967 Philadelphia 76ers: Hannum.
1968 Celtics: Bill Russell. Player-coach, and still one of the top 10 players in the history of the game.
1969 Celtics: Russell.
1970 New York Knicks: William "Red" Holzman. An All-Star, played on the '51 Royal titlists.
1971 Milwaukee Bucks: Larry Costello. Good player in the 1950s and '60s.
1972 Los Angeles Lakers: Bill Sharman. One of the best shooters in NBA history while playing for Auerbach's Celtics, and along with John Wooden and Lenny Wilkens one of 3 men who has been elected to the Hall as both a player
and
a coach -- no other sport does that. Having won the previous year's American Basketball Association title with the Utah Stars, Sharman is also the only man to coach an NBA Champion and an ABA Champion.
1973 Knicks: Holzman.
1974 Celtics: Tom Heinsohn. A really good player for Auerbach's Celtics.
1975 Golden State Warriors: Al Attles. A reserve player on the San Francisco Warriors' 1964 Western Division Champions, before they moved across the Bay to Oakland and became the Golden State Warriors.
1976 Celtics: Heinsohn.
1977 Portland Trail Blazers: Jack Ramsay. One of the greatest minds in basketball history -- he was the GM of the '67 76ers titlists -- he never played in college, let alone in the pros.
1978 Washington Bullets: Dick Motta. Never played in the pros, going straight from college into coaching.
1979 Seattle SuperSonics: Lenny Wilkens. Starred with the early Sonics and, before that, the St. Louis-era Hawks. In the Hall as a player and a coach.
1980 Lakers: Paul Westhead. Never played pro ball.
1981 Celtics: Bill Fitch. Never played pro ball.
1982 Lakers: Pat Riley. A decent reserve player with the Lakers' 1972 champions, can't really call him mediocre. Like Phil Jackson, might've been a better player in the expansion-diluted NBA in which he's coached.
1983 76ers: Billy Cunningham. A HOF player, was the rookie 6th man on the '67 76ers, and starred in both the NBA and the ABA. The Sixers have never won an NBA Championship without him -- at least, not since '55 when they were the Nationals.
1984 Celtics: K.C. Jones. Hall of Fame player with Auerbach's Celtics.
1985 Lakers: Riley.
1986 Celtics: Jones.
1987 Lakers: Riley.
1988 Lakers: Riley.
1989 Detroit Pistons: Chuck Daly. Went into the Army after college, and went into coaching after his discharge, never playing pro ball.
1990 Pistons: Daly.
1991 Chicago Bulls: Phil Jackson. A decent reserve player with the Knicks' 1973 champions, he was injured for the entirety of the 1970 title season. Probably a better player than Riley.
1992 Bulls: Jackson.
1993 Bulls: Jackson.
1994 Houston Rockets: Rudy Tomjanovich. A very good player for the Rockets, a member of their 1981 team that reached the NBA Finals.
1995 Rockets: Tomjanovich.
1996 Bulls: Jackson.
1997 Bulls: Jackson.
1998 Bulls: Jackson.
1999 San Antonio Spurs: Gregg Popovich. Graduated from the Air Force Academy, and while he played there, he served his commitment rather than play pro ball -- ironic, considering he coached David Robinson, who was allowed to curtail his Navy commitment.
2000 Lakers: Jackson.
2001 Lakers: Jackson.
2002 Lakers: Jackson.
2003 Spurs: Popovich.
2004 Pistons: Larry Brown. A scandal got him banned from playing in the NBA, but he became a star in the ABA. The ban was lifted, allowing him to coach, and no human being, living or dead, male or female, scholastic, collegiate or professional, has coached more wins than Larry Brown.
2005 Spurs: Popovich.
2006 Miami Heat: Riley.
2007 Spurs: Popovich.
2008 Celtics: Glenn "Doc" Rivers. An All-Star with the Atlanta Hawks and the Knicks.
2009 Lakers: Jackson.
2010 Lakers: Jackson.
2011 Dallas Mavericks: Rick Carlisle. A reserve on the '86 Celtics, but not a good player.
*
Great players: 7
Good players: 29
Mediocre players: 27
So good NBA players have been better at coaching than in MLB and the NFL. But great ones? Take out player-coaches Jeannette and Russell, and the outlook for future greats is grim.
Magic Johnson wasn't much of a coach. Larry Bird was all right at it. Michael Jordan apparently doesn't have enough patience.
I wonder if LeBron James will ever go into coaching? It may be his best chance to win a ring.