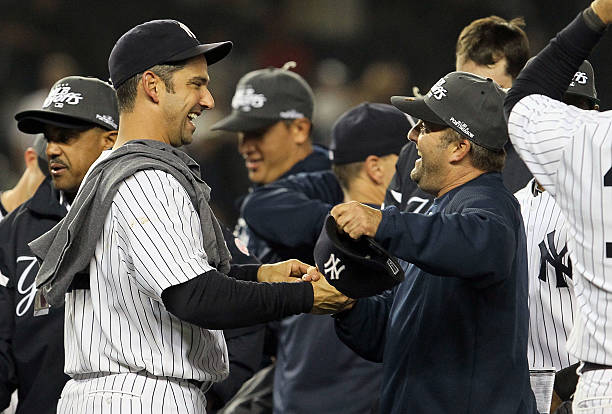 The Red Sox lost to the Orioles. The next Yankee win meant winning the American League Eastern Division.
CC Sabathia took the mound against Jeremy Hellickson, and we had a Yankee Doodle Dandy of a pitchers' duel. CC got into a little jam in the top of the 2nd, but got out of it; in the bottom of the 2nd, Robinson Cano went the other way to hit his 27th home run of the season, and put the Yankees up, 1-0.
The Yanks loaded the bases in the bottom of the 4th, but only scored 1 run, on a double-play groundout. 2-0. In the top of the 5th, ex-Yankee backup catcher Kelly Shoppach, of all people, took CC deep to make it 2-1. In the top of the 7th, CC gave up another homer, to Sean Rodriguez. Who? Who cares. It was tied 2-2.
It stayed that way into the top of the 8th, and Joe Girardi, who almost never lets a pitcher go too long -- including the workhorse CC -- let CC throw 127 pitches. Old enough to remember such Yankee pitchers as Catfish Hunter and Ron Guidry, it ticks me off to think of 127 pitches being considered an anomaly.
David Robertson came in with 1 out and the bases loaded. How does 1 pitch for 2 outs sound to you? It sounded good to Cano, to Eduardo Nunez (playing shortstop as Derek Jeter was given the night off) to Mark Teixeira, 4-6-3, end of threat.
Bottom of the 8th. The Yankees load the bases with 2 out. Tampa manager Joe Maddon makes about a dozen pitching changes, or so it seems. And Girardi sends the aging but oh-so-experienced Jorge Posada in to pinch-hit for the dazzling but not-quite-tested rookie Jesus Montero.
Base hit to right field. 4-2 Yankees. The Stadium erupts. He gets Johnny Damon to pop up to short, 1 out. He gets Dan Johnson to ground to 2nd, 2 out. He allows a single to the not-exactly-mighty Casey Kotchman, but fans Matt Joyce to end it.
Ballgame over! American League Eastern Division over! Yankees win! Theeeeeeeeeeeeeeee Yankees win!
Holy Cow!
How about that!
WP: Robertson (4-0). LP: McGee (3-2). SV: Soriano (2).
This is the 47th time the Yankees have finished a season in first place, the 16th time in the post-1969 Divisional Play Era.
Oh, by the way: Thank you, Orioles. And eat it, Sox!
*
Jeter hits 3082 DONE
Rivera saves 603 DONE
A-Rod homers 629 134
A-Rod hits 2772 228
Magic Number for Playoffs DONE
Magic Number for Division DONE
Magic Number for Best Record in AL 4