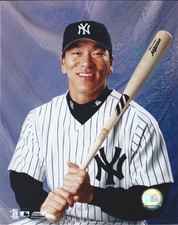 Does Hideki Matsui belong in the Baseball Hall of Fame? This is a tricky one, since most of us have never seen enough of his Japanese play to judge. And, like the Negro League greats who didn't get the chance to play in the white majors (at all or until they were in decline), in Japan he was
not
facing major league quality pitchers in every at-bat. (Granted, there are a lot of pitchers
in
the majors who aren't major league quality, but let's open that can of worms another time, shall we?)
Matsui is 37. He's not what he was before injuries in 2006 and again in 2008, and has declined again this season. But he's still got 11 homers and 61 RBIs -- a better year than his ex-teammate Jorge Posada. Aside from rumors of a massive porn collection, he's never had a hint of scandal about him, and is generally regarded as a good guy. Those factors will help, but they can't make the difference unless the performance is there.
His lifetime batting average is .287, on-base percentage .366 (hard to believe it's lower than Posada's), slugging percentage .472 (ditto), OPS .837, OPS+ 121. His career hit total is 1,212 -- less than half Cooperstown standard. He has 172 homers and 240 doubles –- good for half a career, but we can't know what the 1st half of his career would have been like had it been all in North America.
He's been an All-Star just twice (but 9 times in Japan), a Pennant-winner twice and a World Champion just once (3 times in Japan). He's never won a Most Valuable Player award here, but won 3 Central League MVPs over there. He was a pretty good fielder up until a 2006 injury, but has never won a Gold Glove.
For a single season, he's batted .300 twice, in 2005 and '06. Only once, in 2004, has he hit 30 home runs, but on 4 others hit 20. In his 1st 4 full seasons in North America (2003, '04, '05 and '07), he had at least 100 RBIs.
Baseball-Reference.com
, a website which is your friend whether you know it or not, has a Hall of Fame Monitor, on which a "Likely HOFer" is at 100. Right now, with what he's already done through this past Sunday afternoon's game, Hideki is at 34. B-R also has a Hall of Fame Standards, which is weighted more toward career stats, and according to this the "Average HOFer" is at 50. Hideki is at 22. Put these 2 figures together, and his candidacy is a joke.
B-R also has "10 Most Similar Batters," which are weighted not just toward similarities of stats but also toward players of the same position, to make it easier to compare apples with apples and oranges with oranges, or so to speak. According to them, the 10 batters most similar to Jorge are: Ripper Collins (1930s Cardinal Gashouse Gang), Rusty Greer, Leon Durham, Alvin Davis, Jason Bay (yes, Met fans,
that
Jason Bay), Trot Nixon (cough-steroids-cough), Justin Morneau, Gavvy Cravath, Larry Hisle and Preston Wilson (Mookie's son).
None of those guys is in the Hall of Fame. None is even close, although Morneau might get there if he stays healthy, Hisle might have been on his way if he hadn't gotten hurt, and a case can be made for Cravath, the top National League slugger of the 1910s, for whatever that's worth.
Based on these facts, and only on these facts, there's no way in hell that Hideki Matsui should be elected to the Baseball Hall of Fame.
But what about what he did in Japan? Recently, he hit his 500th professional home run. Can we simply ignore what he did over there?
What Japanese-league players were good enough for the Hall? Sadaharu Oh hit 868 home runs. His Yomiuri Giants teammate, Shigeo Nagashima, was, effectively, Lou Gehrig to Oh's Babe Ruth: Oh batted 3rd and Nagashima 4th for the Giants' teams of the 1960s and early 1970s, and Nagashima hit 444 home runs. Katsuya Nomura set records for most seasons played, career hits and RBIs. Masaichi Kaneda, a teammate of Oh and Nagashima in his last few seasons, is the only pitcher to win over 400 games in the Japanese leagues. (They also have 2 leagues, and, just like ours, they use the designated hitter in one league but not the other, in this case the Pacific League uses it, and the Central League does not.)
It's not "The Major League Baseball Hall of Fame." True, it is "The
National
Baseball Hall of Fame" -- but that Hall has players from other countries:
* Canada, Ferguson Jenkins.
* Cuba, Tony Perez, and Negro League legends Martin DiHigo, Jose Mendez and Cristobal Torriente.
* The Dominican Republic, Juan Marichal -- and, over the next few years, Marichal will be joined by a few more. (UPDATE: Pedro Martinez was elected in 2015.)
* Panama, Rod Carew (although he grew up in New York) -- and, someday, Mariano Rivera.
* Venezuela, Luis Aparicio.
* And, if you count Puerto Rico as a separate country, Roberto Clemente, Orlando Cepeda and now Roberto Alomar. (UPDATE: Ivan Rodriguez was elected in 2017.)
So can we really deny the best Japanese players from our Hall of Fame? And can we really say, about certain players, that because the first part of their careers were in Japan, that they don't have the stats to make it?
At this rate, the only player born in Japan in the 20th Century who will make it to Cooperstown is Ichiro Suzuki -- who may end up with 3,000 hits in the U.S. alone. (He currently has 2,385, although he's currently batting .269, making this the 1st of his 11 North American seasons in which he won't bat at least .310, let alone .275.) What about Matsui? What about Hideo Nomo (123-109, 8.7 K/9 IP)?
And let's not forget that Matsui reached the postseason with the Yankees every year from 2003 to 2009, except 2008, and in postseason play is a .312 hitter with 10 homers and 39 RBIs in 235 plate appearances. And he was the MVP of the 2009 World Series. On the other hand, he kind of disappeared in the 2005, '06 and '07 American League Division Series, and while he hit well in Games 4 and 7 of the '04 League Championship Series, his 1-for-10 with 1 RBI in Games 5 and 6 was one of the reasons the Yankees lost those last 4 games.
I don't think Hideki Matsui will ever be elected to the Baseball Hall of Fame. But I think he should get more consideration than he is likely to get. Regardless, I think he deserves a Plaque in Monument Park. And unless Russell Martin turns out to be a Hall-of-Famer himself, I would recommend the retirement of Number 55 for Matsui.