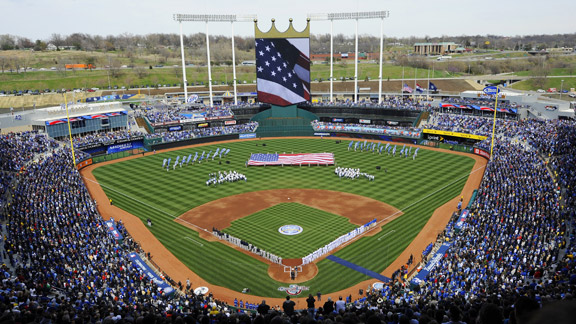 The Yankees fly out to begin a 7-game roadtrip, 3 games against the Kansas City Royals, and 4 against the Minnesota Twins.
Going to Kansas City.
Kansas City, here I come.
They got some crazy little women there
and I'm a-gonna get me one.
Jerry Lieber and Mike Stoller wrote that tune back in the 1950s, and it's been recorded by a lot of people. It hit Number 1 for Wilbert Harrison in 1959.
It doesn't say anything about baseball, though. Yet, in spite of a very spotty history (the Royals haven't made the Playoffs in over a quarter of a century, and in 59 seasons of Major League Baseball the city has been in the postseason just 7 times), Kansas City has quite a fascinating baseball history, and should still be regarded as a good baseball town. They should be able to prove it next July, when they host the MLB All-Star Game.
Disclaimer: I have never been to Kansas City. Much of this information is taken from the Royals' own website, and therefore I believe it to be reliable.
Before You Go.
The
Kansas City Times
website is predicting good but hot weather for this series. The
Kansas City Star
agrees.
And all 3 games will be night games. Nevertheless, be advised that K.C. can get really hot in the summer, so remember to keep hydrated, and if you're going for more than just a single game, be sure not to spend too much time outside, aside from the games themselves.
Getting There.
Kansas City is 1,194 road miles from New York, and 1,190 miles from Yankee Stadium to Kauffman Stadium. Knowing this, your first reaction is going to be to fly out there. But it's kind of an expensive flight. Even if you order early, chances are you'll have to pay at least $1,200 round-trip, and change planes in Chicago. But when you do get there, the 129 bus takes you from Kansas City International Airport to downtown in under an hour, so that's convenient.
Bus? Not a good idea. Greyhound runs 5 buses a day between Port Authority and Kansas City, and only 3 of them are without changes in Pennsylvania (one in Philadelphia, one in Harrisburg – yes, Harrisburg). The total time is about 29 hours, and costs $333 round-trip. The Greyhound terminal is at 1101 Troost Avenue, at E. 11th Street. Number 25 bus to downtown.
Train? Amtrak will make you change trains in Chicago, from their Union Station to K.C. on the Southwest Chief – the modern version of the Santa Fe Railroad's Chicago-to-Los Angeles "Super Chief," the train that, along with his Cherokee heritage, gave 1950s Yankee pitcher Allier Reynolds his nickname. Problem is, the Southwest Chief arrives in K.C. at 10:11 PM, meaning unless you leave New York on Saturday, you'll miss the Monday night game. And we're talking over a $500 round trip. But if you want to try it, Union Station is at Pershing Road and Main Street. Take the MAX bus to get downtown.
If you decide to drive, it's far enough that it will help to get someone to go with you and split the duties, and to trade off driving and sleeping. You'll need to get on the New Jersey Turnpike, and take Interstate 78 West across New Jersey, and at Harrisburg get on the Pennsylvania Turnpike, which at this point will be both I-70 and I-76. When the two Interstates split outside Pittsburgh, stay on I-70 west. You'll cross the northern tip of West Virginia, and go all the way accross Ohio (through Columbus), Indiana (through Indianapolis), Illinois and very nearly Missouri (through the northern suburbs of St. Louis). In Missouri, Exit 9 will be for the Sports Complex, but you'd be crazy to come all this way and not get a hotel so you'll get a decent night's sleep, so take I-70 right into downtown.
If you do it right, you should spend about an hour and 15 minutes in New Jersey, 5 hours in Pennsylvania, 15 minutes in West Virginia, 3 hours and 45 minutes in Ohio, 2 hours and 30 minutes in Indiana, 2 hours and 30 minutes in Illinois, and 4 hours and 15 minutes in Missouri before you reach the exit for your hotel. That's going to be nearly 21 and a half hours. Counting rest stops, preferably 7 of them, and accounting for traffic in both New York and Kansas City, it should be about 28 hours.
Tickets.
In spite of renovations to modernize the 38-year-old Kauffamn Stadium, the Royals' last-place season has kept their attendance down again. They are averaging only 20,109 fans per game, about half of capacity, and ahead of only Oakland and the 2 Florida teams. Their fellow Missourians, the St. Louis Cardinals, are averaging nearly twice as many fans, although to be fair the Cards are leading the National League Wild Card race.
What this means for a fan visiting Kansas City is that you can pretty much walk up to the ticket booth on the day of the game and buy any seat you can afford. Dugout Boxes run $57, Dugout Plaza $47, Field Boxes $43, Field Plaza $36, Loge Boxes $48, Loge Outfield 46, Outfield Boxes $32, Reserved Boxes (these and all after them are upper deck) $25, Infield $23, Boxes $20, and View $16.
Going In.
The Harry S Truman Sports Complex, including Kauffman Stadium and Arrowhead Stadium, home of the NFL's Kansas City Chiefs, is 8 miles southeast of downtown Kansas City, at the intersection of Interstates 70 and 435, still in the city but on the suburban edge of it. You don't have to worry about the ballpark being in a bad neighborhood: It's not in any neighborhood.
Public transportation is not much of an option. In fact, aside from Arlington, Texas, this may be the most unfriendly ballpark in the majors for those without a car. The Number 28 bus will drop you off at 35th Street South and Blue Ridge Cutoff, and then it's a one-mile walk down the Cutoff, over I-70, to the ballpark. The Number 47 bus will drop you off a little closer, on the Cutoff at 40th Terrace, about half a mile away.
Most fans will enter by the spiral walkways behind home plate. The ballpark faces northeast, and if you're old enough to remember those Yankees-Royals Playoffs from 1976 to 1980, you'll notice some differences. For one thing, the field, then artificial, is now all-natural grass. For another, the familiar red seats are gone, replaced by navy blue – or, should I say, "Royal blue." The big crown scoreboard in center field is still there, and so is the Water Spectacular, the fountains that were the stadium's most famous feature.
The park's outfield distances have never changed: 330 to the poles, 387 to the power alleys, and 410 to center. This means the park has traditionally favored pitchers and, due to its distances and artificial turf, contact hitters and speedsters. With the carpet replaced by real grass, the Royals' go-go-go game of the 1976-85 era is reduced, although the franchise was in decline well before the switchover to grass in 1995. Seating capacity is currently 40,055.
Food.
Kansas City has a reputation for great barbecue, so I expected "The K" to have that and some other good food items. Unfortunately, the Royals' website is vague on the subject. The .390 Bar & Grill (named for George Brett's 1980 batting average) is in the upper deck on the 3rd base side, Blue Moon (not sure what it's named for) is at Section 223 behind home plate, Fry Works has a few locations, and Crown Classics (presumably the usual ballpark fare with a team-themed name) are all over the place. There are 4 Hostess Sweet Spot stands (Deep-fried Twinkies, perhaps?), Mexican-themed Jose Peppers, an Irish Pub (no cutesy faux-Hibernian name), and – brace yourselves, Yankee Fans – the Pine Tar Pub in the outfield corners.
Team History Displays.
The Royals have their championship flags on poles in the outfield: 1985 World Champions, 1980 American League Champions, 1976, 1977, 1978, 1984 American League Western Division Champions. (They have not made the Playoffs in the 3-division, Wild Card era, therefore have never won their current division, the AL Central.) Their retired numbers are on the crown scoreboard: 5, George Brett, 3rd base, 1973-93; 10, Dick Howser, manager, 1981-86 (also former Yankee infielder, coach and 1980 manager); 20, Frank White, 2nd base, 1973-90.
The Royals have a team Hall of Fame, although I don't know where in the ballpark they have the display. Besides their retired numbers, those included are: Team founders Ewing and Muriel Kauffman (Royals Stadium, built in 1973, was renamed for Ewing Kauffman shortly before his death in 1993), GM Joe Burke, chief scout Art Wilson, manager Whitey Herzog; pitchers Kevin Appier, Steve Busby, Mark Gubicza, Larry Gura, Dennis Leonard, Jeff Montgomery, Dan Quisenberry, Bret Saberhagen and Paul Splitorff; first baseman John Mayberry (father of current Phillies player John Jr.); second baseman Cookie Rojas; shortstop Freddie Patek; outfielders Amos Otis and Willie Wilson; DH Hal McRae; and broadcaster Denny Matthews.
Stuff.
The Royals Majestic Team Store is located at Gate C, behind home plate. The usual items that can be found at a souvenir store can be found there.
Books about the Royals are not exactly well-known. Their Hall of Fame (Cooperstown and Kansas City) broadcaster wrote
Denny Matthews's Tales from the Royals Dugout
, but that's probably the closest you're going to get to an inside story about the club. Jeff and Jeffrey Spivak, father and son, wrote a 25th Anniversary retrospective,
Crowning the Kansas City Royals: Remember the 1985 World Series Champs
, and Sara Gilbert (not the Roseanne actress, now a panelist on CBS'
The Talk
) wrote
The Story of the Kansas City Royals
, which takes the franchise from its 1969 beginning to the 2006 season.
There is, as yet, no
Essential Games of the Kansas City Royals/Kauffman Stadium
, but the official 1985 World Series highlight film package is available.
During the Game.
Because of their Great Plains/Heartland image, Royals fans like a "family atmosphere." Therefore, while they hate the Yankees, they will not directly antagonize you. At least, they won't initiate it. But don't call them rednecks, hicks or sheep-shaggers. And don't say anything unkind about George Brett. Sure, he deserves it, but what's the point? He can't hurt you anymore; his supporters, theoretically, can.
The Royals have a mascot, Sluggerrr, a lion (royal, king of the jungle) with a crown on his head. (Why the 3 R's, I don't know, maybe he encourages kids with the legendary "Three R's: Reading, 'Riting and 'Rithmetic." I didn't make those up, and neither did the Royals.) From his page on the Royals' site: Height: 7'0". Weight: Muscle weighs more than fat. Position: King of the Jungle. Bats: Doesn't remember, "It's been a while since I was a designated hitter." Throws: Hot Dogs, T-shirts, and visiting fans out of the park! Steals: Cotton candy, peanuts, and sometimes popcorn. (Shades of Don Mattingly.) Favorite Food: Cardinal Wings, Filet O' Mariner, Rays Soup, Tiger Steak, Oriole Sandwich, Blue Jay Bites. No mention of Yankee Bean Soup. Sorry, Sluggerrr: No soup for you!
The Royals do not appear to have a theme song, or a song to use after "Take Me Out to the Ballgame" in the 7th Inning Stretch, or a postgame victory song.
After the Game.
Since the sports complex is not in any neighborhood, let alone a bad one, you should be safe after a game, day or night. As I said, leave the home fans alone, and they'll probably leave you alone.
If you want to be around other New Yorkers, I'm sorry to say that I can find no listings for where they tend to gather. Even those sites that show where expatriate NFL fans watch games in cities other than their own came up short.
Sidelights.
Kansas City's sports history is a bit uneven. When the Royals and Chiefs have been good, they've been exceptional. But they've also had long stretches of mediocrity. Still, there are some local sites worth checking out.
* Site of Municipal Stadium.
Built as Muehlebach Field in 1923, by George Muehlebach, who also owned the beer and the hotel that bore his name, and the American Association's Kansas City Blues. This single-decked, 17,000-seat ballpark hosted the Blues' Pennants in 1929, 1938, 1952 and 1953 – the last 3 as a farm club of the Yankees. Future Yankee legends Phil Rizzuto (
Sporting News
Minor League Player of the Year in 1940) and Mickey Mantle (1951) played for this club at this ballpark.
The Kansas City Monarchs of the Negro Leagues also played at the Muehlebach, renamed Ruppert Stadium in 1937 and Blues Stadium in 1943. They won 13 Pennants there from 1923 to 1955, including 3 straight, 1923-25, and 4 straight, 1939-42. Hall-of-Famers Satchel Paige, Willard Brown and Hilton Smith were their biggest stars, although it should be noted that, while he played with them in the 1945 season, Jackie Robinson was, at the time, not considered much of a baseball prospect; it was his competitiveness and his temperament, as much as his talent, that got the Brooklyn Dodgers interested in him. And longtime first baseman and manager John "Buck" O'Neil has never been elected to the Hall of Fame. A travesty. The Monarchs had to leave after the 1955 season, because of the arrival of the A's.
In 1954, the Philadelphia Athletics were sold to trucking company owner Arnold Johnson, and he moved the club to Kansas City, where his pal Del Webb, co-owner of the Yankees, had his construction company put an upper deck on what was renamed Municipal Stadium, raising the capacity to 35,020. Thanks to the Webb-Johnson friendship, a lot of trades went back and forth (including Billy Martin out there in 1957 and Roger Maris to New York in 1960), and it was joked that Kansas City was still a Yankee farm club.
When Johnson died in 1960, insurance magnate Charles O. Finley bought the club, and he put a stop to that. He was convinced that the reason the Yankees won all those Pennants was the 296-foot right field fence at the old Yankee Stadium, and so he brought the fence at Municipal in to 296 feet – though reaching back to its former 353-foot pole, thus obeying the letter of the law that said that all parks entering the majors had to be at least 325 feet to the poles. (This rule has notably not been enforced every time: Baltimore's Camden Yards, opened well after the 1958 debut of the rule, is 318 feet to right.) Commissioner Ford Frick ruled that what Finley called the "KC Pennant Porch," with a small bleacher between the old and new fences, was illegal. So he scaled it back to 325 feet at its closest point, making the "KC One-Half Pennant Porch." Finley also debuted some of his promotional shenanigans at Municipal, including Harvey the Rabbit, a Bugs Bunny lookalike that mechanically popped out of home plate to deliver fresh baseballs to the plate umpire.
But Finley wanted a new ballpark, and Kansas City wouldn't give it too him. After flirting with Atlanta, Louisville, Dallas and Denver, he moved the team out of Kansas City in 1967, leading Senator Stuart Symington of Missouri to say, "Oakland, California just became the luckiest city since Hiroshima." Despite being from the St. Louis side of the State, Symington lobbied Major League Baseball for a replacement team in KC, and got the Royals to start play in 1969. He was invited to throw out the first ball at the first Royals home game. For the new team, with pharmaceutical executive Ewing Kauffman rather than Finley as owner, the city built a new park. The Royals moved out after the 1972 season. Neither the Royals nor the A's ever came close to October while playing there.
The Chiefs began playing there in 1963, won AFL Championships in 1966 and 1969, won Super Bowl IV, and played their last game there on Christmas Day 1971, a double-overtime loss to the Miami Dolphins that is still the longest game in NFL history. And Finley convinced Brian Epstein to let the Beatles play there, on September 17, 1964, their only concert in Kansas City. The stadium was torn down in 1976, and a housing development is going up on the site. 22nd Street and Brooklyn Avenue, near the 18th and Vine district that was the home of Kansas City jazz, making it a favorite of the Monarchs players. The site is also 4 blocks south of the legendary Arthur Bryant's barbecue restaurant. Number 123 bus.
* Negro Leagues Baseball Museum.
Founded by Buck O'Neil and some friends, this museum tells the other side of the story. As Buck himself said, the pre-1947 all-white major leagues called themselves "Organized Baseball," but "We were organized." The museum's lobby features statues of Negro League legends including Paige, Josh Gibson, Buck Leonard and Oscar Charleston – having played for the Monarchs was by no means a requirement for that.
The Negro Leagues were a sometimes dignified, sometimes willingly silly, and very successful response to the color bar. But the raiding of their rosters, with no regard to contracts and thus no money changing hands, by the white majors from 1947 onward, was the beginning of the end. But Buck O'Neil had the right perspective: "Happy. Happy. Of course, it meant the death of our baseball, but who cared?" The owners of the Negro League teams. Other than that… 1616 E. 18th Street. Number 108 bus. The Museum is also 5 blocks west of Arthur Bryant's, and a short walk from the site of Municipal Stadium – neither of these facts can be a coincidence.
* Municipal Auditorium.
Built in 1935 in the Art Deco style then common to public buildings (especially in New York), it replaced the Convention Hall that was across the street and hosted the 1900 Democratic Convention (which nominated William Jennings Bryan for President and at which a 16-year-old Harry S Truman served as a page) and the 1928 Republican Convention (nominating Herbert Hoover). The arena seats 7,316 people, but for special events can be expanded to 10,721. The NCAA hosted what would later be called the Final Fours here in 1940, '41, '42, '53, '55, '57, '61 and '64 – featuring such legends as Bill Russell (1955, University of San Francisco), Wilt Chamberlain (1957, his Kansas losing to North Carolina in triple overtime), Jerry Lucas and John Havlicek (1961, their defending champion Ohio State getting shocked by cross-State rival Cincinnati) and John Wooden (1964, completing an undefeated season with Walt Hazzard and Gail Goodrich and starting his UCLA dynasty).
The NBA's Kansas City Kings played their 1972-73 and 1973-74 home games here after moving from Cincinnati – having to change their name because Kansas City already had a team called the Royals. An accident at the Kemper Arena forced the Kings to move back here for a few games in the 1979-80 season. The basketball team at the University of Missouri at Kansas City (UMKC) played their home games here from its opening until they opened an on-campus arena last year. Elvis Presley sang here as a new national star on May 24, 1956, and as an entertainment legend on November 15, 1971 and June 29, 1974. 301 W. 13th Street. Pretty much any downtown bus will get you close.
* Kemper Arena.
Built in 1974, it immediately began hosting 2 major league sports teams – neither of which lasted very long. The NBA's Kansas City Kings played here until 1985, when they moved to Sacramento. The NHL's Kansas City Scouts were the ne plus ultra – or should that be ne minus ultra? – of expansion teams, lasting only 2 seasons before moving in 1976 to become the Colorado Rockies – and then again in 1982 to become the New Jersey Devils. A few minor league hockey teams have played here since.
In the Kings' final season, they hosted the Knicks in a game that resulted in one of the worst injuries in NBA history, Knick star Bernard King jumping for a rebound and tearing up his knee. I'll never forget hearing him yell, "Oh, damn! Oh, damn!" and then crumpling to the floor, repeatedly slapping it with his hand. Bernard did play again, and well, but a great career turned into a what-might-have-been. But that wasn't the worst injury here, and I don't mean the 1979 roof collapse, either: This was when professional wrestler Owen Hart was killed on May 23, 1999.
Kemper was also the last building seating under 20,000 people to host a Final Four, hosting the 50th Anniversary edition in 1988 (Danny Manning's Kansas beating Oklahoma). The 1976 Republican Convention was held here, nominating Gerald Ford. Elvis sang here on April 21, 1976 and, in one of his last concerts, June 18, 1977. 1800 Genesee Street, at American Royal Drive, a block from the Missouri-Kansas State Line. Number 12 bus.
* Sprint Center.
This arena opened in 2007, with the idea of bringing the NBA or NHL back to Kansas City. It almost got the Pittsburgh Penguins, before a deal to build a new arena there was finalized. Now, it looks like the Sprint Center is, after the Barclays Center in Brooklyn, the likeliest destination for the New York Islanders. For basketball, it seats 18,555; for hockey, 17,752. For the moment, the only team playing here is an Arena Football League team, the Kansas City Command. 1407 Grand Boulevard, at W. 14th Street. Number 57 or MAX bus from downtown.
* Harry S Truman Presidential Library and Museum.
The 33rd President, serving from April 12, 1945 to January 20, 1953, was born in nearby Lamar, and grew up in nearby Independence. He opened the Library in 1957, and frequently hosted events there until a household accident in 1964 pretty much ended his public career. Upon his death in 1972, he was buried in the Library's courtyard; his wife Elizabeth "Bess" Truman followed him in 1982, at age 97, to date the oldest former First Lady; and their only child, Margaret Truman Daniel, was laid to rest there in 2008. Currently, the Library is run by his only grandchild, Clifton Truman Daniel. 500 West U.S. Highway 24, Independence. Number 24X bus to Osage & White Oak Streets, and then 4 blocks north on Osage and 3 blocks west on Route 24. The Truman Home – actually the Wallace House, as Bess' family always owned it – is nearby at 219 N. Delaware Street. Same bus.
*
Kansas City is a great American city, almost literally in the center of this great country. And its citizens, and the people who come from hundreds of miles around to see the Royals and Chiefs, love their sports. It's well worth saving up to check it out.