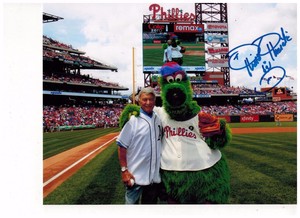 Bobby Shantz, the last great Philadelphia Athletics pitcher,
and the Phillie Phanatic at Citizens Bank Park
Last night was not a good night for the New York teams. The Yankees began a 4-game set with The Scum by losing 6-3, partly due to Jorge Posada getting the day off and Francisco Cervelli, his backup, dropping a popup in fair territory, leading to 4 unearned runs; and partly due to the pitcher being Javier Vazquez, who can't beat Boston.
The Mets were no better, and certainly no luckier. They led the Phillies 2-1 in the opener of a 3-game set in Philadelphia, with Jon Niese pitching well. Stop me if you've heard this one before: The Met bullpen was not up to the task, and despite a Met comeback in the 9th, the Phils won, 7-5.
Philadelphia's All-Time Baseball Team
Each of these figures is from Pennsylvania, between the Delaware and Susquehanna Rivers, unless otherwise stated. Plenty of power, and if you're thinking about outpitching them, think again.
1B Mickey Vernon of Eddystone, Delaware County.
How unlucky was this guy? He spent the majority of his career with the Washington Senators: "First in war, first in peace, and last in the American League." He got to the Cleveland Indians after they won the 1948 World Series, went back to Washington, went to Boston after the Red Sox' 1946-51 period of contention, went back to Cleveland after their 1954 Pennant, went to the Milwaukee Braves after their 1957 and '58 Pennants. And while he did play the last 9 games of his career with the 1960 Pittsburgh Pirates, he was not included on the World Series roster, and did not get a ring.
But he won the AL batting title in 1946 and 1953, led the AL in doubles in 1946, '53 and '54, had a career OPS+ of 116, and collected 2,495 hits, 490 of them doubles. He hit only 172 homers, but probably would have had a lot more if he hadn't played so many games at Griffith Stadium, Cleveland Municipal, and as a lefty at Fenway Park.
It would be nice if he were in the Hall of Fame. Alas, he's not, and the Senators are no longer around to retire any of the numbers he wore for them (more games in Number 3 than any other). He is, however, honored in the Washington Hall of Stars display at Nationals Park.
Honorable Mention to Andre Thornton of Phoenixville, Chester County. Though born in Tuskeegee, Alabama, he's a Delaware Valley man, who had a 122 OPS+, and 253 homers despite playing most of his home games at Cleveland Municipal Stadium. He was a 2-time All-Star who had 2 (very nearly 3) 100-RBI seasons. One of the most decent baseball men of his era, he is a member of the Cleveland Indians Hall of Fame.
2B Eddie Stanky of Northeast Philadelphia.
Leo Durocher, his manager for the Brooklyn Dodgers and later the New York Giants, said of him, "He can't hit, he can't run, and he can't throw. All he can do is beat you." He won Pennants with the Dodgers in 1947, the Boston Braves in 1948, and the Giants in 1951. (The reason the Dodgers traded him after '47 is that he wouldn't get along with Jackie Robinson.) He was just a .268 hitter lifetime, but drew 996 walks in just 7 full seasons, leading the NL 3 times and thus in on-base percentage twice. He made 3 All-Star teams.
He also managed in the majors, but the closest he came to a Pennant was with the 1967 Chicago White Sox, 3 games back but in 4th place.
SS Hugh Jennings of Pittston, Luzerne County.
I had to go back a ways for the shortstop on this team, but found a good one. Starred on the NL Champion Baltimore Orioles of 1894, '95 and '96 with John McGraw and Willie Keeler, and also played with them on the 1899 and 1900 NL Champion Brooklyn Superbas (forerunners of the Dodgers).
Brooklyn wouldn't win another major-league World Championship without him as a player until 1955, and Baltimore not until 1966. I could also have made Jennings the manager of this team, as he led the Detroit Tigers to the 1907, '08 and '09 Pennants. He later became one of McGraw's coaches on the Giants, and briefly subbed for him as manager in the 1924 and '25 seasons. Known for, and by, his shout of "Ee-yah!", he is in the Hall of Fame.
3B George "Whitey" Kurowski of Reading, Berks County
– not to be confused with Reading in Berkshire, England. A 4-time All-Star, he played on 4 Pennant winners for the St. Louis Cardinals, and was a key figure in 2 World Series.
In Game 5 in 1942, he hit a 9th-inning home run at Yankee Stadium to give the Cards the lead, enabling them to clinch. But in Game 2 in 1943, also at Yankee Stadium, Johnny Lindell slid into 3rd base and kicked away a throw that would have nailed him, and the Yankees won that game and the next 3 to win the Series.
Kurowski also played on the Cards' World Series winners in 1944 and 1946, although an injury finished him at age 31. His lifetime batting average was .286, and he had a 125 OPS+. He only played 6 full seasons, but had 100 RBIs in 2 of them.
Honorable Mention to William Julius "Judy" Johnson of Wilmington, Delaware. Because he played in the Negro Leagues, mostly for the Philadelphia Hilldales, we can only guess as to how good he really was, but he impressed the Hall of Fame's Committee on the Negro Leagues to elect him to the Hall. He was also the 1st person inducted into the Delaware Sports Hall of Fame.
The home of the Carolina League's Wilmington Blue Rocks, the only professional team in Delaware at the moment, is named Judy Johnson Field at Daniel S. Frawley Stadium (Frawley being the Mayor who brought minor-league ball back to Wilmington).
LF Leon "Goose" Goslin of Salem, Salem County, New Jersey.
The only South Jersey native in the Hall of Fame, he had a .316 lifetime batting average, an OPS+ of 128, 2,735 hits, 500 doubles, 173 triples, 248 homers, 12 100-RBI seasons, the 1928 AL batting title at .379, and played in the World Series with the Washington Senators in 1924 (won) and '25 (lost), and the Detroit Tigers in 1934 (lost) and '35 (his bottom of the 9th single won Game 6 and the Series).
Honorable Mention to Del Ennis of Olney, Philadelphia. A hometown hero, he led the NL in RBIs in 1950, one of 7 100-RBI seasons for him, and was the biggest bat on the 1950 Pennant-winning Phillies "Whiz Kids." An injury knocked him out age 34, but hit 288 home runs, 259 of them as a Phillie, making him the franchise's all-time leader until Mike Schmidt came along. With a career OPS+ of 117, and over 2,000 hits, he is a member of the Philadelphia Baseball Wall of Fame.
CF George Case of Trenton, Mercer County, New Jersey.
Despite the fact that the Trenton Thunder are a Yankee farm team, the city is 30 miles from Philly and 60 miles from New York, and I usually see more people wearing Phils gear than Yankee gear at Thunder games (supposedly, more than half their season-ticket base lives across the river in Bucks County, Pennsylvania), so I'm counting players from Trenton as being in Philly's region, with an exception that I'll make when I do this team for New York.
Case played more left than center, but not by much, and I needed a center fielder. A graduate of The Peddie School, a prep school in Hightstown, he played most of his career with the Washington Senators, and led the AL in stolen bases 6 times. The closest he came to a Pennant was in 1945, when the Senators finished a game behind the Tigers. But in an era when few players ran like that, he stood out.
Looking at the rest of that part of New Jersey that tilts toward Philadelphia rather than New York, aside from Goslin's Salem and Case's Mercer, the best player from South Jersey's Counties are:
Atlantic County: John Henry "Pop" Lloyd, who was born in Florida but grew up and played part of his professional career in Atlantic City, where a local park is named for him, and is one of the Negro Leaguers in the Hall of Fame. Unfortunately, since I don't have big-league stats for this man, often called the greatest shortstop in Negro League history, I can't make him a starter on this team.
Burlington County: See below.
Camden County: Ray Narleski of Collingswood, a star reliever for the 1950s Indians including their 1954 Pennant winners.
Cape May County: None. Not that none were good enough, but that no player from the County has ever reached the major leagues. (UPDATE: In 2014, Matt Szczur of Lower Township became the 1st, debuting with the Chicago Cubs.)
Cumberland County: Ted Ford of Richland, who in his only full season, 1972, hit 14 homers with 50 RBIs for the Texas Rangers.
Gloucester County: Abram Harding "Hardy" Richardson of Clarksboro, an 1880s star with two teams that no longer exist, the NL's Buffalo Bisons and Detroit Wolverines, winning the 1887 Pennant with Detroit, while Dan Meyer of Woolwich is currently pitching for the Florida Marlins.
RF Carl Furillo of Stony Creek Mills, Berks County.
Grew up just outside Reading, and with his powerful right arm became known as the Reading Rifle. His love of scungilli also got him the nickname "Skoonj."
At the bottom of the scoreboard in right field at Ebbets Field was a sign, posted by a man who would ride that sign's fame to the Presidency of first the New York City Council and then the Borough of Brooklyn: "HIT SIGN WIN SUIT. ABE STARK. Brooklyn's Leading Clothier." With Dixie Walker and then Furillo playing right field, it was believed that Mel Ott was the only player to hit that sign on the fly. When it was suggested to Stark that he give Furillo a free suit, for having saved him from having to give out so many, he did.
Furillo was a good hitter, too: Lifetime batting average .299, OPS+ of 112, 5 times a .300 hitter including the 1953 NL batting title at .344. He played on 7 Pennant winners with the Dodgers, including the 1955 (Brooklyn) and 1959 (Los Angeles) World Championships.
Even more notably, he retired due to injury in 1960, and sued the Dodgers over not telling him how bad his injury was… and won. Imagine that, suing Dodger owner Walter O'Malley, the most powerful man in baseball (who pulled the strings for Commissioner Ford Frick), and himself a lawyer, and winning! Furillo went to work for Otis Elevators, and helped install the elevators in the World Trade Center as it went up in the late 1960s and early 1970s.
DH Reginald Martinez Jackson of Wyncote, Bucks County.
I was going to put Reggie in right field, even with his glove, but I couldn't resist putting Furillo in there. Because of when and where I first came into sports awareness, he remains my favorite athlete of all time.
With the Oakland Athletics, New York Yankees and California Angels (as the Anaheim franchise was then known), he reached 11 postseasons, winning 6 Pennants (and just missing 3 others by a game) and 5 World Championships: 1972, '73 and 74 with the A's, and 1977 and '78 with the Yanks. He is the only man to win World Series MVP awards with 2 teams, with the '73 A's and the '77 Yanks, featuring his 5 homers in the latter Series, 3 in the clinching Game 6. His career total is 563, making him the leader among all players born between 1936 (Harmon Killebrew) and 1963 (Mark McGwire).
Hall of Fame, Number 9 retired by the A's, Number 44 retired and Monument Park plaque dedicated by the Yanks. (The Angels have a team Hall of Fame, but Reggie has not yet been elected to it or had his Number 44 retired by them.) They call him Mr. October, but he remains a man for all seasons.
C Roy Campanella of Nicetown, Philadelphia.
Don't let the name fool you: "Nicetown" is a part of North Philly and, for as long as I can remember, it has been a ghetto and not very nice. But Campy was.
In the 1940s with the Baltimore Elite Giants of the Negro Leagues, and in the 1950s with the Brooklyn Dodgers, he built a Hall of Fame career, including 3 NL MVPs, 5 Pennants and the 1955 World Championship. A car crash ended his career and paralyzed him for life at age 36, but for years, Dodger fans said he was better than Yogi Berra across town.
He remained on the Dodger payroll until his death in 1993, long after the Dodgers moved to Los Angeles, and his Number 39 was retired, along with Jackie Robinson's 42 and Sandy Koufax' 32, in a 1972 ceremony at Dodger Stadium, the first numbers retired by the franchise.
Mike Piazza of Norristown, Montgomery County is not on this team. Never mind the steroid accusations, for which we have every bit as much proof as we do for his nemesis, Roger Clemens: He couldn't play the position of catcher, and Campy was a better hitter.
Honorable Mention to Doug Allison of Philadelphia: He was the catcher on the 1st openly professional team, the 1869-70 Cincinnati Red Stockings, and lasted long enough to be a member of the 1879 NL Champion Providence Grays. He is also the earliest known player to use a glove, using buckskin mittens to protect his hands with the 1870 Red Stockings.
Honorable Mention also to Allison's teammate, Dick Hurley of Honesdale, Wayne County, who is listed as the "substitute" for the 1869-70 Red Stockings. It seems the position he most played in pro ball after leaving Cincinnati was right field. Not all that well, apparently: He appears to have last played for the 1872 Washington Olympics of the National Association, not a good team even by the standards of the Ulysses S. Grant Administration.
SP Christopher "Christy" Mathewson of Factoryville, Wyoming County.
Was he the greatest pitcher of them all? We'll never know how he would have done in the Lively Ball Era, unlike Walter Johnson and Grover Cleveland Alexander who pitched well into the 1920s. But "Big Six" (he was 6-foot-1 when that was considered very tall) was, from 1901 to 1914, probably the greatest pitcher the planet had yet seen.
His 373 wins are tied for 3rd all-time, 1st in NL play, with Alexander. (Cy Young's 511 were split between the Leagues, and Walter Johnson had 417, all in the AL.) A 2.13 ERA, an ERA+ of 136, so he was 36 percent better in ERA than the pitchers of his time. WHIP 1.058 -- that is sick. His 2,507 strikeouts were 2rd all-time behind Young at the time of his retirement. His 79 shutouts were a record until surpassed by Johnson.
He pitched the New York Giants to the 1904 Pennant, and in 1905 pitched 3 shutouts as the Giants won the World Series over the Philadelphia Athletics. But that was his last title: The Giants just missed the Pennant in 1908 (Mathewson started the "playoff" forced by Fred Merkle's Boner and lost it), and they lost the World Series in 1911, 1912 (Mathewson lost the deciding Game 8) and 1913. Still, he was the most beloved player of his day.
Exposure to poison gas while training for World War I, and the subsequent Spanish flu epidemic, damaged his lungs, and when tuberculosis struck, he never had a chance. He died in 1925, just 45 years old, and a nation mourned.
He was one of the 1st 5 players elected to the Hall of Fame in 1936 -- the only one already dead. (Ty Cobb, Babe Ruth, Honus Wagner and Johnson were still alive.) Although he played before uniform numbers were worn, the Giants, long after moving to San Francisco, placed an "NY" alongside their retired numbers, first at Candlestick Park and then at AT&T Park.
He was elected to the All-Century Team in 1999, even though he'd debuted exactly 99 years earlier and last pitched 83 years earlier. He also played football at Bucknell University, and their stadium is named for him. His brother Henry also briefly pitched in the majors.
SP Ed Walsh of Plains, Luzerne County.
"Big Ed Walsh?" Hall-of-Famer Sam Crawford said of the great Chicago White Sox spitballer. "You talk about spitballs? I think that ball disintegrated, and came back together when the catcher got a hold of it! I swear, when it went past the plate, it was just the spit went by!"
It was an easy thing to believe: Then a legal pitch, Walsh used it to win 195 games against just 126 losses, with a career WHIP of exactly 1.000 and an all-time record low ERA of 1.82 -- ERA+ of 146, so he wasn't just taking advantage of the Dead Ball Era. In 1906, he helped the White Sox win the World Series in a big upset over the crosstown Cubs. In 1908, he went 40-15, pitching a 20th Century record 484 innings. That included a 15-strikeout performance late in the season against the Cleveland Indians -- but Walsh lost, because Addie Joss threw a perfect game in the same game. (Ty Cobb's Tigers edged them both for the Pennant.)
In 1910, architect Zachary Taylor Davis supposedly consulted Walsh on how to design the Sox' new home, and this is believed to be why Comiskey Park, for all of its 80-year life, was a pitchers' park. (Davis would also design what became Wrigley Field in 1914.) After back-to-back 27-win seasons in 1911 and '12, Walsh appeared to lose it, having had his last good season at age 31. Still, he's in the Hall of Fame. He died on May 26, 1959 -- the day Harvey Haddix outdid both Walsh and Joss by pitching a perfect game for 12 innings, and losing the game in the 13th! Big Ed's son, Ed Walsh Jr., also pitched for the White Sox, while Big Ed was a Sox coach, though not nearly as well.
SP Stan Coveleski of Shamokin, Northumberland County.
"There was nothing strange in those days about a 12-year-old Polish kid working in the mines for 72 hours a week at a nickel an hour," he said late in life. "What was strange is that I ever got out of there."
He pitched for the hometown Athletics, but was sold because Connie Mack and the Shibe brothers needed the money. He was the ace of the 1920 World Champion Indians, and also pitched in the Series for the 1925 Washington Senators (though they lost) and the 1928 Yankees (they won). He went 216-142 for his career, and he was elected to the Hall of Fame.
He lived his post-baseball life in South Bend, Indiana, where the minor-league ballpark is named Stanley Coveleski Regional Stadium and is home to the South Bend Silver Hawks.
SP Orel Hershiser of Cherry Hill, Burlington County, New Jersey.
Born in Buffalo, New York, but a graduate of Cherry Hill High School East. A superb career record of 204-150, he reached the postseason with the Dodgers in 1985 and '88 (and almost in '91, and would have again if the Strike of '94 hadn't hit), the Indians in '95, '96 and '97, the Giants in '98 and the Mets in '99.
He went 23-8 with a 2.26 ERA in 1988, including pitching a record 59 consecutive scoreless innings to close the regular season. He was one of the rare pitchers who deserved a regular-season MVP, but it went instead to his teammate Kirk Gibson; while Gibson is remembered for his walkoff homer in Game 1 of the World Series, Hershiser won Games 2 and 5 (the clincher) to take the Series MVP. Was 8-3 with a 2.59 ERA in postseason play. He is now a broadcaster with ESPN, and is generally regarded as one of the smartest men in baseball.
Does he deserve to be in the Hall of Fame? He's been eligible since 2006.
Baseball-Reference.com
's HOF Monitor has him at 90 of 100, and their HOF Standards have him at 34 out of 50. Of their 10 Most Similar Pitchers, only 2, Catfish Hunter and Dazzy Vance, are in; the others including Bob Welch, Kevin Brown, Vida Blue and Dave Stieb.
SP Mike Mussina of Montoursville, Lycoming County.
From 1991 to 2000, "Moose" won 147 games and lost just 81 for the Baltimore Orioles, with an ERA+ of 130 and a WHIP of 1.175. He helped them reach the ALCS in 1996 and '97. And he has retired from the game. I can't imagine why he hasn't been elected to their team Hall of Fame. (UPDATE: He has now.)
Oh yeah: He left the O's for their rivals, the Yankees, where he won another 123 games and lost just 72. In total, he went 270-153, a winning percentage of .638. He never won a World Series, although he did pitch in the 2001 and 2003 editions for the Yankees. He went 20-9 in 2008, finally winning 20 at age 39, and then retired.
(Maybe it was for the best: He pitched in the 2009 Old-Timers' Game at Yankee Stadium II, and was awful, letting guys in their 50s and 60s get hits off him, and David Cone had to come in to bail him out; 4 years older, Coney had better stuff that day than the Moose.)
Mussina will be eligible for the Hall of Fame in 2014, and he'd better get in. As video producer Sean C. Dunn, who sponsors Mussina's Baseball-Reference.com page, points out, there's only 6 pitchers with at least that many wins and a better winning percentage. In chronological order: John Clarkson, Christy Mathewson, Grover Cleveland Alexander, Lefty Grove, Roger Clemens and Randy Johnson.
Honorable Mention to SP William "Bucky" Walters of Germantown, Philadelphia. He pitched for his hometown Phillies from 1934 to 1938, in Baker Bowl with its dilapidated condition and a 280-foot right-field fence. Needing cash, the Phils traded him to the Cincinnati Reds, and that was the best thing that could have happened to him. In 1939 the Reds won the Pennant, and in 1940 they won the World Series.
Walters led the NL in wins, ERA, ERA+, innings pitched, WHIP, fewest hits per 9 IP and complete games in both seasons, going 49-21 – not counting going 2-0 in the '40 Series, although he was 0-2 in the '39 edition. He also led the NL in strikeouts in '39. He went 27-11 in '39, 22-10 in '40, and 23-8 in '44. His career record was 198-160 ,with an ERA+ of 115, and if he hadn't pitched all those games for a lousy team in a lousy ballpark, he'd probably have about 230 wins and he might be in the Hall of Fame. The Reds have elected him to their team Hall of Fame, although his Number 31 remains in circulation. (John Franco, for one, wore it for the Reds.)
Honnorable Mention to Curt Simmons of Egypt, Lehigh County. Another local guy on the Phillies, he was the 2nd-best pitcher on the 1950 "Whiz Kids," going 17-8, but with the Korean War raging, was drafted right before the regular season ended, costing him an appearance in the World Series (and, quite possibly, denying the Phils a good chance at beating the Yankees).
He got a measure of redemption in 1964, going 18-9 at age 35, helping the Cardinals win the Series over the Yankees, but had to beat the Phillies with that amazing comeback (and Phils choke) to do it. He won 193 games in his career, and would have won a lot more had he not spent the first half of his career with the Phils.
Honorable Mention to Bobby Shantz of Pottstown, Montgomery County. Officially, he was 5-foot-6. Unofficially, he was the last in a long line of great pitchers for his hometown Philadelphia Athletics. In 1951, with an A's team that won only 70 games, he went 18-10, and was just getting warmed up. In 1952, with the A's winning just 79 and finishing 4th, he went 24-7 with a 2.48 ERA (an ERA+ of 159) and a 1.048 WHIP. He was named AL MVP that season, ahead of World Champion Yankees like Mickey Mantle and Yogi Berra.
After moving to Kansas City, the cash-strapped A's traded him to the Yankees, and in 1957 he led the AL in ERA with 2.45, helping the Yankees win the Pennant. Becoming a reliever, he was a major factor in the Yanks winning the 1958 World Series. He ended his career back in his home market; unfortunately, this was with the 1964 Phillies.
He finished 119-99, a good record considering he was mainly a reliever from age 31 onward. He is a member of the Philadelphia Baseball Wall of Fame, although his plaque is now at the Philadelphia Athletics Historical Society display in Hatboro, Bucks County.
Honorable Mention to Danny McDevitt of Hallstead, Susquehanna County, near the New York State Line in the northeastern corner of Pennsylvania. Only a 22-27 career record, but he did pitch a shutout to win the last game ever played at Ebbets Field, a 2-0 Brooklyn win over Pittsburgh. He was also on the Los Angeles staff that won the 1959 World Series.
In 2007, he threw out the first ball before a Brooklyn Cyclones game to commemorate the 50th Anniversary of the Dodgers' forced farewell to the Borough.
RP Bruce Sutter of Mount Joy, Lancaster County.
Injury limited him to only 1 full season after age 32, but from 1976 to 1984 (ages 23 to 31), he was as good a reliever as there ever was. In 1977, with a good but not great Chicago Cub team, he went 7-3 with 31 saves, a 1.34 ERA and a 0.857 WHIP. He pitched 107 innings, struck out 129, and walked just 23 (only 16 unintentionally). That's unreal. In 1979 with 37, he tied the NL single-season record for saves; in 1984 with 45, he broke it.
He went to the Cubs' arch-rivals, the St. Louis Cardinals, and led them to the 1982 World Series against the Milwaukee Brewers, striking out Gorman Thomas for the last out. The Cards traded him to the Atlanta Braves prior to 1985, and they would pay dearly for that as they lost the Series in '85 and again in''87. But maybe, due to his injuries, Sutter wouldn't have helped anyway.
He finished with 300 saves (2nd all-time behind Rollie Fingers at that point and the most in the NL), an ERA+ of 136 and a WHIP of 1.140. In 2006, he was elected to the Hall of Fame, and the Cards retired his Number 42 (which, of course, he wore before it was retired for all of baseball for Jackie Robinson).
MGR and GM Dallas Green of Newport, New Castle County, Delaware.
A mediocre pitcher for the Phillies, going 2-1 with a 5.79 ERA, mostly in relief, for the infamous 1964 squad, he redeemed himself as their manager, leading them to their 1st World Championship in 1980.
He also led the Phils to the first-half NL East title in the strike-split 1981 season, before the Chicago Cubs hired him away to be their general manager. As such, he made the trade that brought Ryne Sandberg to Chicago, and the Cubs won the 1984 and 1989 NL East crowns as a result of his deals. He later managed both the Yankees and the Mets, neither with success.
For the last few years, he has been back in Philadelphia as a special adviser to the Phils. He is a member of the Philadelphia Baseball Wall of Fame, and the fact that he led both the Phillies and the Cubs, perennial losers, to more than one postseason berth suggests that he belongs in Cooperstown as well. Certainly, the Phillies should retire his Number 46.
The greatest player from Delaware -- aside from Judy Johnson, for whom we don't have reliable stats -- is probably another pitcher for the '64 Phils, lefthander Chris Short of Milford, Kent County, who won 135 games, all but 3 for the Phils. Wilmington, New Castle County natives Robert Ruliph Morgan Carpenter Jr. and his son Robert III, a.k.a. "Bob" and "Ruly" Carpenter, who owned the Phillies from the 1940s to the 1980s, are the owners of this team.
Tommy Lasorda of Norristown was also a mediocre pitcher before managing, but I didn't make him the manager of this team, for one simple reason: I don't like him. Okay, maybe for a second simple reason: Dallas Green might bite my head off otherwise. What's Tommy gonna do, sit on me?