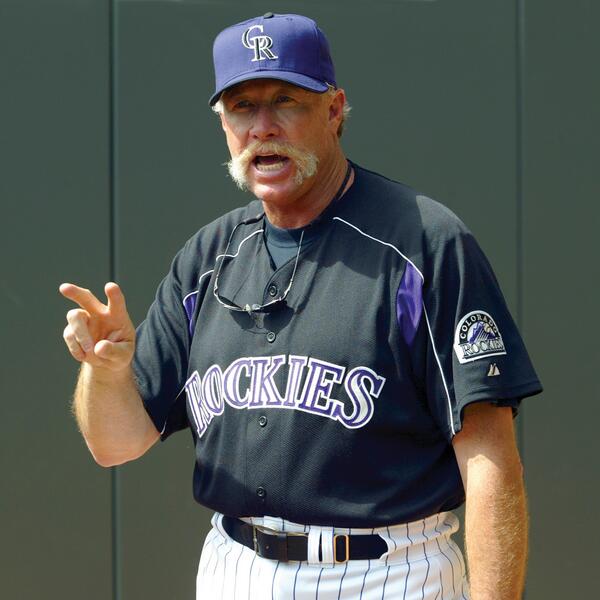 Last night's game did not go well for the Mets, as they blew a big lead against the Colorado Rockies and lost. This, just one night after Mike Pelfrey, terrible lately, outdueled Ubaldo Jimenez, who came into the game 17-2 and had been the National League's starter in this season's All-Star Game.
The Mets play a 12:10 PM start today, and while that's very early, today is Thursday, frequently a "getaway day" so teams can reach their destinations for weekend series. This will be the Mets' last game this season against the Rockies, barring a postseason matchup (neither is exactly close to either their Division lead or the Wild Card at the moment), so I'd better post this today:
Colorado's All-Time Baseball Team
All players' hometowns listed here are in the State of Colorado unless otherwise stated. But the Rockies''region also includes the entire States of Utah and Wyoming, most of Montana, and the westernmost parts of North Dakota, South Dakota, Nebraska and Kansas.
I had to cast such a wide net, over the Rockies' already vast, albeit sparsely-populated, territory, and make it a little wider, simply because, aside from the pitching, this team isn't nearly as talented as most of the others I've posted.
1B Dave Collins of Rapid City, South Dakota.
I previously said that the entire State of South Dakota belongs to the Minnesota Twins' region, and even put Collins on the Minnesota team as an Honorable Mention. Besides, he played much more as an outfielder. But I looked it up: Rapid City is 600 miles from Minneapolis, less than 400 miles from Denver.
Besides, if I didn't go with Collins, my best choice would have been Ed Bouchee, born in Livingston, Montana but grew up in Spokane, Washington; and while he finished 2nd in the National League's Rookie of the Year voting in 1957, he soon did time in a psych facility after pleading guilty what would then have been quaintly called "morals charges." He'd exposed himself to underage girls.
The only thing Collins appears to have exposed himself to is the Yankee boo-birds, who ripped him for his performance in 1982, his only season in Pinstripes. But with the California Angels, Seattle Mariners (an original Mariner in 1977), Cincinnati Reds, Toronto Blue Jays and Detroit Tigers, he was a very good player. Three times he batted over .300, and he stole 395 bases in his career, peaking at 60 with the 1984 Jays, also hitting 15 triples to lead the American League.
2B Mike Lansing of Rawlins, Wyoming.
Not that long ago, the Montreal Expos not only existed, but were a contending team playing to good crowds at that flying saucer they called Le Stade Olympique. Lansing was a good fielder who hit 165 doubles and drove in 265 runs for them in 5 seasons, before they decided they couldn't afford him anymore and traded him to his "home" team, the Colorado Rockies.
But injuries took their toll, and he was out of the game at the age of 34. Nevertheless, the ballpark of his hometown's minor league team, the Casper Ghosts (I don't know if they're friendly ghosts), is named Mike Lansing Field.
SS Herman Long of Denver.
I had to go way back to find him, but he is a find. He was a star on the powerful Boston Beaneaters (Braves) of the 1890s, winning NL Pennants in 1891, '92, '93, '97 and '98. He was an original New York Highlander (Yankee) in 1903, although he was 37 and played only 22 games with them, and just 70 more before retiring. He had 4 .300 seasons and led the NL in runs scored in 1893 and in home runs in 1900.
3B Roy Hartzell of Golden.
I could also have put him at right field. Not a sensational player, but he did bat .296 for the 1911 New York Highlanders (Yankees) and appears to have been a pretty good player for them, and before that with the St. Louis Browns.
LF John Lowenstein of Wolf Point, Montana.
Another cheat on my part, because he went to high school in Riverside, California, but I needed to fill this team out. After several years of obscurity with the Cleveland Indians, in 1979 he was traded to the Baltimore Orioles and became part of a powerful left-field platoon, the lefty half with Gary Roenicke as the righthanded hitter. He hit a walkoff homer in Game 1 of the 1979 ALCS as the Orioles won the Pennant, and his homer in Game 2 turned the 1983 World Series around as the O's took 4 straight after dropping Game 1 to the Phillies.
Though a platoon player for most of his career – only with the '74 Indians did he ever have more than 384 plate appearances, and only then and with the '82 and '83 O's did he top 334 appearances – he had a career OPS+ of 108.
CF Mike Devereaux of Casper, Wyoming.
Called up to the Los Angeles Dodgers late in their 1988 World Championship season, he didn't play in the postseason, although he won a ring with the 1995 Atlanta Braves and reached the ALCS the next season with the Orioles. Had his best season in 1992 with the Orioles, batting .276 with 29 doubles, 11 triples, 24 homers and 107 runs batted in – the only time he topped .260, 19 homers or 75 ribbies.
RF Johnny Frederick of Denver.
Actually played more center field, but I needed to fill out this team. He starred in the Pacific Coast League with the Salt Lake City Bees (today's Salt Lake Buzz are named after them) and the Hollywood Stars before reaching the Brooklyn Dodgers at the relatively advanced age of 27, and although the Dodgers were terrible then, he made up for lost time.
He batted .328 with 24 homers, 75 RBIs and a league-leading 52 doubles in his rookie season of 1929, and was even better the next season with a .334, 44 doubles, 11 triples, 17 homers and 76 RBIs. He dropped off a bit by 1933, and after '34 the Dodgers traded him back to the PCL, where he played for the Sacramento Senators and Portland Beavers, still hitting .306 in 1940, his last season of organized ball at age 38. He is a member of the PCL's Hall of Fame. He died on June 18, 1977, the day of the Reggie-Billy shoutfest in the Fenway dugout.
C John Stearns of Denver.
A 4-time All-Star with the Mets, not an easy thing to do between 1977 and 1982 when the NL also has Johnny Bench in Cincinnati, Ted Simmons in St. Louis and Gary Carter in Montreal as catchers.
Met broadcasters, including Hall-of-Famer Ralph Kiner, used the classic damning-with-faint-praise phrase "a good runner for a catcher" to describe Stearns, which drove their broadcast partner, former All-Star catcher Tim McCarver, up the wall. But 4 other times Stearns stole at least 12 bases in a season. He was also a very good defensive catcher with an accurate arm. Offensively, his best season was 1978 – not one of his All-Star seasons – when he batted .264 with 24 doubles, 15 homers, 73 RBIs and 25 steals.
Injuries cut short his career, but he went into coaching, including with the Yankees in 1989. He managed the Double-A Knoxville Blue Jays to the postseason in 1991, and both the Rookie League Princeton Reds of West Virginia and the Arizona Fall League's Peoria Javelinas to Pennants in 1994. He went home to become part of the Rockies' 1st coaching staff in 1993, and was a Met coach in their Pennant season of 2000. Hooked up to a Fox microphone during Game 1 of the 2000 NLCS, he saw Mike Piazza hit a home run and yelled, "The monster is out of the cage!" He currently managea the Double-A Harrisburg Senators in the Washington Nationals' system.
SP Howard Ellsworth "Smoky Joe" Wood of Ouray.
In 1911, just 21 years old, he went 23-17 for the Red Sox. In 1912, 22, he went 34-5... 37-6 if you count the World Series. He had an ERA of 1.91 and 10 shutouts, including a much-hyped 1-0 victory over Walter Johnson and the Washington Senators on September 6 at then-brand-new Fenway Park. Asked who threw harder, the famously speedy (but equally famously gracious) Johnson said, "Mister, no man alive can throw a ball harder than Joe Wood." Johnson had just had a streak of 16 straight wins stopped, and this was the 14th of his own 16. He seemed to have a limitless future.
But an injury struck him in spring training in 1913, and he went "just" 11-5, then 10-3, then 15-5 with a league-leading 1.49 ERA in 1915 as the Red Sox won another World Series. But that was it: Injury kept him from pitching at all in 1916, and in 1917, his former Boston teammate Tris Speaker bought him for the Cleveland Indians. He only pitched 7 games for Cleveland, but became an outfielder, and helped the Indians win a World Series in 1920. He finished with a lifetime batting average of .283. Still, in 1922, at age 32, he was done.
His son Joe Wood Jr. pitched in 3 games for the Red Sox in 1944 -- probably desperation for healthy bodies during World War II as much as it was a favor for an old friend of the team. Smoky Joe went on to be the head coach at Yale University, and in 1982, in celebration of Fenway's 70th Anniversary, he was invited to throw out the ceremonial first pitch on Opening Day. He died in 1985 at age 95. He is enshrined in the Red Sox Hall of Fame, but there could have been so much more.
In 1981, baseball historians Lawrence S. Ritter, who'd interviewed Wood for his 1966 book
The Glory of Their Times
, and Donald Honig included him in their book
The 100 Greatest Baseball Players of All Time
. They explained what they called "the Smoky Joe Wood Syndrome," where a player of truly exceptional talent but a career curtailed by injury should still, in spite of not having had career statistics that would quantitatively rank him with the all-time greats, be included on their list of the 100 greatest players.
They also included Pete Reiser and Herb Score for that reason -- but not Tony Conigliaro or Vida Blue. As another historian, Allen Barra, might put it, it wasn't about who
had the 100 best careers
, it's about who
were the 100 greatest players
. If such a book were to be done now (Ritter is dead but Honig is still alive), no doubt it would include Dwight Gooden.
SP Dave McNally of Billings, Montana.
Without question, he is the best player ever to come from Big Sky Country thus far. The lefty was 184-119 lifetime, nearly all for the Baltimore Orioles, but retired due to injury at age 32. Had he been able to pitch until 40, he could have had 300 wins and gone to the Hall of Fame.
He went the distance in shutting out the Los Angeles Dodgers in Game 4 to sweep the 1966 World Series. He won 87 games for the O's from 1968 to '71, winning Pennants the last 3 seasons. This included a 15-0 start in 1969 and going all the way in a 24-9 season in 1970, 26-9 counting the postseason. He is 1 of 3 pitchers to hit 2 home runs in World Series play, and the only pitcher to hit a grand slam in the Series.
He played the 1975 season, his last, without a contract, as he and Andy Messersmith became the test cases to strike down the reserve clause. He already knew he was in too much pain to pitch again in '76, so he had little else to lose. He's in the Orioles' Hall of Fame, but unfortunately developed cancer and died on his Montana ranch in 2002.
SP Bruce Hurst of St. George, Utah.
He won 145 games, all but 2 for either the Red Sox or the San Diego Padres. In 1986 the scoreboard at Shea Stadium congratulated the Sox on winning the World Series, and Hurst for being named Series MVP, for winning Games 2 and 5. You know what happened next, but a rain delay allowed Hurst to start Game 7, and he had the lead in the 5th...
He was 14-9 for the 1992 Padres, just 34 years old, but injuries struck him down and he pitched just 13 more games in the majors.
SP Tom Browning of Casper, Wyoming.
This lefty was good. On September 16, 1988, he was perfect, pitching a perfect game for the Cincinnati Reds against the Dodgers. He was 18-5 that season. In 1990, he went 15-9 and won a game in both the NLCS and the World Series as the Reds became World Champions.
On May 9, 1994, he broke his arm in mid-pitch. He was only 34, and only pitched 2 more games before realizing he couldn't go on. (I'm sensing a pattern here.) His 123 wins were, however, good enough to get him into the Reds' Hall of Fame.
SP Harry Leroy "Roy" Halladay of Arvada.
Unless you're a Yankee Fan, you have no idea how glad I am this guy is no longer pitching for the Toronto Blue Jays. This is what "Doc" did for them: 148-76, 133 ERA+, 1.198 WHIP, had 2 20-win seasons and just missed a 3rd. Can you imagine if the Jays had been any good? Only once during his time there did they manage to even come close to cracking the Yankee-Red Sox buzzsaw, finishing 2nd in 2006.
He is currently 14-8 for this year's Phillies, making him 162-84 for his career, and he's only 33. He's already outlasted Wood and McNally, and if he manages to outlast Hurst and Browning, and pitch until he's 40, he could be headed to the Hall of Fame.
Honorable Mention to Elden Auker of Norcatur, Kansas. Until Halladay started racking up achievements, he would have been a good choice for this rotation. He had a "submarine delivery" (think Kent Tekulve or Dan Quisenberry) that enabled him to win 130 games in just 10 seasons, including 33 for the Tiger Pennant-winners of the 1934 and '35. However, unlike Wood, McNally, Hurst and Browning, he didn't quit when he did due to injury: He "retired" at age 31 due to World War II and found a better-paying civilian job thereafter -- imagine that!
As one of the last surviving players from the 1930s, he gave an interview for Major League Baseball Productions that was used for the official All-Century Team video, the American League 100th Anniversary TV special, and a few YES Network Yankeeographies. In 1999 he participated in the closing ceremonies of Tiger Stadium. In 2001, he published a memoir,
Sleeper Cars and Flannel Uniforms
. He died in 2006, age 95, same age as Smoky Joe, and like him was sharp to the end.
RP Rich "Goose" Gossage of Colorado Springs.
Of all the amazing things about the Goose, this might be the most amazing: When he reached the majors in April 1972, the MLB Players Association had just ended its 1st strike; when he last pitched in the majors in August 1994, the most recent strike was about to begin; so he is the only player to be involved in every MLB work stoppage, and I hope there's never another one, Gossage's involvement being the least of the reasons.
A 9-time All-Star, he had 310 saves, 3 times leading the AL. The Chicago White Sox tried to make him a starter in 1976, but he went 9-17 for a bad Pale Hose team. The White Sox traded him to the Pittsburgh Pirates, and he had a terrific season, leading the Yankees to sign him as a free agent for the 1978 season, and the rest is history. That season, he became the first man ever to nail down the final outs of a Division title clincher, an LCS and a World Series. He returned to the Series with the Yankees in 1981 and the San Diego Padres in 1984, although he didn't win either time.
After a bit of a wait, he has been elected to the Baseball Hall of Fame, although the Yankees have not yet honored him with a Monument Park Plaque or the retirement of his Number 54. Another strange thing about the Goose: Although he pitched for 9 different teams, he never wore any other number. (UPDATE: The Yankees have since put him in Monument Park.)
Honorable Mention to Felix "Tippy" Martinez of La Junta. The lefthander helped the Orioles win the 1979 Pennant and the 1983 World Series. He's best known for picking off 3 runners in one inning, and is probably the only man to do that. No relation to his Oriole teammate, the Nicaraguan-born righthander Dennis Martinez, although they did both have typically annoying 1970s-style hair, and Dennis started and Tippy finished the Thurman Munson Memorial Game against the Yankees on August 6, 1979.
MGR Herman Franks of Price, Utah.
Not a lot to choose from in the Rocky Mountain States-born managers, but Franks did guide the San Francisco Giants to 4 straight 2nd-place finishes from 1965 to '68 -- 2 games out in '65 and a game and a half out in '66. He even kept the Cubs in the race for most of the '77 season before tailing off and finishing at .500, and got them to 3rd in '78 although they finished below .500.
But now, thanks to the publication of Josuha Prager's book
The Echoing Green
, he's probably best known as the Giants' coach who, in 1951, while still in New York, sat in the "blockhouse" that housed the Giants' offices and the clubhouses in center field of the Polo Grounds, and looked through a window and a telescope to steal opposing catchers' signs, and relayed them back to the hitter, thus helping the Jints "cheat" and "steal" the Pennant from the arch-rival Brooklyn Dodgers.