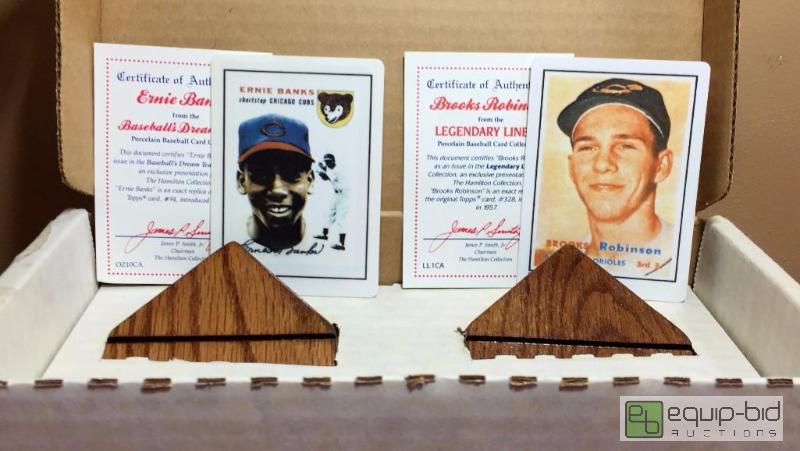 The Yankees begin a 2-game series tonight against the Texas Rangers, at what is currently named Rangers Ballpark, in Arlington, right between Dallas and Fort Worth, roughly 18 miles from the downtowns of each.
The Texas League featured the Dallas Eagles and the Fort Worth Cats, before 1965 when Turnpike Stadium was built in Arlington, and became home to the Dallas-Fort Worth Spurs. It seated 10,000, with room for expansion, in the hope of landing a moving major league team. After failing to convince Charlie Finley to move the Kansas City Athletics there (instead of to Oakland, as it turned out), Turnpike Stadium was expanded to 20,000 in 1970, and, with the announcement that the "new" Washington Senators were coming, to 35,000 in 1972, renamed Arlington Stadium, before a final expansion to 43,000 in 1978.
The new stadium, previously known as "The Ballpark in Arlington" and Ameriquest Field before the insurance company bearing that name went to the last roundup, opened in 1994, right next to Arlington Stadium, which was demolished. The new ballpark hosted the All-Star Game in 1995 and the Rangers' home games in the 1996, '98 and '99 Division Series -- all of them won by the Yankees.
Dallas' All-Time Baseball Team
For all players mentioned below, their hometowns are in the State of Texas, unless otherwise specified.
1B Joe Carter of Oklahoma City, Oklahoma.
Starred for the San Diego Padres and Cleveland Indians before becoming a 5-tie All-Star with the Toronto Blue Jays, hitting 396 home runs with 10 100-RBI seasons. In 1992, caught the final out as the Jays won the World Series. He was also involved in the final play of the 1993 World Series, hitting a home run off Mitch Williams to take the Jays from a 6-5 deficit against the Philadelphia Phillies to an 8-6 win in Game 6 to clinch.
Baseball-Reference.com
has him at 86 on its Hall of Fame Monitor, where a "Likely HOFer" is at 100; and a 32 on its Hall of Fame Standards, where the "Average HOFer" is at 50, so he'll probably never make it. But you'd have to be a Phillies fan who still hasn't gotten over '93 to not like Joe Carter. The Jays do not retire numbers, but his Number 29 is on their "Level of Excellence," a sort of combined Jays and CFL Toronto Argonauts hall of fame on the luxury boxes of the Rogers Centre.
Honorable Mention to Norm Cash of Post. He was a rookie on the 1959 American League Pennant-winning Chicago White Sox, but general manager Frank Lane then traded him to the Detroit Tigers for Steve Demeter. Bone. Head. Trade. Stormin' Norman became a 4-time All-Star for the Detroit Tigers, winning the batting title with a .361 average in 1961 (he later admitted to having corked his bat that season) and helping them win the 1968 World Series, also coming close in 1961, '67 and '72. He finished with 377 home runs and a career OPS+ of 139. Sadly, he drowned in a boating accident near Detroit in 1986, shortly before his 52nd birthday.
2B Rogers Hornsby of Fort Worth.
He was a rotten person, a member of the Ku Klux Klan, and on more than one occasion was nearly suspended from baseball due to his compulsive gambling. He may also have been the greatest right-handed hitter who ever lived.
He batted .358. For his career. That's 2nd all-time behind Ty Cobb, and 1st among righthanders. He averaged .402 from 1921 to 1925. In 1924, he set a 20th Century record (or just one for the National League, depending on whose stats you believe) with a .424 average. He won the Triple Crown in 1922 and 1925, along with Ted Williams one of only 2 men to do it twice.
In 1926, he was the player-manager for the World Champion St. Louis Cardinals. But he could never get along with management anywhere, and was immediately traded to the New York Giants for All-Star Frankie Frisch. It was a great trade for the Cards, and it might've been a great one for the Giants, except Hornsby didn't let anyone tell him what to do, not even John McGraw, the imperious manager of the Giants. He did win another Pennant with the 1932 Cubs.
He didn't quite make it to the 3,000 Hit Club, finishing with 2,930. But he had a career OPS+ of a staggering 175. He hit 301 home runs, 3rd all-time behind Babe Ruth and Lou Gehrig at the time he retired, and 1st among NLers.
He was elected to the Hall of Fame and the All-Century Team. He played most of his career before uniform numbers were worn, and, as a result, the modern Cardinals have honored him on the retired-number display of the wall at the new Busch Stadium with a representation of their "STL" logo instead of a number, instead of the only number he actually wore in a Cardinal uniform, in a return to them in 1933, which was Number 4.
SS Ernie Banks of Dallas.
Dallas gets so hot in the summer, so Chicago's summers must've seemed cool to him by comparison, enabling him to say, "It's a beautiful day for a ballgame. Let's play two!" He was the NL Most Valuable Player with the Cubs in 1958 and '59, even though they were in the second division. He hit 512 home runs for his career, still the honest record in Chicago. (Sammy Sosa hit 545 as a Cub, and 28 as a White Sock, but in a city noted for official corruption, his homers fit in a lot better than Ernie's.)
He labored so long and so hard to bring Cub fans a Pennant, only getting close in 1969 and '70. People forget the Cubs actually finished closer in '70, mainly because they finished 2nd to Pittsburgh, not to New York.
Despite the achievements of Michael Jordan, Walter Payton and Bobby Hull, "Mr. Cub," now 79 years old, remains the most popular athlete in Chicago history -- among Chicagoans, anyway. Hall of Fame, All-Century Team, his Number 14 was the first retired by either Chicago ballclub.
3B Brooks Robinson of Little Rock, Arkansas.
Until Cal Ripken Jr., Brooksie was the most popular athlete in Baltimore history, even more so than Johnny Unitas. He won 16 Gold Gloves. In a row. And gained himself one of the great nicknames, for the way he sucked up grounders and liners: The Human Vacuum Cleaner.
He won Pennants with the Orioles in 1966, '69, '70 and '71, winning the World Series in '66 and '70 (Series MVP in the latter). He was a 15-time All-Star, and not just for his fielding: He collected 2,848 hits, including 482 doubles and 268 home runs despite playing his home games in Baltimore's Memorial Stadium.
He went on to become a broadcaster, in effect Baltimore's answer to Phil Rizzuto and Richie Ashburn, although he was a better all-around player than either one of them. Hall of Fame, All-Century Team, Number 5 retired -- the 1st Baltimore athlete ever so honored, and he and Frank Robinson (also born in Texas but grew up in Oakland, California) were the 1st 2 inductees into the Orioles Hall of Fame.
Honorable Mention to Travis Jackson of Waldo, Arkansas. A lifetime .291 hitter, he played on 4 Pennant winners for the New York Giants, including winning the 1933 World Series. He might not have been an obvious choice for the Hall of Fame, but he's in.
LF Lou Brock of Monroe, Louisiana.
While Luis Aparicio, Nellie Fox and Maury Wills reawakened interest in baserunning, Brock took it to another level. He was a better runner than Aparicio and Fox, and better at everything else than Wills.
He set major league records, which still stand as National League records, with 118 stolen bases in a season (1974) and 938 in a career. Lifetime batting average .293, 3,023 hits including 486 doubles, and might have had a lot more than 149 home runs if he'd played most of his career at the last Sportsman's Park (a.k.a. the first Busch Stadium) with its 310-foot right-field fence, instead of the spacious Busch Stadium II.
He won World Series with the St. Louis Cardinals in 1964 and '67, and nearly again in '68. In '67, he became one of only 3 players (Bobby Richardson in '64 and Marty Barrett in '86 are the others) to collect 13 hits in a single Series, and stole a record 7 bases in the '67 Series and again in '68.
Hall of Fame, Number 20 retired and statue outside Busch Stadium III (previously outside Busch II) dedicated by the Cardinals.
Dishonorable Mention to Albert Jojuan Belle of Shreveport, Louisiana. Known first as "Joey" and then, after angry protests, as Albert, he brings to mind what Sparky Lyle said about Thurman Munson: "(He's) not moody, he's just mean. When you're moody, you're nice sometimes." And yet, he was an Eagle Scout as a boy.
He had a lifetime batting average .295, OPS+ a mighty 143, 381 homers including 50 in the strike-truncated 1995 season, and 9 straight 100-RBI seasons with a peak of 152 in 1998, leading the AL 3 times. He made 5 All-Star teams, finished 3rd in AL MVP voting in '94 and '96 and 2nd in '95 as he helped the Cleveland Indians win a Pennant.
But his anger issues hurt his reputation, and a hip injury ended his career in 2000, at age 32 -- despite batting .281 with 23 homers and 103 RBI that year. Homered in his last major-league at-bat, and among all players who've done that, only Ted Williams hit more career homers. Baseball-Reference.com's Hall of Fame Monitor has him at 134 to 100, and their Hall of Fame Standards at 36 to 50. Another season or two at the same pace, and he might be in, even with his issues.
CF Tris Speaker of Hubbard.
"The Grey Eagle" (always written as "Grey," never "Gray") was regarded as perhaps the greatest defensive outfielder in history until Joe DiMaggio came along, playing shallow enough to turn 6 unassisted double plays at 2nd base in his career. (He would have been ideal for today's shifts on lefty hitters who won't hit to the opposite field.)
And he was as good a hitter as played in the Dead Ball Era. In 1912 he had over 50 doubles and 50 stolen bases, a feat since matched only by Craig Biggio. He helped the Boston Red Sox win the World Series in 1912 and 1915, then refused to take a salary cut when his batting average dropped, yes, dropped, to .322. So the Sox traded him to the Cleveland Indians, and although they also won the Series in 1916 and 1918, this was one of the dumbest trades ever. Speaker became player-manager of the Indians and won the 1920 World Series, also finishing 2nd to the Yankees in 1921, '23 and '26.
He had to resign as Indians manager, and Ty Cobb as Detroit Tigers manager, after the 1926 season because they were accused of colluding to fix games; however, when the main witness against them didn't show up at the hearing, they were allowed to remain in the game, but both retired as players 2 years later. Thanks to playing at the same time and in the same League as Cobb, Shoeless Joe Jackson and George Sisler, he only won 1 batting title, in 1916, but (probably unbeknownst to him, as the category wasn't well-known then) he led the AL in on-base percentage 4 times.
He batted .345 lifetime, with 3,515 hits, 2nd all-time to Cobb upon his retirement and still 5th. His 792 doubles (some sources say 793) and 449 outfield assists make him the all-time leader in those categories. Career OPS+ of a whopping 157.
He was elected to the Hall of Fame in its 2nd election in 1937. In 1947, despite having once been a member of the Ku Klux Klan (as had Hornsby), Speaker accepted an appointment from new Indians manager Bill Veeck to coach Larry Doby, the AL's 1st black player, on how to play center field, which he hadn't played before. Speaker would assist other black players on the Indians as well, showing no outward signs of racism, and earning praise for this from Doby in his Hall of Fame induction speech. As an Indians coach, Speaker wore Number 43, and while that number has not been retired by the team, they have honored him with a plaque in their Heritage Park at Progressive Field.
Honorable Mention of Lloyd Waner of Harrah, Oklahoma, who along with his brother Paul forms 1 of only 2 brother combinations in the Hall of Fame (the others being pioneers Harry and George Wright, the Wright Brothers who invented professional baseball rather than the airplane); Bobby Murcer of Oklahoma City, Oklahoma, who wasn't "the next Mickey Mantle" but was something beloved anyway; and to 2 of the best glove men of our time, Torii Hunter of Pine Bluff, Arkansas and Vernon Wells of Arlington.
RF Paul Waner of Harrah, Oklahoma.
A reporter from Brooklyn called Paul and his brother Lloyd "a big person and a little person." Another reporter overheard this, in the Brooklyn reporter's accent, and started calling them "Big Poison" and "Little Poison." Except that Paul was 5-foot-8 and 153 pounds, and Lloyd was 5-foot-9 albeit roughly the same weight.
Lloyd is one of the more dubious HOF selections: While his lifetime batting average is a strong .316, in his era it wasn't great, and his career OPS+ is 99, making him slightly less than average. But his 2,459 hits is nothing to sneeze at, and he did help the Pirates win the NL Pennant in his rookie year of 1927.
There is no doubt about Paul's HOF credentials, though: He was the NL MVP in that '27 season (he came up in '26 and missed out on the Bucs' '25 World Championship), a .333 BA, 134 OPS+, 3 batting titles and 3,152 hits including 605 doubles. The Pirates recently retired his Number 11 -- but have not retired Lloyd's Number 10.
Honorable Mention to Willard Brown of Shreveport, Louisiana, a powerful slugger who starred in the Negro Leagues for the Kansas City Monarchs in the 1930s and '40s, before playing 21 games in the majors, all with the St. Louis Browns in 1947. For his Negro League contributions, he is in the Hall of Fame, included in that making-up-for-lost-time election of 2006.
C Johnny Bench of Binger, Oklahoma.
NL Rookie of the Year in 1968, and MVP in 1970 and '72. Won NL Pennants in '70 and '72, and the World Series in '75 (he was named Series MVP) and '76. His 389 homers made him the all-time leader among catchers until passed by Carlton Fisk.
His manager on the Reds, Sparky Anderson, may not have been intentionally slighting Thurman Munson by saying this after the '76 Series, in which Munson got hits in his last 6 at-bats but Bench hit 2 homers in the Game 4 clincher, but, insulting or not, Sparky had a point: "Don't ever embarrass anybody by comparing them to Johnny Bench."
Late in his career, he hosted the kids' TV series
The Baseball Bunch
as a warmup act for NBC's Saturday
Game of the Week
. Hall of Fame, All-Century Team, Number 5 retired.
Honorable Mention to Sherm Lollar of Durham, Arkansas. A 9-time All-Star, he was the catcher for the 1959 "Go-Go White Sox," Chicago's only Pennant-winner from 1945 to 2005.
Honorable Mention to Louis Santop of Tyler. Because he played before the founding of the original Negro National League, he was sort of lost by history, before the 2006 Hall of Fame election to find great black players from the pre-Jackie Robinson era who were deserving of a long-overdue election.
Starring in both Philadelphia and New York, he appears to have been one of the most sensational hitters of the 1910s and '20s, black or white. Whether he was as good as Negro League catchers Biz Mackey and Josh Gibson, let alone Negro Leaguer-turned-big-leaguer Roy Campanella, or big leaguers such as the aforementioned Johnny Bench, we may never know. But he's in the Hall, and he should have been in decades before.
SP Jay Hanna "Dizzy" Dean of Lucas, Arkansas
, born in 1910. Or is that Jerome Herman Dean of Hodgenville, Oklahoma, born in 1911? (The former name, birthplace and year of birth are officially, legally true. Had the latter been true, he still would have been geographically qualified for this team.) One time-honored story is that Dean gave conflicting information to 3 different reporters, in quick succession, as to his name and birthplace. A teammate questioned him about that, and he answered, "I wanted to give each of them fellers an exclusive story!"
He reached the Cardinals' rotation in 1932, along with his brother Paul, known as Daffy Dean. In 1934, Diz said, "Me an' Paul are gonna win 50 games this season." He was almost right: Diz won 30 (losing only 7) and Daff won 19, leading the "Gashouse Gang" to the Pennant. Then he said, "Me an' Paul are gonna win this here World Series." He was completely right: Not only did he and Paul each win 2 games of the Series, but Diz pitched a shutout against the mighty Tigers in Game 7.
He remained, with Carl Hubbell and Satchel Paige, one of the 3 best pitchers on the planet, until the 1937 All-Star Game, when he took a line drive off his toe (supposedly telling the doctor, "Fractured, hell, the damn thing's broken!"), and began to favor the toe by changing his motion, thus wrecking his elbow. Despite a favorable trade to the Cubs in 1938 and a memorable "last stand" against the Yankees in Game 2 of that year's World Series, Diz was done after the 1941 season, only 31 years old. (He made a one-game comeback in 1947.)
He went on to become a legendary broadcaster, mangling syntax and pronunciations. A teacher wrote him a letter saying he shouldn't use the word "ain't" on the air, because children would copy him. He said, on the air, "Teach, a lot o' folks that ain't sayin' 'ain't' ain't eatin'. So you learn 'em English, and I'll learn 'em baseball." I wonder if, while growing up in St. Louis, Yogi Berra's speech was affected by listening to Diz call Cards and Browns games?
Diz was the Terry Bradshaw of his time: A great athlete turned star pundit of his sport, and since people already thought of him as a dumb, even "dizzy" redneck, he decided to use it to his advantage. "The Good Lord was good to me," Diz said. "He gave me a strong right arm and a weak mind." Although injury limited him to 150 wins, he lost only 83 for a .644 winning percentage. ERA+, 131. "Only" 1,163 strikeouts, and never topped 200 in a season, but led the NL 4 times.
Hall of Fame, Number 17 retired and statue dedicated by the Cards, and since he lived his adult life in Mississippi, a Dizzy Dean Museum was built next to Smith-Wills Stadium in the State capital of Jackson, now a part of the Mississippi Sports Hall of Fame.
SP Allie Reynolds of Oklahoma City, Oklahoma.
I thought about cheating a little with Allie, because while he was a great starter, Yankee manager Casey Stengel frequently used him in relief. If he'd been born in the 1950s and reached the majors in the 1970s or later, instead of being born in 1917 and reaching the majors in 1942, he probably would have been one of the greatest relievers ever, because he had the speed and the guts.
He played on 6 Yankee World Championship teams: 1947, '49, '50, '51, '52 and '53. He formed the "Big Three" with fellow righthanded fireballer Vic Raschi and lefty junkballer Steady Eddie Lopat. He went 182-107, and while he only won 20 once, in '52, he also saved 49 games in his career. Of those 182 wins, 36 were shutouts, and 2 were no-hitters, both in 1951, the latter a Pennant-clincher against the Red Sox. He went 7-2 in World Series play, including a 1-0 duel against Don Newcombe in Game 1 in '49, and 3 clinhers: Game 5 in '49, Game 4 in '50, and Game 7 in relief in '52. Had Casey left him as a starer, he would've had well over 200 wins, and he'd be in the Hall of Fame.
The Yankees have honored him with a Plaque in Monument Park, although his Number 22 remains in circulation. His alma mater, Oklahoma State University (known as Oklahoma A&M until 1958), named their baseball stadium after him. Due to his Creek heritage, he was called "the Indian," "the Big Indian," and "the Superchief," which was also a reference to his fastball and the fast Chicago-to-Los Angeles train of the same name on the Santa Fe Railroad, which went through his native Oklahoma. He was also responsible for negotiating the first players' pension fund.
SP Johnny Sain of Havana, Arkansas.
In 1948, the Boston Braves won the Pennant, their last until moving to Milwaukee, with a superb rotation, with Sain, Warren Spahn, Vernon Bickford and Bill Voiselle. Both Bickford and Voiselle had better ERAs than Spahn that year, but Gerald V. Hern of the
Boston Post
coined the phrase "Spahn and Sain and two days of rain." (Sometimes printed as "Spahn and Sain and pray for rain"; in 1999, Dan Shaughnessy of the
Boston Globe
would say of the Red Sox' rotation, "Pedro and Lowe and three days of snow.")
Sain was later traded to the Yankees, and won the World Series with them in 1952 and '53. Casey used him as a reliever, and he led the AL with 22 saves in 1954, a big total for that era. Sain went on to become one of the best pitching coaches ever, winning Pennants with the Yankees in 1961, '62 and '63, and with the '65 Minnesota Twins and the '68 Tigers.
SP Vida Blue of Mansfield, Louisiana.
In 1971, he had one of the most sensational years any pitcher has had in the Divisional Play Era, going 24-8 with a 1.82 ERA and a 0.952 WHIP, to win both the AL Cy Young Award and MVP. (This led to a trick question: Who was the last switch-hitter to win the MVP? People who asked that tended to forget that Pete Rose was a switcher, or that he won the NL MVP in '73. Five have done it since, most recently Jimmy Rollins.)
Then he demanded a big raise, which was a bad idea, as he pitched for the Oakland Athletics, who were owned by Charlie Finley. He held out and went 6-10 in '72. But he won 77 for them in the next 6 years, as he helped them with the 1972, '73 and '74 World Series. In 1978, Finley finally traded him, across the Bay to the San Francisco Giants, and he went 18-10. He was 28 and 142-96. Then cocaine began to take its toll, and not only would he never again top 14 wins in a season, but he would miss the 1984 season due to prison and suspension. In 1986, at 36, he was done: 209-161.
On Baseball-Reference.com's Hall of Fame Monitor, he's at 114 of 100; on its HOF Standards, 35 of 50; of the 10 Most Similar, only 3 are in. What a waste, but he has spent his post-playing days in charitable causes and promotes youth baseball in the Bay Area.
SP Greg Maddux of San Angelo.
A bit of a cheat here, since his father was in the U.S. Air Force and Greg lived with his father while he was stationed in Madrid, Spain, before moving to Las Vegas, where Greg attended high school.
With 355 wins, he is the winningest living pitcher, 1 ahead of Roger somebody. 3,371 strikeouts.
Career
ERA+ of 132 and WHIP of 1.143. 8 All-Star Teams, 4 Cy Young Awards (and just missed 3 others), and a record 18 Gold Gloves. (OK, he's a pitcher, but, still... ) Number 31 retired by both the Cubs (NL East title 1989) and the Atlanta Braves (World Champions 1995, NL Pennants in 1996 and '99). Eligible for the Hall of Fame in 2014.
Honorable Mention to SP Lon Warneke of Mount Ida, Arkansas. While Diz was the ace of the Cards, "the Arkansas Hummingbird" was the ace of the Cubs, pitching them to Pennants in 1932, '35 and '38 -- including '35 when the Cubs won 20 straight games, most since 1916 (since tied by the 2002 A's), and caught the Gashouse Gang for 1st. The Cubs lost the Series to the Tigers in 6, but both of their wins had Warneke as the winning pitcher.
Strangely, he was traded to the Cards in '37 and became Diz' teammate, although only for a year or so; effectively, if not officially, Diz and Lon were traded for each other. Finished his career 192-121 for .613, an ERA+ of 119.
He is not in the Hall of Fame, but according to Baseball-Reference.com, of his 10 most statistically similar pitchers, 4 are, Jack Chesbro, Dazzy Vance, Stan Coveleski and Bob Lemon; 2 others should be, Urban Shocker and Carl Mays; and the other 4 aren't that far off, Art Nehf, Dave McNally, Mike Cuellar and Jimmy Key.
Honorable Mention to SP Lynwood "Schoolboy" Rowe of El Dorado, Arkansas. He won 62 games for the Tigers from 1934 to '36, and opposed Dean in the '34 Series (lost) and Warneke in the '35 Series (won). An injury at age 27 curtailed his career, but he still went 16-3 for the Pennant-winning Tigers in 1940, and 14-8 and 11-4 for weak Phillies teams later in the Forties, hanging on until age 39. He wjnt 158-101 for his career.
Very Honorable Mention to Andy Cooper of Waco. Another Negro Leaguer elected in the 2006 vote, he was one of those rare players who batted right but threw left. He starred for the Detroit Stars in the 1920s, and in the 1930s was both pitcher and manager of the Kansas City Monarchs -- which means he had to both share a rotation with and manage Satchel Paige. Unfortunately, a stroke ended his magnificent career and his life in 1941, at just 43 years old.
RP Lee Smith of Castor, Louisiana.
The former all-time saves leader with 478, he had an ERA+ of 132, but only reached the postseason twice, with the 1984 Cubs (infamously giving up a walkoff homer to Steve Garvey in Game 4 of the NLCS) and the 1988 Red Sox (swept). He's eligible for the Hall of Fame, but with Trevor Hoffman having taken away his all-time saves leader status, I'm not sure he'll ever make it.
Honorable Mention to Fred "Firpo" Marberry of Streetman, Texas. Nicknamed for his resemblance to Luis Firpo, the Argentine boxer who nearly knocked out heavyweight champion Jack Dempsey at the Polo Grounds in 1923, he was one of the first real relief pitchers in the game.
The Washington Senator led the AL in games pitched 6 times, and, although it wasn't an official statistic yet, in saves 5 times, with a peak of 22 (then a record) in 1926. He helped the Senators win their only World Championship in 1924 and another Pennant in 1925. In 1929, pitching as both a starter and a reliever for a Senator team that won only 71 games, he went 19-12. He helped the Detroit Tigers win a Pennant in 1934 and a World Series in 1935. His career record was 148-88, and his 101 saves were a record upon his 1936 retirement.
Honorable Mention to Lindy McDaniel of Hollis, Oklahoma. A career save total of 172 isn't all that impressive these days, but he led the NL 3 times, with the Cardinals and Cubs. His 987 appearances once made him 2nd on the all-time list to Hoyt Wilhelm, and in 1973 he went 12-6 with 10 saves for the Yankees. Then he got traded to the Kansas City Royals for Lou Piniella, and it was a great trade: McDaniel was pretty much done but was able to be an extra pitching coach for the Royals' bright young staff, and if you're a Yankee Fan then you know what Sweet Lou did.
MGR Mike Hargrove of Perryton.
Actually, Perryton is at the northernmost edge of the Texas Panhandle, almost exactly halfway between Dallas and Denver, so, theoretically, I could have made him the manager of the Colorado Rockies' all-time regional team. But his ties to the Rangers, having played 1st base for them, solidify his case for this team.
He was the AL Rookie of the Year in 1974, and an All-Star 1st baseman for the Ranges and Cleveland Indians, batting .290 lifetime. Unfortunately, as a player, he is best remembered for all his fidgeting with his equipment at the plate, giving him the nickname "the Human Rain Delay."
He managed the Indians to Pennants in 1995 and 1997, making him the only living human ever to do so. (The aforementioned Tris Speaker in 1920, Lou Boudreau in 1948 and Al Lopez in 1954 are all dead.) He managed the Tribe to the AL Central Division title 5 straight seasons, 1995 to '99. He later managed the Baltimore Orioles and Seattle Mariners, and now runs a semi-pro team in Kansas.