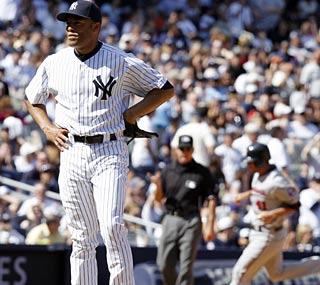 After continuing their dominance of the Minnesota Twins with an 8-4 win on Friday night and a 7-1 win on Saturday afternoon, yesterday's game was one of those games that you don't like to talk about at parties.
If you hadn't seen it, and now only saw the final score, Twins 6, Yankees 3, you might not think it was a big deal.
It was. Because Mariano Rivera, who hadn't allowed a run, let alone blown a save, all season (albeit in just 11 innings), walked home a run, and then allowed a grand slam. He suddenly looked like a 40-year-old man, which he is, and not like the greatest relief pitcher who ever lived, which he also is.
But there was a bigger reason: Joe Girardi screwed up. Big-time.
Sergio Mitre started in place of the awful Javier Vazquez. For 5 innings, against the potent Minnesota lineup, he was fine. But he got into a little trouble in the 6th, and, rather than trust a pitcher who had been cruising, and hadn't even thrown 80 pitches yet, Girardi went to the bullpen, bringing in David Robertson.
Robertson had a lousy start to the season, but has been better lately. He got out of the jam in the 6th, and also shut the Twins out in the 7th. But then, Joe brought Joba Chamberlain in for the 8th, and Joba only got 2 outs, and turned a 3-1 Yankee lead into 3-2.
That's when he brought in Mo. And, unlike previous Yankee bullpen legends Joe Page, Luis Arroyo, Sparky Lyle and Goose Gossage, Mo isn't so great when he's brought in before the 9th inning. In this one appearance, his season ERA soared from 0.00 to 1.59.
For the Mets or Red Sox bullpen, this would be just another day at the office. For the Yankee bullpen, it was shocking. The YES Network cameras panned the stands, and the looks of shock on faces were everywhere. "No, not our Mo, that can't happen to him!" But it did.
*
However (and there's always a however), the Yankees still took 2 of 3 from a very good team. No reason to get upset over one loss, no matter how shocking.
That's the key: The Yankees do not get shocked by this. Joe Torre used to have a saying when he was the Yankee manager: "If what you did yesterday still looks good to you today, then you haven't done much today." Yesterday's win wasn't going to help much today. And if it went the other way, then yesterday's loss wasn't going to help your opponent today. Win or lose yesterday, today you move on. Girardi manages the same way.
Yeah, he blew it yesterday. He should have left Mitre in. Should have let him pitch through 7. Then brought in Robertson, then, if he'd gotten into trouble, brought in Joba, and kept Mo for the 9th.
This is a big stretch of games for the Yankees: 3 at home against perennial Playoff team Minnesota, 2 at home against perennial Playoff team Boston, 2 at home against a Tampa Bay team that is in position to become a perennial Playoff team (but are not, not yet), and then 3 "on the road" against The Other Team. These 10 games could set the Yankees on the course to another championship. Failing that, they could break a lesser team.
They are all lesser teams.
The Yankees will most likely take 3 of the 4 against The Scum and the Deviled Eggs, and anything less than 2 of 3 against the Mess is unacceptable. After all, last season, the Yankees proved it wasn't hard to hit at Citi Field. Just hard for the Mutts to do it. Do that, and it's 7 of a supposedly tough 10. I think most Yankee Fans would take that.
Tonight, Phil Hughes goes against Daisuke Matsuzaka, who sure was worth it in 2007 -- before we found out that the real reason the Red Sox won that World Series and the one in 2004 was that they cheated with steroids -- but really hasn't been since. Hell, Hideki Irabu helped the Yankees win 2 World Series, and they can't be credited to steroids.
Yesterday's loss was shocking, but the shock is over. Time to move on. Beat The Scum.