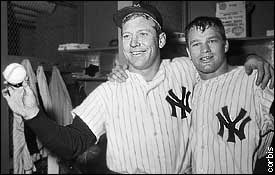 Yesterday, I was watching the simulcast of Mike Francesa's now-Dogless WFAN radio show on YES, and he took a call about Brett Favre. The caller said that Favre is, and has been for a long time, incredibly overrated, and that the media has given him more passes than he's thrown.
Francesa agreed. How could he not? Even last year, as Favre signed with the J-E-T-S-Jets-Jets-Jets, the word "mancrush" was being used to describe the way certain sports pundits spoke of Favre, from Terry Bradshaw on
Fox NFL Sun
day (and, as a quarterback who led his team to not one but four Super Bowls, Terry should know better) to Tony Kornheiser on ESPN's
Pardon the Interruption
.
Of course, the term "mancrush" is, like, so 2008. The 2009 word is "bromance." In this case, the 2008 version is better.
People tend to slobber over Favre, no matter what he does wrong. You know why? Because he is untouchable.
Once a guy becomes untouchable -- and I don't mean in the Indian sense, or in the Robert Stack sense, either -- anybody who questions him, let alone criticizes him, gets ripped by his bromancers.
Take my post about my all-time most hated sports managers/head coaches/executives. Who did I put at Number 1? Joe Paterno. Ol' Ratface. If we're talking peak performance, he's earned a high place on the list. If we're talking cumulative "achievement," then he's an easy Number 1. And a bunch of Slap-Happy Valley boys came on here and ripped me for it. Naturally, because I have the truth on my side, I ripped back. The dopes.
Using the word "dope" makes me think of "rope-a-dope," which makes me think of Muhammad Ali. Has any performer in the history of sports ever gone from so intensely hated, as Ali was when he refused to be drafted in 1967, to being nearly universally respected and even loved, as Ali was when he knocked out George Foreman in 1974 -- by which point only fools and warmongers (often the same) still thought the U.S. role in Vietnam was right?
Actually, yes, there is. Or, rather, there was. Ted Williams. He, too, was seen in 1942 as someone who was refusing to serve. The Pentagon was willing to back him up on it, since he was the sole support of his mother. But the criticism got so nasty that he enlisted in 1943, anyway, and eventually served in both World War II and the Korean War, nearly dying in the latter.
The Boston media never seemed to give Ted a break, and it poisoned a lot of fans toward him. At no time during his playing career was Ted as loved in New England as was Carl Yastrzemski in 1967, and again (after a few disappointing years when those ungrateful Chowdaheads decided to forget and started booing him again) from 1975 onward.
Case in point, their final games: Yaz's farewell was on October 2, 1983, a beautiful Sunday afternoon, and he was able to take a victory lap around a packed Fenway Park, shaking hands despite his desire for privacy that was reminiscent of Joe DiMaggio. Ted's farewell was in front of barely 10,000 fans.
There was a reason for it: September 28, 1960 a Wednesday afternoon game, and Ted described the weather as, "Lousy day, damp." Not good for a hitter, but he still managed to crank one to deep right-center for a home run in his final at-bat.
The people who did show up cheered Ted wildly, but he wouldn't tip his cap. I understand. He waited until a ceremony in his honor in 1991 to tip his cap at Fenway.
And what of DiMaggio? He was criticized for not enlisting in 1942, but he had a wife and young son to support. But in 1943, his first wife, Dorothy Arnold -- a blonde actress, as was his second wife -- divorced him. So Joe enlisted.
After his 1949 comeback, Joe became untouchable. Stories about him consorting with reputed Mob figures? Stories about him hurting his second wife? Stories about him speaking ill of the Kennedys? (You talk about "untouchable.") Stories about him speaking well of that bastard Henry Kissinger? And stories about him and his successor, Mickey Mantle, not getting along? All brushed aside, because he was the Yankee Clipper, Joltin' Joe DiMaggio. He was "The Greatest Living Baseball Player." He was untouchable.
And yet, after his death in 1999, it was as if no one needed to be afraid him anymore. In the last 10 years, his reputation has taken a pounding. All the stories people were afraid to tell, true or not, came out.
Including, as seen in Billy Crystal's film
61*
, the conflict between Joe and Mickey: Joe was dismissive of Mickey's ability and carousing -- as if Joe didn't like the nightlife, and blonde actresses, himself -- and Mickey, as the one who came after, never dared say anything, because
it was Joe DiMaggio
.
And what about Mickey? His career began at the height of the Korean War. How could someone so strong, so fast, and so between the ages of 18 and 25 not be drafted to serve in that war? Williams' Marine Corps Reserve unit was called into service, and Ted was 33 when that happened. Willie Mays served in the Army in Korea. So did Mickey's teammates Whitey Ford, Billy Martin and Jerry Coleman -- and Coleman had also served in World War II, as a pilot, just like Williams.
So why didn't Mickey get drafted? Osteomyelitis. It made him 4-F. Somebody (probably some twat like Dick Young) said, "So? He won't have to kick anybody!" (How did the twat know? Only those who've been in combat know for sure. I certainly don't.)
Mickey got booed because of it. Totally shredded. He hadn't done anything wrong. If his continued presence in the Yankee lineup was okay with Yankee management, with manager Casey Stengel, and with
the United States Department of Defense
, why couldn't it be okay with Yankee Fans? Maybe, just maybe, they still missed DiMaggio and wanted him back.
Crystal's film
61*
may have spelled it out: At the expense of teammate Roger Maris, Mickey began to be cheered greater than he'd ever been cheered before, and was never booed again. As the sportswriter played by Richard Masur said, "That's because he's never been the underdog before."
Suddenly, Mickey's injuries, the first of which had kept him out of combat, made him less a malingerer, a goldbrick and a draft-dodger than a courageous fighter.
Dealing with the New York press, and sometimes with the New York fans, was his battle. He said it many times himself: "Playing ball was the easy part." (Sure it is... if you have Mickey Mantle's talent.) For him, the hard part was dealing with the reaction to it.
As Mike Schmidt put it a generation later, "The thrill of victory, and the agony of reading about it in the paper the next day." DiMaggio certainly understood that, as did Williams.
When Mickey retired, he was treated as a great hero. And a year later, former teammate Jim Bouton came out with his book
Ball Four
, and talked about Mickey drinking too much, and that it might have affected his play, and also about Mickey sneaking peeks at women -- "beaver-shooting."
To his credit, while Bouton quoted several players in that book joking about fooling around on the road, he never mentioned any wife-cheaters by name.
It didn't matter: Bouton was clobbered in the press, worse than he'd ever been by any opposing team's lineup. By 1989, in a 20th Anniversary update for the book, he was guessing that the reason he'd never been invited back to Yankee Stadium for Old-Timers' Day was that he'd exposed Mantle. He wasn't sure if it was Mickey demanding not to have to share a foul line with Bouton, or Yankee management not wanting to put Mickey in that potentially awkward position, but he did provide that speculation.
After Mickey got out of the Betty Ford Center in 1994, he decided he had to make amends with several people. He knew about Bouton's speculation, and called him. Bouton wasn't home, but Mickey left a message on the answering machine, saying that he never asked anyone not to invite Bouton to Old-Timers' Day. It was too late for Mickey, as his drinking had already weakened his liver to the point where it was struck by cancer, and he died in 1995.
But it wasn't until 1998, after the death of Jim's daughter Laurie and a plea in an open letter to
The New York Times
from his son Michael, that Jim was finally invited back, and he even pitched in a couple of Old-Timers' Games.
Still, a lot of the people he criticized in
Ball Four
(or who thought Jim had criticized them too harshly) weren't there anymore. Mickey, Roger Maris and Elston Howard were dead, and Ralph Houk had stopped coming due to advancing age. (Houk is still alive, and turns 90 this year.) Joe Pepitone didn't come off well in the book, but he didn't seem to mind sharing an Old-Timers' Day foul line with Jim.
Compared to some later tell-all books,
Ball Four
seems tame by comparison, especially when you consider some of the drunken escapades Mickey mentioned in his, and Whitey Ford's memoir
Slick
in which he spoke of ways of cheating that even Gaylord Perry (never mind Jose Canseco and Barry Bonds) ever thought of. It's as if, once Mickey started telling stories on himself, it became okay for us mere mortals do it.
Don Imus had a classic line: "If you go to Mickey Mantle's Restaurant after 2 in the morning, your meal is free if you can guess which table Mickey's under." Yeah, right, Imus. As if you haven't had your own substance abuse problems. At least no one's ever brought forward evidence of Mickey being a bigot.
Although Mickey sort of gave us the green light to talk about his failings, he's still untouchable. Remember the
Seinfeld
episode where Teri Hatcher (who, at age 44, is still real and still spectacular) played one of Jerry's girlfriends? Elaine tells Jerry, "They're fake." Jerry says, "You don't tell a guy something like that! It's like finding out Mickey Mantle corked his bat!" Remember, though, Elaine was from Towson, Maryland, just outside Baltimore, and was an Orioles fan.
Speaking of the Orioles, Cal Ripken remains untouchable. A week ago, I mentioned the Yanks-O's game I saw at Camden Yards on September 11, 2004. There were a lot of Yankee Fans there, but just about everybody in the section I sat in was an Oriole fan, and I said, "It's a very nice ballpark. I'm just glad you got that statue of Cal Ripken off the field."
The fan to my left got the joke: Cal was so slow by the end that he might as well have been a statue. He did not appreciate the joke. Fortunately, this was Camden Yards, not Fenway Park, and I got away with it, with my only punishment being that he said I shouldn't make jokes about Cal. I chose not to press my luck any further, since I'd already made my point (Cal should have retired earlier than he did) and he'd already made his (Cal is untouchable).
Even if the only significant truth about Ripken that no one would be willing to admit is that his streak hurt the team (and not, as the very quiet thus far rumor goes, that he used s------s), his acolytes can't handle the truth.
Of course, Pete Rose used to be one of those, didn't he? So did Mark McGwire. We still don't know the truth about McGwire, but he's been touched. The truth about Rose sure came out.
And his reputation is almost totally different since. As has been remarked elsewhere, the things that people liked about him before (or liked about him when he played for their team) have become the very things people hated about him afterward (or hated about him when he played against their team).
Crashing into Ray Fosse to win the 1970 All-Star Game? Before 1989: It was a sign of a great player always willing to hustle, willing to do what it takes to win. Since 1989: It was a vicious act by a self-absorbed bully.
Getting his 5-foot-11, 200-pound self into a fight with 5-foot-11, 160-pound Bud Harrelson in the 1973 NLCS? Before 1989: Pete just got carried away, got a little excited in the heat of the moment. After 1989: Pete was a thug and a bully, and should have been suspended for the rest of the season. (He wasn't suspended at all: In fact, the fight happened in Game 3, and his 10th-inning homer won Game 4 before the Mets beat the Reds in Game 5 to win the Pennant.)
His quest to break the all-time hits record of Ty Cobb? Before 1989: It was a sign of dogged determination and consistent excellence. Since 1989: It hurt the Reds, because he wasn't the hitter he once was; and since the Reds finished 2nd in 1985, maybe they would have won the National League West if manager Rose had realized that player Rose was washed up and had put a better player in there.
His running down to first base after drawing a walk? And his head-first slides? Before 1989: They were signs of enthusiasm and hustling. Since 1989: They made him a hot dog.
His feat of starting the All-Star Game at five different positions? Before 1989: It was a sign of versatility. Since 1989: It meant he couldn't field any of those positions well enough, and that, being unwilling to leave the NL, he was never going to play the "position" for which he was best suited, designated hitter.
For a generation, my generation, who didn't have a Mantle or a Mays, a DiMaggio or a Williams, a Ruth or a Cobb, who had to "settle" for a Jackson or a Schmidt as our generation's greatest player, Pete Rose was the symbol of baseball as much as anyone else was.
Pete Rose? Disgrace the game? Surely you can't be serious! They were serious... and don't call me "Shirley," but call Pete a disgrace. He was as untouchable as they come, but he got touched. No one is above the law, and no one is bigger than the game.
No one except Babe Ruth and Jackie Robinson. They may be the only two true untouchables left in baseball.
There may be one other: Bob Feller. Perhaps the greatest pitcher of his era, and a Navy combat veteran of World War II. He has become the face and voice of "The Greatest Generation" among athletes. So when he says something controversial (and he's said a few such things), he gets away with it because he's "Lieutenant Bob Feller, USN," and that's something bigger than "Hall-of-Famer Bob Feller" -- and don't doubt that for an instant.
I actually met him once, when he made a personal appearance at Trenton's Waterfront Park in 1994, and he was very gracious with these fans who'd never seen him play, so I won't speak ill of him.
The war that Muhammad Ali faced was not the noble struggle that Feller, Ted and Joe D. faced, or even the one Mickey faced. Still, there are people who see Ali in the news, as he still occasionally is, and write nasty letters to newspapers, calling him a "draft-dodger."
These, naturally, are people who twice voted for Ronald Reagan, who served in World War II but said service meant that he never had to leave Southern California; and twice voted for George W. Bush, who avoided combat and then avoided served for an entire year (5/1/72-4/30/73), and also for Bush's Vice President, Deferment Dick "I had other priorities" Cheney.
People who hate the Yankees -- and even a few people who love them, such as "Subway Squawkers" co-writer Lisa Swan -- have lamented the "untouchable" status of Derek Jeter, especially compared to the "completely touchable" Alex Rodriguez, and also the untouchability of former Yankee manager Joe Torre.
I got mad at Torre plenty of times, particularly when he brought Scott Proctor in to pitch. And Kyle (Not a) Farnsworth. In fact, I'm getting steamed just thinking about those two! So let's move on.
The point is, some people only remember the Torre of 2002 to 2007 -- or even 2004 to 2007, if Aaron Boone cancels out Jeff Weaver for you and you still think more of the glory of 2003 than the way it ended. But what Joe did from 1996 to 2001 (or 1996 to 2003) cannot be ignored.
Still, lots of people not only want to forget 1996-2001, but when they bring up 2002-2007, they like to add on 1977-1995, when Torre was an underachiever as a manager. Not really, he just didn't have the horses. The guy managed the Atlanta Braves to a Division Title. That may not seem like a big deal now, but between 1969 and 1991, he was the only Braves manager to do it. In fact, he was the only Braves manager in that stretch to even get them into a Pennant race.
Is Derek Jeter untouchable? Not even in his own metro area. There are lots of Met fans who still want to give Jose Reyes -- in the event they can still find him -- the benefit of the doubt and say that Reyes is the better shortstop. These people were once delusional enough to think that Rey Ordonez was the better shortstop.
And lots of people have demanded that Jeter drop his "selfishness" and let Alex Rodriguez, "the better shortstop," take the position. Let Jeter play third base, or first, or the outfield. This season in particular, these people look like morons, even if they don't wear blue and orange -- or seem to, like Mike Lupica of the
Daily News
often does.
I do understand. When Jeter was first a regular in 1996, he was a 21-year-old heartthrob, and the media and the fans couldn't get enough of him. But I wasn't one of the Jeter groupies. I thought Bernie Williams was The Next Great Yankee, the one to follow in the progression of Ruth, Gehrig, DiMaggio, Mantle, Jackson, Winfield, Mattingly, (fill in the blank).
It bothered me that the general public hadn't selected the game Next Great Yankee that I had. I loved Bernie like a brother. I still do. Until the day he was, not by his own choice, forced out in 2006, he was my favorite active Yankee. And I was so pleased when he turned out to be the last former Yankee to take the field at the closing ceremony for the old Stadium last year. (My God, it's already been almost exactly one year. Bernie is an Old-Timer. Where does the time go?)
As it turned out, Bernie may have been the best all-around player on the Yankees from 1996 through 1999, and he will get his Number 51 retired and a Plaque in the new Stadium's Monument Park someday, but it is Jeter who is the central figure of the 1996-present era of Yankees.
Bernie, Paul O'Neill, Tino Martinez, Andy Pettitte, Jorge Posada, even Mariano Rivera, and of course Joe Torre, all will die eventually. But only Jeter will go from Plaque to Monument upon his passing, as DiMaggio and Mantle did. (Ruth and Gehrig, of course, never got Plaques during their lifetimes, and got the Monuments shortly after their deaths.)
But Derek Jeter is not "untouchable." And you know what? I'm fine with that. As the old Roman saying goes, "Let them hate, as long as they fear."
After all, look at some of the untouchables. Roger Staubach? A Dallas Cowboy, and therefore a hypocrite, or at least an enabler. Bill Parcells? Moves around almost as much as Larry Brown (who was never quite untouchable), and never won anything without Bill Belichick, therefore we have to wonder if even the Tuna's achievements are suspect.
Michael Jordan? He was never the greatest ever, and his poor management of basketball teams, as well as his marital failings, show he wasn't what they said he was.
Wayne Gretzky? Sided with the NHL owners, of which he'd become one, in 2004 and betrayed his former fellow players, becoming a traitor to the game that had made him fabulously wealthy and world-famous. Mark Messier? We Devils fans know the truth about this classless thug.
Greg Schiano? What if he turns out to be the man who got Rutgers this far, but couldn't get them any farther? What if we need to find someone else to take the last couple of steps? It's an unappetizing prospect, but it must be considered.
I don't like the idea of making athletes "untouchable." And I certainly don't want to be untouchable myself. Not that I have to worry about that. You don't have to revere me.
But it wouldn't hurt you to agree with me 99 percent of the time.
*
Fred Cusick has died at age 90. A native of Boston, he played hockey at the city's Northeastern University, commanded a U.S. Navy subchaser (chasing submarines) in World War II, and went into radio. From 1952 to 1963, he broadcast for his hometown Bruins on WEEI radio. In 1957, working for CBS, he broadcast the 1st NHL game on U.S. television. Unlike Foster Hewitt of the Toronto Maple Leafs and the CBC, who coined the legendary, "He shoots, he scores!" Cusick would simply say, "Score!" and then give the scorer's name.
On September 9, 1960, he broadcast the 1st American Football League game from Boston University's Nickerson Field: Denver Broncos 13, Boston Patriots 10. He continued to broadcast for the Patriots until 1964, including their 1963 AFL Championship Game loss to the San Diego Chargers.
From 1969 to 1997, he broadcast for the Bruins again, first on WSBK-Channel 38, and then on New England Sports Network (NESN). When the Bruins won the Stanley Cup in 1970, for the 1st time in 29 years, Cusick had the call of Bobby Orr's goal, perhaps the most famous ever scored in an NHL game: "Bobby Orr, behind the net, to Sanderson, to -- Score! Bobby Orr scores for the Boston Bruins, and won the Stanley Cup!"
In 1984, when the Hockey Hall of Fame instituted its award for broadcasters, named for Hewitt, the 1st inductees were Hewitt himself, Montreal Canadiens' English broadcaster Danny Gallivan, Canadiens' French broadcaster Rene Lecavalier, and Cusick. All well deserved.
Cusick retired to Cape Cod, and until 2007 broadcast games in the Cape Cod League, a summer amateur league for college-age baseball players. He died at his home in Barnstable, on the Cape.