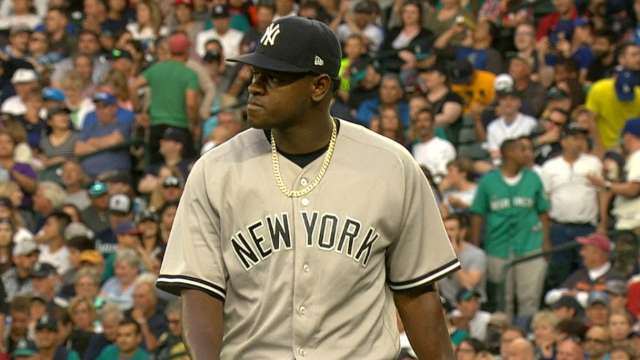 The Yankees opened a series against the Seattle Mariners at Safeco Field last night. Felix Hernandez started for the M's. He is nicknamed King Felix.
King? He's 31 years old, and has never appeared in a postseason game. His 159 wins make him the active leader among pitchers who haven't. He's not going to appear in one this season, either: The Mariners are 16 games out of 1st place in the American League West (the Houston Astros have all but wrapped the Division up), and their Wild Card chances aren't good, either.
The game was scoreless until the 6th inning, when Brett Gardner took the alleged King downtown, his 16th home run of the season. The speed guy has 16 home runs in July. The Yankees added a run in the 8th, and 2 more in the 9th.
Meanwhile, Luis Severino pitched like an ace. Joe Girardi let him throw 7 innings, an even 100 pitches, and he allowed no runs on 8 hits and just 1 walk, striking out 6. King who? King Luis. Sevy overthrew the King. Dellin Betances got into a little trouble in the 8th, but preserved the shutout.
The bottom of the 9th inning was not a save situation, but Girardi put Aroldis Chapman in anyway, probably as much to let him pitch without pressure as for any other reason. But he put pressure on himself. (If you're an Arsenal fan, as I am, feel free to insert a Tottenham joke. here.) He walked the leadoff man. Then he threw a wild pitch. He got 2 strikeouts, then allowed a double, and suddenly there was a little bit of doubt. But he got a flyout to end it.
The game ended with some worry, but then, that's why Brian Cashman brought David Robertson back, right? Anyway, Yankees 4, Mariners 1. WP: Severino (6-4). No save. LP: Hernandez (5-4).
The series continues tonight. CC Sabathia starts against Andrew Moore. Come on you Bombers!