The quarterback of the Super Bowl-winning Jets has died.
No, not that one.
Vito Parilli (no middle name) was born on May 7, 1930 in Rochester, Pennsylvania, an industrial town outside Pittsburgh. It's not clear why he was nicknamed "Babe." He didn't look like Babe Ruth. But some have called him the 1st in the chain of great quarterbacks to come out of Western Pennsylvania. (They forget Johnny Lujack, who preceded him by a few years.)
"When I was in grade school," Joe Namath said, "there were helmets with his name on them in the Army-Navy store." And Bart Starr recalled, "He was my hero. I had pictures of him on the wall in my bedroom."
Like Starr, and Namath, whom he would later back up on the Jets, Parilli would play for coach Paul "Bear" Bryant -- but not, as they did, at the University of Alabama. He played for the Bear at the University of Kentucky.
In 1950, he finished 4th in the Heisman Trophy voting, leading the Wildcats to an 11-1 record, including a claimed National Championship, and their only outright football Championship in the Southeastern Conference. (Their only other title is a shared one with Georgia in 1976.) Oklahoma and Tennessee also claimed the National Championship, and each was awarded it by one of the polling organizations. But Tennessee's claim was stronger than Kentucky's, as they dealt Kentucky their only loss of the season. Kentucky went on to win the Sugar Bowl.
In 1951, Parilli finished 3rd in the Heisman voting, and led Kentucky to win the Cotton Bowl. He graduated as the NCAA's all-time leader in pass completions, passing yards and passing touchdowns.
He was drafted by the Green Bay Packers. Unlike Starr, though -- perhaps paving the way for him -- he did not do well in Green Bay, and also played for the Cleveland Browns, and for the Ottawa Rough Riders of the Canadian Football League. At the age of 30, it looked like his pro career was a failure.
*
But then came the AFL. The American Football League's Oakland Raiders made him their 1st starting quarterback in 1960. In 1961, he was traded to the Boston Patriots, and became the 1st in their line of storied signal-callers, selected to 3 AFL All-Star Games, including being named the Most Valuable Player of the 1966 edition.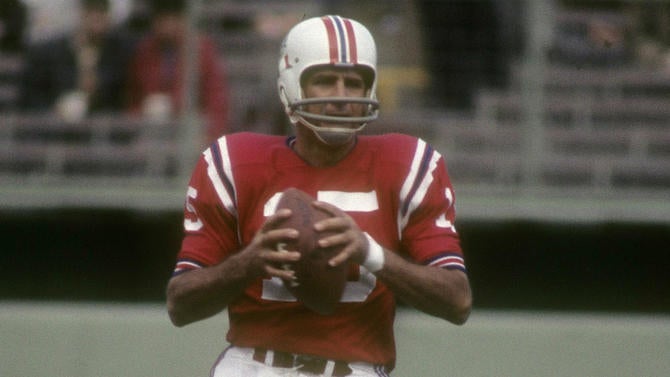 Due to their Italian heritage, shared by many people in New England, the passing combination of Vito Parilli to Gino Cappelletti was nicknamed "Grand Opera." Babe Parilli led the Pats to the 1963 AFL Championship Game, although they got slaughtered by the San Diego Chargers. It would be 22 years before the renamed New England Patriots reached another AFL or AFC Championship Game.
In 1968, he was traded to the New York Jets, at age 38. This turned out to be good timing: Although he would be backing up his fellow Western Pennsylvanian Joe Namath, he became the team's kickholder, setting up placekicker Jim Turner, including for all 3 field goals Turner would kick in Super Bowl III on January 12, 1969, the game that Namath had "guaranteed" the Jets would win, and they did, 16-7 over the Baltimore Colts.
He retired during training camp in 1970, at 40, so he never got to play int he merged NFL. He was 1 of 20 players to have played in all 10 of the AFL's seasons. He was named to the University of Kentucky Athletic Hall of Fame, the College Football Hall of Fame, the National Italian-American Sports Hall of Fame, and the New England Patriots Hall of Fame -- but not the Pro Football Hall of Fame.
"I never felt I had a job," he said. "I looked forward to all of it, playing and getting knocked around."
He went into coaching. In 1973, he worked for Chuck Noll as the quarterbacks coach for the Pittsburgh Steelers, teaching Terry Bradshaw. He then bounced around minor leagues, including a brief stint back in New York, with the New York Stars of the World Football League. His last job was in 1997, with the Fort Lauderdale-area-based Florida Bobcats of the Arena Football League.
He moved out to Parker, Colorado, where he died yesterday, July 15, 2017, at the age of 87. He had been battling multiple myeloma for several years. He was predeceased by his wife, and survived by his son Vance, his brother August, and his sister Martha Edge.
With his death, there are now 31 surviving members of the 1968-69 World Champion New York Jets:
* On offense: Quarterback Joe Namath; receivers Don Maynard, Bill Rademacher and Robert "Bake" Turner; tight end Pete Lammons; running backs Mark Smolinski, Bill Mathis, Emerson Boozer, Lee White and Matt Snell; centers John Schmitt and Paul Crane; guards Bob Talamini and Randy Rasmussen; and tackles Dave Herman and Jeff Richardson.
* On defense: End Gerry Philbin; tackles Paul Rochester and Steve Thompson; linebackers Carl McAdams, Ralph Baker, Al Atkinson and John Neidert; cornerbacks Randy Beverly, John Dockery and Earl Christy; and safeties Jim Richards, Bill Baird, Mike D'Amato and Cornell Gordon.
* On special teams: Placekicker Jim Turner.