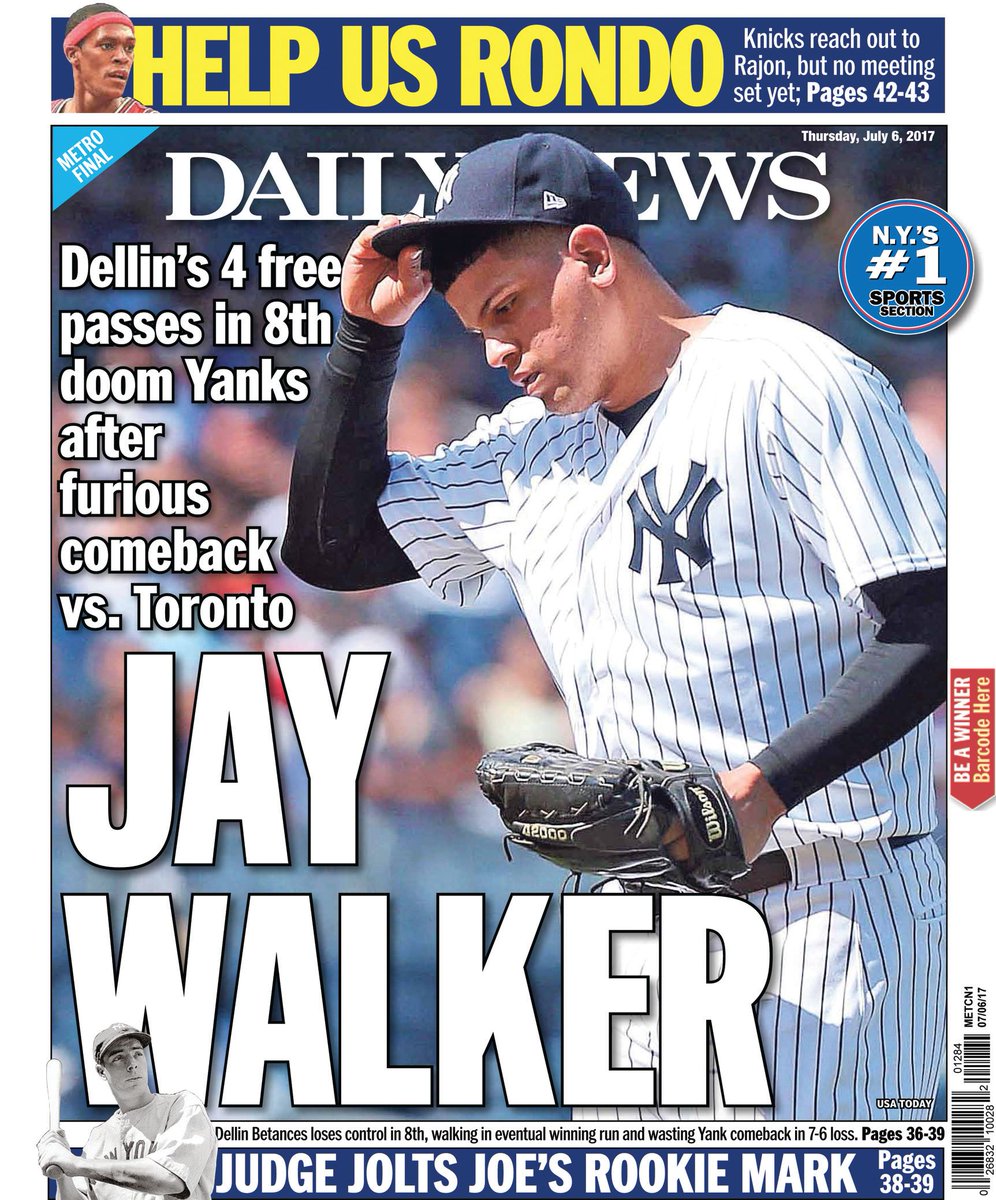 How does that song by Bronx native and Yankee Fan Billy Joel go? "Don't look for answers. Just take Betances. Don't ask me why."
Not quite. Considering who's really responsible for yesterday's loss, it's more like the old Henny Youngman line: "Take my manager -- please!"
Michael Pineda started, and had nothing. He only went 3 innings and allowed 5 runs. Chasen Shreve pitched the 4th and the 5th, and was fine.
In the bottom of the 4th, Aaron Judge hit his 29th home run of the season, tying Joe DiMaggio's 1936 total for the best ever by a Yankee rookie. Jacoby Ellsbury led off the bottom of the 5th with a hit, androokie Ji-Man Choi hit a 457-foot blast to right field to score them both.
I wasn't listening to the radio at the time. John Sterling's call was, well obvious: "Ji-Man the He-Man! Oh boy, oh Choi!" At least he didn't do, "Ji-Man is a Master of the Universe!" But "Choi to the world!" would have been better.
After Choi's 1st Yankee home run, Austin Romine and Brett Gardner walked, Judge singled to load the bases, and Didi Gregorius doubled home Romine and Gardner. That gave the Yankees a 6-5 lead.
In fairness to Joe Girardi, Chad Green had been pitching well lately. But Green gave up a home run to ex-Yankee Russell Martin to lead off the top of the 7th, tying the game. And then Girardi brought Betances in to pitch the top of the 8th. It was a disaster: Walk, walk, walk to load the bases, strikeout, walk with the bases loaded, removed for Adam Warren. Betances gave up the lead on 4 walks. Hence the
Daily News
headline above.
Blue Jays 7, Yankees 6. WP: Danny Barnes (2-2). SV: Roberto Osuna (21). LP: Betances (3-4).
The Boston Red Sox also lost last night, so the Yankees remain 4 games behind them in the American League Eastern Division, 3 in the loss column. However, this loss guarantees that the Yankees will go into the All-Star Break not in 1st place.
Today is a day off. Tomorrow night, the Yankees close the official 1st half of the season in an Interleague series, home to the Milwaukee Brewers.