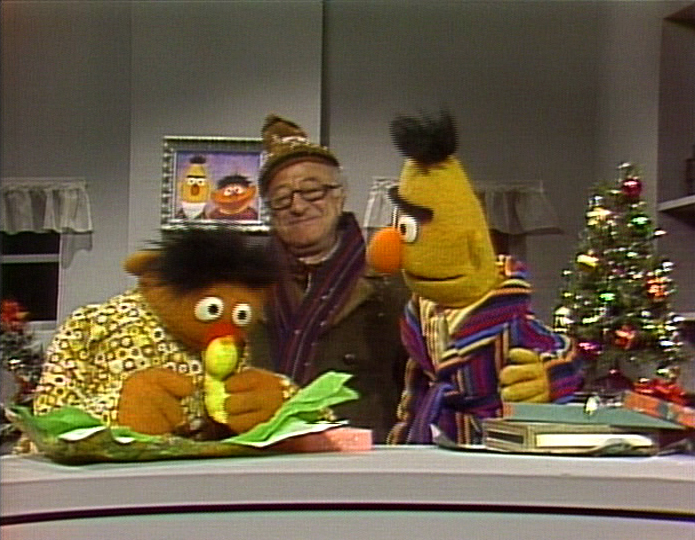 Top 10 TV Christmas Episodes
10. The Andy Griffith Show, "The Christmas Story," first airing on December 19, 1960. In Mayberry, North Carolina (based on Mount Airy, the real-life hometown of Griffith, who played Sheriff Andy Taylor), department store owner and resident Scrooge Ben Weaver (Will Wright) demands that Andy lock up local moonshiner Jim Muggins (Sam Edwards). Muggins' family, as well as Andy's, gather to celebrate the holiday with Jim.

Deputy Barney Fife (Don Knotts) dresses up as Santa Claus.




After witnessing how Jim and Andy and their broods can turn the jailhouse stay into a warm, inviting celebration, Weaver gets himself arrested, so he can be part of the fun, and he ends the holiday by getting a nip of Jim's hooch himself.

9. Bonanza, "A Christmas Story," December 25, 1966. Yes, it actually aired on

Christmas Day.

Wayne Newton makes his 2nd appearance on

Bonanza

as young singer Andy Walker

. Jack Oakie plays his uncle and manager, who tries to con Hoss Cartwright (Dan Blocker) out of the money he's trying to raise for an orphanage in Virginia City, Nevada.




But Andy catches on to his uncle, and there's a Dickensian twist to the ensuing Christmas party at the Ponderosa Ranch.




8.

The Man from U.N.C.L.E., "The Jingle Bells Affair," December 23, 1966. U.N.C.L.E.

Agents Napoleon Solo (Robert Vaughn) and Illya Kuryakin (David McCallum) have to protect Chairman Gyorgi Koz (Akim Tamiroff), a foreign leader who looks suspiciously like Nikita Khrushchev, at the United Nations.




In the process, the Chairman learns the true meaning of "Peace on Earth, and good will toward men."




7.

The Mary Tyler Moore Show, "Christmas and the Hard-Luck Kid II," December 19, 1970.

The title is a reference to an episode of

That Girl

, written by James L. Brooks. Brooks also wrote this episode, or, rather, co-wrote it with Allan Burns.

Mary Richards (Mary Tyler Moore) has to work on Christmas Eve and Christmas Day at Minneapolis TV station WJM, and so it seems that her favorite holiday is completely ruined. However, on her Christmas Eve shift, her coworkers come to the rescue, bringing the holiday spirit to her, and proving that even if the holiday isn't in line with tradition, it can still be a wonderful night full of bright spirits.


6. The Honeymooners, "'Twas the Night Before Christmas," December 24, 1955. Not

having enough money to buy his wife Alice (Audrey Meadows) a proper Christmas present, Brooklyn bus driver Ralph Kramden (Jackie Gleason) pawns his beloved bowling ball. And on Christmas Eve, he finds Alice has given him a proper bag for his bowling ball.




The episode is an obvious homage to the classic New York Christmas story "

The Gift of the Magi" by O. Henry.


5. The West Wing, "

Noël

," December 20, 2000.

Deputy White House Chief of Staff Joshua Lyman (Bradley Whitford) is dealing with post-traumatic stress disorder, after being the person most seriously hurt in the recent assassination attempt on President Jed Bartlet (Martin Sheen). Yo-Yo Ma appears as himself, and his East Room cello performance triggers the memory of the police and ambulance sirens from the attempt.




Whitford won an Emmy for playing Josh in this episode. Near the end of it, Chief of Staff Leo McGarry (John Spencer) tells Josh the story about a man who falls into a hole, and puts Josh at ease by saying, "As long as I got a job, you got a job."




Honorable Mention:

The West Wing

had 6 Christmas episodes in its 7 seasons. I'd like to mention 3 others. The 1st, "In Excelsis Deo" (December 15, 1999), showed White House Communications Director Toby Ziegler (Richard Schiff) arranging a burial at Arlington National Cemetery for a homeless Korean War veteran who ended up with the coat he donated to Goodwill, after the police find the man murdered, with Toby's business card still in the coat pocket. And we learn that the President's secretary, Dolores Landingham (Kathryn Joosten), lost her twin sons, both Army doctors, in Vietnam on Christmas Eve 1970.




"Bartlet for America" (December 12, 2001), showed both Bartlet and McGarry in trouble for the President's concealment of his health issue, but a cross-partisan gesture of conscience by committee counsel Cliff Calley (Mark Feuerstein) gives them a holiday reprieve, and a chance at a peaceful settlement.

"Holy Night" (December 11, 2002) reveals in a flashback that Toby was born 2 days before Christmas 1954, and that his father Julius had been a soldier in Murder, Incorporated, the Jewish organized crime group that operated in Brooklyn from the 1920s to the 1960s.

Toby had never forgiven his father for his crimes, and for having to be away from the family in prison for them. "Julie" (played in the present day by Jerry Adler) comes to the White House to try to make amends.




4.

M*A*S*H, "Dear Sis," December 18, 1978.

In 1951,

the chaplain at a U.S. Army hospital in the Korean War, 1st Lieutenant (later Captain) Francis Mulcahy (William Christopher) is writing a letter to "my sister the sister," a nun in their hometown of Philadelphia. He tells her that he doesn't feel useful, not even at Christmastime. At the episode's conclusion, the Chief Surgeon,

Captain Benjamin Franklin "

Hawkeye" Pierce (Alan Alda), leads a toast to tell Mulcahy just what he means to them.




In a subplot,

the company clerk, Corporal Walter "Radar" O'Reilly (Gary Burghoff) tells another surgeon, Major Charles Emerson Winchester III (David Ogden Stiers) that, on Mulcahy's recommendation, he'd written to Charles' mother, and asked her to send something that would remind the down-in-the-dumps Boston Brahmin of happier times. She sent his old toboggan cap, and Charles was overjoyed. Another surgeon, Captain B.J. Hunnicutt (Mike Farrell), plays Santa.




Honorable Mention: Despite the Korean War lasting 3 years, the show had 4 Christmas-themed episodes. One, "'Twas the Day After Christmas," airing on December 28, 1981, was set around the British tradition of superiors and subordinates switching roles on the day after, Boxing Day. But, aside from Mulcahy still singing Christmas carols, it doesn't have much to do with Christmas.




In the show's 1st season, airing December 17, 1972, "Dear Dad" shows

Hawkeye writing to his father in Maine about the weird goings-on at the 4077th at Christmastime. Including the fact that he has to leave a Christmas party there to attend to a wounded soldier in a foxhole. While still wearing his Santa Claus costume.




And in "Death Takes a Holiday," airing

on December 15, 1980, Hawkeye, B.J. and the Head Nurse,

Major Margaret Houlihan (Loretta Swit) are called away from Mulcahy's party for the local orphans, to tend to a wounded soldier. The soldier has no chance, but when Margaret finds a picture of his family in his pocket, B.J. goes back to work, saying, "A family's Christmas wreaths should be green, not black."




Thinking of his wife Peg and toddler daughter Erin back in the San Francisco suburb of Mill Valley, California, B.J. is so intent on saving the man's life that he pushes Mulcahy away when Mulcahy attempts to give the man the last rites. Mulcahy insists on doing his job, just as B.J. is insisting on doing his. B.J. relents.




Despite their efforts, the patient dies at 11:25 PM on December 25. Hawkeye, seeing his best friend take it hard, moves the clock ahead, so that the time of death will read 12:05 AM, December 26.




Farrell also wrote and directed this episode. Harry Morgan played the commanding officer, Colonel Sherman Potter, and, in this episode, Potter played Santa Claus.




3.

The Twilight Zone, "The Night of the Meek," December 23, 1960. Art Carney, who played Ed Norton on The Honeymooners, is the star this time, in Rod Serling's anthology fantasy series.

Fired after arriving for work late and sloshed, department store Santa Henry Corwin wanders into an alley and finds a bag filled with gifts.




The spirit of the holiday is one of the few bright spots in Henry's life, and as he begins handing out the gifts, he realizes the bag is able to produce any gift a recipient requests. After a brief jail stint that ends with Henry changing the mind of his mean, skeptical former boss, he continues handing out gifts.




Soon, one of his giftees points out that Henry has taken nothing from the bag for himself. Wht does he want? To continue playing Santa every year. The wish is granted when he finds an elf with a reindeer-driven sleigh waiting, to whisk him off to the North Pole.

2. All In the Family, "The Draft Dodger," December 25, 1976.

I

t's Christmas dinner at the Bunkers' house in Queens.

Gloria and Mike Stivic (Sally Struthers and Rob Reiner) invite David (Renny Temple), an old friend of Mike's living in Canada, but choose not to tell Gloria's parents Archie and Edith that the reason David went to Canada is that he is, as the episode's title states, he evaded the draft during the Vietnam War.




Archie had also invited a friend, Pinky Peterson (Eugene Roche), whose son had asked him whether he should accept being drafted into the Army and fight in Vietnam, or run away to Canada. Pinky advised him to obey the law, and accept being drafted. Pinky's son was killed, making Pinky a "Gold Star Father." Also a widower, Pinky was thus alone on Christmas, and Archie, in the kind of gesture of humanity that we did not often see from him, thought Pinky could use the company.




When Archie learns the truth about David, he rants and raves, until Pinky asks if his opinion means anything. Archie, citing Pinky's circumstances, says his opinion means more than anyone else's. Pinky tells his son's story, and offers David the handshake that he says his son would have given. As usual, Archie does not take defeat well.


1. Sesame Street, "Christmas Eve On Sesame Street," December 3, 1978. I was just about to turn 9, and it was a show I'd been watching literally all my life. So, yeah, I'm biased. It's my blog!


There are 3 plots in the Christmas special based on the classic PBS children's series. One concerns Bert (operated by Frank Oz) and Ernie (operated by Jim Henson), and it's another redo of "The Gift of the Magi."

Bert doesn't have enough money to buy a Christmas present for Ernie. So he sells his beloved paper-clip collection to Harold "Mr." Hooper (Will Lee), and uses the money to buy a soap dish for Ernie's beloved Rubber Duckie.




But Ernie doesn't have enough money to buy a present for Bert, either, so he sells his Duckie to Mr. Hooper, and uses the money to buy a cigar box, which he thinks would be perfect for storing Bert's collection.




Then Mr. Hooper comes over and gives them presents: Bert gets his paper clips back, and Ernie gets his Duckie back. The boys, feeling guilty, tell Mr. Hooper – who's Jewish, and has been wished a Happy Hanukkah by Bob (Bob McGrath) – that they're sorry they didn't get him anything. He tells the boys, "I got the best Christmas present ever: I got to see that everybody got exactly what they wanted."




Carroll Spinney -- who, at age 82, still voices both characters in 2016 -- as Oscar the Grouch, asks Big Bird a

cruel question: How does big fat Santa Claus get down those skinny chimneys? As it turns out, it doesn't matter how: Apparently, he does it.




The other, much funnier subplot, tells of Cookie Monster (also Frank Oz) trying to contact Santa Claus, to ask Big Red to bring him cookies for Christmas. The problem is, Cook keeps eating his means of communication. First, he ends up eating his pencil. Then he tries to type, but the typewriter keys remind him of raisins, and then the paper reminds him of fortune cookies. Finally, he tries to call Santa on the phone, but the ends of the receiver look like "cuppy-cakes" to him.