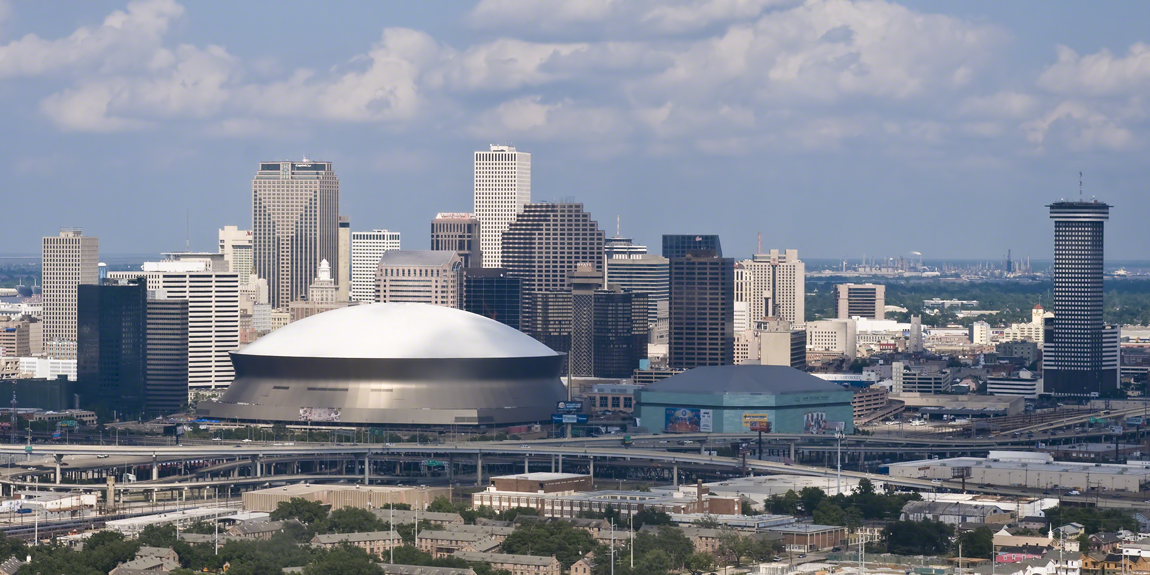 Next Friday, December 30, the New York Knicks will travel to what has been called "America's only foreign city," to face the New Orleans Pelicans. The Brooklyn Nets will do the same on January 20.
Before You Go.
The game will be played indoors, but that doesn't mean the weather won't be a factor before or after the game. New Orleans is a semi-tropical city. Fortunately, this game is being played in the middle of the autumn, so heat and humidity probably won't be a factor. Check
Nola.com
, the website for the city's newspaper,
The Times-Picayune
, before you leave.
Indeed, the current weather forecast for New Orleans for next Friday suggests, by our standards, unseasonable warmth for late December: Low 70s for daylight, high 40s for night. But they're not predicting rain.
New Orleans is in the Central Time Zone, so set your timepieces back an hour. However, in spite of that "foreign city" stuff, and the Confederate chapter of its past, you won't need a passport. You might
think
you'll need it, especially while there, but you won't. You won't need to change your money, either. But the ability to speak fluent French, while hardly required, might help.
Tickets.
The Pelicans averaged 16,647 fans per home game last season, about 97 percent of capacity, and slightly above the previous season. So getting tickets might be an issue. And, with New Orleans' reputation as a city of, among other things, con men, I wouldn't trust a scalper any further than I could throw him. (I know, I know: "Well, with your bad knee, Mike, you shouldn't be throwing anybody.")
Pelicans tickets are cheap by NBA standards. Seats in the lower level, the 100 sections, can be had for $170 between the baskets and $72 behind them. In the upper level, the 300 sections (the 200s are all season-ticket club seats), they're $54 between and $27 behind.
Getting There.
It's 1,340 miles from Times Square in New York to downtown New Orleans. Unless you really, really like driving, you're probably going to fly.
Google Maps says the fastest way from New York to New Orleans by road is to take the Holland Tunnel to Interstate 78 to Harrisburg, then I-81 through the Appalachian Mountains, and then it gets complicated from there.
No, the best way to go, if you must drive, is to take the New Jersey Turnpike/I-95 all the way from New Jersey to Petersburg, Virginia. Exit 51 will put you on I-85 South, and that will take you right through Charlotte and Atlanta, to Montgomery, Alabama. There, you'll switch to I-65 South, and take that into Mobile, where you'll switch to I-10 West, which, under the name of the Pontchartrain Expressway, will take you into New Orleans.
You'll be in New Jersey for about an hour and a half, Delaware for 20 minutes, Maryland for 2 hours, inside the Capital Beltway (Maryland, District of Columbia and Virginia) for half an hour if you're lucky (and don' make a rest stop anywhere near D.C.), Virginia for 3 hours, North Carolina for 4 hours, South Carolina for about an hour and 45 minutes, Georgia for 3 hours, Alabama for 4 hours and 45 minutes, Mississippi for an hour and 15 minutes, and Louisiana for 45 minutes before reaching downtown New Orleans. Use Exit 235B for downtown and the Superdome/Smoothie King Center complex.
So we're talking about 23 hours. Throw in traffic in and around New York at one end, Washington and Atlanta in the middle, and New Orleans at the other end, plus rest stops, preferably in Delaware, and then one each State in Virginia, North Carolina, South Carolina, Georgia and Alabama, and it'll be closer to 28 hours. Still wanna drive? Didn't think so.
Flying? You could get a round-trip fare from Newark to Louis Armstrong International Airport for about $500, but it won't be nonstop. The airport is west of downtown, in Kenner, and the E-2 bus will get you to downtown in 45 minutes for $2.00.
The bus doesn't sound much better. It takes 34 1/2 hours, counting the time change, changing buses in both Richmond and Atlanta. You'd have to leave Port Authority by 10:30 PM on Thursday night to get there by gametime -- or else take your chance with a bus that gets there at 5:30 PM on Saturday, half an hour before tipoff. Greyhound charges $318 round-trip, with no drop for advanced purchase.
The train may be the best option. Certainly, it's the least complicated and the least annoying. Amtrak's
Crescent
leaves Penn Station at 2:15 PM every afternoon, and arrives at Union Station in New Orleans the following evening at 7:32 PM (30 hours and 17 minutes).
But you'd have to spend a 2nd night in New Orleans, and then get up really early (never an easy thing to do there -- "Big Easy," yeah, surrrre!) to catch the
Crescent
back at 7:00 AM on Sunday, arriving back in New York at 1:46 PM on Monday. Round-trip fare is $254, and this is one of the exceptions to the rule that Greyhound is cheaper than Amtrak. It's considerably faster, too, and might even be faster than driving.
Union Station, now the New Orleans Union Passenger Terminal, handles both bus and train traffic. It is at 1001 Loyola Avenue, at Howard Avenue, a 5-minute walk from the Superdome and the Smoothie King Center.
It's not especially old, only going back to 1954. It may just be the least interesting major building in the city, even if, in the pre-Amtrak days, it was the southern terminus for the Illinois Central Railroad's morning-launching train to and from Chicago, made famous in Steve Goodman's 1970 folk song "The
City of New Orleans
"; and its
Panama Limited
, made famous in Jimmy Forrest's 1951 rhythm & blues instrumental "Night Train." (The former is best known by Arlo Guthrie; the latter, James Brown, and it gave legendary football defensive back Dick Lane his nickname.) The
City of New Orleans
ran from 1947 to 1972. Amtrak kept the night-launching
Panama Limited
going, but in 1981 renamed it the
City of New Orleans
.
Once In the City.
Founded in 1718, the French named the settlement after Philippe II, Duc
d'Orléans
, nephew of King Louis XIV and Regent for the child King Louis XV, governing with considerably more liberality than his uncle until the King's majority, at which point the King named the Duke Prime Minister, but he died shortly thereafter.
Known as the Crescent City, for its shape in a bend of the Mississippi River, New Orleans would be governed by the French from 1718 until the settlement of the French and Indian War in 1763, Spain from 1763 to 1802, France again from 1802 to 1803, the U.S. from the Louisiana Purchase of 1803 to 1861, the brief Republic of Louisiana after secession in 1861, the Confederate States of America in 1861 and 1862, and the U.S. again from 1862 onward.
The city's port status has long made it, though no longer the largest, easily the most important city in the American South. As a result, it was a major battle area of both the War of 1812, elevating Andrew Jackson to hero status, and the American Civil War, which ended its status as the largest slave market in North America. But it also had more free black and mixed-race people than any other American city to that point -- indeed, there were some light-skinned black people wealthy enough to own other, darker-skinned, black people as slaves.
By 1820, the French had become a minority in the city. As late as the dawn of the 20th Century, 3/4 of the population could speak French, and 1/4 spoke it first or even exclusively. Today, the main legacy of the French is in not just the many street names, but in the Creole patois of black New Orleanians.
New Orleans' status as the birthplace of jazz led to the naming of its 1st 2 major league sports teams: The NFL's Saints in 1967, after the city's unofficial anthem, "When the Saints Go Marching In"; and the NBA's Jazz in 1974, although they moved to Utah in 1979. The ABA's New Orleans Buccaneers were named for Jean Laffite, a privateer who aided Jackson during the 1814-15 Battle of New Orleans.
As late as 1950, New Orleans' population was 660,000, putting it in America's top 20 cities. White flight led to a drop to about 484,000 people within the city limits in the 2000 Census. After Hurricane Katrina, it dropped to 230,000, losing over half its people in one fell swoop. According to a recent estimate, it's back up to about 391,000. But the metropolitan area has just 1.45 million people, making it the 3rd-smallest metro area in the NBA, ahead of only Memphis and Oklahoma City.
And the poverty issue, so pervasive before the hurricane, is worse. Unemployment remains a high 9.4 percent. And crime is definitely an issue. The sales tax in the State of Louisiana is 4 percent. Orleans Parish (Louisiana calls its Counties "Parishes") adds a 5 percent sales tax, so the total sales tax is 9 percent, even higher than New York City's rate of 8.875 percent.
Because the Mississippi River bends so much, the city doesn't have a North Side, East Side, South Side or West Side. Canal Street traditionally divides Uptown from Downtown. It, and the river, are essentially the "zero points" for street addresses.
ZIP Codes for the New Orleans area start with the digits 700, 701, 703 and 704. The Area Codes are 504 and 985. The New Orleans Regional Transit Authority (RTA) runs buses and historic (or at least historic-style) streetcars. The fare is just $1.25.
Going In.
The the Smoothie King Center is at 1501 Dave Dixon Drive -- formerly 1501 Girod Street. It does seem odd for a city that prides itself on food as much as New Orleans does to have an arena named for a fast food company.
Adjacent is the Louisiana Superdome -- rebranded as the Mercedes-Benz Superdome in 2011 -- at 1500 Sugar Bowl Drive. Parking in the deck under the Superdome costs $11. But if you don't get a space in the deck, you're screwed, because, otherwise, parking in downtown New Orleans is insanely expensive.
The Smoothie King Center in the foreground,
the Superdome behind it, downtown New Orleans behind them
Founded as the original Charlotte Hornets, this franchise moved to New Orleans in 2002. Having to play their 2005-06 season in Oklahoma City led the NBA to decide to let a team move there -- the Seattle SuperSonics, as it turned out.
The old Hornets became the Pelicans in 2013, taking the name of the city's former minor-league baseball team, itself taken from the State bird. The new Hornets, formerly the Bobcats, have been assigned this franchise's 1988-2002 records, so the NBA counts the Pelicans as having started in 2002, as the New Orleans Hornets.
The arena opened in 1999 as the New Orleans Arena, and seats 18,500. The court is laid out east-to-west -- or, more accurately, northwest-to-southeast. It was once home to a minor-league hockey team called the New Orleans Brass, and an Arena Football League team called the New Orleans VooDoo. Smoothie King, a fruit drink retailer based in the New Orleans suburb of Metairie, bought the arena's naming rights in 2014.
It's hosted 2 NBA All-Star Games in its not-so-long history, and 2 NCAA Women's Final Fours. ZZ Top played the 1st concert there, and in the past year both Stevie Wonder and Rihanna have played it.
Food.
There are many great food cities in America. New Orleans considers itself special in this regard. If you like spicy food, you will enjoy yourself. If not, you might still enjoy yourself. The arena's website has a chart with
a link
to show you where everything is.
Team History Displays.
Since the NBA considers the new Charlotte Hornets to have begun as a franchise in 1988, and hasn't yet assigned the Seattle SuperSonics' history away from the Oklahoma City Thunder to a new (or moved) team, the Pelicans are, in a way, the youngest franchise in the league. But even if you count the old Hornets as part of their history, only once have they won their Division. That was in 2008.
The Pelicans have retired 1 number, and it's for a man who played in the city, but not for this team: 7, for "Pistol Pete" Maravich, the Louisiana State University star who played for the New Orleans Jazz before they moved to Utah. The Jazz have retired his number, even though he only played briefly in Utah. When the Hornets came to New Orleans in 2002, they retired his number, even though the franchise didn't play its 1st game until after he died in 1988.
This display also includes the Number 13 of Bobby Phills,
which has been returned to Charlotte for the new Hornets.
The Pelicans have returned it to circulation.
No one who has played for the 2002-present Hornets/Pelicans franchise has yet been elected to the Basketball Hall of Fame. Nor were any of them named to the NBA's 50th Anniversary 50 Greatest Players, which, of course, happened before 2002. Maravich, however, was.
Stuff.
Supposedly, there is a Pelicans Team Shop somewhere in the arena. However, the team website doesn't say where it is.
As such a new and unsuccessful franchise, don't count on any team videos being available. Not many books, either: In August 2014, Zach Wyner published the Pels' entry in the NBA's
On the Hardwood
series; in January 2015, Shane Frederick published their entry in the NBA's
A History of Hoops
series.
During the Game.
A November 13, 2014 article on DailyRotoHelp
ranked the NBA teams' fan bases, and listed the Pelicans' fans as 29th, one level above last. It's not that they're bad, it's that they aren't especially engaged, due to the franchise's ineptitude.
I don't agree.
Pelicans fans are Louisianans. Due to the multiracial and multiethnic nature of New Orleans, they have to get along, and, with the help of their teams -- the Pelicans, the Saints, and LSU -- they do. The fans have no interest in starting violence. Respect them as home fans, and they'll respect you as visiting fans.
This Friday night, against the Knicks, the Pelicans will give team yearbooks to the 1st 8,000 entrants into the arena. The January 20 game against the Nets will feature Pierre's Mascot Party, and Mid-City Smiles, a dental service, will give toothbrush holders to the 1st 3,000 "kids." (No age limit is mentioned, so it may be at the discretion of the ticket-taker.)
The Saints do not have a regular National Anthem singer, instead holding auditions. Their mascot is Pierre the Pelican, his name tying in with the city's French heritage. Introduced before the 1st regular-season game under the Pelicans name, on October 30, 2013, his head scared some children, and had to be redesigned.
As you can see, I'm not kidding. Apparently, the woman on the right thought
she was going to the New Orleans Jazz' home opener in the Autumn of 1974.
On February 11, 2014, the revised Pierre debuted. Remember, this was considered the
less
creepy version.
And that's not even the creepiest mascot they've ever had. The King Cake Baby debuted with the Pelicans name as well. According to one explanation:
King Cake is a ring-shaped doughy cake that's commonly associated with Mardi Gras. The baker hides a plastic baby inside the cake and whoever finds it in their slice either receives good luck, gets pregnant or has to bake next year's cake, depending on how you opt to interpret the process.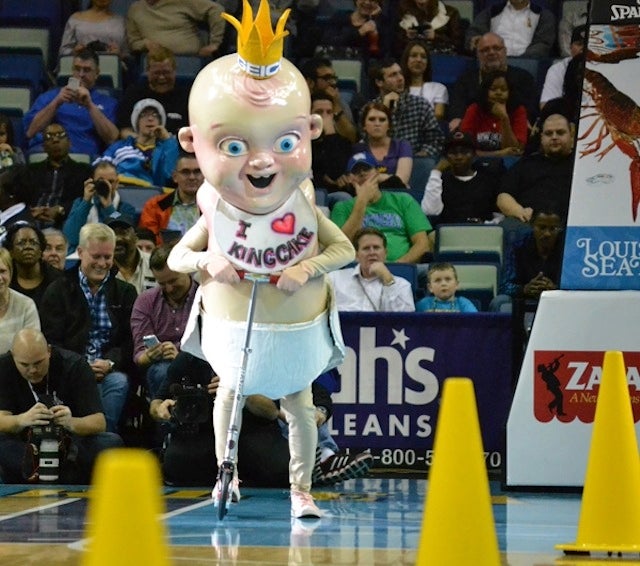 That explanation may be even creepier than what it's explaining.
The team's theme song is "Roll With It" by Powersurge -- not to be confused with the Steve Winwood song of the same title. Their fan-interaction team is called the Swoop Troop. And, yes, the "Who Dat?" chant is borrowed from the Saints: "Who dat? Who dat? Who dat say dey gonna beat dem Pelicans?" It just doesn't have the same ring to it, does it?
After the Game.
New Orleans has had a crime problem for almost 300 years. Jean Laffite wasn't the only pirate there, and, at times, the city has seemed ungovernable -- especially since it's also got white-collar crime, both in business and in municipal government.
This is rampant throughout Louisiana, where Edwin Edwards ran to get back to the Governorship against former Ku Klux Klan leader David Duke with the slogan, "Vote for the crook. It's important." Edwards won. He also publicly bragged, "The only way they're going to get rid of me is to catch me with a dead girl or a live boy." He served from 1972 to 1980, 1984 to 1988, and 1992 to 1996. He was finally nailed on racketeering charges in 2001, and served 9 years in prison. He's now out, 88 years old, just a few days younger than Saints and Pelicans owner Tom Benson.
But the Superdome/Smoothie King Center complex is probably the best-policed place in the entire South. The only crime you're likely to get besieged by is drunk and disorderly conduct, nothing violent. As long as you don't start anything, neither will anyone else.
Nola.com posted a list of 7 New Orleans restaurants to try before or after a Saints game. Presumably, they are also worthy of a post-Pelicans visit. These include Emeril Lagasse's home base of Emeril's, at

800 Tchoupitoulas Street at Julia Street.

Mike Serio's Po-Boys & Deli

, at

133 St. Charles Avenue at Tulane Avenue, is festooned with Saints and LSU memorabilia, and as the owner's name suggests, they are serious about New Orleans-style sandwiches.

Walk-On's Bistreaux & Bar

, a Baton Rouge and LSU institution, recently opened a Superdome affiliate at

1009 Poydras Street at Rampart Street. All of these are within a mile of the Superdome.
Cooter Brown's Tavern & Oyster Bar has been hailed as the best sports bar in the State of Louisiana. 509 S. Carrollton Avenue, off Leake Avenue, near the Tulane and University of New Orleans campuses. (Campii?) S
t. Charles Streetcar to S. Carrollton.
Perhaps the most famous of all New Orleans drinking establishments is Pat O'Brien's Bar, in its current location since 1942. The name was in place well before the actor Pat O'Brien, famed for playing the title football coach in the film
Knute Rockne, All-American
, became famous. Due to wartime difficulties in importing scotch, they experimented with easier-to-obtain rum, coming up with a recipe that they poured in a glass shaped like a hurricane lamp, and the hurricane cocktail was born.
718 St. Peter Street off Royal Street, in the heart of the French Quarter, just 2 blocks from iconic St. Louis Cathedral and Jackson Square, home to the statue of Andrew Jackson, a copy of the one in Lafayette Square across from the White House in Washington.
There doesn't appear to be a New Orleans bar that caters to New York sports fans. I looked up "New York Giants fan bar in New Orleans," then plugged in the Yankees and the Mets, but got nothing concrete, other than to read postings that some of the bars around Tulane University show games, due to a contingent of students from our Tri-State Area. There has been an official New Orleans Jets Fans club since 2011, but they don't yet have a regular gameday meeting place.
If your visit to New Orleans is during the European soccer season, which we are now in, there is only one place in town that is sure to show your game: Finn McCool's Irish Pub, at 3701 Banks Street, in the Mid-City neighborhood, about 3 miles northwest of downtown. Streetcar 47 or 48 to Canal and Telemachus.
Sidelights.
History? Atmosphere? Sports? Debauchery? N'Awlins has got it all. To paraphrase John Dos Passos talking about New York, If you can get bored in New Orleans, you're a sad case.
* Superdome. As I said, the building formerly known as the Louisiana Superdome and now as the Mercedes-Benz Superdome is part of the same complex as the Smoothie King Center. Opening in 1975, it has seen a lot in its 40 years: The good, the bad, and the ugly; the sublime and the ridiculous.
It's hosted more Super Bowls than any other building (7), 5 Final Fours, the annual Sugar Bowl and Bayou Classic college football games, some major championship fights, Tulane University home football games from 1975 to 2013, the NBA's New Orleans Jazz from 1975 to 1979, the 1988 Republican Convention that nominated George H.W. Bush for President, and even the occasional exhibition baseball game. It is 1 of 4 sites that will be chosen to host either Super Bowl LIII in February 2019, or Super Bowl LIV in 2020, so it's got a 50-50 chance of hosting one of them.(Update: It wasn't chosen for those, or for Super Bowl LV in 2021, but that makes it almost certain to be chosen for Super Bowl LVI in 2022 or LVII in 2023.)
The Final Fours: 1982, Dean Smith's North Carolina over Georgetown; 1987, Bob Knight's 3rd Indiana title, over Syracuse; 1993, Smith's other title, over Michigan; 2003, Jim Boeheim's Syracuse over Kansas; and 2012, John Calipari's Kentucky over Kansas.
It was meant as a haven for the dispossessed of Hurricane Katrina in 2005, but instead turned into a house of horrors. Its renovation cost, even with inflation factored in, much more than its original construction bill. But it reopened better than ever in 2006, and the Saints won the Super Bowl in the 2009-10 season.
* Yulman Stadium and site of Tulane Stadium. Tulane University's football team, the Green Wave, played at the 81,000-seat Tulane Stadium, "the Queen of Southern Stadiums," from 1926 to 1974. The stadium was built on the site of a sugar plantation, hence the name of the game, and the stadium itself was nicknamed the Sugar Bowl.
The Saints played there from their 1967 founding to 1974, and it was the site of Tom Dempsey's record-setting 63-yard field goal in 1970. The Sugar Bowl was played there on (or close to) every New Year's Day from January 1, 1935 to December 31, 1974. In 1975, the Sugar Bowl, the Green Wave and the Saints all moved to the Superdome.
Tulane Stadium hosted Super Bowl IV in 1970 (Kansas City over Minnesota), Super Bowl VI in 1972 (Dallas over Miami), and Super Bowl IX in 1975 (Pittsburgh over Minnesota), which was its last major event. It continued to host high school football before being demolished in 1979. Willow Street and Ben Weiner Drive.
In 2014, the Green Wave moved into Benson Field at Yulman Stadium. The field was named after the Saints' owner, and the stadium for Richard Yulman, the former chairman of bed manufacturers Serta. Both are major donors to the University, and Richard and his wife Janet (for whom a nearby on-campus street is named) donated $15 million toward the stadium's construction.
The opener, a loss to Georgia Tech, had a listed attendance of 30,000 (roughly capacity), making it the best-attended Tulane sporting event since they abandoned the old stadium for the Superdome. A block up Ben Weiner Drive from the old stadium site, at Barrett Street. Turchin Stadium, Tulane's baseball facility, is just to the north. Number 16 bus, or Number 12 St. Charles streetcar.
* Municipal Auditorium. Built in 1930, this old music hall was home to the New Orleans Buccaneers of the ABA, before they moved to Memphis in 1970. The NBA's New Orleans Jazz played their 1st season here, 1974-75, before moving to the Superdome, and then to Utah in 1979.
Elvis Presley sang at the Municipal Auditorium on May 1, 1955 and August 12, 1956. It w
as seriously damaged by the hurricane, and its future is currently in doubt. 1201 St. Peter Street at Essence Way, in what is now Louis Armstrong Park, just off the French Quarter.
Elvis
sang in Louisiana many times in his early days, particularly as part of tours with established country singers like Hank Snow (who had Colonel Tom Parker as manager before Elvis did).
He also sang in New Orleans at Jesuit High School (4133 Banks Street) on February 4, 1955; and on Ponchartrain Beach on September 1, 1955.
In his return to the stage, 1969 to 1977, Elvis would sing at Louisiana venues, but never again in New Orleans.
He sang in Shreveport at the Municipal Auditorium as part of the
Louisiana Hayride
radio show in 1954 on October 16 and 23; November 6, 13 and 20; and December 4, 11 and 18; and in 1955 on January 8, 15, 22 and 29; February 5 and 19; March 5, 12 and 26; April 9; May 21 and 28; June 4, 11 and 25; July 2, 16 and 23; August 13, 20 and 27; September 10 and 24; October 1 and 29; November 5, 12 and 26; and December 10, 17 and 31; and in 1956 on January 7 and 21; February 25; and March 3, 10 and 31. Because his fame exploded in 1956, the show had to be moved to the larger (9,000-seat) Fair Grounds Youth Center for his show on December 15.
He also sang in Louisiana at the Lake Cliff Club in Lake Cliff on November 19, 1954; at West Monroe High School on February 18, 1955; at South Side Elementary School in Bastrop on February 24, 1955; at the Jimmie Thompson Arena in Alexandria on March 11, 1955; at Baton Rouge High School on May 2, 1955; and at the Plaquemine Casino Club in Baton Rouge on July 1, 1955.
And at the Monroe Civic Center on March 4, 7 and 8, 1974; and May 3, 1975; at the Lake Charles Civic Center on May 4, 1975; at the Hirsch Coliseum in Shreveport on June 7, 1975 and July 1, 1976; at the Rapidas Parish Coliseum in Alexandria on March 29 and 30, 1977; and at the Louisiana State University Assembly Center, now named for Pete Maravich, on June 17 and 18, 1974; July 2, 1976; and May 31, 1977.
* Zephyr Field. The New Orleans Zephyrs, formerly the Denver Zephyrs and the Denver Bears, play in the Class AAA Pacific Coast League (geography is no longer the league's strong point), at this 10,000-seat stadium, opened in 1997.
The Zephyrs, currently a Miami Marlins farm club and a Mets farm team in 2007 and '08, won Pennants at Zephyr Field in 1998 and 2001. The ballpark was used to film some scenes in the baseball-themed film
Mr. 3000
. 6000 Airline Drive, in suburban Metairie. E-2 bus, the same bus that goes between downtown and the airport. The right to the ballpark takes about an hour.
Also in Metairie is the grave of New York Giants Hall-of-Famer Mel Ott, a native of Gretna, near New Orleans. Metairie Cemetery, 5100 Ponchartrain Blvd. Canal-Cemeteries Streetcar to Canal Blvd. at City Park Avenue.
The closest Major League Baseball team to New Orleans is the Houston Astros, 347 miles away. Houston is also home to the closest MLS team, the Dynamo. There is no professional soccer team in town. The closest NHL team is the Dallas Stars, 508 miles away. And since the metro area's population would still rank dead last among MLB markets, you can forget about the Crescent City getting a team anytime soon.
* Maestri Field at NBC Park. On the campus of the University of New Orleans, on Lake Pontchartrain, the Zephyrs played here from 1993 to 1996, when it was known as Privateer Park. But, at 2,900 seats, it was too small for Triple-A ball. 6801 Franklin Avenue. Number 55 bus.
* The Baseball Pelicans. The baseball version of the New Orleans Pelicans played from 1887 to 1959. After that, there was no professional baseball team in New Orleans, at any level, except for a brief revival of the Pelicans at the Superdome for the 1977 season, until the Colorado Rockies were expanded into existence, forcing the Denver Zephyrs to move for the 1993 season.
For most of their existence, the Pelicans played in the Southern Association, and on the same site, in a series of ballparks culminating in Heinemann Stadium, a.k.a. Pelican Park, built in 1915. They won 12 Pennants: 1887, 1889, 1896, 1905, 1910, 1911, 1915, 1918, 1923, 1926, 1927 and 1934. Their star players included Shoeless Joe Jackson, Joe Sewell, Dazzy Vance and Bob Lemon.
Pelican Park was demolished in 1957, and a Burger King now stands on the site of its infield. Tulane Avenue and S. Carrollton Avenue. Number 39 bus.
* Tad Gormley Stadium. Originally City Park Stadium, this 26,500-seat stadium was built by the Works Project Administration in 1937, and is New Orleans' premier high school football venue. It hosted the old baseball Pelicans in their last 2 seasons, 1958 and 1959. It's also a major concert venue, having started by hosting the Beatles on September 16, 1964. Other bands playing there include Journey, Pearl Jam and Rage Against the Machine.
5400 Stadium Drive, in New Orleans City Park, across from the New Orleans Museum of Art. Number 48 Streetcar.
According to
an April 2014 article in The New York Times
, the Yankees are the most popular baseball team in New Orleans, with about 23 percent of locals calling them their favorite team. The Red Sox are 2nd, with around 14 percent. The Chicago Cubs and Atlanta Braves are 3rd and 4th, each getting around 10 percent. This is despite the closest MLB team to New Orleans being the Houston Astros, 348 miles away.
* Museums. I've already mentioned the New Orleans Museum of Art, the city's version of our Metropolitan Museum of Art. Their answer to the Museum of Natural History is the Tulane Museum of Natural History, not on the Tulane campus but at 3705 Main Street in Belle Chase, 12 miles south of downtown. Not easily reachable by car.
Confederate Memorial Hall bills itself as Louisiana's Civil War Museum. 929 Camp Street at Andrew Higgins Street. It's next-door to the Ogden Museum of Southern Art, at 925 Camp.
A better museum, because it's to a war was fought by a united America, is the National World War II Museum. It's in New Orleans because the city built a lot of the landing craft used on D-Day, June 6, 1944, which, as you might guess, is one of the central exhibits of the museum.
Admission is $24, plus $5 additional for each for the films
Beyond All Boundaries
, narrated by Saving Private Ryan star Tom Hanks; and
Final Mission: The USS Tang Experience
, about the most successful submarine of the war. 945 Magazine Street at Andrew Higgins Street.
The WWII Museum, Confederate Memorial Hall and the Ogden Museum are all a mile away from the Superdome, a 20-or-so-minute walk. From the French Quarter, Number 10 or 11 bus, or the Number 12 St. Charles Streetcar.
The French Quarter is centered on the corner of Orleans and Bourbon Streets. The French Quarter Visitor Center is on the riverfront, at 419 Decatur Street at St. Peter Street, 3 blocks from Pat O'Brien's. Preservation Hall, at 726 St. Peter Street off Bourbon Street, doesn't look like much from the outside, but it serves as the unofficial capital of jazz. The Cabildo was the seat of New Orleans' government, and the Louisiana Purchase was signed there. It is now the Louisiana State Museum. 701 Chartres Street off Jackson Square.
The Audubon Zoo, names for naturalist John James Audubon, who lived in New Orleans for much of his life, is at 6500 Magazine Street in Audubon Park. Number 11 bus. The Audubon Aquarium of the Americas is closer to downtown, on the riverfront at 1 Canal Street. Number 2 Riverfront Streetcar.
* Baton Rouge. The State capitol is 80 miles northwest of New Orleans, and can be reached by Greyhound, but not by Amtrak. It's home to Louisiana State University, home of the LSU Tigers, and the historically-black Southern University, home of the Jaguars.
Louisiana has never produced a President. As a young man, Zachary Taylor lived in St. Francisville, 32 miles north of Baton Rouge and 112 miles northwest of New Orleans. But he's much more identified with Virginia, where he was born; and Kentucky, where he lived the last few years of his life.
Homer Plessy, a shoemaker who was 7/8ths white, bought a railroad ticket on June 7, 1892, and sat in the whites-only car. He was arrested at the Press Street Railroad Yards for not sitting in the "colored only" car. Judge John H. Ferguson ruled against him. Plessy was fined, and only spent the night of his arrest in jail.
Plessy sued Ferguson, arguing that the segregation law violated his rights under the 14th Amendment to the Constitution. The case was taken all the way to the U.S. Supreme Court, where, on May 18, 1896, Plessy's claim was rejected, as the segregated cars were "separate but equal."
Ferguson lived until 1915, Plessy until 1925. On May 17, 1954, in
Brown v. Board of Education of Topeka
,
the Court "changed its mind" -- going from 8-1 for one side to 9-0 for the other in a span of 58 years -- and ruled that separate accommodations based on race was inherently unequal, striking down all such laws, anywhere in America, as unconstitutional.
On February 12, 2009, a historical marker was erected at the site of the Press Street Yards, unveiled by descendants of the named participants, Keith Plessy and Phoebe Ferguson. They have continued to work together on matters of reconciliation. The marker is at 2899 Royal Street at Press Street, about 3 miles northeast of downtown. Streetcar 2.
The tallest building in the State of Louisiana isn't much to look at, typical of 1960s and '70s urban architecture. One Shell Square, opened in 1972 at 701 Poydras Street, 8 blocks from the Superdome, is 697 feet tall.
Films set and/or filmed at least partly in New Orleans include the Jean Lafitte biopic
The Buccaneer
(made twice, in 1938 with Frederic March as Lafitte and Hugh Southern as Andrew Jackson, and 1958 with Yul Brynner and Charlton Heston in the roles), T
he Flame of New Orleans
, the Elvis movie
King Creole, The Cincinnati Kid, Easy Rider
, the football-themed film
Number One
(starring Heston as an aging quarterback), the James Bond film
Live and Let Die, Pretty Baby, Cat People, Tightrope
(in which Clint Eastwood played a different kind of cop, admitting, "Dirty Harry might not even like this guy"),
The Big Easy, Blaze, JFK
, Anne Rice's
Interview with the Vampire
,
Double Jeopardy, RED
; the John Grisham-based legal thrillers
The Pelican Brief, The Client
and
Runaway Jury
; and, perhaps most iconically,
A Streetcar Named Desire
, the 1951 film version of Tennessee Williams' 1947 play that launched Marlon Brando to stardom.
TV shows that have been set in New Orleans include
Bourbon Street Beat, Longstreet, Frank's Place, Treme
, and, currently,
NCIS: New Orleans
and the
Vampire Diaries
spinoff
The Originals
. While
True Blood
is set in Louisiana, it is set in a fictional town in the north.
*
New Orleans is a city that celebrates the spiritual and the surreal. Certainly, the New Orleans Pelicans (with their location difficulties, name changes and whacked-out mascots) have seen some surrealness. A visit to the Knicks-Pelicans or Nets-Pelicans game could be fun, and, despite it being in "America's Most Haunted City," you won't meet up with any ghosts, goblins, vampires, werewolves, or any other supernatural creatures.
Probably.