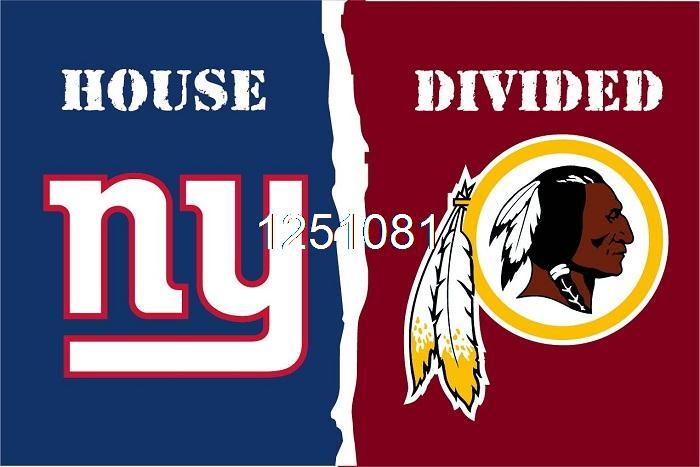 On Sunday, January 1, New Year's Day, the New York Giants will play away to the Washington Redskins.
At this time, I don't feel like having a debate over whether to continue using the "Redskins" name. Yes, it's bad. But I want to make this travel guide as simple as possible, so I'm going to use "Redskins" and the abbreviation "'Skins" throughout.
Before You Go.
D.C. can get really hot in summer, but this will be late December, so it's cold that you'll have to worry about.
The Washington Post
is predicting low 40s for the afternoon, and the high 20s for the evening. They do not mention a chance of rain, so it should be dry.
Washington is in the Eastern Time Zone, so you won't have to fiddle with your clocks, digital or otherwise.
Tickets.
Tickets are always harder to get for NFL games than for MLB games. This is especially true in Washington: Having one of the smallest stadiums in the League before they had one of the largest, even with 24,000 extra seats to sell, the waiting list for season tickets is incredibly long. As Richard Nixon said while he was President, "The only thing people in Washington care about is the Redskins. Nobody gives a damn about the Smithsonian or the Kennedy Center." (Yeah, he would say something like that about something named for JFK. And let the record show that the Watergate complex is right next-door to the Kennedy Center.)
Despite the Redskins' struggles the last few years, they still average 78,378 fans per home game -- but that's 85 percent of capacity, and only Oakland and San Diego, whose stadiums are about 50 years old and inadequate, have a lower percentage. And any tickets returned by the visiting team go to people on their massive season-ticket waiting list. So you'll have to go to either a scalper or the NFL Ticket Exchange.
In the lower level, the NFLTE has sideline seats for this game running from $89 to $285, and in the end zone from $120 to $277. In the upper deck, sidelines go for $89 to $155, and end zones for $89 to $137.
Getting There
. Before I begin this part, let me remind you that this upcoming weekend is New Year's Weekend, and a lot of seats on planes, trains and buses will be bought up already. Especially for Sunday, since that's the end of the weekend. So expect what's left to be more expensive than usual.
Getting to Washington is fairly easy. Ordinarily, if you have a car, I recommend using it, and getting a hotel either downtown or inside the Capital Beltway, because driving in Washington is roughly (good choice of words there) as bad as driving in New York. However, since FedExField is not in the District, I
would
recommend driving, especially if you're only going down for the game, and not "seeing the city."
It's 229 miles by road from Times Square to downtown Washington, and 219 miles from MetLife Stadium to FedExField. If you're not "doing the city," but just going to the game, take the New Jersey Turnpike all the way down to the Delaware Memorial Bridge (a.k.a. the Twin Span), across the Delaware River into the State of, well, Delaware. This should take about 2 hours, not counting a rest stop.
Speaking of which, the temptation to take an alternate route (such as Exit 7A to I-195 to I-295 to the Ben Franklin Bridge) or a side trip (Exit 4, eventually leading to the Ben Franklin Bridge) to get into Pennsylvania and stop off at Pat's Steaks in South Philly can be strong, but if you want to get from New York to Washington with making only 1 rest stop, you're better off using the Delaware House Service Area in Christiana, between Exits 3 and 1 on the Delaware Turnpike. It's almost exactly the halfway point between New York and Washington.
Once you get over the Twin Span – the New Jersey-bound span opened in 1951, the Delaware-bound one was added in 1968 – follow the signs carefully, as you'll be faced with multiple ramp signs for Interstates 95, 295 and 495, as well as for US Routes 13 and 40 and State Route 9. You want I-95 South, and its signs will say "Delaware Turnpike" and "Baltimore." You'll pay tolls at both its eastern and western ends, and unless there's a traffic jam, you should only be in Delaware for a maximum of 15 minutes before hitting the Maryland State Line.
At said State Line, I-95 changes from the Delaware Turnpike to the John F. Kennedy Memorial Highway, and you'll be on it for about an hour (unless you want to make another rest stop, either the Chesapeake House or the Maryland House) and passing through Baltimore, before seeing signs for I-895 and the Baltimore Harbor Tunnel, Exit 62.
From here, you'll pass through the Baltimore Harbor Tunnel. Take I-895 to Exit 4, and you'll be on Maryland Route 295 South, the Baltimore-Washington Parkway. BWP exits are not numbered, so you'll have to watch the mileposts and the town names on the exit signs. Your exit onto the Capital Beltway, I-95/495, will be just past Mile 6, And it will read "
I-495 S/I-95 S" and mention Richmond, Virginia and Andrews Air Force Base. (That's where the 747s that serve as Air Force One are kept -- and, no, you won't be allowed in to see them, so don't bother visiting.)
Once on the Beltway, it's important to remember that, while I-95 and I-495 have directions, the Beltway itself is (more or less) circular. It has an Inner Roadway, running clockwise, and an Outer Roadway, running counterclockwise. On the way in, you'll be on the Inner Roadway. You'll take Exit 16, for Maryland Route 202/Landover Road, with signs indicating Bladensburg and Upper Marlboro. M-202 will run parallel to the Beltway, until you reach Exit 17A, again saying M-202/Landover Road, toward Upper Marlboro. Then you take Exit 16 for Arena Drive. (Yes, that's what Google Maps says: 16, then 17A, then 16 again.)
When you reach Arena Drive, turn right. Arena Drive flows right to the stadium, which is encircled by FedEx Way.
If all goes well -- getting out of New York City and into downtown Baltimore okay, reasonable traffic, just the one rest stop, no trouble with your car -- the whole trip should take about 3½ hours.
Washington is too close to fly, just as flying from New York to Boston, Philadelphia and Baltimore, once you factor in fooling around with everything you gotta do at each airport, doesn't really save you much time compared to driving, the bus or the train. So forget about flying from JFK, LaGuardia or Newark to Reagan National or Dulles International Airport. (John Foster Dulles was President Eisenhower's Secretary of State.)
The train is a very good option, if you can afford it. Washington's Union Station is at 50 Massachusetts Avenue NE, within sight of the Capitol Building. But Amtrak is expensive. They figure, "You hate to fly, you don't want to deal with airports, and Greyhound sucks, so we can charge whatever we want." New York to Washington will run you $178 round-trip each way on a standard
Northeast Regional
, and $440 on
Acela Express
(formerly the Metroliner). And that's before you add anything like Business Class or, God forbid, Amtrak's overmicrowaved food. Still, it's less than 3 hours if you take the
Acela Express
, and 3 hours and 40 minutes if you take a regular
Northeast Regional
train.
Union Station
Another option is to buy a ticket for the New Carrollton, Maryland station, head out to Bus Bay C, and take the F14 bus to Hill Oaks Drive & Michele Drive. From there, it's a 10-minute walk to the stadium. The Amtrak price won't be any different, although the price for the bus may be, compared to the Metro.
Greyhound has rectified a longtime problem. They now use the parking deck behind Union Station as their Washington terminal, instead of the one they built 6 blocks away (and thus 6 blocks from the nearest Metro station), in the ghetto, back in the late 1960s. So neither safety nor aesthetics will be an issue any longer. Round-trip fare on Greyhound can be as high as $88, but you can get it for as little as $50 on advanced purchase. (This is much higher than normal, due to this being T-Day weekend.) It takes about 4 1/2 hours, and usually includes a rest stop about halfway, either on the New Jersey Turnpike in South Jersey or on the Delaware Turnpike.
Once In the City.
Founded in 1800, and usually referred to as "The National City" in its early days, and "Washington City" in the 19th Century, the city was named, of course, for George Washington, although its "Georgetown" neighborhood was named for our previous commander-in-chief, King George III of England.
The name of its "state," the District of Columbia, comes from Columbia, a historical and poetic name used for America, which was accepted as its female personification until the early 20th Century, when the Statue of Liberty began to take its place in the public consciousness. "Columbia" was derived from the man who "discovered America," Christopher Columbus, and places throughout the Western Hemisphere -- from the capitals of Ohio and South Carolina to the river that separates Washington State from Oregon, from the Ivy League university in Manhattan to the South American nation that produces coffee and cocaine, are named for him.
Like a lot of cities, Washington suffered from "white flight," so that, while the population within the city limits has seriously shrunk, from 800,000 in 1950 to 680,000 today; the metro area went from 2.9 million to double that, 6.1 million. As a result, the roads leading into the District, and the one going around it, the Capital Beltway, Interstate 495, are rammed with cars. Finally, someone wised up and said, "Let's build a subway," and in 1976, the Metro opened.
That metropolitan growth was boosted by the Maryland and Virginia suburbs building housing and shopping areas for federal-government workers. And, perhaps more than any other metro area, the poor blacks who once lived in the city have reached the middle-class and built their own communities (especially to the east, in Maryland's Prince Georges County, which includes Landover). The metro area now has about 6 million residents -- and that's not including the metro area of nearby Baltimore, which would boost it to nearly 9 million and make it the 4th-largest "market" in the country, behind New York, Los Angeles and Chicago, slightly ahead of the San Francisco Bay Area.
Lots of people from the District and its Maryland and Virginia suburbs went up the Parkway to Baltimore to see the Orioles during the District's 1972-2004 baseball interregnum. However, during the NFL interregnum between Robert Irsay's theft of the Colts in 1984 and the arrival of the Ravens in 1996, Baltimore never accepted the Redskins as their team, despite 2 Super Bowl wins in that period. (So from March 1984 to August 1996, if you lived in the BaltWash Corridor, you had to take the Orioles for baseball and the Washington teams for the other sports. Since April 2005, you've had options for MLB and the NFL. But if you live closer to Baltimore, you still have to go to D.C. for the NBA, the NHL or MLS.)
When you get to Union Station, pick up copies of the
Washington Post
and the
Baltimore Sun
. The
Post
is a great paper with a very good sports section, and in just 6 seasons (now into a 7th) has covered the Nats very well, despite the 1972-2004 era when D.C. had no MLB team of its own. As a holdover from that era, it still covers the Orioles well. The
Sun
is only an okay paper, but its sports section is nearly as good as the
Post
's, and their coverage of their town's hometown baseball team rivals that of any paper in the country -- including the great coverage that
The New York Times
and
Daily News
give to the Yankees and Mets.
Do not buy
The Washington Times
. It was founded by the Rev. Sun Myung Moon in 1982 as a replacement for the bankrupt
Washington Star
as the area's conservative equivalent to the "liberal"
Post
. (That's a laugh: The
Post
has George Will, Charles Krauthammer, Michael Gerson and Kathleen Parker as columnists!) Under editor-in-chief Wesley Pruden, the
Times
was viciously right-wing, "reporting" every rumor about Democrats as if they were established, proven fact, and giving Republicans a free pass. Moon's "Unification Church" sold the paper in 2009, and Pruden retired the year before. But it has cut about 40 percent of its employees, and has dropped not only its Sunday edition but also its sports section. And now, there's another paper, the
Washington Examiner
, owned by the same company as the conservative magazine
The Weekly Standard
, and it is so far to the right it makes
The Washington Times
look like the
Daily Kos
. It is a truly loony publication, where Michael Barone of the American Enterprise Institute and Byron York of
National Review
are considered moderates.
So avoid the loonies and the Moonies, and stick with the
Post
. Even if you don't agree with my politics, you're going down to D.C. for baseball, and the
Post'
s sports section kicks ass.
The sales tax in the District, once as high as 9 percent, is now just 6 percent. Unfortunately, not being a State, the city government has to do everything that a city government does and every thing that a State government does. Which also means that the Mayor, currently Muriel Bowser, has to do everything that the State's Governor would do.
The John A. Wilson Building, 1350 Pennsylvania Avenue NW,
D.C.'s City Hall, and, effectively, also its State Capitol Building
The centerpoint for street addresses is the Capitol Building. North and South Capitol Streets separate east from west, and East Capitol Street and the National Mall separate north from south. The city is divided into quadrants: Northwest, Northeast, Southeast and Southwest (NW, NE, SE and SW). Because of the Capitol's location is not in the exact geographic centerpoint of the city, NW has about as much territory as the other 3 quadrants put together.
Remember: On street signs, 1st Street is written out as FIRST, and I Street is written out as EYE, so as to avoid confusion. And for the same reason, since I and J were virtually indistinguishable in written script when D.C. was founded in 1800, there is no J Street. Once the letters are expended, they go to to 2- and then 3-syllable words beginning with the sequential letters: Adams, Bryant, Clifton, etc.
ZIP Codes for D.C. start with the digits 20, with 202 through 205 serving the federal government, and 201 serving Dulles Airport, even though it's in Virginia. For the Maryland suburbs, it's 206 through 209 and 215. For the Virginia suburbs, it's 220 to 223. The Area Code for D.C. is 202, with 301 serving the Maryland suburbs, overlaid by 240; and 703 serving the Virginia suburbs, overlaid by 571.
Going In.
Washington's subway, the Metro, was not in place until 1976, but, thereafter, it was a relatively easy ride to Redskins games at RFK Stadium. But the move to the Beltway made this a lot harder.
From Union Station (having taken either the train or the bus in), you'll get on the Red Line to Metro Center, and transfer to the Blue Line to Morgan Blvd. The walk up Morgan to the stadium should take about 20 minutes. Because the outbound trip will be during rush hour, it will cost you $4.10. To make matters worse, the Metro stops running at midnight, and you won't be able to get back from Morgan Blvd. station to Union Station. For this reason, driving down would be the best option for this game. Next season, when the Giants are more likely to be playing the Redskins away on a Sunday, things will be different.
As for driving: Going from downtown D.C., you should take any northbound numbered street that gets you to New York Avenue, a.k.a. U.S. Route 50. Take it to Exit 3B, which will take you onto M-202/Landover Road. When you get to Brightseat Road, turn right. Brightseat becomes Redskins Road, which, as you might guess, goes right to the stadium. It's about 10 miles east of downtown Washington, and should take between 20 and 30 minutes.
The official address of FedExField -- for a reason that I don't know, it is officially written as one word -- is 1600 FedEx Way, Landover, Maryland. If the name Landover sounds familiar, it's because the stadium is almost exactly across the Beltway from the site of the Capital Centre, where the Bullets (now the Wizards), the Capitals, and the Georgetown basketball team used to play.
Parking is a whopping $57.50 -- but would you rather take a taxi back to Union Station (which might cost the same), and then stay there until the middle of the night? I didn't think so.
All lots permit
tailgating
and open four hours before the game begins. Parking permits may be obtained via eBay, Craigslist or StubHub or by calling the Redskins Ticket Office at (301) 276-6050.
Despite its size, the stadium is not an architectural marvel. It's not even an architectural curiosity, the way RFK Stadium is with its weird sloping roof and its overhanging upper deck. While the NFL is a league that shuns imagination, embracing functionality first, and aesthetics much further down the line (if at all), there are some stadiums that are distinctive: Soldier Field with its exterior Doric columns (iconic, if not Ionic), the Los Angeles Coliseum with its arched "peristyle" at the east end, Lucas Oil Stadium in Indianapolis with its windows. FedExField, home to a team with 5 NFL Championships to its name but none won while playing there, is just a stadium. A big stadium, but no big deal.
The field is natural grass. Most football stadiums are aligned north-to-south, so that the angle of the sun doesn't bother the players. FedEx, however, is aligned (more or less) east-to-west. Whether this is a factor with the Redskins not having done well, I don't know. But in their 1st 18 seasons at FedEx, the 'Skins have made the Playoffs only 4 times. Contrast that with RFK Stadium: They made the Playoffs in 8 of their last 15 seasons there, and in 13 of their last 19.
The Redskins went from having the smallest stadium in the NFL, and possibly the best atmosphere and the best home-field advantage, to having the largest stadium, with the worst atmosphere, and hardly any home-field advantage.
The move from RFK in the District, where the fans had to walk down hard city streets from the Metro (hazardous even if you weren't wearing enemy colors), to FedEx (originally named Jack Kent Cooke Stadium in memory of the team's former owner, before new owner Daniel Snyder sold the naming rights to Federal Express) in the comfortable suburbs, meant that the 'Skins could no longer play in a stadium where the upper deck was right on top of the field, and where the aluminum stand that retracted to fit in a baseball field could no longer be jumped on to create noise like an oversized high school football game.
Capacity at FedEx was once 91,704, the highest in the league. (The Cowboys' AT&T Stadium now surpasses this.) But the furthest-back seats were so far back that Redskin fans, used to the closeness of the seats at RFK (the first of the oval multipurpose "concrete ashtray" stadiums, and easily the most intimate of those), complained like hell. The team kept tarping over seats, until the capacity was reduced to 79,000, 4th-largest in the NFL, and people still complained. Now, it's officially 82,000, less than MetLife and AT&T Stadiums.
According to Richard Smith of
Stadium Journey
:
The biggest shock I had as a first time guest to FedExField was how old the stadium felt. Opened in 1997, it seemed like a stadium opened possibly two decades earlier. It is shocking to consider that it is only one year older than Baltimore's M&T Bank Stadium.
The concourses are dark and dreary. It has modern touches, such as the wider public areas and numerous food stands of a newer facility, but still never felt like a place that opened five years AFTER the groundbreaking Oriole Park at Camden Yards. Wandering the concourses brought back memories of long gone places such as Veterans Stadium, The Kingdome and Candlestick Park. That is not a good thing.
The Vet, the Kingdump, and The 'Stick? Oy vey -- especially if you're a fan of an NFC East team and thus had to visit The Vet. He continues:
The stadium is just so poorly designed that it must be disheartening to be a Redskins fan. The stadium is far too loud and the upper deck seems incredibly too high to enjoy the game. I found seating sections in the upper deck that you have to go both up AND down set of stairs to find your seat. A former walkway has been filled in with three rows of seating. Doing so has created some navigational issues, in that fans may need to go up and then back down a small set of stairs just to move from one area to another.
There are frankly just poor conditions for the fans. The audio, especially in the upper sections, is nearly inaudible. Seats in the lower deck have an obstructed view of the field. It is incredible that a stadium built just one year prior to Baltimore's M&T Bank Stadium has the severe design flaws that it does.
In 2008,
Sports Illustrated
took a poll, and FedEx came in 28th among the 31 NFL stadiums, keeping in mind that the Giants and Jets groundshare. So if you count them as having 2 different atmospheres in the same stadium, FedEx is really 29th out of 32.
The Army-Navy Game was played at FedExField in 2011. So far, the U.S. soccer team has played just 1 match at the stadium, a draw with Brazil on May 30, 2012. There were 4 matches played there in the 1999 Women's World Cup. European soccer clubs Real Madrid, Barcelona, Internazionale Milano , Manchester United and Chelsea have plays summer tour games there. It's hosted concerts by Paul McCartney, the Rolling Stones, Bruce Springsteen, U2 and Metallica.
Food.
In 1992, I attended a preseason baseball game at RFK Stadium, between the Orioles and the Red Sox. The food was horrible, including the worst hot dog I've ever had at a sporting event. Worse even that the terrible tube steaks at Sayreville High School football games (and those things are
foul
). The next day, right before the O's were to open the brand-new Camden Yards, it was reported that several of their players (but none of the Red Sox) had come down with food poisoning. I wasn't surprised. (They won the Camden Yards opener anyway.) I would later attend 2 Nationals games and the 2013 U.S.-Germany soccer match at RFK, and the food, while not great, had substantially improved.
Hopefully, it is better at FedExField. According to the team website:
Starting 3 hours before every preseason and regular season game, the AAA Ultimate Fan Zone offers its members a pre-game food and entertainment extravaganza unmatched anywhere else in the NFL. Bar-B-Q food and soft drinks are included in the admission price. Entertainment includes live music, appearances by cheerleaders and former players, video games, giveaways and flat screen televisions showing the early games. For more information, contact the Premium Seat Sales department at 301-276-6800 or by email at clubinfo@redskins.com.
They also have other areas where such amenities are available, including a Hooters restaurant, but most of them are in Club Seating, so forget it. A Johnny Rockets is available to all ticketholders, but, like the one at the new Yankee Stadium, prices are going to be closer to Outback Steakhouse than to McDonald's. They also have Ben's Chili Bowl, which was described on one website I saw as a local icon, although I've been to D.C. many times (including visits to RFK Stadium, Nationals Park and the Verizon Center), and have never noticed it.
Team History Displays.
The Redskins have a Ring of Fame, featuring 47 individuals considered important to the history of the team. In 2002, as part of the team's 70th Anniversary celebrations -- they've been in Washington since 1937, but first played in 1932 as the football version of the Boston Braves -- the 70 Greatest Redskins were named. In 2012, on the 80th Anniversary, they added 10 names to make it the 80 Greatest Redskins. Some of these players are in the Pro Football Hall of Fame. Players are noted by the abbreviations ROF (Ring of Fame), 80GR (80 Greatest Redskins) and HOF (Pro Football Hall of Fame):
* From the 1937 and 1942 NFL Champions: ROF, founder-owner George Preston Marshall, quarterback-safety Sammy Baugh, running back-cornerback Cliff Battles, and two-way end Wayne Millner; 80GR, Baugh, Battles, Millner, head coach Ray Flaherty, two-way tackle Turk Edwards, and two-way back Andy Farkas; HOF, Marshall, Flaherty, Baugh, Battles, Millner, Edwards.
* From the 1950s: ROF, Quarterback Eddie LeBaron, running backs Bullet Bill Dudley, Charlie "Choo Choo" Justice and Dick James, and defensive end Gene Brito; 80GR, each of the preceding, plus running back Don Bosseler, receiver Hugh Taylor, center Al DeMao, guard Dick Stanfeld and linebacker Chuck Drazenovich; HOF, only Dudley.
* From the 1960s (but not making it to 1972): ROF, head coach Vince Lombardi (the former Packer boss came out of retirement to coach them in 1969, but died before the next season started), flanker Bobby Mitchell, guard Vince Promuto and linebacker Sam Huff; 80GR, Mitchell, Promuto, Huff, and safety Paul Krause; HOF, Lombardi, Mitchell, Huff and Krause. In addition, Dutch Bergman, who briefly coached the Redskins, and also in D.C. at the Catholic University of America, was, along with just about all of these figures, on the old Washington Wall of Stars at RFK Stadium, for running the company that built RFK.
* From the 1972 NFC Champions: ROF, head coach George Allen, quarterbacks Sonny Jurgensen and Billy Kilmer, running back Larry Brown, receiver Charley Taylor, tight end Jerry Smith, center Len Hauss, linebacker Chris Hanburger, and cornerbacks Brig Owens and Pat Fischer; 80GR, each of the preceding, plus receiver Roy Jefferson, offensive tackle Terry Hermeling, defensive tackle Diron Talbert, defensive ends Ron McDole and Bill Brundige, linebackers Harold McLinton and Rusty Tillman, cornerback Mike Bass, and punter Mike Bragg; HOF, Allen, Jurgensen and Hanburger. In addition, Edward Bennett Williams, the Washington "superlawyer" who owned the Redskins from 1962 to 1985, buying them from Marshall, selling a majority share in them to Cooke in 1974 and the rest of his stock to Cooke in 1985, was on the Washington Wall of Stars, but not in the 80GR or, as yet, in the ROF.
* Between the 1972 and 1982 seasons' trips to the Super Bowl: ROF, 80GR and HOF, safety Ken Houston.
* From the 1982 NFL Champions: ROF, owner Jack Kent Cooke, head coach Joe Gibbs, defensive coordinator Richie Petitbon, trainer Lamar "Bubba" Tyer, public address announcer Phil Hochberg, quarterback Joe Theismann, running back John Riggins, receiver Art Monk, guard Russ Grimm, offensive tackle Joe Jacoby, defensive tackle Dave Butz, defensive end Dexter Manley, and placekicker Mark Moseley; 80GR, Gibbs, Petitbon, and each of the preceding players, plus general manager Bobby Beathard, offensive line coach Joe Bugel (builder of that legendary "Hogs" line), running back Joe Washington, running back Mike Nelms, tight end Don Warren, center Jeff Bostic, offensive tackles George Starke and Mark May, linebackers Neal Olkewicz and Monte Coleman, and safety Mark Murphy; HOF, Gibbs, Riggins and Grimm.
* From the 1987 NFL Champions: ROF, Cooke, Gibbs, Petitbon, Tyer, Hochberg, Monk, Grimm, Jacoby, Butz, Manley, quarterback Doug Williams, receiver Gary Clark, defensive end Charles Mann and cornerback Darrell Green; 80GR, Gibbs, Petitbon, Bugel, Beathard, Monk, Grimm, Jacoby, Butz, Manley, Williams, Clark, Mann, Green, Warren, Bostic, May, Olkewicz, Coleman, receiver Ricky Sanders, guard Raleigh McKenzie, and offensive tackle Ed Simmons; HOF, Gibbs, Grimm and Green.
* From the 1991 NFL Champions: ROF, Cooke, Gibbs, Petitbon, Tyer, Hochberg, Monk, Grimm, Jacoby, Clark, Mann, Green, and running back Brian Mitchell; 80GR, Gibbs, Petitbon, Beathard, Monk, Warren, Bostic, Grimm, Jacoby, Clark, Mann, Green, Mitchell, Sanders, McKenzie, Simmons, Coleman, quarterback Mark Rypien, running back Earnest Byner, offensive tackle Jim Lachey, and linebacker Wilber Marshall; HOF, Gibbs, Grimm and Green.
* Since 1991: ROF, linebacker Ken Harvey, safety Sean Taylor, and Prince George's County Executive Wayne Curry, who led the drive to get the stadium built; 80GR, Harvey, Taylor, running back Terry Allen and Clinton Portis, offensive tackles Jon Jansen and Chris Samuels, and linebacker LaVar Arrington; HOF, defensive end Bruce Smith (better known as a Buffalo Bill, and didn't make the 80GR or, as yet, the ROF).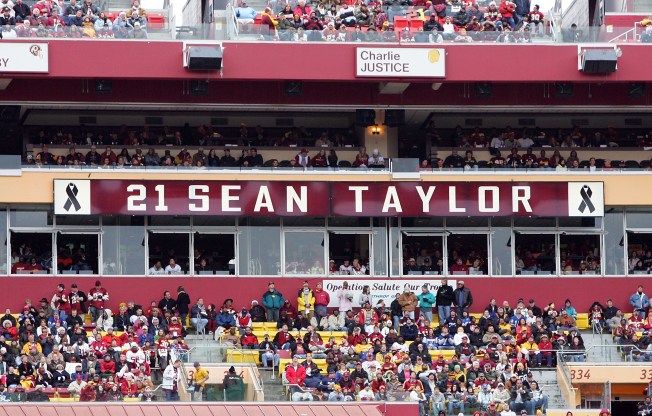 Long ago, the Redskins retired Baugh's Number 33. It remains the only number officially retired by the team, and they probably won't officially retire another unless it's another quarterback who turns out to have been as good as Baugh (and good luck with finding one). However, some numbers are understood to be unofficially retired; Theismann's 7, Jurgensen's 9, Sean Taylor's 21, Green's 28, Charley Taylor's 42, Brown's 43, Riggins' 44, Mitchell's 49, Butz's 65, Huff's 70 and Monk's 81.
Slingin' Sammy Baugh
There is no exterior display of Baugh's retired number. Nor is there any of the team's 5 NFL Championships (1932, 1942, 1982, 1987 and 1991), their 11 conference titles (1936, 1937, 1940, 1942, 1943, 1945, 1972, 1982, 1983, 1987 and 1991), their 13 divisional titles (1936, 1937, 1940, 1942, 1943, 1945, 1972, 1983, 1984, 1987, 1991, 1999 and 2012), or their 10 Wild Card Playoff berths (1971, 1973, 1974, 1976, 1984, 1986, 1990, 1992, 2005 and 2007).
Baugh and Houston were named to the NFL's 75th Anniversary Team in 1994. They, Huff, Taylor, Monk and Green were named to
The Sporting News
' 100 Greatest Football Players in 1999. Baugh, Huff and Green were named to the NFL Network's 100 Greatest Players in 2010.
Stuff.
The Redskins Hall of Fame Store is located next to the Comcast SportsNet Gate (Gate H) on the Lower Level, across from Section 141. The Hall of Fame Store is open during the week from 10 AM to 6 PM, Monday through Saturday, all year round. On game day the store opens when parking lots open and stays open up to 2 hours after the game. The store accepts American Express, MasterCard, Visa and Discover.
Fans old enough to remember the 1980s might remember the fans wearing plastic pig noses, or even entire pig masks, in honor of the offensive line "Hogs." I don't know if they sell those. Nor do I know if they sell Indian headdresses, in keeping with the Redskin image, as many fans have been known to do.
I am seriously hoping the Hall of Fame Store, and any other stores at RFK Stadium, do not sell the "Hogettes" outfits. These were big fat guys who wore dresses, ladies' hats, wigs, sunglasses and plastic pig snouts to games from 1983 until 2012, when they decided to retire the act. But they raised a lot of money for charity, and still do so -- just not in costume.
Being in the Nation's Capital (well, since 1997, sort of), there are plenty of books written about the Redskins, some of which may be available at the Hall of Fame Store. In 1996, Thom Loverro published
The Washington Redskins: The Authorized History
; he followed this in 2007 with
Hail Victory: An Oral History of the Washington Redskins
. (He's also written books about the nearby Baltimore Orioles and the Negro Leagues.) David Elfin, the former president of the Pro Football Writers of America, and Art Monk collaborated on
Washington Redskins: The Complete Illustrated History
in 2011.
Historian Thomas G. Smith wrote
Showdown: JFK and the Integration of the Washington Redskins
, telling of how the 'Skins (in a situation dripping with irony) became the last team in America's top 3 sports to racially integrate. (I'm not counting hockey: Although every NHL team has had black players now, until the 1980s the game was dominated by Canadians, and there simply aren't very many black Canadians. But even the Boston Bruins, with Willie O'Ree in 1958, had integrated before the Redskins. The last team then in existence to integrate was the Montreal Canadiens, with Steven Fletcher in 1988 -- although there wasn't any outcry, the way there was in baseball and football.)
Since the District of Columbia Stadium (later to be renamed for the President's brother) was on land owned by the federal government, President John F. Kennedy had the man with jurisdiction, Secretary of the Interior Stewart Udall (father of one recent U.S. Senator and uncle of another) tell Redskins owner George Preston Marshall that if he wanted the stadium, he had to integrate, or else he'd be stuck in the Senators' old Griffith Stadium with its 35,000 seats. Marshall relented, and traded for Cleveland Browns running back Bobby Mitchell, who was moved to receiver and was fully embraced by Washington fans.
In 2008, the NFL released the DVD
NFL: History of the Washington Redskins
. They've also released
NFL's Greatest Rivalries: Washington vs. Dallas
, and
NFL: Washington Redskins -- 3 Greatest Games
, containing their 3 Super Bowl wins (1982-83/XVII, 1987-88/XXII, and 1991-92/XXVI).
During the Game.
A recent Thrillist article
had the Redskins 10th on a list of the NFL's most obnoxious fans. (The Giants were 8th, the Jets 4th.) In spite of this, you do not need to fear wearing your Giant gear to FedExField. Despite the boisterousness of Redskin fans, you are not Cowboy fans. They won't start anything, so if you don't, you will be safe.
The Redskins are 1 of only 3 NFL teams with an official marching band. The band will play the National Anthem, usually in support of a singer chosen from auditions. Since 1938, they have played "
Hail to the Redskins
" after every score and every win. Why a band and a fight song? Founding team owner George Preston Marshall (a visionary but also an unrepentant bigot) knew, in those early days, that college football was more popular. So, since D.C. didn't have a major college team (the University of Maryland is inside the Beltway, but there wasn't any Beltway until 1961), he wanted to give the city the college football experience.
It worked: Redskin games have nearly always been well-attended, even when the team was bad. (Although, even in the RFK days, there were a lot of guys there to impress others. You know: Businessmen, lobbyists, lawyers, politicians... ) While the chorus includes the words "Braves on the warpath," the verses have been altered over the years to make the song less offensive (i.e., "Scalp 'em" became "Beat 'em").
Although, in a great irony, Griffith Stadium, the Redskins' 1st home in D.C., was just off a college campus -- but it's that of Howard University, the mostly-black school known as the Black Harvard. I'm guessing Marshall wasn't happy about that. In fact, Howard's hospital is now on the site of the stadium.
Today, the band is integrated by both race and gender, which would no doubt cause Marshall's eyes to bug out. Although the lyrics to "Hail to the Redskins" were written by his wife, actress Corinne Griffith. (Despite the name, she was not related to Washington Senators owner and stadium namesake Clark Griffith, or Clark's nephew and successor as Senators owner, Calvin Griffith, who moved the team to Minnesota mainly because D.C. had become a majority-black city, and he was even more overtly racist than Marshall.)
Oddly, the song is the source of the Redskins-Cowboys rivalry. In 1959, when Marshall, whose vote carried a lot of weight with the other NFL owners, refused to allow a Dallas team in the NFL -- which would end his team's status as the southernmost in the league, thus breaking into the biggest source of his income, Southern radio and TV rights to NFL games -- Clint Murchison, the leader of the group trying to get the Cowboys in, bought the rights to the fight song, and told Marshall that if he didn't want to pay through the nose to use the song, he had to back the Cowboys' entry. Marshall did so, and Murchison sold him the rights to the song.
The Redskins do not have an official mascot. But they did have Zema Williams, a.k.a. Chief Zee. He's been coming to Redskin games in an Indian-themed costume since 1978, and went to all 4 Super Bowls in the Joe Gibbs era -- not an easy feat considering they were in Pasadena, Tampa, San Diego and Minneapolis, all far from Washington. He also did local car ads.
Being interviewed for the NFL Network
He missed 2 Washington home games in 36 years: In 1981, when his father died; and in 2007, when, in a class act, he paid tribute to the best-known fan of the arch-enemy, the Dallas Cowboys. Wilford Jones, a.k.a. Crazy Ray, had been dressing up in a Wild West outfit in Cowboys colors from 1963 to 2006, and he and Zee had gone to every Redskins-Cowboys game -- in D.C, Landover and Irving -- for many years, and become good friends in spite of their opposition. The "mascot" version of "honor among thieves," I suppose. For the Cowboys' 2007 home opener, in full costume, Zee escorted Jones' widow onto the field at Texas Stadium, and they got a standing ovation, including from people who normally can't stand the Redskins.
During a 1983 visit to Veterans Stadium, the Redskins beat the Philadelphia Eagles, and angry Eagle fans took their frustrations out on him: He was beaten up, his leg was broken, and his original costume was ruined. But he still went up to Philadelphia, and was been left alone thereafter. Nor did Giants or Cowboys fans give him a hard time. Chief Zee continued through the 2015 season, and died on July 19, 2016, a few days after his 75th birthday.
After the Game.
If you're looking for a postgame meal (or even just a pint), you'll have trouble finding it nearby, as the stadium is an island in a sea of parking. However, with this game being a 1:00 start, it will probably end by 4:30, so you could go down Arena Drive, and across the Beltway to the mall (The Boulevard at Capital Centre).
The bar 51st State is a known hangout for Yankees, Mets, Giants, Jets, Knicks and Rangers fans. (No mention of the Nets, Islanders or Devils, though.) 2512 L Street NW at Pennsylvania Avenue. Metro: Blue or Orange to Foggy Bottom. Rebellion is also said to be a Mets fan bar. 1836 18th Street NW. Metro: Red to Dupont Circle. Nanny O'Brien's is also said to be a Giants fan bar. 3319 Connecticut Ave NW. Metro: Red to Cleveland Park.

If you visit D.C. during the European soccer season, which we are currently in the 2 best "football pubs" in town are Lucky Bar, at 1221 Connecticut Ave. NW (Red Line to Farragut North); and Fado Irish Pub, 808 7th Street NW., in Chinatown, a block from the Verizon Center (Red, Yellow or Green Line to Gallery Place).
Sidelights.
Washington's sports history is long, but not good. The Redskins haven't won a World Championship in 24 seasons; the Bullets/Wizards, 37 seasons; all of its baseball teams combined, 92 years (yes, ninety-two); the Capitals, never in their 42-season history. Indeed, no D.C. area team has even been to its sport's finals since the Caps made it 18 seasons ago.
But, if you have the time, these sites are worth checking:
* Site of Griffith Stadium. There were 2 ballparks on this site. Boundary Park was built in 1892 and burned down in 1911, within weeks of New York's Polo Grounds. Just as the Polo Grounds was rebuilt on the same site, the Senators rebuilt their home exactly where it was. Originally called League Park and National Park (no S on the end) before former pitching star Clark Griffith bought the team, this stadium was home to the old Senators from 1911 to 1960, and the new Senators only in 1961.
The Redskins played there from 1937 to 1960, and won the NFL Championship there in 1937 and 1942, although only the '42 title game was played there. There was another NFL title game played there, in 1940, but the Redskins were beaten by the Chicago Bears – 73-0. (Nope, that's not a typo: Seventy-three to nothing. Most points by one team in one game in NFL history, slightly ahead of the 'Skins' 72-41 victory over the Giants at RFK in 1966.)
A pro football team called the Washington Senators played there from 1921 until 1941 (when the manpower shortage of World War II forced them out of business), but only in that 1st season, 1921, did they play in the NFL.
While the Senators did win 3 Pennants and the 1924 World Series while playing at Griffith, it was not a good home for them. The fences were too far back for almost anyone to homer there, and they hardly ever had the pitching, either (except for Walter Johnson). In 1953, Mickey Mantle hit a home run there that was measured at 565 feet – though it probably shouldn't count as such, because witnesses said it glanced off the football scoreboard at the back of the left-field bleachers, which would still give the shot an impressive distance of about 460 feet.
The Negro Leagues' Homestead Grays also played a lot of home games at Griffith, although they divided their "home games" between Washington and Pittsburgh. Think of the Grays as the original Harlem Globetrotters, who called themselves "Harlem" to identify themselves as a black team even though their original home base was Chicago (and later moved their offices to Los Angeles, and are now based in Phoenix). It's also worth noting that the University of Maryland played its home football games at Griffith in 1948 and 1949.
By the time Clark Griffith died in 1955, passing the team to his nephew and adopted son Calvin, the area around Griffith Stadium had become nearly all-black. While Clark, despite having grown up in segregated Missouri during the 19th Century, followed Branch Rickey's path and integrated his team sooner than most (in particular going for Cubans, white and black alike), Calvin was a bigot who wanted to move the team to mostly-white Minnesota. When the new stadium was built, it was too late to save the original team, and the "New Senators" were born.
Griffith Stadium was demolished in 1965, and, as I said earlier, Howard University Hospital is there now. 2041 Georgia Avenue NW at V Street. Green Line to Shaw-Howard University Station, 3 blocks up 7th Street, which becomes Georgia Avenue when you cross Florida Avenue.
* Robert F. Kennedy Memorial Stadium. Originally named District of Columbia Stadium (or "D.C. Stadium"), the Redskins played there from 1961 to 1996. The new Senators opened there in 1962, and President John F. Kennedy threw out the first ball at the stadium that would be renamed for his brother and Attorney General in 1969. (There was a JFK Stadium in Philadelphia, formerly Municipal Stadium, where the new arena, the Wells Fargo Center, now stands.)
The new Senators played at RFK Stadium until 1971, and at the last game, against the Yankees, the Senators were up 7-5 with one out to go, when angry fans stormed the field, and the game was forfeited to the Yankees. The 'Skins moved to their new suburban stadium in 1997, after closing the '96 campaign without the Playoffs, but the final regular-season game was a thrashing of the hated Cowboys, with over 100 Redskin greats in attendance.
The Nats played the 2005, '06 and '07 seasons at RFK. D.C. United, once the most successful franchise in Major League Soccer, have played there since MLS was founded in 1996, winning the league title, the MLS Cup, 4 times, including 3 of the 1st 4. In 1998, they became the 1st U.S.-based team to win the tournament now known as the CONCACAF Champions League.
The MLS Cup Final was played there in 1997 (DCU over the Colorado Rapids), 2000 (the team now known as Sporting Kansas City over the Chicago Fire) and 2007 (the Houston Dynamo over the New England Revolution). Previously, in the North American Soccer League, RFK was home to the Washington Whips, and the Washington Diplomats, featuring Dutch legend Johan Cruyff. And the Beatles played there on their final tour, on August 15, 1966.
DC/RFK Stadium was the 1st U.S. stadium specifically designed to host both baseball and football, and anything else willing to pay the rent. But I forgive it. It was a great football stadium, and it's not a bad soccer stadium, but for baseball, let's just say Nationals Park is a huge improvement. And what is with that whacked-out roof?
No stadium has hosted more games of the U.S. national soccer team than RFK: 26. (Next-closest is the Los Angeles Coliseum, with 20.) Their record there is 16 wins, 7 draws and 3 losses. So RFK is thus the closest America comes to having a "national stadium" like Wembley or the Azteca. The last match there was on October 11, 2016, a 1-1 draw in a friendly with New Zealand.
On June 2, 2013, I was in attendance at RFK Stadium for the 100th Anniversary match for the U.S. Soccer Federation. It was a 4-3 win over Germany, but this was not indicative of their true strength: They were operating at half-power because their players from Bayern Munich and Borussia Dortmund had so recently played the UEFA Champions League Final. Only 4 players who played in this game went on to play and win for
Die Mannschaft
in the 2014 World Cup Final: Centreback Per Mertesacker (of Arsenal), left back Benedikt Howedes, and forwards Miroslav Klose and Andre Schurrle (you can't be serious).
RFK hosted 5 games in the 1994 World Cup, 9 games of the 1996 Olympic soccer tournament (6 men's and 3 women's, with the main portion of the games being played in Atlanta), and 6 games of the 2003 Women's World Cup.
With the Nats and 'Skins gone, United are the only team still playing there, and plans for a new stadium for them, near Nationals Park, are moving slowly, so it will still be possible to see a sporting event at RFK Stadium for the next few years.
2400 East Capitol Street SE. Orange Line or Blue Line to Stadium-Armory. The D.C. Armory, headquarters of the District of Columbia National Guard, is that big brown arena-like thing across the parking lot.
* Nationals Park and new D.C. United stadium. The Nats' new home opened in 2008, at 1500 South Capitol Street at N Street. It's not flashy, but it looks nice. The plan for a new D.C. United stadium is for one at Buzzard Point, on land bounded by R, 2nd, T & Half Streets SW, 3 blocks from Nationals Park. The land has finally been acquired, but not yet cleared, and construction may not begin until the spring. For the moment, the plan is for DCU to begin play there in March of 2018, meaning 2 more seasons at RFK.
Prince Georges County had a proposal for a new stadium near FedExField, and Baltimore offered to build one, leading fans of DCU's arch-rivals, the New York Red Bulls, to mock the club as "Baltimore United." But the Buzzard Point stadium is now almost certain to happen.
* Uline Arena/Washington Coliseum. This building was home to the District's 1st NBA team, the Washington Capitols, from 1946 to 1951. They reached the 1949 NBA Finals, losing to the Minneapolis Lakers of George Mikan, and were the first pro team coached by Red Auerbach. Firing him was perhaps the dumbest coaching change in NBA history: By the time Red coached the Boston Celtics to their 1st NBA title in 1957, the Capitols had been out of business for 6 years.
The Coliseum was last used for sports in 1970 by the Washington Caps (not "Capitols," not "Capitals," just "Caps")of the ABA. It was the site of the first Beatles concert in the U.S. (aside from their appearance on
The Ed Sullivan Show
2 nights before), on February 11, 1964.
It still stands, and its interior and grounds are used as a parking lot, particularly for people using nearby Union Station. Unfortunately, it's in a rotten neighborhood, and I wouldn't recommend visiting at night. In fact, unless you're a student of NBA history or a Beatlemaniac, I'd say don't go at all. 1140 3rd Street NE, at M Street. Red Line to Union Station, and then it's a bit of a walk.
* Site of Capital Centre. From 1973 to 1997, this was the home of the NBA's Washington Bullets, who became the Wizards when they moved downtown. From 1974 to 1997, it was the home of the NHL's Washington Capitals. The Bullets played in the 1975, '78 and '79 NBA Finals there, although they've only won in 1978 and clinched that at the Seattle Kingdome.
The Cap Centre was also the home for Georgetown University basketball, in its glory years of Coach John Thompson (father of the current coach, John Thompson III), Patrick Ewing, Alonzo Mourning, Dikembe Mutombo and Allen Iverson. Remember those 1980s battles with the St. John's teams of Louie Carnesecca, Chris Mullin and Walter Berry?
Elvis Presley sang there on June 27, 1976 and on May 22 and 29, 1977. (He never gave a concert in the District.) It was demolished in 2002, and a shopping mall, The Boulevard at the Capital Centre, was built on the site. 1 Harry S Truman Drive, Landover, Prince George's County, Maryland, just outside the Capital Beltway. Blue Line to Largo Town Center station.
* Verizon Center. Opened in 1997 as the MCI Center, the NBA's Wizards, the NHL's Capitals, the WNBA's Washington Mystics, and the Georgetown basketball team have played here ever since. The NCAA held its hockey Final Four, the Frozen Four, here in 2009. Only one Finals has been held here, the Caps' 1998 sweep at the hands of the Detroit Red Wings. (Georgetown has reached a Final Four since it opened, but those are held at neutral sites.) But it's a very good arena. 601 F Street NW, at 6th Street. Red, Green or Yellow Line to Gallery Place-Chinatown Station.
UPDATE: After 11 years as the Verizon Center, in 2017, the name was changed to the Capital One Arena.
* Maryland SoccerPlex. The Washington Spirit of the National Women's Soccer League play here, at the main field, with a stadium with 4,000 seats. 18031 Central Park Circle, in Boyds, Montgomery County, Maryland, about 30 miles northwest of downtown D.C. You'd need the DC Metro and 2 buses to get there without a car.
* The Smithsonian Institution. Includes the National Museum of American History, which contains several sports-themed items. 1400 Constitution Avenue NW. Blue or Orange Line to Federal Triangle. (You could, of course, take the same lines to Smithsonian Station, but Fed Triangle is actually a shorter walk.)
If you're into looking up "real" TV locations, the Jeffersonian Institute on
Bones
is almost certainly based on the Smithsonian. The real
NCIS
headquarters used to be a short walk from Nationals Park, on Sicard Street between Patterson and Paulding Streets. Whether civilians will be allowed on the Navy Yard grounds, I don't know; I've never tried it. I don't want to get stopped by a guard. I also don't want to get "Gibbs-slapped" -- and neither do you. However, they have since moved to the Marine base at Quantico, Virginia, and that's a bit of a trek.
Of course,
The West Wing
was based at the White House, at 1600 Pennsylvania Avenue NW. The best-known D.C.-based show that didn't directly deal with government officials was
Murphy Brown
. The
FYI
studio was said to be across the street from Phil's, whose address was given as 1195 15th St. NW. Neither the bar nor the address actually exists, but if the address did, it would be at 15th & M Streets. This would put it, rather conveniently, right down the block from 1150 15th Street, the headquarters of
The Washington Post
.
The University of Maryland, inside the Beltway at College Park, can be accessed by the Green Line to College Park and then a shuttle bus. (I tried that for the 2009 Rutgers-Maryland game, and it works very well.) Maryland Stadium (formerly Byrd Stadium) is one of the nation's best college football stadiums, but I wouldn't recommend sitting in the upper deck if you're afraid of heights: I think it's higher than Shea's was.
Across from the stadium is Cole Field House, where UMd played its basketball games from 1955 to 2002. The 1966 and 1970 NCAA Championship basketball games were played there, the 1966 one being significant because Texas Western (now Texas-El Paso) played an all-black starting five against Kentucky's all-white starters (including future Laker, Knick and Heat coach Pat Riley and Denver Nuggets star Dan Issel). In the 1970 Finals, it was UCLA over the University of Jacksonville.
Elvis sang there on September 27 and 28, 1974. The Terrapins won the National Championship in their final season at Cole, and moved to the adjacent Xfinity Center thereafter.
Remember that Final Four run by George Mason University? They're across the Potomac River in Fairfax, Virginia. Orange Line to Virginia Square-GMU.
The U.S. Naval Academy is 30 miles east in Annapolis, Maryland; the University of Virginia, 117 miles southwest in Charlottesville; and Virginia Tech, 270 miles southwest in Blacksburg.
I also recommend visiting the capital's museums, including the Smithsonian complex, whose most popular buildings are the National Archives, hosting the originals of the Declaration of Independence and the Constitution; and the National Air and Space Museum, which includes the Wright Brothers'
Flyer
, Charles Lindbergh's
Spirit of St. Louis
, Chuck Yeager's
Glamorous Glennis
(the 1st plane to break the sound barrier), and several space capsules including
Apollo 11
. The Smithsonian also has an annex at Dulles International Airport out in Virginia, including a Concorde, the space shuttle
Discovery
, and the
Enola Gay,
the plane that dropped the 1st atomic bomb.
Being the Nation's Capital, D.C. has lots of Presidential-themed locations, aside from the White House. Mount Vernon, which now has a George Washington Presidential Library and Museum on the grounds, at 3200 Mount Vernon Highway in Alexandria, Virginia. Red Line to Metro Center, then, at 15th Street & New York Avenue NW, you can catch Bus 11Y, which will go right there.
After the White House was burned by the British Army on August 24, 1814, during the War of 1812, President James Madison and his wife Dolley moved into a house now known as the Octagon Museum, and stayed there for the rest of their term, with successors James and Elizabeth Monroe moving back into the White House in 1817. 1799 New York Avenue NW, 2 blocks west of the White House. Blue or Orange Line to Farragut West.
At the same time, Monroe was both Secretary of State and Secretary of War (the post we now call Secretary of Defense), and lived at 2017 I Street (Eye). Blue or Orange Line to Foggy Bottom-GWU. When he became President, his Secretary of State was John Quincy Adams, and, before he became the next President he lived a block away at 2133 I Street.
As Andrew Jackson's Secretary of State and then Vice President, future President Martin Van Buren lived at what's now 748 Jackson Place, 2 blocks north of the White House. As a federal official in the 1890s, Theodore Roosevelt lived down the block, at 736 Jackson Place.
Brown's Indian Queen Hotel was where John Tyler in 1841 and Millard Fillmore in 1850 were living when they became President when their predecessors died. The offices of the National Association of Retail Collection Attorneys, and the Capital Grille restaurant, are on the site now. 601 Pennsylvania Avenue NW. Three blocks down, at 300 Pennsylvania, the National Gallery of Art Library was built on the site of the house where James K. Polk lived when he was Speaker of the House. Metro: Green or Yellow Line to Archives-Navy Memorial.
The Library of Congress – the current building, a.k.a. the Jefferson Building – is not only one of America's holiest sites in its own right, but it was built on the site of the house where Abraham Lincoln stayed during his 1 term in Congress (1847-48). 101 Independence Avenue South.
When Lincoln was assassinated, Andrew Johnson, the new President, was staying at Kirkwood House, at 1111 Pennsylvania Avenue NW. An office building and a Fogo de
Chão Brazilian Steakhouse are
on the site now. They're across from the Old Post Office Pavilion, now one of Donald Trump's money-laundering hotels. Metro: Blue or Orange to Federal Triangle.
Three blocks up, at 1401 Pennsylvania, is the Willard Hotel. The current version of this legend went up in 1901, replacing the 1847 version that was where Ulysses S. Grant stayed as General-in-Chief – making it, in effect, the Civil War's Pentagon. Metro: Red, Blue or Orange to Metro Center.
Between the end of the war in 1865, and taking office as President in 1869, Grant lived at what's now called the Scott-Grant House, at 3238 R Street NW, in the Georgetown section of town. You'll have to take Metrobus DCWE to get there, and to any Georgetown location. This includes the various homes of John F. Kennedy between his 1946 election to Congress and his 1960 election as President: 1528 31st Street, 1400 34th Street, 3260 N Street, 3271 P Street, 3321 Dent Place, 2808 P Street and 3307 N Street.
The Cleveland Park area, reached by the Red Line at the stop bearing the name, includes several Presidential residences. Grover Cleveland's "Summer White House" was at 3600 Newark Street; Lyndon Johnson lived at Woodley Park Towers while he was Senate Majority Leader from 1953 to 1960, 2737 Devonshire Place; and Richard Nixon lived at 3601 Connecticut Avenue while serving in Congress.
The next stop up on the Red Line is
Woodley Park-Zoo. As a Senator, Harry Truman lived at 4701 Connecticut Avenue.
The Riggs Building was built on the site of the Riggs House, where Benjamin Harrison lived as a Senator. 615 G Street. Red Line to Union Station. While serving in Congress, William McKinley stayed in a hotel where the National Press Club has since been built. 529 14th Street. Red Line to Metro Center.
The Dupont Circle area
, reached by the Red Line at the stop bearing the name,
includes several such homes. While Chief Justice of the U.S. Supreme Court, William Howard Taft lived at what's now the Syrian Embassy. 2215 Wyoming Avenue. Warren Harding lived a block away at 2314 Wyoming. The only post-Presidential home to be an official historic site in the District is the Woodrow Wilson House at 2340 S Street. In the Cabinet in the 1920s, Herbert Hoover lived at 2300 S. While stationed in D.C. from 1927 to 1936, Dwight D. Eisenhower lived at 2022 Columbia Road.
From 1955 until he became President in 1974, including his tenures as House Minority Leader (1965-73) and Vice President (1973-74), Gerald Ford lived in the Virginia suburbs, at 514 Crown View Drive in Arlington. Yellow Line to King Street. As with his (and Ford's) fellow Yalie Taft, George H.W. Bush lived in what's now an Embassy, Algeria's, during his Congressional (1965-70) and Ambassadorial (1971-75) and CIA Directorial (1976-77) service. 5161 Palisade Lane. Metrobus D6. And the Naval Observatory has been the official Vice Presidential residence since 1974. 3450 Massachusetts Avenue. Metrobus N4.
Barack and Michelle Obama rented a house in Washington to use while daughter Malia finished high school. They have since gone back to Chicago with younger daughter Sasha, but the house is still a private residence, and I won't list the address here. Same with the house that Bill and Hillary Clinton have in the District.
Abraham Lincoln was shot at Ford's Theater on April 14, 1865. 511 10th Street. As with Dealey Plaza, Dallas site of the John F. Kennedy assassination, except for modern businesses on the ground floor, the buildings on the block have been left intact, leading to the criticism that it's a "Lincoln theme park." Red Line to Metro Center.
The site of James Garfield's shooting on July 2, 1881 no longer stands. It was the Baltimore & Ohio Railroad deport that was replaced by Union Station. The National Gallery of Art was built on the site. 600 Constitution Avenue. Green or Yellow Line to Archives-Navy Memorial -- and definitely check out the National Archives, home of the Declaration of Independence and the Constitution (unless you're Sean Bean in National Treasure). 700 Pennsylvania Avenue.
Ronald Reagan was shot outside the Washington Hilton on March 30, 1981. 1919 Connecticut Avenue. Red to Dupont Circle. His life was saved at George Washington University Hospital. 900 23rd Street. Blue or Orange Line to Foggy Bottom-GWU. That's also the station for the nearby John F. Kennedy Center for the Performing Arts (2700 F Street) and the Watergate complex (700 New Hampshire Avenue) -- Kennedy and Nixon, forever linked.
Arlington National Cemetery has its own Metro Station, on the Blue Line. It is the final resting place for Presidents William Howard Taft and John F. Kennedy, plus JFK's wife Jackie and his brothers Bobby and Ted, former Heavyweight Champion Joe Louis,
and General (but not baseball inventor) Abner Doubleday,
among other notables.
Ironically, given its status as land seized from Robert E. Lee's family and its establishment as a cemetery for the Union dead of the American Civil War, the street it's on is the Jefferson Davis Highway in Arlington, Virginia; however, like all federal installations in Arlington, it has Washington, D.C. as its official mailing address.
One of the 1960 Presidential Debates between John F. Kennedy and Richard Nixon was held in Washington -- still the only Presidential Debate held in the capital. On October 7, it was hosted not in a sports arena, a theater or a college auditorium, but in front of no live audience other than the panelists and the TV crew, at the studios of the NBC affiliate, WRC, Channel 4, 4001 Nebraska Avenue NW. Red Line to Tenleytown-AU.
In spite of what some movies have suggested, you won't see a lot of tall buildings in the District. The Washington Monument is 555 feet high, but, other than that, no building is allowed to be taller than the Capitol. Exceptions were made for two churches, the Washington National Cathedral and the Basilica of the National Shrine of the Immaculate Conception, and the Old Post Office Pavilion was built before the "unwritten law" went into effect. In contrast, there are a few office buildings taller than most D.C. buildings across the Potomac River in Arlington, Virginia, and in the neighboring Maryland cities of Silver Spring and New Carrollton.
*
Have fun in the Nation's Capital. And enjoy Giants vs. Redskins, a rivalry now in its 85th season -- its 80th season in Washington.