Note: While his name was usually written as "Cruyff" for the English-speaking world, I'm going to spell it "Cruijff" throughout this post, since that's how he spelled it, except where, when quoted by others, it's spelled "Cruyff."
In his book
Brilliant Orange: The Neurotic Genius of Dutch Football
, David Winner quoted Xander van der Drift, a Dutch poet, writing for a fan magazine in 1999: "Question of the 21st Century: Where were you when Johan Cruyff died?"
Hendrik Johannes Cruijff (pronounced "croyf") was born on April 25, 1947, on the east side of Amsterdam, the Netherlands. He grew up in a house on Akkerstraat, just a 5-minute walk from De Meer Stadion, then the home ground of Amsterdamsche Football Club Ajax (pronounced "EYE-ax," and named for the mythical Greek hero), the leading club in the largest Dutch city and the nation's capital.
In 1959, his father, Hermanus, a great Ajax fan, died of a heart attack. His mother, Petronella, would leave the store she and her husband ran, and became part of the staff at Ajax. She would remarry, to Henk Angel, a field hand at Ajax. With his mother, his stepfather, and the memory of his father in mind, the soccer influence stayed in the Cruijff home, and Johan was more determined than ever to become a great player.
Had he been born in America, he could have been a great baseball player. He joined Ajax's youth system at age 10, and was both a pitcher and a catcher. But it was obvious that his true talent was in soccer, and so, at age 15, he concentrated exclusively on that.
On November 15, 1964, just 17 years old, his made his senior debut for Ajax, in an Eredivisie (Dutch top league) game against GVAV (the club now named FC Groningen), scoring the club's only goal in a 3-1 loss. In 1965-66, he scored 25 goals, leading Ajax back from an awful finish the season before, their worst ever, to the league title, the 1st of 8 he would win with the club.
In 1967, Ajax again won the league, and also won the Koninklijke Nederlandse Voetbalbond Beker -- the Royal Dutch Football Association Cup, usually written as the KNVB Cup. This was the 1st time Ajax had won the Dutch equivalent of "The Double," the 1st of 4 times they would do so with Cruijff.
*
In 1969, Ajax advanced to the European Cup Final, losing to AC Milan, led by perhaps the greatest Italian player of them all, Gianni Rivera. This may have had an effect on Cruijff and Ajax manager Rinus Michels, who began to devise what became known as "
totaalvoetball
" -- "Total Football."
The idea is that any outfield player -- anyone ahead of the goalkeeper -- can move to another part of the field, and another player can move to slip into the space vacated by the preceding player. This had been previously been attempted by the great Real Madrid and Hungary teams of the 1950s, and the Burnley side in England that won the 1960 Football League title, but they didn't maintain it for long.
In his book, Winner described what they made Dutch soccer into as being like Dutch art: "Cruyff became the greatest exponent and teacher of
totaalvoetball
. His vision of perfect movement and harmony on the field was rooted in the same sublime ordering of space that one sees in the pictures of Vermeer or church painter Pieter Jansz Saenredam. It was the music of the spheres on grass."
In 1970, Ajax's arch-rivals, Rotterdam-based Feyenoord, having won the previous season's Eredivisie title, became the 1st Dutch team to win the European Cup. But Ajax again won The Double, and launched the most stunning run of soccer play Europe has ever seen.
Cruijff hurt his groin at the start of the 1970-71 season. On October 30, 1970, he returned, and a legend was born. Previously, he had worn Number 9, usually the number of a centre-forward. But he began wearing Number 14. By this point, numbers higher than 11 were only worn on national teams (1 to 23), except by substitutes (and then, it would be 12, 14 or 15, as 13 was usually seen as bad luck).
Crujiff nearly always wore 14 from this point forward, and with the exception of
Pelé
and Diego Maradona with 10, no single athlete in the history of sports on this planet has become more identified with a single number -- not even Jackie Robinson with 42, Mickey Mantle with 7, Michael Jordan with 23 or Wayne Gretzky with 99.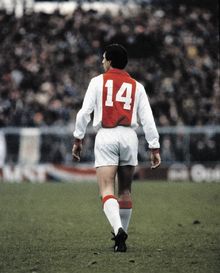 In 1971, Ajax progressed all the way to the Final of the European Cup again (at that time, only a defending national league champion could appear in it, unless they were the previous season's European Cup winners), and were set to play Panathinaikos of Athens, Greece.
The Final of what was known from 1955 to 1992 as the European Cup and since 1992 as the UEFA Champions League has always been set for a neutral site, although it hasn't always worked out that way. For 1971, the site chosen was the original Wembley Stadium in London. This factor cannot be underemphasized: The European Cup Final was the only non-English soccer game broadcast live on British television at the time, and the BBC promoted the heck out of this game.
Ajax had already played Arsenal, the North London side that won the League and FA Cup Double in that 1970-71 season, in the Semifinal of the 1969-70 Inter-Cities Fairs Cup, with Arsenal winning and then beating Belgium's Anderlecht in the Final.
In that 1970 match, the similarity between Ajax and Arsenal was mainly visual: Arsenal's famous red shirts with white sleeves seemed to be copied, but not quite, by Ajax's red fronts and backs with white sides. However, since Ajax had only the single uniform (or "kit," or "strip") at the time, even at home at Highbury, Arsenal had to wear their "change strip" of yellow shirts and blue shorts (a common combination in England at that time, as so many teams wore red and this was a common contrast).
The London leg of the '70 Fairs Cup Semifinal,
at the Arsenal Stadium, a.k.a. Highbury
The British interest wasn't just about fans' recent familiarity with Ajax, and how good they already believed Ajax to be. There was also intense interest in their Greek opponents. Pana had modeled themselves after a great British side, Glasgow-based Celtic, down to wearing green uniforms and having a shamrock as their logo; and were managed by Ferenc
Puskás
, who not only starred for the aforementioned Real Madrid side, but whose masterclass for the aforementioned Hungary side at Wembley in 1953 resulted in the England national team's 1st defeat on home soil to a non-British team.
I
n those days, teams generally didn't seek out foreign players or managers.
Puskás
wasn't Greek, but all of his players were. Sweeper

Velibor Vasović

, a Serb from Yugoslavia, and substitute defender Horst Blankenburg of Germany, were the only non-Dutch players to get into this game for Ajax. The others: Goalkeeper Heinz Stuy; defenders Wim Suurbier and Barry Hulshoff; midfielders Cruijff, Nico Rijnders, Johan Neeskens,

Gerrie

Mühren and substitute Arie Haan; and forwards Sjaak Swart, Piet Keizer and Dick van Dijk -- yes, his name was pronounced like "Dick Van Dyke."
van Dijk scored in only the 5th minute, and Pana desperately held on, looking for an equalizer, and not finding it, before Haan put the game away with a goal in the 87th. Ajax won, 2-0, and had become Champions of Europe for the 1st time.
Despite manager Michels being lured away by the money of Spanish club Barcelona, Ajax repeated in 1972 under Romanian manager Stefan Kovacs, winning the Netherlands' 1st European Treble: League, Cup and European title. They lost only 1 game all season long, including knocking Arsenal out in the European Cup Quarterfinal.
The 1972 European Cup Final proved to be Total Football's finest hour. They faced Internazionale of Milan, a team which had won the European Cup in 1964 and 1965, and lost to Celtic in the 1967 Final, with a system called catenaccio (a word meaning "padlock"): Defense above all. "Il Grande Inter" had been so successful with the system, in contrast to the free-flowing format of their groundsharing rivals AC Milan, that they were considered the hallmark of soccer defense. Italian sportswriter Gianni Brera, a man often thought of as an Inter fan (he denied it), reflected the dominant thought of the Italian game at this point, writing that the perfect game of "calcio" (what the Italians call soccer) would end 0-0.
No such luck for Inter on this night: Despite having the great Sandro Mazzola and world-class defenders Giacinto Facchetti and Tarcisio Burgnich, Cruijff controlled the game from first whistle to last, scoring in the 47th and 78th minute to provide the 2-0 margin of victory.
"The Death of Catenaccio" was reported all over Europe. The Dutch newspaper Algemeen Dagblad wrote, "The Inter system undermined. Defensive football is destroyed." To make the moment all the sweeter, the venue was Stadion Feijenoord in Rotterdam, home ground of hated Feyenoord.
Ajax did it again in 1973, as Johnny Rep scored in the 5th minute for the only tally in the 1973 European Cup Final, defeating another Italian side, Turin-based Juventus, 1-0 at the Red Star Stadium in Belgrade, Yugoslavia (Serbia). Three straight European Cups would be done again by Bayern Munich in the next 3 years, but it hasn't been done in the 40 years since. Indeed, 2 straight hasn't been done since AC Milan in 1989 and '90.
*
But all good things must come to an end. In August 1973, due to infighting at Ajax, Cruijff wanted out, and he got it: His former manager Michels brought him to FC Barcelona, for what was then a world record transfer fee, worth about $2 million at the time.

Barça

fans, known as cules, were ecstatic, getting the man then generally regarded as the best player in the world, something their arch-rivals, Real Madrid, had previously had with

Puskás

and Alfredo Di Stéfano. Now, it was La Blaugrana who had this advantage over Los Merengues.
Crujiff married a woman named Danny Coster. They had daughters Chantal in 1970 and Susila in 1972. They maintained a home in Barcelona from 1973 onward. On February 9, 1974, their son was born. Johan gave his son a Catalan name: Johan Jordi Cruijff. Naming his son after Jordi, Catalonia's patron saint, further endeared him to the Catalan people, especially since Spanish dictator Francisco Franco (who would be dead within 2 years), said to have fixed titles in favor of Real Madrid, had banned all use of Catalan national symbols. (Jordi Cruyff, as his name has usually been written, went on to have a decent career as a player, but people always expected more from the son of Cruijff.)
But what the cules really loved about him came just 8 days later: On February 17, 1974, Barcelona went to Estadio Santiago Bernabeu, Real Madrid's mighty 100,000-seat home stadium, and beat them 5-0. If Crujiff had never played another game for La Blaugrana, they would have loved him forever for that alone.
Barcelona won La Liga in 1974. It all seemed to be setting Cruijff up for the greatest prize of all: The World Cup. The tournament was being held in West Germany, and the Dutch team seemed to have the best of all Dutch worlds.
From Ajax (currently or formerly) came Cruijff, Neeskens, Haan, Kiezer, Suurbier, Rep and defender Ruud Krol. From Feyenoord came goalkeeper Eddy Treijtel; defenders Wim Rijsbergen, Wim Jansen, Rinus Israel and Harry Vos; and midfielders Willem van Hanegem and Theo de Jong. From PSV Eindhoven came defender Pleun Strik and twin brother midfielders

René and

Willy van de Kerkhof. From Twente Enschede came goalkeeper Piet Schrijvers and defender Kees van Ierssel. From FC Amsterdam came starting goalkeeper Jan Jongbloed. From Belgian club Anderlecht came forward Rob Rensenbrink. And from Anderlecht's arch-rivals, Club Brugge, came midfielder Ruud Giels.
The Netherlands -- often incorrectly called "Holland," but that name only refers to 2 provinces of the kingdom, albeit those containing Amsterdam and Rotterdam -- defeated Uruguay 2-0, drew 0-0 with Sweden, and demolished Bulgaria 4-1 to advance to the 2nd Group Stage. There, they beat Argentina 4-0, East Germany 2-0 and defending champions Brazil 2-0.
It was beginning to look easy. They had played 6 games, and had an aggregate advantage of 14-1. With their flowing football, flowing hair and bright orange uniforms, they had captivated the entire world -- especially since this was, for many countries, still the early days of color television.
Cruijff and Beckenbauer in the Final
On July 7, 1974, at the Olympiastadion in Munich, the dream seemed to be coming true. The Dutch lined up for the Final against a West Germany dominated by players from Bundesliga winners Bayern Munich, including defender Franz Beckenbauer, goalie Sepp Meier and forward Gerd

Müller.

In only the 1st minute of the game, Crujiff advanced into the penalty area, and Bayern's Uli Hoeness brought him down. A penalty was awarded, the 1st ever awarded in a World Cup Final, and Neeskens converted to give the Dutch a lead before 2 minutes had passed.
But the Dutch may have scored too soon, and rested on their laurels. The Germans fought back, and got a legitimate penalty of their own in the 25th minute.

Müller scored in the 43rd to give West Germany the lead. The half soon came, and

Cruijff argued with the referee, Englishman Jack Taylor, and was booked for this. The Dutch came a little unglued, and although they fell no further behind, neither did they get any closer. West Germany won, 2-1. It was not a home soil victory: Indeed, in the 2nd half, they had a goal waved off for offside, and were denied what looked like a legit penalty.
Despite the defeat in the Final, Cruijff was awarded the Ballon d'Or (Golden Ball), as World Player of the Year, for the 3rd time in the last 4 years. There was no doubt that he was now the best player in the world, even if he couldn't quite get his country to the greatest prize of all.
In 1977, Cruijff announced his retirement from international soccer, refusing to play in the 1978 World Cup in Argentina. For 30 years, it was believed that he was protesting the military dictatorship that took over Argentina in 1976, after the country was awarded the tournament. But in 2008, he revealed the truth: There was a threat against his family, and it got into his head, and he didn't think he would be at his best for the tournament.
Again, the Netherlands reached the Final, even without Cruijff; but, this time, it was a home soil victory, as the Argentines' mere qualification for the Final under the system then in place was dubious, and they scored 2 dubious goals in extra time to win 3-1. There were some Dutch players who were quoted as saying they didn't know if they would leave the stadium alive if they won.
Cruijff has been called the greatest player that Europe has ever produced. However, the lack of a World Cup sticks out on his resume, as it does for players like

Puskás

, Argentina's

Di Stéfano and (so far) Lionel Messi,

France's Raymond Kopa, Wales' John Charles, Northern Ireland's George Best, Italy's Paolo Maldini, and Portugal's

Eusébio and (so far) Cristiano Ronaldo.
For some of those players (particularly Charles and Best), it's because their countrymen were not up to their level. For Maldini, it was down to luck: He was considered too young in 1982 and too old in 2006, despite his 25 years of top-flight football. But the Netherlands has had so much talent, yet their only major tournament win has been Euro 88. They would lose the World Cup Final again in 2014, to Spain. No other country that's been in at least 3 Finals has failed to win at least 1.
*
In 1979, the North American Soccer League was desperate to have a legendary player come into their league, with

Pelé having retired. They set their sights on

Cruijff, hoping to get him for

Pelé's former team, the team in the biggest market, the New York Cosmos -- putting him and Beckenbauer on the same team at last. He did play in 2 exhibition games for the Cosmos, wearing the very unfamiliar number of 30.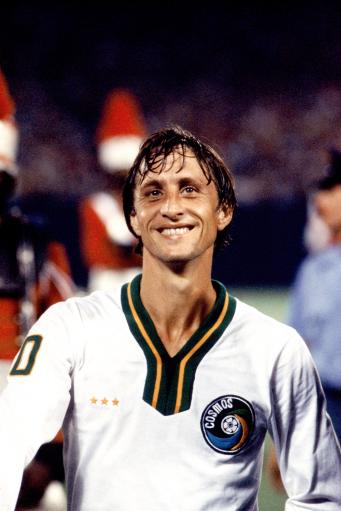 But a deal to play for them regularly fell through, and, instead, he played for the Los Angeles Aztecs, co-owned by rocker Elton John. Just as the Cosmos made their away jerseys green with yellow trim to match

Pelé's Brazil, so, too, did the Aztecs alter their away jerseys to be Dutch orange for Cruijff.

Although they did not win the league title,

Cruijff won Player of the Year.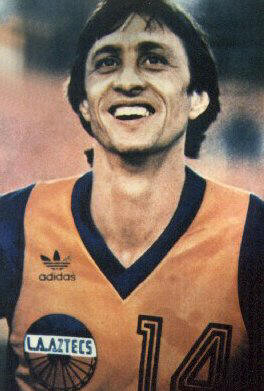 In 1980, he moved to the nation's capital to play for the Washington Diplomats, and this is how most Americans will remember him. He didn't help them win a title, either (as this cover of Soccer Digest suggests), but, as much as anybody other than

Pelé,

Cruijff made the old NASL, however briefly, cool.
In 1981, he returned to Ajax, and led them to league titles in 1982 and 1983 (a Double season). But after that Double season, Ajax didn't offer him a new contract. Offended, he came up with the ultimate revenge: Signing with rivals Feyenoord, and leading them to the Double in the 1984 season. At the end of that season, he retired at age 37.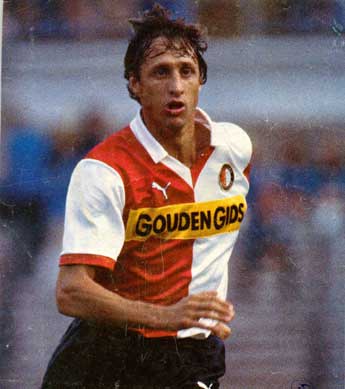 John Charles with Cardiff City? Luis Figo with Real Madrid?
Sol Campbell with Arsenal? Michael Owen with Manchester United?
All happened. None were as jarring as Cruijff with Feyenoord.
It would have been like Tom Seaver with the Yankees.
*
If playing were the extent of Johan Cruijff's impact on the sport of soccer, he would still be one of its all-time legends. But he was just getting warmed up.
In 1985, he and Ajax straightened things out, and he was named their manager. He immediately led them to the KNVB Cup. In 1987, he led them to that trophy again, and to the UEFA Cup Winners' Cup.
In 1988, he moved back to Barcelona. As manager, he brought in some of the greatest players of the era into a "Dream Team": Brazil's

Romário, Denmark's Michael Laudrup, Romania's Gheorghe Hagi, Bulgaria's Hristo Stoichkov, his countryman Ronald Koeman, and Catalan Josep "Pep" Guardiola.
In his 1st season, 1988-89, they won the Cup Winners' Cup, beating Sampdoria of Genoa, Italy. The next year, they won the Copa del Ray (King's Cup, Spain's version of the FA or KNVB Cup). The year after that, they won La Liga for the 1st of 4 straight times.
In 1991, Cruijff had heart bypass surgery, and quit smoking. Like Telly Savalas on Kojak, he took to sucking on lollipops to curb his oral fixation. (Also like Kojak, he frequently wore a raincoat. But unlike Savalas, who was famously bald, he mostly kept his hair.)
Cruyff in his trademark raincoat, with a young Guardiola
He was rewarded for quitting smoking in the 1991-92 season with another La Liga title, and Barcelona's 1st European Cup win -- the last time the tournament was called that, before being rebranded by the Union of European Football Associations as the UEFA Champions League. (The trophy for winning it is still called the European Cup, or "Ol' Big Ears.") Again, they beat Sampdoria in the Final, with Koeman's goal in extra time, in the 112th minute, making the difference. It remains the most famous goal in
Barça
's history.
Cruiff, Laudrup and Stoichkov with Ol' Big Ears
Cruijff's greatest contribution to

Barça

may have come earlier, in 1979, but he certainly cultivated it more as manager. He wanted to copy the Ajax Academy that had produced himself and so many other great players. It was established on land owned by the club, outside a 1702 house known as La Masia ("The Farmhouse"), and La Masia has remained the academy's name ever since. It has kept the talent flowing, well into the age of Lionel Messi.
He was offered the chance to manage the Netherlands at the 1994 World Cup in America, but the negotiations broke down. Like Brian Clough in England, he is regarded as the greatest manager that his national side never had.
After winning nothing in the 1995 and 1996 seasons, Cruijff was sacked as

Barça

manager. He never managed again, unless you count the unofficial Catalonia national team from 2009 to 2013. In 2008, he was offered the post of technical director at Ajax, but that deal also fell through, due to a renewal of his feud with Marco van Basten, the greatest Ajax and Netherlands player since Cruijff himself.
*
Cruijff's legacy is on multiple levels. He practically made one club into a European giant, Ajax; restored another to such a place, Barcelona; made his homeland a worldwide soccer power; and helped boost the game in 3 countries: The Netherlands, Spain and America. Between playing and managing, he won 14 League titles, 10 national cups, 4 European Cups and 2 Cup Winners' Cups.
And he revolutionized the way the game is played and the way the game is taught. To put it in a North American perspective: Imagine that Babe Ruth and Casey Stengel were the same man, with both men's achievements. Or Sammy Baugh and Vince Lombardi. Or Maurice Richard and Scotty Bowman. Or that Bill Russell had been as good a coach without himself as a player as he was with himself as one.
The Dutch Football Talent of the Year award is the Johan Cruijff Prijs -- the Johan Cruyff Prize. The trophy given to the winner of the preseason match between the winners of the previous season's league title and cup, their version of England's Community Shield, is the Johan Cruijff Schaal -- the Johan Cruyff Shield.
Like Stengel, and like Clough, Cruijff became known for one-liners, which have been called Cruyffisms:
* "Every advantage has its disadvantage."
* "In Spain, all 22 players make the Sign of the Cross before a game. If it worked, every game would be a tie."
* "Italians cannot beat you, but you can certainly lose to them."
* "I don't want to be a thief of my own wallet."
* "Speed is often confused with insight. When I start running earlier than the others, I appear faster."
* Perhaps most quoted of all: "Football is simple, but the hardest thing there is, is to play simple football."
* Sometimes, his Cruyffisms sounded like Yogi Berra lines: "Before I make a mistake, I don't make that mistake."
* "Sometimes, something's got to happen before something is going to happen."
* "If I wanted you to understand, I would have explained it better."
*
It was also Cruijff who gave Barcelona its motto: "Barcelona is more than a club." Or, in Catalan, "
Mes que un club
."
In 1999, he was named European Player of the Century. In 2003, he was named the Netherlands' greatest player ever.
In 2006, when Arsenal opened the Emirates Stadium with a testimonial to Dennis Bergkamp, who had started at Ajax, Ajax were invited to be the opponent. Cruijff played the last 10 minutes, at the age of 59.
Cruijff dribbling, with Arsenal's
Patrick Vieira following him
On April 18, 2007, in anticipation of his 60th birthday, Ajax retired the Number 14 that he made so famous.
Eventually, his smoking habit, though long abandoned, came back to haunt him. In October 2015, he was diagnosed with lung cancer. He died this morning, at the age of 68.
King Willem-Alexander of the Netherlands released an official statement: "He has enriched and personified our football. He was an icon of the Netherlands. Johan Cruijff belonged to all of us."
On those great Ajax teams, he was preceded in death by Nico Rijnders (who had a heart attack during a 1972 game and never recovered, dying in 1976, only 28 years old), Dick van Dijk (a heart infection killing him at 51 in 1997),

Velibor Vasović (2002) and Gerrie

Mühren (2013); and on the 1974 Dutch World Cup squad by
Mühren and Harry Vos (2010)
.
Johan Cruijff prided himself on being a teacher. This may be his greatest lesson: Don't smoke.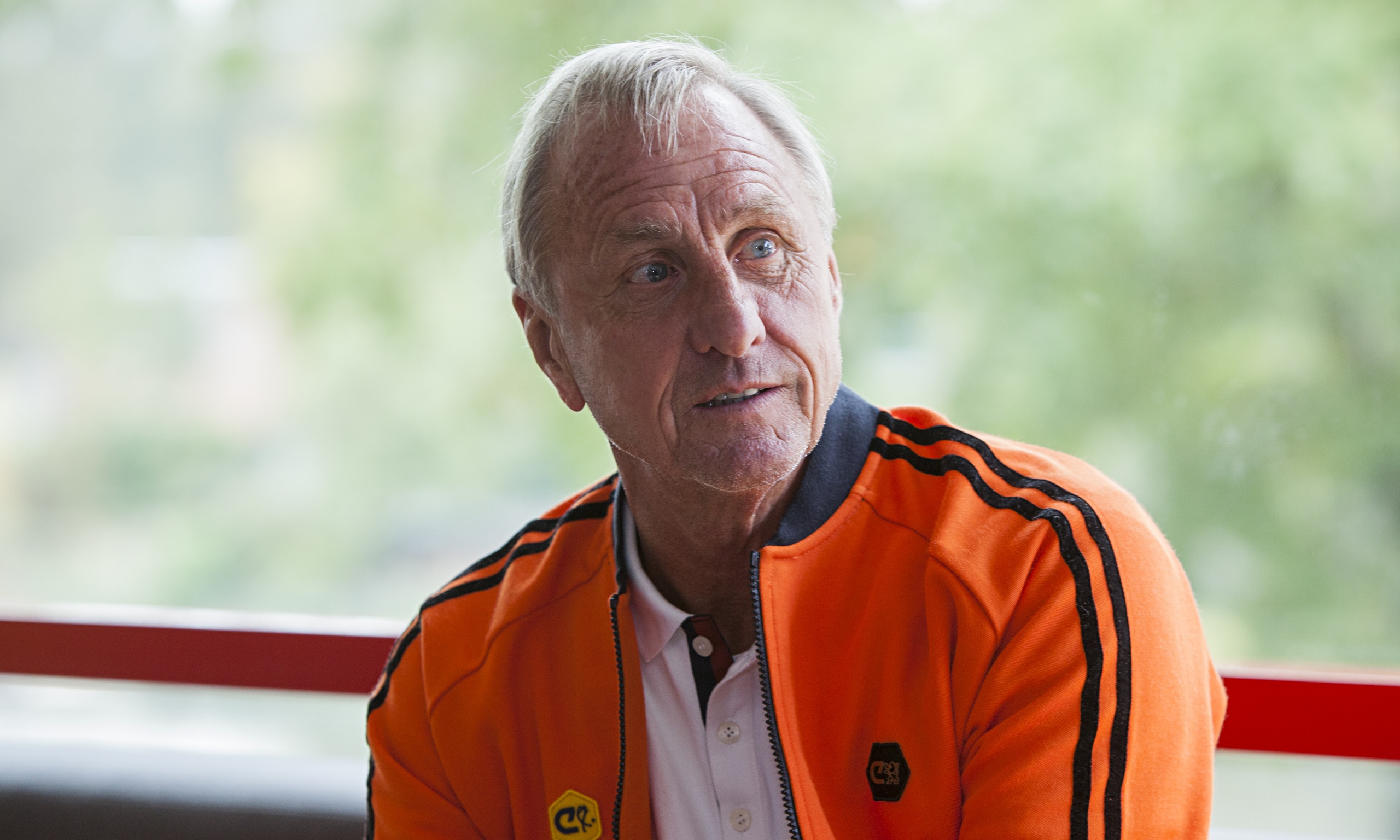 His shadow will long outlive him.