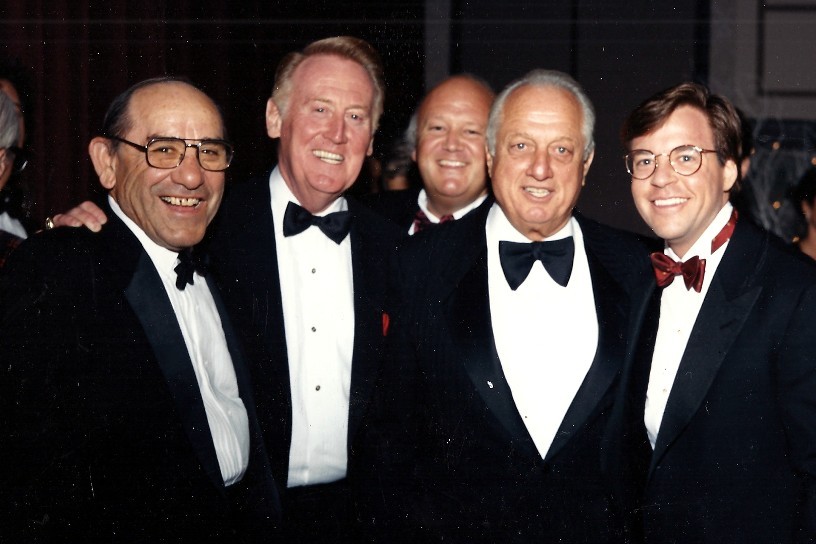 "Nobody goes there anymore. It's too crowded."
Yogi Berra said that about a restaurant he liked. Which restaurant it was, is in dispute. Some have said it was Charley's in Minneapolis. Once source said it was a pizza place near Yankee Stadium.
Most likely, it was Ruggieri's, a restaurant not far from the house where he grew up, on Elizabeth Avenue in St. Louis. He and his across-the-street neighbor worked there, as waiters.
The neighbor's name was Joe Garagiola. As he put it, "Not only was I not the best catcher in the major leagues, I wasn't even the best catcher on my street."
*
Joseph Henry Garagiola was born on February 12, 1926 in St. Louis. He grew up across the street from Lawrence Peter Berra, known as Lawdie because his mother's Italian accent couldn't quite say, "Larry."
Another friend, Bobby Hofman, later played as a utility man with the New York Giants, was a member of their 1954 World Series-winning team, and won another ring when his Giant teammate Alvin Dark named him as one of his coaches on the 1974 Oakland Athletics. He was mainly an infielder, but was also used as a backup catcher to Wes Westrum -- making him the 3rd-best catcher in his own neighborhood.
It was Hofman, who died in 1994, who saw Lawdie Berra sitting on the ground in lieu of dugouts, arms and legs folded, and, remembering a movie about India they'd recently seen, said, "You look like a yogi." And a nickname was born.
Joe graduated from to St. Mary's High School. Yogi dropped out of it. (Once, asked how he liked school, he said, "Closed.")Hofman, being Jewish, went to a public school, Beaumont High School, which was built on the site of Robison Field, which was home to the St. Louis Cardinals from 1892 to 1920.
When they were teenagers, major league scouts seemed to think Joe was the best of the bunch. In 1942, at age 16, he was signed by the hometown Cardinals. In 1943, at 17, he became the youngest player ever to play for the Class AAA team in Columbus, Ohio, then known as the Red Birds since they were a Cardinal farm team, and now known as the Clippers.
In 1944, turning 18, Joe was drafted by the U.S. Army, and sent to Fort Riley in Kansas. He was assigned to the baseball team there, which included Brooklyn Dodger stars Pete Reiser and Rex Barney. Also there, but not on the baseball team, and not yet a Dodger, was Jackie Robinson. (Fort Riley was also where future Yankee Johnny Damon was born, as his father was stationed there in 1973.) Fort Riley was also where Joe met Audrie, his wife of 66 years.
He was sent to the Philippines, which saw some of the fiercest fighting of World War II. He was discharged in time for the 1946 season.
*
Joe Garagiola made his major league debut on May 26, 1946. Wearing Number 17, catching and batting 7th, he flew out to right field against Nate Andrews in the 2nd inning, popped up to the catcher against reliever Johnny Hetki in the 4th, flew out to center against Hetki in the 6th, and singled to center for his 1st big-league hit off Hetki in the 9th. The Cardinals beat the Cincinnati Reds, 4-3 at Crosley Field.
The Cardinals won the National League Pennant in 1946, and then beat the Boston Red Sox in the World Series. Joe batted .316 in the Series, going 6-for-19 with 2 doubles and 4 RBIs. It was the highlight of his career: He ended up peaking at 20.
He remained with the Cardinals through 1951, and was traded to the Pittsburgh Pirates. The Pirates were then run by Branch Rickey, who had scouted him for the Cardinals and later for the Dodgers. Switching to Number 2, Joe had his best season at the plate in 1951, hitting 11 home runs with 44 RBIs, but batted only .239. In 1952, he had career highs in games played with 118 and plate appearances with 396. But the Pirates lost 112 games, the most of any NL team between 1935 and 1962, and no non-expansion team has lost that many in NL play since. (In 2003, the American League's Detroit Tigers lost 119.)
In 1953, he was traded to the Chicago Cubs, and on September 8, 1954, the Giants claimed him off waivers, and he was reunited with Bobby Hofman. However, he arrived too late to be included on the World Series roster, and didn't get a ring. He made his last big-league appearance in the season finale on September 26, wearing Number 36. His lifetime batting average was .257 -- like his overall career, not particularly bad, but not especially good, and not even all that interesting.
"It's not a record," he later said, "but being traded 4 times when there are only 8 teams in the league tells you something. I thought I was modeling uniforms for the National League."
*
If playing baseball were all we knew Joe for, he'd have been forgotten, a footnote in the Yogi Berra story. But, like many other mediocre catchers -- Bob Uecker, Tim McCarver, Fran Healy, Bob Brenly, John Flaherty -- he forged a 2nd career as a broadcaster.
Why do so many ex-catchers become broadcasters? Because, being a catcher, you have to pay a lot of attention. Even if you don't get into a lot of games, you have to know the game. Joe figured this out, after a lot of games waiting to warm up relief pitchers: "

I used to sit in the bullpen and say, 'Why the hell doesnt he throw the curveball?' Well, all I had to do to become an announcer was take out the 'hell.'"
In his last season, 1954, Senator Edwin Johnson of Colorado held hearings on making corporate ownership of baseball teams illegal, spurred by Anheuser-Busch's purchase of the Cardinals the year before. Joe was already looking to the future, for a possible broadcasting job, and his agent was also working for an advertising agency that represented Anheuser-Busch. Johnson called Joe to Washington to testify, and said that the Cardinals were tampering with his contract by trying to lure him from the Cubs.
Joe wasn't having it: "Senator, how can you tamper with a .250 hitter?" The spectators in the hearing room laughed, and Joe became a TV star for the 1st time.
Joe also famously testified in favor of the reserve clause in the Curt Flood case in 1970 -- probably on the request of his former Cardinal boss, Gussie Busch. Joe later admitted that this was a mistake. So did Busch, later telling Flood he was right, and the owners were wrong.
The year after his Senate testimony, 1955, he got his wish, and went back to St. Louis, and worked Cardinal games on KMOX with Harry Caray and Jack Buck. This was well before Harry became forever identified with Chicago and actually hated in St. Louis for his shilling for the Cubs, and before the much-beloved Jack Buck became better known as the father of the much-despised Joe Buck.
"Each year I don't play, I get better," he once observed. "The first year on the banquet trail, I was a former ballplayer. The second year, I was great. The third year, one of baseball's stars. And, just last year, I was introduced as one of baseball's immortals. The older I get, the more I realize that the worst break I had was playing."
In 1961, hot on the heels of his best-selling (but ghostwritten by Martin Quigley) book
Baseball Is a Funny Game
, Joe was hired by NBC to do their
Game of the Week
. In 1965, after the Yankees fired Mel Allen, they hired Joe to broadcast along with Red Barber, Phil Rizzuto and Jerry Coleman -- even though the Yankees had recently been bought by CBS, then NBC's top competitor. He continued to broadcast the World Series on NBC.
Red hated working with Joe. Despite his Catholic school education, Joe struck Red as being dumb and rude. Joe would frequently cut in on Red's stories, and, finally, Red had to tell him so -- in private, off the air. Joe had no idea that he was doing something wrong, and stopped.
But the working relationship got no better. Joe's whole life, outside of his family, seemed to be baseball. Red had no patience for anyone like that. During a night game, he mentioned that, during the afternoon, he had visited the Metropolitan Museum of Art. In a rare display of a lack of professionalism, Red baited Joe, asking him if he'd ever visited the Met, ever heard of some of the great painters whose works were inside. Joe admitted that he hadn't.
Red quit -- or was fired, or goaded his superiors into firing him, depending on whose version you want to believe -- at the end of the 1966 season. Joe hung on for one more season, 1967, and, while Coleman did so on TV, called Mickey Mantle's 500th home run on radio.
In 1968, Joe returned to NBC, and hosted the network's pregame show,
The Baseball World of Joe Garagiola
. (This was before
This Week In Baseball
.) In 1974, he was promoted to play-by-play announcer, alternating with Curt Gowdy, and still doing the pregame show. He announced the famed Game 6 of the 1975 World Series with former Yankee shortstop Tony Kubek.
Joe's announcing, particularly his pregame show, was particularly boosted by 3 things: Stories about Branch Rickey; stories about the horrible '52 Pirates; and stories about Yogi Berra. It's believed that many of what became the familiar "Yogi-isms" were actually created by Joe. No one doubts that Yogi actually said of the restaurant where they both worked, "Nobody ever goes there anymore, it's too crowded." But the line about directions to his house, "When you come to a fork in the road, take it," was first publicized by Joe. Nobody doubts the authenticity of that one, either; or of, "It ain't over 'til it's over," which was witnessed by several reporters.
But a few of them were almost certainly made up by Joe. "Pair up in threes." "A nickel ain't worth a dime anymore." "It's deja vu all over again."
In 1978, Joe did a week on CBS, as a panelist on
Match Game
. One of the questions was, "Carl the Cannibal said, 'I just had a wonderful Italian dinner: I ate (Blank) Cacciatore!'" The obvious answer, as said by regular panelists Brett Somers and Betty White, was "Garagiola Cacciatore!" But Joe, probably filling the role of "the dummy" since Joyce "Miss Brain" Bulifant wasn't there, said, "He ate a Human Cacciatore!" Which wasn't a wrong answer... But it could be worse, because the idiot contestant said, "Italian Cacciatore!" and got no matches. Charles Nelson Reilly said, "Godfather Cacciatore," Debralee Scott said, "Gina Lollobrigida Cacciatore," and Richard Dawson said, "Sophia Loren Cacciatore" -- all 3 of which would have been substantial meals, and the last 2 particularly delicious.
In 1983, NBC hired Vin Scully of the Los Angeles Dodgers as their main play-by-play guy, and Joe was shifted over to color commentary, which played to strength. NBC placed Kubek with Bob Costas as their Number 2 team. (Necessary for regional differences or in case of a rainout.)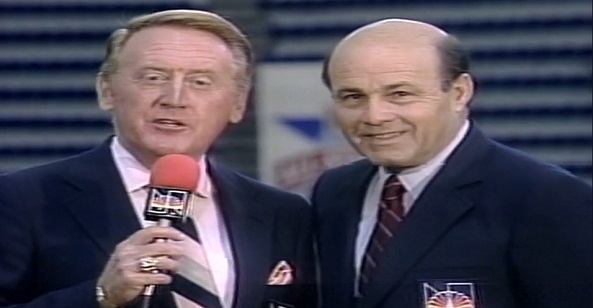 Joe left after the 1988 seasons, knowing that NBC's contract to broadcast MLB games was running out the next year, and he didn't want to negotiate a new long-term contract without knowing if the Peacock Network would be keeping baseball. (It didn't: Although they got some postseason games and the All-Star Game back from 1995 to 1999, they haven't done regular-season baseball since.)
Certain networks should do certain sports. Baseball should be on NBC, because they know how to do it better than anybody else. In this country, they've also done hockey the best, which isn't saying much. In football, NBC should do the AFC, and CBS should do the NFC, and ABC should do Monday Night Football. Fox does a great pregame show, but that's it. CBS should do the NBA. ABC should do horse racing and the Olympics. NBC should do tennis. And nobody should do golf or auto racing.
*
Outside of baseball, NBC made Joe a correspondent on
The Today Show
from 1967 to 1973, and again from 1990 to 1992. He was frequently allowed to guest-host
The Tonight Show
in Johnny Carson's absence. One such appearance was in May 1968, when John Lennon and Paul McCartney appeared, the only time any of the Beatles appeared on
The Tonight Show
while the group was still together. (Paul and Ringo Starr have appeared since. John never did so again, and George Harrison never did so.) They were there to introduce Apple Corps, and were
very
disappointed that Johnny wasn't hosting that night.
Joe was also a panelist on the game show
To Tell the Truth
. On a 1973 installment, there were 3 guests dressed like homeless men. One had actually become fabulously wealthy doing something or other, and the panelists were unable to guess which one it was. When one of the other two was revealed as Chris Hart, the son of fellow panelist Kitty Carlisle Hart, Joe ribbed her for not knowing her own son. The other guest was then revealed as Joe Garagiola Jr., then a law student at Georgetown University.
In 1976, Joe appeared in campaign ads for President Gerald Ford. Staged as interviews, Joe asked the President what he thought on various issues. "The Joe and Jerry Show" was seen as not helping the Ford campaign, and Ford lost a very close election to Jimmy Carter. Ford invited Joe to come to the White House and watch the returns with him. This led to a famous picture, reflecting what both men later said in their memoirs was true: Joe took the defeat harder than Jerry did.
In 1975, the financially troubled Chrysler Corporation hired Joe to do a series of commercials for them. In 1979, in even more trouble, they got Joe to do ads saying that if you buy a 1980 model Chrysler, Plymouth or Dodge car before December 31, participating Chrysler Corporation dealers will give you a $400 check. In other words, they were willing to go above and beyond the trade-in value: They'd put money in your pocket just before you drive the car off the lot: "Get a Chrysler New Yorker, get a check!"
This was the best version of the commercial
that I could find: Apparently, in the market in question, the check was for $300. It was definitely $400 in the New York market. In today's money, 1979's $300 would be about $980, while $400 would be $1,300, so we're not exactly talking pocket change.
A federal bailout and the 1981 "K Cars" saved Chrysler. The $400 checks did not. And Johnny Carson worked Chrysler jokes into his monologue. NBC had also been struggling for a few years, and was then was running turkeys like the McLean Stevenson sitcom Hello, Larry, the Animal House ripoff Brothers & Sisters, and the Love Boat ripoff Supertrain -- shows they were so desperate to get viewers for, they actually ran promos for them on "independent stations" like New York's WNEW-Channel 5 then was. Johnny wondered if Joe could do the same thing for the network that he did for Chrysler: "Watch
Hello, Larry
, get a check!"
*
In his later years, Joe was a founder of the Baseball Assistance Team (BAT), which helps out destitute former MLB and Negro League players, and continually raised money for it. He also advocated against chewing tobacco, bringing players whose use of it led to cancer to meet current players and show them the dangers.
The Baseball Hall of Fame gave him the Ford Frick Award, their award for broadcasters. He was elected to the Missouri Sports Hall of Fame and the St. Louis Walk of Fame.
Joe and Yogi, best friends to the end
He moved to Phoenix, where his son Joe Jr., who had been general counsel for the Yankees -- it was his idea during the 1973-76 Yankee Stadium renovation to built the smokestack decorated like a giant bat -- was the original general manager of the Arizona Diamondbacks, and his daughter Gina was a longtime reporter for KTVK-Channel 3. Joe Jr. hired Joe Sr. to broadcast for the D-backs, which he did from their inaugural season in 1998, through their World Championship season of 2001 (at the Yankees' expense in the World Series), until he retired after the 2012 season.)
Joe died in Phoenix yesterday, at the age of 90, just a few months after Yogi died. He is survived by his wife Audrie, and 3 children. Joe Garagiola Jr. is now an official in the Major League Baseball office. Gina Garagiola is now a freelance writer. And Steve Garagiola is a newscaster, the anchorman for the NBC affiliate in Detroit, WDIV-Channel 4. Joe lived to see 8 grandchildren.
His death leaves Hall of Fame 2nd baseman Red Schoendienst as the last surviving member of the Cardinals' 1946 World Champions. Red also managed the Cards to the title in 1967.
Joe defined his approach in his 1980 book, It's Anybody's Ballgame, writing: "I want the broadcast to sound like two guys sitting at the ballpark, talking about the game, with the viewer eavesdropping. It's not High Mass, and it's not a seminar. It's a ballgame."