Three sports legends of the black & white era died last week, and I apologize for not getting around to it sooner.
Clyde Edward Lovellette (pronounced "Luh-VEL-ett") was born on September 7, 1929 in Petersburg, Indiana, outside Terre Haute. Growing to 6-foot-9 and 234 pounds, he would have been a natural to play basketball at one of the big colleges in his home State.
Instead, Dr. Forrest "Phog" Allen brought him to the University of Kansas, and he led them to the National Championship in 1952, beating New York's St. John's University 80-63 in the Final at Edmundson Pavilion in Seattle. He was named the Most Outstanding Player of the NCAA Tournament.
"The Great White Whale" led the nation in scoring that year, and was named Player of the Year by the Helms Foundation, which selected players in that era before the John Wooden Award became basketball's answer to the Heisman Trophy.
He also led the U.S. team to the Gold Medal at that year's Olympics in Helsinki, Finland. The team included his Kansas teammates Bill Hougland, John Keller, the brothers Allen and Dean Kelley, Bob Kenney and Bill Lienhard. Oddly, Allen did not coach that Olympic team. Instead, it was coached by Warren Womble, who coached the Peoria Caterpillars, a "company team" made up of men working for the Caterpillar construction equipment company.
Lovellette was drafted by the Minneapolis Lakers, who already had the greatest player of the era, George Mikan. In
The New York Times
, the great sportswriter Arthur Daley compared them to the Yankees of the 1920s, saying, "Lou Gehrig has been added to Babe Ruth." He also wrote of Lovellette, "He has the delicate, feathery touch in his shot-making of a seamstress threading a needle."
With Lovellette being one of the earliest big men to have a one-handed outside shot, and alternating between starting at forward and backing Mikan up at center, the Lakers won the NBA Championship in his rookie season of 1953-54. They traded him to the Rochester Royals after the 1957 season, but he never played a home game in Rochester, moving with them to become an original 1957-58 Cincinnati Royal.
Four Minneapolis Laker Hall-of-Famers. Left to right:
Jim Pollard, Clyde Lovellette, George Mikan and Vern Mikkelsen.
After that season, he was traded to the St. Louis Hawks, and helped them reach the NBA Finals in 1960 and '61, losing to the Boston Celtics both times. Celtics coach-general manager Red Auerbach must have seen something in the aging but still effective Clyde, and traded for him in 1962. Clyde played 2 more seasons, backing up Bill Russell in 1962-63 and 1963-64, and the Celtics won the title both seasons. He was an All-Star in all 3 of his title-winning seasons, and averaged 17.0 points per game in his 11-season career.
Despite both teams having been around since the early days of the NBA, and being the 2 teams with by far the most titles -- Celtics 17, Lakers 16 -- Clyde Lovellette is the only man to win NBA Championships with both the Celtics and the Lakers. Although he didn't do it for the Lakers in their current city.
Lovellette was one of the era's tough guys, and, unlike the lumbering Mikan, probably would have been just fine in today's era of bigger, faster guys. Wilt Chamberlain, famously, never fouled out of a game despite his physical presence, but there was a game in which he'd been so harassed by Lovellette that he punched him, and wasn't ejected, suspended, or even fined. Can you imagine that happening in today's NBA, with ESPN playing the clip 100 times a day? Why did he do it? "Because everybody hated Clyde Lovellette," Wilt said 30 years later. Lovellette didn't care what people thought of him: "I took my lumps, and gave them."
He went on to serve as Sheriff of Vigo County, Indiana, and then ran a school for at-risk teenagers. He was elected to the Basketball Hall of Fame in 1988. The University of Kansas has retired his Number 16. The Lakers have retired his Number 34, albeit for Shaquille O'Neal. He is, however, mentioned on the banner with the Minneapolis Hall-of-Famers that they put up with their retired number display at the Staples Center.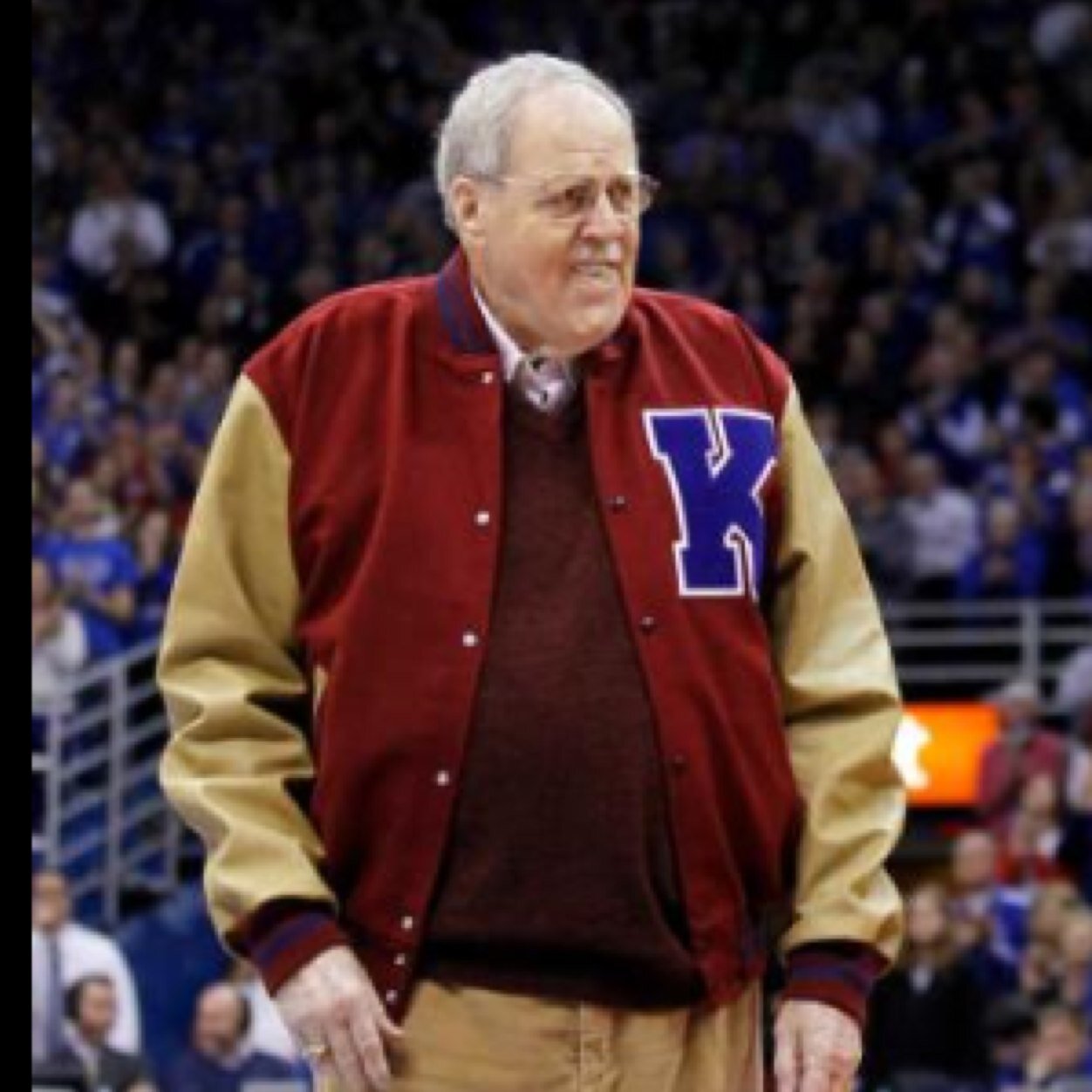 He is 1 of 8 players to have won an NCAA Championship, an NBA Championship and an Olympic Gold Medal. The others are Bill Russell (who completed the Triple Crown in 1957), K.C. Jones (1959), Oscar Robertson (1971), Jerry Lucas (1973), Quinn Buckner (1984), Michael Jordan (1991) and Magic Johnson (1992 -- and he needed the "Dream Team" era to do it, and wouldn't have been ineligible for the 1980 team due to turning pro, even if we hadn't boycotted).
Kareem Abdul-Jabbar and Bill Walton didn't do it, because they didn't try out for the Olympic team in 1968 and 1972, respectively. Nor did John Havlicek, who missed because he was the last man cut from the 1960 U.S. team. Nor did Shaquille O'Neal or Kevin Durant, because they both left college early. Nor did Kobe Bryant and LeBron James, because they didn't play college ball. Nor did Steph Curry, who played at Davidson College and never had much of a shot at an NCAA title. Nor did Dwyane Wade and Russell Westbrook, who fell short at Marquette and UCLA, respectively.
Clyde Lovellette married twice, and had 3 daughters, living to see 13 grandchildren and 15 great-grandchildren. He died of cancer on March 9, 2016. He was 86 years old.
With his death, there are now 3 surviving players from the 1952 National Champion Kansas Jayhawks: Bill Hougland, a guard who never played beyond semi-pro ball, but won another Gold Medal at the 1956 Olympics in Melbourne, Australia; Allen Kelley, a guard who also never played beyond semi-pro, but stuck around that level long enough to be selected for the U.S. team that won the Gold Medal at the 1960 Olympics in Rome; and forward Bill Lienhard, who enlisted in the U.S. Air Force and never played any kind of pro ball.
There are 4 survivors from the 1952 U.S. Olympic Gold Medalists: Hoagland; Lienhard; forward Ron Bontemps, who never played pro ball despite being the Captain of this team; and guard Frank McCabe, who never played pro ball.
UPDATE: Allen Kelley died on August 13, 2016. He was 83. That leaves just Hougland and Lienhard from the '52 Jayhawks.
*
Clyde Lovellette never played for a New York team on his way to his sport's Hall of Fame. But Bill Gadsby did, on the way to his.
William Alexander Gadsby was born on August 8, 1927 in Calgary, Alberta. He nearly didn't make it to the NHL, or even to adulthood. At the age of 12, he and his mother were on the
SS Athenia
, traveling from Belfast to Montreal, after visiting relatives in England. On September 3, 1939, the day the British Empire (including Canada) declared war on Nazi Germany, the ship was sunk off the Irish coast by a U-boat, killing 117 of the 1,418 people aboard (a large number of whom were Canadian citizens). The Gadsbys survived for hours in a lifeboat before being picked up. At age 14, he was grazed by a piece of concrete that fell off a building in downtown Calgary. It could easily have killed him.
But he went on to play professional hockey, as a defenseman for the Calgary Grills, the Edmonton Canadians, and the Kansas City Play-Mors, a farm team of the Chicago Blackhawks. The Hawks called him up in 1946, and he played 9 seasons for them, including as Captain, surviving a bout with polio in training camp in 1952.
He was briefly paralyzed, but regained his feeling, and soldiered on. There were no helmets on those days. Padding was not nearly what it is today. During his career, he broke both legs, both thumbs, several ribs and his nose. He said he got 640 stitches over his 21 NHL seasons. In
The Grateful Gadsb
y, his memoir, published in 2003, he wrote, "If I have a pulse, I believe I should play."
He was traded to the New York Rangers in 1955. He played with them through the 1961 season, but this was a weak period for the team, as it was for the Hawks. In his 1st 16 seasons on the NHL, he made the Stanley Cup Playoffs only 4 times. He was traded to the Detroit Red Wings, who had just made the Stanley Cup Finals, losing to the Blackhawks. He finally got to the Finals with the Wings, in 1963, '64 and '66, but lost each time.
He retired after the 1966 season, with 508 career points. At the time, it made him the all-time leader among NHL defensemen. He was also the all-time leader in games played and penalty minutes among defensemen. He coached the Wings in the 1968-69 season, and was elected to the Hockey Hall of Fame in 1970. In 1998, he just barely made it, at Number 99, on
The Hockey News
' 100 Greatest Players. He wore Number 4 with all 3 teams, none of which has retired it for anyone. (Why the Wings haven't retired it for Red Kelly, I have no idea. He won 4 Cups with them, was a 6-time All-Star, and is 88 years old. What are they waiting for?)
*
Bill Wade never played for a New York team. In fact, he stood in the way of one of the most popular New York teams to that point winning a title.
William James Wade Jr. was born on October 4, 1930, in Nashville. He and his father, known as W.J. Wade, were both captains of the football team at that city's Vanderbilt University. The quarterback was named Most Valuable Player of the Southeastern Conference in 1951. The Los Angeles Rams made him the 1st pick in the 1952 NFL Draft, but the Korean War intervened, and he didn't make his NFL debut until 1954.
He backed up Hall-of-Famer Norm Van Brocklin until 1957, then was the Rams' starter in 1958, '59 and '60. In 1958, he -- not Van Brocklin of the Philadelphia Eagles, not Johnny Unitas of the Baltimore Colts, not Bobby Layne of the Pittsburgh Steelers, not Y.A. Tittle of the San Francisco 49ers -- led the NFL in passing yardage, with 2,875. That's very low by today's standards. It was a different time.
In 1961, he was traded to the Chicago Bears, and remained their starting quarterback for 5 seasons. In 1962, he led the NFL in passing attempts and completions, and on November 11, 1962, he passed for 466 yards, a team record that still stands, in a 31-30 win over the Minnesota Vikings -- by then, coached by Van Brocklin, who, as a Ram in a 1951 game, set the League record that still stands with 554 passing yards. That both of these records still stand, despite the liberalization of the passing rules over the last 40 years, the skill of so many quarterbacks, and the cheating of Tom Brady, is staggering.
In 1963, Wade took the Bears all the way. With Willie Galimore in the backfield, Mike Ditka inventing the position of tight end as we know it, and a devastating defense led by Bill George and Ed O'Bradovich, the Bears went 11-1-2, the only blemishes on their record a 20-14 loss away to San Francisco, and back-to-back ties away to Pittsburgh and home to Minnesota.
"When we traded for Bill Wade, he was the right quarterback at the right time," said Ed O'Bradovich. "He had the years behind him, he had the passing ability and he was a smart quarterback. The key was don't make any turnovers. They converted on third down, they ate up the clock a little bit and that gave us some help. It was an offense that was so controlled with the short passes.
It would be the only title the Bears would win between 1946 and 1985. During the next year's preseason training camp, Galimore and another running back, Bo Farrington, would be killed in a car crash. Despite drafting Gale Sayers and Dick Butkus in 1965, the Bears wouldn't even reach the Playoffs again until 1977. Not that it was all their fault, because the Green Bay Packers dominated the NFL Western Division, and then, after the 1970 merger, the Minnesota Vikings had a stranglehold on the NFC Central Division.
In 1965, Wade quarterbacked his current team against his former team, the Bears against the Rams, in a preseason exhibition game at Vanderbilt. He retired after the 1966 season, having passed for 124 touchdowns and rushed for 24 more. He was elected to the Vanderbilt University Athletics Hall of Fame. He returned to Nashville, and entered the banking industry.
Bill Wade died on March 9, 2016, in Nashville. He was 85 years old. He outlived his backup on that 1963 team, and his successor as Bears' starting quarterback, Rudy Bukich, by 9 days.
With his death and Bukich's, there are now 16 surviving players from the 1963 NFL Champion Chicago Bears: Ditka, O'Bradovich, Richie Petitbon (later an NFL head coach), Roosevelt Taylor, J.C. Caroline, Ronnie Bull, Joe Fortunato, Larry Glueck, Johnny Morris, Roger Davis, Bob Wetoska, Jim Cadile, Steve Barnett, Bob Kilcullen, John Johnson and Roger LeClerc.
His death also leaves Jim McMahon, of the 1985-86 "Super Bowl Shuffle" team, as the only living man to quarterback the Bears to a World Championship.