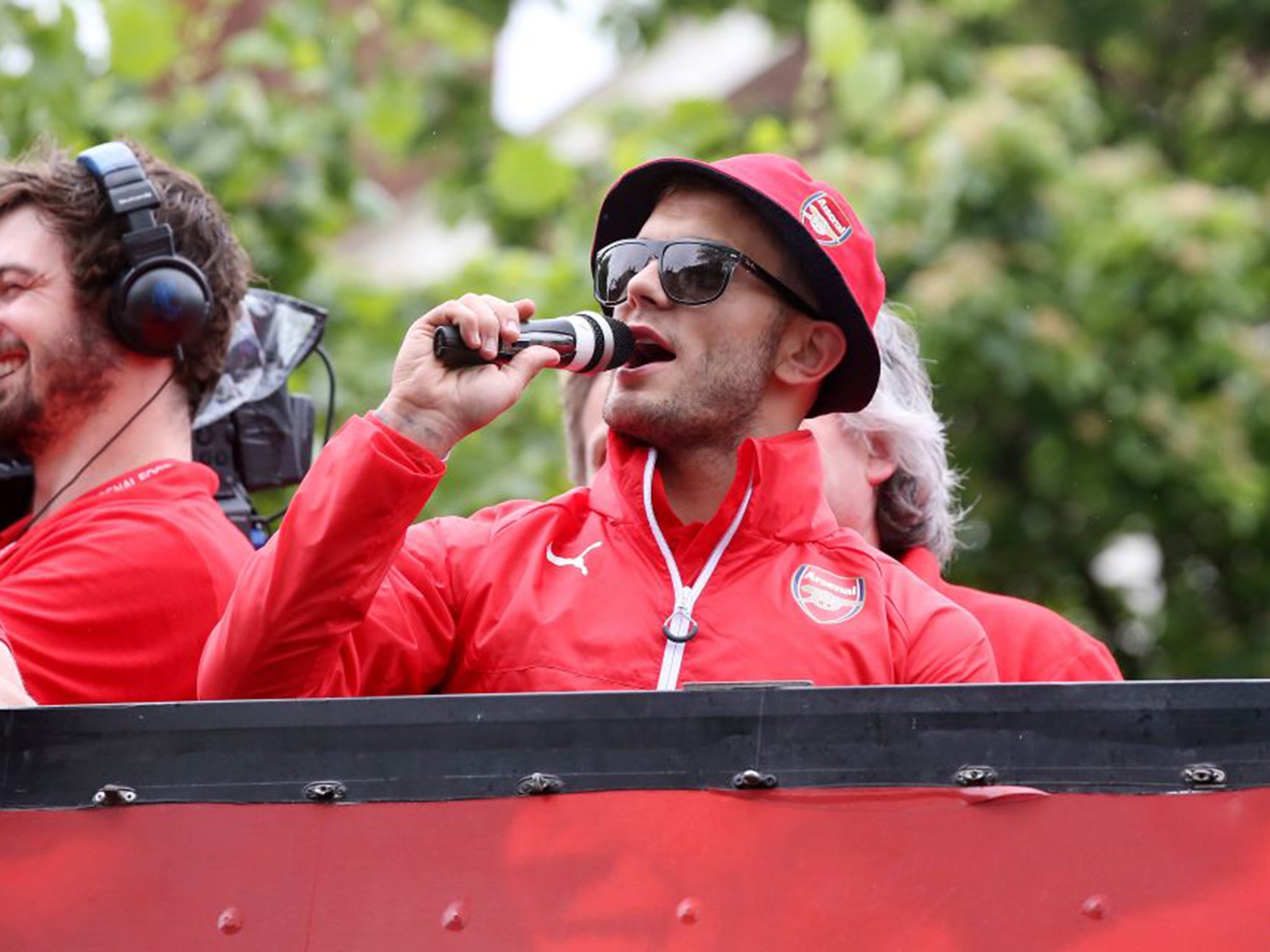 Warning: Unpleasant language. And not just the profane variety.
Rather than catch up further on the Yankees; or comment on
today's Daily News article suggesting that Robinson Cano
, rather than Stephen Drew, is the 2nd baseman doing the most damage to his team by not hitting despite having a massive salary; or wax poetic on how the New York Rangers are a freakin' joke after they choked
again
...
I'm going to talk about the most horrible human being on the face of the Earth: Jack Wilshere.
I'm being sarcastic, of course. I love Jacky Boy.
*
Jack Andrew Garry Wilshere (WILL-shur) was born on January 1, 1992, in Stevenage, in Hertfordshire, about 30 miles north of London. He's been with the North London soccer team Arsenal since joining their youth system in 2001 -- at age 9. (Yes, that's legally possible, presuming the right paperwork is done.) At which point, despite being from a family of fans of the East London club West Ham United, he's been a committed Arsenal fan and player.
In 2008, he made his Premier League debut for the club, age 16, the youngest Arsenal player ever to appear in a League game. (That includes the old Football League Division One, as well as its 1992 replacement, the Premier League.) A few days later, he scored his 1st goal for the club.
In the middle of the 2009-10 season, having a glut of midfielders (especially short but mobile ones), Arsenal loaned Jack out to Lancashire side Bolton Wanderers, so he could gain Premier League playing time. It worked wonders, and when the 2010-11 season dawned, at age 18, he was ready. He was also selected to play for the senior England team for the first time. He played brilliantly, and was put on the cover of
FourFourTwo
, England's premier soccer magazine, as part of its annual "20 Under 20" feature.
Then things began to fall apart -- almost literally. In a preseason match in August 2011, he broke his ankle, and missed the entire season (whose regular season usually goes from mid-August to mid-May). He has suffered other injuries, which have earned him the name "Jack Wheelchair." But he has usually bounced back from them to play superbly again.
Upon his 2012-13 return, he was moved out of the Number 19 jersey and into the Number 10 -- a number graced by such Arsenal legends as Alex James, Reg Lewis, Ray Kennedy, Paul Merson and Dennis Bergkamp -- but, recently, disgraced by William Gallas and club hero-turned-traitor Robin van Persie.
He has been praised by some great players. Arsenal legend Liam Brady, the club's Irish-born youth director for most of Jack's time with the club, has called him "the latest in a line of technically gifted English players." Barcelona star Dani Alves has called him "a great player," Bayern Munich's Bastian Schweinsteiger called him "one of the best players there are at his position," and Borussia Dortmund's Marco Reus called him "a perfect player." (Schweinsteiger and Reus were members of the Germany team that won the World Cup last year, beating Argentina in the Final after a Semifinal demolition of host Brazil, including Alves.)
He has, occasionally, been a bit indisciplined on the pitch, receiving some yellow cards and even red cards for tackling too hard. His personal life has also raised questions. He likes to drink -- as if he's the first English soccer player to do that! He likes to smoke, and has been upbraided by manager Arsene Wenger for that. He likes to go out with his "mates" and have fun, a time-honored (or "time-honoured") English "footballer" tradition.
Before he was 22, he already had 2 children, a son named Archie and a daughter named Delilah. Whether he and the children's mother are still together is in public dispute. But, clearly, he adores his kids: In each of the last 2 seasons, he has taken them with him onto the pitch after Arsenal's last home game, as part of the "lap of honour," a tradition in which all the players walk around the pitch and wave to the fans.
In 2010, he was arrested for being in a fight, but the charges were dropped once it became apparent that he was trying to be a peacemaker. A few months later, he hailed a taxi. This was a good thing: He was drunk, and Arsenal fans well remember how, rather than call a taxi, the great centreback and team Captain Tony Adams tried to drive himself home in 1990, crashing his car, putting himself in prison for a few weeks and preventing him from playing for England in the World Cup.
But, in Wilshere's 2011 case, the driver refused to take him, because (the driver said) Jack was too drunk. The driver was wearing a hat of Arsenal's North London arch-rivals, Tottenham Hotspur, and Jack supposedly spat on him. He was let off with a warning.
A player to whom Jack is often compared is Paul Gascoigne -- and not just for favorable reasons. "Gazza," a native of the Newcastle area (and thus a "Geordie"), starred for Newcastle United and Tottenham in the late 1980s and early 1990s, becoming a nationwide hero for his performances for England in the 1990 World Cup, before injuries and drinking ravaged his career and his health.
Gazza is often compared to George Best, the Northern Ireland native who starred for Manchester United in the late 1960s and early 1970s, before wrecking his career and health with drinking. Best died at age 59, after a liver transplant didn't give him the message -- at least that other great Number 7, Mickey Mantle, did stop drinking, although the damage was already done.
Gascoigne just turned 48, and has repeatedly been to rehab, including in the U.S., but keeps relapsing, and few people will be surprised if he dies even younger than Best did. (At the moment, he seems to be keeping sober, while a documentary about him is premiering.)
More on the Wilshere/Gascoigne comparison later. Suffice it to say, though, that Jack hasn't gotten into nearly the trouble that Gazza already had by the same age (23).
*
Arsenal and Tottenham Hotspur, a.k.a. "Spurs," play their games 4.7 miles apart in North London. That's less than half the distance between Yankee Stadium and the Mets' Citi Field. It's less than 1/3rd the distance that was between the baseball Giants' Polo Grounds and the Brooklyn Dodgers' Ebbets Field. It's less than the distance between the Knicks & Rangers' Madison Square Garden and the Nets & Islanders' Barclays Center (and considerably less than that between the Garden and the Islanders' former home, the Nassau Coliseum). It's less than the distance between the Garden and the Devils' Prudential Center (and even less than that between the Garden and the Devils' former home at the Meadowlands).
There's an old saying: "Familiarity breeds contempt." The particulars of why Arsenal and Tottenham hate each other, above and beyond proximity, are stories for another time. But, as the great college football broadcaster Keith Jackson would say, "These two teams just... don't... like each other."
Actually, usually, that's not true. Most of the time, it's not the
players
on opposite sides of a rivalry that have a problem with each other, it's the
fans
. Put it this way: You know how the Yankees only have an increased police presence when the Red Sox come to town? Well, when Arsenal play Tottenham in a "North London Derby," the police presence for a Yanks-Sox game -- in either The Bronx or the Back Bay -- would be seriously insufficient. Ohio State vs. Michigan? Alabama vs. Auburn? Duke vs. North Carolina? Those are civilized affairs compared to some of the English derbies, and North London is as nasty as any of them.
There are certain songs that each side's fans sings against the other's club and fans. To the tune of the Village People's "Go West," Arsenal fans sing,
"Stand up! If you hate Tott'num!"
Not to be outdone (in this, anyway), Spurs fans use the same song:
"Stand up! If you hate Ars'nal!"
That's tame compared to some others. Arsenal fans have a song, to the tune of "The Battle Hymn of the Republic" about what happened when "
The wanky Tottenham Hotspur went to Rome to see the Pope!
" (Hint: The Pope was not pleased.) They have songs calling the Tottenham manager's mother a whore. When it's over, if said manager's mother is dead, someone will shout, "She's dead!" and everyone will add, "From whoring!" When Spurs recently hired a manager whose mother was still alive, this did not stop the fans: "She lives!" "By whoring!"
Spurs fans, however, go further than that. It's common for fans, to the tune of "Guantanamera," to sing, "One (name of player), there's only one (name of player)!" If they like the manager, they do that, too, and Arsenal fans have sung about their Alsace-born "Professor," "
One Arsene Wenger, there's only one Arsene Wenger!
"
Spurs fans, unhappy that Wenger has done more with Arsenal in his 19 years with the club than all Tottenham managers combined have done in 133 seasons, take note of the fact that Wenger likes to take a deep interest in the club's youth setup, and play young players, to give them the experience they need to face the best teams in the world. Spurs fans think there's some ulterior motive, and so,
to the tune of "Winter Wonderland," they sing...
There's only one Arsene Wenger!
There's only one Arsene Wenger!
With a packet of sweets
and a cheeky little smile
Wenger is a fuckin' paedophile!
That's how it's spelled (or "spelt") there, and they pronounce it "PEE-doh-file."
And you thought Duke basketball fans were evil. (They are, but that's another matter.)
There is no evidence to support this charge. On the contrary: The first time I heard it, Spurs' own manager was awaiting trial on a felony charge: Harry Redknapp, for tax evasion. (He beat the charge. How is a story for another time, but it doesn't make Spurs look good.)
There is a chant that Arsenal fans do about Tottenham
:
Q: What do you think of Tottenham?
A: Shit!
Q: What do you think of shit?
A: Tottenham!
Q: Thank you!
A: That's all right! We hate Tottenham and we hate Tottenham! We hate Tottenham and we hate Tottenham! We hate Tottenham and we hate Tottenham! We are the Tottenham haters!
Usually followed by the sneering, repeated delivery of the word "Yiddos!" referring to Tottenham's "Jewish heritage," which is ridiculous as well as anti-Semitic (and which their side has picked up and uses on themselves, anyway, the idiots).
Why do Arsenal fans think Tottenham are "shit"? Tottenham usually finish in the Premier League's top 6. Every once in a while, they finish 4th. In the season that just ended, they finished 5th. This is good enough to qualify for Europe's secondary soccer competition, the Europa League, formerly known as the Inter-Cities Fairs Cup (Arsenal won it under that name in 1970) and the UEFA Cup (Tottenham won it under that name in 1972 and 1984). But only twice, in 1962-63 and 2011-12, have Spurs qualified for the top European competition, the UEFA Champions League, formerly known (and the trophy for it still is) as the European Cup. Arsenal have qualified for it every season since 1998-99.
Arsenal play at the Emirates Stadium, a 5-minute walk from the site of their 1913-2006 home, Arsenal Stadium, known as Highbury for the neighborhood. Tottenham play at White Hart Lane, although they, too, are trying to build a new stadium, because, like Highbury, The Lane simply doesn't seat enough people. (The Lane seats 36,000, Highbury seated 38,000, the Emirates seats 60,000.)
Arsenal fans call White Hart Lane "The Shithole." It's not as bad as it was, as each of its stands was replaced in the 1990s. Spurs fans called Highbury "The Library," transferring that nearly-rhyming nickname to the Emirates. Why? Because they think Arsenal fans are too quiet. Well, Spurs fans are practically illiterate, so how the hell would they know what the inside of a library sounds like?
Tottenham have won the FA Cup, England's in-season national tournament, 8 times. This is actually rather impressive -- until you realize that they haven't won it, or even been in a Final, since 1991. Only 3 times in 24 years have they even made a Semifinal, and lost them all, 2 of them to Arsenal. There are 2 teams that have won it more: Manchester United 11, and... Arsenal 12. Including the last 2.
Tottenham have won the League twice: In 1951 and 1961. Both times, they clinched the title at White Hart Lane. Both times, the team they beat in the clincher was Sheffield Wednesday.
Arsenal have won the League 13 times. On 2 of those occasions, 1971 and 2004, they clinched the title at White Hart Lane. Both times, the team they beat in the clincher was Tottenham.
In other words, Arsenal have won the League at Tottenham's ground as many times as Tottenham have.
In addition, while Arsenal have had a hooligan "firm," The Herd, most of their fans don't take special pride in it. Tottenham have a firm, also using a variation on the slur: "The Yid Army." Some army: Pretty much every book written by a former hooligan, be they from West Ham, Millwall, Chelsea or anyone else, says pretty much the same thing: They'll wreck a pub a mile from the ground, scare a few women and old men, then "claim a result"; but put them up against another firm, and unless the Spurs boys outnumber their opponents 2-1, they'll "do a runner."
Earlier, I mentioned Tony Adams, the Arsenal Captain who did a little time for drunk driving, and Paul Gascoigne, the Tottenham star with the long-running booze problem. Adams is one of the most beloved former Arsenal players; he got sober and founded a rehab center. Gazza is one of the most beloved former Tottenham players; he got kicked out of Adams' rehab center.
So, in terms of both on-field success and off-field behavior, Arsenal fans have plenty of reasons to believe that Tottenham are bad, poor, ineffective, lousy, "shit."
*
September 29, 2011. Jack's son Archie is born. He announced it on his Instagram account, showing a picture of himself kissing his newborn son. Awwww.
Less cute was what happened next. Some Arsenal fan posted a picture of a newborn baby (presumably, not Archie), wearing a T-shirt that said, "I'm only 3 hours old, and already I know Tottenham are shit!"
Jack was not responsible for that picture. Whether he saw it, and what his reaction was, only he knows for sure.
May 18, 2014. A day earlier, Arsenal had ended an uncharacteristic 9-year trophy drought by winning the FA Cup, beating Yorkshire side Hull City 3-2 in extra time (overtime) at the new Wembley Stadium in West London. Now, it was time to celebrate.
Jack had been injured much of the season, but did appear in the Final as a substitute. But he still got a winners' medal, and was still one of the players who spoke at the celebration at the Emirates.
He decided to be a little cheeky, and asked a crowd estimated at over 200,000, "
What do we think of Tottenham?
" He got his answer, very fast and in unison. And then he asked, "And what do we think of shit?" Again, the answer came loud and clear. He said, "Thank you," and the response came.
Naturally, Tottenham fans, perhaps the most easily offended fans in English soccer, had a fit, and there was a bit of a to-do about it on social media.
May 31, 2015. A day earlier, Arsenal had completed a successful defense of the Cup, defeating Birmingham-based Aston Villa in the Final, 4-0. Again, Jack did not start, but got into the game as a substitute, and played reasonably well.
Again, there was a parade, although rain held the numbers down. Again, it culminated in a celebration at the stadium.
Again, Jack spoke.
This time, he not only did, "What do we think of Totenham?" He also, to note that Arsenal had again succeeded where Tottenham had failed, including winning a trophy, qualifying for the Champions League, and finishing ahead of Tottenham for the 20th straight season, sang, to the tune of "Sloop John B," an already-old favorite:
It's happened again!
It's happened again!
Tottenham Hotspur
It's happened again!
The last time, the oh-so-sensitive Tottenham fans -- bullies, who can dish it out but can't take it -- only wanted Jack fined and suspended. (Neither happened: Officially, he got away with it completely.) This time, they went further on social media.
wishing death on him and his kids
.
The media also piled on, saying he shouldn't have done it, that he was a bad role model, that he was inciting violence.
It's been 2 full days: There's been no violence. I guess I should give the Spurs fans credit for
that
, but, clearly, you can't accuse someone of inciting violence if no violence happens.
Here's the thing: The worst thing Jack actually did was use the word "shit" in front of a big crowd of people. You can argue that there were children and ladies in the audience.
These were soccer fans. You think they've never heard the chants before?
Jack
didn't
say Tottenham
are
"shit." He merely asked the fans what
they
thought. And when he sang that "it" -- meaning an Arsenal success and a Tottenham failure -- has happened again, he was telling the truth.
True, finishing 5th in the Premier League and qualifying for the Europa League would be considered a roaring success for many clubs, but considering Tottenham's spending and hype, their failure to finish higher and qualify for the Champions League is, clearly, a failure. As is their
twentieth straight failure to finish above their local rivals
.
The facts of what he sang cannot be credibly disputed. (The quality of his singing is a totally separate debate.)
Even Gascoigne, not the sharpest knife in the drawer even when sober, weighed in. He previously went out of his way to praise Wilshere, when
Backpass
, a nostalgia magazine covering British soccer, interviewed him and asked him what players today he liked.
This time, he went after Jack's critics, pointing out that he'd done a lot worse himself, and that the English media didn't go after him the same way:
I don't understand Spurs' fans fuss over Wilshere's comments. He loves Arsenal, so is bound to hate Spurs. Spurs fans should be more worried about being embarrassed by Arsenal every season.
As for Jack having a few beers, good luck to him! It never did me any harm during my career. I was actually drunk when I signed for Spurs!
Gazza's drinking almost certainly did him lots of harm during his career. Other than that, he's right. Besides,
anybody
would have to be drunk to sign for Spurs!
*
Still, the Tottenham fans, and the many people in the English media who, for whatever reason, hate Arsenal, have taken Jack to task, for "loutish behaviour." (
Not all of them, though.
)
Loutish behavior? (As we would spell it here.) You want to talk about loutish behavior?
I could name several individuals who've played soccer in England the last few years. The number of foreigners who've done rotten things, on and off the field, is large. Let me limit my examples to 4 men who have been England teammates of Jack's, and remain enormously popular.
On September 11, 2001, Chelsea stars John Terry and Frank Lampard, at Heathrow Airport to fly to a UEFA Cup match on the Continent, saw the attacks on the World Trade Center, and spent the next 2 days
going out of their way to taunt American tourists about what had happened
. Both are now revered elder statesmen of the game. Lampard is even now contracted to play at New York City F.C., in a City and a metropolitan area where he should be considered a pariah.
Terry was also caught racially abusing a black player, Anton Ferdinand
. He was stripped of the England captaincy, but was still allowed to retire from international duty on his own terms, and is still Chelsea's "Captain, Leader, Legend" according to a banner at their stadium. The English media still loves him.
Liverpool star
Steven Gerrard famously beat up a deejay at a nightclub
. He remains beloved in the English media, and, like Lampard, is now being welcomed with open arms into an MLS club, the Los Angeles Galaxy in his case.
Wayne Rooney famously cursed out England fans on worldwide TV during the 2010 World Cup
. He is also
an unrepentant diver and dirty player
, and
cheated on his pregnant wife with a prostitute
. The Manchester United star is still beloved, in the media and out.
Jack Wilshere asks Arsenal fans what they think of their club's arch-rivals, and uses the word "shit" in public, and taunts Spurs with a song that is neither the slightest bit false nor the slightest bit profane. And he gets torched in the media, as if he'd stolen the Queen's hat and spit on the Union Jack.
Torched in he media, as if he was Ray Rice. Or Adrian Peterson. Or Tom Brady. Or Alex Rodriguez.
For what? For saying something a little naughty?
(For the record: Gascoigne, whose big earnings have all gone toward his boozing, entertaining and health issues, has gone on record as saying Wilshere, Rooney and Gerrard have all helped pay for his rehab. So they're not all bad.)
Tell you what, English media: When you start criticizing Spurs fans for falsely calling Arsenal's manager a pedophile,
then
you can be taken seriously for criticizing Jack Wilshere for asking Arsenal fans for their opinions, and for teasing Tottenham during a celebration that Arsenal earned on the field, something Tottenham haven't enjoyed for 24 years, because, well, if not quite "shit,"
they are failures.
Yes, it's happened again.
Still, they go after Jack, as if he was Public Enemy Number One. As if he was bloody Al Capone.
If you object that he used the word "shit" in front of a big crowd that included women and children, I understand. If you object that he led one of the most common (and accurate) Arsenal chants, grow up. It's not like he sang at Tottenham, "You're shit, and you know you are!"
Hey, at least he hasn't eaten a Kit Kat bar wrong, like Giancarlo Stanton
.