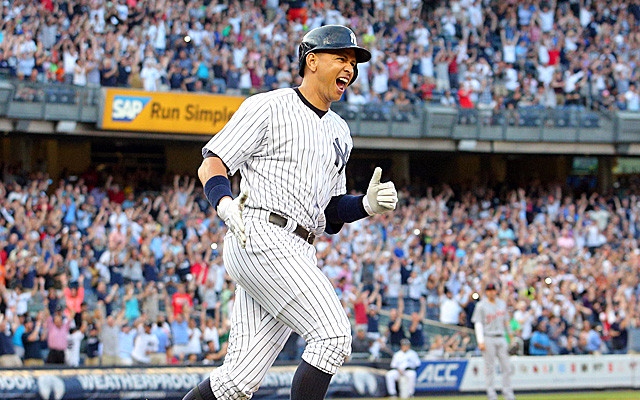 I'll get to the Old-Timers Day festivities in my next post.
Thanks to a quirk of the Interleague schedule, the Yankees played a 4-game series with the Marlins -- 2 in Miami, then 2 in New York.
On Wednesday night, Chase Headley was hit by a pitch in the 1st inning, advanced to 2nd on a Brian McCann grounder to 1st, and Alex Rodriguez singled him home. Hit Number 2,997, and 1-0 Yankees. Carlos Beltran added a run with an RBI single in the 5th.
Michael Pineda, knocked around in his last start, was much better this time, pitching into the 7th inning, allowing 1 run on just 1 hit and 2 walks, with 9 strikeouts. The bullpen got it done, going 2 1/3 innings, allowing just 2 baserunners, both singles.
Yankees 2, Marlins 1. WP: Pineda (8-3). SV: Dellin Betances (4). LP: Jose Urena (1-3).
*
On Thursday night, the Yankees trailed the Marlins 3-1 with 2 out in the bottom of the 6th, and then decided it was about time to get out the lumber. Mason Williams doubled, and Brett Gardner tied the game with a home run, his 6th of the season.
That got starting pitcher CC Sabathia off the hook, and Chasen Shreve pitched a scoreless 7th. In the bottom of the inning, McCann singled, and Beltran crushed one, just his 5th homer of the season.
A-Rod had an RBI single in the 1st, Hit Number 2,998. He singled in the 5th, Hit Number 2,999. He was knocking on the door of one of the most prestigious "clubs" in baseball.
Much was made of Marlin reliever Carter Capps and his slide-step pitching motion that allows him to release the ball just 54 feet from home plate, instead of the standard 60 1/2. MLB has ruled it's legal, even though he can deliver it at 100 MPH from that close. But by the time he came in, the damage was done.
In the 8th, A-Rod came up with the score 5-3 Yankees. He needed 1 more hit for 3,000. The new Marlin pitcher was Sam Dyson.
Dyson didn't want to go down in history as the answer to the trivia question, "Who gave up Alex Rodriguez's 3,000th career hit?" Understandable. So you don't pitch to him, you walk him. I get it.
What I don't get is that all 4 pitches were way inside. Each of them nearly hit him. Not in the head, or the wrist, or the ankle, anywhere that was likely to injure him. Just in the chest. It was a cowardly thing to do. Dyson could have thrown the pitches in the dirt for his catcher to block, and it would have done the same thing. And he would only have gotten booed. Instead, the fans chanting, "Ass-hole!" It's an A-Hole for A-Rod!
Actually, it wasn't just a cowardly thing to do: It was a stupid thing to do. The walk pushed Headley to 2nd. Remember, the Marlins are only down by 2 runs at this moment. If they can get out of this, they'll have a chance to come back in the 9th. Instead, now there's men on 1st and 2nd with 1 out.
The Yankees punished Dyson for that assholery. McCann singled, driving home Headley. A wild pitch brought home A-Rod. Chris Young doubled home McCann. Didi Gregorius singled. And a Stephen Drew sacrifice fly brought home Young.
The Marlins got a run back in the 9th, but it wasn't nearly enough. Maybe if Dyson had tried to get A-Rod out, it could have been 5-4 Yankees at this point, but...
Yankees 9, Marlins 4. WP: Shreve (4-1). No save. LP: Mike Dunn (1-4).
*
So would last night, beginning a 3-game home series against the Detroit Tigers, be the night for #AROD3K? He removed all doubt in the 1st inning. With Brett Gardner on 1st, and Justin Verlander, a man secure enough in his own baseball achievements thus far to not care if he ended up the answer to the trivia question in question, on the mound, Alex drilled a drive into the right-center field bleachers. Hit Number 3,000. Home Run Number 667. And a 2-0 Yankee lead.
It was the 29th time someone joined the 3,000 Hit Club. The last time was 4 years ago, Derek Jeter, in that same Stadium. And each did so with a home run, something only Wade Boggs (no longer a Yankee at the time) had done before. Ironically, it was A-Rod, not Jeter, who did it to the opposite field.
When he got back to the dugout, he was warmly greeted by his teammates, and the YES Network camera caught him blowing, "Whew!" Joe Giardi and I were both concerned that if he didn't get it quickly, it might stick in his mind and take a long time, as did his 500th and 600th career home runs.
The fan who caught it, who claims to have caught 8,000 batting practice balls (yeah, surrrre), refuses to give it back. Meaning that Sam Dyson's status as the biggest douche in New York lasted all of 21 hours. Especially if the fan is telling the truth about that number.
The Tigers got a run back off Adam Warren in the 2nd, but Gregorius was glorious (See, John Sterling? It's not hard) with a homer in the bottom half, his 3rd. The Yankees coasted from there, Gardner homering in 2 in the 5th (his 7th), a couple more coming in the 7th, another in the 8th.
Yankees 7, Tigers 2. WP: Warren (5-4). No save. LP: Verlander (0-1 -- he's been hurt, and this was only his 2nd start of the season).
When you get a chance, check out "
The Redemption of A-Rod
," by Lisa Swan of
Subway Squawkers
. It recently appeared in
The Washington Post
, making Lisa, at least professionally, a sister of Tony Kornheiser and Michael Wilbon of ESPN's
Pardon the Interruption
, a daughter of Thomas Boswell, and a granddaughter (or maybe a great-granddaughter) of the late, great Shirley Povich.
(Whose son is Maury Povich. Uh, maybe I shouldn't have gone there... )