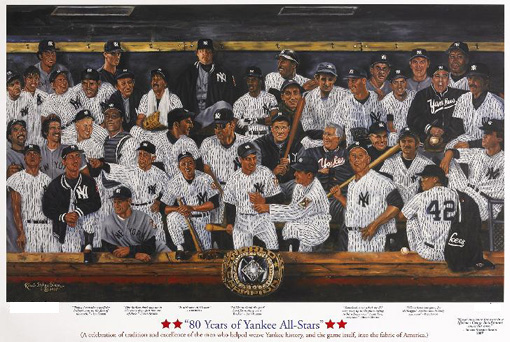 Before I list the appearances, I had planned to identify the players in this painting, but no matter how much I enlarged it, I couldn't make out some of their faces. One face I could make out was that of Rudy Giuliani. What the hell is he doing in there? If you're going to have a New York Mayor in there, make it Fiorello LaGuardia, who traveled with the Yankees to the World Series when it was by train and thus a much harder journey. (Now you know why he wanted a major airport in the City, and why that airport was named for him.)
Note: This list takes into account all times a player was named to an All-Star team, whether he got into the All-Star Game or not; but not the doubled-up ASGs of 1958 to 1962. It does not include managers.
Keep in mind also that the All-Star Game did not start until 1933. If it had started earlier -- say, in 1920 -- Babe Ruth and Lou Gehrig, in particular, would have had many more appearances.
Mickey Mantle, 16: 1952 through 1965, 1967, 1968
Yogi Berra, 15: 1948 through 1962
Derek Jeter, 14: 1998 through 2002, 2004, 2006 to 2012, 2014
Joe DiMaggio, 13: 1936 through 1942, 1946 through 1951
Mariano Rivera, 12: 1997, 1999, 2000, 2002, 2004, 2005, 2006, 2008, 2010, 2011, 2013
Bill Dickey, 11: 1933, 1934, 1936 through 1943, 1946
Elston Howard, 9: 1957 through 1965
Whitey Ford, 8: 1954, 1955, 1956, 1958 through 1961, 1964
Dave Winfield, 8: 1981 through 1988
Lefty Gomez, 7: 1933 through 1938, 1940
Bobby Richardson, 7: 1957, 1959, 1962 through 1966
Alex Rodriguez, 7: 2004 through 2008, 2010, 2011
Lou Gehrig, 6: 1933 through 1938
Red Ruffing, 6: 1934, 1938 through 1942
Joe Gordon, 6: 1939 through 1943, 1946
Thurman Munson, 6: 1971, 1973 through 1977
Don Mattingly, 6: 1984 through 1989
Tommy Henrich, 5: 1942, 1947 through 1950
Phil Rizzuto, 5: 1942, 1950 through 1953
Allie Reynolds, 5: 1949, 1950, 1952, 1953, 1954
Gil McDougald, 5: 1952, 1956 through 1959
Mel Stottlemyre, 5: 1965, 1966, 1968, 1969, 1970
Graig Nettles, 5: 1975, 1977 through 1980
Reggie Jackson, 5: 1977 through 1981
Willie Randolph, 5: 1976, 1977, 1980, 1981, 1987
Bernie Williams, 5: 1997 through 2001
Jorge Posada, 5: 2000 through 2003, 2007
Robinson Cano, 5: 2006, 2010 through 2013
Red Rolfe, 4: 1937 through 1940
Charlie Keller, 4: 1940, 1941, 1943, 1946
Spud Chandler, 4: 1942, 1943, 1946, 1947
Vic Raschi, 4: 1948, 1949, 1950, 1952
Bill "Moose" Skowron, 4: 1958 through 1961
Bobby Murcer, 4: 1971 through 1974
Rich "Goose" Gossage, 4: 1978, 1980, 1981, 1982
Ron Guidry, 4: 1978, 1979, 1982, 1983
Rickey Henderson, 4: 1985 through 1988
Wade Boggs, 4: 1993 through 1996
Paul O'Neill, 4: 1994, 1995, 1997, 1998
Ben Chapman, 3: 1933, 1934, 1935
Joe Page, 3: 1944, 1947, 1948
Hank Bauer, 3: 1952, 1953, 1954
Tony Kubek, 3: 1958, 1959, 1961
Roger Maris, 3: 1960, 1961, 1962
Joe Pepitone, 3: 1963, 1964, 1965
Sparky Lyle, 3: 1973, 1976, 1977
Jason Giambi, 3: 2002, 2003, 2004
Curtis Granderson, 3: 2010, 2011, 2012
Babe Ruth, 2: 1933, 1934
George Selkirk, 2: 1936, 1939
Frank Crosetti, 2: 1936, 1939
Johnny Murphy, 2: 1937, 1939
Monte Pearson, 2: 1936, 1940
Tiny Bonham, 2: 1942, 1943
George McQuinn, 2: 1947, 1948
Bob Turley, 2: 1955, 1958
Ryne Duren, 2: 1958, 1959
Tom Tresh, 2: 1962, 1963
Roy White, 2: 1969, 1970
Jim "Catfish" Hunter, 2: 1975, 1976
Tommy John, 2: 1979, 1980
Bucky Dent, 2: 1980, 1981
Dave Righetti, 2: 1986, 1987
Steve Sax, 2: 1989, 1990
Jimmy Key, 2: 1993, 1994
David Cone, 2: 1997, 1999
Andy Pettitte, 2: 1996, 2001
Roger Clemens, 2: 2001, 2003
Alfonso Soriano, 2: 2002, 2003
Hideki Matsui, 2: 2003, 2004
Gary Sheffield, 2: 2004, 2005
CC Sabathia, 2: 2011, 2012
Tony Lazzeri, 1: 1933
Marius Russo, 1: 1941
Buddy Rosar, 1: 1942
Johnny Lindell, 1: 1943
Hank Borowy, 1: 1944
Rollie Helmsley, 1: 1944
George "Snuffy" Stirnweiss, 1: 1946
Aaron Robinson, 1: 1947
Frank "Spec" Shea, 1: 1947
Billy Johnson, 1: 1947
Tommy Byrne, 1: 1950
Jerry Coleman, 1: 1950
Eddie Lopat, 1: 1951
Johnny Mize, 1: 1953
Johnny Sain, 1: 1953
Irv Noren, 1: 1954
Billy Martin, 1: 1956
Johnny Kucks, 1: 1956
Bobby Shantz, 1: 1957
Bob Grim, 1: 1957
Jim Coates, 1: 1960
Luis Arroyo, 1: 1961
Ralph Terry, 1: 1962
Jim Bouton, 1: 1963
Al Downing, 1: 1967
Fritz Peterson, 1: 1970
Bobby Bonds, 1: 1975
Chris Chambliss, 1: 1976
Mickey Rivers, 1: 1976
Ron Davis, 1, 1981
Phil Niekro, 1: 1984
Scott Sanderson, 1: 1991
Roberto Kelly, 1: 1992
Mike Stanley, 1: 1995
John Wetteland, 1: 1996
Tino Martinez, 1: 1997
David Wells, 1: 1998
Scott Brosius, 1: 1998
Mike Stanton, 1: 2001
Robin Ventura, 1: 2002
Javier Vazquez, 1: 2004
Tom Gordon, 1: 2004
Mark Teixeira, 1: 2009
Nick Swisher, 1: 2010
Phil Hughes, 1: 2010
Russell Martin, 1: 2011
David Robertson, 1: 2011
Dellin Betances, 1: 2014
Masahiro Tanaka, 1: 2014
Based solely on most All-Star berths, this would be the all-time Yankee lineup:
1B Lou Gehrig
2B Bobby Richardson
SS Derek Jeter
3B Alex Rodriguez
LF Dave Winfield
CF Joe DiMaggio
RF Tommy Henrich
DH Mickey Mantle
C Yogi Berra
SP1 Whitey Ford
SP2 Lefty Gomez
SP3 Red Ruffing
SP4 Allie Reynolds
SP5 Mel Stottlemyre
RP Mariano Rivera