As I type this, at around 7:30 PM on April 21, Curtis Granderson has just struck out for the Mets. Again. This time, against Tyler Lyons of the St. Louis Cardinals. (Tyler Lyons? There's another ballplayer whose name makes him sound like a soap opera character.)
Looks like that game-winning 14th-inning hit yesterday, against the Atlanta Braves, was just a blip.
It would be bad enough if his batting average were only .219, but that's his on-base percentage. His batting average is .125. His OPS+ is 30.
To give you an idea: For his career, those numbers are, respectively: .338, .259, and 115.
Can you imagine the social media storm in Pinstripedom if he was doing the same thing for the Yankees? Brian Cashman would get roasted.
He's not old: Last month, the Chicagoan outfielder turned 33. A 3-time All-Star, he should have 4 to 7 good seasons left.
This may be the hitting equivalent of "Steve Blass Disease." In 1970, '71 and '72, Steve Blass was a terrific pitcher for the Pittsburgh Pirates, helping them reach the postseason all 3 times. This included pitching a complete-game victory in Game 7 of the 1971 World Series.
But in 1973, just 31 years old, he totally collapsed. Couldn't find the plate with a map. He played his last big-league game in April 1974, got sent down to the minor leagues, got released in spring training 1975, and never appeared in another professional game.
There was no clear explanation. He was examined by a doctor, and no injury was found. No illness was found, either. He wasn't drinking heavily. He wasn't using drugs. He wasn't going through a difficulty in his personal life: His marriage wasn't falling apart, he wasn't having an affair, he didn't have a sick child. He wasn't dealing with depression or any other psychological difficulty. True, teammate Roberto Clemente had been killed in a plane crash in the off-season, which saddened the entire Pirate organization, but no other Pirate player had such a downturn in his on-field performance. So the loss of a teammate and friend didn't explain it, either.
To this day, no one knows why Blass suddenly lost his mound control. Whatever it was, he was fine afterward: He went into business, made a little money, then joined the Pirates' broadcast team. He's become a beloved figure among Pirate fans. But no one, not even he, has a viable explanation for what happened. And today, when a player (especially a pitcher) suddenly loses the talent that got him to big-league stardom, it's called "Steve Blass Disease."
Curtis Granderson's OPS+'s for his 9 full seasons in the major leagues: 114, 98, 135, 124, 102, 108, 142, 115 and 97. Some variance, and he did drop 18 points between 2012 and '13, and 45 points between 2011 and '13. But he was hurt for most of '13, which explains that, and there was no reason to think he couldn't bounce back. He doesn't seem to be hurt now. Maybe there's an injury we don't know about yet.
His home run totals since 2006: 19, 23, 22, 30, 24, 41, 43, 7 -- again, the last total explained by his being injured most of 2013. No one expected him to top 40, or even 30, home runs hitting in pitching-friendly Citi Field, compared to being a lefthanded hitter aiming for the right-field short porch at Yankee Stadium II. Still, he has just 1 homer in the first 3 weeks of the season, a pace for 9, about half of what could be expected, one-third of what could be hoped for.
As I pointed out, Citi Field is a pitcher's park. But that doesn't explain why his offensive stats have gone down as much as they have.
The Mets signed the Grandy Man for 4 years, for a total of $60 million. The Mets were the only team willing to give him a guaranteed 4th season in a new contract, which would take him through 2017, when he would be 36 years old. Now, still 33, he's looking like every bit the Flushing free-agent bust that Mo Vaughn and Jason Bay were.
This past December 10, at baseball's winter meetings at Disney World,
Granderson said
, "A lot of the people I've met in New York have always said true New Yorkers are Mets fans. So I'm excited to get a chance to see them all out there."
Now, he didn't say, himself, "True New Yorkers are Mets fans." He used "weasel words": "A lot of the people I've met in New York have always said... " This is like when Fox News says, "Some people say that President Obama (is doing, or has done, something bad)."
Still, it wouldn't be hard for a Yankee Fan to say that his words, however he used them, are coming back to haunt him.
I've said many times that I don't believe in ghosts, curses or jinxes... except when it comes to sports. Maybe this is karma for the Grandy Man.
Who can take a baseball
miss it with a bat
see his stats go down
and reputation going splat?
The Grandy Man.
Whoa, the Grandy Man can.
The Grandy Man can
'cause he left the team we love
and now he is no good.
And true New Yorkers now think he stinks.
It doesn't seem fair. His backhanded swipe at the Yankees aside, he seems like a good guy. He was never a disciplinary problem as a Yankee. An occasional disappointment, yes; but a good guy, and frequently a good player, occasionally a very good player. And after he retires, I'll be happy to welcome him back on Old-Timers' Day, although he didn't win a Pennant in his 4 seasons in Pinstripes. (He did get to 2 ALCS, but he tended to disappear at the plate in the postseason.)
As I type this, shortly after 8:00, he's come to the plate again, and been hit by a pitch. That raises his on-base percentage for the 2014 season to .230, although is batting average remains .125.
*
Rubin Carter has died. No, not the former Denver Broncos defensive lineman who's now an assistant coach at Purdue University. As Bob Dylan sang in 1975, "This is the story of the Hurricane."
Rubin Carter (no middle name) was born on May 6, 1937 in Clifton, Passaic County, New Jersey -- the day the
Hindenburg
crashed and burned at Lakehurst Naval Air Station in Ocean County, 75 miles to the south. When he was 11 years old, he stabbed a man, and was sentenced to a reform school.
When he was 17, he escaped, lied about his age, and enlisted in the U.S. Army, where he learned to box. When he was 19, he sat for his 4th court-martial, and dishonorably discharged as "unfit for service." He was convicted in a mugging, and sent to prison.
He continued boxing in prison, was released in 1961, and turned professional, his speed and aggressiveness earning him the nickname "Hurricane." By July 1963,
The Ring
magazine, "The Bible of Boxing," listed him as 1 of the Top 10 middleweight boxers in the world. On December 20 of that year, he knocked out Emile Griffith.
On December 14, 1964, he fought Middleweight Champion Joey Giardello, at the Civic Center (Convention Hall) in the champ's hometown of Philadelphia. Carter dominated the 1st 4 rounds, but Giardello survived, took control of the fight, and won a unanimous decision. No charge of racism in the decision was leveled at the time. Carter later said that he didn't fight hard enough.
When the film
The Hurricane
was released in 1999, with Denzel Washington playing Carter, it depicted Carter was winning the fight easily, but being robbed by racist judges. Giardello was still alive, and said, "This is a joke. He never hit me that much in 15 rounds." Giardello sued director Norman Jewison, and settled out of court. Jewison admitted on the DVD release that, "Giardello was, no doubt, a great fighter." Carter himself always admitted that he lost the fight fair and square.
Carter never fought for the title again. His career record was 27-12-1. On May 20, 1965, Richard Ihetu, the Nigerian fighter known as Dick Tiger, knocked him down 3 times. Somehow, Carter survived the full 10 rounds, but later called it, "the worst beating that I took in my life -- inside or outside the ring." (Tiger would later win the Middleweight and Light Heavyweight titles, but died of cancer in 1971.)
On June 17, 1966, at around 2:30 AM, 4 people were shot at the Lafayette Bar and Grill in Paterson, Passaic County, New Jersey. The bartender and a male customer died instantly. A female customer died a month later. Another male customer survived, but lost an eye.
Neither of the victims who survived the initial shooting identified the shooters at first. Witnesses outside the bar didn't identify Carter, only describing a car that may have been his. Carter was arrested, tried, convicted, and sentence to 3 life terms in prison. The prosecution's case was pathetic, as the only real evidence tying Carter to the case was the description of his car.
By 1974, the witnesses who placed Carter's car at the scene recanted their testimony, resulting in the ordering of a new trial. Carter became a
cause célèbre
, with even Muhammad Ali and Bob Dylan speaking out on his behalf.
No, he wasn't a good guy, not by any means. But he almost certainly did not shoot those people, and even the worst people accused of a crime have the right to defend themselves.
He was released on bail in 1976. In 1982, the New Jersey Supreme Court upheld his convictions. Finally, in 1985, the convictions were set aside, with a ruling that they were "

predicated upon an appeal to racism rather than reason, and concealment rather than disclosure."
It was the
Association in Defence of the Wrongly Convicted,
a non-profit legal organization with its headquarters in Toronto, that worked to free Carter and overturn his convictions. He moved to Toronto, became a Canadian citizen, and worked with the
AIDWYC in their efforts to exonerated the wrongfully accused.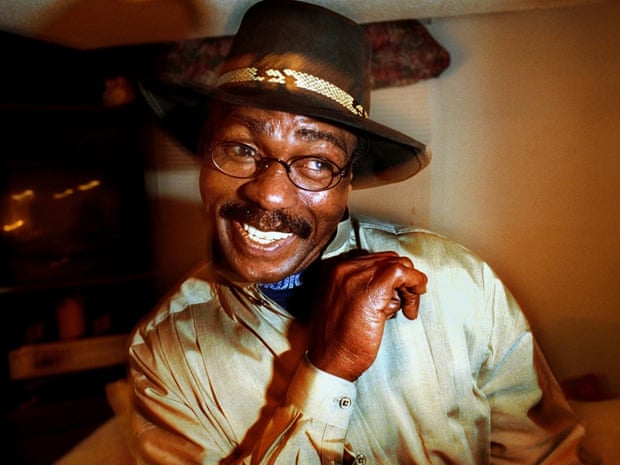 He married twice, having 2 children with his 1st wife. In 2012, he announced that he had prostate cancer, but continued working with the AIDWYC to free David McCallum (not the actor), who had been imprisoned in 1985 on a murder charge. Two months again, the New York Daily News published "Hurricane Carter's Dying Wish," a column asking for an independent review of McCallum's case. Carter died in Toronto yesterday, at the age of 76.
UPDATE: On October 15, 2014, McCallum was cleared and released.
Rubin "Hurricane" Carter was not guilty of the crime for which he was best known. He was guilty of many others. But, unlike many other people whom prison made worse, he was redeemed by those who fought for him, and he then fought alongside them to bring justice to those to whom it was long denied. And that's a greater victory than he ever got in the ring.
*
Days until the next Yankees-Red Sox series begins: 1, tomorrow night, at 7:10 PM, at Fenway Park.
Days until the Red Bulls play again: 2, this Wednesday night, at 7:30 PM, home to the Houston Dynamo. (I omitted this game from my last countdown feature. It's possible it was rescheduled and I hadn't adjusted it.)
Days until Arsenal play again: 7, next Monday afternoon at 3:00 (8:00 PM, London time), home to North-East giants Newcastle United. Yesterday, they won 3-0 over East Yorkshire club Hull City, the same team that they will play in the FA Cup Final next month. Arsenal can still finish in 4th place in the Premier League, thus qualifying for the qualifying round of the 2014-15 UEFA Champions League; with Manchester City slipping up with yesterday draw to North-East club Sunderland, Arsenal have a shot at finishing 3rd, thus qualifying for the Champions League without needing the qualifying round.
Days until the FA Cup Final, Arsenal vs. Hull City, at the new Wembley Stadium in London: 26, on Saturday, May 17. Under 4 weeks.
Days until the U.S. national soccer team plays again: 36, on Tuesday, May 27, at 10:00 PM Eastern Time, against former Soviet "republic" Azerbaijan, in one of the last events that will be held at Candlestick Park in San Francisco. Just 5 weeks. This will be the first of 3 warmup matches for the World Cup, also facing Turkey at Red Bull Arena and Nigeria in Jacksonville.
Days until the Red Bulls next play a "derby": 47, on Saturday, June 7, 7:30 PM, vs. the New England Revolution, at Gillette Stadium in Foxboro, Massachusetts.
Days until the 2014 World Cup in Brazil: 52, on Thursday, June 12. A little over 7 weeks.
Days until the Arsenal-Red Bulls match at Red Bull Arena: 96, on Saturday, July 26. A little over 3 months.
Days until the next North London Derby between Arsenal and Tottenham: Unknown. The next season's schedule, or "fixture list," usually comes out on the 2nd Friday in June. The new season usually begins on the 3rd Saturday in August, but derbies are rarely held that early in the season -- this season's September 1 match was unusually early. That opener will most likely be on August 16, which would be 117 days, but don't count on it being a derby.
Days until Rutgers plays football again: 131, on Saturday, August 30, away to Washington State, at CenturyLink Field, home of the NFL Champion Seattle Seahawks. A little over 4 months.
Days until East Brunswick High School plays football again: Unknown, as the schedule has yet to be released. Most likely, it will be on the 2nd Friday night in September. If so, that will be September 12, therefore 144 days.
Days until Rutgers makes its Big Ten Conference debut: 145 days, on Saturday, September 13, time to be determined, against old enemy Penn State.
Days until Derek Jeter's last regular-season game (barring injury): 160, on Sunday, September 28, against the Red Sox at Fenway Park. A little over 5 months.
Days until the Devils play again: Unknown, as the Devils did not make the 2014 Stanley Cup Playoffs, and the 2014-15 NHL schedule hasn't been released yet. The most likely date is the first Friday in October, which would be October 3. That's 165 days.
Days until the Devils next play a local rival: Unknown, as per the previous answer. Most likely, though, the Devils won't play either the Rangers, the Islanders or the Flyers as their season opener, or their home opener.
Days until Game 7 of the 2014 World Series -- the absolute latest you can ever again see Derek Jeter in a competitive game: 191, on Wednesday, October 29. Less than 7 months, and no more Jeter -- not as an active player, anyway.
Days until the next East Brunswick vs. Old Bridge Thanksgiving game: 220, on Thursday morning, November 27, 10:00 AM. A little over 7 months.
Days until New York City FC make their Major League Soccer debut: Unknown, but a new MLS season usually begins on the 2nd Saturday in March, which would be March 14, 2015. That's 327 days. Under 11 months. Whether it will be a home game, and thus at the new Yankee Stadium, is yet to be determined.
Days until the New York Islanders' last game at the Nassau Coliseum: Unknown, but an NHL regular season usually ends on the 2nd Sunday in April, which would be April 12, 2015. That's 356 days. Just under 1 full year.
Days until the Islanders' first home game at the Barclays Center in Brooklyn: Unknown, but an NHL regular season usually begins on the 1st Friday in October, which would be October 2, 2015. That's 529 days. That's a under 18 months. Or, to put it another way, "529 Sleeps Till Brooklyn." Until then, they're just a Small Club In Hempstead.
Days until the 2016 Olympics in Rio de Janeiro, Brazil: 714, on Friday, August 5, 2016. Less than 29 months.