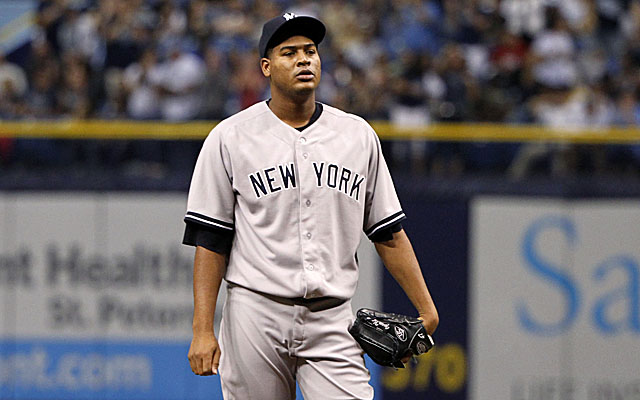 Pitching is not a hard concept to grasp. If a pitcher is pitching well, and shows no sign of fatigue, you leave him in, and let him continue to do his job. If he's not doing well, get him out sooner, rather than later.
No, pitching is not a hard concept to grasp. Unless you're Yankee manager Joe Girardi, and you trust your binder rather than your eyes and your instincts.
On Friday night, after winning the first game of a 4-game series against the 2014 Tampa Bay Rays -- otherwise known as the 2018 Montreal Expos -- Girardi sent Hiroki Kuroda out to start the second game. For 5 innings, this was a great decision, buoyed by a 4-run 2nd inning, highlighted by a bases-loaded double by Scott Sizemore. Kuroda allowed 2 runs in the bottom of the 4th, but with 1 out in the bottom of the 6th, the Yankees still led, 4-2.
Then Kuroda allowed singles to Matt Joyce and Evan Longoria. Girardi consulted his Binder Full of Strategies, and sent pitching coach Larry Rothschild out to talk to Kuroda. (Ironically, when the opposition first entered the league in 1998, as the Tampa Bay Devil Rays, Rothschild was their manager. Let's just say that, like many other pitching coaches turned managers before him, as a manager, he made a good pitching coach.) At first, it seemed to work, as Kuroda got a 2nd out.
But then, Wil Myers singled home Joyce, to make it 4-3. That was enough for Girardi, who replaced Kuroda with David Phelps, who has not exactly inspired in this new season. (Nor did he for most of last season.) Phelps did get the last out of the 6th, and when the Yankees scored in the top of the 7th, to lead 5-3, it looked like Girardi had made the right decision.
But Yunel Escobar led off the bottom of the 7th with a hit, and Ryan Hanigan hit a liner back to the box, which hit Phelps in the ribs. It rebounded to Kelly Johnson, playing 1st base for the injured Mark Teixeira, and Johnson got it and touched 1st for the out, but Escobar advanced to 2nd. If Girardi made a mistake by pulling Kuroda too soon, he now compounded it by doing the same with Phelps. It was a panic move, because Phelps was fine. (He didn't pitch in Saturday's game, but he did pitch yesterday.)
Girardi brought in Matt Thornton. Thornton is a good young pitcher, but he wasn't properly prepared to be brought in, and he allowed a hit that loaded the bases. Then Girardi panicked again, and apparently the binder said, "You know what I said a moment ago? Forget it, I'm an idiot, but trust me now: Bring in Adam Warren." Girardi did. Result? RBI single, walk, 2-RBI single. Tie game.
As they would say in English soccer, "Four-nil, and we fucked it up." Also, "Five-two, and we fucked it up."
No, we didn't fuck it up. Girardi fucked it up.
Warren got the last out, and the first 2 in the 8th, but allowed a double and a homer to make it 7-5 Rays.
Girardi then brought in Cesar Cabral. Cabral is 25, so he's not a kid, although he is still, officially, a rookie. But he put on one of the worst Yankee pitching performances you'll ever see -- I hope! He faced 6 batters, and retired exactly none.
He allowed a single to Ben Zobrist. He threw a wild pitch to Brandon Guyer, advancing Zobrist to 2nd. He gave up a single to Guyer, scoring Zobrist. He hit Longoria with a pitch. He went to a 3-0 count on James Loney before hitting him with a pitch, loading the bases. Rothschild went out to calm him down. This had all the effectiveness of a one-legged man at a butt-kicking contest. Cabral allowed a single to Myers, scoring Guyer and Longoria. Then, with his 23rd and final pitch, he reloaded the bases by hitting Logan Forsythe.
If that last one was intentional, it was probably because Logan Forsythe has the nerve to walk around with the name of a soap-opera character.
I don't think it was intentional, because Cabral's control wasn't that good. He was thrown out of the game -- which is understandable, given that he'd faced 6 batters and hit 3 of them. It's not that he's a headhunter: It's that his control was so bad, he could very well hurt somebody out there.
Shortly after the game ended, the Yankees announced that Cabral had been designated for assignment. Wow, that was fast. Almost as if George Steinbrenner was still alive and pulling the strings. If that had kind of pitching crapfest had happened in the 1980s, there would have been a phone call from Steinbrenner's box to a taxi company to pick Cabral up, and another from the box to the Tampa airport, to have George's personal plane fly Cabral directly to Columbus, do not pass Go, do not collect $200.
But here's what I want to know: Why didn't Girardi take Cabral out sooner -- for example, after the second straight hit batter? Did he not have Shawn Kelley already warming up? He could have told the umpire, "I think my pitcher's control is off because he's hurt." According to the rules, this would allow a manager to give the pitcher he's got, and/or the pitcher he wants to bring in, as many warmup tosses as he needs before play can resume. Girardi would have had control of the situation. For all his flaws, and he had them as a manager as well as in his personal life, Billy Martin would have known this rule, and would have taken advantage of it. Don't break the rules, use the rules.
Kelley got the last out in the 8th, but the damage was done. Rays 11, Yankees 5. WP: Jake McGee (1-0). No save. LP: Warren (0-1, although this one was more Girardi's fault than that of any of his pitchers).
Saturday's game was the Yankees' worst in a long, long time. That's in terms of on-field performance, if not in terms of damaging injuries, although starting pitcher Ivan Nova did get hurt, and is now rumored to need Tommy John surgery, which means he'd be out for the rest of this season.
The Yankees got only 1 run on 3 hits, so it wouldn't have mattered if Nova had been fine, and only allowed 2 runs. But he wasn't fine. He allowed a run in the 2nd, 3 in the 3rd, and 2 in the 4th. So it was already 6-0 when he began the 5th.
A Zobrist single and a Joyce double began the bottom of the 5th. Only then, after Nova had already allowed 6 runs in 4+ innings, did Girardi suspect an injury, and remove Nova. If he'd removed him sooner, both the injury and the defeat could have been less severe.
By the time Matt Daley, whom Girardi brought in, was done, it was 14-1. Even backup infielder Dean Anna pitched an inning, allowing 2 runs, for the final of 16-1. That's right, sixteen to one. Paging William Jennings Bryan.
WP: Chris Archer (2-1). LP: Nova (2-2).
Yesterday's game may not have been a "must-win" for the Yankees -- it's difficult to argue that any MLB game played in April is a "must-win" -- but the Yankees needed to get momentum back on their side.
The Yankees scored a run in the top of the 4th. Alfonso Soriano led off with a double. Teixeira, returning from the Disabled List, hit a fly to right that advanced Soriano to 3rd. Yangervis Solarte lined out to 2nd, and Sori couldn't score. But Brett Gardner doubled to right, to score him.
As for the pitching. As Bob Seger would say, Call me a relic, call me what you will, say I'm old-fashioned, say I'm over the hill. But, in my opinion, it does not take 5 pitchers to hold a good team to 1 run over 9 innings.
But it's not my opinion that holds sway in these cases, it's Joe Girardi's. Vidal Nuno was penciled in as the Sunday starter, so that both Masahiro Tanaka and Michael Pineda would be fully-rested to go against the Red Sox at Fenway this week. Nuno has been shaky so far this season, and hasn't really been a starter. Girardi gave him 5 innings, and he made the most of them: No runs, 3 hits, 2 walks, 6 strikeouts.
Phelps pitched the 6th, and into the 7th. He didn't allow a baserunner. Girardi should have kept him in longer, but he didn't. Did he know the game was going to go to extra innings? Of course not. Should he have been aware of the possibility, and not gone all willy-nilly with the bullpen? Of course yes.
He brought Thornton in, and 2 men got on. He replaced Thornton with Warren, and Warren allowed the tying run and loaded the bases, before getting out of the jam.
Warren pitched the 8th, and Girardi brought Kelley in for the 9th, to send the game to extra innings. Kelley also pitched a scoreless 10th.
The Yankees went 1-2-3 in the 10th, and wasted a Derek Jeter single in the 11th. Solarte led off the 12th with a walk -- and, as we've seen, those leadoff walks can be very productive (or dangerous, depending on which side of it you're on). Gardner grounded into a forceout, so now he was on 1st with 1 out. Brian Roberts lined out, and it looked like the Yankees would waste another chance.
But Brian McCann singled Gardner over to 3rd. Jacoby Ellsbury was intentionally walked, loading the bases but also setting up an inning-ending play at any base. Except Anna, not pitching this time, fouled off 3 pitches before drawing a go-ahead walk. Beltran and Soriano followed with singles, to make it 5-1 Yankees. Preston Claiborne kept the Rays off the board in the 11th and the 12th.
WP: Claiborne (1-0). LP: Heath Bell (0-1).
So the Yankees split 4 away to Tampa Bay. Not a bad result. The aggregate score was ugly, but then, this isn't Champions League soccer, is it? As the Yankees themselves found out in the 1960 World Series, to their horror, it's not how many runs you score in the series, it's how many games you win. (The Yanks outscored the Pittsburgh Pirates 55-27 but lost 4 games to 3.)
With the Red Sox losing their annual 11:05 AM-starting Patriots Day game today (they always start it early to reduce traffic, as the Boston Marathon usually finishes up by the end of the game), with 23 weeks to go in the regular season, the AL East standings look like this going into tonight's games (which do not include the Yankees, as they're shipping up to Boston tonight):
| | | | | |
| --- | --- | --- | --- | --- |
| TEAM | W | L | GB | MN |
| NEW YORK | 11 | 8 | 0.0 | N/A |
| Toronto | 10 | 9 | 1.0 | 143 |
| Baltimore | 9 | 9 | 1.5 | 144 |
| Tampa Bay | 9 | 10 | 2.0 | 142 |
| Boston | 9 | 11 | 2.5 | 141 |
"MN" is Magic Number: To eliminate the AL East teams, any number of Yankee wins and Red Sox losses adding up to 141, and the Sox can't win the Division; it's 142 for the Rays, 143 for the Jays and 144 for the O's, who've played 1 fewer game than the Yanks and Rays, who've played a game fewer than the Sox.
As for Nova's injury: He had an

MRI last night, and it "has revealed a partial tear of ulnar collateral ligament of his right elbow." He's gone on the DL. According to

Sweeny Murti of WFAN, he hasn't yet been told how long he'll be out, or what surgery is required, if any.
The starting pitchers for the series at Fenway are listed as follows:
* Tomorrow night, first pitch scheduled for 7:10 PM: Tanaka vs. Jon Lester.
* Wednesday night, 7:10: Pineda vs. John Lackey.
* Thursday night, 7:10: CC Sabathia vs. Felix Doubront.
This will be the biggest test yet in a Yankee uniform for both Tanaka and Pineda. They're off to very good starts. May it continue.
And may Girardi not find a way to mess it up. Because pitching is not a hard subject to grasp.