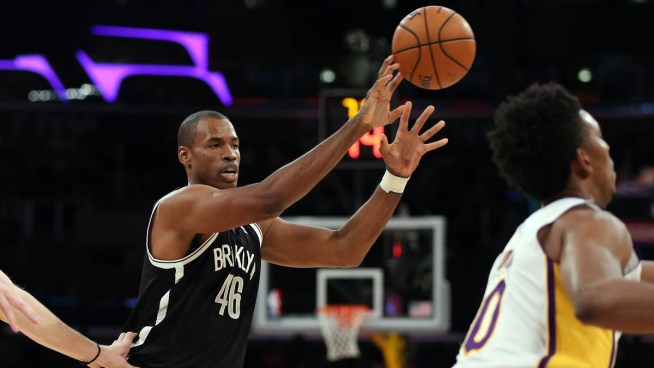 Jason Collins played for the Brooklyn Nets last night, against the Los Angeles Lakers, at the Staples Center in Los Angeles. He previously played for the New Jersey edition of the Nets from 2001 to 2008.
It was hard enough for me to care about the Nets when they were representing my home State. But now that they've completely embraced their new identity in Brooklyn, to me, they are just another basketball team. And not a very good one.
How good was Collins last night? Well, he played 11 minutes, and he didn't score any points. He did, however, have an offensive rebound, a defensive rebound, and a steal. He had a plus-8 rating. That means that, while he was on the court, the Nets scored 8 points more than the Lakers did. And the Nets beat the Lakers, on the road, 108-102. That's 6 points, meaning the Nets were 2 points better with Collins than they were without him. (Deron Williams had the most impact, scoring 30 points.)
So, at least for 1 game, he helped.
This appearance made Collins, who came out in the off-season, while not currently signed to any team, the first openly gay athlete in major league sports in North America.
Presuming, of course, that you do not include MLS, Major League Soccer, as "major league." If you don't, well, that's a choice, and it is a repulsive lifestyle. But in the traditional "Big Four" North American sports, Collins is the first.
Robbie Rogers has played for the Los Angeles Galaxy since coming out. So far, the reaction to him has been positive. And it appears that, last night, the L.A. fans -- presumably, many of whom have cheered Rogers -- treated Collins no worse than they'd treat any other opposing player.
A few other athletes have come out after retirement. Collins, knowing that he could still have a shot at signing with a new team, but also that teams might shy away from signing him if they knew, chose to be honest, and let them know. The Nets decided that didn't matter, that it wasn't an indication of bad character, and that he might still be able to help them win, and they signed him.
In today's New York
Daily News
, Mike Lupica quotes NBA legend, now ESPN analyst,
Charles Barkley making an interesting point
:
"Everybody knows the Miami Heat need a big man to help them go up against the Indiana Pacers, who've got guys like Roy Hibbert and David West. If Jason can still play, how come the Miami Heat didn't make a call? How come he didn't end up with a contender instead of with the Nets?"
Interesting question. After all, there are cities in this country that are known for having a prominent gay community, and Miami is one of them.
Granted, for the moment, the Heat are good enough to not have to pander to any community within their metropolitan area by signing anyone like them. Not that there's too many 70-year-old Jews originally from New York, or Cuban exiles even older than that, who can still play basketball.
But if talent is the only thing that should matter, then why didn't the Heat go after Collins? Did they think he wasn't good enough?
It seems to me that, if Collins is as good as he was last night -- and no better, which would be understandable, given that he was never really a star, and that he's now 35, not exactly a young guy anymore -- he could still be "the last piece of the puzzle," the guy who can put a contending team over the top. And before you tell me the Heat have won the last 2 titles and the last 3 conference titles, every new season is a new story, and the Heat reaching the NBA Finals for a 4th straight season is by no means a given.
Right now, the Pacers lead the Heat by 1 game in the loss column for the top Playoff seed in the Eastern Conference. If the current standings hold, the Nets will have the 6th seed -- but they're only 3 games in the loss column behind the Toronto Raptors for the 3rd (and 1st place in the Atlantic Division), and 2 behind the Chicago Bulls for the 4th -- and getting either of those would mean home-court advantage in the 1st Round.
If the Heat end up losing a series because they won 3 home games but lost 4 on the road -- or, through any combination, getting to a Game 7 on the road and losing it -- while we'll never be able to prove it, it could be because they had a chance to sign Jason Collins and chose not to.
Which, unlike being gay, is a choice.
One day, people who are gay will not have to face the choice of announcing it, or keeping themselves in the closet because they're afraid of repercussions. One day, we will hear that someone is gay, and we'll say, "So what? It doesn't make a difference. It's his (or her) business, not ours."
Until then, anyone facing the choice that Jason Collins and Robbie Rogers have made -- not being gay, but revealing it -- will need more Collinses and Rogerses, to move people's hearts and minds forward. Such people will advance our society in the same way that Jackie Robinson did on race, to the point where the only thing that matters is, "Can he play?"
If a player is a good player and a good teammate, then I don't care if he's a purple Buddhist from Mars in a ménage-a-trois with a college kid and a teddy bear: His personal life doesn't matter and he can play on my team.
If a player is my exact duplicate... well, if we're talking exact, then he wouldn't have the talent to play anyway. Especially at my (our) age.
I have no stake in whether Jason Collins succeeds in the NBA from this day forward.
But I love a good story. And a team failing because it refused to sign the NBA's first openly gay player is as good a story as a team succeeding because they signed a player without caring that he was openly gay.