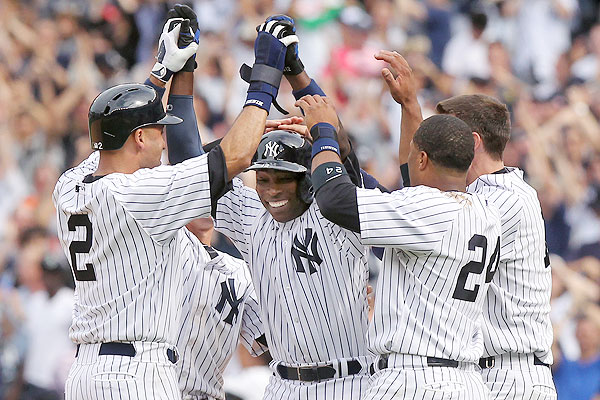 Technical difficulties meant that I have been unable to post since Friday. Fortunately, there was no Yankee game yesterday, so I only have 3 games to catch up on, not 4.
On Friday night, the Yankees came home from a roadtrip to sneak in a 3-game homestand, before flying out to California. The opponent was the Carolina Rays.
Sorry, got a little bit ahead of myself there. I mean, considering that they've been battling for first place almost continuously for 6 seasons now, and have made the Playoffs 3 of the first 5 of those years, and have even won a Pennant, they should be averaging more than 17,790 fans per home game -- next-to-last in the majors, ahead of only their fellow Floridians, the Miami Marlins, who are pathetic and averaging only 85 fewer fans.
To put that in perspective:
CoolStandings.com
says that the Rays are currently (as of this morning, July 30) on pace to win 96 games (I'm rounding off), the Marlins to lose 99; and that the Rays have a 90 percent chance of at least making the Playoffs, the Marlins less than 0.1 percent. The Rays do not have an owner (or an ownership group) that seems to go out of its way to infuritate the local fans, while the Marlins do. And yet, the Marlins have virtually the same attendance. Indeed, the Houston Astros are on a pace to lose 106 games, which they've already done in each of the last 2 seasons (107 in one of them). And yet the Astros are outdrawing the Rays by 1,446 fans per game.
Bill Foster, the Mayor of St. Petersburg, Florida, said in August 2011 -- almost 2 years ago now, after the biggest plan yet for a new ballpark for the Rays fell apart:
At present, there is no plan by the city of St. Petersburg for the design and construction of a new baseball facility in Pinellas County, and no such discussions have occurred with the Rays since my becoming mayor. The city and the Rays are contractually obligated to Tropicana Field through 2027, and absent an addendum to this agreement, there can be no plan for a new facility...
With the investment of hundreds of millions of dollars by the people of St. Petersburg and Pinellas, and with 16 years remaining on our contract, one would be naive to believe that the city did not have a detailed plan to ensure that the Rays remain in St. Petersburg, or that the interests of our residents were being represented in earnest without regard to outside pressure from those who desire to subordinate the city's interest to those of the Rays or region.
So since the Rays are winning but still have pathetic attendance, and there is no new ballpark on the horizon to replace that hideous dome, and since the Marlins have proven in these last 2 seasons that a new ballpark is no guarantee of fans coming in bigger numbers anyway, especially in a messed-up State like Florida, perhaps it's time to move the Rays to a place that gives a damn.
I joked "Carolina." But Charlotte is already building a downtown ballpark that will seat about 11,000 for its Triple-A team. Chances are, it won't be expandable to the 35,000-plus it would have to be to bring in a major league team, moved or expansion.
On Friday night, Alfonso Soriano made his re-debut for the Yankees, wearing his old Number 12.
"Strikeout Soriano" didn't strike out. Not even once. But he went 0-for-5 and left 6 men on base. He left six men on base all by himself.
Brett Gardner, Melky Mesa and David Adams each got 2 hits -- the latter 2 didn't even start the game. CC Sabathia did... and had nothing, allowing 7 runs in 5 innings. Adam Warren went the rest of the way, allowing 3 runs, so that's not much better.
So the Yankees got some runs, but no pitching. Rays 10, Yankees 6. WP: Jeremy Hellickson (10-3). Because the Yankees did get close and threaten in the 9th inning, Fernando Rodney did come in for a save situation and convert it (his 25th). LP: Sabathia (9-9). Come on, Big Fella, we need you to snap out of it and get back to pitching like an ace.
Attendance: 44,486. A crowd larger than would even fit into Torpor-cana Field. And that's with fans being pessimistic about the Yankees, and with us not considering the Rays to be a real rival. That, Rays fans, is how you support a team.
Saturday's game? Aesthetically, it was a whole lot better. Competitively, it wasn't.
Ivan Nova pitched beautifully, going 7 innings, allowing 1 run on 6 hits and 3 walks, fanning 8. David Robertson and Shawn Kelley each added a scoreless inning with 2 strikeouts, so that's 12 K's from Yankee pitching.
But Chris Archer went the distance for the Rays. Here's all the baserunners he allowed: An error that allowed Ichiro Suzuki to reach 1st in the 4th, eliminated when he got Robinson Cano to ground into a double play; a single to Lyle Overbay in the 5th; a ground-rule double to Brett Gardner in the 6th. That was it: 2 hits and an error. Not even so much as a walk. Only 1 guy got as far as 2nd base: It was like a church youth-group dance.
Rays 1, Yankees 0. WP: Archer (6-3). LP: Nova (4-4, and he's really deserved better lately).
Before the Sunday game, the Yankees honored Hideki Matsui, who signed a one-day contract with the club so that he could "officially retire as a Yankee." This was the team's 55th home game of the season, and Matsui wore Number 55, so they honored him on Sunday. The first 18,000 fans to arrive got a bobblehead doll of "Godzilla" holding the 2009 World Series MVP trophy that he won. Although his gifts included a framed Number 55 jersey, the number is not being retired. (Overbay is currently wearing it, and Russell Martin also wore it since Matsui last did.) Nor is he getting a Monument Park plaque. (Personally, I think he should get one.)
Matsui said, through a translator -- unlike Ichiro, he still doesn't speak English well...
I'd like to thank the Yankees organization, from the bottom of my heart, for giving me this opportunity. I officially announced my retirement last year, but to be able to come back in this manner -- at the time, I never really imagined having this type of opportunity. To become a member of the Yankees and retire as a Yankee, I'm just so humbled and honored...
I think this moment will be a moment I never forget. To be able to retire as a member of the team I aspired to and looked up to, I think there's nothing more fulfilling than that.
(In a related story: Donovan McNabb, the former Philadelphia Eagles quarterback, signed one with the Eagles, so he could formally retired with them, and they have announced that they will retire his Number 5.)
I had heard all the hype in the 2002-03 off-season, and wondered if Matsui could live up to hit. He sure did his damndest to do so, including the grand slam on Opening Day (the home opener, anyway) of that first season, all the way until a wrist injury sidelined him in 2006. He was never the same after that, but his performance in the 2009 World Series, his last games with the club, is something to cherish. That home run he hit in the clinching Game 6 is my favorite home run of all time -- not just because it gave the Yankees a World Series win after some nasty close calls, and not just because of who hit it, but also because of who he hit it off: Pedro Martinez.
Without getting into the whole A-Rod discussion (and I'm not going to discuss that controversy's current status in this post, it deserves a separate entry), Hideki Matsui is a Yankee Legend. He is a True Yankee.
As for the Sunday game: When the Yankees are in a slump, it's a lousy thing. When they snap out of it, it feels so good.
Derek Jeter returned from injury, batting 2nd against Rays starter Matt Moore after Gardner led off the game with a strikeout. And on the first pitch he faced, Jeter did what he's done so many times before: Drive one to the opposite field. In this case, out. Home run, his 1st since September 9, 2012.
This was followed by a single by Cano, and another Soriano that got Cano to 3rd, a sacrifice fly by Vernon Wells that scored Cano, a wild pitch by Moore that got Sori to 2nd, and a single by Ichiro that got Sori home.
3-0 Yankees after just 1 inning. This is how it's supposed to be (if not better). This is what we have been missing.
But Phil Hughes didn't have it. He allowed a run in the 2nd and 3 in the 3rd, and it was 4-3 Rays. Oy.
But the old guys struck again the bottom of the 3rd. Jeter led off the inning with a single, career hit Number 3,307. (He needs 9 more to pass Eddie Collins for 10th on the all-time list; after that, 4 more to pass Paul Molitor for 9th. That would make him 1st among all players whose careers began after the JFK assassination.) Cano flew out, but Soriano hit one out to make it 5-4 Yankees. It was his first home run as a Yankee since October 19, 2003, Game 2 of that year's World Series. (Other than that, he was just 4-for-21 in that Series, and that's one of the reasons he was traded for A-Rod.)
But Hughes gave the one-run lead right back in the top of the 5th, allowing the Rays to tie it up, giving up a home run to Wil Myers, a guy so weak he's missing an L in his first name and possibly also an E in his last name. Then Hughes walked Matt Joyce. Joe Girardi had seen enough, and Hughes was out, to a chorus of boos.
Preston Claiborne came in and ended the threat, pitching a perfect 5th and a perfect 6th. Naturally, Girardi chose not to send Claiborne back out for the 7th, even though he's been very effective this season, a nice surprise. (It would be an even nicer surprise if he'd been able to do this to keep the Yankees in first place; then again, if the Yankees had been able to get into first and stay there, Claiborne might never have been called up in, well, the first place.)
Instead, Girardi sent in the Human Gasoline Fire, Boone Logan. In a tie game. Fortunately, Logan pitched a perfect 7th. David Robertson pitched a scoreless 8th. Ichiro led off the 8th with a single, but the Yankee emergency callups -- Brent Lillibridge, David Adams and Chris Stewart -- couldn't get him home. In spite of it being a tie game, not a save situation, Girardi brought in Mariano Rivera to pitch the 9th, and the Sandman induced 3 weak groundouts.
Bottom of the 9th. The Yankees need a win very badly, and doing it in walkoff fashion would sure lift the team. Gardner led off with a walk. Jake McGee was now pitching for the Rays, and he uncorked a wild pitch. (You never see the word "uncork(ed)" unless you're talking about a bottle of wine, especially champagne, or a wild pitch.)
Jeter was the batter, and the fans were roaring, hoping that Captain Clutch could single home the winning run. The Rays decided that, with McGee being lefthanded, and Jeter's run meaning nothing, it was better to walk him and pitch to Cano, who, however deadly, is a lefty. Naturally, the fans booed, but it was absolutely the right call for the Rays. Sure enough, McGee struck Cano out.
Soriano was next, and he singled to center, and Jeter came home. Yankees 6, Rays 5. Or, as John Sterling so eloquently put it, "Ballgame over! Yankees win! Theeeeeeeeeeee Yankees win!"
Last night, the Yankees were idle, but the Rays went up to Fenway and beat The Scum, 2-1. So now, the Rays are in first:
Boston 63-44 1/2 game back (1 in the loss column)
Toronto 48-57 14 1/2 (14)
The Yankees have 57 games left. Nine weeks. We can do this.
Rest in peace, George Scott. The native of Greenville, Mississippi was discovered by Ed Scott, who had also signed Hank Aaron to the Braves. George (no relation to his discoverer) played 1st base for the Red Sox from 1966 to 1971, and was part of their "Impossible Dream" Pennant of 1967, batting .303 with 19 home runs and 82 RBIs. (However, Bob Gibson struck him out on a high fastball for the Series' final out -- though the Sox' loss can be blamed a lot more on Gibson and Lou Brock than on anything they, including Scott, did wrong.) The Red Sox traded Scott, fellow '67 hero Jim Lonborg, and a pair of lesser brothers, Billy Conigliaro and Ken Brett, to the Milwaukee Brewers for Tommy Harper, Marty Pattin and Lew Krausse.
Bad move for the Sox, good move for "Boomer." Although he was no longer aiming for Fenway's Green Monster, his production actually went up. In 1973, he batted .306 with 24 homers and 107 RBIs. He led the American League in total bases with 295. In 1975, he had an even better year, batting .285, and leading the AL in home runs with 36 (shared the lead with Reggie Jackson), 109 RBIs, and 318 total bases. Had the Brewers been a better team at that point, he would have been a good candidate for the AL Most Valuable Player award. (Instead, it went to Red Sox center fielder Fred Lynn.) But he also led the league in grounding into double plays for the 3rd time in his career, with 26. Although he moved around 1st base pretty well, winning 8 Gold Gloves, he was putting on weight and did not run very fast.
In 1977, the Sox realized they'd made a mistake, and got Scott back from the Brewers, but compounded their mistake by trading away their current 1st baseman, Cecil Cooper, who became a star in Milwaukee, and Bernie Carbo, an outfielder who came up with some big pinch hits and whom the Sox really could have used over the next couple of years.
In 1978, the Sox led the AL East by 9 games at one point, with the Yankees 14 back. Scott went into slumps of 0-for-21, 0-for-12, and 0-for-36 -- the latter including the "Boston Massacre" series of September 7-10. When asked what was going wrong with the team as the Yankees went from 14 games down to 3 1/2 games up, Scott provided the word that has come to define the Red Sox ever since: "Some of these guys are choking, man." Including himself. The Sox did manage to forge a tie on the last day of the season, but you know how that ended: Bucky Blessed Dent. Scott finished the season batting .233. (No, Brian Cashman, you can't re-sign him in the hope that he can make a comeback.)
Actually, the Yankees did sign Scott. The Sox traded him to the Kansas City Royals on June 13, 1979, and they released him on August 17. The Yankees signed him on August 26, and assigned him Number 41 -- he wore 5 during his first go-round with the Sox and with the Brewers, and 15 in his return to Boston, plus 0 (zero) in his brief Kansas City sojourn. He didn't do all that badly in The Bronx, coming to the plate 47 times, batting .318 with a homer and 6 RBIs. But by that point, the season was lost. The Yankees released him in November, and he never played in the majors again. He was 35, and ended his career with 271 home runs and a reputation as a sterling defender and a decent guy -- his September 1978 assessment of his teammates notwithstanding.
Scott managed in the minor leagues for a few years after his retirement, was elected to the Red Sox' team Hall of Fame, and died on Sunday, at age 69. He had 3 children, and a grandson, Deion Williams, is now pitching in the Washington Nationals system.
Scott also appears to have been the first player who called home runs "taters." I have heard, but cannot confirm, that my man Reggie Jackson was the first to call them "dingers."