The Yankees did not mess with Texas again last night. At least, not very well. If you want to mess with an opponent, you have to outscore them.
First 2 batters of the game: Brett Gardner and Ichiro Suzuki single. 1st & 2nd, nobody out. Robinson Cano strikes out, Lyle Overbay does the same, Vernon Wells grounds out. No runs.
4th inning: Cano leads off with a single. Gets no further.
6th inning: Gardner leads off with a grounder to Ranger pitcher Matt Garza, who throws it away, getting him all the way to 3rd. Ichiro grounds out, and Gardy can't score. Cano singles him home. So the only run the Yankees got was the pitcher's fault, but was nonetheless unearned. Overbay grounds into a double play to end the threat.
7th inning: Brent Lillibridge reaches 2nd on a throwing error with 2 out. No further.
9th inning: Wells singles with 2 outs, and the Yankees down only 3-1. The tying run comes to the plate, and Rangers Ballpark (or whatever the official name is this season) is a hitter's park.
All the Yankees needed was a hitter. What they got was Eduardo Nunez, whose every appearance is a cruel joke on people used to seeing Derek Jeter play shortstop for the Yankees. He popped up.
Andy Pettitte pitched well enough to win. He didn't (7-8). Garza pitched well also (7-1, with Joe Nathan supplying his 32nd save), but the Yankees should still have been able to hit him.
The series concludes this afternoon, a 2:05 start (1:05 to them). Hiroki Kuroda starts against Derek Holland. Come on you Bombers: Do some bombing!
After this, the Yankees come home to face the red-hot Tampa Bay Rays, who beat the Red Sox last night, and are now just half a game behind them, tied with them for first place in the loss column. The Yankees remain 7 back, 6 on the loss side.
*
Djalma Santos died this week. You probably never heard of him, unless you're a student of Brazilian soccer.
Djalma Pereira Dias dos Santos

was born on February 27, 1929 in

São Paulo,
Brazil. He starred as a right back (defender), but was also known for his attacking skill, fincluding taking penalties. He played for
São Paulo clubs Portuguesa and Palmeiras, having won the
São Paulo state championship in 1959, 1963 and 1966, and the new national championship, the
Campeonato Brasileiro Série A, in 1960, 1967 and 1969.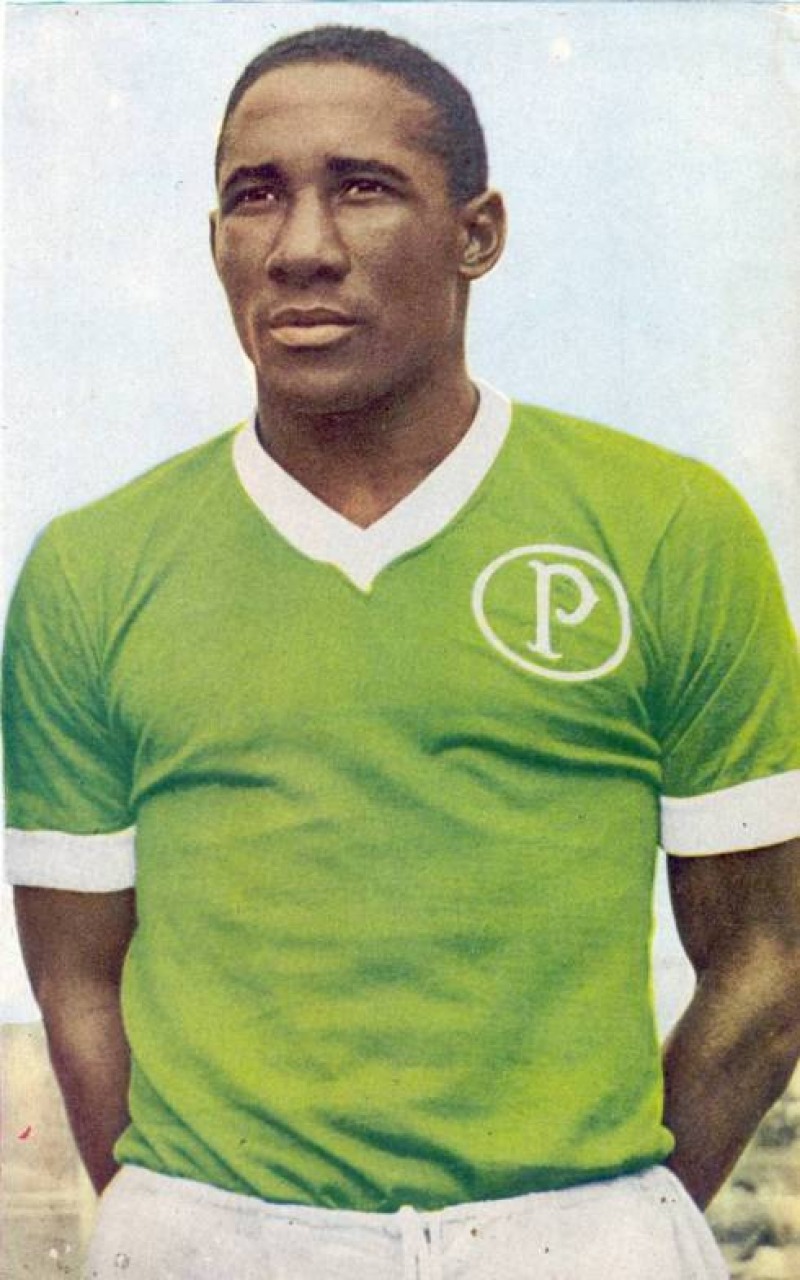 Suited up for Palmeiras
He was named to Brazil's World Cup team in 1954, 1958, 1962 and 1966. He and Franz Beckenbauer are the only men to be named in the All-Star Teams of 3 World Cups. (UPDATE: Philipp Lahm has since joined them.) He helped Brazil win the World Cup in Sweden in 1958 and Chile in 1962.
In 2008, he took part in the 50th Anniversary celebrations for Brazil's 1st World Cup win. He lived in Uberaba, in the state of Minas Gerais, and was hospitalized there with pneumonia early this month. He died on July 23 at age 84.