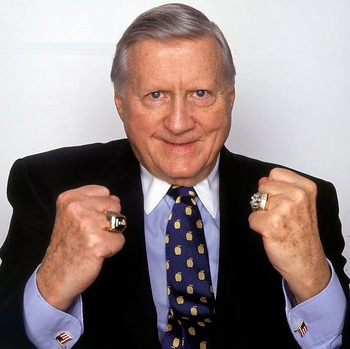 I was going to do a "Top 10 Baseball Fiscal Cliffs," in connection with the deal made by Congress and President Obama over the last few days, but real life got in the way yesterday. It will have to wait at least one more day, because today is a major anniversary.
January 3, 1973, 40 years ago today: CBS, the Columbia Broadcasting System, which had bought the Yankees for $11.2 million a little over 8 years before, sells the franchise to a consortium led by American Shipbuilding Company head George M. Steinbrenner III.
CBS had far more resources than most tycoons, even one from an industry like shipbuilding -- which wasn't exactly booming in the early 1970s. Yet for all their attempts to "buy a championship," CBS couldn't do it. Didn't even come close. With the previous regime having gutted the farm system, and the players of the Mickey Mantle generation all seeming to get hurt or old (or both) at once, the Yankees' best finish from 1965 to 1972 was a second-place finish in the American League Eastern Division in 1970, winning 93 games -- a good solid total, but the Baltimore Orioles ran away with the Division, winning 108.
CBS entrusted the running of the Yankees to Mike Burke, a genuine hero of World War II through his service in the Office of Strategic Services (OSS, forerunner of the CIA), and later a successful businessman. But while he loved sports and knew business, he couldn't combine the two.
The Yankees fell behind the Mets both competitively and culturally: Even before the Mets' 1969 "Miracle" World Series, they had become more popular, suggesting that a big chunk of Yankee fandom was people who were Yankee Fans only because the Yankees were winning.
Burke was a good man, but a poor steward of the Pinstripes. It was beginning to look like his best connection to the Yankees was an incidental one, in that Gary Cooper, who played Lou Gehrig in The Pride of the Yankees, played the character based on Burke in Cloak and Dagger. But his deal with Mayor John Lindsay, cut in the wake of the football Giants' decision to leave the City and go to New Jersey, saved the original Yankee Stadium for another 2 generations, and for all their mistakes, we should thank Burke (1916-87) and Lindsay (1921-2000, Mayor 1966-73) for that.
The purchase price was $8.8 million, meaning that, with inflation factored in, CBS probably sold the Yankees at a loss of half the money.
Steinbrenner's group included some interesting names. Nelson Bunker Hunt was a son of oil billionaire and right-wing activist H.L. Hunt, and a brother of Lamar Hunt who founded the American Football League and the Kansas City Chiefs, and co-founded the Chicago Bulls and Major League Soccer. Nelson and brother William attempted to corner the silver market, but that led to a panic on commodity exchanges in 1980, and that helped cause the recession of the early 1980s. George knew Hunt through their common love of thoroughbred racing, as both owned racehorses.
Lester Crown, one of the co-founders of the Bulls with Lamar Hunt (who probably met George through Nelson), is the son of the founder of General Dynamics, and was a major banking executive. He has been a great donor to medical causes including a new headquarters for Cook County Hospital (the basis for the TV show ER) in his hometown of Chicago.
John McMullen was a naval engineer, whom George knew from the shipbuilding operation. He served in the Navy during World War II, and the Naval Academy named its hockey rink after him. He sold his stake in the Yankees, saying, "Nothing is so limited as being one of George's limited partners." He then bought another baseball team, the Houston Astros, and a hockey team, the Colorado Rockies. In 1982, he moved the Rockies to the Meadowlands and they became the New Jersey Devils. His son Peter is now a minority owner of the Devils.
Robert Nederlander is a Broadway producer, and his friendship with George fed George's love of theater, which certainly came into play as Yankee owner on a few occasions.

And then there was John Zachary DeLorean. As an executive with General Motors, he developed 3 of Pontiac's signature cars: The GTO, the Firebird, and the Grand Prix. On the other hand, he also developed 2 of Chevrolet's lesser vehicles, the Vega and the Nova. He founded DeLorean Motor Company and developed the DMC-12, the gull-winged sports car that was customized as the time machine in the Back to the Future movies. He was arrested for drug trafficking in 1982, but was acquitted, his attorney proving entrapment. However, his legal expenses and the failure of DMC proved his financial undoing.

McMullen and DeLorean both died in 2005. Hunt, Crown and Nederlander are still alive.

When George's consortium bought the Yankees on January 3, 1973, he commanded a press conference, and said that he was bringing in Gabe Paul, the longtime president of the Cleveland Indians, as general manager. George, a native of the Cleveland suburbs, had tried to buy the Indians the year before. He had also owned the Cleveland Pipers of the short-lived American Basketball League in 1961 and '62.

George announced his commitment to building a winner for the Yankee Fans, and for the City of New York. For all that happened afterward, and for all the occasionally screwy ways in which he tried to build a winner could be criticized, his love of the fans and the City could never be seriously doubted.

But he also said this at that presser:

"I won't be active in the day-to-day operations of the club at all. I can't spread myself so thin. I've got enough headaches with my shipping company."
That turned out to be wrong. Very wrong.
George Steinbrenner was born on July 4, 1930, and died on July 13, 2010. His 37 years of ownership of the Yankees is a club record:
George Steinbrenner, 1973 to 2010: 37 seasons and part of a 38th
Jacob Ruppert, 1915 to 1938: 24 seasons, 9 with Til Huston
Del Webb and Dan Topping, 1946 to 1964: 19 seasons
Frank Farrell and Bill Devery, 1903 to 1914: 12 seasons
CBS, under stewardship of Mike Burke, 1965 to 1972: 8 seasons
Col. Ruppert's heirs, 1939 to 1945: 7 seasons
Hank and Hal Steinbrenner, George's sons, 2010 to 2012: 2 seasons and part of a 3rd
To put it in further perspective, here's a list of some "ruling families" of baseball, and how long they owned their teams:
The Yawkeys of Boston, 1933 to 1992: 70 seasons
The Wrigleys of Chicago (Cubs), 1925 to 1981: 67 seasons
The Comiskeys of Chicago (White Sox), 1901 to 1958: 58 seasons
The Stonehams of New York/San Francisco, 1919 to 1975: 57 seasons
The O'Malleys of Brooklyn/Los Angeles, 1942 to 1996: 55 seasons

The Macks of Philadelphia (A's), 1901 to 1954: 54 seasons
The Dreyfuss(es)/Benswangers of Pittsburgh, 1900 to 1946: 47 seasons
The Busches of St. Louis, 1953 to 1995: 43 seasons
The Steinbrenners of New York, 1973 to present: 40 seasons
The Carpenters of Philadelphia (Phillies), 1943 to 1981: 39 seasons
The Briggs(es) of Detroit, 1919 to 1956: 38 seasons
The Seligs of Milwaukee, 1970 to 2004: 35 seasons
The Shibes of Philadelphia (A's), 1901 to 1935: 35 seasons
So it has been that long. In fact, when you consider that Horace Stoneham moved the baseball Giants to San Francisco after 38 seasons of family ownership, the only family that's owned any New York team longer than the Steinbrenners have owned the Yankees is the Maras, who have owned the football Giants since their inception in 1925, and have just completed their 88th season in charge, and have no intention of selling, aside from the half-share they sold to the Tisch family a few years back.
*

These Top 10 George Steinbrenner Moments are in chronological order, and sum up The Boss, for good, for ill, for funny, for not funny at all.

1. Making Lou Piniella get a haircut. During the 1973-74 off-season, George traded aging pitcher Lindy McDaniel to the Kansas City Royals for outfielder Lou Piniella. This was a great trade for both teams: McDaniel didn't have much left in his arm, but become a sort of secondary pitching coach who tutored the Royals' young staff, helping them become the pitchers that led them to 6 postseason appearances in 10 seasons. Sweet Lou was a consistent .300 hitter and a good fielder in both left field and right field, and seemed to up his game in big games. Nathan Salant, author of a 1979 book about the Yankees, called him "the Red Sox killer himself."

Meeting Lou at the Yankees' spring training hotel in Fort Lauderdale, Florida in March 1974, George wanted him to get a haircut. Remembering the season before, when George forced haircuts on Thurman Munson, Bobby Murcer and Sparky Lyle, Lou tried to stand up for himself, telling George, "Jesus had long hair." George said, "Lou, come with me," and walked him over to the hotel pool, and said, "Lou, if you can walk across that water, you can have long hair!"

2. Getting banned from baseball -- twice. On August 23, 1974, George, who had been chairman of Ohio Democrats for Nixon in 1972,

pled guilty to making illegal contributions to Nixon's re-election campaign, and to a felony charge of obstruction of justice.

He was personally fined $15,000 and his company was assessed an additional $20,000. On November 27 of that year, Baseball Commissioner

Bowie Kuhn

suspended him for two years. After George convinced enough of his fellow owners to back off a plan to fire Kuhn as Commissioner, Kuhn rewarded George by commuting that ban to 15 months. President

Ronald Reagan

pardoned Steinbrenner in 1989, in one of the final acts of his Administration.



On July 30, 1990, Steinbrenner was banned permanently from day-to-day management (but not ownership) of the Yankees by

Commissioner

Fay Vincent,

for paying a gambler named Howie Spira $40,000 to dig up "dirt" on Yankee outfielder Dave Winfield. Dave had sued the Yankees as a company, for failing to contribute $300,000 to his foundation, which was a stipulation that had been guaranteed stipulation in his contract. (A similar stipulation in Catfish Hunter's contract led to another of these defining Boss moments.)

Vincent originally proposed a 2-year suspension, but George wanted it worded as an "agreement" rather than a "suspension" to protect his relationship with the

U.S. Olympic Committee.
This was a part of George's efforts, after his 1974 conviction, to remind everyone that he was still a great patriotic American, a reminder whose most noticeable legacy is the continuation, even after his death, of playing "God Bless America" before "Take Me Out to the Ballgame" during the 7th Inning Stretch. In

exchange for that concession, Vincent made the "agreement" permanent; in exchange for keeping his nose clean for 2 years, Bud Selig, who had led George's fellow owners in ousting Vincent from the Commissionership and had been appointed Acting Commissioner (and later permanent Commissioner) himself, lifted the ban.
3. Appropriating the A's Dynasty. After Oakland Athletics owner Charlie Finley refused to contribute to an annuity that A's pitcher Jim "Catfish" Hunter had put into his contract, Catfish was declared a free agent. George swooped in, and on New Year's Eve, December 31, 1974, signed Catfish to the biggest contract baseball had yet seen, 5 years, $3.75 million -- an average of $750,000 a year. (How quaint it sounds now.)
Two years later, having signed the leading pitcher of the A's 1972-73-74 World Champions, George went after their best player, Reggie Jackson: 5 years, $2.96 million ($592,000 a year). Reggie said George hustled him. Clearly, in a good way.
But it wouldn't have mattered without...
4. Forcing Billy to bat Reggie 4th. When ESPN wanted to tell the story of the 1977 Yankees, and all the other crazy things that happened in the City in that year, in a miniseries version of Jonathan Mahler's nonfiction book The Bronx Is Burning, they got John Turturro to play an eerily accurate Billy Martin.
Some of the other actors were fantastic, and really looked like the guys: Erik Jensen as Thurman Munson, Mather Zickel as Lou Piniella, Evan Hart as Bucky Dent, Leonard Robinson (a really funny standup comic in real life) as Mickey Rivers. Some weren't so good: Kevin Conway did a great job as Gabe Paul, but didn't really look like him. Christopher McDonald did a great job as Mel Allen in 61*, but was awful as Joe DiMaggio in The Bronx Is Burning. (In contrast, Joe Grifasi was awful as Phil Rizzuto in the former, but great as Yogi Berra in the latter.) As Reggie, Daniel Sunjata took a while to get used to, as I didn't think his look was quite right, but he's a really good actor. Actually, out of makeup, he looks more like the young, pre-Oakland dynasty Reggie than he does the Oakland or Yankee Reggie. And in the Son of Sam segments, Michael Rispoli was phenomenal as Jimmy Breslin.
Oliver Platt is a fantastic actor. He looks nothing like George Steinbrenner. Other than that, he got everything right: The voice, the mannerisms, the hair, the clothes. At the time, George favored sharp suits, only adopting the white turtleneck and the navy blue blazer after returning from his 1990-92 ban. The sparring between Platt/George and Turturro/Billy was fantastic.

In a scene that, apparently, actually happened, George, with Gabe also in his office, gave Billy an ultimatum, and, apparently, unlike his earlier attempts to fire Billy in spring training and after the shouting match with Reggie in the Fenway Park dugout in June, he wasn't kidding: "Billy, bat Reggie fourth, or you're fired." It wasn't yelled. It was rational. And George knew what he was doing. It may have been the only time in his tenure that he knew more than either his manager or "my baseball people" (as he once clumsily referred to his advisors).
Billy, who always hated backing down from a challenge, knew this was it: Put Reggie in a spot in the order where his strikeouts might "mess up my running game," or lose the only job he ever wanted.
It worked: Billy put Reggie in the cleanup spot, Reggie started hitting better, the team started scoring more runs, the team went on a tear and overtook the Orioles and the Boston Red Sox for the AL East title, and went on to win the whole thing. Billy got his 6th ring -- his only ring as a manager. Gabe got his one and only ring -- after all those years doing whatever it took, trading whoever he had to, just to keep the Indians afloat and in Cleveland, this was the one time he had money to spend, and it worked. George got his first ring -- there would be more.
This meeting was one time where George would have been calmer about it than I would. I would have yelled, "Billy, you've got Reggie Jackson! You've got Thurman Munson! You've got Graig Nettles! You've got Chris Chambliss! You've got Lou Piniella! What the hell do you need a running game for?" Maybe someday, I'll do an analysis of Billy's managing, and see whether he had a point. But George turned out to be right. "And they'll never give me the credit for it," Platt/George whined to Conway/Gabe.
5. Munson's death. Thurman Munson died in a plane crash in Canton, Ohio on August 2, 1979. The funeral was on August 6. That night, the Yankees were scheduled to play the Orioles at the original Yankee Stadium on ABC Monday Night Baseball, which went on the air at 8:00. George flew the entire team out to Canton at his own expense to attend the funeral. (Which is kind of creepy if you think about it: Suppose something had happened to that plane?)
George was asked by a reporter, "Suppose you don't get back in time. What happens then?" And George Steinbrenner, who once said,

"

Winning

is the most important thing in my life, after

breathing

," said, "Then we'll forfeit." For once, George found something that was more important than winning.
Both American football coach Red Sanders (UCLA) and British soccer coach Bill Shankly (Liverpool FC) have been quoted as saying, "Football is not a matter of life and death. It's much more important than that." They were wrong. And George knew that.
The Yankees did get back to New York in time to play their game. They were emotionally drained, especially Billy and Bobby Murcer, Thurman's best friend in baseball, who along with Piniella had delivered a eulogy. In the bottom of the 7th inning, with the score 4-0 to the O's, Bobby hit a home run. In the bottom of the 9th, with 2 men on, Bobby doubled to bring home the winning runs. He had batted in all 5 Yankee runs.

6. The fight in L.A. elevator. After the Yankees lost Game 3 of

the

1981 World Series against the Los Angeles Dodgers, George

called a press conference in his hotel room, showing off his left hand in a cast and various other injuries that he claimed were earned in a fight with two Dodger fans in the hotel elevator.
This was widely believed to be a cockamamie story, designed to light a fire under his players. If so, it didn't work: After winning the first 2 games in New York, the Yankees dropped the next 4, reversing the result of 1978, after also beating the Dodgers in 1977.
After the Series, George publicly apologized to the City of New York for the loss. Most fans thought, A, that wasn't necessary; B, even if it was, it was hardly George who needed to apologize; and C, if George should have apologized for anything, it was the malarkey about the fight. Did the fight really happen? Only George -- and, if it did really happen, the guys who fought him -- knew for sure.
7. Firing Yogi -- and making up with him. Nobody ever won a popularity contest against Yogi Berra. George promoted him from the coaching staff after firing Billy for the 3rd time following the 1983 season. Yogi managed in 1984, and the Detroit Tigers ran away with the Division and won the World Series. Aware that he already had a reputation for firing managers too soon, George told the media that Yogi would be the manger for the entire 1985 season. But after a rotten start, George fired him, and brought Billy back for a 4th go-round.
Competitively speaking, it was the right move: The Yankees got better under Billy, winning 97 games and nearly winning the Division, but falling a little short against the Toronto Blue Jays. The problem was with how George did it. If he'd called Yogi into his office and told him face-to-face, man-to-man, as was done to Yogi after the 1964 World Series, into which he'd managed the Yankees but lost, Yogi, by his own admission, would have accepted it. It would have fallen under the heading of, "That's baseball."
Instead, George sent one of "my baseball people" to go down to the manager's office and tell Yogi he was fired. It was Clyde King, a former big-league pitcher (he'd pitched for the Brooklyn Dodgers in the 1950s and Yogi had batted against him in the World Series) who'd worked for George in a number of capacities, including interim manager to see out the 1982 season. On that day, George wasn't man enough to fire Yogi to his face, to tell him, "Yogi, I'm sorry, I know I said you would stay the whole season, but we gotta do something, I gotta make a change." He sent a flunky to do it.
George was said to work his employees really hard, but he always said, "I never ask my employees to work any harder than I do." And he did work himself hard. But on this occasion, he essentially broke his own rule, sending someone else to do his dirty work. You just don't do that.
Yogi swore he would never set foot in Yankee Stadium again as long as George was the owner. As the 1999 season approached, it had been 14 years, and he had kept his vow. George had recently been to visit DiMaggio in the hospital in Florida, as the Yankee Clipper was dying of cancer. Joe gave him a dying wish: Make peace with Yogi.
Not long after that, Yankee broadcaster Suzyn Waldman met with Yogi's wife Carmen, who told her she wished Yogi would go back -- not for his own sake, but for that of his grandchildren, who had never seen him in a Yankee uniform. Knowing Yogi would be too proud to do it, Suzyn approached George: "I'd like to talk to you about Yogi." Thinking of DiMaggio, and starting to worry -- Yogi was about to turn 74, so he was already old -- George said, "Why, what's wrong?" Suzyn said she knew it would happen.
So she set up a meeting at the Yogi Berra Museum & Learning Center, on the campus of Montclair State University, not far from Yogi's house. Each man said something completely appropriate to the other. George said, "I'm sorry." Yogi said, "It's over." George invited Yogi to throw out the ceremonial first ball on Opening Day. Yogi has done so on most Opening Days since, and except on one occasion when illness prevented him, has suited up in his Number 8 uniform every Old-Timers' Day since. (He's now 87.)
It would have been a terrible blot on George's legacy if either man had died without settling their differences. But when George died, Yogi had nothing but praise for him.
8. The 2000 World Series. If, at the time George was banned in 1990, you had told me that, within 6 years, the Yankees would win the World Series again, I would have taken it; but if you had told me that we'd be chanting, "Thank you George!" as he rode in a float up Broadway in the ensuing ticker-tape parade, I would have wondered what you were smoking. But they both happened.

But that was nothing compared to 2000. The Yankees beat the Mets. For me, having spent my high school years in the Mets' greatest era, the fall of 1984 to the spring of 1987, this will forever remain the sweetest victory of all. And we clinched at Shea Stadium to boot. And the sound of 25,000 Yankee Fans, sticking around, and chanting, "Thank you George!" in the Flushing Toilet was beautiful. Not even the Beatles made music like that inside Shea. And the Met fans -- those who had also stuck around, and those who had left and had to hear about it later -- couldn't do a damn thing about it. The final World Series game ever played at Shea Stadium ended the Yankees beating the Mets and people thanking George Steinbrenner at the top of their lungs.
And if there's anybody Met fans hate more than M. Donald Grant, it's George Steinbrenner.
9. The YES Network. Founding the Yankees Entertainment & Sports Network, the regional sports network that tops them all -- even over the Madison Square Garden Network -- was a masterstroke, and by itself probably doubled the value of the Yankees.
10. The New Stadium. I am still deeply saddened by the destruction of the old Yankee Stadium. But if there had to be a new one, they couldn't have done much better. It has all the majesty of the old one had, and all of the conveniences it didn't have. And if George's Monument in Monument Park seems a little big -- it's been joked that it can be seen from space -- then it is, in the context of that Stadium and 7 World Championships, somewhat understandable.
Besides, it's not like he ordered it himself. Even George wasn't that much of a dictator.