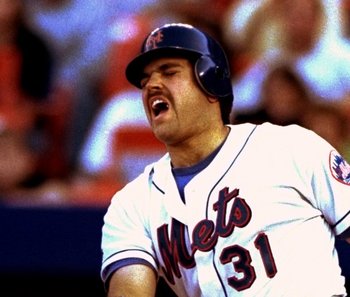 Yesterday, in anticipation of today's announcement by the Baseball Hall of Fame, releasing the vote by the Baseball Writers' Association of America for election to the Hall, which could include former Met catcher Mike Piazza, I wrote a post with the title of "Is Mike Piazza a Hall-of-Famer?"
I hate the Mets. Regular readers of this blog know that. My reasons are many. The biggest reason, though, is Met fans, who have all the arrogance of Yankee Fans and have earned very little of that. It's not that the Flushing Heathen are stupid. It's that so many of them
think
they're smart, even smarter than Yankee Fans. When they have demonstrated many times that they are not.
In spite of my feelings for the Mets and their fans, I looked at statistics, the kind of on-field performance that cannot be measured in stats, and character, and concluded that Piazza should be elected to the Hall of Fame. I also concluded that he might not be elected this time, and may even have to wait a few years, for reasons that are no fault of his own:
* There is the perception that he used performance-enhancing drugs, although that perception is weak and has, as yet, included no publicly-revealed evidence.
* There is the perception that the entire "Steroid Era," roughly from the first Pennant won by the Oakland A's with Mark McGwire and Sammy Sosa in 1988, until the Mitchell Report right after the 2nd tainted Boston Red Sox title in 2007, needs to be taken with a grain, a pinch, or even a mine of salt, and that a player needs more than just a lot of home runs (or even a lot of home runs for a player at his position) to get in.
* And then there are voters who simply won't vote for a player in his first year of eligibility, no matter what, because they think there are deserving players who haven't yet gotten in.
Which is ridiculous: If you think Player A deserved to get in 2 years ago but he still hasn't, and you believe Player B, newly eligible, deserves to get in, then vote for both of them. Either they're deserving, or they're not. This is why we wait 5 full seasons after their retirement: In the wake of the player's retirement, there's all the hoopla about what a great player he was. Take some time to step back, and then recall what kind of player he was. Sure, Player A might be more deserving, but that doesn't mean you shouldn't also vote for Player B.
*
Anyway, I wrote the post, and, in spite of my personal feelings, I said that Piazza should get in.
Naturally, a Met fan chimed in and said my article was ridiculous.
I shouldn't say Met fans are morons, but... well, this one sure is.
I won't mention his screen name, and, of course, I don't have his real name. The following is the text of his comment. I haven't changed anything: The spelling, grammar, punctuation, refusal to break up the single paragraph, and views are all his:
I have to address this.
This article is ridiculous. The fact that you are even holding a debate as to whether Piazza is a hall of famer shows you dont know anything. 427 home runs is not automatically indicative of a hall of famer. Thats true, I guess, but you know what is indicative of him being a hall of famer? Watching him play everyday and seeing hit the ball with such power and discipline. Also, I know you clearly never watched him as your defensive analysis of him is way off. There is no defending his throwing, everyone knows that. But what Mets fans know is that he blocked the plate very well, and despite your childish assumption that he called a bad game, I would tend to disagree. THe Mets had good rotations under him, and again, this is something you can tell by watching, not by judging later on. After reading your article, it is clear you watched very minimal, if any of Piazza play. Im glad he has your vote, but it really isnt a discussion, he should be a first ballot hall of famer. The writers are gonna be idiots and not vote him in though for steroids hes never been linked to.
First of all, don't tell somebody, "You don't know anything" if you, yourself, can't use simple grammar and punctuation. I'll let you off on not using the hyphens in "Hall-of-Famer," but if you think that's a title of respect, you should capitalize it. And you should also learn the concept of the apostrophe.
Second of all, the fact that I cited his statistics proves that I know plenty. You can doubt with my perceptions of the facts, and the opinions I form based on those facts, but you cannot argue with the facts.
You can argue that the stats don't tell the whole story, which is true: As Piazza's friend from Los Angeles, broadcaster Vin Scully, likes to say, "Statistics are like lampposts: Use them for illumination, not for support." But the fact that the stats
don't
tell the whole story makes
my
point: There are mitigating factors that makes Piazza's election less than automatic, makes a voter have to think more than once about it.
Case in point: I made the point that I'd read somewhere -- it might have been from Rob Neyer, but I can't remember -- that someone said that 300 home runs for a catcher, or a middle infielder, is roughly as impressive as 500 home runs would be for an outfielder or a corner infielder. But that's a guideline, not a rule.
"Such power and discipline." Power? Sure. After all, Piazza hit those 427 home runs despite playing most of his home games at Dodger Stadium and Shea Stadium, two stadiums that favor pitchers over hitters. But discipline? Piazza struck out 1,113 times in his career. That's not a whole lot for a power hitter. But he drew only 759 walks. Mickey Mantle, formerly the all-time leader in strikeouts, and frequently criticized for his strikeouts, had 1,710 of them, but he also walked 1,736 times. Mantle had 1.015 walks for every strikeout; Piazza had 1.466 strikeouts for every walk.
Discipline? Piazza grounded into 229 double plays, leading the National League with 27 in 1999. Plenty of players have more: Cal Ripken holds the record with 350, Derek Jeter has 269, and A-Rod has 235. Also with more than Piazza are Hank Aaron, Carl Yastrzemski, Dave Winfield, Eddie Murray, Roberto Clemente, Al Kaline, Tony Gwynn, Willie Mays, Pete Rose, Harmon Killebrew, Stan Musial, Manny Ramirez, Wade Boggs, George Brett, Gary Sheffield and Rafael Palmeiro. And Ernie Banks had the same number, 229. But of those players, all but Killebrew, Manny, Banks and A-Rod (who, assuming he comes back from his current injury, will make it) have at least 3,000 hits; and all but Jeter, Clemente, Kaline, Gwynn, Rose, Boggs and Brett have more home runs than Piazza.
No, citing Piazza's "discipline" is, to put it politely, problematic.
His defense...
"What Mets fans know is that he blocked the plate very well." Compared to who, Engleberg from The Bad News Bears?
That the Mets -- and the Dodgers, too -- had good rotations while Piazza was with him is a mark against him. They should have been in the Playoffs more times, and have gotten further in the Playoffs when they did. And they would have, with a good defensive catcher and a catcher who called a better game.

This is not "childish" -- what is childish is that the NL still has not instituted the designated hitter, thus giving hitting stars who are also defensive liabilities a fair shot at being a net plus for their teams.
Put Piazza behind the plate for the Yankee teams of the same era, instead of Joe Girardi and Jorge Posada as they actually had, and instead of the 6 Pennants they won, they might not have won any. I'm not saying Girardi belongs in the Hall -- he'll have to win at least one more World Series as a manager, and he certainly won't get in as a player. Hell, Joe Torre was a much better hitter and at least as good a catcher as Girardi, and he never got in as a player. Posada? If he'd had the same numbers on a team that never won, he'd have no chance. With the titles he helped build, he has a slim chance. But both completely outclassed Piazza defensively. As did past Met catchers such as Jerry Grote, John Stearns and Gary Carter, and Piazza's successor, Paul Lo Duca. (Though not, apparently, Clarence "Choo Choo" Coleman. And current Met catcher Josh Thole, while better than Piazza, isn't particularly impressive.)
As for this numbnuts' remark, "I know you clearly never watched him," obviously, that's a bald-faced lie. I've lived my whole life in the New York Tri-State Area. I've seen the Mets practically every day of the baseball season for over 30 years -- if not during their actual games, then on the sports reports on the 11:00 news, or on ESPN highlights.
You can argue with how well I watched him, or whether I learned the right things from watching him. But, of course, I watched him.
After all, I watched the 2000 World Series when he made an ass out of himself, and Roger Clemens then made a monkey out of him. And, oh yeah, the Yankees beat the Mets, clinching at Shea.
Yeah, I went there. Again. And I will go there many more times in the future.
I know of only one nonpitcher who, thus far, may have been kept out of the Hall of Fame because of a perception that he was poor defensively, and that's the 1920s Brooklyn Dodger outfielder Babe Herman. And he didn't have the disadvantage of ESPN showing his fielding on "Not the Top 10 Plays." But he also didn't have the advantage of ESPN showing his hitting. His 141 career OPS+ was almost identical to Piazza's 143.
Harmon Killebrew was a born DH, an awful fielder at 3rd base who was moved to 1st base because there was no DH in the 1960s, and players who couldn't field anywhere were usually put at 1st because that was where it was believed they would do the least damage. His lifetime batting average was just .256, but he hit 573 homers, and his OPS+ was the same as Piazza's, 143. Yet it took him 4 tries to get in. (Playing in Minnesota didn't help; playing in L.A. and New York, however, might help Piazza.)
If you saw Piazza play every day, then, most likely, you're a Met fan. He was a lot like Alex Rodriguez: A lot of big hits, but not when it counted. A-Rod finally earned a ring; Piazza's clutch performances were few and far between, and, in big part because of his own performances, regular-season and postseason, he never got one.
Yes, there was that game against the Atlanta Braves, the first New York area sporting event after 9/11, which he won with a home run -- but it was just one game. The Mets didn't come close to making the Playoffs that season. It was no more meaningful than the performance of Bobby Murcer the night following Thurman Munson's funeral, and Bobby has never been seriously considered for the Hall of Fame. Nor have Bill Wambsganss, Johnny Vander Meer, Bobby Thomson, Don Larsen, Chris Chambliss or Bucky Dent. Yes, Bill Mazeroski and Carlton Fisk are in, but they got in on long-term excellence. I wouldn't hold my breath over Aaron Boone getting in. Or Al Weis. Or Lenny Dykstra. Or Todd Pratt. Or Robin Ventura, who was a pretty good player (and is off to a decent start as a manager). Or even Joe Carter, who was a damn good player, above and beyond his big moment. Or... yes, I'm going there... Yadier Molina.
Met fans, who watch their team every day, voted Piazza the starting catcher on their 40th and 50th Anniversary Teams. I never again want to hear that Met fans are more knowledgeable than Yankee Fans, because, clearly, these people, by and large, are morons.
It took Gary Carter 6 tries to get in, and when it comes to doing what it took to win baseball games, Piazza couldn't shine Carter's shoes.