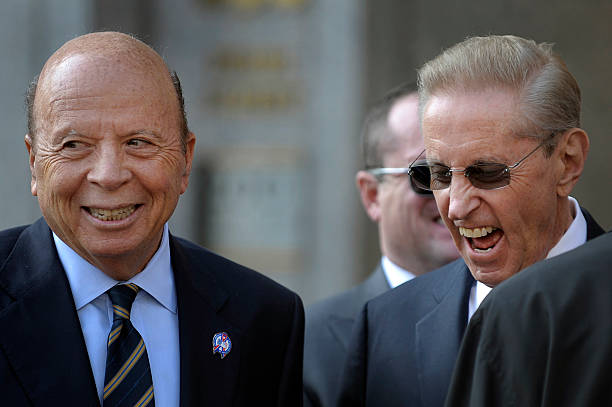 So the Mets have settled with Irving Picard, the trustee in the Bernie Madoff case, agreeing to pay $162 million. One million dollars per game. And they don't have to make the 1st payment for a while.
I used to work for a lawyer, who told me, "A bad settlement is better than a good verdict." Translation: Better to put a quick end to it than to keep the story in the papers (or electronic media such as TV, radio and the Internet).
So, by that standard, this is a win for the Mets. Can this be called a win by any other standard? Yes: They could have had to pay a lot more.
Mets owners Fred and Jeff Wilpon could have been found to have been "willfully blind" to the scheme of Freddy Skill Sets' old pal Bernie Made-Off.
Damn, but that sounds like a line from a Mob story. Not that there's any such thing as the Mob. (Hey, I may be crazy, but I ain't stupid. I'm from North Jersey, I know the score.)
Anyway, being found willfully blind would have meant they were purposely negligent, and that would have been a major league ouch to the Wilpons, and could have thrown the Mets into something that would make their current bad situation look like a night out at the Bada Bing. Or, should I say, at Finn MacCool's in Port Washington, Long Island, the "local" of many of the juvenile delinquents on the '86 Mets.
Someone said that the Mets have cut $50 million in payroll coming into this season, and that this is an all-time North American sports record. I don't know if that's true, but, if it is, then the Mets will have gone from around $120 million in 2011 (7th in the majors behind the Yankees, Philadelphia, Boston, Anaheim and both Chicago teams) to around $70 million in the season about to begin (which would have ranked them 20th, ahead of only Washington, Miami, Arizona, Pittsburgh and San Diego in the National League -- and the Marlins are definitely spending more this season, and not just on Jose Reyes).
*
Met fan blogs are getting all gloom and doom, acting as though the 2012 season is already a lost cause -- and, with further constraints, maybe more seasons.
Far be it from me to make the Flushing Heathen feel better, but...
At least now, Met fans can, in all good conscience, give the players a break. These cheap players, who were not first-choices by the club, and are not at their own first-choice club, will be doing the best they can. So will the manager, Terry Collins, who will not be expected, at least not immediately, to make chicken salad out of chicken feathers. (Or so to speak.)
So the players and the manager will be off the hook. No pressure at all.
But the Wilpons -- and, to a lesser extent, general manager Sandy Alderson, who arrived well after the fact and is not at all to blame for getting the team into the Madoff mess -- will be under pressure to try to make things better from 2013 onward.
Face it: The Mets are now free from the pressure of trying to take the New York Tri-State Area back from the Yankees, who have held it since 1993. Unlike a certain team that I shall call The Scum, the idea of competing with the Yankees for attention and money is, beyond any doubt, ludicrous. (Not that the aforementioned Scum had to do so on a local level, as the Mets have tried to do, with occasional success, for 50 years now.)
The Mets' goal, as a franchise, should now be to get themselves competitive again.
Because, to be completely honest, it's possible. Look at the other 4 teams in the National League Eastern Division:
* The Philadelphia Phillies have won the Division the last 5 years, but they're not quite what they once were. True, they still have 3 probable future Hall-of-Famers in Ryan Howard, Chase Utley and Jimmy Rollins -- and that's just in their infield. They've also got Roy Halladay, Cole Hamels, and the overrated but nasty Cliff Lee in their rotation.
But they've lost some key cogs, including closer Brad Lidge, Jayson Werth, Ryan Madson, the elderly but spry Jamie Moyer, and now-Yankee Raul Ibanez. They've replaced Lidge with Scum closer Jonathan Papelbon -- and if you think he often got hit hard in that little green pinball machine in the Back Bay, wait until you see him get lit up like a pinball machine (or, should I say, like an ATM) at Citizens Bank Park.
The Phils have actually declined each year since 2008: Won the World Series, lost it to the Yankees in 2009, lost the NL Championship Series to the San Francisco Giants in 2010, lost the NL Division Series to the St. Louis Cardinals last year. At this same rate, they'll win only the Wild Card and lose in the NLDS, and then next year miss the Playoffs completely. Okay, it doesn't necessarily work that way... but it could.
* Does anybody really fear the Atlanta Braves? They won 91 games in winning the Wild Card in 2010 and 89 last year, but the collapse of the former Boston team was almost forgotten in the wake of the tumble of the remaining Boston team (the aforementioned Scum). According to
Baseball-Reference.com
(a website which is your friend, whether you know it yet or not), their "Pythagorean W-L" was 85-77, meaning that, having won 89, they actually overachieved by 4 games compared to what their runs scored to runs allowed ratio would have suggested.
Chipper Jones turns 40 in a month. Dan Uggla has morphed into Dave Kingman: A career-high 36 homers, but 82 RBIs is too few for that many homers, and he batted just .233 and struck out 156 times -- 2 under his average! Five out of their 8 nonpitcher starters batted under .270 and only Freddie Freeman batted over .275. With Derek Lowe having moved on, their ace is Tim Hudson, who will be 37 in July. If closer Craig Kimbrel gets hurt, the Braves are in serious trouble.
* The Miami Marlins, having not just changed their name from "the Florida Marlins" but moved into a retractable-roof stadium on the site of the Orange Bowl, far closer to downtown, have decided to go for it, spending like mad the way they did in 1997 and 2003 (their only 2 postseason years to date), adding, among others, Jose Reyes, the man who, as much as anyone, was the symbol of the Mets from 2006 (with Mike Piazza having left) until the end of last season.
I don't know if the Marlins are going to replace the Phils as Division Champions -- even in their '97 and '03 World Championship seasons, they were Wild Card winners, they've never finished 1st, a distinction even the Expos/Nats have been spared -- but if they don't win it this year, it could be another selloff, as happened after their 2 titles. As Dave Rosenbaum put it in the title of the book he wrote about the '97 Marlins put it,
If They Don't Win It's a Shame
.
* The Washington Nationals have Werth, Ryan Zimmerman, Mike Morse, Danny Espinosa, Laynce Nix, a rehabbed Stephen Strasburg, an aging but still effective Livan Hernandez, Jordan Zimmerman (no relation to Ryan), and Drew Storen and Tyler "the Ex-Yankee" Clippard out of the bullpen.
Bryce Harper, still only 19, will start the season in Triple-A, but he could be as good as everyone (especially himself) thinks he is. If the Nats can get one more reliable starter, they could be in position to be, instead of the Braves or the Marlins, the team that succeeds the Phils as the NL East power. But they're hardly there yet.
So there is room for Met fans to hope.
But it may be quite a while before "The Magic Is Back." For the Mets to be over .500 this season, now
that
would be a "miracle."
*
Hours until Arsenal play again: 19, at Goodison Park in Liverpool against Everton -- the other Liverpool club, or, as I prefer to call them, the Other Scousers.
Days until the Red Bulls play again: See below.
Days until the Red Bulls' home opener: 5, on Sunday afternoon, March 25, at Red Bull Arena, against the Denver-area-based Colorado Rapids.
Days until the Devils play another local rival: 14, 2 weeks from tonight, against the New York Islanders, at the Prudential Center. The Devils lost 4-2 to The Scum at The Garden last night, and that's the last time they play each other in the regular season. Nor will the Devils and Flyers play each other again in the regular season. The Devils could meet either team in the Playoffs.
Days until the Yankees' Opening Day: 17, on Friday afternoon, April 6, at Tropicana Field in St. Petersburg against the Tampa Bay Rays. Under 3 weeks.
Days until the Yankees' home opener: 24, on Friday afternoon, April 13, against the Whatever They're Calling Themselves This Year Angels of Anaheim.
Days until the next Yankees-Red Sox series begins: 31, on Friday night, April 20, at Fenway Park in Boston. Just 1 month.
Days until the Red Bulls next play a "derby": 32, on Saturday night, April 21, vs. DC United at Robert F. Kennedy Stadium in Washington. They next play the New England Revolution the following Saturday afternoon at Red Bull Arena, and the Philadelphia Union on Sunday afternoon, May 13, at PPL Park in Chester, Pennsylvania.
Days until the last Nets game in New Jersey: 34, on Monday night, April 23, against the Philadelphia 76ers, at the Prudential Center. Just 5 weeks before New Jersey no longer has an NBA team.
Days until the U.S. National Soccer Team plays again: 67, Saturday night, May 26, against Scotland, at EverBank Field in Jacksonville -- formerly known as Jacksonville Municipal Stadium and Alltel Field, home of the NFL's Jaguars. Under 10 weeks.
Days until the 2012 Olympics begin in London: 129 (July 27). A little under 4 months.
Days until the next North London Derby: Unknown, as the Premier League announces its schedule for the upcoming season on the 2nd Friday in June, and the new season always starts on the 2nd Saturday in August -- meaning that the next Arsenal-Tottenham match can't be any earlier than August 11, which is 144 days (under 5 months) from now.
Days until Rutgers plays football again: 165, on Saturday September 1, at the Superdome in New Orleans against Tulane University. Not exactly a rivalry game, although Tulane was founded by a Princeton man. And thus will begin the Kyle Flood Era. Good luck...
Days until East Brunswick High School plays football again: 178, on Friday, September 14, opponent and location to be determined. Under 6 months.
Days until the 2012 President election: 231, on Tuesday, November 6. Register to vote... and on November 6, vote!
Days until the next East Brunswick-Old Bridge Thanksgiving clash: 247. Just under 8 months.
Days until Alex Rodriguez collects his 3,000th career hit: 487 (estimated around July 20, 2013). Just 16 months.
Days until Super Bowl XLVIII at the Meadowlands: 684 (February 2, 2014).
Days until Alex Rodriguez hits his 700th career home run: 757 (estimated).
Days until Alex Rodriguez hits his 756th career home run to surpass all-time leader Hank Aaron: 1,592 (estimated).
Days until Alex Rodriguez hits his 763rd career home run to become as close to a "real" all-time leader as we are likely to have: 1,626 (estimated -- estimating 28 home runs a year, he should get it late in the 2016 season, maybe around September 1, at age 41).