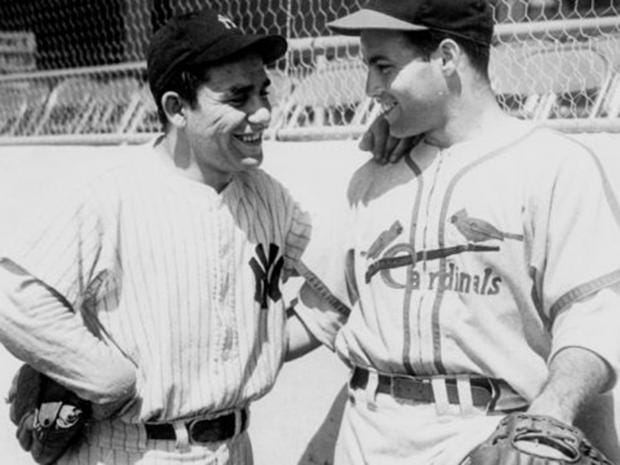 The Mets broke out of their awful 2-9 Western roadtrip by coming home to beat the St. Louis Cardinals at Citi Field last night, but tonight The Great Johan Santana got rocked with 6 runs in the top of the 1st inning -- all with 2 outs.
Wow, Santana really has made a big difference for the Mets, hasn't he?
The Cardinals' "territory" is spread over several States, although not as many as there used to be. In the pre-expansion era, powerful radio station KMOX broadcast the Cards' games over about 75 percent of the country. As both the Westernmost team in the majors until 1955, and the Southernmost until 1962, Cardinal fans are still all over the South despite the Atlanta Braves and the Florida and Texas teams, and all over the Midwest despite the arrival of teams in Kansas City, Minnesota and even Colorado.
Today, however, their region is pretty much "limited" to Eastern Missouri, Southeastern Iowa, Southern Illinois, Southwestern Indiana, the Western edges of Kentucky and Tennessee (Memphis' Elvis Presley was a big Cards fan), Northern Mississippi and Northeastern Arkansas.
"I grew up in Central Illinois, about halfway between Chicago and St. Louis, and I made a historic blunder: All my friends became Cardinal fans and grew up happy and liberal, and I became a Cub fan and grew up embittered and conservative."
-- George Will, nationally-syndicated columnist for the
Washington Post
and author of two books about baseball.
He grew up in Champaign, as his father was a professor at the University of Illinois. The campus is 144 miles from Wrigley Field, 134 miles from U.S. Cellular Field, 173 miles from Busch Stadium, and 236 miles from Cincinnati's Great American Ballpark. So he had other choices he could have made.
However, traditionally, Cub fans have been rather liberal, while Cardinal fans have usually been conservative. This is not written in stone, though: Bill Clinton, a liberal who grew up in Hot Springs, Arkansas, 415 miles from St. Louis, and Rush Limbaugh, a right-wing fanatic who grew up in Cape Girardeau, Missouri, 119 miles away, are both big Cardinal fans.
No wonder Bill and Hillary "had problems in their marriage": Hillary grew up in Park Ridge, Illinois, just 12 miles from Wrigley, and was a Cub fan -- before she became a Yankee Fan!
Anyway, here's...
St. Louis' All-Time Baseball Team
1B Gil Hodges of Princeton, Indiana.
Putting aside for a moment the fact that he managed the New York Mets, for crying out loud, to a World Series win, he is one of the players not in the Hall of Fame who most deserves it.
He had a career OPS+ of 120, the 1st 3 Gold Gloves given to National League 1st basemen (the 1st of which when he was already 33 years old), 7 straight 100-RBI seasons, and 370 home runs despite missing 3 seasons due to World War II. At the time he played his last game, he was 11th on the all-time home run list, trailing only Jimmie Foxx and, just recently surpassed at that point, Willie Mays among righthanders (and Mickey Mantle if you count switch-hitters).
He helped the Dodgers win 7 Pennants (6 in Brooklyn, 1 in Los Angeles) and 2 World Series (1 in each city). His Number 14 was retired by the Mets, but not by the Dodgers. There is no good reason to not have Hodges in the Hall.
St. Louis is loaded at 1st base for its history, having Honorable Mentions dishable out to St. Louis natives Roy Sievers and Ryan Howard (who may replace Hodges as the starter someday); 1890s hitting star and Hall-of-Famer Jake Beckley of Hannibal, Missouri; and Hodges' fellow Hoosier Don Mattingly of Evansville.
2B Red Schoendienst of Germantown, Illinois.
A 10-time All-Star, he helped the Cardinals win the World Series in 1946 and the Milwaukee Braves to do it in 1957, and another Pennant in '58. He suffered from tuberculosis and missed most of '59 and half of '60, or else the Braves might have won 4 straight Pennants.
He led the NL in stolen bases as a rookie in 1945, doubles and sacrifice hits in 1950, and hits in 1957. Lifetime batting average .289, and never a home run hitter, but collected 2,449 hits including 427 doubles in an illness-shortened playing career.
He returned to the Cardinals as their manager, winning the 1967 World Series and the 1968 Pennant. Has occasionally returned as Cards' interim manager, such as during Ken Boyer's fatal illness. The Cards have retired his Number 2, and he is in the Hall of Fame.
SS Don Kessinger of Forrest City, Arkansas.
A 6-time All-Star and a 3-time Gold Glove, the Chicago Cub shortstop was part of a few close-but-no-cigar finishes, and never appeared in the postseason. He was also, across town with the White Sox in 1979, the last player-manager in the American League.
Honorable Mention to the John Richard Schofield and Richard Craig Schofield, both of Springfield, Illinois. Both major league players and both known as "Dick" and "Ducky," officially they are not "Senior" and "Junior." And neither can push Kessinger out of the starting lineup. However, with John Richard's grandson and Richard Craig's nephew, Jayson Werth, also reaching the majors, this is now a 3-generation MLB family.
3B George Kell of Swifton, Arkansas.
Best known for just barely beating out Ted Williams for the AL batting title in 1949, thus denying him a record 3rd Triple Crown, in each of the next 2 seasons Kell led the AL in both hits and doubles.
He was a 10-time All-Star, with a .306 lifetime batting average, and after his retirement returned to the Detroit Tigers to become one of many fine broadcasters for that franchise. He is in the Hall of Fame, although none of the numbers he wore has been retired (mainly wore 21 and 7).
The St. Louis region is also loaded at this position: Bill Madlock of Memphis, Tennessee; Gary Gaetti of Centralia, Illinois; Kevin Seitzer of Springfield, Illinois; and Scott Rolen of Evansville, Indiana, who might one day succeed Kell here.
LF Walter "Hoot" Evers of Collinsville, Illinois.
A Detroit teammate of Kell's and a 2-time All-Star, when Kell led the AL in hits and doubles in 1950, Evers led it in triples.
It is a bit ironic that while the St. Louis region had Stan Musial, one of baseball's 20 greatest players ever, in left field (although he also played a lot of 1st base), Hoot is the best the region can do for a native left fielder. It's also unfortunate that both Kell and Evers arrived in Detroit after the 1934-45 period that saw the Tigers win 4 Pennants and 2 World Series: The closest they got was a 2nd-place finish in 1950.
CF Max Carey of Terre Haute, Indiana.
A .285 lifetime batting average came from getting 2,665 hits, including 419 doubles and 159 triples. And once he got on base, that's when the fun started: He stole 738 bases, a total topped by only 4 guys before (Billy Hamilton, Arlie Latham, and his contemporaries Ty Cobb and Eddie Collins) and only 4 guys since (Lou Brock, Rickey Henderson, Tim Raines and Vince Coleman). He led the NL in steals 10 times, topping 60 twice and 50 6 times, peaking with 63 in 1916.
He was a little unlucky, reaching the Pittsburgh Pirates in 1910, right after they won their 1st World Series, but was still there in 1925 when they won their 2nd, and he batted .458 with 2 RBIs in his only trip to the postseason. He retired before uniform numbers were worn, but he's in the Hall of Fame.
Honorable Mention to Edd Roush of Oakland City, Indiana. "I didn't know if I'd make it to the major leagues," he said in an interview late in life, "but I didn't care. I just had to get away from those damn cows."
Getting away from those damn cows was good for him, and for the Cincinnati Reds. He had a lifetime batting average .323, OPS+ of 127, 2,376 hits, and was said to have had the best outfield arm of his era. He insisted until his death that the Cincinnati Reds would have won the 1919 World Series even if the White Sox had played it on the level.
He is in the Hall of Fame, and although he played before numbers were worn, he was probably the greatest player the Reds ever had until Johnny Bench came along.
Honorable Mention to Pete Reiser of St. Louis, Missouri. Branch Rickey, then running the Cardinals, started scouting Harold Patrick Reiser in 1931. The man nicknamed after a movie cowboy named Pistol Pete was no man yet: He was just 12 years old. Rickey finally signed him for the Cards in 1937, but in 1940 traded him to the Dodgers -- perhaps Rickey anticipated his own move to Brooklyn. Leo Durocher was the Dodger manager, and while Leo often said Willie Mays (also a center fielder, of course) was the greatest player he ever saw, he also once said Mays "might have been better than Reiser."
How good was this guy? In 1941, his1st full season in the majors, he led the NL in batting with .343, slugging, on-base percentage, total bases, runs, doubles and triples -- and the Dodgers won the Pennant. In 1942, he led it in stolen bases.
Then World War II intervened. In his next year of play, 1946, again he led the NL in steals. But his tendency to crash into hard concrete outfield walls to make catches -- say a prayer of thanks, Lenny Dykstra, for the padded walls of your era -- led to serious injuries, including a fractured skull and a separated shoulder. In 1947, another Dodger Pennant year, he batted .309 but broke his ankle late in the season. He was 28, having already lost the seasons of ages 24, 25 and 26 due to the war, and he never topped 258 plate appearances again.
He last played at age 33, and died at 62. One of the great what-if stories in baseball history. On the other hand, if Reiser hadn't continually gotten hurt, Duke Snider might never have become the Dodgers' center fielder.
Honorable Mention to Steve Finley of Paducah, Kentucky. Playing for several teams, he won 5 Gold Gloves, and while not a great hitter (only once topping 100 RBI in a hitting-happy era), he did collect 2,548 hits, including 449 doubles, 124 triples and 304 homers. He appeared in 2 World Series, both against the Yankees, losing with the San Diego Padres in 1998, and winning with the Arizona Diamondbacks in 2001. He'll be eligible for the Hall of Fame in 2013, but I think he's a step short. Still, it might be nice for the D-backs to retire his Number 12.
RF Arnold "Bake" McBride of Fulton, Missouri.
He kind of got lost in the shuffle with the 1976-83 Phillies' near-dynasty having Greg "the Bull" Luzinski in left field and Garry "the Secretary of Defense" Maddox in center. But he was a very good outfielder, won the NL Rookie of the Year in 1974 (with St. Louis, and the Cards were fools to get rid of him), batted .299 lifetime, and had his best year at just the right time, 1980, as the Phils won their 1st World Series.
C Lawrence "Yogi" Berra of St. Louis, Missouri
-- the south side, the mostly-Italian "The Hill." Actually, that's a shortened name, as it was known as "the Dago Hill," before "Dago" became an unacceptable slur. Yogi grew up across the street from Joe Garagiola, who was also a big-league catcher, although he's in the Hall of Fame as a broadcaster.
Yogi won World Championships with the Yankees in 1947, '49, '50, '51, '52, '53, '56, '58, '61 and '62, plus Pennants in '55, '57, '60 and '63. His 14 appearances, 10 championships, games, at-bats and hits are the most in World Series history. Hall of Fame, All-Century Team, Number 8 retired by the Yankees, Monument Park. His 358 home runs are the most ever by a player 5-foot-8 or shorter, although he's no longer the all-time leader in home runs by a catcher.
And he's the only man ever to win Pennants as manager of both the Yankees and the Mets, in 1964 and '73, although both times his team lost Game 7.
By a weird coincidence, Yogi's backups on this team are his predecessor and successor as Yankee catcher:
Bill Dickey of Searcy, Arkansas: Prior to Yogi and Johnny Bench, was considered, along with Mickey Cochrane, as perhaps the greatest catcher ever. 8 Pennants and 7 World Championships with the Yankees from 1932 to 1943. Hall of Fame, Number 8 co-retired with Yogi, Monument Park.
Elston Howard of St. Louis, Missouri: The 1st black Yankee, 9 Pennants, plus 1 more with the Boston Red Sox in 1967, and 4 World Championships. Number 32 retired, Monument Park.
Honorable Mention to Quincy Trouppe of St. Louis. A star in the Negro Leagues, especially for the Homestead Grays and Kansas City Monarchs, he was player-manager for the Cleveland Buckeyes, taking them to Negro American League Pennants in 1945 and 1947.
He spent 2 weeks with the Cleveland Indians, despite being 39 years old, and on May 3, 1952, he joined with Sam Jones (who, with the 1959 Cubs, became the first black pitcher to throw a no-hitter in the major leagues) to form the 1irst all-black battery in the American League. (Roy Campanella and Don Newcombe preceded them in the National League.) Along with his Monarch teammate Buck O'Neil, he is one of the black stars still deserving of the Baseball Hall of Fame who is not in.
SP Elwyn "Preacher" Roe of Viola, Arkansas.
He didn't have a full season in the majors until he was 28, because of World War II, and then struggled with the Pirates. But upon coming to the Dodgers, he became the top lefty for the Boys of Summer. In 1951, he went 22-3. Finished 127-84, not counting a shutout of the Yankees in Game 2 of the 1949 World Series, but was gone by the time the Dodgers won it all in 1955.
SP Robin Roberts of Springfield, Illinois.
He won 20 games. Six times. In a row. This included 20 in the Phillies' 1950 "Whiz Kids" Pennant season, and 28 in 1952, a total surpassed only once since (Denny McLain's 31 in 1968) and not otherwise matched since (Steve Carlton in 1972 and Bob Welch in 1990 reaching 27).
He won 286 games despite pitching most of his career for a mediocre Phils team. Named to 7 All-Star Games. Career ERA+ of 113, and WHIP of 1.170. Hall of Fame, and his Number 36 was the first ever retired by a Philadelphia sports team.
A statue of him was dedicated outside the first base gate of Citizens Bank Park when it opened. He died a few weeks ago, but lived to receive all of these accolades. Except, of course, for being named to this team.
SP Bob Turley of Troy, Illinois.
In 1958 (and remember, until 1967 it was for the best pitcher in
both
Leagues), Bullet Bob, not Whitey Ford, became the 1st Yankee pitcher to win the Cy Young Award, going 21-7, plus winning Games 5 and 7 of the World Series, one of 4 titles he won. He came to the Yankees in the post-1954 deal that also brought in Don Larsen from the Baltimore Orioles. At the beginning of that season, he started and won the 1st home game in Oriole history, and in 1991, at Memorial Stadium's last Opening Day, he was invited to throw out the ceremonial first pitch.
SP Tommy John of Terre Haute, Indiana.
He used a blazing fastball to win 124 games for the Cleveland Indians, Chicago White Sox and Los Angeles Dodgers -- which would be a fine career for most pitchers. Then, at age 31, he wrecked his elbow. Then he had surgery, a pioneering procedure that now bears his name. After sitting out a season, became a sinkerballer, and won 164 games for the Dodgers, Yankees, California Angels and Oakland Athletics -- winning more games after the surgery that could have ended his career (had it gone wrong) than he did before it.
Total wins: 288, the closest any 20th Century pitcher comes to 300 major league wins -- long considered a benchmark for Cooperstown -- without making it. His .555 career winning percentage should also open some eyes. He never pitched on a Series winner, although he did pitch for 6 teams that reached the postseason ('74, '77 & '78 Dodgers; '80 and '81 Yanks, '82 Angels). He belongs in the Hall.
SP Steve Rogers of Jefferson City, Missouri.
If only the Montreal Expos had been better at the start of his career, and if only injury hadn't made him just 33 when he pitched his last good season. He still managed to win 158 games, still a record for the Expos/Nationals franchise. His career ERA+ was 116 and his WHIP 1.232.
Sadly, he'll probably be best remembered for giving up a Pennant-losing home run to a guy who almost made this team, Rick Monday of the Dodgers (born in Batesville, Arkansas but grew up in Santa Monica, California and thus ineligible for this team), on "Blue Monday," October 19, 1981. The Expos/Nationals franchise has never played another postseason game (although they were sabotaged by Bud Selig in 1994 and by their own ownership after that). It's also a little odd that the greatest pitcher in the history of this Canadian team shared the real name of the comic book character Captain America.
Honorable Mention to Mark Buehrle of St. Charles, Missouri. He's only 31, but he has already won 144 games, all for the White Sox, with an ERA+ of 121, plus 2 no-hitters, 1 of them a perfect game, and went 2-0 with a 2.81 ERA in the Pale Hose's 2005 postseason, resulting in their first Pennant since the Ike Age and their first World Championship since World War I.
RP Jason Isringhausen of Brighton, Illinois.
He was supposed to be one of the "Generation K" pitchers that would lift the Mets out of their early 1990s stink. By the time they got back to the postseason, though, all of those pitchers were injured, and none looked like they'd be able to contribute to anyone. But Izzy fooled them, accepting conversion to the bullpen -- a move Met manager Bobby Valentine had, with his usual acumen, said would be "using an Indy car as a taxi" -- and pitching in the postseason for the A's and Cardinals, including the 2006 World Championship.
At 37, he is coming off, oddly enough, Tommy John surgery, and is pitching for the Reds' top farm team. If his big-league career is over, it's still lasted a lot longer than anyone thought it would when the Mets discarded him, and he has 293 career saves. And who did the Mets get from the A's in exchange for Isringhausen and Greg McMichael in 1999? Billy Taylor, who pitched 18 games for them, none of them noteworthy. Yet another bonehead Met trade.
MGR Earl Weaver of East St. Louis, Illinois.
He managed the Baltimore Orioles to 6 postseason berths, 4 Pennants and, strangely, only 1 World Championship, in 1970. (Hank Bauer managed them in 1966, and Joe Altobelli succeeded Earl in 1983 and won that year's Series.) But he's in the Hall of Fame, Number 4 retired, and, well, as political columnist, baseball nut, and Orioles stockholder George Will said, "Earl Weaver looked like a baseball manager should look": Short, chubby, gray hair, always angry, arguing with umpires.
I didn't always like him -- I'm still peeved that he had the field at Memorial Stadium watered down to get a rainout during a 1978 Yanks-O's series, even though the Yanks won the World Series that year anyway -- but he was a great one.