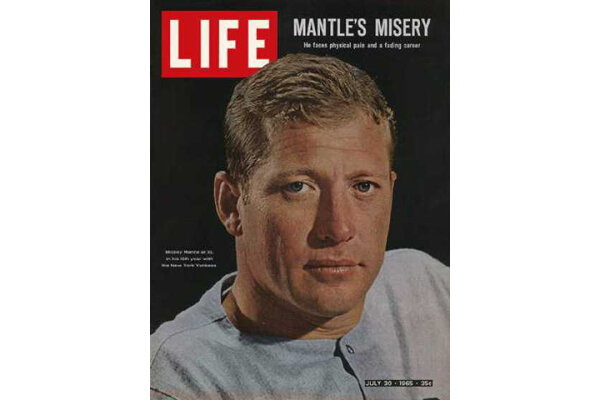 October 20 is a mixed day in Yankee history. It was the birthday of one of our most cherished legends. But it has become a date which lives in infamy.
October 20, 1931:
Mickey Charles Mantle is born in Spavinaw, Oklahoma. Number 7. Hall of Fame. All-Century Team. His Monument calls him "A Great Teammate" and "A magnificent Yankee who left a legacy of unequaled courage." The Plaque he had in Monument Park, before his death led to its replacement with the Monument, also used the words "A magnificent Yankee" and called him "The most popular player of his era." All true.
Beyond old films and various TV appearances, I saw him in person 4 times, all at Yankee Stadium: On Phil Rizzuto Day in 1985, and on Old-Timers' Days in 1987, 1991 and 1994. After he got sober, he said that as soon as the doctor said his liver had healed enough to handle it, he would have knee replacement surgery, as Whitey Ford had done. I began to believe that maybe I could attend another Old-Timers' Day and actually get to see Mickey Mantle play baseball live. Sadly, that was not to be the case.
I'll have to settle for the old footage, including of Mickey Mantle Day in 1969, shortly before I was born, when he told a crowd of 60,000, "Baseball has been real good to me, and playing 18 years in Yankee Stadium for you folks is the greatest thing that could ever happen to a ballplayer."
October 20, 2004:
The Day the Curse Died. Joe Torre could have started postseason veteran Orlando "El Duque" Hernandez or recent All-Star Javier Vazquez in Game 7 of the American League Championship Series. Instead, he started Kevin Brown, who gave up a leadoff home run to Johnny Damon. (We like Johnny a lot better now.)
In the 3rd, Brown, one of the most disastrous players the Yankees have ever acquired, loaded the bases. Only now did Torre bring in Vazquez, and David Ortiz (cough-steroids-cough) hits a grand slam. Mark Bellhorn also homers.
In the bottom of the 7th, Red Sox manager Terry Francona relieves starter Derek Lowe with Pedro Martinez. Remembering his remark of a month earlier, Yankee fans chant, "Who's your daddy?" And Pedro doesn't have it. The score goes from 7-0 to 7-3, and, suddenly, there's a flicker of hope again. Is this it? Is this the greatest Boston choke of them all, going from turning the choking tables on us to reverting to form at the worst possible moment?
Nothing doing: Francona pulls Pedro, and the Sox finish the job. Red Sox 10, Yankees 3. The Curse of the Bambino, if it ever truly existed – at least, that part of it which the Yankees could control – is dead.
The Red Sox had finally beaten the Yankees in a championship-level game. They partied on the field at the House That Ruth Built. Red Sox fans took over the stands. It was the greatest day in Red Sox history, although it was (probably) surpassed one week later when they finally won the World Series for the first time in 86 years. It was the most humiliating day in Yankee history, ameliorated by only two things:
1. It was over early, so there was no shocking end. We had the time, during the game, to get used to the idea that we had been dethroned. Get used to it? Maybe. Get over it? When I do, I'll let you know.
2. As bad as it was, it would have been 10 times worse if we had lost the 2000 World Series to the Mets. Compared to having to live in the New York Tri-State Area with lifelong Met fans who had been begging for such a win all their lives, and bandwagoners who the day before couldn't have named 5 players on the Met roster, would have been unbearable.
Living with only a few Red Sox fans gloating over 2004 has been far easier to deal with. We say, "Got rings?" They say, "Got rings lately?" Now we say, "Got rings untainted by steroids?"
Yes, David Ortiz and Manny Ramirez got caught using steroids. Bronson Arroyo confessed. Jason Varitek, Trot Nixon, Mark Bellhorn, Bill Mueller and Kevin Millahhhhhhhh – excuse me, Kevin Millar, are all suspects.
The Red Sox have not won the World Series in 91 years. Not without cheating, anyway. Their 2004 and 2007 victories are illegitimate. 1918 * Forever.
*
October 20, 1803:
The U.S. Senate ratifies the Louisiana Purchase, making possible the major-league cities of St. Louis, Kansas City, Minneapolis and Denver. If you count cities that have major-league teams in other sports but not baseball, add to the list New Orleans and Oklahoma City.
October 20, 1910:
The Philadelphia Athletics dispose of Ed Reulbach in 2 innings' then pin the loss on reliever Harry McIntire' who lasts a third of a inning. Coombs coasts on one day's rest' 12-5' and helps himself with 3 hits.
Chicago Cubs manager and 1st baseman Frank Chance becomes the 1st player ejected from a World Series game when umpire Tom Connolly chases him for protesting a Danny Murphy home run drive against a sign over the right field bleachers. Chance opines too loudly that it should be a ground-rule double.
October 20, 1927:
Dr. Joyce Brothers is born in Manhattan. She appeared on
The $64,000 Question
in 1955, and won the eponymous top prize (worth about $518,000 in 2009 money). Her subject was boxing, and it led to her becoming the first female commentator for a televised prizefight, a 1957 bout on CBS, in which Carmen Basilio took the middleweight from Sugar Ray Robinson at Yankee Stadium.
In 1958, she became the 1st advice columnist to have her own TV show. In 1981, she played herself as a guest on "James Brown's Celebrity Hot Tub Party" on
Saturday Night Live
, with Eddie Murphy playing "The Godfather of Soul and Hot Tub Man Number 1, James Brown!" Great sketch. Having grown up in Far Rockaway, Queens, Dr. Brothers now lives in Fort Lee, New Jersey.
October 20, 1932:
Roosevelt Brown is born. The greatest offensive tackles of his time, he anchored the New York Giants line that reached 6 NFL Championship Games in 8 years, including the 1956 World Championship. Although his Number 79 has not been retired, he is a member of the Pro Football Hall of Fame and was named to the NFL's 75th Anniversary All-Time Team.
Also on this day, William Christopher is born. Best known for playing Lieutenant, later Captain, John Patrick Francis Mulcahy, S.J, on
M*A*S*H
, he says he has often been asked near his Southern California home, "Father Mulcahy, say a prayer for the Dodgers." "I suppose I should actually say one for the Angels," he says, "but I do root for the Dodgers."
In a 1st-season episode, the officers are listening to Armed Forces Radio for the Army-Navy football game, when Mulcahy walks in with his Notre Dame pennant. He's told Notre Dame, America's unofficial Catholic university due to its legendary football program, isn't playing today. "Then what's all the commotion?"
In another early episode, he is playing in a pickup game in camp, wearing a helmet that's Notre Dame gold, but anachronistically has a 2-bar facemask. Hawkeye asks him how the game's going. He says, "Protestants 7, Catholics 3, but we'll get 'em!"
Mulcahy was also a big boxing fan, having coached boxing at the CYO in his native Philadelphia, and would minister to a former boxing champion who ended up dying at the 4077th while on a tour for the troops.
He also had "my sister the Sister," who took the nom de nun of Sister Angelica, who first played and then coached basketball at her all-girls' high school.
October 20, 1937:
Juan Marichal is born. Known for his high leg-kick during his windup, he won more games in the 1960s than any other pitcher, and until Dennis Martinez surpassed him his 243 career wins were the most of any Hispanic pitcher. He helped the San Francisco Giants to the 1962 National League Pennant and the 1971 NL West title, although they fell just short a few others times while he was there.
They have retired his Number 27. He was the 1st Dominican, and the 1st Hispanic pitcher (aside from Negro League star Martin DiHigo, who was not strictly a pitcher), elected to the Hall of Fame.
Sadly, like the other serious contender for the title of the greatest Hispanic pitcher, Pedro Martinez, he is best known for a moment of violence, hitting Dodger catcher John Roseboro over the head with his bat in a tight Pennant-race game in 1965. Unlike Pedro, however, this was out of character for Marichal, and Roseboro not only accepted his apology, but after Marichal failed to be elected to the Hall in his first 4 years of eligibility, Roseboro spoke up on his behalf, and he was elected on the 5th try.
He went on to become a broadcaster for a Spanish-language network in the Caribbean, and called games in the 1990 World Series, including the 2 won by Cincinnati Reds pitcher Jose Rijo, who not only wore Number 27 in tribute to Marichal, but at the time was married to Marichal's daughter Rosie, who can be seen on the official highlight film, yelling from the stands, "Let's go, Rijo!"
October 20, 1951:
Drake University of Des Moines, Iowa plays football against Oklahoma A&M – the name will be changed to Oklahoma State in 1958 – at Lewis Field in Stillwater, Oklahoma. Drake quarterback Johnny Bright, one of the first black players to receive serious consideration for the Heisman Trophy, is assaulted by white A&M defensive tackle Wilbanks Smith.
"Unnecessary roughness"? Three times in the 1st 7 minutes of the game, Smith knocked Bright unconscious, the last time breaking his jaw. A&M won the game, 27-14, Drake's 1st loss of the season. Photographs of what becomes known as "the Johnny Bright Incident," by Don Ultang and John Robinson were featured on the front page of the next day's Des Moines Register, and won the Pulitzer Prize.
Neither the University nor the Missouri Valley Conference disciplined Smith, nor did the Conference discipline the school or any of its coaches, in any way. As a result, Drake and fellow integrated member Bradley University left the league in protest. The NCAA issued new rules about blocking and tackling, and mandated better head protection, including facemasks for helmets.
Bright recovered, and finished 5th in the Heisman balloting, which was won by Dick Kazmaier of Princeton, the last Ivy Leaguer to win it. Drafted by the Philadelphia Eagles, Bright knew there were a lot of Southern players in the NFL and didn't want to play there. He would play in Canada and receive many honors (or, should I say, "honours") there, including 3 straight Grey Cups with the Edmonton Eskimos.
When he retired in 1964, he was the CFL's all-time leading rusher, with 10,909 yards, a total then surpassed in the NFL only by Jim Brown, but Brown's amazing 5.2 yards per carry is surpassed by Bright, with 5.5, making him North America's all-time leader in that stat. Only 2 CFL players have passed him in rushing yardage since. He belongs to the Eskimos' Wall of Honour, and the College Football and Canadian Football Halls of Fame. Drake retired his Number 43 (he wore 24 with the Esks) and named the field at Drake Stadium after him.
After serving as a teacher and principal at an Edmonton high school, he died in 1983 from complications from surgery. Ernie Davis of Syracuse became the first black Heisman winner in 1961.
October 20, 1953:
Keith Hernandez is born in San Francisco. Elaine: "Who does this guy think he is?" Keith: "I'm Keith Hernandez!" He also thinks he's the 1979 NL batting champion and co-MVP (a unique tied vote, shared with Willie Stargell), a member of World Series winners with the 1982 St. Louis Cardinals and the 1986 New York Mets, and one of the best-fielding 1st basemen ever.
These days, he thinks he's a broadcaster with the Mets. He also thinks he's really smart, which he is, but he's not nearly as smart as he thinks he is. Although his acquisition made the Mets a contender and then a champion again after some very dark years, they have strangely not retired his Number 17. Nor has he been elected to the Baseball Hall of Fame.
October 20, 1955:
Aaron Pryor is born in Cincinnati. The former junior middleweight champion of the world overcame drug abuse, and is now an ordained minister and anti-drug counselor. His sons Aaron Jr. and Stephan have also become professional boxers.
October 20, 1959, 50 years ago today:
Washington Senators owner Calvin Griffith makes a public statement that he will not move the team. As Congressman Joe Wilson would say, 50 years later, to a better man than either of them, "YOU LIE!"
*
October 20, 1960:
Ralph Houk, former catcher, coach, and manager of the 1957 International League Champion Denver Bears, is officially named manager of the Yankees. He will lead them to the next 3 AL Pennants and the next 2 World Championships.
October 20, 1961:
Ian Rush is born in St. Aspah, Wales. He was a superstar in the English soccer league, leading Liverpool to 6 League titles. He scored more goals in FA Cup play than any player in the 20th Century, shares with 1966 World Cup hero Geoff Hurst the record for most goals scored in League Cup play, and is the all-time leading goalscorer in Merseyside derbies (Liverpool vs. Everton).
After a brief spell managing Chester City, which had been his first pro club as a player, he has become a pundit for Sky Sports.
October 20, 1965:
Just 1 year after he helped the Cardinals win the World Series and was named MVP, team Captain Ken Boyer is traded to the Mets, for pitcher Al Jackson and 3rd baseman Charlie Smith.
Jackson had been one of the few respectable players in the Mets' early years, while Smith is best known for getting traded by the Cardinals just 1 year later, even-up, for Roger Maris. An insult to Maris.
October 20, 1967:
Having just moved the Kansas City Athletics to Oakland, owner Charlie Finley names Bob Kennedy as their 1st manager. He does not, however, try to trade for Yankee 3rd baseman John Kennedy. Nor does he try to hire Hockey Hall-of-Famer Ted Kennedy as a consultant.
October 20, 1969, 40 years ago today:
Juan Gonzalez is born in Vega Baja, Puerto Rico. The All-Star right fielder for the Texas Rangers hit 434 home runs in his career, won AL MVP awards in 1996 and 1998, and scared the hell out of us Yankee Fans by nearly ruining the 1996 season with his 3 home runs in the 1st 2 games of the ALDS.
But injuries ruined his career, leading him to being traded repeatedly, and his nickname "Juan Gone" began to refer less to his homers and more to his propensity for being out of the lineup. He had his last productive season at 33, and he was done at 35. Wow, he really, really fits the steroid profile. Fat chance of ever getting into the Hall of Fame, Juan.
*
October 20, 1973:
As President Richard Nixon fires Attorney General Elliot Richardson and Richardson's deputy William Ruckelshaus for refusing to fire Watergate special prosecutor Archibald Cox, who is then fired by Justice's Number 3 Robert Bork (this becomes known as the "Saturday Night Massacre"), and the iconic Sydney Opera House opens in Australia, Game 6 of the World Series is played at the Oakland Coliseum.
Reggie Jackson hits 2 doubles' scores 1 run' and knocks in the other 2' all off a tired Tom Seaver, as the A's even the Series with a 3-1 win over the Mets. Game 7 tomorrow.
October 20, 1977:
A plane carrying the rock band Lynyrd Skynyrd crashes in Mississippi, killing lead singer Ronnie Van Zant and guitarist Steve Gaines along with backup singer Cassie Gaines, the road manager, pilot, and co-pilot.
I've heard that the plane crashed because it ran out of gas. Maybe Neil Young was right after all, albeit in an incredibly different context: "Southern Man, better use your head."
October 20, 1980:
Jose Veras is born in Santiago, Dominican Republic. The Yankees designated the relief pitcher for assignment earlier this year, and was claimed by the Cleveland Indians.
October 20, 1981:
Game 1 of the World Series at Yankee Stadium. A banner is hung: "Don't the Dodgers Ever Learn?" Not yet, as Bob Watson's 1st-inning homer and the pitching of Ron Guidry and Goose Gossage shut the Bums down, 5-3.
Also on this day, Willis McGahee is born in Miami. The former University of Miami star has been plagued by injuries, but is still a valuable part of the Baltimore Ravens' offense.
October 20, 1982:
Game 7 of the World Series at Busch Memorial Stadium. The St. Louis Cardinals rally for 3 runs in the 6th to defeat the Milwaukee Brewers, 6-3. The Cardinals win their 9th World Series, a total surpassed only by the Yankees and matched only by the A's (and then only if you combine their Philadelphia and Oakland titles).
The Cardinals will win 2 more Pennants in the decade and have remained more or less competitive ever since. The Brewers have never played another World Series game, and did not even play another postseason game for 26 years.
October 20, 1988:
Series MVP Orel Hershiser ends his dream season with a 5-2 four-hitter over the A's in Game 5 of the World Series. Mickey Hatcher starts the Dodger scoring with a 2-run homer in the 1st off Storm Davis' his 2nd homer of the Series.
The win gives the Dodgers a tremendous upset, and their 1st World Championship since 1981, their 5th since moving to Los Angeles, their 6th overall. But in the 21 years since, they have never won another Pennant.
*
October 20, 1990:
The talk of an Oakland dynasty is proven premature' as Cincinnati beats Oakland 2-1 to complete one of the most stunning sweeps in World Series history. Series MVP Jose Rijo (2-0' 0.59 ERA) retires the last 20 batters he faces, to give the Reds their 1st World Championship since 1976, their 5th overall. However, the Reds have not won a Pennant since – in fact, haven't even won an NLCS game since.
Not joining the celebration at the end is Eric Davis' who ruptures his kidney diving for a ball during the game and is taken to the hospital. It will take Davis several years to fully recover.
October 20, 1992:
For the 1st time, a World Series game is played outside the United States of America, as Game 3 is played at the SkyDome in Toronto. The Blue Jays take a 3-2 win over the Atlanta Braves on Candy Maldonado's bases-loaded single in the 9th inning. Duane Ward gets credit for the victory in relief of Juan Guzman' and Joe Carter and Kelly Gruber homer for Toronto.
In the 4th inning' Jays center fielder Devon White's sensational catch nearly results in a triple play. Deion Sanders was ruled safe on the play' but replays show he should have been the 3rd out. Braves manager Bobby Cox is ejected from the game in the 9th' becoming the 1st manager to be thrown out of a Series game since 1985. By starting in right field' Toronto's Joe Carter becomes the 1st player to start the 1st 3 games of a single World Series at 3 different positions. He started Game 1 at 1st base and Game 2 in left field.
October 20, 1993:
Game 4 of the World Series at a rainy Veterans Stadium in Philadelphia. The Phillies blow a 14-9 lead in the 8th inning, capped by a Devon White triple, and lose to the Toronto Blue Jays, 15-14, the highest-scoring game in Series history, breaking the record of a Yankees-Giants game from 1936.
This was the last of 9 World Series game played at the Vet, of which the Phillies won 4. If you're a Phillies fan, this is when the Series was lost, not when Mitch Williams came in to relieve in Game 6. But then, if you're a Phillies fan, you're feeling
much
better now.
October 20, 1994:
Burt Lancaster dies, a little short of his 81st birthday. The great actor had played football players and boxers, and might be best remembered for the title role in
Jim Thorpe, All-American
. But his last film was as baseball player-turned-doctor Archie "Moonlight" Graham in
Field of Dreams
.
October 20, 1996:
Game 1 of the World Series, the 1st Series game at Yankee Stadium in 15 years. The Atlanta Braves spoil the party with a 12-1 shellacking of Andy Pettitte and the Yankee bullpen. Andruw Jones, the Braves' 19-year-old sensation from Curacao, becomes the youngest player in Series history to hit a home run – in fact, he hits, 2, joining Gene Tenace as the only 2 players ever to homer in their 1st 2 Series at-bats.
After the game, George Steinbrenner barges into manager Joe Torre's office. George yells about how the Yankees were embarrassed. But Torre, who formerly managed the Braves to a postseason berth, and had just been clobbered in the 1st World Series game of his life at age 56, is unfazed. He tells George that they'll probably lose Game 2 as well. "But we're heading down to Atlanta," he says, "and that's my home town, and we'll win 3 straight there, and come back here and win it."
Joe would tell an interviewer, "He looked at my like I had 2 heads." George later says he thought Joe was nuts, but that he appreciated the confidence. That confidence will be rewarded.
October 20, 1998:
Game 3 of the World Series, in front of 64,000 at Jack Murphy – excuse me, Qualcomm Stadium. The San Diego Padres take a 3-0 lead on the Yankees, but 3rd baseman Scott Brosius, having the season of his life, hits a home run to make it 3-2.
In the top of the 8th, with the Yankees trailing 4-2 but threatening with 2 men on, the Padres bring in their closer, Trevor Hoffman. The Padre fans, believing him to be the world's greatest relief pitcher, wave their white towels and cheer wildly. The words, "IT'S TREVOR TIME" appear on the scoreboard. The public-address system blasts the song "Hell's Bells" by AC/DC.
George Steinbrenner, not familiar with the hard rock music of the Seventies and Eighties, tells the media, "When they played that death march, it sounded like the WWF, when the Undertaker comes in. That's who I thought they were bringing in!" Certainly, for NL batters that season, Hoffman might as well have been an undertaker. The whole thing is one of the most intimidating scenes in baseball.
But these are not NL batters, these are the New York Yankees, and they fear nobody. Brosius takes him over the center field wall for a 5-4 Yankee lead, soon to be victory. The actual best closer in the game, Mariano Rivera, finishes it off, and the Yankees can wrap up the Series with a sweep tomorrow.
October 20, 1999, 10 years ago today:
Calvin Griffith dies at age 87 – 40 years to the day after he announced he wouldn't move the Washington Senators, before actually doing so a year after that. The nephew and adopted son of Hall-of-Fame pitcher and executive Clark Griffith, he inherited control of the Senators in 1955, and moved them to Minnesota to become the Twins in 1961.
In 1978, he told a Lions Club dinner why he took the Senators out of D.C., which was on its way to becoming a majority-black city: "I'll tell you why we came to Minnesota. It was when we found out you only had 15,000 blacks here. Black people don't go to ballgames, but they'll fill up a rassling ring and put up such a chant it'll scare you to death. We came here because you've got good, hardworking white people here."
Although the Twins came within one win of the 1965 World Championship, later decisions left the team mediocre through most of the Seventies. He was so cheap and shortsighted that he was said to have engaged in one of Minnesota's great outdoor pastimes, hunting for a type of fish known as walleyes, caught his legal limit, brought them to the supermarket, and traded them for a box of Mrs. Paul's fish sticks. He sold the Twins in 1984 to Carl Pohlad, a billionaire who, ironically, turned out to be nearly as cheap as Griffith.