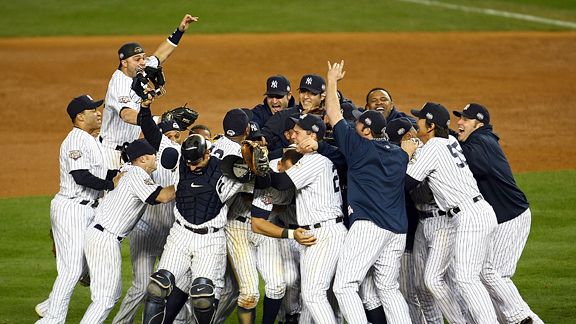 Ballgame over! American League Championship Series over!
Pennant 40 achieved!
Yankees win! Theeeeeeeeeeeeeeee Yankees win!
Holy cow!
How about that!
What a relief. It's about time. I've waited 5 years for them to get those last 3 outs of that 4th ALCS win.
Nick Swisher woke up out of his slump and got a key hit and made 2 terrific defensive plays. Jeter got a big hit. A-Rod got a key bases-loaded walk, and no one can ever again say he has never played for a Pennant-winner.
What a heartfelt hug between Mariano Rivera and Jorge Posada when Mo got the strikeout of Gary Matthews Jr. for the last out. Yankees 5, Angels 2.
Bring on the Phillies. It'll be Wednesday night, at Yankee Stadium II, CC Sabathia for the Yanks, and Cliff Lee for the Phils -- not Cole Hamels as I had previously guessed, but do you think I give a damn about that now?
I'm happy. And I'm not happy very often.
The Babe, Lou, Joe D, Mickey, Dickey, Lefty, Allie, Billy, Ellie, Roger, Catfish and Thurman can rest in peace. "The Ghosts"
did
make it across 161st Street after all.
Which wouldn't have mattered unless the Yankee players of this season stepped up. They did. They won this Pennant the old-fashioned way: They
earned
it.
*
Days until the World Series begins: 2, Wednesday night, first pitch 7:57 PM, at Yankee Stadium.
Days until the next North London Derby between Arsenal and Tottenham: 5, this Saturday, at 8:45 AM my time. Oy.
Days until Rutgers plays football again: 5, also Saturday, at noon, against the University of Connecticut at Rentschler Field in East Hartford – UConn does not have a stadium on campus in Storrs.
Days until East Brunswick plays football again: 11, on Friday, November 6, at home against Brick Memorial.
Days until the Devils play another local rival: 11, also on November 6, at home against the Islanders. They won the last one, on Thursday night, 4-2 at The Garden against the Rangers, who SUCK!
Days until the next East Brunswick-Old Bridge Thanksgiving clash: 31. One month.
Days until the 2010 Winter Olympics begin: 109.
Days until Opening Day of the 2010 baseball season: 161.
Days until the Yankees' 2010 home opener: 169.
Days until the 2010 World Cup begins: 229.
Days until the World Cup Final: 260.
Days until the new Meadowlands Stadium (as yet unnamed) opens: 284.
Days until Derek Jeter collects his 3,000th career hit: 565 (projected).
Days until the Rutgers-Army football game at Yankee Stadium: 747.