As of 9 hours ago, I had never been to the home field of the New York Yankees. That hadn't been true in 31 years.
On May 27, 1978, 8 years into my life, and 55 years into the tenure of the original version of the building, my mother and grandmother took me to Yankee Stadium for my 1st major league baseball game. We came out of the Subway, and I looked up at what Jacob Ruppert's Monument Park Plaque calls "this imposing edifice," and, as so many others had before me and would after me, said, "Wowwww... " We sat in the upper deck in Section 17, on the right-field line, and seeing that amazing panaroma, again, I said, "Wowwww... "
Unfortunately, Reggie Jackson got hurt in the 4th, and Ed Figueroa ran out of gas in the 9th, and the Yankees lost 4-1 to the Toronto Blue Jays, a second-year expansion team.
On April 19, 2009, 4 games into the tenure of the building I had been calling "the George M. Steinbrenner Memorial Coliseum" -- even though The Boss is still alive and was at the opener -- I made it in.
I walked up to a ticket window I'd never seen before -- which is why I didn't order online, since I had no idea where the Will Call window is at the new place -- and the closest they could get me was a $23 seat (hey, that price is fine by me), in Section 431a.
"Section 431a"? I know Veterans Stadium in Philadelphia had a 700 Level, but since when do seating sections need to add an "a" or a "b"?
In the old Stadium, that would have been around Section 26, in the upper deck, almost right across from where I sat that first day -- 31 years, 5 Presidents, 8 Pennants and 5 World Championships ago. As far as it was, the view was fantastic.
Here are the improvements, in the order in which I discovered them:
* Wider concourses.
* Better escalators.
* Elevators.
* Betting sight lines. No longer do you have to go up a tunnel to see what's going on: You can see it from the concourses.
* More and bigger bathrooms. This was a huge reason George wanted a new Stadium.
* More and bigger gift shops. Not really important, but nice.
* Legroom, glorious legroom. Neither the old Stadium nor Shea Stadium had sufficient legroom at the seats. I didn't realize just how much legroom the new Stadium had until I was already on the bus back home, and the woman next to me happened to be a Yankee Fan, and I mentioned it to her. (Sadly, she was not only married, but much older.)
* Bigger video screen. Not that I especially cared, but it was an incredible high-definition picture.
* More concession stands, including specialty stands like pizza, Southern barbecue, Latin America foods, sushi, and, believe this, "nostalgia beers." Schaefer, Schlitz, and the old Yankee sponsor Ballantine.
The things I don't like about the new Stadium were few, but should be mentioned:
* Monument Park. As with the old Stadium, you've got to get there very early or it will be closed.
* The Yankees Museum. Same situation, except it remains open all game long. I saw the line for it and said, "Forget it, I can see it some other time." As with Monument Park, this could, once I see it, be moved from the "don't like" to the "like" category. (UPDATE: It did.)
* Getting upstairs, and back downstairs. The ramps and escalators seemed hard to find.
* The out-of-town scoreboard. Still not programmed to show all games in progress, so they rotated. At the old Stadium, this couldn't be helped; at the new one, they had years to plan this.
* The food prices. That could have been predicted, since ballpark food, like movie theater food, is much more expensive than in the real world, and the 2 New York parks of my youth were the worst of all in this regard. Still...
Remember Jackrabbit Slim's, the nostalgia diner in
Pulp Fiction
? Uma Thurman orders a milkshake that costs $5.00. John Travolta asks for a taste, and says, "I just wanna see what a five-dollar milkshake tastes like." He tries it, and says, "Daaaamn! I don't know if it's worth five bucks, but that's a great f---in' milkshake!" (Note: This was before I decided it was okay to use profanity in my blog.)
At Yankee Stadium II... $7.00. Needless to say, I didn't plunk down the spondolas for it.
And those nostalgia beers I mentioned? In cans (yuck, aluminum rubbing off into the drink) and ten bucks. Ten freakin' dollars for a can of old-time beer?
In the end, what matters is, did I enjoy the experience? Yes. Absolutely. I will miss my old friend, but I made a new friend today.
A couple of times, I looked out across 161st Street at the old Stadium, and at the insult-to-injury of the back wall of the Bleachers being the first part to be demolished -- yeah, stick it to the Bleacher Creatures, the biggest fans of them all -- and nearly started crying. I managed to pull myself together.
After the game, I walked over, put my hand on the River Avenue wall of the Bleachers, and promised my old friend that he would never be forgotten. Much like "Miami 2017 (Seen the Lights Go Out On Broadway)," which Billy Joel sang at a Yankee Stadium concert in 1990, a dystopian fantasy that included the Yankees getting out and picked up for free:
There are not many who remember.
They say a handful still survive
to tell the world about
the way the lights went out
and keep the memory alive.
The new Stadium, I told it, "You did nothing wrong. You're doing everything you should do."
Including, in my case, something the old Stadium couldn't give me: A win in my first visit.
*
The Yankees played the Cleveland Indians, three days after a 10-2 disaster in the first game in the new Stadium, and less than 21 hours after a 22-4 "oy gevalt" game that included 14 Indian runs in the 2nd inning.
Within 2 minutes of coming out of the Subway station, I saw perhaps the most famous Yankee Fan of them all -- or, at least, the best-known Yankee Fan who isn't already known for something else: Freddy Shuman, a.k.a. "Freddy Sez." Definitely somebody who had to make it across the street.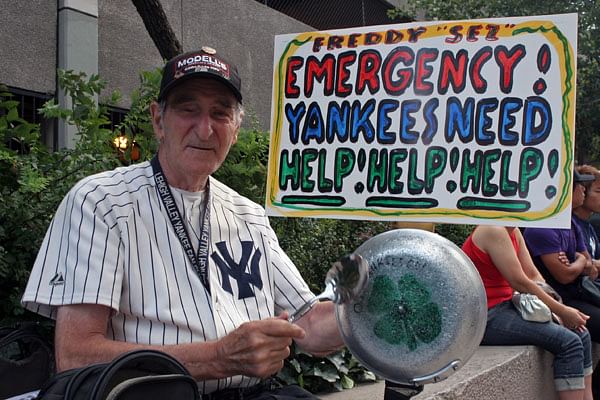 I heard somebody tell him, "Freddy, you can't retire!" And I said, "Retire?
Retire?
At this rate, we may need Freddy to pitch!"
Based on the 15-5 disaster in Tampa earlier in the week, we've already seen Nick Swisher pitch a scoreless inning, and in both the 10-2 and the 22-4 losses to Cleveland, fans chanted, "We want Swisher!" I don't blame them.
Carl Pavano, Mr. Disabled List himself, started for the Indians, and took a perfect game into the 4th. And the Indians led, 3-0. Cue Vince Lombardi: "What the hell's goin'
on
out here?"
In the 4th, the Yankees scored to make it 3-1. But Pavano kept the lead through 6th, and got the hell booed out of him. At one point, there was a mound conference, and I yelled out, "Whatsa matter, Pavano, did ya break a nail?"
Actually, that's not that funny: A broken fingernail
is
a problem for a pitcher. (Especially if he throws the knuckleball, although Pavano doesn't.) But it got a laugh from the fans around me.
A.J. Burnett started for the Yankees, but didn't really have it. While he kept the Indians from another blow-us-out-of-the-yard game, he also walked 7 batters. Jonathan Albaledejo relieved him in the 7th, and finished the inning without incurring any further damage.
In the bottom of that inning, the Yanks got to within 3-2, and then Jorge Posada, not starting because he's the catcher and it was a day game after a night game, pinch-hit for Jose Molina. And he hit one deep to right field, it was high, it was far, it was...
Argued over by Indians manager Eric Wedge. He claimed a fan had interfered. And so, for the first time in a baseball game I attended live, instant replay was used. (The rule says it can only be used to determine whether a play was a home run or not.)
The replay showed a fan reaching out over the fence, much like Jeffrey Maier in the 1996 Playoffs. But the ball didn't hit him. It hit the fan next to him, bouncing off his chest and back down onto the field. That fan barely moved, and did
not
reach out over the fence with any part of his body. The umps, led by crew chief and plate umpire Jerry Crawford, ruled, "Home Run." 4-3 Yankees, and the 43,000 fans on hand went nuts.
Just 43,000 in the 50,000-seat new Stadium? Most of the empty seats were down close, the most expensive ones. I guess the Yanks are having trouble selling them.
Nick Swisher, for whom I chanted, "MVP!", struck out 3 times before coming to bat to lead off in the 8th, but he doubled, starting another 3-run rally.
Albaledejo stood to be the winning pitcher. Brian Bruney relieved him in the 8th, and got 'em out 1-2-3. Mariano Rivera entered for the 9th to his usual thunderous ovation, and slammed the door.
Final score, Yankees 7, Indians 3. Cue John Sterling: "Ballgame over! Yankees win! Theeeeeeee Yankees win!" Cue Frank Sinatra: "Start spreading the news... etc., etc., etc."
And, after all those hits and all those runs in the first and third games of the series, the Indians walk away from this series with... a split. Congratulations, Tribe.
Another great memory for me at Yankee Stadium. Even if it wasn't at the only Yankee Stadium I'd ever known until now.
The new Yankee Stadium gets my approval. Even if the way we got to it does not.
To paraphrase an old Brooklyn Dodger fan, Humphrey Bogart, "New Yankee Stadium, this could be the beginning of a beautiful friendship."
(I had previously thought Bogie was a Yankee Fan, but a few years after I posted this, his son, Stephen Bogart, confirmed to me through the official Twitter feed that he runs for his father that the great man supported the Dodgers.)