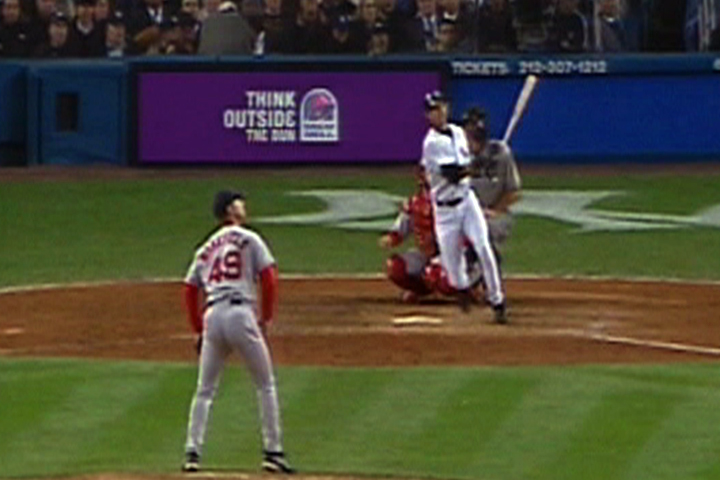 Legend has it that, in the early days of the Mets, long before the Internet made checking scores considerably easier, a Met fan figured out how to work a telephone, and called up the
Daily News
, and asked how the Mets did that day.
"Great!" said the voice at the
News
. "They scored 19 runs!"
And the Met fan asks, "Did they win?"
Which goes to show that he knew his team.
I don't know if the conversation actually occurred, but we can nail down the facts: It was May 26, 1964, and the Mets beat the Chicago Cubs 19-1 at Wrigley Field. Surprisingly, only one Met hit a home run that day: Charley Smith, who would soon be traded to the St. Louis Cardinals and then, after the 1966 season, become a Yankee, getting traded even-up for Roger Maris. Not a glorious moment in Yankee history.
Last night, the Yankees blew a 5-1 lead against the Texas Rangers, the Dallas-area team once owned by George W. Bush (they won no Pennants, natch, in fact they still haven't) and often known as the Strangers. But they exploded for 9 runs in the bottom of the 7th, including a grand slam by Mr. Mustache, Jason Giambi, and career home run Number 535 by Alex (Material Boy) Rodriguez, passing Jimmie Foxx on the all-time list and bringing him to within one of Mickey Mantle (who at least shagged better blonde actresses than Madonna). Yankees 18, Rangers 7.
Would that the Yankees had saved, oh, 6 or 7 of those runs to add to whatever they get starting tonight in this 4-game 4th of July weekend series against the Boston Red Sox.
*
As you may have noticed, I loathe the Red Sox. Not quite as much as I despise the Mets, but it's pretty damn close.
Here is my list of the Top 10 Yankees-Red Sox Moments. They are chosen by certain criteria, which may not be the same as yours:
* Was it indicative of the state of the rivalry for much of its history, described by the man who knows the Sox better than anyone,
Boston Globe
columnist Dan Shaughnessy, as like "the rivalry between the hammer and the nail"?
* Did it make the Sox look like a bunch of thugs and/or buffoons?
* Do I actually remember it? Bonus if I was actually there. (I've seen 4 Yanks-Sox games in person: 2 wins at Yankee Stadium, and a win and a loss at Fenway Park.)
(Update: I have since seen a 5th Yanks-Sox game, a rainy, miserable, blown-lead loss at the new Yankee Stadium.)
So here they are:
Honorable Mention. July 1, 2004, Yankee Stadium. Yanks 6, Sox 5.
A 13-inning dance of death that featured Yankee shortstop Derek Jeter "flying" into the stands to catch a looper, and Sox shortstop Nomar Garciaparra -- or, as Sox fans called him, Nomah Gahciahpahwah -- the only player on both rosters combined, except for Sox backup catcher Doug Mirabelli, not to get into the game, due to a season-long mope from his contract situation.
After this game, Nomar was doomed to be sent elsewhere, and the Sox looked dead. If they weren't going to do it the year before, and they weren't going to do it that year, when Pedro was also likely to be gone, then they were
never
going to do it.
Alas, 3 weeks later came Bronson Arroyo plunking A-Rod, Jason Varitek shoving his purse in A-Rod's face while leaving his own mask on like the coward he is, and eventually The Great Disgrace that October. Which is why, as thrilling as this one was, I can't rank it in the Top 10.
10. July 2, 1941, Yankee Stadium. Yanks 8, Sox 4.
It doesn't sound like all that big of a win, especially since it was midseason and the Sox ended up in 6th place. But in 95-degree heat, Joe DiMaggio hit a home run, extending his hitting streak to 45 games, breaking the record set by Willie Keeler in 1897. Someone pointed out that, by hitting one into the seats, where there are no fielders, the Yankee Clipper had beaten Keeler with his own advice: "Hit 'em where they ain't." Lefty Gomez was the winning pitcher, Dick Newsome the loser. Attendance: A mere 8,682. (It was a Wednesday afternoon, and, as I said, it was really hot.)
And how did Ted Williams, he who went on to bat .406 that year, do for the Sox that day? He went 1-for-3 with a single and a walk. He got a hit in each game of that 3-game series, a Yankee sweep (the 4th, 5th & 6th games of a 14-game winning streak), but had no RBIs.
Sidebar. October 1, 1961, Yankee Stadium. Yanks 1, Sox 0.
Doesn't appear to be anything special, as the Yanks had clinched the Pennant a week earlier, and the Sox were way out of it, and Mickey Mantle didn't even play due to, not injury, but illness.
But the only run of the game came on a home run by Roger Maris, his 61st of the season, setting a new record that still stands today. (Shut up, Mark, Sammy and Barry, you had your chance to do it honestly.) The Sox pitcher was Tracy Stallard, who otherwise pitched fine, but will never be remembered for anything else.
9. July 4, 1983, Yankee Stadium. Yanks 4, Sox 0.
Dave Righetti pitches a no-hitter on a brutally hot day, with the final out coming via a swinging strikeout of one of the best contact hitters of all time, Wade Boggs.
Sidebar. October 26, 1996, Yankee Stadium. Yanks 3, Atlanta Braves 2.
True, the Yanks and the Braves don't have a rivalry, and the Braves had been gone from Boston for 44 years. But this Game 6 of the '96 World Series featured the aforementioned Wade Boggs, in Pinstripes, riding around the field on the back of a police horse.
Actor and Sox fan Denis Leary, a native of Worcester, Massachusetts, has said that if you'd told his father that would happen one day, "his head would've blown up." Denis, with all due respect to your dad, who I'm sure was a fine man except for having lousy taste in baseball teams... it happened.
8. September 14, 1991, Yankee Stadium. Yanks 3, Sox 1.
This was my 1st Yanks-Sox game in person. Scott Sanderson pitched 8 shutout innings, and the Yank runs came on doubles by Steve Sax and Randy Velarde. Seriously. And, yes, the Sox fans were obnoxious and couldn't hold their liquor then, too.
7. August 18, 19, 20 and 21, 2006, Fenway Park. Yanks 12, Sox 4; (2nd game of rain-forced doubleheader) Yanks 14, Sox 11; Yanks 13, Sox 5; Yanks 8, Sox 5; Yanks 2, Sox 1.
Son of Boston Massacre. The Yanks beat the Sox in several different ways.
I was in Boston on the 20th, but my chances of getting into Fenway for that ESPN Sunday night game -- without having won the lottery earlier in the summer -- were about the same as my chances of getting Catherine Zeta-Jones to leave Michael Douglas for me.
But I certainly soaked up the atmosphere, and enjoyed it. Even after just 3 games, the people in Boston were in a daze, wondering what else could go wrong, wondering what the Sox had to do to turn the momentum of the rivalry back their way. It was unbelievable: It was as if October 2004 had never happened, and the Yanks still had the hammer over the Sox for all time.
Which, unfortunately, was too good to last.
6. October 17, 1999, Fenway Park. Yanks 9, Sox 2.
Game 4 of the '99 ALCS. True, the umpiring wasn't great. But it wasn't the umps who lost this series for the Sox, it was the Sox themselves, with their lousy fielding and their ineffective bullpen. When Ricky Ledee's 9th-inning grand slam off Rod Beck produced what turned out to be the final score, after the inning began with the Yanks only up 3-2, the Sox fans started throwing garbage onto the field.
Keep in mind that this was just one day after the Roger Clemens-Pedro Martinez duel turned out to be not just a 13-1 Boston blowout, but a moment when Sox fans treated Clemens, the greatest Red Sox pitcher either ever (or at least their greatest pitcher since Cy Young), as if he was Anakin Skywalker come back as Darth Vader, and emotions were still running high.
As Shaughnessy pointed out, they took too much pleasure in beating Clemens. "The point was not to beat Clemens," he said. "The point was to win the series." After this game, any pretense Boston had to being "the Athens of America" went out the window.
The next night, the Yanks won the Pennant, clinching at Fenway Park. The Yanks had clinched Pennants at Fenway before, and had clinched the Division there the season before, but this was different.
5. July 30, 1999, Fenway Park. Yanks 13, Sox 3.
This was my first Yanks-Sox game in Boston, and Chuck Knoblauch hit the 2nd pitch of the game over the Green Monster for a homer. On the 5th pitch, Derek Jeter hit one out to dead center field, hitting a TV camera stand. On the 11th pitch, Sox starter Mark Portugal literally fell off the mound. Amazingly, the Sox tied it 2-2 in the bottom of the 1st, and, sitting in Section 14 in an obstructed-view seat with a $24 list price but had paid a scalper $42 for, I thought, Uh-oh, this is gonna be one of those games where Fenway turns into a big green pinball machine.
I was only half-right, because the Sox didn't keep their half of the bargain. I'm glad it was that half! The Yankees were 9-2 up after 3 innings. By the 7th-inning stretch, it was 13-3, and there were about 10,000 Yankee Fans and about 1,000 Sox fans left in the old yard, and the chant of "Let's Go Yankees!" reverberated off the Wall.
The most shocking thing about this game was that Joe Torre left his starter in for the whole game. The second-most shocking? The starter was Hideki Irabu. I swear.
4. September 7, 8, 9 and 10, 1978, Fenway Park. Yanks 15, Sox 3; Yanks 13, Sox 2; Yanks 7, Sox 0; Yanks 7, Sox 4.
This was the Boston Massacre, and at age 8 going on 9, I knew that good had triumphed over evil. The Yanks came in 4 games behind and left tied.
Supposedly, a Boston sportswriter walked into a bar after the 3rd game and heard, "They came for our grandfathers, they came for our fathers, and now the sons of bitches are coming after us." (Yeah, and now they've come for your sons.) Supposedly, a sportswriter wrote, "This was the first time in history that a first-place team was mathematically eliminated."
As it turned out, no. The Yanks only took 2 of 3 in The Bronx a week later, and the Sox won 12 of their last 14, including their last 8, to set up the moment at Number 2.
3. October 11, 2003, Fenway Park. Yanks 4, Sox 3.
Game 3 of the '03 ALCS, and Pedro Martinez not only hits Karim Garcia on the head, he threatens Jorge Posada with the same. After Manny Ramirez overreacts to a Roger Clemens pitch that was head-high but actually over the plate, Pedro grabs Yankee coach Don Zimmer, age 72, by the head, and throws him to the ground.
The next day, in one of the few times I've ever agreed with them, the
New York Post
prints the headline "FENWAY PUNK." The irony is that when order was restored, Clemens, who had lost his temper many times, kept his composure, and struck Manny Being Manny out, and was the winning pitcher.
Pedro will probably make the Hall of Fame, but he is a truly vile son of a bitch. It doesn't matter whether he knew Zim had been beaned twice as a player and was simply standing up for his players. Even Zim's age wasn't really the issue. The issue is, You do NOT grab a man by the head and throw him to the ground! That's felonious assault, even attempted murder! Pedro should have just grabbed Zim by the shoulders and stopped him.
And yet, many (I won't say "most," since I don't know for sure that it's most) Sox fans think Zim had it coming, because he was the Sox manager in 1978, when the words "Red Sox" and "choke" became synonymous. Which brings me to...
2. October 2, 1978, Fenway Park. Yanks 5, Sox 4.
The Boston Tie Party, also known as the Bucky Dent Game. It's ironic: If today's pitching mindset had been in place then, Mike Torrez would've pitched 6 shutout innings and left with a 2-0 lead.
To their credit, though, Sox fans usually don't blame Torrez. They blame manager Zimmer, then their manager, for screwing up that race they led by 14 games on July 18 and as much as 6 1/2 games on September 1.
1. October 17, 2003, Yankee Stadium. Yanks 6, Sox 5.
The game actually started on October 16, but since the homer was hit at 12:16 AM, it was now the 17th. This, of course, was the Aaron Boone Game, Game 7 of the '03 ALCS. It was over. All the Sox needed was 5 more outs, and Pedro was on the mound to hold a 3-run lead. It didn't matter what Yogi Berra said: This game was freakin'
over
.
Then 4 straight doubles: Derek Jeter, Bernie Williams, Hideki Matsui and Jorge Posada. In the middle of it, Grady Little forfeits his job as Sox manager by leaving Pedro in, forgetting that, with Pitch Number 100, Pedro stops pitching like Christy Mathewson and starts pitching like Christie Brinkley. (And doesn't look as good.) And Boone, who'd done next to nothing for the Yanks before that moment, and next to nothing afterward (a homer in the World Series but then an injury that pretty much ended his career), makes it all worthwhile. Too bad the Curse of the Bambino only lasted one more year.
Of course, should this 2008 season result in a Yankee triumph over the Red Sox, I reserve the right to alter this list.
Bring it on, Chowdaheads!