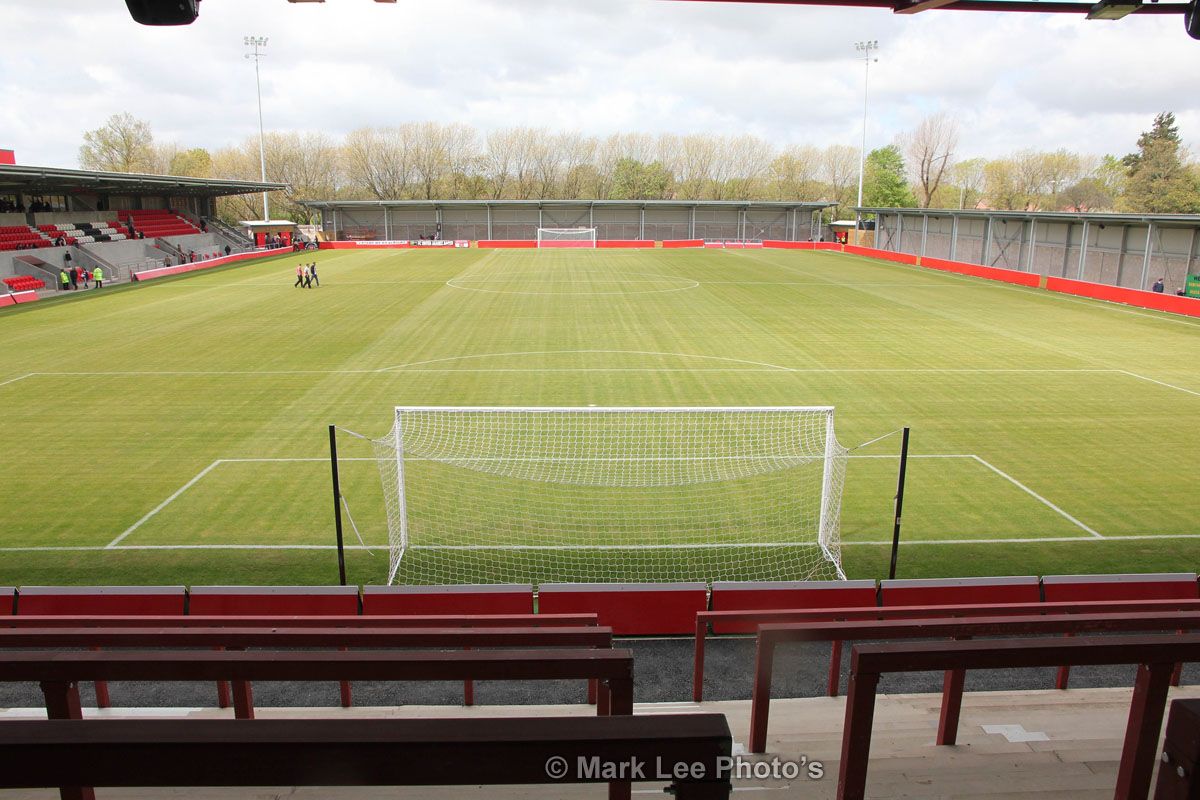 Not exactly a cathedral of the sport, is it?
Yesterday, Arsenal lost 2-1, away to Newcastle United. Although they have advanced to the Semifinal of the UEFA Europa League, they remain in 6th place in the Premier League, and 13 points behind fellow North Londoners Tottenham Hotspur for 4th place and automatic qualification for next season's UEFA Champions League -- which would also come by winning the Europa League.
In a League season that has come to mean nothing, manager

Arsène

Wenger rested some of his starters, and paid for it with a loss.
The WOB, the Wenger Out Brigade, that small minority of "Arsenal fans" who claim that Arsenal "haven't challenged for the title" since the last time we won it, in 2004 -- under Wenger, and that was an unbeaten season in League play -- are, once again, demanding that he be fired.
As if he owes them anything. Most of them became fans during his reign, which began in 1996, and became fans because of the glories he brought. Some became fans during the run of George Graham, 1986 to 1995, and Wenger has far exceeded what Graham did, but, apparently, what is better than what Graham did is not good enough for them.
We see some of them refusing to show up for home games, hanging onto their season tickets instead of offering them to others, so that many seats at the Emirates Stadium will be empty, and reflect poorly on Wenger. Then they fill up the allotment of seats to the away games, and boo the team.
And then they accuse Wenger of being the reason why the team has such a poor away record. How, then, do they explain the team having a good home record? I will tell you why: It is because they have removed the toxic atmosphere from the Emirates, and the people who actually do show up
want
The Arsenal to win, and are actually supporting them.
The Wenger Outers are whiners, crybabies, and entitled, selfish idiots.
*
In 2005, a similar group of whiners and crybabies, angry that Manchester United had been bought by Malcolm Glazer, owner of the NFL's Tampa Bay Buccaneers, founded F.C. United of Manchester. They registered the new team with the Manchester County Football Association. They held their 1st meeting on May 19, and by July 16, they were ready to play their 1st match.
They were, essentially, starting over, at the 10th level of the English "football pyramid." They chose this, instead of what the Glazer family bought for them between 2005 and today: 5 more league titles, the 2008 Champions League, the 2016 FA Cup and the 2017 Europa League. So they exchanged that for what would be, in North American terms, some very minor minor-league ball.
But, hey, they kept their principles, right?
They played at the home field of Bury F.C., the 11,840-seat Gigg Lane, instead of Man United's 75,000-seat Old Trafford.
Since 2015, they have played at Broadhurst Park, which has an even smaller capacity, 4,400 including standing room, since their level is not required to have an all-seater stadium. It's 4.4 miles from Manchester Piccadilly Station, half as far away as Gigg Lane, but still not as close as Old Trafford.
But, hey, they kept their principles, right?
Currently, they play in the National League North, the 6th division. Which means they need 2 promotions just to get into the Football League, and 5 to reach the Premier League. They are 15th out of 22 teams, and are just 5 points above the relegation zone.
Only twice have they qualified for the 1st Round proper of the FA Cup: 2010-11, reaching the 2nd round, and 2015-16. This season, they were knocked out in the 4th Qualifying Round -- meaning that, counting that round, they would have needed 9 wins to win the FA Cup.
Meanwhile, Manchester United, the team they rejected because it had "sold its soul," is in 2nd place in the Premier League, has reached the Semifinal of the FA Cup, and got to the Round of 16 of the Champions League. True, arch-rival Manchester City wrapped up the PL title yesterday, when Man United lost to last-place and relegation-doomed West Midlands team West Bromwich Albion, but MUFC is 133 places in English football above FCUM.
But, hey, they kept their principles, right?
*
In the original film version of
Fever Pitch
, based on Nick Hornby's memoir of being an Arsenal fan, the analogue to Hornby, Paul Ashworth, a junior high school English teacher played by Colin Firth, is watching the 1989 League finale, in which Arsenal, visiting Liverpool, must win by at least 2 goals to win the title and prevent Liverpool from so doing. And as they reach stoppage time, Arsenal only lead 1-0.
And he whines, "I might start supporting a team that never wins. Orient, or someone. At least you know where you stand. You don't put yourself out for situations like this."
And then Michael Thomas scores the goal that makes him the Bobby Thomson, or perhaps the Bill Mazeroski, of England, and Arsenal win 2-0, and win the title. And Firth's closing narration goes, "I still love them and hate them, all at the same time. But my successes and failures and no longer tied up with theirs. And that's got to be a good thing. I suppose."
*
Who is "Orient"? Leyton Orient are a team in East London. They've never been in the 1st division. They were then in the 4th division, and won promotion to the 3rd. This season, they are in the 5th, having been relegated out of the 4th and the League last season. They play in a stadium that seats 9,271 people, but tickets are much cheaper than for the Premier League teams.
This is a big argument for the WOB: They don't want to pay high ticket prices to see a team managed by
Arsène
Wenger.
There's a simple solution to this: Don't! You already know that Wenger is not going to get sacked by the board before his contract runs out in May 2019. You know he's not going to quit. You know he's going to manage the team at least until then. And, given the board's recent record, he may well get an extension, in spite of his age (he'll be 69 in October, and shows no evidence of mental decline).
They complain about Wenger. They complain about the board. They complain about the 2006 move from glorious, but antiquated and small, Highbury to the spacious Emirates Stadium. They complain about Wenger and the board not spending enough money to "compete," when they have spent a lot of money the last few years, now that the stadium debt has been reduced, and when that stadium is a big reason why they have the money to spend. And they complain about ticket prices.
They believe they can do better.
It is time for them to put up or shut up.
It is time for them to do what the Manchester people did, and get out, and found FC Arsenal of London.
They can find a place to play in North London, perhaps at Barnet or Leyton Orient, while they raise money to build their own stadium, even if, at first, it's only the size of what we in America would call a high school football stadium.
Then they can raise money to pay the players, and charge whatever ticket prices they want, and have the "proper football club," "for the fans," that they so crave.
I am calling you out, Wenger Outers: Instead of whining that you want to support a team that doesn't have Wenger as its manager, make your own!
And maybe someday, when Wenger finally has left, with his legacy and his glory intact, you'll actually be above FC United of Manchester in the league table.
If not in the League table.
Put up or shut up.
*
Days until the New York Red Bulls play again: 5, Saturday afternoon at 2:00, home to the Chicago Fire. They lost in the Semifinal of the CONCACAF Champions League, against Club Deportivo Guadalajara, a.k.a. "Chivas," last Tuesday night, before winning a league game over the Montreal Impact on Saturday night.
Days until The Arsenal play again, 7, this Monday at 3:00 PM our time, home to East London team West Ham United. As I said, they lost to Newcastle United yesterday, after advancing past Russian club CSKA Moscow to reach the Semi
final of the UEFA Europa League, against
Atlético
Madrid, with the winner of that round facing either Olympique de Marseille or Red Bull Salzburg.
Days until the Red Bulls next play a "derby": 19
,
on Saturday afternoon, May 5, home to
New York City FC.
Their 1st game against the Philadelphia Union will be on Saturday night, May 26, at Red Bull Arena in Harrison.
Their 1st game against the New England Revolution will be on Saturday night, June 2, at Gillette Stadium in Foxboro. Their 1st game against D.C. United, and their 1st game ever at the new Audi Field, will be on Wednesday night, July 25.
Days until the next Yankees-Red Sox series begins: 22, on Tuesday, May 8, at 7:00, at Yankee Stadium II.
Days until the U.S. national soccer team plays again: 42
, a "friendly" against Bolivia, at Talen Energy Stadium in Chester, Pennsylvania, home of the Philadelphia Union, on Memorial Day, Monday, May 28.
After the Bolivia game, t
here will be a trip to Europe, to play Ireland in Dublin on June 2, and France in Lyon on June 9. These 3 games should have been warmups for the World Cup.
Alas...
Days until the next World Cup kicks off in Russia: 59
,
on June 14. Under 2 months. But the U.S. team won't be playing. At least now, Donald Trump doesn't have to choose, and can root for his favorite country, the host nation, Russia.
Days until the 2018 trading deadline, after which we won't have to fear Yankee general manager Brian Cashman trading any proven good players for "prospects": 106
, on Tuesday, July 31. Under 4 months.
Days until the next North London Derby: Unknown, but not until next season. The Premier League season opener will be on Saturday, August 11, but you never see a derby on the opening weekend. So, more than 117
days.
D
ays until Rutgers University plays football again:
138,
on Saturday, September 1, home to Texas State University. Under 5 months.
Days until East Brunswick High School plays football again: Unknown. The 2018 schedule hasn't been released yet. But the season opener is usually on the 1st Friday in September. that would be September 7, which is
144
days from now.
Days until the New Jersey Devils next play a local rival: Unknown, as the regular season is over. It is possible that the Devils will play the Philadelphia Flyers in the Stanley Cup Playoffs, but that wouldn't happen unless both teams reach the NHL Eastern Conference Finals. Otherwise, they wouldn't face the Flyers, the New York Rangers or the New York Islanders until the start of the next regular season, which is usually on the 2nd Friday in October. That would be October 12, or
179 days.
Days until the next Congressional election, when we can elect a Democratic Congress that can impeach and remove Donald Trump from the Presidency:
204
,
on November 6. Under 7 months.
Days until the next Rutgers-Penn State game: 215, on Saturday, November 17, at High Point Solutions Stadium in Piscataway, New Jersey.
Days until the next East Brunswick-Old Bridge Thanksgiving high school football game:
220
, on Thursday, November 22. A little over 8 months.
Days until a Democratic Congress can convene, and the impeachment process can begin:
262
,
on Thursday, January 3, 2019. Under 10 months.
Days until the Baseball Hall of Fame vote is announced, electing Mariano Rivera: 282
, on January 23, 2019. A little over 10 months.
Days until the next Women's World Cup kicks off: 417
, on June 7, 2019, in France. A little over a year, or under 14 months. The U.S. team, as 3-time and defending Champions, has, as usual, a better chance than the men's team would have had in 2018 anyway.
Days until my 50th Birthday, at which point I can join AARP and get discounts for travel and game tickets: 611, on December 18, 2019. Under 2 years, or a little over 20 months.
Days until the Baseball Hall of Fame vote is announced, electing Derek Jeter: 646
,
on January 22, 2020. A little under 2 years, or a little over 21 months.
Days until the next Summer Olympics begins in Tokyo, Japan: 830
,
on July 24, 2020. A little over
2 years, or a little over 27 months.
Days until the next Presidential election, when we can dump the Trump-Pence regime and elect a real Administration: 932
,
on November 3, 2020. A little over 2 1/2 years, or under 31 months.
Days until Liberation Day: 1,010
,
at noon on January 20, 2021. Under 3 years, or a little over 33 months. Note that this is liberation from the Republican Party, not just from Donald Trump. Having Mike Pence as President wouldn't be better, just differently bad, mixing theocracy with plutocracy, rather than mixing kleptocracy with plutocracy.
Days until the next Winter Olympics (after the current one in Pyeongchang, Korea) begins in Beijing, China: 1,390,
on February 4, 2022. Under 4 years, or under 46 months.
Days until the next World Cup for which the American team will be eligible is scheduled to kick off: 1
,680
, on November 21, 2022, in Qatar. Under 5 years, or a little over 55 months. The charges of corruption against Qatar may yet mean that they will lose the tournament, in which case it will be moved to a nation where it would not be too hot to play it in June and July.