Over the last few days, we've lost some people, including
Night Court
star Harry Anderson, who was only 65 years old.
He also starred in
Dave's World
, a sitcom based on the columns of Dave Barry of the
Miami Herald
. I remember
TV Guide
doing a Best-of/Worst-of list for the TV season. In addition to "Best Dressed" and "Worst Dressed," they named Pamela Anderson, in her red
Baywatch
bathing suit, as "Best Undressed," and Harry as Dave in his bathrobe, as "Worst Undressed." He certainly wore a better robe as Judge Harry Stone on
Night Court
!
And just as I finished writing this, news came over the wire (as we used to say) that Barbara Bush, wife of one President (1989-93) and mother of another (2001-09), died at the age of 92.
*
In sports, the biggest name we lost was Hal Greer.
Harold Everett Greer was born on June 26, 1936 in Huntington, West Virginia. Schools in West Virginia were then segregated, and he attended Frederick Douglass High School in Huntington. He stayed in the city and went to Marshall University, becoming the 1st black man to play basketball at a public college in the State. He was named All-Conference in the Mid-American Conference in 1958.
The guard was drafted by the Syracuse Nationals, and played 5 seasons with them before they moved in 1963, to become the Philadelphia 76ers. He was named to 10 NBA All-Star Games, including being named MVP of the 1968 game.
But the Sixers kept smacking into the Boston Celtic dynasty, never more noticeably than on the last play of Game 7 of the 1965 Eastern Conference Finals at the Boston Garden. The Celtics led by 1 point, and Greer inbounded the ball. He tried to pass to Chet Walker, with the idea that Chet the Jet would pass the ball to Wilt Chamberlain, and that Wilt would score the winning basket. But John Havlicek tipped the pass, sending the ball to Sam Jones, the Celtics to victory, and Celtic radio announcer Johnny Most into yelling, "Johnny Havlicek stole the ball!" It is up there with Willie Mays' 1954 World Series catch as
the most famous defensive play in sports history
.
But the 76ers started the 1966-67 season on fire, going 7-0, 15-1, 26-2, 37-3, 46-4. Eat your heart out, present-day Golden State Warriors. (Note that the reason the Nats could move to become the 76ers is that the Warriors moved out of Philadelphia to the Bay Area in 1962.)
The Sixers finished 68-13, with the most wins in a single NBA season to that point. It would be surpassed by the 1972 Los Angeles Lakers (69-13), the 1996 Chicago Bulls (72-10), and the 2016 Warriors (73-9) -- the difference being, the '16 Warriors did not win the NBA title.
In the 1st Round of the Playoffs, the 76ers dispensed with Oscar Robertson, Jerry Lucas and the rest of the Cincinnati Royals 3 games to 1. Then came a showdown with the Celtics, and it was one of the epic victories in the history of Philadelphia sports. In Game 1, Chamberlain had a quadruple-double: 24 points, 32 rebounds, 12 assists and 12 blocked shots. In Game 3, Wilt grabbed 41 rebounds, still an NBA Playoff record.
The Sixers were up 3-0, and while the Celtics won a thriller of a Game 4 on their own parquet floor, Game 5 was played at the Convention Hall of the old Philadelphia Civic Center -- The Spectrum would open in September -- and it was an annihilation: April 11, 1967, Philadelphia 140, Boston 116. Bob Ryan, soon to go from Boston College to the The Boston Globe, but a Trenton, New Jersey native who grew up rooting for the Warriors (and thus had no emotional connection to the Sixers), was at this game, and does not like to be reminded of it.
Appropriately enough, it was the team then known as the San Francisco Warriors that the 76ers would face in the Final. On April 24, in Game 6 at the Cow Palace in Daly City, Philadelphia finished the job, 125-122. Greer had averaged 22.1 points per game in the regular season, and upped that to 27.7 for the Playoffs. His rebounds (5.3 to 5.9) and assists (3.8 to 5.3) also went up in the Playoffs.
Greer stayed with the 76ers until 1972-73, going from perhaps the best team in NBA history to its worst, as age, injuries, and bad management dropped them to 9-73, still the league's worst record ever.
He was elected to the Basketball Hall of Fame, and he was named to the NBA's 50th Anniversary 50 Greatest Players. Marshall retired his Number 16. The 76ers retired his Number 15, and last year dedicated a statue to him outside their training complex, across the Delaware River in Camden, New Jersey.
He was married to a woman named Mayme, they had a son and 2 daughters, and had retired to Scottsdale Arizona. There, Hal Greer died this past Saturday, April 14, 2018, at the age of 81.
Still alive from the 1967 NBA Champion Philadelphia 76ers are 8 players: Forward Dave Gambee, 81 years old; guard Chet "the Jet" Walker, 78; guard Walter "Wali" Jones, 76; forward Luke Jackson, 76; guard Bob Weiss, about to turn 76 and an assistant coach with the Denver Nuggets; guard Matt Guokas, 74; forward Billy Cunningham, 74; guard Bill Melchionni, 73.
Greer was preceded in death by center Wilt Chamberlain in 1999; guard Larry Costello in 2001, head coach Alex Hannum in 2002, and general manager Jack Ramsay in 2014.
Greer, Chamberlain, Walker, Cunningham, head coach Alex Hannum and general manager Jack Ramsay are in the Hall of Fame. Greer (15), Chamberlain (13) and Cunningham (32) would get their numbers retired by the 76ers. So would Wali Jones (24), but for the unrelated Bobby Jones. Melchionni would get his number retired by the team now known as the Brooklyn Nets (25, wore 28 with the 76ers).
Hannum had previously coached the St. Louis Hawks to the 1958 NBA Championship, and would coach the Oakland Oaks to the 1969 ABA title. Costello would coach the Milwaukee Bucks to the 1971 NBA title. Ramsay would coach the Portland Trail Blazers to the 1977 title. Cunningham, with Guokas as his assistant, would coach the 76ers to the other title they've won, in 1983.
*
William Nack wrote about basketball in the 1960s. He wrote so well about sports, including some events that happened long ago, that I thought he was considerably older.
Nack at Churchill Downs in Louisville,
home of the Kentucky Derby
William Louis Nack was born on February 4, 1941 in Chicago, and grew up in the northern suburb of Skokie, Illinois. He and his sister Dee worked at a stable in nearby Morton Grove, and both became competitive riders.
In 1955, Swaps won the Kentucky Derby. Three months later, he raced at Washington Park, on Chicago's South Side. (The grandstand burned down in 1977, and the track was never reopened.) Just 14, Nack saw Swaps set a course record in the American Derby, and came to revere him more than any human athlete: "The clarity of that performance, the decisive finality that I had yearned for and missed in the world of horse shows ruled by fallible and sometimes idiotic judges, had won me to racing as a sport and to the memory of that horse forever."
Eleven days later, Swaps was paired in a match race, at Washington Park, with Nashua, the other contender for Horse of the Year, although his victories didn't include any of the Triple Crown races. Nack couldn't go, and had to watch it on television. Nashua won, and Nack later wrote that he had run out of his seat, into his next-door neighbor's yard, and threw up on a tree.
A week later, a magazine included a photo of Swaps. Nack cut it out, and put it in his wallet. He kept that photo in subsequent wallets until 1983, when his pocket was picked at Madison Square Garden, covering the fight between Roberto Duran and Davey Moore.
Nack became a groom at the biggest racetrack in the Chicago area, Arlington Park in the northwestern suburb of Arlington Heights. In 1958, he helped take care of Horse of the Year Round Table. He went to the University of Illinois, and became sports editor of the
Daily Illini
, whose editor-in-chief was future film critic Roger Ebert.
He enlisted in the U.S. Army, and was sent to Vietnam, where he wrote publicity for General William Westmoreland, commander of U.S. troops there. After his discharge, he moved to Long Island, and wrote for
Newsday
. At the paper's Christmas party, he recited the names of every Kentucky Derby winner in chronological order, from the 1st race in 1875 to the most recent in 1971. The editor took the not-so-subtle hint, and assigned Nack to cover racing for the Sunday edition. Nack had been covering politics, and said, "I'd love the chance to cover the whole horse."
This enabled him to cover nearby Belmont Park, including Secretariat clinching the Triple Crown by winning the 1973 Belmont Stakes by 31 lengths, the 1975 match race between Kentucky Derby winner Foolish Pleasure and doomed champion filly Ruffian, and Seattle Slew clinching the Triple Crown by winning the 1977 Belmont Stakes.
He would write
Secretariat: The Making of a Champion
in 1974, and
Sports Illustrated
excerpted it. It would later be adapted to a feature film. In 1978,
SI
hired him away from
Newsday
. In addition to horse racing, subjects of his articles included Keith Hernandez of the Mets, the USFL's lawsuit against the NFL, Garry Kasparov's dethroning of world chess champion Anatoly Karpov, and the man who made Karpov champion by refusing to defend his title against him, the reclusive, paranoid genius Bobby Fischer.
He also wrote about boxing, including current profiles of boxing champions Leon Spinks, Larry Holmes, Roberto Duran, Sugar Ray Leonard, Mike Tyson and Lennox Lewis. His story on former middleweight contender Rubin Carter was adapted into the film
The Hurricane
. He won an award for "O Unlucky Man," his profile of 1962-64 Heavyweight Champion Sonny Liston.
My favorite piece of his
SI
writing was his 70th Anniversary article on the Long Count Fight, when a misunderstanding of a new rule -- which he had asked for -- caused Jack Dempsey to fail to regain the Heavyweight Championship from Gene Tunney in 1927. It was so clear that I believed he had to be at Soldier Field that day -- or, at the least, listening to the fight in one of the earliest major coast-to-coast radio broadcasts of a sporting event.
He wrote
My Turf: Horses, Boxers, Blood Money and the Sporting Life
; and
Ruffian: A Racetrack Romance
. He continued to write for
SI
until 2001, and was a correspondent for ESPN. He was married to Carolyne Starek, and had daughters Emily, Rachel and Amy, and son William Jr.
The Nacks lived in Washington, D.C., and it was there that William Nack died this past Friday, April 13, 2018, after a battle with cancer. He was 77.
*
Hal Greer's basketball playing may have been musical, and Bill Nack's writing was certainly lyrical. But music and sports came together with John Amirante.
John J. Amirante (I can find no record of what the J stands for) was born on May 12, 1934, in The Bronx. He went to Cardinal Hayes High School, which had a dance band, and he sang with them. By night, he would sing in The Bronx and Yonkers. By day, he would work as a design engineer for a naval architecture firm owned by Dr. John J. McMullen.
McMullen was one of the "limited partners" that helped George Steinbrenner buy the Yankees in 1973, and he would later say, "There is nothing so limited as being one of George's limited partners." But on July 4, 1978, George's birthday, McMullen brought Amirante to George's birthday party, and Amirante sang for him. George liked him, and they were friends for life.
But it would be the Mets that would be the first team to have him sing "The Star-Spangled Banner" before a game, in 1979. He sent his audition tape to the Madison Square Garden Corporation, and in 1980, they hired him to sing before 3 Ranger games and 3 Knick games. They kept him on for 37 years.
From 1981 to 1985, he also sang the Anthem at some Yankee games, usually alternating with Robert Merrill, the legendary Metropolitan Opera singer from Brooklyn. By this point, McMullen had sold his share of the Yankees, and bought the Houston Astros. He'd also bought the NHL's Colorado Rockies, moved them to the Meadowlands, and renamed them the New Jersey Devils. He asked Amirante to sing the Anthem for their 1st game, on October 5, 1982, a 3-3 tie with the Pittsburgh Penguins.
McMullen asked him to sing for the Devils full-time, but he turned it down, saying, "I gotta stay where my faith is, and that's with the Rangers." He later said, "I wanted to be in The World's Most Famous Arena."
Stan Fischler, the longtime Ranger fan known as the Hockey Maven, who's written more books on the sport than anyone, wrote today, "

At the old Garden, it was Gladys Goodding at the organ console who played for decades and also was an engaging, lovable personality.

At the new Garden, John Amirante

emerged as an anthem-singing favorite whose dynamic voice and enthralling style won the hearts of fans from the very top balcony seats right down to ice level.
On December 23, 1992, I attended my 1st live NHL game. I'd like to tell you that I heard John Amirante singe the National Anthem. But that wouldn't be true, because I
couldn't
hear him: 18,000 Ranger fans yelled and drowned him out. When they finally won the Stanley Cup after 54 years, on June 14, 1994, Ranger broadcaster Sam Rosen said he'd never heard The Garden so loud as when he sang before Game 7. Amirante recalled:
I couldn't hear myself, the Garden was so loud. It was absolutely fantastic. I felt like I was ten feet off the ice. And I had chills going through my body, and the fans were just screaming and chanting. I loved every minute of it. And to this day, I can remember specifically how it was. It's a memory I'll never forget.
And then the parade that followed, I was on a float, and the fans were singing the anthem to me as I went up Broadway. It was great.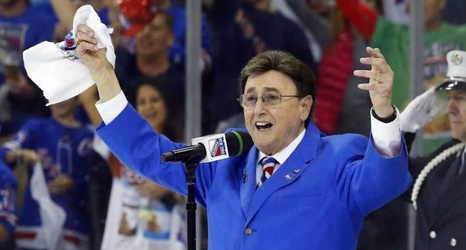 Not long thereafter, he stopped doing Knick games. The Rangers gradually decreased his workload as he got older. As with some other sports figures, he was put into early retirement by his team and then had that recalled when fans revolted. His last performance was this past February 25, on Jean Ratelle Night.
He and his wife Ann lived in Plainview, Long Island -- Islanders territory. They had a son John and daughters Debi and Janice, although Janice predeceased him.
John Amirante died this morning, April 17, 2018, at age 83. He can now share a stage with Robert Merrill, Gladys Goodding and Lucy Monroe.