The New York Knicks will visit the Staples Center to play the Los Angeles Clippers this coming Friday. The Brooklyn Nets will do so on the following Sunday.
Oddly, both teams broke up their 2017-18 Los Angeles visits into 2 trips: Usually, they play the Lakers and the Clippers on the same roadtrip, to save the traveling. This season, neither one did. So, unlike in previous seasons, I had to do separate entries for the Lakers and the Clippers. The Clippers also mark the 30th and last NBA team I had to do this for this season.
Before You Go.
Unlike the Seattle and San Francisco Bay Areas, the Los Angeles area has very consistent weather. It's a nice place to visit. If you don't mind earthquakes. And mudslides. And wildfires. And smog.
Check the weather forecast on the
Los Angeles Times
' website before you, so you'll know what to bring.
Currently, the weather forecast for Friday is for the low 60s in daylight, with rare rain for L.A. For Sunday, daylight temperatures should be in the high 60s in daylight. For both days, the high 40s are predicted for the evenings.
In other words, unseasonably warm for us, but normal for them. So you might want to not bring a Winter coat to Newark/JFK/LaGuardia Airport/Penn Station/Port Authority. If you're driving in, leave the Winter coat in the back seat once you get past the Rocky Mountains.
Los Angeles is in the Pacific Time Zone, which is 3 hours behind New York. Adjust your timepieces accordingly.
If you want to take a side trip into Mexico, it's about 140 miles from downtown L.A. to the Tijuana border station. You will need a passport.
GoToBus runs buses from Los Angeles to Tijuana
, $30 and 4 hours, 45 minutes each way. If you drive in, you will need Mexican driving insurance, which you can probably buy at the Mexican consulate, either in New York or Los Angeles. For the moment, $1.00 = 18.54 pesos, while 1 peso = a shade more than a nickel.
Tickets.
For some reason, even though they play the same sport in the same building, the basketball teams have different official seating capacities. For the Lakers, it's 18,997. For the Clippers, it's 19,060.
Why the Clippers thought they could sell 63 more seats than the Lakers, I don't know. But the brief period in which they were right is over: The Lakers are, despite no longer having Kobe Bryant, averaging 18,898 fans per home game this season, a little short of a sellout every game; but the Clippers are averaging 16,854, 88.4 percent of capacity.
As you might guess, with their lack of success (until recently), Clippers tickets have a much lower demand than Laker tickets, and thus have much lower prices. Seats in the 100 level are $150 between the baskets and $85 behind them. They're $43 in the ends of the 200 level. In the 300 level, they're $25 between the baskets, and behind them, just about a major league sports low of $10.
Getting There.
It's 2,791 miles from Times Square in New York to City Hall in downtown Los Angeles. In other words, if you're going, you're flying.
After all, even if you get someone to go with you, and you take turns, one drives while the other one sleeps, and you pack 2 days' worth of food, and you use the side of the Interstate as a toilet, and you don't get pulled over for speeding, you'll still need over 2 full days. Each way.
But, if you really, really want to drive... Take Interstate 80 West across New Jersey, Pennsylvania, Ohio, Indiana, Illinois, Iowa and Nebraska. Just before leaving Nebraska for Colorado you'll get on Interstate 76, and shortly before reaching Denver you'll get on Interstate 70 West. You'll take that all the way to its end in Utah, where you'll take Interstate 15 South. You'll go through a short strip of Arizona before getting into Nevada (where you'll see
the
Strip, Las Vegas), before getting into California.
Assuming you're not going to a hotel first (and you really should), you'll get off I-15 at Exit 109A, and get on Interstate 10 West, and almost immediately onto U.S. Route 101 North, the San Bernardino Freeway. Take that road's Exit 3 to State Route 110, the Pasadena Freeway, and that will get you into downtown L.A.
Given an average speed of 60 miles an hour, you'll be in New Jersey for an hour and a half, Pennsylvania for 5:15, Ohio for 4 hours, Indiana for 2:30, Illinois for 2:45, Iowa for 5:15, Nebraska for 6 hours, Colorado for 7:15, Utah for 6 hours, Arizona for half an hour, Nevada for 2 hours, and California for 3 and a half hours hours; for a total of 46 hours and 30 minutes. Factor in rest stops, you'll need more like 3 full days. And, remember, that's just one way. And if you end up using Las Vegas as a rest stop, well, you might end up missing the game and end up, yourself, as as one of those things that "stays in Vegas."
If you take Amtrak, in order to make the Monday night game, you'll have to leave New York's Penn Station on Friday afternoon, on the
Lake Shore Limited
at 3:40. You'd reach Union Station in Chicago at 9:45 AM Central Time on Saturday, then leave at 3:00 PM on the
Southwest Chief
, reaching Union Station in Los Angeles at 8:15 AM Pacific Time on Monday.
The
Southwest Chief
leaves L.A. at 6:10 PM Pacific Time every day, and reaches Chicago at 3:15 PM Central Time 2 days later. The
Lake Shore Limited
leaves Chicago at 9:30 PM, and arrives back in New York at 6:23 PM the next day. Round-trip fare is $464, so it really doesn't pay to take the train for 64 1/2 hours, as opposed to a plane for 7. Union Station is at 800 N. Alameda Street, at Arcadia Street. Union Station on Metro.
Los Angeles' Union Station
Greyhound takes even longer, about 68 hours, changing buses twice, $550 round-trip, but it could drop to as little as $452 with advanced purchase. The station is at 1716 E. 7th Street, at Lawrence Street. Metro doesn't go anywhere near it, but the Number 60 bus will get you downtown.
Flights to L.A. will be relatively cheap this time of year, and you might even get a round-trip nonstop flight for about $538.
The LAX2US bus will take you, as its name suggests, from Los Angeles International Airport to Union Station, taking 45 minutes and costing $8.00; from there, bus and subway connections can be made to downtown.
Once In the City.
Los Angeles was founded in 1781 by Spain as a Catholic mission, and means "The Angels" -- hence that was the name of the Pacific Coast League team, and the subsequent American League team: The Los Angeles Angels. The city continues to grow by leaps and bounds, and is now just under 4 million people, making it the 2nd-largest city in North America, behind New York. (Unless you count Mexico, and thus Mexico City, as "North America" instead of "Central America.")
The metro area has about 18.6 million people, and may soon end up passing New York and all others in that regard. The streets aren't quite north-south and east-west, as, like on the islands of Manhattan and Montreal, they're kind of on a diagonal. The "centerpoint" of the city, where east-west and north-south addresses begin, is 1st Street and Main Street, at the northwestern corner of which is the iconic City Hall. Numbered streets have east-west addresses.
I call the Art Deco, marble-fronted City Hall, at 200 N. Spring Street, and at 453 feet the city's tallest building between 1928 and 1964, "iconic" because it's been used in popular culture many times: You've seen it, even if you couldn't identify it before now.
Its image is embossed on Los Angeles Police Department badges, as seen on the 1951-59 TV series (and its 1967-70 revival)
Dragnet
. (I can't prove it, but I suspect that show star-creator Jack Webb chose 714 as the badge number for Detective Sergeant Joe Friday in honor of Babe Ruth and his career home run total.) It stood in for the
Metropolis Daily Planet
building on the 1952-59 TV series
The Adventures of Superman
. Many other L.A.-set TV series and movies have included shots of it.
City Hall
The
Los Angeles Times
is the leading (most-circulated) newspaper in the Western United States, and has long been known for a great sports section. The legendary columnist Jim Murray has been dead for some time now, but if you watch ESPN's
Around the Horn
, you'll recognize the names of Bill Plaschke and J.A. Adande.
The sales tax in the State of California is 7.5 percent, in the City of Los Angeles 9 percent. ZIP Codes in Los Angeles start with the digits 900 and 901, and the suburbs 902 through 918. The original Area Code was 213, but it is now used only for Downtown, and 323 now overlays it. 310 and 818 are used for the Western suburbs, 562 for the Southern suburbs, and 661 and 747 for the Northern suburbs. Despite its extensive freeway network, Los Angeles does not have a "beltway." The Los Angeles Department of Power and Water (LADPW) runs the electricity and the water.
The population of the City of Los Angeles is about 47 percent Hispanic, 32 percent white, 11 percent Asian, and 10 percent black. For the County of Los Angeles, it's roughly the same: 47 percent Hispanic, 30 percent white, 14 percent Asian, 9 percent black.
A single ride on a bus or subway is $1.75. A bag of 10 tokens (yes, like Philly and Toronto, L.A. uses tokens, although they also use TAP farecards) is $17.50 (no savings). A 1-day pass is $7.00, and if you're going for more than 1 game, a 7-day pass might help, at $25.
Yes, since 1990, L.A., that most car-designed of American cities, has had a subway. They call it Metro Rail, and it has Red, Blue, Green, Gold, Purple and Expo lines. (Expo? It goes from Los Angeles all the way to Montreal? No.)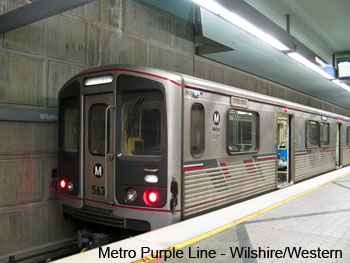 Going In.
The Staples Center is part of the L.A. Live complex, 2 miles south (well, southwest) of downtown, which also includes, among other buildings, the Los Angeles Convention Center, the Microsoft Theater, and a movie theater.
The arena, whose naming rights were bought by the office supply company, has a mailing address of 1111 S. Figueroa Street. (If that address sounds familiar, it's because the L.A. Coliseum is at 3911 S. Figueroa, about 2 1/2 miles south.) It is accessible by Pico Station on Metro Rail's Blue and Expo Lines.
Lakers setup
If you drive in, parking is $10 for most events. You're most likely to enter the arena via Figueroa Street, on the arena's east side. The court and rink are laid out east-to-west -- or, more precisely, southwest-to-northeast.
Clippers setup
The arena opened in 1999, and the Lakers, Clippers and Kings moved in immediately. The WNBA's Los Angeles Sparks did not do so until 2001. It is 1 of 11 arenas to currently host both an NBA team and an NHL team.
It's hosted 7 NBA Finals, 4 WNBA Finals, 2 Stanley Cup Finals, 2 NBA All-Star Games (each team acting as the host once), an NHL All-Star Game, the Pacific-10/12 Basketball Tournament, boxing, "professional wrestling," "ultimate fighting," figure skating, the Grammy Awards and the Latin Grammys on multiple occasions, Michael Jackson's memorial service in 2009 (he had been rehearsing there for his tour that his death canceled it), and the 2000 Democratic Convention, which nominated Al Gore for President and Joe Lieberman for Vice President.
On 3 occasions, Vitali Klitschko fought for the WBC edition of the Heavyweight Championship of the World at the Staples Center. On June 21, 2003, he was knocked out by Lennox Lewis. But after Lewis vacated the title by retiring (there hasn't been an undisputed Heavyweight Champion of the World since), Klitschko was awarded the title by knocking Corrie Sanders out there on April 24, 2004. On September 26, 2009, he won a decision over Chris Arreola.
Just as Yankees-Mets is called the Subway Series (even though a true Subway Series can only happen in a World Series), and Dodgers-Angels is called the Freeway Series, a Lakers-Clippers game is called the Hallway Series, since the Staples Center is the only building in NBA history where 2 teams have groundshared.
Food.
Los Angeles is an international city, and the concession stands at the Staples Center reflect this. But L.A. is also a city where individuality clashes with conformity, and this can be seen in the chain restaurants serving the place:
* California Pizza Kitchen, outside Section 109.
* Camacho's Cantina (Mexican), 117.
* Dave's Dog House (as if there really was such a thing as a "gourmet hot dog"), 102.
* Deli & Dash, 115.
* Goose Island (Chicago-style hot dogs by Hebrew National, and Fritos chips), 108.
* Ludo Bird (a French theme), 119.
* McDonald's (you know what they serve), 114.
* Outtakes (sandwiches), 104.
* Tap Haus (German-style beer & bratwurst), 113 and 118.
* Wetzel's Pretzels (including hot dogs with pretzel buns), 103.
Team History Displays.
O
nly the banners for the host team on a given night are shown on that night.
The Clippers have now won Pacific Division Championships in 2013 and 2014, the 1st 1st-place finishes in team history. But they've also announced that they won't hang banners for them, just as the Lakers don't hang banners for sub-league titles.
The Clippers -- the Buffalo Braves from 1970 to 1978, the San Diego Clippers from 1978 to 1984, and the Los Angeles Clippers since 1984 -- don't have any retired numbers, despite their franchise now playing its 48th season, being in its 40th season in Southern California, and its 34nd season in Los Angeles.
Only 2 Hall-of-Famers played more than a single season for them: Bob McAdoo, in Buffalo; and Bill Walton, who played for the team in his native San Diego and made the move to L.A. where he played for UCLA. But he was injured for most of his time with the Clippers.
The only people associated with the Clippers to make
the NBA's 50th Anniversary 50 Greatest Players in 1996 were Elgin Baylor, the Lakers star who later served as the Clippers'
head coach and longtime general manager; and Walton.
The Lakers' and Sparks' banners are covered up with large photos of Clipper players during Clipper games. This decision was made in 2013-14. The season before, the Celtics, coached by Doc Rivers, got slaughtered by the Clippers, and Celtic trainer Eddie Lacerte, who knows the effect the banners in Boston have, said that the Lakers' banners had a similar effect, even though the Lakers' players weren't even in the building. When Rivers became Clippers coach, he ordered the Laker and Spark banners covered by the pictures of Clipper players, to introduce a sense of pride, as if to say, "Hey, it's
our
building, too."
Outside the arena, at the Star Plaza, are statues of Kareem Abdul-Jabbar, Magic Johnson, Shaquille O'Neal, Chick Hearn, Wayne Gretzky, Luc Robitaille and Oscar De La Hoya, who boxed in L.A. many times and was a hero of the Mexican-American community. West 11th Street, on the north side of the arena, has been renamed Chick Hearn Court.
Stuff.
The Team LA Store at the Staples Center not only sells items connected with the 4 teams playing there, but also the baseball Angels and soccer's Galaxy. They also have outlets at Angel Stadium in Anaheim and the Gals' home, the StubHub Center in Carson.
Contrary to its image as a city whose "idea of culture is yogurt," there is a Los Angeles literary tradition. Much of it is in the "hard-boiled detective story," as pioneered by Raymond Chandler through his creation of the private eye Philip Marlowe. Writers influenced by the city include Nathanael West, Charles Bukowski, James Ellroy, Michael Connelly, Walter Mosley, Bret Easton Ellis and (he counts, especially with the "hard-boiled" part) Quentin Tarantino. And the
Los Angeles Times
has produced many fine sportswriters.
But as for books about the Staples Center's teams? The vast majority of them have been about the Lakers. In 2013, Josh Anderson published their installment in the NBA's
On the Hardwood
series. I could find no Clippers or Sparks videos.
During the Game.
A November 13, 2014 article on DailyRotoHelp
ranked the NBA teams' fan bases, and listed the Clippers 12th, citing how they've stuck with the team through the rare thick and the mostly thin.
This is not a Dodger-Giant game, or a USC-UCLA game, or a Ram-49er game, or a Raider-anybody game. The Lakers have rivalries with the Clippers, the Golden State Warriors, the Phoenix Suns, the San Antonio Spurs, and the Boston Celtics. The Clippers, really, only have a rivalry with the Lakers. But fans of the Staples Center's teams are not going to go out of their way to cause trouble for fans of the Knicks or Nets. Behave yourself, and they'll behave themselves.
Friday's game against the Knicks is not a promotion, but the Sunday game against the Nets is Girl Scout Night, with commemorative patches being given out. Both L.A. NBA teams hold auditions for National Anthem singers. Both teams use a fight song titled "Roll With It," bearing no resemblance to the 1988 chart-topper of that title by Steve Winwood.
The Clippers' mascot is Chuck the Condor. I don't know why their mascot is a condor, or why he's named Chuck, or why he wears a crash helmet. (Birds are supposed to be able to fly, and then land safely.) I do know why he wears uniform Number 213: It's for L.A.'s Area Code.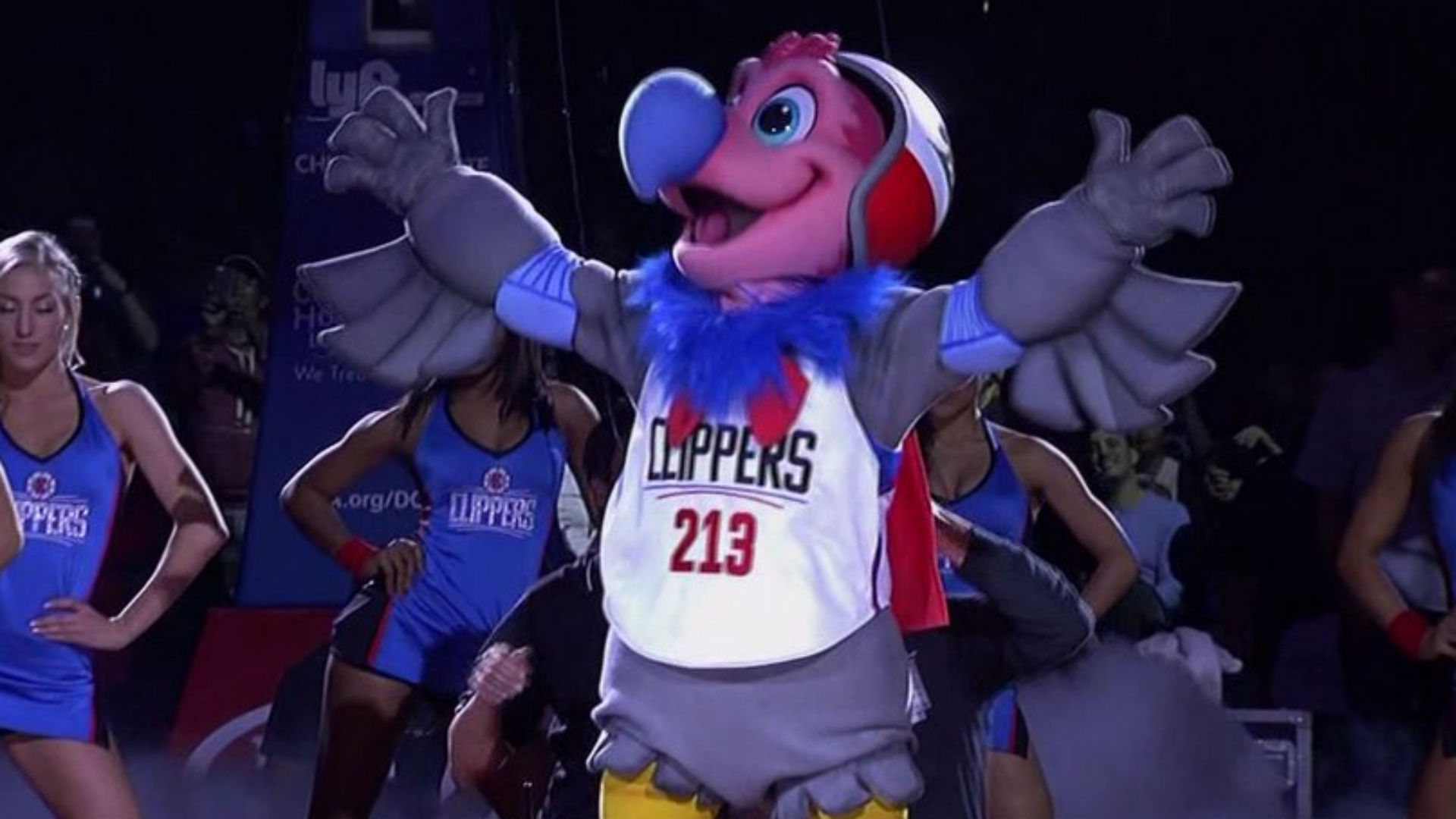 Jack Nicholson, sitting courtside with his familiar shades on, is the Lakers' most famous fan, although lots of celebrities sit nearby. Billy Crystal, being short and silly, is a Clippers fan. So is Arsenio Hall. So is singer Fergie, who sang the National Anthem last week when the Clippers served as the host team for the NBA All-Star Game. (Yeah, I know: Pink sang the Anthem at the Super Bowl, and had the flu, and was terrific; Fergie was fine, and she blew it. And not because of talent, either.)
According to
a recent New York Times article
, there is not one place where the Clippers are more popular than the Lakers. Not in the City of Los Angeles, not in the County of Los Angeles, not in Orange County, not even in the Clippers' former home of San Diego (City or County). In fact, there are places in Southern California where the Chicago Bulls, as a holdover from the 1990s, have almost as many fans as the Clippers -- but not, despite all LeBron James achieved, the Miami Heat.
After the Game.
Los Angeles has had crime problems throughout its history. However, if you stick to downtown, you should be all right. Again, because New York and New Jersey don't factor into L.A. rivalries these days, no one is likely to rough you up, as long as you don't antagonize anyone.
The L.A. Live complex includes sports bar The Yard House,seafood restaurant Rock 'n Fish, Rosa Mexicano, and Wolfgang Puck's Bar & Grill. 800 W. Olympic Blvd. Between this buildng and the arena is gastropub Tom's Urban, at 1011 S. Figueroa Street.
Mexican restaurant El Cholo is a block away at 1037 S. Flower Street.
If you like steak, and you have a jillion dollars in your bank account,
The Palm Restaurant is at 1100 S. Flower Street. If you like
Starbucks, and you have $15 in your pocket, there's one 3 blocks away at 600 W. 9th Street.
A recent
Thrillist
article on the best sports bars in America named Big Wang's as the best in L.A. It's a chain, with a big picture of a rooster, showing you that "Wangs" is an accented "Wings," but also suggesting that "wang" cold mean "cock," as in, "This is where a man goes to relax, and a woman shouldn't." 801 S. Grand Avenue, about 6 blocks from the Staples Center.
Santa Monica is home to both the local havens for the Yankees and the football Giants. Yankee Fans gather at Rick's Tavern On Main, at 2907 Main Street. West 4th & Jane is owned by a New Yorker and is an L.A.-area haven for Met fans. 1432 4th Street, Santa Monica. Bus R10.
New York Giant fans meet at
O'Brien's Irish Pub, at 2226 Wilshire Blvd. Both are about 17 miles west of downtown L.A. Bus 733 goes directly there from City Hall.
The local Jets fan club meets at On the Thirty, at 14622 Ventura Blvd. in Sherman Oaks, 13 miles northwest. Metro Red Line to Universal/Studio City station, then transfer to Bus 750.
If your visit to Los Angeles is during the European soccer season (which we are now in), the best soccer bar in the L.A. area is
The Fox & Hounds (that's plural), 11100 Ventura Blvd., Studio City. Metro Red Line to Universal/Studio City, then Bus 150 or 240 to Ventura & Arch.
Sidelights.
The Los Angeles metropolitan area, in spite of not having Major League Baseball until 1958, has a very rich sports history. And while L.A. is still a car-first city, it does have a bus system and even has a subway now, so you can get around.
You'll need it if you want to visit L.A. during the 2028 Olympics, which it has now been awarded.
* Dodger Stadium. Home to the Dodgers since 1962, it has hosted 9 Pennant winners (but last season's was the 1st since 1988), and 4 World Series wins: 1963, 1965, 1981 and 1988.
Public transportation in L.A. is a lot better than it used to be, with the addition of the Metro -- and now, t
he Dodger Stadium Express bus. It will pick up fans at the Patsaouras Bus Plaza adjacent to the east portal of Union Station and continue to Dodger Stadium via Sunset Blvd. and Cesar Chavez Avenue. Service will be provided starting 90 minutes prior to the beginning of the games, and will end 45 minutes after the end of the game. Service will be provided every 10 minutes prior to the start of the game and run approximately every 30 minutes throughout the game. Dodger tickets will be honored as fare payment to ride the service. Those without a ticket will pay regular one-way fare of $1.50.
Because of its proximity to Hollywood, Dodger Stadium can be seen in lots of movies, including
Superman Returns
, where the Big Red S safely deposits a distressed airliner on the field. But while it filled in for Anaheim Stadium in
The Naked Gun
(Reggie... must kill... the Queen),
Rookie of the Year
had a scene set at Dodger Stadium, but because they were filming all in Chicago, they used the White Sox' Guaranteed Rate Field as a stand-in for Dodger Stadium.
It hosted an NHL Stadium Series game in 2014, a local rivalry game, with the Anaheim Ducks beating the Los Angeles Kings 3-0. The Beatles played their next-to-last concert here on August 28, 1966. Other concerts include Elton John during the 1975 World Series and again in 1992, the Bee Gees in 1979, the Jacksons' Victory Tour in 1984, U2 in 1992, the Three Tenors in 1994, the Rolling Stones in 1994, Bruce Springsteen in 2003, and
Beyoncé
in 2016.
1000 Vin Scully Avenue (formerly Elysian Park Avenue), Los Angeles. Too far to walk from the nearest subway stop, and while there is a Dodger Stadium Express bus, it only operates on Dodger home game days.
* Site of Wrigley Field. Yes, you read that right: The Pacific Coast League's Los Angeles Angels played at a stadium named Wrigley Field from 1925 to 1957, and the AL's version played their first season here, 1961.
The PCL Angels were a farm team of the Chicago Cubs, and when chewing-gum magnate William Wrigley Jr. bought them both, he built the Angels' park to look like what was then known as Cubs Park, and then named this one, and then the Chicago one, Wrigley Field. So this ballpark was Wrigley Field first. The Angels won 12 PCL Pennants, the last 5 at Wrigley: 1903, 1905, 1907, 1908, 1916, 1918, 1921, 1926, 1933, 1934, 1947 and 1956. Their rivals, the Hollywood Stars, shared it from 1926 to 1935. It hosted a U.S. soccer loss to England in 1959 and a draw vs. Mexico the next year.
Its capacity of 22,000 was too small for the Dodgers, and the AL Angels moved out after one season.
Torn down in 1966, it lives on in ESPN Classic rebroadcasts of
Home Run Derby
, filmed there (because it was close to Hollywood) prior to the 1960 season.
Mickey Mantle was a fixture, but the only other guy thought of as a Yankee to participate was Bob Cerv (then with the Kansas City A's). Yogi Berra wasn't invited, nor was Moose Skowron, nor Roger Maris, who had just been acquired. And while Willie Mays, Duke Snider and Gil Hodges were on it, and all did briefly play for the Mets, the Mets hadn't gotten started yet, so no one on the show will be wearing a Met uniform.
This Wrigley Field hosted 2 fights for the Heavyweight Championship of the World, both won by the defending Champions: Joe Louis knocking Jack Roper out in the 1st round on April 17, 1939; and Floyd Patterson defeating Roy Harris by decision on August 18, 1958.
42nd Place, Avalon Blvd., 41st & San Pedro Streets. Metro Red Line to 7th Street/Metro Center station, transfer to Number 70 bus. Be careful: This is South Central, so if you're overly nervous, you may want to skip this one.
* Gilmore Field. Home to the Hollywood Stars, this 13,000-seat park didn't last long, from 1939 to 1957. The Stars won 5 Pennants, the last 3 at Gilmore: 1929, 1930, 1949, 1952 and 1953. A football field, Gilmore Stadium, was adjacent, and was home to the Los Angeles Bulldogs of the 1936-37 version of the American Football League. CBS Television City was built on the site. 7700 Beverly Blvd. at The Grove Drive. Metro Red Line to Vermont/Beverly station, then either the 14 or 37 bus.
* Los Angeles Memorial Coliseum. Probably the most famous building in the State of California, unless you count the HOLLYWOOD sign and San Francisco's Golden Gate Bridge as "buildings." The University of Southern California has played football here since 1923. The University of California at Los Angeles played here from 1928 to 1981, when they inexplicably moved out of the Coliseum, and the city that forms their name, into a stadium that could arguably be called USC's other home field.
The Coliseum was the centerpiece of the 1932 and 1984 Olympic Games. It was home to the All-America Football Conference's Los Angeles Dons from 1946 to 1949, the NFL's Rams from 1946 to 1979 and the Raiders from 1982 to 1994, and to a number of teams in other leagues, including the AFL's Chargers in 1960 before they moved down the coast to San Diego. The Rams moved back in 2016, and will remain there through 2019, before moving into their new stadium.
The Dodgers played here from 1958 to 1961, including winning the 1959 World Series, while waiting for Dodger Stadium to be ready. But the shape of the field led to a 251-foot left-field fence, the shortest in the modern history of baseball.
They got the biggest crowd ever for an official baseball game, 92,706, for Game 5 of the 1959 World Series; 93,103 for Roy Campanella's testimonial, an exhibition game against the Yankees on May 7, 1959; and the largest crowd for
any
baseball game, 115,300, for a preseason exhibition with the Red Sox on March 29, 2008, to celebrate their 50th Anniversary in L.A.
A crowd of 102,368 on November 10, 1957, for a rivalry game between the Rams and the San Francisco 49ers, stood as a regular-season NFL record until 2005 (when a game was played at the larger Estadio Azteca in Mexico City). Ironically, the first Super Bowl, held here on January 15, 1967 (Green Bay 35, Kansas City 17) was only 2/3rds sold. Super Bowl VII (Miami over Washington)
was
sold out. Officially, the Coliseum now seats 93,607.
Because of its closeness to Hollywood, many movies with a football theme have filmed at the Coliseum. It also stood in for Baltimore's Memorial Stadium when Billy Crystal made
61*
, about the 1961 Yankees.
It has hosted 20 matches of the U.S. soccer team -- only Robert F. Kennedy Stadium in Washington has hosted more. The U.S. has won 9 of those games, lost 7 and drawn 4. The North American Soccer League's Los Angeles Aztecs played their 1977 and 1981 seasons there.
* Banc of California Stadium and site of Los Angeles Memorial Sports Arena. Next-door to the Coliseum, the Sports Arena opened in 1959, and hosted the Democratic Convention the next year, although John F. Kennedy gave his acceptance speech at a packed Coliseum, debuting his theme of a "New Frontier."
The Sports Arena, shown with its proximity to the Coliseum
The NBA's Lakers played there from 1960 to 1967, the NHL's Kings their first few home games in 1967 before the Forum was ready, the NBA's Clippers from 1984 to 1999, the American Basketball Association' Los Angeles Stars from 1968 to 1970, the World Hockey Association's Los Angeles Sharks from 1972 to 1974, the 1968 and 1972 NCAA Final Fours (both won by UCLA, over North Carolina and Florida State, respectively, even though it was then USC's home court), USC basketball from 1959 to 2006, and UCLA basketball a few times before Pauley Pavilion opened in 1965, and again in 2011-12 due to Pauley's renovation.
Due to its closeness to the Hollywood studios, the Sports Arena was often used for movies that need an arena to simulate a basketball or hockey game, a fight (including the
Rocky
films), a concert, or a political convention. Lots of real rock concerts were held here, and Bruce Springsteen, on its stage, called the building "the joint that don't disappoint" and "the dump that jumps."
It jumps no longer: It has been torn down to make way for Banc of California Stadium, a 22,000-seat soccer-specific stadium for MLS expansion team Los Angeles Football Club, set to open on April 29.
3900 Block of S. Figueroa Street, just off the USC campus in Exposition Park. The California Science Center (including the space shuttle
Endeavour
), the Natural History Museum of Los Angeles County, and the California African American Museum are also there, and the Shrine Auditorium, former site of the Academy Awards, is but a few steps away. Metro Rail Expo Line to Expo Park/USC. Although this is on the edge of South Central, you will probably be safe.
* Galen Center. In 2006, USC basketball finally had a home it owned, and at which it had first choice of scheduling -- ironic, considering their having first choice at the Coliseum infuriated the Rosenblooms of the Rams, the Hiltons of the Chargers, and Al Davis of the Raiders, and made the Spanoses of the Chargers decide not to use it until the Inglewood stadium opens.
Seating 10,258, it is named for Louis and Helen Galen, bankers and longtime USC fans who donated $50 million, which turned out to be 1/3rd of the building's cost. The Jim Sterkel Court is named for a USC basketball player who died of cancer. On May 10, 2014, the vacant WBC Heavyweight Championship was awarded there when Bermane Stiverne knocked Chris Arreola out there.
3400 S. Figueroa Street, 5 blocks north of the Coliseum, and to the east of USC's main campus.
* Rose Bowl. Actually older than the Coliseum by a few months, it opened in 1922 and, except for 1942 (moved to Durham, North Carolina for fear of Japanese attack right after Pearl Harbor), it has hosted the Rose Bowl game every New Year's Day (or thereabouts) since 1923. As such, it has often felt like a home away from home for USC, Michigan and Ohio State. UCLA has used it as its home field since the 1982 season.
At the Rose Bowl stadium, the Rose Bowl game has hosted 20th Century de facto, and 21st Century actual, games for college football's National Championship in the seasons of 1954-55, Ohio State over USC; 1962-63, USC over Wisconsin; 1967-68, USC over Indiana; 1968-69, Ohio State over USC; 1972-73, USC over Ohio State; 1991-92, Washington over Michigan; 1997-98, Michigan over Washington State; 2001-02, Miami over Nebraska; 2003-04, USC over Michigan; 2005-06, the thriller won by Texas over USC; 2009-10, Alabama over Texas; and 2013-14, Florida State over Auburn.
It hosted 5 Super Bowls: XI, Oakland over Minnesota; XIV, Pittsburgh over the Rams (despite almost a home-field advantage for the Rams); XVII, Washington over Miami; XXI, the Giants over Denver; and XXVII, Dallas over Buffalo. Super Bowl XIV remains
the all-time biggest attendance for an NFL postseason game, 103,985.
The Rose Bowl hosted the 1983 Army-Navy Game, with Hollywood legend Vincent Price serving as the referee. The transportation of the entire Corps of Cadets, and the entire Brigade of Midshipmen, was said to be the largest U.S. military airlift since World War II.
It's hosted 18 games of the U.S. soccer team, and several games of the 1994 World Cup, including a Semifinal and the Final. It also hosted several games of the 1999 Women's World Cup, including the Final, a.k.a. the Brandi Chastain Game. The Aztecs played their 1978, 1979 and 1980 seasons there, and the Los Angeles Galaxy played there from their 1996 inception until 2002. It also hosted the 1998 MLS Cup Final.
UPDATE: It has been selected by the U.S. Soccer Federation as a finalist to be one of the host venues for the 2026 World Cup.
Rose Bowl Drive & Rosemont Avenue. Bus 485 from Union Station to Pasadena, switch to Number 268 bus.
Before there was the Rose Bowl stadium, the Rose Bowl game was played at Tournament Park in Pasadena, from 1902 to 1922. 644 Wilson Avenue in Pasadena. Also use Bus 485.
* Edwin W. Pauley Pavilion. Following their 1964 National Championship (they would win it again in 1965), UCLA basketball coach John Wooden wanted a suitable arena for his ever-growing program. He got it in time for the 1965-66 season, and it has hosted 9 more National Championships, making for 11 banners. Wooden coached 10: 1964, 1965, 1967, 1968, 1969, 1970, 1971, 1972, 1973 and 1975. Jim Harrick added the 11th in 1995.
The building was named for an oil magnate who was also a Regent of the University of California system, whose donation to its building went a long way toward making it possible. Edwin Pauley was a friend of, and appointee to several offices by, Presidents Franklin Roosevelt and Harry Truman, but the student protests of the 1960s led him to switch sides and support Ronald Reagan for Governor.
Pauley Pavilion was the site of the 2nd debate of the 1988 Presidential campaign, where CNN anchor Bernard Shaw asked the question that shattered the campaign of Governor Michael Dukakis – not that the Duke helped himself with his answer. Oddly, Dukakis chose to hold held his Election Eve rally there, despite being a Bostonian. (In contrast, Boston's JFK held his Convention in the Coliseum complex but his Election Eve rally at the Boston Garden.)
Metro Purple Line to Wilshire/Normandie station, switch to Bus 720, then walk up Westwood Plaza to Strathmore Place. "Westwood" is the name of the neighborhood that UCLA is in; Wooden was known as "the Wizard of Westwood."
A few steps away is Drake Stadium, the track & field facility that was home to 1960 Olympic Decathlon champion Rafer Johnson and another UCLA track star you might've heard of, named Jackie Robinson. On the way up Westwood Plaza, you'll pass UCLA Medical Center, now named for someone who died there, Ronald Reagan. (Wooden, Michael Jackson and John Wayne also died there.) The UCLA campus also has a Dykstra Hall, but I'm 99 percent sure it wasn't named after Lenny Dykstra.
* The Forum. Home of the Lakers and the Kings from 1967 to 1999, built by their then-owner, Jack Kent Cooke, who went on to sell them and buy the NFL's Washington Redskins. Known from 1988 to 2003 as the Great Western Forum, after a bank. The Lakers appeared in 14 NBA Finals here, winning 6, with the Knicks clinching their last title over the Lakers here in 1973. The Kings appeared in just 1 Stanley Cup Finals here, in 1993, losing it to the Montreal Canadiens.
The Forum is now owned by the Madison Square Garden Corporation, thus run by James Dolan, which means it's being mismanaged. Elvis Presley sang here on November 14, 1970 and May 11, 1974. The Forum is not currently being used by any professional team, but was recently the stand-in for the Sunshine Center, the arena in the ABC sitcom
Mr. Sunshine
. 3900 W. Manchester Blvd. Hollywood Park Racetrack is on an adjacent site. Metro Silver Line to Harbor Transitway station, switch to Number 115 bus. (Be careful, this transfer is in South Central.)
* City of Champions Stadium. Scheduled to open in 2020, this project (which will almost certainly have a corporate name within months of its opening) is being built on the site of Hollywood Park Racetrack (1938-2013), near the Forum.
Set to seat 70,240, it will have a retractable roof, and be expandable to 100,000 for Super Bowls and NCAA Final Fours. It is scheduled to open for the Rams and the Chargers in time for the 2020 NFL season.
It has been awarded Super Bowl LVI, which will be played on February 6, 2022; and the College Football National Championship Game for the 2022-23 season.
If the U.S. ever gets to host another World Cup (the next available one is 2026), it would likely be a site, possibly even for the Final (as the Rose Bowl was in 1994), although, as a New York/New Jersey guy, I would hope it would be at the Meadowlands.
3883 W. Century Blvd. in Inglewood. Same conveyances as for the Forum.
Hollywood Park Racetrack stood at the site from 1938 to 2013. Citation, the 1948 Triple Crown winner, won his last race there in 1951, becoming the 1st horse to win over $1 million. It hosted the Breeders' Cup in 1984, 1987 and 1997.
The Chargers have also moved to L.A., and are playing at the StubHub Center in Carson as a stopgap. However, construction delays have set the City of Champions Stadium back to the 2020 NFL season. Since the NFL has a rule that any Super Bowl venue has to have 2 full seasons under its belt, to make sure all the kinks have been worked out, Super Bowl LV was moved to Tampa, and the new L.A. stadium has been conditionally given Super Bowl LVI, to be played on February 6, 2022.
Before the Rams, the Los Angeles Buccaneers were admitted to the NFL in 1926, but were a "traveling team," and never played a game in Los Angeles. They were made up of players from California colleges, but were based in Chicago. The Los Angeles Wildcats of the 1st American Football League were the same deal, a traveling team made up of West Coast athletes, naming them for George "Wildcat" Wilson of the University of Washington. Both teams folded the next year.
That same year, Abe Saperstein would found a basketball team in Chicago, but, like the Bucs and the Cats, make them a traveling team, and name them for a place that wasn't their real home: Since they were all-black, he named them the Harlem Globetrotters.
* Angel Stadium of Anaheim. Home of the Angels since 1966, and of the Rams from 1980 until 1994, it was designed to look like a modernized version of the old Yankee Stadium, before that stadium's 1973-76 renovation.
The football bleachers, erected in 1979, were demolished in 1997 and replaced with a SoCal-esque scene that gives the place some character. Unfortunately, the old "Big A" scoreboard that stood in left field from 1966 to 1979 was moved out to the parking lot, and now stands as a message board.
It was known as Anaheim Stadium from 1966 to 1997, and Edison International Field of Anaheim from 1998 to 2003.
2000 E. Gene Autry Way at State College Boulevard. Metrolink's Orange County Line and Amtrak share a train station just to the north of the stadium.
* Honda Center. Previously known as the Arrowhead Pond of Anaheim, it is across the railroad, the Orange Freeway and Katella Avenue from Angel Stadium. It has been home from the beginning of the franchise in 1993 to the NHL's Anaheim Ducks – known from 1993 until 2006 as the Mighty Ducks of Anaheim, and I still tend to call them the Mighty Dorks and the Mighty Schmucks. The NCAA held its hockey Final Four, the Frozen Four, there in 1999. 2695 E. Katella Avenue. Anaheim Metrolink stop.
* Anaheim Convention Center. With the Angels having opened house in Orange County in 1966, prospective owners of teams in other sports began to consider the area. This complex opened in 1967, and includes a 7,500-seat arena.
That year, it became the home of a charter team in the American Basketball Association, the Anaheim Amigos, who couldn't even come close to filling the small capacity, averaging just 1,293 fans per home game. I've been to many a high school basketball game with more attendees than that. So the team moved up the freeway to the L.A. Sports Arena, and became the Los Angeles Stars. They were no more successful there, and moved to Salt Lake City, where, as the Utah Stars, they won the 1971 ABA title.
The ACC was home to the Anaheim Oranges of World Team Tennis in 1978, the California Surf of the indoor version of the old North American Soccer League in 1979-80, the wrestling matches of the 1984 Olympics, and the Big West Conference basketball tournaments (men's and women's) from 2001 to 2010. But if you don't count the ABA, then it's hosted exactly 1 major league sporting event ever, and then only as an emergency: On May 3, 1992, with the South Central riots still raging mere blocks from the Sports Arena, the Clippers moved Game 4 of their Playoff series with the Utah Jazz to the ACC, and won 115-107.
The Los Angeles Kings have never played at the Anaheim Convention Center. Nor have the Sacramento Kings. But the King of Rock and Roll, Elvis Presley, sang here on April 23 and 24, 1973 and November 30, 1976.
The ACC is now the largest exhibit facility on the West Coast. 800 W. Katella Avenue, across the street from Disneyland, about 2 miles west of Angel Stadium, and about 2 1/2 miles west of the Honda Center. Bus 50 goes down Katella between the venues.
* Titan Stadium. On the campus of California State University, Fullerton, this 10,000-seat facility is better known for soccer, having been used for NCAA Tournament games, U.S. Open Cup matches by the Los Angeles Galaxy, and 8 games by the U.S. national team -- which is undefeated there, winning 4 and drawing 4. 800 N. State College Blvd. Metrolink Blue Line from L.A. to Buena Park, then Number 24 bus. Or Number 57 bus from Angel Stadium.
* StubHub Center. Formerly the Home Depot Center, this 30,500-seat stadium has been home to MLS' Los Angeles Galaxy since it opened in 2003, and Chivas USA from its formation in 2004 until it went out of business in 2014. In 2017, it became the home field of the Los Angeles Chargers, and will remain so until the City of Champions Stadium opens.
Aside from the regular-season title of the Western Conference in 2007, Chivas USA, a subsidiary of the legendary Guadalajara, Mexico-based Chivas, won nothing. But the Gals -- yes, they get that feminized nickname -- have won more MLS Cups than any other team, 5: 2002, 2005, 2011, 2012 and 2014, all but the 1st while playing here. They also won the CONCACAF Champions League, in 2000, and the U.S. Open Cup in 2001 and 2005.
It's hosted the MLS Cup Final in 2003, 2004, 2008, 2011, 2012 and 2014. It's hosted 12 games by the national team, most recently a win over Canada on February 5, 2016, winning 8, losing 2 and drawing 2. It hosted 6 games of the 2003 Women's World Cup, including the Final, in which Germany beat Sweden.
18400 Avalon Blvd. in Carson, adjacent to Cal State-Dominguez Hills.
Public transport is difficult. You'd have to take 2 buses: First, the 910 or 950 Silver Line from downtown to the Harbor Gateway Transit Center, then the 246 San Pedro-Point Fermin line. That will get you to the corner of Avalon Blvd. and Victoria Street, the northwestern corner of the stadium's property.
* Veterans Memorial Stadium. This 11,600-seat stadium, opening in 1948, was the home field for the football program at California State University at Long Beach, a.k.a. Cal State-Long Beach, CSU-Long Beach or Long Beach State, from 1955 until the program was folded in 1991.
On April 28, 1957, it was the site of the 1st game for the U.S. soccer team against Mexico on home soil. Of the 10 previous meetings, starting at the 1934 World Cup, 1 (the 1st ) was in Italy, 1 was in a tournament in Cuba, and the rest were in Mexico City. It was a qualifier for the 1958 World Cup, and it didn't go so well: About 12,500 fans attended, most of them Mexicans coming over the border or Mexican-Americans choosing heritage over homeland, and Mexico won 7-2. Aside from that 1st match in 1934, the U.S. would not beat Mexico until 1980.
Like the old Veterans Stadium in Philadelphia, it is locally known as simply "The Vet." 5000 E. Lew Davis St
reet, about 19 miles southeast of downtown Los Angeles. Not easy to get to by public transportation: Bus 910 or 950 to Harbor/Century Transitway Station, then Metro Green Line to Lakewood Blvd., then Bus 266 to Lakewood & Michelson, then Bus 112 to Clark & Lew Davis.
* Gersten Pavilion. This 4,156-seat arena opened in 1981 as the home court for Loyola Marymount University, best known for their 1990 postseason run that included the death of Hank Gathers. For this reason, it is known as Hank's House. 1 LMU Drive. Bus 733 to Venice & Lincoln, then Bus 3 to Manchester & Loyola.
* Site of Naud Junction Pavilion. Naud Junction was the site of a warehouse built by Edouard Naud, including a signal tower at Alameda and Ord Streets. It lasted until 1940, when Union Station was built.
From 1905 to 1913, the site also included the Naud Junction Pavilion, also known as the Pacific Athletic Club. At this building, 4 fights for the Heavyweight Championship of the World were held, all successful defenses for Champion Tommy Burns: Against Marvin Hart, from whom he'd won the title the year before, on February 23, 1906; against Fireman Jim Flynn on October 2, 1906; against Light Heavyweight Champion Philadelphia Jack O'Brien on November 28, 1906; and against O'Brien again on May 8, 1907.
* Santa Anita Park. Opening on Christmas Day 1934, the West Coast's premier thoroughbred horse racing track annually hosts the Santa Anita Derby, one of the warmup races for the Triple Crown. It has also hosted the Breeders' Cup more times than any other track. How many times, Ed Rooney? "Nine times!": 1986, 1993, 2003, 2008, 2009, 2012, 2013, 2014 and 2016.
It's yet another location which, due to its proximity to Hollywood, has frequently served as a filming location for its usual subject: The Marx Brothers'
A Day at the Races
and the original version of
A Star Is Born
in 1937, and
The Story of Seabiscuit
in 1949. Seabiscuit had famously won his last race there, the 1940 Santa Anita Handicap. The ill-fated 2012 TV series
Luck
was also filmed there.
It also includes statues of several horses, including Seabiscuit, John Henry and Zenyatta; and jockeys such as Johnny Longden, Bill Shoemaker and Laffit Pincay Jr. 285 Huntington Drive in Arcadia, about 13 miles northeast of downtown Los Angeles. Metro Gold to Arcadia.
* Hollywood Bowl. This 17,376-seat outdoor amphitheater in the Hollywood Hills, with the HOLLYWOOD sign in the background, is one of the best-known concert venues in the world. Opening in 1922, it should be familiar to anyone who's seen the original 1937 version of
A Star Is Born
,
Double Indemnity, Xanadu
, and
Monty Python Live at the Hollywood Bowl
.
The Beatles played here on August 23, 1964, and again on August 29 & 30, 1965. 2301 N. Highland Avenue. Metro Red Line to Hollywood/Highland Station, then walk almost a mile up Highland.
Since Los Angeles is home to Hollywood, and has been where countless TV shows and movies have been filmed, and too many to list have been set, I won't make this long post any longer than it has to be by listing them.
* Academy Award ceremony sites. The Oscars have been held at:
** 1929, Hollywood Roosevelt Hotel (7000 Hollywood Blvd.).
** 1930-43, alternated between the Ambassador Hotel, 3400 Wilshire Blvd.; and the Biltmore Hotel, 506 S. Grand Avenue, downtown.
** 1944-46, Grauman's Chinese Theater (more about that in a moment).
** 1947-48, Shrine Auditorium, 665. W. Jefferson Blvd., Los Angeles (Metro Silver Line to Figueroa/Washington, transfer to Number 81 bus). Elvis sang here on June 8, 1956.
** 1949-60, Pantages Theatre, 6233 Hollywood Blvd., Los Angeles.
** 1961-68, Santa Monica Civic Auditorium, which also hosted the legendary televised rock concert
The T.A.M.I. Show
in 1964, 1855 Main Street, Santa Monica (Number 10 bus from Union Station).
** 1969-87, Dorothy Chandler Pavilion, 135 N. Grand Avenue, downtown;
** 1988-2001, Shrine Auditorium again.
** 2002-present, Kodak Theater (which also hosts
American Idol
), 6801 Hollywood Blvd (Metro Red Line to Hollywood/Highland).
All of these buildings still stand, except the Ambassador, which was demolished in 2005. The site of a legendary nightclub, the Cocoanut Grove, and filming site of a lot of movies, the last movie filmed there was
Bobby
, in honor of the building's real-life most tragic event, the assassination of Robert F. Kennedy on June 5, 1968. (Directed by Emilio Estevez, one of its stars was his father Martin Sheen, who may be the only actor ever to play both Jack and Bobby Kennedy, although, already 65 years old, he didn't play Bobby in this film.)
In addition to the above, Elvis sang at the Long Beach Municipal Auditorium on June 7, 1956; November 14 and 15, 1972; and April 25, 1976 (300 E. Ocean Blvd.); the Pan Pacific Auditorium on October 28 & 29, 1957 (7600 Beverly Blvd near CBS and the Gilmore stadiums, 1935-89); and the Swing Auditorium in San Bernardino on November 12 & 13, 1972, and May 10 & 13, 1974 (1949-81, demolished, 689 S. E Street, 58 miles east of downtown L.A.).
Oh yeah: He also sang at NBC's Burbank Studios, a complex which also includes, among other things, the studio where Johnny Carson from 1972 to 1992, and Jay Leno from then until 2014, hosted
The Tonight Show
. Elvis taped his "Comeback Special" there on June 24 and 25, 1968. 3000 W. Alameda Avenue. Metro Red Line to North Hollywood, then Bus 501 to Alameda & Olive.
The Los Angeles area is home to a few interesting museums, in addition to those mentioned at Exposition Park. The Getty Center is an art museum at 1200 Getty Center Drive, off I-405. The Autry National Center, 4700 Western Heritage Way, was founded by the Singing Cowboy and Angels founder-owner to celebrate and study the Western U.S. and Native Americans. (Metro Red Line, Hollywood/Western.) Also at Griffith Park, the Griffith Observatory, at 2800 E. Observatory Avenue, should be familiar from lots of movies (including
Rebel Without a Cause
) and TV shows.
The Hollywood section of town (not a separate city) has a few interesting sites, and the studio tours may be worth it, but do yourself a favor and skip the tours of stars' homes. You're probably not going to see any of the celebrities. You've got a better chance of seeing one back home on the streets of New York.
And you don't need to see the 44-foot-high HOLLYWOOD sign, which was erected in 1923 to read HOLLYWOODLAND and reduced to its current version in 1949. You might remember the shot of it in the ESPN film
The Bronx Is Burning
, when the Yankees went out to L.A. to play the Dodgers in the 1977 World Series, their shot of the sign was accurate: In 1977, it was falling apart, a genuine ruin. A year later, it was restored, but it's still no big deal up close. It was meant to be seen from afar. Besides, there's no public transportation to the site, anyway.
Grauman's Chinese Theater, with its cemented signatures and footprints of stars, is the centerpiece of the Hollywood Walk of Fame at the legendary intersection of Hollywood Blvd. & Vine Street (6931 Hollywood Blvd., also at the Hollywood/Highland Metro stop).
Grauman's Chinese Theater
* MacArthur Park. Yes, there is a real park with this name, that inspired that very long song with seemingly drug-inspired lyrics, on which no one is neutral: You either love it (as I do), or you absolutely hate it.
Songwriter Jimmy Webb used to take his girlfriend Susan Horton there for picnics -- hence the cake that was left out in the rain with its sweet green icing flowing down. She ended up leaving him and marrying someone else, inspiring him to write the song, recorded and turned into a huge hit by Richard Harris in 1968, and again 10 years later by Donna Summer. (Harris said the name 3 times in his recording, but always getting it wrong, calling it "MacArthur's Park." There's no apostrophe-S on the end. Summer also added the apostrophe-S.)
Their relationship also inspired Webb to write "By the Time I Get to Phoenix" and "Where's the Playground Susie" by Glen Campbell, and "The Worst That Could Happen" by Johnny Maestro's later group, the Brooklyn Bridge.
The worst that could happen in MacArthur Park now, you don't want to know: Since the 1980s the park has been a magnet for gang violence, as recently as 2007 being the site of an incident known as the May Day Melee. So if you like the song, go ahead, visit it in daylight, but not at night.
It's bounded by 6th, Park View, 7th and Alvarado Streets, with Wilshire Blvd. cutting through it, and it has its own Metro Rail station, Westlake/MacArthur Park on the Purple Line.
John Wooden and Gene Autry, the "Singing Cowboy" who was the founding owner of the team now known as the Los Angeles Angels of Anaheim, are both buried at Forest Lawn Hollywood Hills Cemetery. 6300 Forest Lawn Drive, 11 miles northwest of downtown. Not easily reachable by public transportation.
Among the sports-themed movies set and/or filmed in or around Los Angeles is the 1976 kids' baseball film The Bad News Bears, whose home field was Mason Park, 10500 Mason Avenue in Chatsworth, 29 miles northwest of downtown (Bus 92 to 1st & Olive, then Bus 164 to Victory & Woodman, then Bus 158 to Mason & Devonshire); and the basketball hustlers' film White Men Can't Jump, filmed at the courts at the Boardwalk in Venice Beach (Bus 733).
If you're interested in American history, especially recent history, Southern California is home to 2 Presidential Libraries. Richard Nixon's is not far from Anaheim, built adjacent to the house where he was born in 1913 at 18001 Yorba Linda Blvd. in Yorba Linda, Orange County. Metrolink Orange County Line from Union Station to Fullerton, then Number 26 bus to Yorba Linda.
Nixon's "Western White House" at San Clemente can be reached by I-5 or by Amtrak's
Pacific Surfliner
to San Juan Capistrano (the former Spanish mission where, as the song goes, the swallows return on the first day of spring), and then transferring to the Number 191 bus. However, the house, which Nixon called La Casa Pacifica, is privately owned (not by the Nixon family), and is not open to the public. So unless you're a major Tricky Dick fan, I'd suggest skipping it, as you'd only be able to stand outside it.
Ronald Reagan's Library is at 40 Presidential Drive in Simi Valley in Ventura County, about 45 miles west of downtown L.A. (Reagan was born in Tampico, Illinois, about 130 miles west of Chicago.) Unfortunately, the Reagan Library is next to impossible to reach without a car. Reagan's Western White House, Rancho del Cielo outside Santa Barbara, is owned by a private foundation that can be contacted for tours.
The Reagans lived together at 668 St. Cloud Road, in the Bel Air section of L.A., until Ron's death in 2004. Nancy continued to live there until her death earlier this year. 668 St. Cloud Road, in Bel Air. Metro Red Line to Vermont & Sunset, then Bus 2 to Sunset & Bel Air, and then nearly a half-hour walk. It's been remarked that the ranch was
his
home, whereas anyplace they lived in "Hollywood" was
her
home.
The tallest building in Los Angeles, and the tallest building west of the Mississippi River, is the newly-completed Wilshere Grand Center, at 1,100 feet, at 900 Wilshere Blvd. at Figueroa. It surpassed the 1,018-foot Library Tower, a.k.a. the U.S. Bank Tower.
However, the two most famous tall buildings in Los Angeles are 444 S. Flower Street, at 5th Street, famous as the location for the law firm on
L.A. Law
; and the aforementioned City Hall, at 200 S. Spring Street at Main Street. The courthouse seen in so many L.A.-based TV series and movies, and infamous from the 1994-95 O.J. Simpson trial, is at 111 N. Hill Street downtown.
Did I forget anything important? Oh yeah, Southern California's original tourist destination, outside of the Hollywood studios. Most people I've talked to who have been to both Disneyland in Anaheim and Walt Disney World outside Orlando, Florida have said that the Florida one is a LOT better. Anyway, the address is 1313 S. Harbor Blvd. in Anaheim, and if you're staying in Los Angeles, just drive down I-5. Public transportation is possible, but it's a mile and a half from the closest bus stop to Disneyland's gates.
*
So, if you can afford it, go on out and join your fellow Knick or Net fans in going coast-to-coast, and enjoy the New York-Los Angeles matchup, and enjoy the sights and sounds of Southern California. Even if it is, you know, Southern California.