May 3, 1971:
Arsenal and Tottenham play each other on a Monday, the final League game of the season. Originally, the game was supposed to be on March 27, but Arsenal had advanced to the FA Cup Semifinal, which was scheduled for that day, and so the Derby was moved back.
Tottenham, already having had nearly a complete turnover from their 1961 Double side and even largely from their 1967 FA Cup winners, were locked into 3rd place, and had already won the League Cup that season, certainly a good year by almost anyone's standards.
For Arsenal, who had to be exhausted after playing a strong Stoke City team (featuring 1966 World Cup teamers Gordon Banks in goal and former Arsenal forward George Eastham) just 2 days earlier, it was like this: A win would allow them to win the League over Leeds by one single solitary point. A scoreless draw, 0-0, and they would be level with Leeds on points, and win the title on goal difference. A loss, and they would lose the title by 1 point. A draw of 1-1 or higher, and they would be level with Leeds on points, and lose the title on goal difference. A boring nothing-nothing tie (or "nil-nil draw," as they would say in England) would be wonderful; a 1-1 draw would be "Second place is the first loser" misery.
The match was played at White Hart Lane, and it may have been the biggest crowd that ever attempted to see a League game in England's history. The official attendance was 51,992, pretty much as many as could squeeze into The Lane in those days, but it's been said that another 50,000 or so were outside the ground, wanting to get in but unable to do so.
White Hart Lane, 1970
The largest crowd ever to be inside a club's ground was the 84,569 crammed into Maine Road, home of Manchester City, to see Man City face Stoke City in an FA Cup Quarterfinal in 1934. A year later, the largest League crowd filed into Stamford Bridge as Arsenal visited Chelsea, 82,905. Because of the work at the Lane site, Tottenham had to play their 2016-17 Champions League matches at the new Wembley Stadium, and got 85,512 against Germany's Bayer Leverkusen on November 2, 2016.
The largest crowd ever at an English match was probably for the game that opened the old Wembley Stadium, the 1923 FA Cup Final. Officially, it was 126,047, but legend puts it at over 300,000. No fire laws in those days.
Back to May 3, 1971: As early as 6:00 AM -- pretty much all games started at 3:00 PM in those days -- fans were lining up to get in. And the vast majority of those outside the ground were Arsenal fans, known as Gooners in relation to the club nickname of Gunners. Inside, of course, the majority were Spurs fans, or Lilywhites for the team's white shirts, but ridiculed as "Spuds" by Gooners.
A 0-0 score, which Arsenal would gladly have taken, held for 87 minutes. The fans were going mental. Arsenal were about to win the League. And then... George Armstrong, whose normal post was on the right wing, was on the left wing for this sequence, and he sent a left-footed cross into the six-yard box. Ray Kennedy, still 3 months away from his 20th birthday and closing his 1st full season of professional football, jumped, and headed the ball into the net. It was his 19th goal of the season, leading a very balanced team.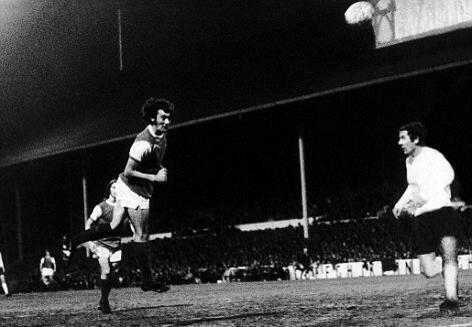 Ray Kennedy's goal
It was, as the song would later say, "One-nil to The Arsenal." But shortly after the Arsenal fans stopped roaring, a sinking feeling crept in: A 1-0 lead meant that a Tottenham equaliser would give Leeds the title. Hang on, Arsenal, hang on...
They did. And when the referee blew for full-time, the fans poured onto the pitch, however many Tottenham fans there were trying desperately to get out of the way. Although 27 fans were arrested that day, for trying to bring weapons into the stadium or for fighting, no serious injuries were reported.
But Arsenal manager Bertie Mee was nearly hurt. Club director Ken Friar -- now 83 years old and an employee of the club, in one capacity or another, for 71 years -- remembers being in the dressing room with the celebrating players, and a stadium steward said, "Mr. Mee, they'd like you to come out onto the pitch." Friar, knowing that the wildly celebrating fans were still out there, warned him, "Bertie, I've just come from there. I wouldn't go near it." Mee told Friar, 16 years his junior, "Young man, there is a time in one's career when one thinks of others."
Twenty minutes later, Mee returned, his jacket gone, his watch gone, his cufflinks gone, his shirt torn, and, in a rare moment of profanity for him, yelling back at Friar, "They're fucking mad!"
Arsenal had won the League at White Hart Lane. They had won the League at the home ground of their arch-rivals. To this day, they are the only English club that's ever done that. Going into the 2017-18 season, Manchester United have won the League 20 times, but never away to Manchester City -- or Liverpool. Liverpool have won the League 18 times, but never away to Everton -- or Man United.
May 8, 1971:
Five days later -- certainly not the full 3 weeks that Tottenham got to prepare for their Final in 1961 -- Arsenal had the chance to get the other half of The Double. After a scoreless regulation, Liverpool got a goal from Steve Heighway, but Arsenal answered right back from a goal that appeared to be from George Graham. A replay later showed that it was Eddie Kelly who was the last Gunner to touch it. Substitutions had only been allowed since 1966-67, and Kelly thus became the 1st sub ever to score in an FA Cup Final.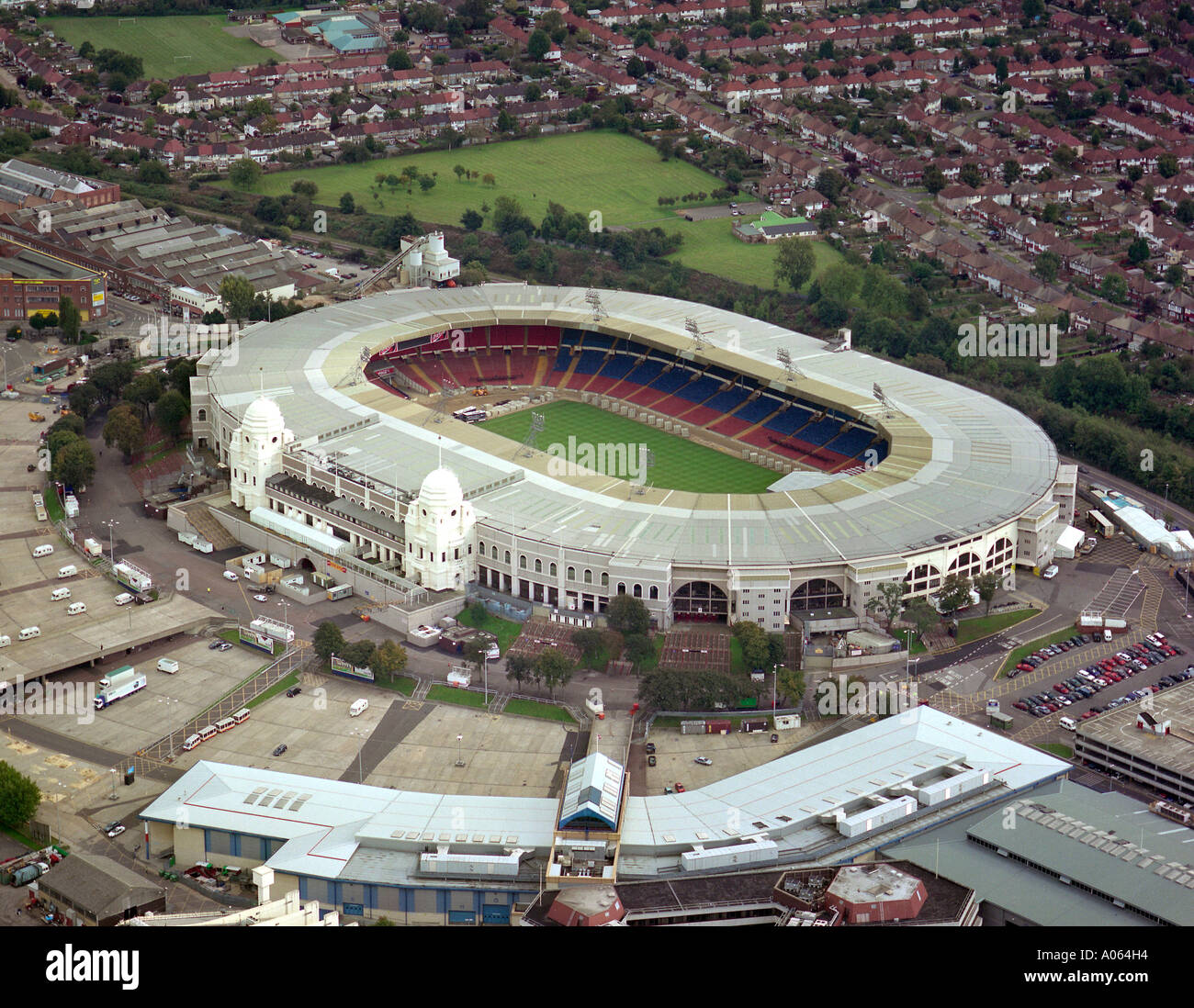 The old Wembley Stadium, 1923-2000,
with its Twin Towers
A few minutes later, with his long hair flowing, Charlie George, who had grown up a short walk from Highbury, took a pass from John Radford, stood on the 18-yard line, and sent a net-seeking missile past Liverpool's goalkeeper Ray Clemence -- like him, just 20 years old -- and Arsenal had a 2-1 lead that held up. George's drop to the ground, lying on the Wembley grass with his arms up, became one of those iconic FA Cup Final moments.
Charlie George on the floor
Tottenham had seen Arsenal win 7 League titles and 3 FA Cups, but Tottenham could still claim to be the only English club to have won The Double in the 20th Century. No more: Arsenal had done The Double, and had won the League at Tottenham to do it. It was the ultimate indignity for Spurs.
And this is the true defining moment in the rivalry.
This is where the true bitterness of Tottenham fans began
. If they could no longer claim to be Britain's best team, or England's best team, or the best team in the South of England, or London's best team, or even North London's best team, or the only team in the century to do The Double, then, what could they say?
* They whined (or "whinged") about "being true to their roots." Spurs had been playing at the same location since 1899 and the same neighborhood (or "neighbourhood," as it would be "spelt" in England) since 1882. In contrast, Arsenal had abandoned their roots in 1913, and crossed from South London to North London, which was always Tottenham's territory.
(No, it wasn't: Arsenal crossed from Kent to the Islington section of North London, which was 4 1/2 miles from White Hart Lane, which was then in Middlesex --
not in London
. North London was
never
Tottenham's territory.)
* In connection with the preceding, they began to mock Arsenal as "Woolwich Arsenal." Which may have helped, as Arsenal won nothing under the Woolwich name. (They played in adjoining Plumstead, actually.) There was the occasional minor trophy that no one cared about by the time Herbert Chapman came along, but Arsenal's highest League finish in the Woolwich/Plumstead years was 6th in 1909. (Never mind that Tottenham never finished as high as 6th in Division One until 1921.) And Woolwich Arsenal's longest run in the FA Cup was to the Semifinals in 1906 and 1907. (Tottenham had won that, in 1901.)
Spurs fans began telling Gooners, "Fuck off back to Woolwich" and "North London is ours." The former was ridiculous, as, by 1971, Arsenal had been in Islington for 58 years. The latter had just become insane.
* They again brought up the lie that Arsenal had bribed their way into Division One in 1919, ignoring that there was evidence that Spurs had bribed their way into the League in 1908.
The thing is, Tottenham were a very good team in the early Seventies. They won the League Cup in 1971 and '73. They reached the UEFA Cup Final in 1972 (winning it over English club Wolverhampton Wanderers, a.k.a. Wolves) and '74 (losing to Netherlands club Feyenoord).
And Arsenal's record during Bertie Mee's stewardship wasn't great: 1 League title in 1971, 1 2nd place finish in 1973, 1 Fairs (UEFA) Cup win in '70, 1 FA Cup win in 1971, 1 FA Cup Final defeat in 1972, 1 trip to the European Cup Quarterfinals in 1972 (losing to Johan Cruyff's superb Ajax Amsterdam), and 2 League Cup Final defeats in 1968 and '69.
In this same period, both Manchester clubs (City and United), both Liverpool clubs (Liverpool and Everton), and Leeds had records that were similar to, or better than, those of the North London clubs.
But as far as the North London clubs were concerned, Arsenal had won the League, the FA Cup, and The Double more recently than had Tottenham. And that burned the Spuds up. Big-time.
Highbury, as viewed from the Clock End,
probably in the 1970s
This was also the early days of regular football hooliganism. It had always been there, but the modern age of it has been said to have begun when Man United clinched the League title away to West Ham on May 6, 1967, at which point the United fans tore up London's East End. During the 1970s, pretty much every English club had a hooligan "firm." Some became legendary for their mischief, including, in London, the Chelsea Headhunters, West Ham's ICF (Inter-City Firm) and Millwall's Bushwhackers.
Supposedly, Tottenham had once been a Jewish neighborhood. So other clubs mocked Spurs fans with anti-Semitic slurs -- most often "Yid" or "Yiddo." (These are words that should
never
be used in America, and I use them here only for the purpose of explanation.) Spurs fans decided to turn the slurs around, and have often chanted "YIDS!" "YIDDOS!" or "YID ARMY!" And their firm became known as the Yid Army. For a reason probably lost to time, Arsenal's firm became known as The Herd.
In truth, the Y-- Army were full of shit. Many is the Arsenal, West Ham and Millwall fan who has claimed that, like the Chelsea Headhunters, the Spurs firm didn't fight well, and preferred to run than to stand their ground and fight as best they could. Or, worst of all, would plow into a pub a mile or so from the away ground, knock over a few chairs, break some glassware, wreck the decor, scare a few old men, women and children, walk out, head off to the game, and then later "claim a result."
(I recently had this confirmed by an ex-Londoner living in Boston, who told me he's been an Arsenal fan since 1966. Anyone who became an Arsenal fan at the time, and didn't quickly switch to a then more exciting club, is a true fan.)
To this day, some Tottenham fans point with pride to the Y-- Army. Some army: Iraq has a better one.
But as the Seventies wore on, and as the Eighties began, and hooligan violence got worse, so too did the verbal response. Fans would come into White Hart Lane and invoke the worst nightmare of the Jews, the Nazi Holocaust. Particularly Chelsea fans, with their links to the far-right National Front, would chant "Auschwitz!" and make hissing noises, simulating poison gas. West Ham fans were known to come into The Lane waving Palestinian flags, and would "bow toward Mecca" -- not that most of them would have accepted Muslims among their numbers at the time. (I'm also guessing that most couldn't find Mecca, or even Saudi Arabia, on a map.)
Many English fans look back on the 1970s and 1980s as the glory days of the game. But with hooligan violence, aging stadiums with appalling structural deficiencies and atrocious restrooms (unlike the U.S., the U.K. had no stadium building boom between 1953 and 1973), hopelessly backward TV coverage (even as late as 1989, there were almost no League games on live TV, instead they were mainly shown on tape delay), and some ridiculous fashions and hairstyles (on and off the pitch), it was not a very good time. Even if your team was winning.
And, after 1974, for the most part, neither North London club was winning.
May 31, 1972:
Just under 20 years after Tottenham had first done so, The Arsenal play their 1st game on North American soil. They play the Miami Gatos of the original North American Soccer League at the Orange Bowl, and win 3-2. They will return to this side of the Atlantic in 1973, and play in Toronto and Bermuda.
December 9, 1972:
This match at White Hart Lane was not a particularly historic game, but if you buy the DVD
Arsenal: Classic Victories Over Spurs
, this is the 1st game on it, chronologically. But usual Captain Frank McLintock does not play in this game; the far less talented Jeff Blockley wears the Number 5 shirt. Nor is the iconic Charlie George in it, as Eddie Kelly wears Number 11. And another major member of the 1971 Double side is gone, as the acquisition of 1966 World Cup hero and 1970 Everton title-winner Alan Ball meant that George Graham vacated the Number 8 shirt in 1972. Tottenham also have a '66 World Cup winner in their side, former West Ham star Martin Peters.
Tottenham (correctly) have an early goal disallowed for offside, and the 1st half ends scoreless. In the 2nd half, the dangerous Martin Chivers just barely misses opening the scoring, sending a sizzling shot just wide of the goalpost to his left, which Bob Wilson could not deflect for Arsenal. Shortly thereafter, there is a scramble in front of the Spurs net, and Peter Storey heads in the 1st Arsenal goal.
A defensive mixup -- Spurs thought Radford was going to pass to Storey, who was offside -- leads to a very alert Radford seeing what was happening, and, instead keeping the ball, dribbling past the confused defenders, approaching goalkeeper Pat Jennings, and sending the ball past him for a 2-0 Arsenal lead. Peters scores a late goal to cut it to 2-1, but that is as close as Spurs get.
April 14, 1973:
The preceding match's return fixture is played at Highbury, and it's a 1-1 draw. This ends up hurting Arsenal: They finished 2nd in the 1972-73 season, falling 3 points short of Liverpool, despite a February win at Anfield. A March loss at home to defending Champions Derby, this draw, and draws in the next 2 games against Everton and Southampton deny them the title, in a season that concluded with a 6-1 drubbing by Leeds at Elland Road. Tottenham finished 8th, but won the League Cup.
After this season, Mee began to break up the Double side, which had disappointed its fans nearly as much as the 1960s Spurs side had ultimately disappointed its fans. Arsenal soon became weak, even irrelevant. But Spurs fans would not be able to enjoy it much, as their own squad would suffer.
May 29, 1974:
Having drawn the home leg of the UEFA Cup Final 2-2, Tottenham go to Rotterdam, the Netherlands, and lose 2-0 to Feyenoord. The unhappiness of the result leads to Tottenham fans rioting, and the club being indefinitely banned from European play. Shortly thereafter, Spurs' legendary manager Bill Nicholson retires in disgust.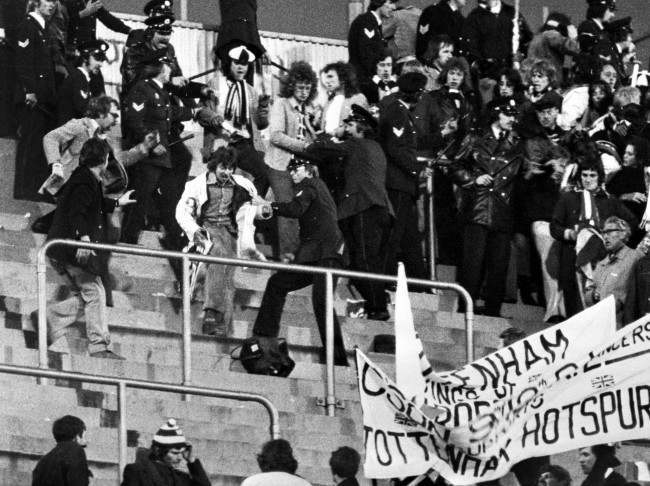 The 1974 UEFA Cup Final in Rotterdam
Aside from the Heysel ban which banned all English teams for 5 seasons, Arsenal have never been banned from Europe. But this ban, which was lifted after 2 years, is a great stain on Spurs' history. Ever since, every fan in every country in Europe, even if they are not fluent in English, knows at least 3 words: "Fuck you, Tottenham!"
This should not to be confused with the Arsenal chant, based on "Come On You Spurs" (or "COYS") -- "Fuck Off You Spurs!" (or "FOYS"). Tottenham may be the more popular club within England, but Arsenal, especially after the arrival of Arsene Wenger, became by far the more popular club in Europe.
May 7, 1977:
Tottenham get clobbered 5-0 by Man City, ensuring their relegation from Division One. And so, 1977-78 remains the only season since 1948-49 that Arsenal and Tottenham have not faced each other in League play, and the only season since 1947-48 that they have not faced each other at all.
Years later, the concept of St. Totteringham's Day would be devised: The day each season when it becomes mathematically impossible for Spurs to finish ahead of Arsenal in the final standings (or "table," as they'd say in England). The day had not yet begun to be celebrated at this point, but Spurs' 0-0 draw vs. Stoke and Arsenal's 2-0 win over Coventry City made April 23 St. T's Day for 1977; Spurs' confirmation of relegation on May 7, 1977 made that day St. T's Day for 1978.
St. T's Day doesn't happen every season, of course -- but, through 2017, there have been 66 seasons when Arsenal finished ahead of Spurs, and 31 when Spurs have finished ahead of Arsenal; when both were in the same division, Arsenal lead 51 to 29.
December 23, 1978:
Spurs spent just 1 season in Division Two before bouncing back up, and had obtained 2 members of the Argentina team that won the World Cup the previous summer: Osvaldo "Ossie" Ardiles and Ricardo "Ricky" Villa.
(These acquisitions would become problematic when Argentina took the Falkland Islands from Britain in 1982, and Britain took them back. For a while, neither was able to play without being booed. Both regained their popularity once Argentina had surrendered, though, and remain beloved in N17.)
Ossie and Ricky
Arsenal, having tumbled down the table to 17th in 1976, had fired Mee, and had hired Terry Neill -- who had been Tottenham's manager, but had previously played as a centreback for Arsenal. The Gunners had reached the FA Cup Final in 1978, but lost to Ipswich Town.
Now, they were led by "The Irish Connection": Midfielder Liam Brady (still one of the most beloved players in Arsenal history), forward Frank Stapleton and centreback David O'Leary (who would go on to make more appearances for Arsenal than any other player, 722) were from the Republic of Ireland; manager Neill, right back and Captain Pat Rice (the only holdover from the 1971 Double side's starters), left back Sammy Nelson (a rookie on the '71 team, who did not play in this game) and goalkeeper Pat Jennings were from Northern Ireland.
To make matters more interesting, Jennings had been Spurs' keeper from 1964 until their 1977 relegation, and, in a fool move, they simply let him go. Centrebacks Steve Walford (who subbed for Nelson in this game) and Willie Young (a Scotsman whose 6-foot-5 height led Gooners to sing, "We've got the biggest Willie in the land!") were also former Spurs players. It was 2 days before Christmas, and both sets of fans, 42,273 of them, walked into White Hart Lane loaded for bear.
But it was Arsenal fans who were saying, "Ho ho ho!" -- and very quickly. A blunder of a backpass enabled Alan Sunderland to
score in the 43rd second
-- not minute. Sunderland, a white Yorkshireman with an Afro any black man would have been proud to have, added another goal late in the 1st half.
The game totally came off the rails for Spurs in the 2nd half. Right after the hour mark, Brady put on a dribbling clinic down the left wing, got to the six-yard line, and sent in a hellacious cross off his much-renowned left foot, and Stapleton put it in the Tottenham net with a diving header. After this goal, the Arsenal fans were singing, "Jingle bells, jingle bells, jingle all the way! Oh what fun it is to see The Arsenal win away!"
Just 4 minutes after that, there was a scramble in the Tottenham penalty area, the ball came out of it, and Brady took the ball with a perfect (and clean) tackle. He followed up this great defensive play with a curling shot that had BBC sportscaster John Motson yelling, "Look at that!
Oh, look at that!
What a goal by Brady!" Sunderland finished his hat trick in the 84th minute to forge a final score of 5-0, and Stapleton just missed making it 6-0 in stoppage time.
Liam Brady and Alan Sunderland
After the game, the Y-- Army decided to kick the shit out of anyone they saw in red -- even if they were just in the neighborhood and hadn't even been at the game. As if that would change the result of the most humiliating defeat Spurs had ever suffered -- aside, that is, from May 3, 1971.
Sunderland joined Ted Drake as the only Arsenal players to score 3 goals in a competitive North London Derby match, and would end up scoring the winner in the 89th minute as Arsenal beat Manchester United 3-2 in the FA Cup Final -- the club's first trophy since the 1971 Double.
April 7, 1980:
Due to Arsenal having reached the Semifinals of both the FA Cup and the European Cup Winners' Cup, there was a fixture pileup.
Arsenal had to play Everton away on a Friday, Norwich City away the following Wednesday, Southampton at home on the following Saturday, Tottenham away the following Monday (just 2 days later, the day after Easter), Juventus at home in the Cup Winners' Cup Semifinal on Wednesday (again, just 2 days later), and finally Liverpool at neutral-site Sheffield Wednesday in the FA Cup Semifinal on Saturday.
That game ended in a draw, so there had to be a replay at Aston Villa on the following Wednesday, meaning more fixture pileup, and then they had to play Liverpool for a 3rd time in 8 days, away in a League match the following Saturday. Then the away leg of the Semifinal against Juventus, in Turin, Italy, the following Wednesday.
Then home to West Bromwich Albion on Saturday, followed by yet another FA Cup Semifinal replay against Liverpool, back at Villa Park, on Monday. And when that ended in a draw, a 3rd replay against Liverpool at Coventry City on Thursday. Coventry was chosen as the site because Arsenal already had to play a League game away to Coventry City on Saturday, so they could just stay in town.
Then, back home, against European Cup holders Nottingham Forest on Monday. Then, the following Saturday, the FA Cup Final at Wembley, against West Ham. Followed on the next Wednesday by the Cup Winners' Cup Final, against Spanish club Valencia, in Brussels, Belgium -- at Heysel Stadium, site of the disastrous European Cup Final 5 years later. Then, closing out the League schedule, away to Wolverhampton Wanderers on Friday, and away to Middlesbrough on Monday, both games previously postponed due to the FA Cup ties.
Managers complain about fixture congestion now? Terry Neill's Gunners ended up having to play 18 games in just 54 days.
Neill asked Spurs management if they would agree to have the Easter Monday fixture moved. Petulant as much in 1980 as they were in 1905, 1913 and 1919, Spurs refused. Knowing that the League title was out of reach by this point anyway, Neill fielded a weakened team, to keep his stars rested for the big test against Juventus. Paul Barron was in goal instead of Jennings, Walford at left back instead of Nelson, Andy Devine in Sunderland's midfield place (though Sunderland did appear as a sub), Paul Vaessen at forward in place of Frank Stapleton, John Hollins at Number 10 instead of David Price, and, making his Arsenal debut, Paul Davis at 11 instead of Graham Rix.
The moves worked: Vaessen scored, and then Brady got hurt, forcing Neill to replace him with Sunderland, who also scored, and a half-strength Arsenal beat a full-strength Spurs 2-1. Sixteen days later, Vaessen would score a late goal at Juventus to send Arsenal to the Cup Winners' Cup Final.
This was the game in which, most likely, the worst episode of Arsenal-fan-toward-Tottenham-fan violence took place: A Gooner threw a petrol bomb -- we'd call it a Molotov cocktail -- from the south stand, the Park Lane End, the traditional location for visiting fans, onto the east stand, a.k.a. The Shelf. It exploded, and burned some Spurs fans. As far as I can tell, the offending spectator was never identified, much less arrested and prosecuted.
November 4, 1980:
On the same day that Ronald Reagan is elected President of the United States, anyone who was both a member of the Democratic Party and an Arsenal fan (at this point, due to exposure to English soccer in the American media, there would have been very few) has another reason to be unhappy. Ardiles scores the only goal in a 1-0 Spurs win in the 4th Round of the League Cup. This was the 1st time since the 1941 London War Cup that Spurs had won a cup tie against Arsenal.
Sometime around this -- I can't find an exact date -- Vaessen was injured in a reserve match against Tottenham. I have no evidence that there was intent to injure, so I'm going to presume it was accidental. Certainly, I'm not going to blame Tottenham for what happened to him later; if anything, Arsenal letting him go did him more harm.
But his knee never recovered, he lost his place in the team, and descended into cocaine and heroin addiction. Finally, he died in 2001, just past his 40th birthday.
January 2, 1982:
Having won the FA Cup in a replay against Manchester City the season before, Tottenham begin their defense of it in the 3rd Round, and defeat Arsenal 1-0 at White Hart Lane, on a goal by Garth Crooks. Spurs did, indeed, make it back-to-back Cups, beating another London club, Queens Park Rangers (QPR), in the Final.
May 23, 1984:
Just as Arsenal won the Inter-Cities Fairs Cup in 1970 by taking a 2-legged Final on aggregate from Belgian club Anderlecht, so, too, did Tottenham take that tournament's successor, the UEFA Cup, from them.
Both legs ended 1-1, and so the White Hart Lane leg, saved by an 84th-minute tally by Graham Roberts, went to penalties. Roberts, Mark Falco, Gary Stevens and Steve Archibald made theirs for Spurs, while Anderlecht only made 3 out of their first 4. But when Danny Thomas (no relation to the great American entertainer of the same name) missed the final Spurs penalty, Spurs fans began to squirm. It was up to goalie Tony Parks to stop Anderlecht's Icelandic forward, Arnor Gudjohnsen. He did.
Tottenham had their 3rd European trophy -- a total Arsenal have yet to reach, and a particular point of pride for those bastards -- as if making the European Cup/Champions League only 3 times in the tournament's 62 seasons years isn't much more significant than having won those trophies 30 years ago or more.
A far more interesting note is that the man who missed the final penalty was the father of Eidur Gudjohnsen, who would later play for Spurs, but is probably better known for playing for another London club, Chelsea, and is probably the greatest player Iceland has ever produced, well ahead of his father. (Although Iceland's recent success at Euro 2016 may change that.)
April 17, 1985:
Arsenal were falling short of a high enough place to earn a UEFA Cup berth -- not that it ended up mattering, see the next entry -- and Tottenham were challenging Everton for the League title as the clubs met at The Lane.
In fashion that would be familiar to recent Tottenham fans, Spurs choke when it matters most. Charlie Nicholas and Brian Talbot score for the Gunners, while Spurs get a late penalty that could tie it, but Roberts, a hero a year earlier, clips the crossbar, sending the ball into the stands. Tottenham 1-2 Arsenal.
Arsenal fans celebrate in an unacceptable way, ripping out seats and throwing them onto the pitch. When the dust settled, Tottenham stewards had counted 850 seats that had to be replaced, calling it the worst damage their ground had ever sustained. Spurs ended up losing 4 straight home games, and Everton took the title.
May 29, 1985:
Juventus defeat Liverpool 1-0 in the European Cup Final at the aforementioned Heysel Stadium in Brussels. But the game should never have been played, as a scuffle between opposing fans led to Juve fans running, and crashing into a wall, which collapsed, and 39 fans were killed.
In the wake of the Heysel Disaster, as it came to be known, the Union of European Football Associations (UEFA) banned all English clubs from its competitions for 5 years, tacking a 6th year of punishment onto Liverpool. England as a national side could still compete in the 1986 and '90 World Cups, and the 1988 European Championships, but no English clubs could play in the European Cup, the UEFA Cup, the European Cup Winners' Cup, or smaller competitions like the Anglo-Italian Cup.
An interesting side effect of this is that it wasn't
British
clubs that were banned, it was
English
clubs, due to that country-within-a-country's reputation for hooliganism. As if other countries in Europe, including Scotland, Wales, and Northern Ireland, all within the United Kingdom, didn't have football hooligans!
And it was English
clubs
that were banned, not English
players
. So Glasgow-based Rangers told English players that they could come up to Ibrox Stadium, where they would still be eligible to play in these European competitions, and they signed up a few, and this allowed them to end their Glasgow arch-rivals' Celtic's dominance of the Scottish game, and begin their own era of glory.
March 4, 1987:
Arsenal and Tottenham have advanced to the Semifinal of the League Cup, and will play each other. Tottenham won the Highbury leg 1-0, and were leading the Lane leg 1-0 when the public-address announcer said that tickets for the Final would be available at the ticket office after the game. That stirred up the Arsenal fans, and the Arsenal players, and they came from behind to win, 2-1, to draw the match 2-2 on aggregate. Instead of counting away goals, which would have given Arsenal a 2-1 win, the rules of the Cup at that time demanded a replay. It would be held at White Hart Lane.
Since English clubs could not play for European trophies in the late 1980s, only 3 trophies were available to them: The League title, the FA Cup, and the League Cup. This gave the League Cup an importance that has since faded, especially with the expansion of the UEFA Champions League, formerly the European Cup, to include the top 4 Premier League teams. Today, if you think the League Cup is a "major trophy," almost by definition, you are not a "big club." That was not the case in 1987, and even if it wasn't a major trophy then, this was the Derby. You bet your arse that both teams wanted to win.
It should also be noted that Tottenham were well in the running for a domestic Treble: The League, the FA Cup, and the League Cup. Winning all 3 had never been done before, in the 26 years that it had been possible. This, coupled with the 1984 UEFA Cup and the 1981 and '82 FA Cups, meant that Tottenham were in a period of glory comparable to themselves in the 1960s, and to Arsenal in the 1930s, the late '40s and early '50s, and in the early '70s. Without question, Spurs were the leading club not just in London, but in the South of England, and only Liverpool and Everton were seriously challenging them for the title of the best team in the entire country (England, not Great Britain).
The 1st half ends scoreless. In the 2nd half, Clive Allen, who had briefly been on Arsenal's books in 1980 before being sold, is now with Tottenham, and completes the oddity of scoring in 3 matches of a 2-legged tie -- indeed, in the 3 games, he had scored all of Spurs' goals. To make matters worse for Arsenal, their hard-drinking, hard-partying Scottish striker Charlie Nicholas is carried off injured.
Ironically, it is Champagne Charlie's substitute, Ian Allinson, who scores the equaliser. And then, in stoppage time, David Rocastle manages to poke out his left foot and put the ball into the Spurs net, past an aging Ray Clemence, who, with Liverpool, had let in Charlie George's FA Cup winner 16 years before.
"Rocky" Rocastle salutes the traveling Arsenal fans after the game
Nicholas returned for the Final at Wembley, and scored both of Arsenal's goals as they came from behind to beat Liverpool, 2-1.
This capped the 1st season as manager for George Graham, the former Arsenal forward and midfielder. Ironically, his former teammate and best friend, Terry Venables, had been a finalist for the Arsenal job -- and would later be hired to helm Tottenham! (Arsenal fans would nickname him "Terry Vegetables.")
Graham had hired his 1971 Double side teammates Bob Wilson and Pat Rice as his assistants, and they were rebuilding The Arsenal from the "Boring, Boring Arsenal" that they'd been for most of the 1980s, following Terry Neill's breakup of the Liam Brady side (Neill was fired in 1983, and Don Howe led them for the next 3 years before resigning), and helping them to once again overtake Tottenham as the best team in London.
As for Spurs, they and their fans woke up on the morning of March 4 with a chance at all 3 domestic trophies. When they went to bed on the night of May 16, their season had concluded with them winning nothing: They had lost the League Cup Semifinal to their arch-rivals, they went into a tailspin and finished 16 points behind League Champions Everton, and on that May 16 they lost the FA Cup Final, to Coventry City, which had never before (and hasn't since) won a major trophy, on an own goal by one of their most popular players, Gary Mabbutt. Their only consolation is that they beat out Arsenal for 3rd place, by just 1 point.
It was the end of an era for Spurs: By the time they won their next trophy, it would be with a lineup almost completely different from their 1981-84 trophy-winning sides. And the domestic Treble is still an achievement no team has notched. (When Arsenal became the 1st team to win both domestic cups in 1993, they finished 10th; Liverpool won the Cup Double in 2001 and finished 3rd; Chelsea have come the closest, winning both cups but finishing 2nd in 2007.)
Part IV follows.